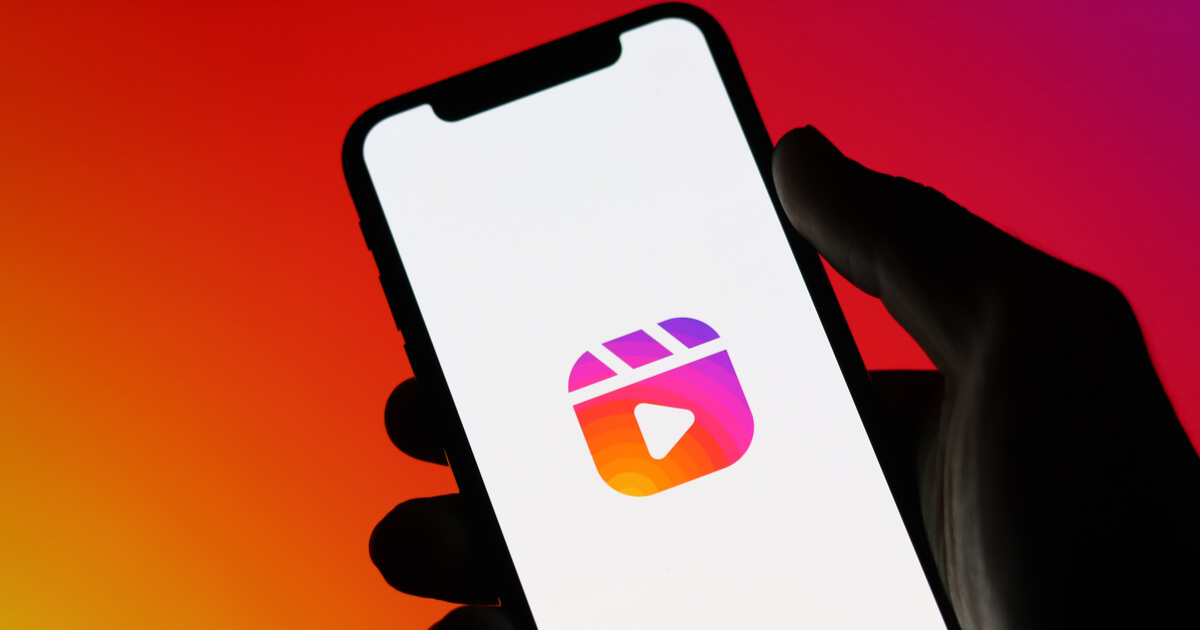 We used to get songs stuck in our head because of the radio or we'd hear them at the mall. Now it's because of music snippets playing over Instagram Reels — entertaining short-form videos where you can creatively tell your brand story, educate your community, and get discovered by people who love your business.
We're at a pivotal moment in which the short-form video content made on Instagram Reels and TikTok is so popular that they've changed the music industry. As the most popular social media platform in the US, Instagram is the place to be if you're trying to attract an audience and make an impact on your industry.
Instagram's algorithm prioritizes Reels and both brands and individuals alike are finding incredible success with this content. If your brand isn't creating Reels, then you're missing out on the opportunity to increase engagement and attract more potential customers to your brand.
But posting Instagram Reels without a business strategy won't do the trick.
Instagram Reels ideas for your business
There's a few key ways to optimize your reels for maximum exposure and a positive audience response. Whether that's hopping on trends, working with influencers, or learning how to fit Reels into your digital marketing strategy, here's the best Instagram Reels ideas for your business.
Leverage popular and trending content
On Instagram Reels, you can often attract more viewers to your business by hopping on the bandwagon and taking part in popular trending content.
Most of the trending content on Instagram Reels is built around audio snippets that are then matched to either one continuous video, a montage of videos, or a collection of photos. These audio snippets range from remixes of popular songs (old and new), voice recordings from other Instagram users, and clips from pop culture, movies, and TV.
Users then put their unique spin on this audio, so the same line from a love song could accompany pictures from a wedding day, or a video of a user and their cat.
So, how do you figure out what is popular and trending?
First and foremost, you have to spend time scrolling through the Instagram feed regularly. You'll notice that some Reels videos have a little arrow icon at the bottom next to the audio title:
This Reels feature (which can only be viewed on the Instagram app) indicates that it's trending right now. Once you see that trending arrow, save the audio to your account so that you can use it when you're ready to create your Reel.
Follow popular creators who use strategic music choices and editing to get high engagement on their Reels. There's also many accounts on Instagram that provide helpful tutorials on how to use Reels to increase engagement and followers, and attract the right customers. Their content will usually indicate which types of Instagram Reels are currently garnering the top views.
Determine what works for your brand
After you've started publishing Instagram Reels, it's important to analyze how your Reels have been performing. Take a look at your customer engagement metrics and whether they have translated into more follows, website views, and other forms of engagement.
Have people been leaving feedback about your products or services with comments on your Reels? Keep track of those insights and reports, and use the information to inform your continuing Instagram Reels strategy.
If your content is working, keep at it. If not, change your approach. Keep experimenting until you find the things that work.
Build your Instagram Reels ideas off conventions
Every business with high engagement for their Instagram Reels content all have a few things in common. You don't have to be an experienced videographer or video editor to make successful Reels, but you do have to follow some best practices.
For example, if you choose to hop on a viral trend by re-using music or audio clips from Instagram's music library, select ones that are relevant to your brand and relatable to your audience. You can also create your own original audio in hopes that it catches on with your audience and becomes a trending sound for Reels. If you choose to create your own audio, use familiar songs or sound bites that your audience will resonate with, but be aware of potential copyright risks and always get permission from the artists.
Sassy Woof, a dog accessory company, decided to use the Full House theme song and created a similar opening credit montage to introduce their team to their audience. They use clever transitions and overlay captions on the clips to describe each of the employees. They also chose a cover photo that entices the user to click with the title "Meet the team" and a person hidden behind their logo.
Use creative transitions
Transitions can make or break an Instagram Reel's success. Creative transitions that both align perfectly with the music and give the illusion of special effects are expected of high quality Instagram Reels. For example, one of the most common trends for fashion-related content is to "magically" don a new outfit with the snap of your fingers, or by throwing the clothes out in front of you.
Another common transition is "jumping" into a new frame. HomeGoods shares a Reel that shows how easy it is to transform the interior design of a room. Who knew all you had to do was point a finger or do a couple jumps in the air??
Experiment with content that educates users
From behind the scenes of your business to tutorials, countdowns, and challenges, there's many different types of content you can experiment with on Instagram Reels. As you plan out your content ideas, make sure to maintain your brand identity and provide value to your audience.
Kourtney Kardashian's brand Poosh created a tutorial on how to make a matcha face mask, a health and wellness skill that their audience would enjoy trying out. The Poosh social media team used a Jennifer Lopez song audio for their Reels — over 25,000 Reels have been made with that song, a strong indicator of its popularity. They also begin the video with creative stop motion style footage that draws the viewer in and keeps them interested.
Promote user-generated content and influencer partnerships
By promoting user-generated content (UGC) and influencer partnerships you can build up social proof that encourages viewers to become followers and eventually loyal customers. To take advantage of UGC, celebrate any positive interest you receive by sharing Reels that mention or tag your brand. If you're low on content, ask your audience to create a testimonial through an unboxing and product review Reel, and offer them incentives to do so.
Reach out to influencers who your target audience already follows and send them a product sampling. Request that they capture their reaction to the sample in a Reel and promote this content on your account.
This is what the oral care company, Moon, did with influencer Troy Juliano Zarba who tested out their toothpaste and teeth whitening pen. In addition to the footage of him using the product, the Reel also included the popular text-to-speech voiceover effect.
Respond to user comments in a Reel
Sometimes your UGC strategy might be as simple as responding to user comments from previous Reels or posts. A new feature on Instagram now allows you to respond to user comments with a Reel that includes a sticker with the user's comment. This can be a great way to engage your audience and build a connection to your brand.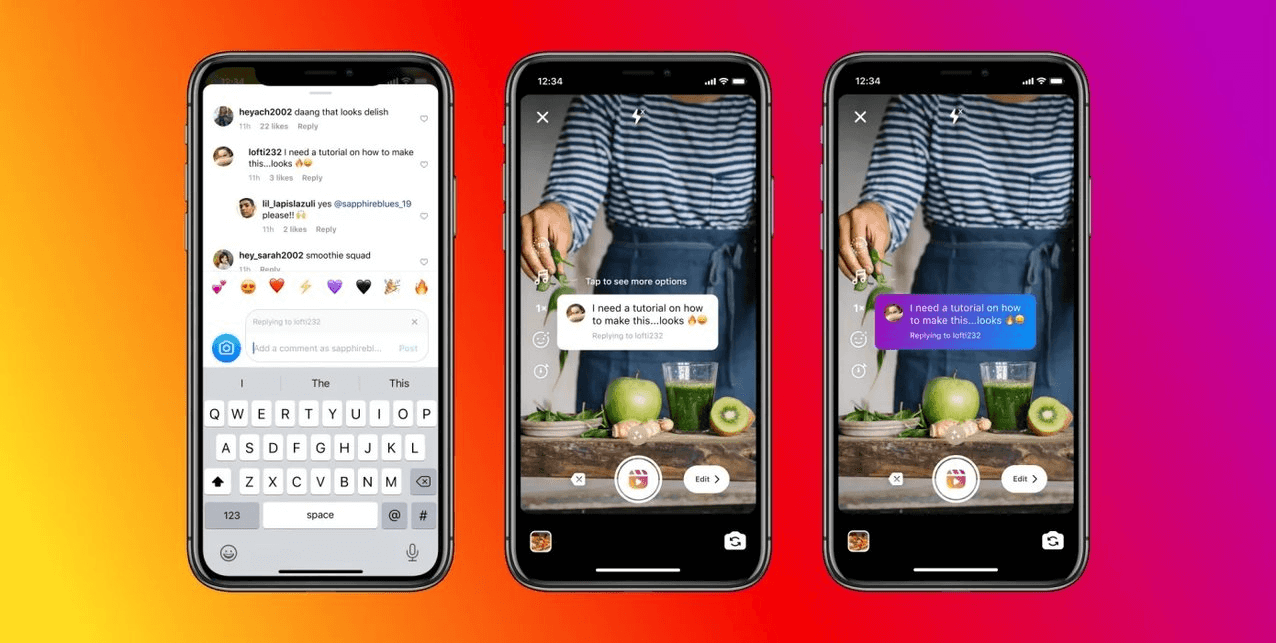 Encourage user engagement with Instagram Reels
Since Instagram prioritizes Reels with high engagement, it's important to encourage user engagement with Reels. Include CTA's in your captions, tag other users and businesses, and like and respond to user comments as soon as you can. Not only will this help increase your views, it may also lead to more conversions. According to data from SproutSocial, 78% of consumers are more likely to buy from brands when they have positive social media interactions with them.
Competitions are another effective way to increase user engagement. Instagram Reel "challenges" encourage users to engage with the brand by taking part in their own content creation. These range from asking users to dig into their camera roll and finding a relevant photo or video or to create something with the product itself.
Sephora challenged its audience to create an eyeshadow makeup look using a random number generator and large color palette. They included the hashtag #sephorasquad so that others could create their own look and share it in Reels.
Tag Instagram Reels with products to make them shoppable
Another way to engage your audience and capture leads is to make your Reels shoppable. As social commerce takes off, remember that every Reel is an opportunity not only to engage and entertain your target audience, but also to direct them straight to a product.
To make your Reel shoppable, you need to set up Instagram shopping and then add a product tag to your Reels. When you do this, a "View products" option appears at the bottom of the Reel. Users can then tap this to see an image and price of the product which they can either save to their account for later or click through to the product page.
Fenty Beauty uses this feature on their Reels to help drive sales as shown below:
Another company that uses Instagram shopping is Quiz. Quiz uses Like2Buy to turn Instagram images into shoppable products. The brand use social galleries that feature images of customers in their clothing. The combined use of Like2Buy and UGC Galleries on their website has increased conversions by 154%.
Develop an Instagram Reels content schedule
Posting consistently is the key to maintaining an impactful social media presence, so your Reels marketing strategy should include a detailed schedule. For Instagram Reels, most experts agree that posting 4-7 times a week can help you maximize your reach. This may seem like a lot, especially if you're just starting to make Instagram Reels or you're a smaller business with a smaller team.
But with a plan and experience, you'll develop the knowhow to generate that level of content in no time.
The best time to post your Reels depends on where your audience is located and when they're most active. If you don't already, use analytics tools (including your Instagram business insights) to collect customer data that will help you determine when your customers are most likely to engage.
FYI: If you're a Bazaarvoice customer using our social tools, you can now store and schedule Instagram Reels for business, along with posts and Stories, in advance. Meaning, we now support all primary Instagram content channels. We don't want to brag, so we'll let Chandler Alberda, Digital Marketing Specialist at Merrell, brag for us: "My Reels scheduling prayers have been answered! Everyone take five minutes of silence to be thankful for this moment."
Here's how to use this incredible (there's the brag) feature:
Once you've developed a strategy and schedule to follow, it's time to start creating your Reels. You can create Reels in batches by saving them as drafts in your Instagram account. By accumulating Reels ahead of time and storing them for when they are supposed to be published, you'll free up time to create consistent high quality content.
Cross promote your Instagram Reels
Your social media marketing strategy should include ways to increase reach through cross promotion. That means that in addition to publishing to the Reels tab, you should post Reels to your Instagram grid, Stories, and save as a highlight with a sticker called "Reels."
The more places your audience can view your Reels, the higher likelihood that you'll achieve the results that increase brand awareness and engagement.
And don't be afraid to think outside the box. Are there ways to widen your reach that hasn't been tapped into before? New trends that you could start? Maybe you ask your customers to share answers to heartfelt questions and start a "60 seconds of vulnerability" trend. Maybe you start a Mad Libs style story that is told over the course of a chain of Instagram Reels made collaboratively by customers, brands, businesses, or influencers in your industry.
Maybe you could even be the one to start a new trend in which you get to brag about how you successfully started a new trend. Now that's a pretty meta idea! (See what we did there?)
Check out the rest of our Instagram content here for more tips and tricks.