Does brand loyalty ultimately matter that much? Is earning customer loyalty really going to have much affect on your business? Or impact your sales in any way?
In short: yes. Brand loyalty is essential if you want your brand to succeed today. Or any day. Using the latest research and Bazaarvoice data, we'll detail how brands can grow loyalty, highlight brands with high levels of loyalty, and explain how they achieved it.
Spoiler alert: It's because customer retention is much more valuable than finding new customers.
Chapters:
---
---
It'll come as absolutely no surprise that e-commerce is a saturated industry. For any shopping-related search, there's pages and pages (and pages) of search engine or social media results that follow. With all the options consumers have at their disposal, how can brands earn their loyalty?
As McKinsey & Company partner Jess Huang stated in a McKinsey interview:
"It's not that consumers are necessarily becoming less loyal. Now it's just so much easier to access them and so much easier for them to try something new. So brands are really trying to figure out a way to develop and maintain that relationship with the consumer."
In a crowded playing field where shoppers are fickle — especially Gen Z — how can brands win loyalty from their customers? And why should they? In a rapidly expanding market, companies have to keep up with what drives consumers' brand loyalty. And, in particular, the tactics that will consistently win them over.
What is brand loyalty?
Brand loyalty is when shoppers continue to make repeat purchases from a specific brand, in spite of there being similar (or cheaper) offerings on the market. It's important for businesses because brand loyalty means higher retention rates and higher growth rates, leading to a recurring revenue stream.
Types of brand loyalty
Brand loyalty can take multiple forms. There's customers who are loyal because of how they perceive and relate to a brand. And there's those in it for the rewards. Both are valid and contribute to the growth of your brand.
Community building. This is when the customer derives meaning and alignment with a brand because of a shared purpose or values. It's how customers become psychologically attached to a brand
Rewards programs. The more traditional brand loyalty definition associated with loyalty programs. It includes rewards in the form of customer points, perks, and discounts
The importance of brand loyalty
What's the benefit of having loyal customers? On a personal level, it creates a sense of community. From an ROI standpoint, it increases customer retention and creates natural brand ambassadors. As a result, it ultimately boosts your bottom line.
After all, it's easier — and much more lucrative — to sell to existing customers than new customers. According to a Semrush report, there's a 60-70% probability of selling to a previous customer and only a 5-20% probability with a new customer. Furthermore, previous customers are 31% more likely to have higher average order values (AOV).
Another valuable outcome of loyal customers is that some become brand ambassadors — at no extra cost. Unlike influencers who require a fee or freebie, brand ambassadors do it out of sheer love for your products/brand.
So, these customers-turned-brand-ambassadors promote your brand through word of mouth and user-generated content (UGC).
How to build brand loyalty
Now that you know what drives brand loyalty, implement a strategy to strengthen your own. These are the actionable steps and qualities needed to grow brand loyalty.
Define your goals and target customers
First, decide what your end goal is for your brand loyalty strategy. What do you want to gain: loyalty program members, higher AOVs, subscribers, better product launches? All of the above? Identifying your desired outcomes will help you focus and plan your efforts.
Next, know who your target customers are so you can better serve and reach them. Your current customers are your best resource. Because not only are they your target customers, but they'll also help inform what will attract the loyalty of new customers. As Huang points out:
"Look at your customers' transaction-and-engagement data and understand how they're interacting with you. Do your consumer research to learn what they want and what you can offer them before you even start thinking, 'Well, I want my loyalty program to look like X.'"
Analyze what they like and don't like about your brand. Review the questions they ask. Survey what needs or requests they have from your brand to illuminate opportunities for improving brand loyalty.
Align with the values of your target customers
Increasingly, consumers are looking to do business with brands they identify with. An Accenture survey of over 25,000 customers found that modern consumers, "are purposefully seeking to influence their communities and the environment" through their shopping behavior. As a result, they're willing to switch brands and pay extra for those that take visible action for a positive societal impact. This is especially prevalent since the emergence of the COVID-19 pandemic.
Brands must grow with this shift if they want to compete. This means re-evaluating their approach and standards and, subsequently, their communication and operations.
According to a McKinsey study, "As many as 30 to 40 percent of consumers continue to switch brands or retailers, driven primarily by younger consumers seeking value, combined with greater emphasis on purpose-driven alignment and quality."
Offer Membership and loyalty programs
One of the primary and most common ways to build brand loyalty is through a member-based program. These types of brand loyalty programs provide members with deals but also deeper access to your brand, a certain level of status, and exclusivity. Consumers enjoy being part of a club, and for some, the prospect of not being a member can result in fear of missing out (FOMO).
VIP tiers, loyalty programs, and clubs are all ways brands can offer membership to their customers. Credit card companies and airlines are examples of brands that have mastered VIP tiers. With each membership level, customers achieve more perks, like bypassing lines, fee waivers, and upgrades.
Clubs are ways for companies to offer customers who are interested in particular products more of what they love. And they can do so on a consistent basis. For example, wine shops that offer a monthly wine club. Or, perhaps the biggest club in the game — Amazon Prime. Club membership can include perks like free shipping, discounts on future purchases, exclusive access to sales and additional features, etc
Loyalty programs are rewards-based, where customers earn points with every purchase, like a digital punch card. Think Sephora's Beauty Insider program. This is a popular choice because it's easy to execute for brands. Also there's no additional financial investment or risk for the customer
For more revenue and customer loyalty opportunities, brands should consider adding tiers to their loyalty program.
Provide a high-quality shopping experience
The high expectations that consumers have for the physical shopping experience are just as important for e-commerce brands. The speed, usability, and presentation that shoppers are met with on an e-commerce site all matter. Especially for first-time and repeat buyers.
Exceptional customer service is also one of the leading drivers of brand loyalty. Quick response times, empathy, and a solutions-oriented approach are among the customer service elements shoppers expect. Bazaarvoice's Questions & Answers tools provide a streamlined portal for easily and efficiently answering customer queries. As well as increasing conversions by as much as 98%.
We're living in an age of digital immediacy. These days, 47% of customers expect websites to load in two seconds or less. Website speed directly affects the shopping experience, from the home page to product and checkout pages. As for Gen Z, this particular customer segment has a low tolerance for slow or poorly functioning websites.
Promote affordability with discounts and deals
Savings continue to be a top motivator of brand loyalty for consumers. According to a GWI research report, almost four in 10 shoppers actively seek discounts and offers, and about three in 10 buy lower-priced products more frequently.
Promo codes, email subscriber-exclusive offers, loyalty and membership program discounts, flash sales, a diverse product portfolio. Just some of the tactics for offering discounts and value items to customers.
Be strategic about offering discounts so that it doesn't compromise your bottom line. Offer discounts on slow-moving items, during downtimes, for an exchange like a newsletter sign-up. Or increase conversions with free shipping, for example.
Leverage user-generated content (UGC)
In a competitive, fast-paced online marketplace, the focus should be on the customer. You need to provide the best service, value, and experience for them. UGC puts the customer at the forefront with marketing that shoppers trust, as opposed to only promotional content from the brand.
Reviews and visual UGC are very influential for shoppers. Product reviews can increase conversions by 74%, making product pages the prime location to showcase UGC. As demonstrated below:
| | |
| --- | --- |
| UGC type on product page | Purchase probability increase |
| Written reviews | 81% |
| Customer photos | 66% |
| Customer videos | 62% |
Source: Bazaarvoice UGC data
Bazaarvoice's reviews and gallery tools help brands acquire and display UGC across their product pages and websites. This way, shoppers can see the social proof and realistic representation of products that UGC offers.
But it doesn't stop at product pages. Social media is another extremely effective platform for sharing UGC. In fact, UGC from social media highly impacts the purchasing decisions of nearly 80% of shoppers. Social media enables brands to engage directly with their audience. UGC makes that connection even stronger, fostering brand loyalty in the process. When customers post authentic UGC of your products, that presents the perfect opportunity to engage with, and repost, their content.

Bazaarvoice customer Parachute perfectly demonstrates how to showcase visual UGC on product pages. Simply with a link to see more on their Instagram Shop.
Consider an Augmented Reality feature
If it makes sense for your brand, augmented reality (AR) is the one. It's e-commerce's new solution to shopping for products you can't physically test or try on. According to GWI, online shoppers' interest in AR is high. Especially so in the automotive, fashion, home decor, and electronics categories. Particular interest in these categories stems from consumers' preference for experiencing high-priced and aesthetic products before making an investment.
AR takes the interactive experience to the next level. The beauty industry has already made good use of this trend. MAC's YouCam makeup simulator resulted in a triple increase in engagement for the brand over a two-month period. And similarly, consumer engagement from the introduction of Estee Lauder's virtual lipstick try-on feature increased by 133%. AR is nearing mainstream adoption if Shopify's YouCam Makeup app is any indication. Brands that implement this innovative tech early will be leaders of this growing trend.
Brands that offer an AR feature present another opportunity for their customers to interact with them. At the same time, they create an enhanced and elevated shopping experience that adds value by solving a specific need.
Conduct predictive analysis
Predictive analysis is particularly helpful for designing your loyalty program. It's the practice of analyzing consumer behavior to project future interests and purchasing decisions. This strategy can help guide consumers to products of potential interest based on their purchase history. In turn ensuring the loyalty program is mutually beneficial. As Huang goes on to say:
More companies are trying to identify specific things that they want to do through their loyalty program by understanding the analytics. Which is really important, so that they don't give too much away to the consumer.
Predictive analysis can also determine the best timing for certain promotions. How? By looking at time periods with high engagement and sales spikes.
Encourage subscriptions
Subscriptions inherently guarantee brand loyalty, as long as they're executed well. By signing up for a subscription, the subscriber is willingly agreeing to make repeat purchases on a regular basis. To make this kind of commitment, the subscription must be something they already enjoy, or it solves a pain point. Some brands offer subscriptions as an additional service line. For others, like HelloFresh and BarkBox, it's their entire business model.
The subscription model is booming. From 2012 to 2018, subscription businesses grew more than 300%, approximately five times faster than S&P 500 companies' revenues. Since then, the pandemic accelerated the subscription economy, and its revenue is projected to more than double by 2025.
The key to a successful subscription strategy is to deliver an unmet need. That can be having products consumers love delivered to their doorstep every month. Or it's full access to publications like The New York Times. Best practices for a sustainable, successful subscription program include excellent customer service and providing value, convenience, variety, and flexible pricing.
Use a sampling strategy
One sure-fire way to get the attention of customers is to send samples to them directly. This can apply to product launches or hero products that might need a market refresh. People love free products and delight in receiving a delivery.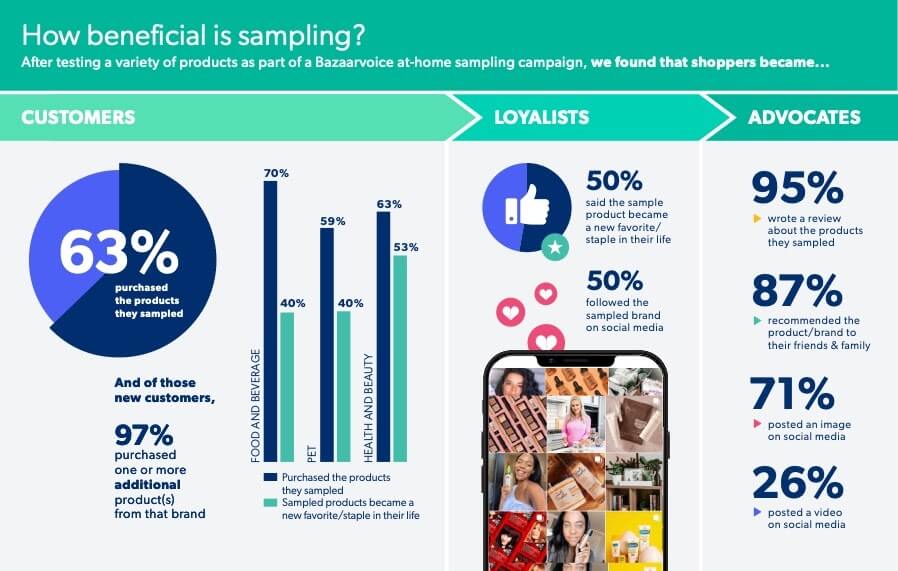 On this note, we recently surveyed 6,000 Influenster members who had recently participated in a sampling campaign. Of those we asked:
53% said the product became a staple for them
49% followed the brand on social
95% wrote a review about the sampled product
88% recommended it to family and friends
For each target customer, sampling led to several successful key brand loyalty metrics.
Brand loyalty examples
Learn from the pros. These top brands show how to expertly generate high brand loyalty from their customers.
Adidas Creators Club
The Adidas Creators Club is a membership-based rewards program. It's a genius model that rewards customers for engaging with their brand. Members earn points by creating an account, completing their profile, reviewing products, and participating in Adidas training sessions and events. As members earn more points, they are eligible to advance to the next club tier.
The four Creator Club tiers come with their own collection of perks. They include exclusive rewards and the chance to partner with Adidas to give back to causes. Aka, combining multiple brand loyalty motivations into one program.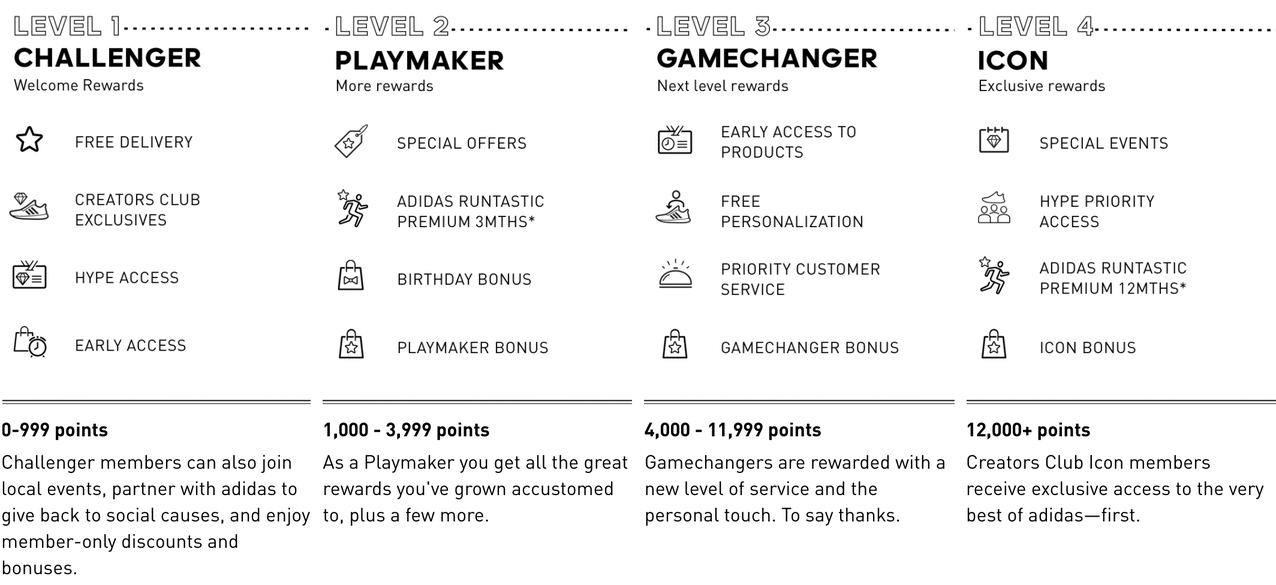 Microsoft Rewards
Microsoft Rewards is cleverly crafted to drive engagement and purchases toward focus products. For example, members earn points by using Bing, Edge, and Windows 10 for their online searches and activity. Like Adidas, their rewards program includes automatic donations to selected causes with acquired points. And, as with credit cards, members can earn one point for each dollar spent on Microsoft products.
Microsoft Rewards also features daily gamified challenges for extra chances to earn points. Points can be redeemed for gift cards, sweepstakes entries, nonprofit donations, and more.
Home Depot Canada's Seed Sampling
Bazaarvoice customer Home Depot Canada gets it. The brand is a prime example of how to strategically make a sampling program that hits the trifecta:
| | |
| --- | --- |
| In favor of the brand | √ |
| Favors the customer | √ |
| Accomplishes brand loyalty | √ |
Partnering with Bazaarvoice, Home Depot Canada launched a Managed Sampling campaign for their most loyal customers to generate buzz around their high-priority items.
This tactic produced enthusiastic reviews from the target customers. But more importantly, it doubled conversions for products in the seed campaign. This resulted in successful product launches for Home Depot Canada vendors.
BEKO
Beko is an appliance and consumer electronics brand that relied on UGC for a successful expansion into the Australian market. Working with Bazaarvoice, Beko accumulated over 8,000 customer reviews and syndicated them on their retail partners' websites, which increased their exposure to their target market, strengthened their retail partnerships, and converted new brand advocates.
Petco
Petco focuses on building trust with its customers to increase brand loyalty. With its partnership with Bazaarvoice, Petco accrued 80% of their 1.5 million reviews through syndication. This large volume of UGC inspires confident purchases in other shoppers. Beyond reviews, Petco recognizes its responsibility as a supplier to pet parents who care deeply about their pets' health and happiness. In addition to selling quality products to pet owners, they've become a trusted resource through Bazaarvoice's Questions & Answers tool.
With Bazaarvoice Connections, Petco can team up with their vendors to efficiently and effectively answer any customer questions or concerns. This allows them to connect with customers and gain valuable product feedback.
For further reading, a few more brand loyalty success stories can be found here!
How to measure brand loyalty
With the many tactics to build brand loyalty comes multiple ways to track it:
Customer satisfaction surveys. Want to know the level of loyalty your customers have for your brand? Ask them. Luckily for you, we just produced a guide on how to do exactly that!
Engagement. Website visits, customer reviews, social media followers, social media interactions. All are indicators of how invested your customers are in your brand.
Track repurchasing behavior. Use your customer and inventory management insights to track repeat purchases. The number of customers who continue to buy from your brand will tell you how high your brand loyalty is.
Number of loyalty and rewards program members. Track how many people are enrolled in your membership, club, or loyalty program and the trends over time. Determine what could be attributed to the rise or fall in members to identify areas of opportunity and improvement.
Number of subscribers. If your brand offers a subscription, or is subscription-based, how many subscribers you have is a key indicator of brand loyalty. If you're not consistently gaining subscribers, you should reevaluate your subscription's price point, variety, and value to the consumer.
Brand loyalty is the key to long-term growth
Clearly, building brand loyalty requires a multi-faceted, holistic approach. It's not one simple step but many to achieve a high level of brand loyalty. But once you get it, you'll have returning customers who make repeat, and often larger, purchases.
According to Accenture's study, the majority of consumers are willing to pay more to brands that meet all their needs. And according to a McKinsey survey on loyalty, 62% of members in a paid loyalty program are likely to spend more with that brand. That amounts to increased revenue over an extended period of time. Something every brand wants!