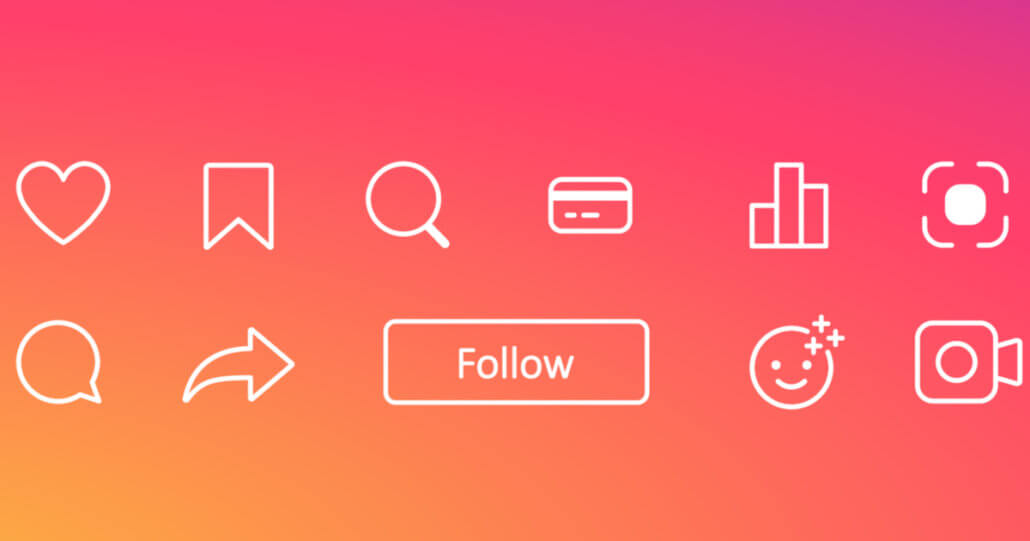 Our 2021 Instagram metrics can be found here.
---
Measuring the performance of digital marketing is critical to determining its ROI, yet the majority of high-level marketers aren't confident they're doing it right. The 2022 CMO Survey found that less than 40% of the nearly 2,600 high-level marketers surveyed believe they're effectively tracking their own data.
It's not surprising that marketing professionals have doubts about their analytics processes since new metrics continue to emerge, causing a learning curve. The problem of tracking social media marketing is compounded by two other issues called out in the CMO survey:
The lack of alignment with CFOs on digital marketing objectives
Not having the right systems in place to track customer engagement.
If you're trying to get your social media marketing metrics in order, there's no better place to start than Instagram, given it's one of the most valuable marketing and sales channels for e-commerce businesses. Users are more engaged on Instagram than they are on Facebook or Twitter, and Instagram yields the second-highest purchases out of all social media platforms in the U.S., closely behind Facebook.
Whether or not you're leveraging the full potential of Instagram for business or successfully tracking your Instagram performance, we have the key Instagram metrics you need to know in 2022.
We analyzed the top 20% of performers out of 516 clients across 18 different retail, e-commerce, and service industries to show you where the high bar is set.
The results reveal what you should be measuring and how you stack up against these top Instagram performers. Discover what you're already doing well and the areas for improvement to be a top Instagram competitor in your market.
Instagram Reach Rate metrics
1. Reach Rate by brand size
Definition: Reach Rate is the percentage of your followers that see your post or story.
Reach Rate = Number of people who have seen your post / Followers
This might sound counterintuitive, but out of the brands analyzed, the ones with the least numbers of followers — fewer than 10K — have the highest post and Story Reach Rates by far. Likewise, the second-lowest tier of followers has the second-highest post and Story Reach Rate. Brands with 1M+ followers have the lowest Reach Rate, and the Reach Rate of the middle tiers falls between the lowest and highest rates.
Larger: Brands with large followings (+501K) should aim to meet or exceed an average Reach Rate of 12% for an Instagram post and 2% for an Instagram Story.
Smaller: Brands with smaller followings should aim to meet or exceed the higher benchmark of 32% of their audience through posts and 8% through Stories.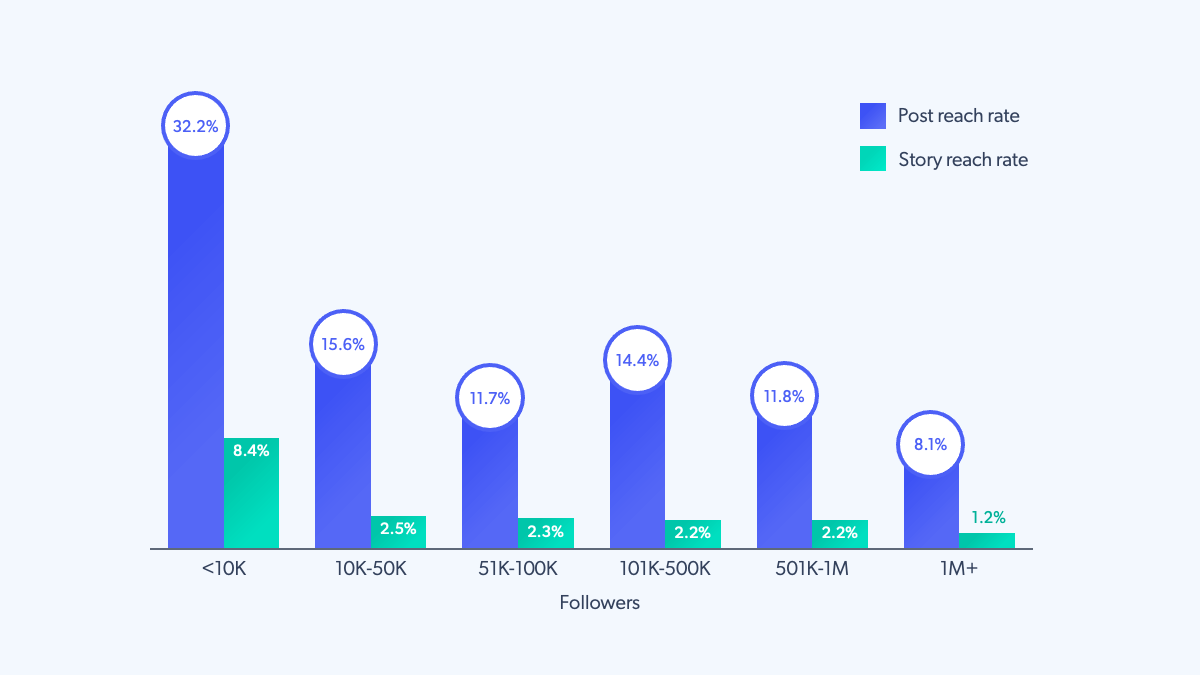 2. Reach Rate's relationship with Conversion
Definition: Conversion Rate is the percentage of total visitors to your website that convert. Depending on the business goal, conversion can be making a purchase, signing up for a newsletter, or signing up for a subscription.
Conversion Rate = Total conversions / Total visitors
Reach Rate isn't just about getting more eyeballs on your content. It also leads to more website visitors and conversions, so it's a valuable performance metric on multiple levels. We see higher website traffic and conversions for brands with higher Instagram reach.
The average Conversion Rate for the top-performing brands on Instagram we analyzed is 1%. Once again, the brands with fewer than 10K followers have significantly higher Conversion Rates (2.6%), followed by brands with 10K–50K followers (1.2%), indicating brands with smaller followings have higher Conversion Rates.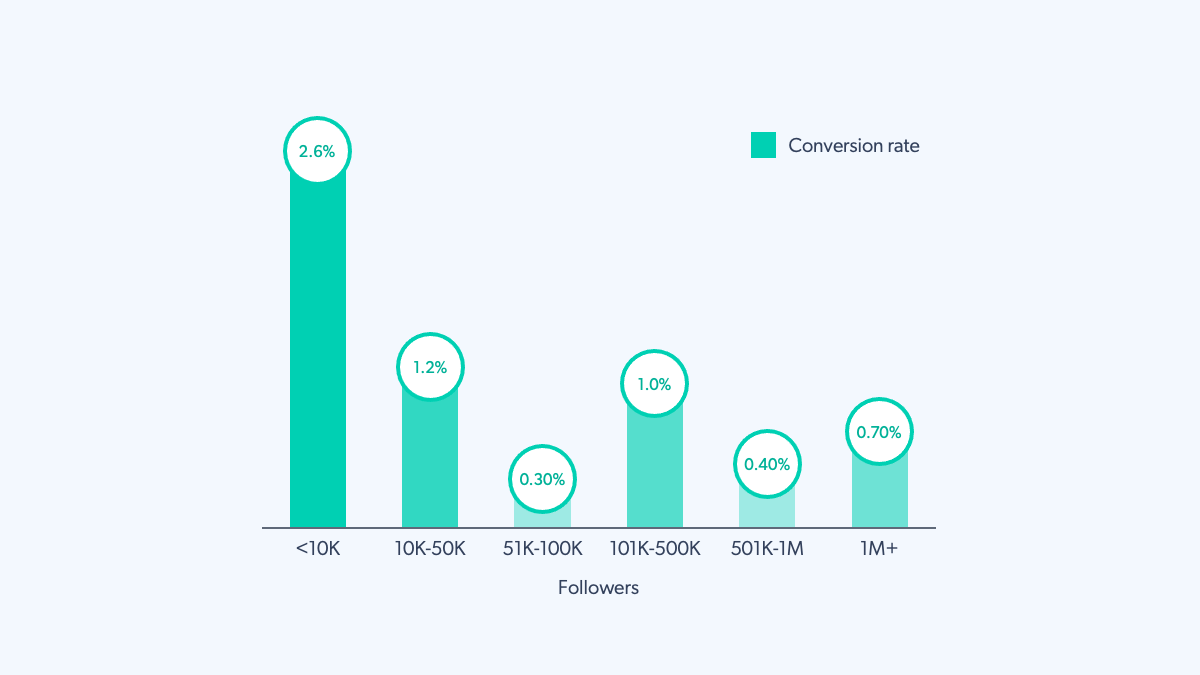 3. Reach for Stories versus posts
Editor's note: We didn't have sufficient data for this particular Instagram metric. We've kept it in as an FYI, but take these results with a pinch of salt. There simply wasn't enough data here this year, so the results are likely skewed.
Instagram Stories are an important feature for brand marketing. The number of users actively posting Stories has steadily increased since the feature's launch, now exceeding more than 500 million daily users. Stories from brands account for one-third of the most-viewed Stories.
Despite the popularity of Instagram Stories, their reach is considerably (but understandably) lower than posts since posts are permanent while Stories expire after one day.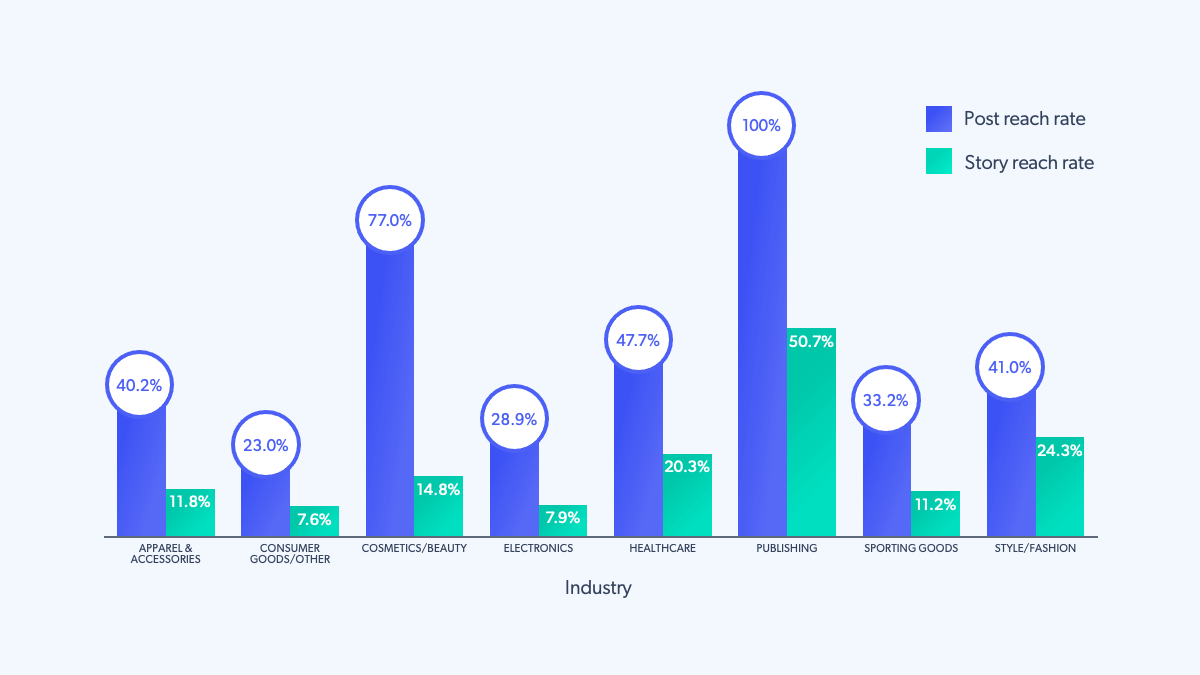 Engagement Rate Instagram metrics
Definition: Engagement Rate measures how many people interacted with your content compared to how many people saw it. To find that figure, divide your number of engagements (comments, likes, saves, etc.) by your follower count.
Engagement Rate = Engagements / Followers
4. Engagement Rate by follower size
Engagement Rate for feed posts varies according to how many followers a brand has. Ranking at the top again are brands with fewer than 10K followers, which should aim to meet or exceed a 12% Engagement Rate.
Coming in second are brands with 10K–50K followers at 11%. In the case of post engagement, brands with the most followers don't have the lowest rate this time, but rather fall in the middle of our top performers at 9%.
Brands with 501K–1M followers have the lowest feed post Engagement Rate at 8%.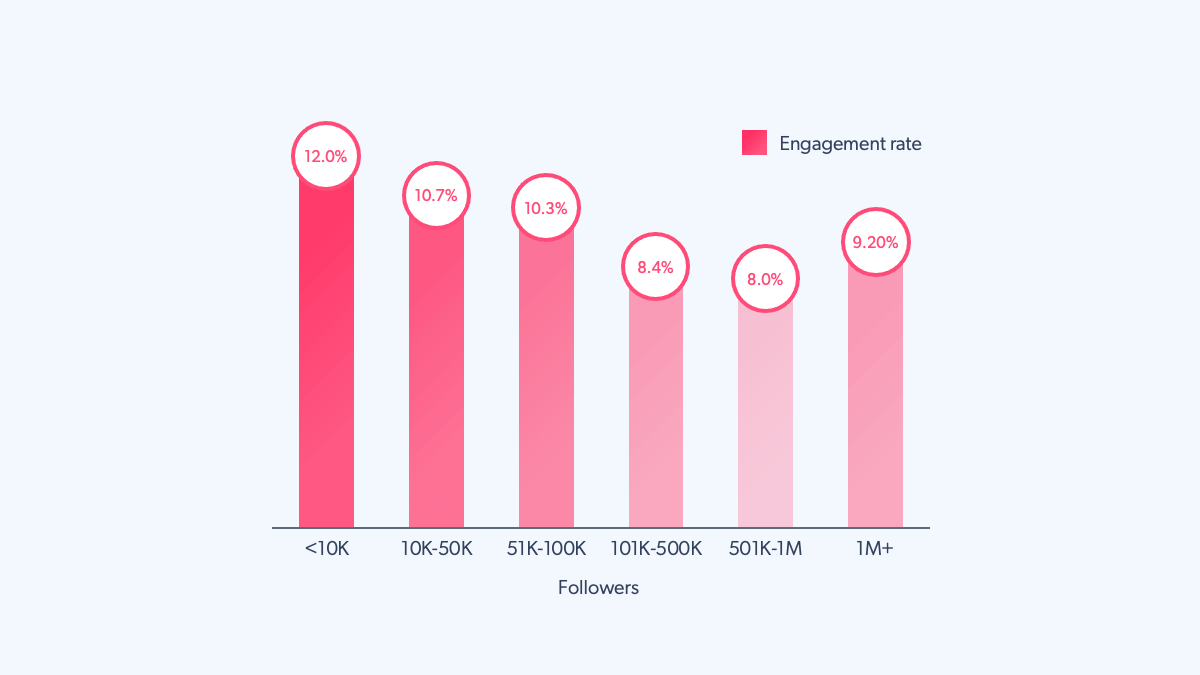 5. Engagement Rate for photos versus video
Instagram originated as a photo-based social platform, and its flagship content type still reigns supreme. But while photos still have the higher Engagement Rate overall, videos on Instagram are becoming increasingly more popular. According to Instagram, 91% of active Instagram users watch videos weekly. We predict that in next year's Instagram metrics report, video will have overtaken.
The results of our top-performing brands on Instagram show that the photo Engagement Rate exceeds that of video. But, not by a significant amount. The average photo Engagement Rate is 9.9%, compared to 7.4% for video Engagement Rate.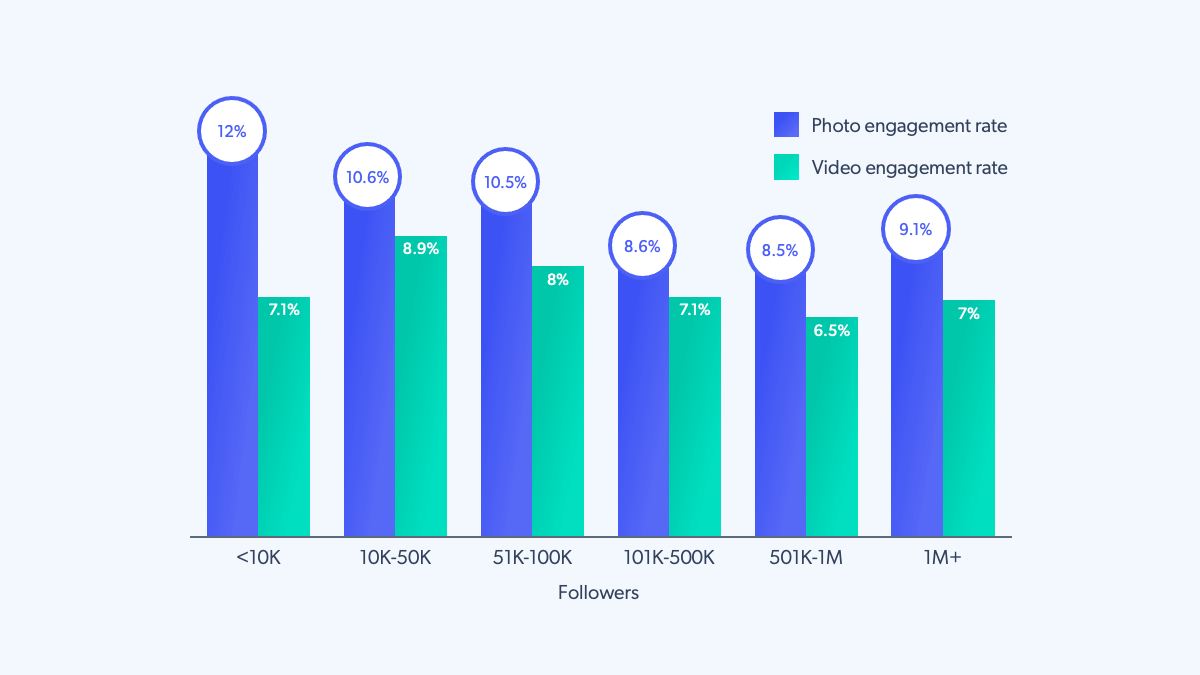 6. Visual content Engagement Rate by industry
Your industry is a big variable to consider when assessing your photo and video Engagement Rate. With these industry benchmarks, you can see if you're above or below top competitors in your space as a guide for your ongoing performance tracking. Because of the nature of the ever-evolving and fluctuating digital marketing landscape, some industries that were on the bottom last year have moved up, and vice-versa.
Consumer goods has the highest visual Engagement Rate for video and photo. Publishing is the industry with the lowest video Engagement Rate, and Hospitality is the industry with the lowest photo Engagement Rate.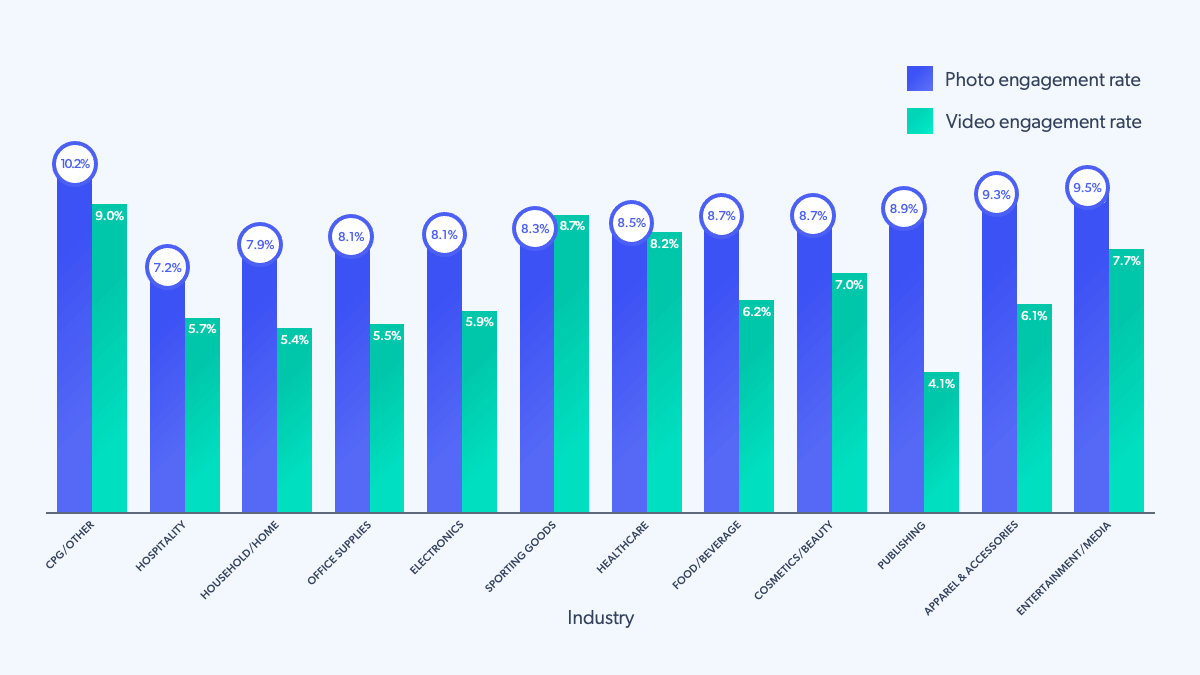 7. Most engaging times to post on Instagram
For our top performers, the posting times that result in the highest Engagement Rates are at 7 am EST and between 1 pm–3 pm EST: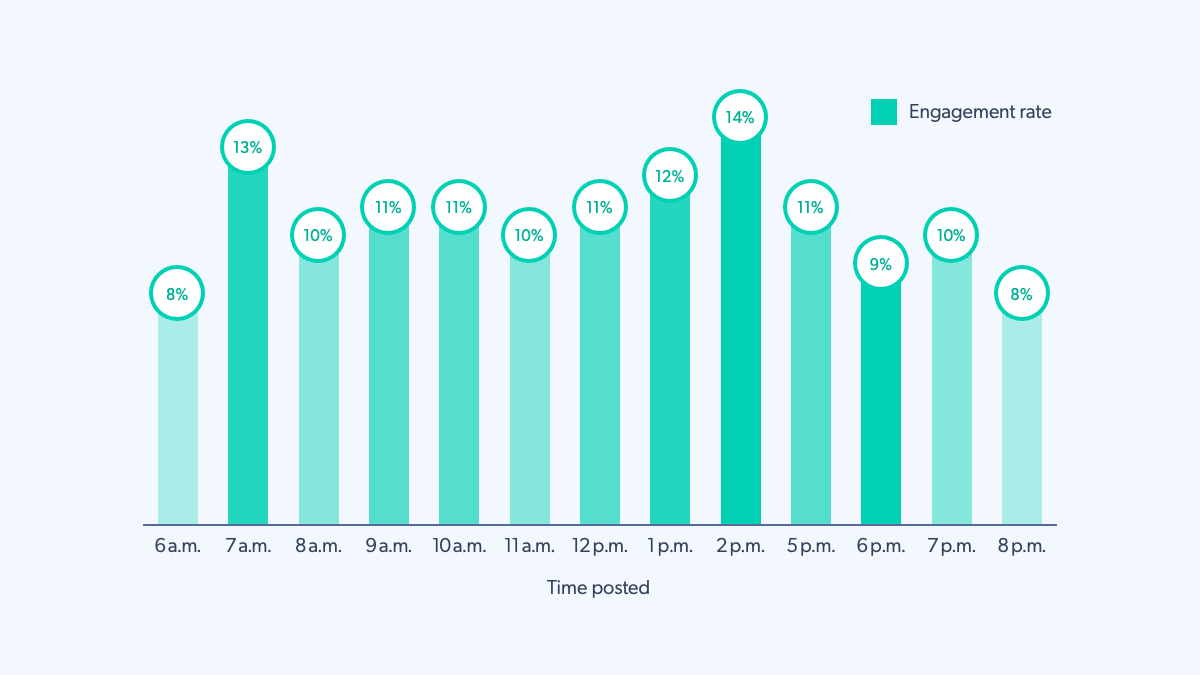 Taking a closer look, this varies some by industry. For example, cosmetics and beauty brands can achieve a higher Engagement Rate by posting at 6pm EST:
While the highest rates for the apparel industry are at 9am and 12pm EST: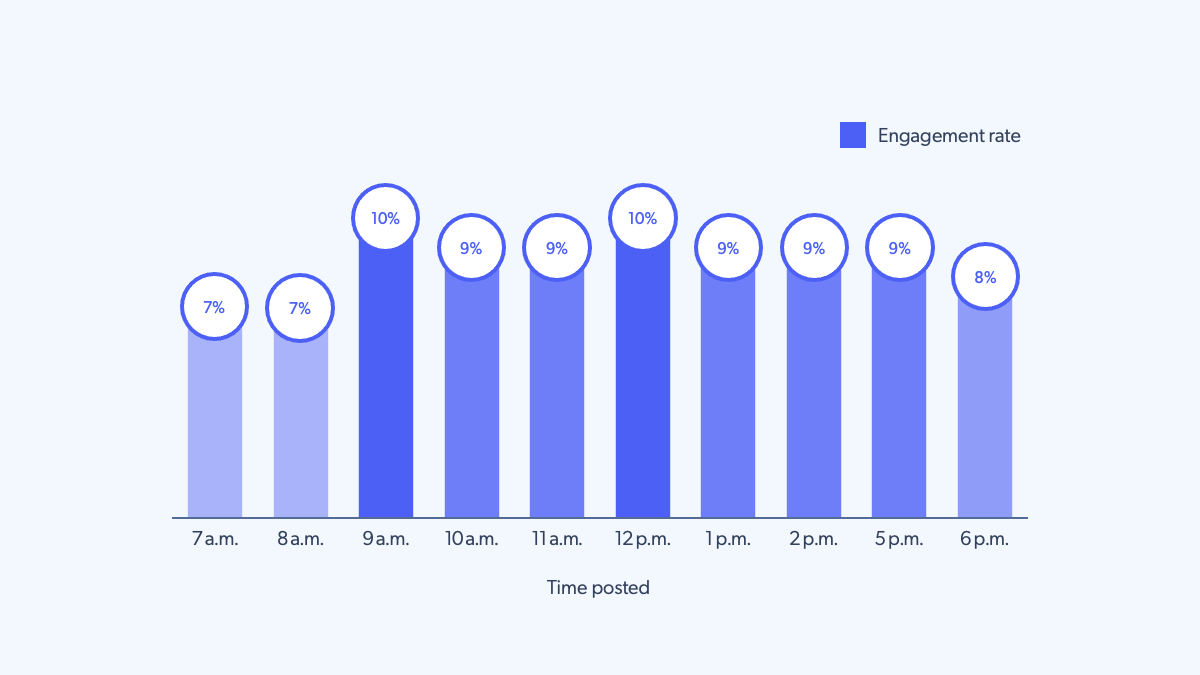 Beyond the time of the day, other factors also influence Engagement Rate. Day of the week, holidays, the time zone of your primary audience, and events, to name a few, all have influence.
8. Instagram Average Saves
Don't sleep on saves. The Instagram save feature allows users to save feed posts they want to come back to, indicating the value of the post. It's also an important engagement factor for the Instagram ranking algorithm. For this metric, we do see that the number of saves per post corresponds with the number of followers the top-performing brands have.
The higher the number of followers, the higher the number of saves.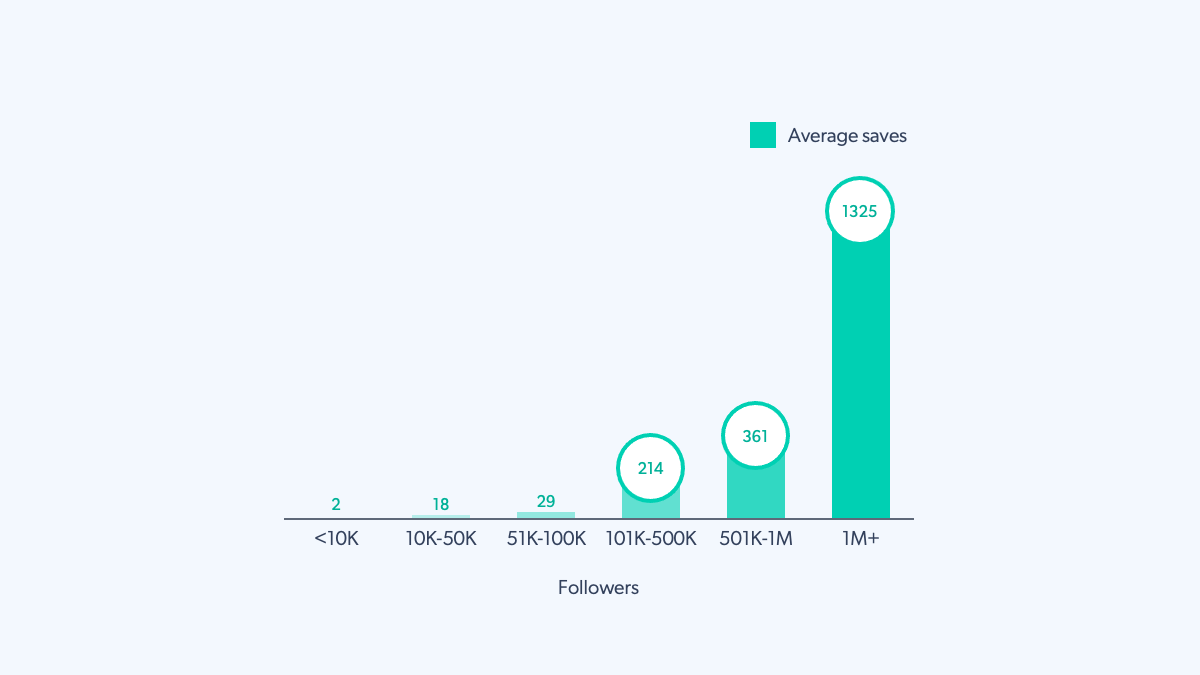 Instagram Stories Metrics
9. Instagram Stories Completion Rate by size
Definition: Completion Rate is how many people have watched an Instagram Story to the end.
Completion Rate = Number of people who viewed the last segment in your Story / Number of people who viewed the first segment
Your Stories Completion Rate is an important metric that indicates what type of content your followers like and want to see more of. This will help inform your content strategy so that you can focus on what content resonates most with your audience. The average Stories Completion Rate across all categories and following size is 86.5%.
Our data shows that the higher the follower count, the higher the Story Completion Rate.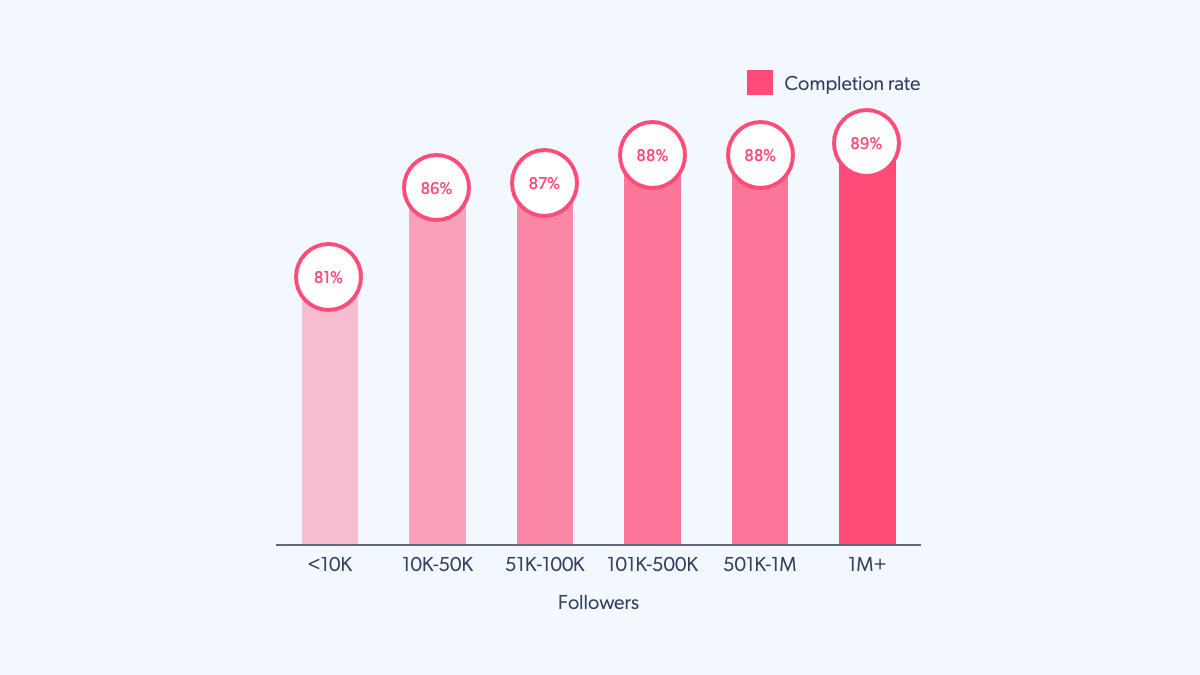 10. Instagram Stories Tap Forward Rate
Definition: Tap Forward Rate is the percentage of people who have tapped forward to see the next photo or video in an Instagram Story.
Tap Forward Rate = Taps / Impressions
A high Tap Forward Rate is a good indication that your followers want to see your Stories instead of swiping to the next Story from a different account. The average Tap Forward Rate of our top-performing brands is 80%. The number of daily stories published affects Tap Forward Rate. Brands that post up to five Stories a day have a higher retention rate.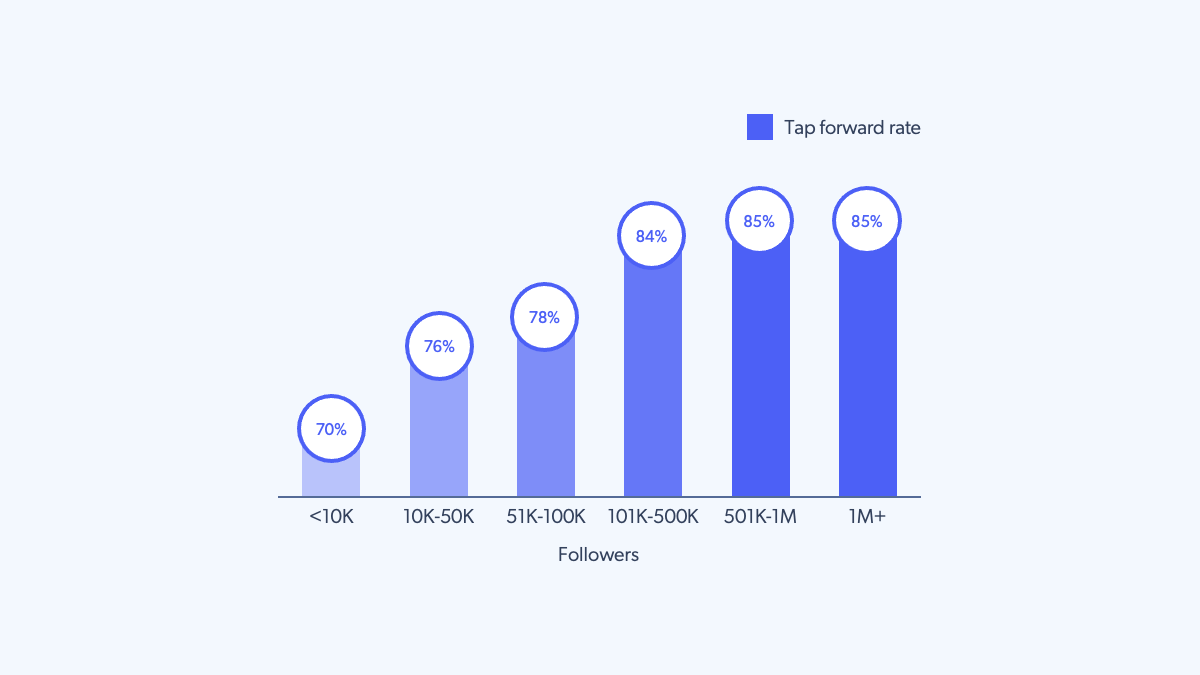 2022 Instagram metrics takeaway
This year's Instagram metrics report taught us that smaller brands on Instagram have an advantage in many top performance areas
Reach Rate
Conversion Rate
Engagement Rate
However, large brands on Instagram do outperform in a number of areas too:
Saves
Story Completion Rate
Story Tap Forward Rate
To improve your Instagram performance metrics, no matter how many followers you have, you have to post daily content that engages your audience, whether that's a feed image or video, a Story, or a Reel. Put your customer at the center of your strategy and create content that inspires interaction.
Use this information to help get your team aligned on your Instagram marketing goals and make 2022 a record performance year.
Bazaarvoice's Social Publishing tool provides all of this data so you can easily pinpoint the best times to schedule your Instagram content for the highest engagement and best results.
---
Check out the rest of our Instagram content here for more tips and tricks.