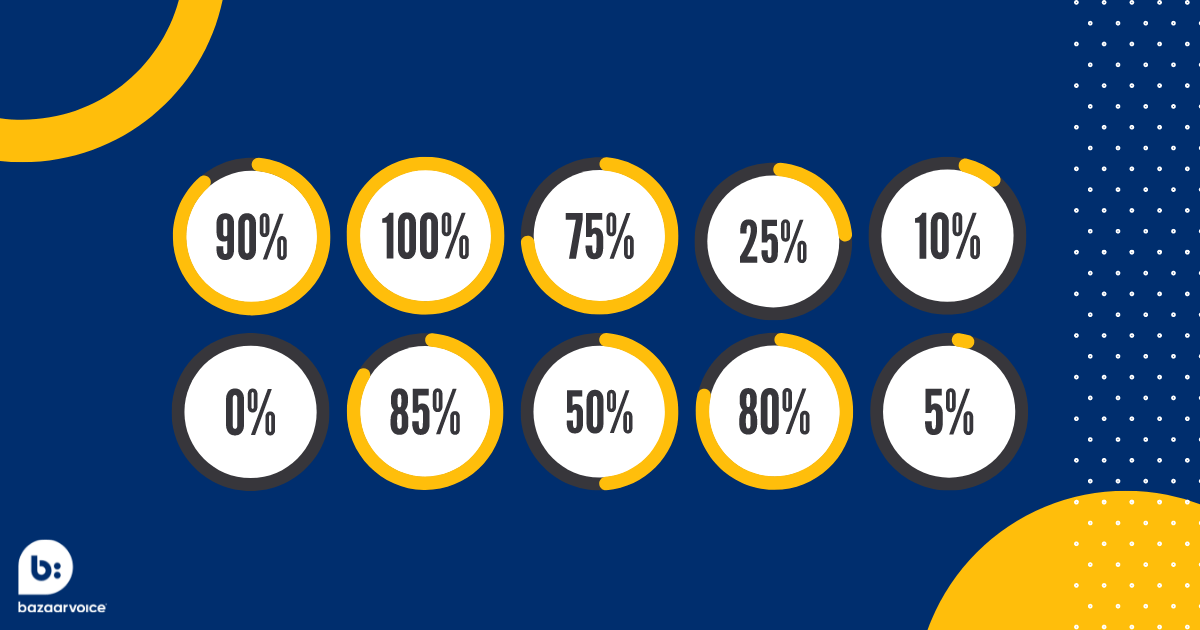 Stats don't lie. By definition, a statistic is a piece of data obtained from a study of a large quantity of numerical research. When considering a new tactic or strategy, like shifting your branded content efforts to user-generated content, relying on research is one of the first steps for any smart marketer. But before we look at the data and statistics surrounding user-generated content, first a quick education.
User-generated content definition
User-generated content, refers to any content — ratings and reviews, social posts, Q&As — created by an individual rather than a brand.
Historically UGC was more of a B2C tactic but increasingly more B2B businesses are realizing the potential UGC can provide their brand and are starting to balance out their marketing channel mixes.
Shoppers want to see UGC being shared by brands across their digital and physical touch points. Which is why 82% of brands and retailers are moving or considering moving paid media budgets to owned and earned content creation. (Consider this a bonus stat on top of the other 64).
Benefits of user-generated content
Aside from being the content shoppers actually want to see from brands, as demonstrated above, UGC has a wealth of benefits. It plays a crucial role across the entire consumer buying process, inspiring confident purchasing decisions at every step.
When we want to buy something, we inadvertently turn to our fellow shoppers for advice. We want to read an honest review, or see how a product looks in the real world and not just a curated photoshoot. UGC provides the social proof shoppers need, and that's only the beginning.
Compendium of user-generated content statistics
As the leading end-to-end user-generated content platform (not our words, the words of G2), we have a wealth of research, insights, and statistics regarding user-generated content, which we're frequently asked by clients to share with them. So we've complied into this handy bookmark-able compendium for your reference.
But to provide a balanced approach, we've also made sure to include various user-generated statistics from third parties and other reliable sources too.
UGC strategy
1. 86% of brands and retailers believe that more authentic UGC in their paid and owned media would improve the performance of their ads and content
2. 25% of search results for the world's biggest brands are links to user-generated content
3. Shoppers are nearly 2.5x more likely to say user-generated content is more authentic than brand-created content
4. 60% of consumers believe UGC is the most authentic marketing content
5. Nearly half of shoppers are less likely to buy from a brand or retailer who doesn't have reviews on their site
6. 53% of shoppers say UGC makes them more confident in their purchasing decisions than professional photography
7. 40% of shoppers say UGC makes them more likely to buy a product from an ad
8. When shopping on a brand or retailer's website, 40% of shoppers won't purchase if there isn't UGC on the product page
9. User-generated content-based ads get 4x higher click-through rates than average
10. 84% of consumers are more likely to trust a brand's marketing campaign if it features user-generated content
11. 77% of shoppers are more likely to buy a product they found through UGC
12. 85% of consumers say they turn to visual UGC over branded content when making purchasing decisions
13. Visitors to websites that have UGC spend 90% more time on site
14. Conversions increase by 10% when UGC is included in the online purchase path
15. 77% of people said they would submit UGC to gain a reward
16. Half of consumers wish that brands would tell them what type of content to create and share
17. 80% of consumers prefer seeing real customer photos vs. stock photos
18. Featuring UGC increases revenue per visitor by 154%
19. Shoppers trust UGC when used in an ad (42%) more than brands advertising without UGC (31%)
20. UGC content sells: Brands and retailers ranked reviews (64%) and customer photo and video content (43%) as the most influential elements of their sales and advertising efforts
21. 62% of shoppers are more likely to buy a product if they can view customer photos and videos
22. 74% of shoppers want to see consumer content on brands' websites
23. Ads featuring UGC have a 50% reduction in the cost-per-click, compared to ads without
24. User-generated content forms seven of the top 10 types of research shoppers prefer to utilize before making a purchase (one of our favorite statistics!)
Written UGC
25. Bazaarvoice clients see 3x conversions when social content is combined with ratings and reviews at retail
26. Having just 10 product reviews can lift conversion rate by 45% (Bazaarvoice research, 2023)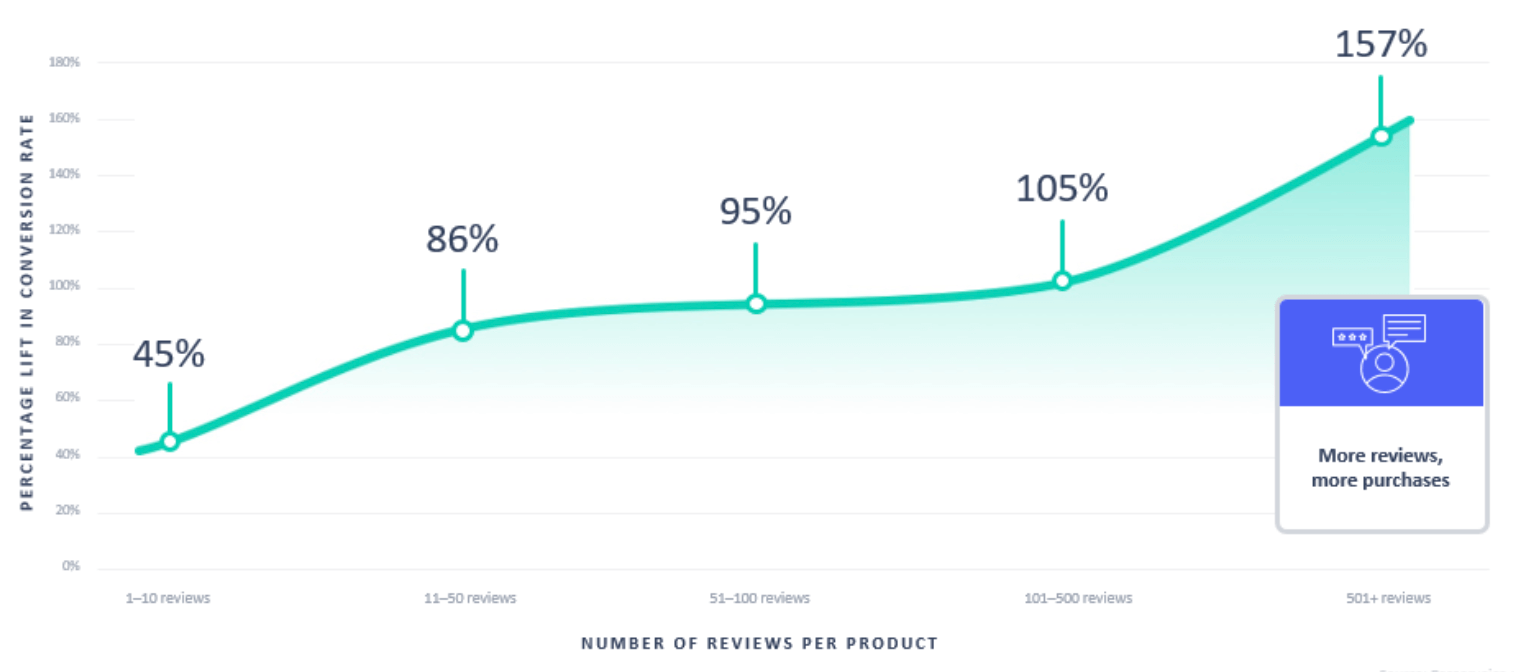 27. 63% of companies rely on ratings and reviews to meet their SEO goals
28. 88% of shoppers consult ratings and reviews before making a purchase
29. 61% of consumers strongly agree or agree that recent reviews (written in the past 3 months) are more reliable than older reviews
30. 71% of shoppers agree that the number of product reviews is more important depending on how expensive the product is
31. Close to a third of shoppers agree that a product needs more that 100 reviews to be considered credible
32. 85% of shoppers consult online product reviews on their phones whilst shopping in-store
33. Over a third of shoppers consider reviews with photos more credible than reviews without
34. People need to see negative reviews in the purchase journey: 85% of shoppers think negative reviews are either as or more important than positive ones
35. Fake reviews break trust: 52% of shoppers say fake reviews make them lose trust in the brand
36. One fake review spoils them all: 75% of shoppers claim that if they notice a fake review for a product on a site, it would impact their trust in reviews for other products on the same site
37. What's in a review: 4% of reviews detail product flaws, 2% of reviews detail product improvements, 1% of reviews detail copy improvements
38. Fake reviews spoil the sale: If they suspect fake reviews, 56% wouldn't buy the product, 50% wouldn't trust the brand, 34% wouldn't trust other reviews, and 25% wouldn't buy from the site
39. 60% of shoppers would rather purchase a product that has 10 reviews with user images than 200 reviews with no images (Bazaarvoice survey, January 2023)
40. 70% of shoppers would rather buy a more expensive product with higher ratings and reviews than a less expensive product with fewer reviews (Bazaarvoice survey, 2023)
41. 72% of sampling participants on average indicate they'll repurchase the product (Bazaarvoice survey, 2022)
42. Adding review highlights can increase engagement rates by 12%
43. Adding review highlights to the top of the review section can increase conversion rates 3.5%
44. 33% of shoppers want QR codes in-store that can be scanned to read online reviews
Social UGC
45. 97% of shoppers have purchased though social media 🤯
46. 69% of shoppers have been inspired by social media to makle a purchase through another channel
47. 54% of shoppers say they'd be more likely to buy a product on social media if they could click the post and get the product info right on the platform
48. Last year, 27.3% of TikTok users made a purchase via the platform
49. 97% of Gen Z consumers say they use social media as top source of shopping inspiration
50. 44% of brands and retailers use social media to drive traffic to their online store
51. 42% of shoppers say they would buy a product with no professional photos (and only user-generated photos)
52. 41% of brands and retailers provide shop floor staff with social content from fans/influencers to share with shoppers
53. 31% of brands and retailers feature social content from fans and influencers in email marketing
54. Shoppers are social: One in five said they shop on social media, mostly from Facebook shops (41%), via influencers' Instagram stories (37%), and via ads on Instagram (36%)
55. Companies see a 50% higher engagement when user-generated content is incorporated into social campaigns
56. 140% higher conversion rates when users interact with galleries content on product pages (Bazaarvoice Galleries Performance Benchmarks, 2022)
57. 15% higher average order value when users interact with galleries content on product pages (Bazaarvoice Galleries Performance Benchmarks, 2022)
58. 308% increase in time on site when users interact with galleries content on product pages (Bazaarvoice Galleries Performance Benchmarks, 2022)
UGC ROI and value drivers
59. The average ROBO (research online, buy offline) multiplier for brands in the Bazaarvoice Network is 3.91x — this means that for every $1 of revenue influenced online, user-generated content influences $3.91 in-store
60. Feelunique drives $10 million in annual sales with UGC
61. GANT reduced its return rate by 5% by leveraging UGC
62. Iconic London gained a 126% lift in conversion rates with UGC
63. Bazaarvoice adds 2.71% contribution to total revenue
And finally…
64. For every $1 spent on the Bazaarvoice platform, you get back $4 in return. (That's a 400% ROI!) 📈
Getting started with user-generated content
The stats speak for themselves. As the statistics show, implementing user-generated content can make your brand more authentic, inspire shopper purchasing decisions, and deliver a hefty ROI.
If the above stats have convinced you to combine your branded efforts with user-generated content, the first step is choosing the right UGC provider to work with. There's six core areas you need to look at when evaluating a potential partner.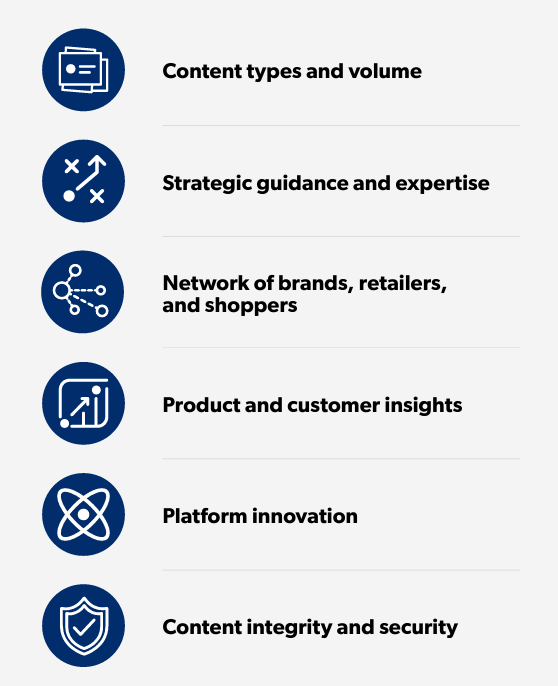 The right user-generated content provider is more than a few statistics. They'll be experts in the six focus areas above, and then some. But remember, not all user-generated content partners are the same and the evaluation stage can take some time. Not sure where to start?
Read our e-book on finding your ideal UGC provider for the essential questions to consider when selecting a user-generated content provider.