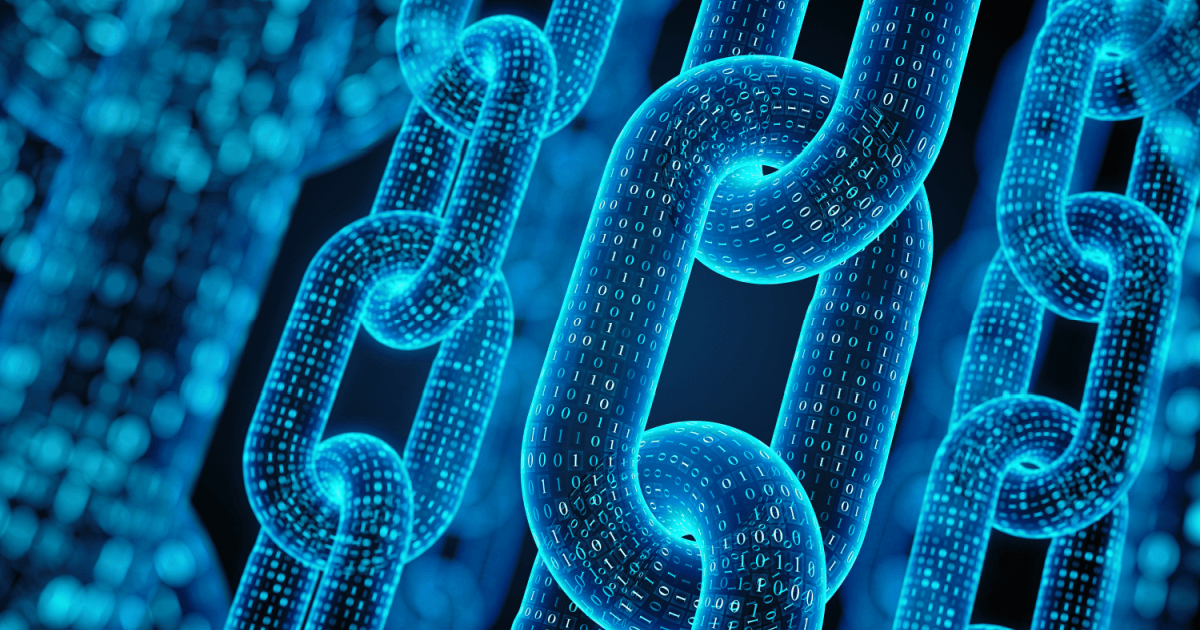 It's been nearly 30 years since Bill Gates wrote his famous "Content is King" essay back in 1996. And nearly three decades later, that statement is more true now than it's ever been with one major modifier — scaling fresh content is King of King.
Consumers spend hours and hours a day scrolling e-commerce sites and social media, where they see your products, like your posts, and click your shoppable images — 97% of consumers say they've purchased something from social media. They have an insatiable appetite for content, and they're always looking for more.
The best way to feed these hungry shoppers is with a strong content supply chain.
A content supply chain ensures your content is high-quality, coming from multiple sources (branded or organic), available in multiple formats, and targeted to each of your audiences. And that it's engaging enough to reach consumers across channels. Having the right content mix — branded, organic, social, user-generated — is the way to win the hearts and souls of your consumers in today's connected, socially active world.
Content may be king but it needs to be placed through an optimal mix of channels — paid, earned, shared, and owned. It's just that where before us marketers leaned much more towards paid and owned, we need to shift the balance to meet consumer demand for more earned media because traditional advertising just doesn't land the way it used to.
According to the Bazaarvoice Shopper Experience Index 2022, an annual report into consumer behavior, 32% of consumers say ads don't work on them. Instead, they'd rather see content from real shoppers, and find ads featuring a fellow shopper's reviews and photos more compelling.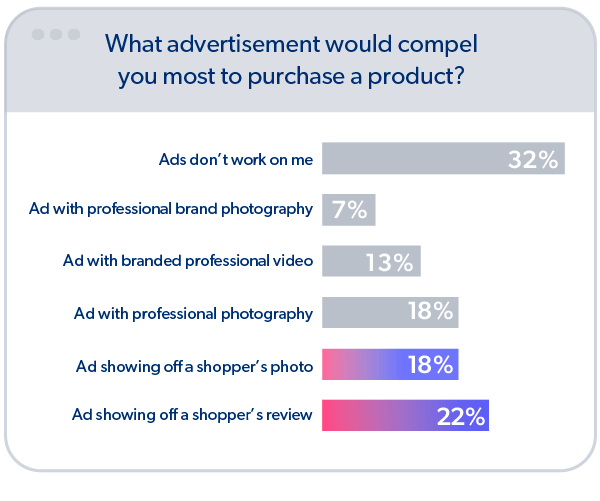 User-generated content, like shopper reviews and social content, surpasses branded content when it comes to engagement and authenticity.
Improving your content supply chain will let you meet consumers' heightened demand for high-quality content. Here's an overview of what a content supply chain is and the benefits it brings.
What is a content supply chain?
A content supply chain is a process that brings aligns teams, tools, and workflows to effectively collect, curate, and distribute digital content at scale.
In a traditional supply chain, companies source and transform raw materials into end products consumers consume at points of purchase.  An effective and seamless supply chain optimizes supply and demand. A content supply chain works and functions the same way.
In a content supply chain, our focus is on the entire process of optimizing the planning, creation, curation, and distribution of content about your brand and your products. Balancing the supply and demand of content at all points of consumption will be key.
The content bias
Here comes the confession of the seasoned marketer in me. From my marketing classes in college to the product marketing and content marketing teams I've led over the years, we took pride in product content we produced. E-books, webinars, pictures and videos, collateral, ad copy, commercials, product detail pages (PDPs), and more. Surely, no one knows our products and our brands more than we do.
For content placement, we applied art and science to placing the consumable branded content at the right time, at the right places, to the right audience, ensuring our supply of content and assets are mapped to the demand. We mobilized our marketing mix and leveraged the paid, earned, shared, and owned channels.
It took me years to realize that I, along with many of my cohorts, had and continue to have a bias toward content we produce as brands — branded content. In the B2C world, this content bias may cost you significant shopper engagement, product awareness, purchase conversion, and even customer loyalty.
Why? Because we didn't optimize our content supply chain to its full potential.
The channel bias
Since the dawn of the marketplace, or the original bazaar, commerce has been continuously evolving. It's transitioned from the person-to-person interactions of the ancient bazaar to the mass market one-to-many impersonal communications to today's peer-to-peer new connected bazaar. What's always remained at the core is this: the consumer's voice matters most.
UGC offers the best way to give customers a voice. But, first you must address the content and channel biases within your content supply chain, if you want to capitalize on that voice. Over the years, I (and again, probably most of my cohorts) have been guilty of falling into these content and channel biases.
Perhaps it's because I developed my career in the mass market era, I found myself being conditioned to think branded content is king. Because of this, marketers have traditionally focused their efforts and investments on branded content. We assume this is what consumers want.
And while this owned and paid media is important, earned and shared media, which is the content that others create about you (a.k.a., user-generated content) is much more valuable.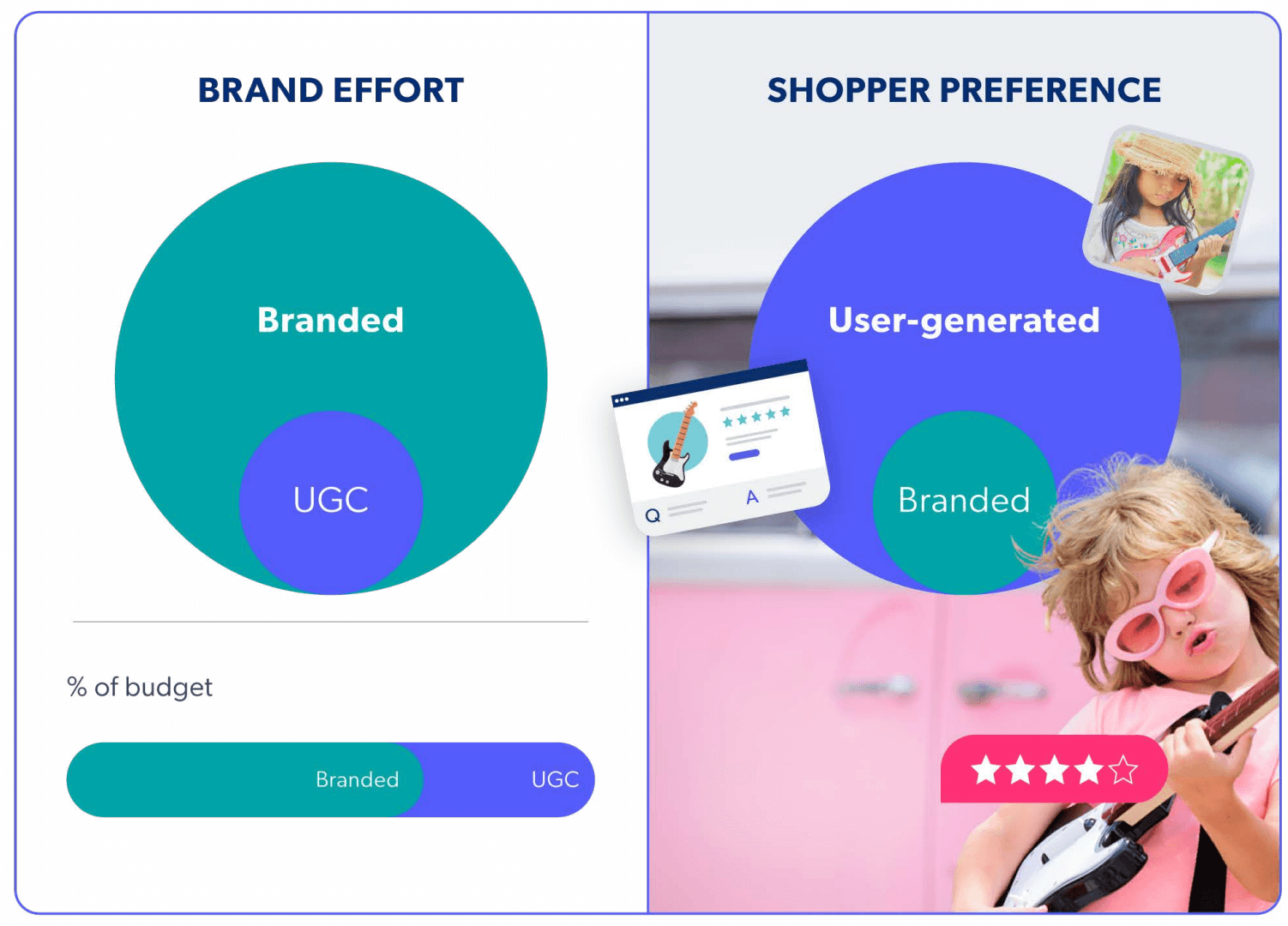 Consumers are 2.4x more likely to perceive UGC as more authentic than branded content and 83% of consumers also trust organic posts from influencers more than sponsored posts. Another 82% trust brands more when they feature real people in advertising.
Balance your content supply chain with branded and user-generated content
It would be impossible to create enough professional branded content to fulfill your content needs. It's not what consumers want, anyway. Embracing UGC helps you deliver high-quality, authentic messaging that resonates. Using a content supply chain brings many benefits, including:
A constant flow of fresh content. Every minute of the day, millions of people worldwide use social media and post photos of themselves modeling outfits, trying new recipes, and decorating their homes (all with your products). They're also reviewing the items they purchase. Fresh content keeps consumers engaged — 54% say a review's recency factors into its credibility
More reviews, higher conversions. Shoppers are more likely to purchase products that have been reviewed by other consumers. And, the more review content products have, the more they're purchased. For up to five reviews, conversion rates reach 4%. Display more than 1,000, and conversions jump to 6.4%
Faster, high-quality content creation. A content supply chain with UGC at its core ensures content remains authentic, which draws consumers in. The right UGC platform (like Bazaarvoice) helps streamline content collection and distribution, enabling you to see benefits very quickly
It offers a high ROI. As mentioned, UGC is much more cost effective than traditional marketing and still delivers amazing results. It's cheaper to produce, and, since it's perceived as less like advertising, consumers are highly responsive and feel confident shopping with you. For example, we've found that brands that work with Bazaarvoice can see a 400% return on investment within three months
Top 5 ways to improve your content supply chain
A robust content supply chain involves three central parts: content creation, management, and distribution. Improving your strategy will engage customers, generate buzz for your brand, and increase conversions.
Here's my recommendation on how to do it.
1. Tap into the voice of your customer
If UGC isn't a central part of your marketing strategy, now's the time to change that. Don't get me wrong, professional photographs and expertly written messaging are beneficial, but shoppers are more likely to respond when your content feels more like real life because it portrays the authentic voice of the customer.
According to our own research, 53% of consumers say UGC, including images from customers, makes them feel more confident in purchasing a product than professional photography. And, 40% say they're more likely to buy a product from an ad when it displays customer reviews and photos.
Tapping influencers is another way to communicate with shoppers in a relatable way. Over two-thirds of consumers trust what influencers say about your products more so than what you say. And, they consider everyday social media users and subject matter experts to be the most genuine.
2. Manage content in one place
A well-designed content supply chain delivers content at scale. It ensures you have the right supply of content to meet the demand for each channel, and it produces outcomes. When you partner with a UGC platform, you can integrate multiple solutions, reduce content redundancies, and set up a governance process.
At Bazaarvoice for example, we offer content solutions across the funnel including building brand awareness through sampling, SEO, and social publishing; driving conversions with ratings and reviews, question and answers, social commerce, and syndication; and, gathering insights from your shoppers through reporting tools.
Streamlining content management like this pays off for brands.
Global retailer Unilever wanted a new customer content strategy to increase review volume, boost organic traffic and engagement, and learn insights from its most loyal customers. Since working with Bazaarvoice, Unilever has seen a:
150% jump in purchase intent
15-25% search traffic increase
20-30% improvement in social and display ad performance
3. Customize your content by channel 
For content to truly resonate, it must land well on each channel. Tailoring content by channel delivers personalized experiences, which consumers have grown to expect. But remember, like with the content bias, as marketers we often fall into a channel bias. We invest predominantly in paid media because we always have. But 40% of shoppers say UGC makes them more likely to buy a product than an ad — we need to tilt the balance in favor of earned media.

And customization is more important than ever, as digital marketing and e-commerce are always on. Consumers shop and browse social media all hours of the day and night, fueling the social commerce industry. They want to be drawn in by memorable experiences in this new connected marketplace — 98% of shoppers value experience over price.
Your brand will benefit most when you engage the voices of real consumers and embrace consumer-to-consumer marketing.
For instance, when furniture and home decor brand Urban Barn partnered with Bazaarvoice to enhance its connected marketplace strategy, they saw a:
270% increase in time on site
59% conversion rate jump
29% higher order values
4. Stay on brand
Social media platforms have content guidelines, and adhering to these guidelines is important for content supply chain success. But more importantly, your content must also align with your own brand voice and guidelines too so that it comes across as genuine and trustworthy.
Consumers consider content high quality when it's created by real people, who haven't been paid, and meets brand and community guidelines. 40% of consumers will stop engaging with a brand after spotting fake content, which might feature misspelled words and references to competitors.
It's tough to handle all of this alone. Content moderation tools ensure content remains high quality by removing vulgar language and overreaching or inaccurate claims. This protects your reputation and instills confidence in shoppers.
Shoppers also expect to see a few negative reviews, which they consider a sign of authenticity.
5. Distribute content with shoppers in mind
Once you've tapped into your customer's voice and collected high-quality UGC alongside your branded content, a crucial next step is amplifying that content across channels. Having the right content in the right place at the right time is an essential element of the content supply chain.
Get your best shopper content in front of customers wherever they are with retail syndication. This gives you the potential to get in front of 1.3 billion monthly shoppers and see 20x more shopper traffic compared to other networks.
And, while shoppers continue to blend in-store and online shopping, brand activation can help you meet customers no matter where they shop. You can invite your most loyal followers to sample products, buy something new, or attend an in-person event — and collect fresh content to share in the process.
Future proof your content supply chain
The bottom line is this: customers want to be your voice, and you want customers to be your voice — user-generated content (with a healthy mix of branded content) displayed across your different channels is how you achieve that.
And as the #1 in UGC for six consecutive quarters, Bazaarvoice can help you successfully build your content supply chain. Once your supply chain is established, to drive sales you next need to learn how to attract shoppers to your digital shelf.