With the rise of mobile technology and visual social platforms like Instagram and Snapchat, consumers have come to expect and prefer engaging visual content when shopping online, consuming news, or attending events. In reaction to that, there's been a noticeable shift in how brands use visual content at the forefront of their marketing and e-commerce strategies.
As a practice, it's called visual commerce, and the goal is simple: leverage compelling visual content to attract, influence, and convert consumers.
But like any buzzy new marketing strategy, there's been some confusion around what visual commerce is — and what it's not. To help clear the air, here's a guide on how smart marketers think through visual commerce and put it to work to improve the shopping experience.
---
Defining visual commerce
Let's start with the basics. Visual commerce is a blanket term that covers a number of ways brand can employ pictures, videos, and even virtual and augmented reality to help consumers learn about and connect with their products and brand.
Popular visual commerce strategies include:
Building out compelling product photos, videos, and in-action shots for your product pages and overall e-commerce experience
Making visual content searchable with the right descriptions and tags to help consumers easily search and discover products on your site
Employing shoppability tools, so shoppers can click on a given image or video and seamlessly be directed to the right product page
Incorporating consumer-created visual content from social media sites like Facebook and Instagram in your marketing collateral and e-commerce experience
In short, visual commerce uses visual content to guide consumers through their shopping experience, echoing online platforms like Pinterest.
And it works. From YouTube to Instagram, the internet is a visual place — and that's in large part because humans are too. According to MIT, more than half of the human brain is dedicated to processing visual information. What's more, people process pictures 60,000X faster than text on average.
In the last few years, the retail industry has come to understand the power of visual content, and the best brands have developed ways to include visual commerce at every stage of the shopper journey — from awareness to conversion.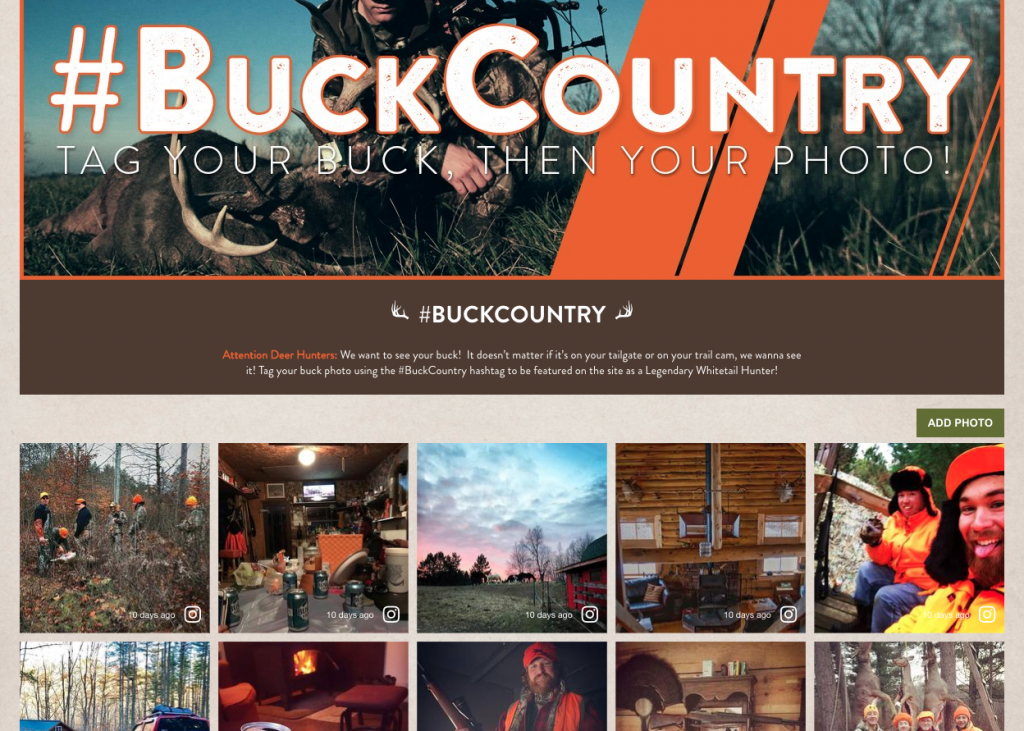 ---
Why brands are using visual commerce
Like the many examples of visual commerce, there are a variety of compelling reasons why it works. But it comes down to customer experience and connection
Explaining visual commerce in MarketingProfs, Russ Somers says, "Visuals are no longer 'eye candy' or illustrations to supplement text. Instead, interactive visual elements take the lead in storytelling. The web then becomes a delivery engine for experiences, rather than just content or technology."
It's not hard to see why. For all its benefits, e-commerce puts distance between brands and consumers, making it harder for shoppers to understand your products and imagine how they might be used in real life.
It has become the marketer's job to close this distance. How do you replicate the in-store experience — where shoppers can try things on or test them out — online? Making visual content the centerpiece of e-commerce experience helps close the gap between product and consumer and between in-store and online.
What's more, visual content can elicit a more emotional, personal reaction from consumers, allowing your brand to build an authentic connection with them. There is no better way to foster this connection than through social media.
Social media has had a big effect on marketing and e-commerce. You can call visual commerce a revolution in e-commerce marketing, but it's really just the logical next step for an internet that's increasingly visual and social.
As of September 2017, Instagram reported it had more than 800 million monthly active users that post more than 95 million pictures and videos per day. Much of this content comes from brands and their customers. Instagram reports that 60% of people say they discover new products on the platform. What's more, 75% of people say they'll buy something after being inspired by a post.
And Instagram is just one social media platform. Taken together, more than 2.7 billion people use Facebook, Snapchat, and Twitter at least once a month.
That means brands can and should use these influential platforms to leverage their own visual content and discover and engage with compelling content from customers.
Photos and videos from customers — we call this visual consumer-generated content (CGC) — have become a big part of visual commerce. In a 2017 survey, 56% of respondents said they trust their peers more than brands when it comes to making buying decisions, and 65% of consumers trust a brand more if it links to social media posts from real customers.
As consumers, we like to see what people around us like, do, and buy. The smartest brands realize this and include visual CGC across their marketing mix — on social media, on product pages, in shoppable galleries on their website, and even in email marketing. According to the same survey, 66% of consumers are more likely to purchase a product if the website has social media posts with pictures and videos from real customers.
Whether as a way to share branded visual content or as a way to discover customer content, social media provides the optimal channel for visual commerce.
---
How brands are using visual commerce to drive e-commerce sales
There are dozens of ways to make visual commerce drive e-commerce sales. But there are three common strategies all successful brands use:
Put visual content to work on product pages
One of the best ways to create a compelling shopping experience for consumers is to give them information where they need it: on the product page.
Best-in-class brands go beyond product shots and text description. They combine these traditional elements with lifestyle product shots, demo videos, ratings and reviews, and customer photos to provide shoppers with a comprehensive experience of a product.
Pairing visual CGC with ratings and reviews can, for example, further add context and color. We found that 86% of consumers are more confident in their purchase decisions when they see visual CGC paired with ratings and reviews.
Online beauty retailer Feelunique is a good case study in how to put visual CGC to work on product pages the right way.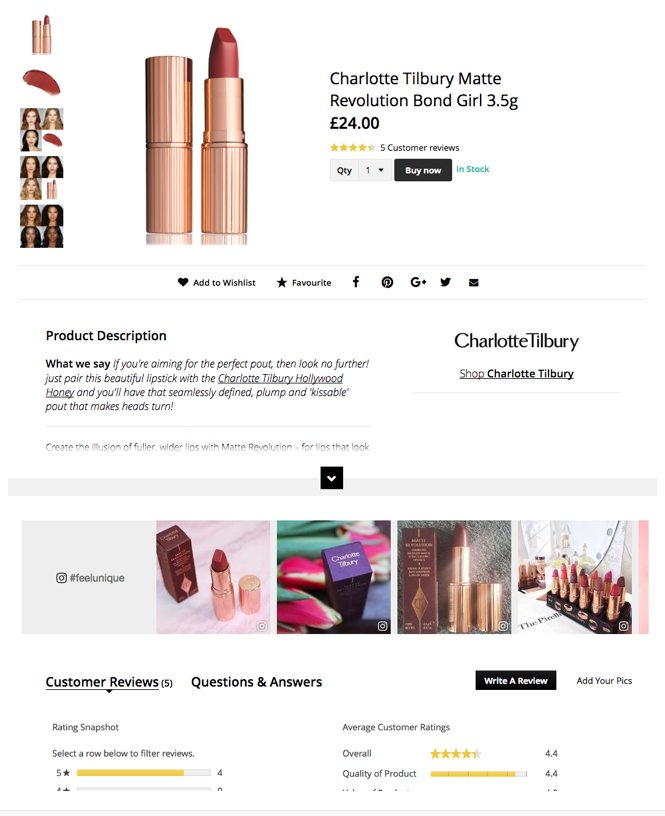 "Visual content is key to helping convey someone's experience of a product," says Tom Newbald, the marketing and customer experience director at Feelunique. Newbald uses cosmetics as a prime example: "Makeup is highly visual and expressive, and there is already a wealth of fantastic imagery out there from customers who love using social channels to share. Providing our customers with the ability to read reviews and see photos adds to the conversion rate, which in turn increases average order values and helps grow our business more quickly."
Create standalone galleries of customer content
There are visual commerce strategies that work at all stages of the funnel. When it comes to the discovery phase, creating a gallery of customer pictures and videos is a powerful tactic. A gallery of visual CGC paints a braoder picture about what a brand and its products look like in the world at large. Bonus points if this gallery is shoppable, meaning it links back to corresponding product pages.
The fashion retailer DSW is an expert in spinning up galleries like this. "One of the digital team's main strategies is bringing DSW's assortment to life," says Alison Wagner, a digital product specialist at DSW. "Having more lifestyle photography and 'how to wear' information from consumer-generated content increases customer confidence and drives conversions."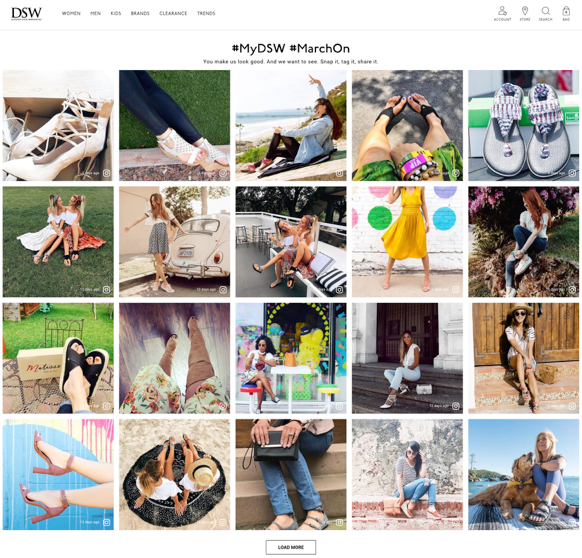 Galleries like the one above help build a lifestyle image around a brand with real, authentic snapshots from real people. For any marketer who's looking to cut through the noise, reputation as a lifestyle brand can set you apart from competitors.
Enable shoppers to buy products directly from social media with shoppable visual content
Whether it's branded video with integrated product links or shoppable Instagram posts, visual content that drives directly to a purchase page turns browsers into buyers. With social media platforms releasing new features at an aggressive pace, one of the more recent developments in visual commerce is the ability for brands to post shoppable content directly on major platforms.
Any good marketer knows that you have to meet your shoppers where they are, and in today's world, it's highly likely that your shoppers are on social media. On average, people spend more than an hour a day on social media platforms.
Shoppable social content allows you to integrate your brand and your products into this conversation. If someone clicking on a tagged product in an Instagram photo or swiping up on a Snapchat story then lands on a corresponding product page, they are one step closer to making a purchase. Shoppable visual content makes it easy for shoppers to hit the buy button and then seamlessly return to their social experience.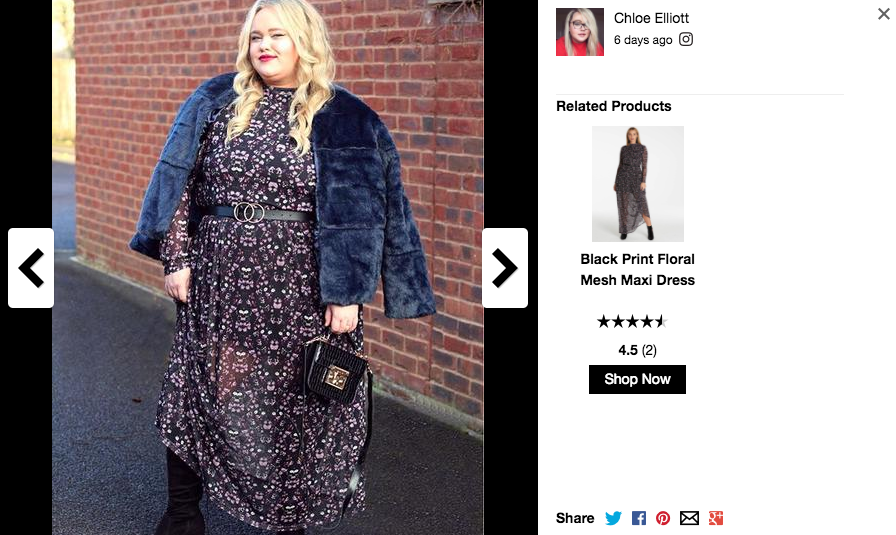 ---
For all the benefits of e-commerce, it has historically been an impersonal experience. Online shoppers can't touch a product or ask a store associate for advice — instead, they had a text description and static product shots. Savvy brands have come up with innovative ways to bring the in-store experience online, and one of the more powerful strategies is visual commerce. By putting visual content at the forefront of marketing and e-commerce, brands can bridge the gap between online and offline, join in on their customers' conversations, and improve the shopping experience.
Additional resources on visual commerce