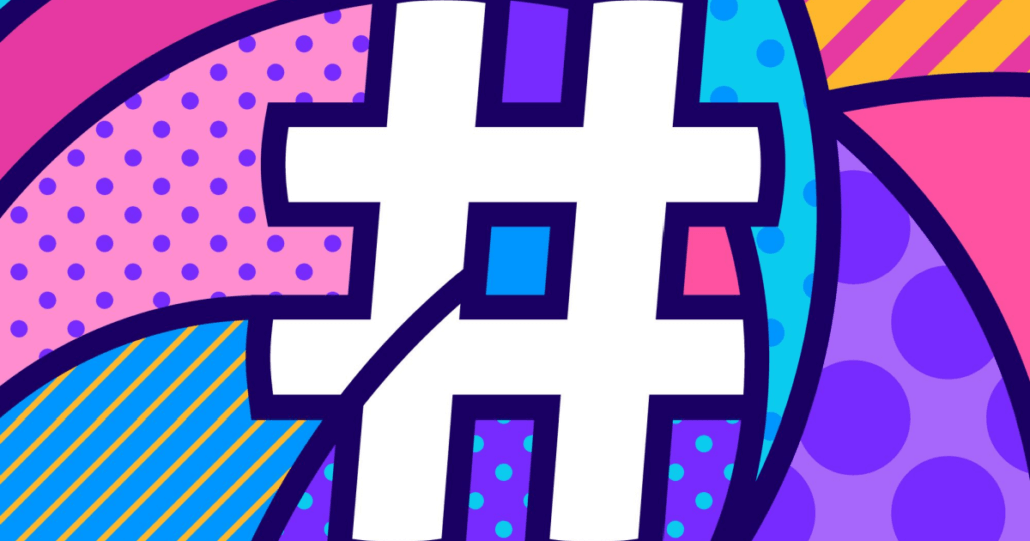 The humble hashtag. It's crazy to think how one little symbol (#️⃣) can hold so much power, in the social sphere and beyond. But the foundation of any good hashtag campaign is knowing the fundamentals of hashtag analytics. Because without it, you're basically firing off shots in the dark.
Chapters:
---
---
Remember the days when this little symbol # was just a pound sign? That humble pound sign has become a cultural phenomenon, thanks to the advent of #hashtags.
Now, hashtags are everywhere on social media, from Facebook posts to TikTok videos. Sometimes, they even make it into popular TV skits like this one with Justin Timberlake and Jimmy Fallon (hello, #bromance).
You may even use popular hashtags yourself — maybe #momlife in a post about your kids who just destroyed your kitchen with #momlife to get some laughs. Or perhaps you've posted a picture of your favorite NHL team with #gobolts to find other people rooting for the Tampa Bay Lightning.
For your business, though, hashtags have an essential purpose: to increase engagement on your posts, expand your posts' reach to new audiences, and track conversations about your brand.
But it's important to choose the right hashtags — the ones that will grow your social presence and boost campaign performance. How do you find those? With hashtag analytics.
Hashtag analytics is the process of collecting, measuring, and analyzing data related to hashtags on social media platforms. Use these analytics to get meaningful insights that will help you optimize your campaigns by identifying trends, understanding user sentiment, and measuring the impact of your hashtags.
Strategies to grow your hashtag campaign
Measuring and analyzing your marketing campaign performance is important, but before you start just attaching random hashtags to every post (no, #YOLO can't go everywhere), you need to know a few basics. Follow these recommended best practices so that you have the best data possible to make decisions about your social media posts.
Determine your use cases
How do you plan to use hashtags? Your use cases may dictate the types of hashtags you'll use. For example, brand awareness hashtags will likely be different from the ones that you use to promote an event or contest.
If you're looking to get more user-generated content (UGC) — images, product reviews, and videos created by a person, not a brand — then you may have hashtags specifically for that. Think about Apple's #shotoniphone campaign, which got iPhone users to submit their photos and gave Apple a bunch of content to feature.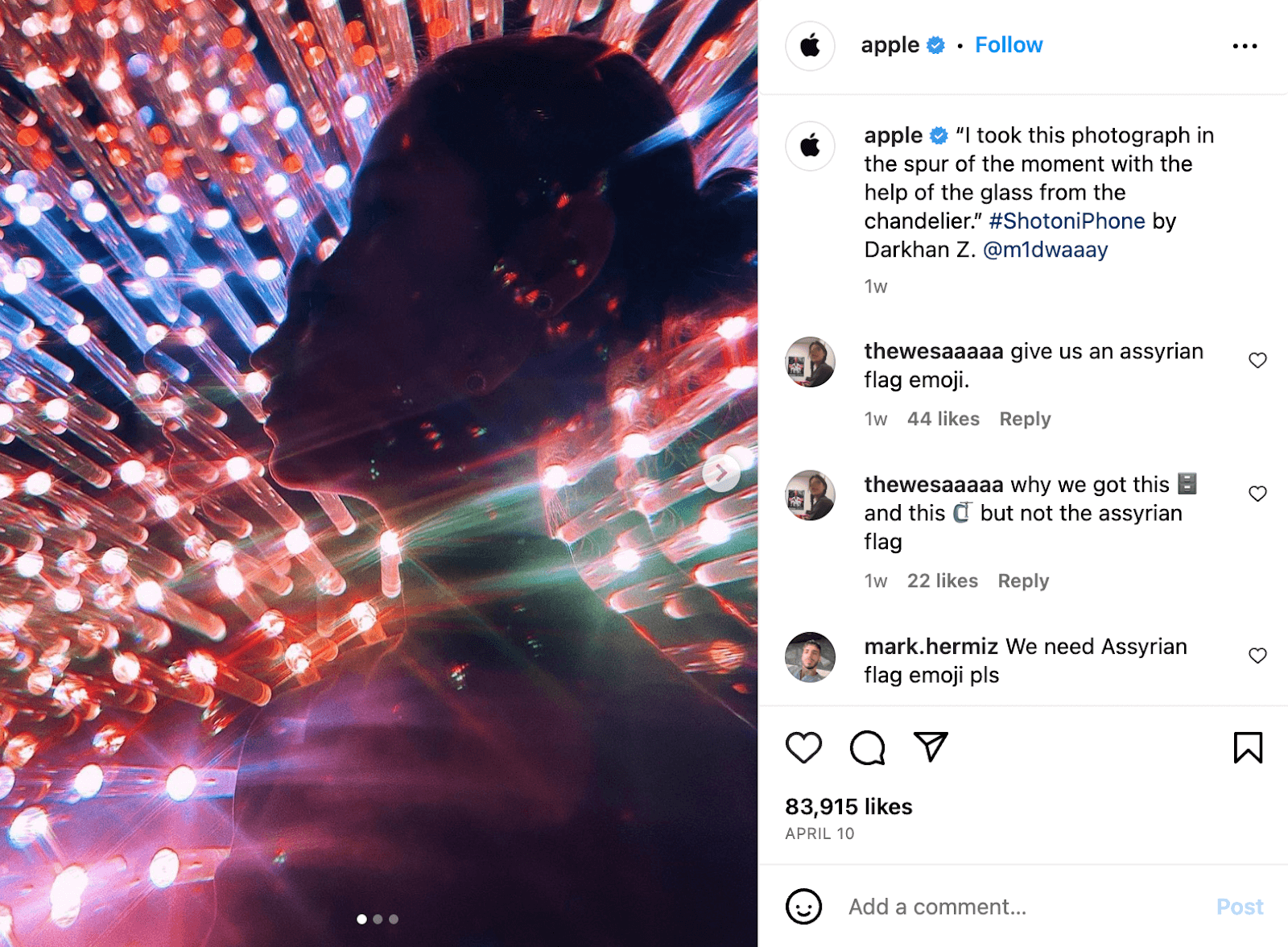 Maybe your goal is to generate brand awareness or promote a cause. Associating a hashtag with a specific brand lets followers and potential customers quickly find content related to your brand. Disney and the Make-a-Wish Foundation collaborated to create a #ShareYour Ears campaign and asked people to post pictures of themselves wearing their Disney ears. Disney pledged to donate $5 for each post with the hashtag.
If you're promoting a special event, an event hashtag is an easy way for event organizers to spread the word beforehand and encourage attendees to share photos and posts about their experience. Conferences and other live events will usually post their hashtags well in advance. So, an e-commerce jewelry store named Shannon's Gems might post about a live sale they're hosting on Facebook with #livesale and #shannonsgemslive to get more attention.
Find the right hashtags for your campaign and audience
There's a lot of hashtags floating out there in cyberspace, which can make it overwhelming to find the stars that will make your brand shine bright. Consider using a tool like Ritetag, which helps identify hashtag opportunities for you. The tool highlights hashtags to indicate how helpful they'd be. It suggests hashtags for your posts based on engagement opportunities, or if the tool sees an option to decrease your character count.
Plenty of generic hashtags like #digitalmarketing can apply to many different posts and attract new views from people browsing through that particular one. These hashtags are great for expanding your reach. You can find similar ones that are relevant to what your audience is interested in and build campaigns around those. If your store sells custom makeup bags, for example, you might use hashtags like #makeup, #makeupbags, or #bestmakeupbag.
But you should also create your own hashtags for your brand so people can engage with you easily and post about your products.
Say you're a store that offers products for birds and your store name is Macawesome Treats. You may use #birdsofinstagram on your posts for better engagement, but use #macawesome to increase brand awareness and get people to post directly about you.
Research trending hashtags
Before you use any trending hashtags, research them to make sure they relate to your brand. You want to make sure you don't inadvertently associate your brand with something that could damage your reputation.
Just because a hashtag is trending doesn't mean you should use it. Learn from mistakes that other brands have made, like when DiGiorno failed to research the hashtag #WhyIStayed. The hashtag was used to bring awareness to domestic violence, highlighting stories of women who stayed in abusive relationships and explaining their circumstances.
DiGiorno didn't research the hashtag, but saw it was trending, and used it as a way to promote themselves with a snarky tweet that read, "#WhyIStayed You had pizza." Obviously, that backfired and their social media manager had a very hectic time writing apology tweets.

It's safe to assume you don't want that to happen to you, either. Repairing your reputation after a bad tweet is not always easy, so proceed with caution.
Keep hashtags short and relevant
You want people to use your hashtag, right? So make it short and sweet. Hashtags don't come up in an autocomplete, so remember that people will have to type in the whole thing manually.
You want something that's easy to remember and type, but that also relates to your brand messaging — if you're not using relevant hashtags, what's the point? Plus, if it's too long, people are more likely to mistype it, and that doesn't help you get more reach.
If you saw hashtags like #DrinkCoke or #HaveACokeAndASmile, which one would you be more likely to use in your own post? Keep your audience in mind as you create your #winning strategy and use short, relevant hashtags.
Promote your hashtags
If people don't know about your hashtags, they won't use them. Promote the ones you're using for your brand in your emails, social posts, and other marketing platforms. You can also host contests online to get people to post using your hashtags so you can grow your reach. Bonus: that can bring in some great UGC you can use on your product pages and social posts.
Use the right number of hashtags
There's no one-size-fits-all approach when it comes to hashtag usage on social media. For example, on Instagram, you can use up to 30 tags per post. But would that look right on, say, LinkedIn, where you should only use a few tags? Probably not.
You want to use enough tags to help your campaign grow, but you also don't want your posts to look spammy, either.
A Facebook post ideally has no more than 2-3 hashtags. Writing about your sustainable clothing company on Earth Day? Try hashtags like #sustainability, #gogreen, or #EarthDay.
On Twitter, character count comes into play. Yes, tweets can be twice as long as the original 140 characters now, but people are still used to seeing shorter posts. Generally, try to use 2-3 hashtags here too. A tweet about a human resources conference in Dallas might have hashtags like #DallasHR, #HR2023, or #humanresources.
TikTok doesn't have a limit on hashtags — but don't go too #crazy. Captions on this platform do have a 2,200 character limit, so make sure to leave yourself enough room for, you know, the actual information about your post.
How to monitor and measure your hashtag analytics
Monitoring and analyzing your hashtag campaigns is essential for measuring reach and engagement, finding potential brand ambassadors, and determining ROI. Here's how to do it.
Choose a hashtag tracker tool and decide what to track
More than likely, you're using several hashtags across platforms — and tracking their performance manually is both tedious and time-consuming. Instead of doing it on your own, find a monitoring tool that will do it for you, like Bazaarvoice's Social Commerce. You'll get reports on social (including hashtag) analytics and easily see which posts engage your audience the most. 
Check the metrics on how many times people post with your brand hashtag to see if it's popular or if it's not resonating with your audience. You'll also want to track how many unique users are using your hashtags. If it's the same people over and over, that means you need to make some tweaks to extend your reach.
With your hashtag analytics tool, you can track your overall engagement on posts. How many likes or shares are you getting with each hashtag? How many impressions (how many times people saw your post)? You can then compare impressions to engagements to determine how impactful your hashtags are.
If you have 1,000,000 impressions, but only 23 shares — it's likely that post wasn't resonating with your audience. If you have 23,000 shares though, your post is doing great.
Perform A/B testing
Once you've collected the data from your hashtag tracking tool, you need to do other testing to see what your best hashtags are to continually improve campaign performance.
To do this, you'll need to stack them up against each other in A/B testing and measure their performance. If you own an online shoe store and want to test the difference between #tennisshoes and #athleticshoes, you could run this type of test.
In a hashtag A/B test, you'll create two posts where everything is exactly the same with the exception of the hashtag. Show each variant to a certain segment of your target audience and track and compare the results. Create custom audiences for each post so you can control which social media users see which version.
Usually, an A/B test needs to run for at least a couple of weeks to provide meaningful hashtag data.
Research your competition
Hashtag analytics can provide insights into which hashtags your competitors are using, how successful the hashtags have been, and what type of content is resonating with their audiences. Use your hashtag tracking tool to look into the tags and see the data behind them.
They'll also show you the conversations that your competition is having with followers, and if any influencers are engaging with their content. This research can help you get a better understanding of your competition's social media strategy and give you inspiration on ways to adjust your own strategy. If they're engaging with followers on a topic that you haven't posted about, then that's a missed opportunity for you.
You may also get new hashtag ideas for topics in your industry by looking at their posts. So, if your business sells subscription boxes for baseball fans and you have a competitor who is posting with #AtlantaBraves, they may capture leads from Braves fans that you're missing out on.
Measure hashtag sentiment analytics
You need to know how your customers feel about your brand. Hashtag analytics helps you get a feel for the public's sentiment toward a certain brand, product, or topic. You can use Social Commerce to find patterns in customers' social media posts and measure negative or positive sentiment. 
If there's negative sentiment around a hashtag, then you'll know you need to adjust your strategy or address the issue.
The Hamburglar probably Grimaced (see what we did there?) at this one: #McDStories was an attempt by McDonald's to get customers to share their stories, but it quickly turned negative.
Instead of customers posting about the great experiences they've had at McDonald's, they wrote about horror stories they'd experienced with the fast food chain. McDonald's pulled the campaign within a few hours, but the power of the hashtag lived on as people continued sharing their stories. Being able to spot sentiment quickly could help save your brand from a fiasco like this.
Five successful hashtag campaigns to spark your own
Over the years, many brands have created memorable hashtag campaigns that boosted brand awareness. Take inspiration from some of these when you start working on your own campaign.
1. #IceBucketChallenge
The challenge was simple — get a bucket of ice water, pour it over your head, then challenge someone else to do it. Through this one hashtag, the ALS Association ended up raising $115 million to help ALS patients and fund research for this debilitating disease.
More than 17 million UGC videos came in, including ones from famous celebrities who then challenged each other. In one post, Ben Stiller and his wife Christine Taylor challenged Judd Apatow, Ricky Gervais, and Rafael Nadal. One little hashtag can make a big difference.
2. #AerieREAL
Aerie, an underwear and clothing line from American Eagle, is all about showing authentic, real images of people modeling their products. So they launched the #AerieREAL hashtag to empower their audience to love themselves as they are.
They began by having celebrities like singer Kelsea Ballerini and actress Antonia Gentry to promote their brand. But when a TikToker posted a video about their leggings, the brand went viral and other people began posting their own TikToks and Instagram Reels. Now, they're working with several brand ambassadors and awarding grants to women who want to make a change in their communities through their Changemaker program.
"When we looked at how we want to evolve, what we do in Real, we said, 'We have to start with community first," Aerie's SVP of Brand Marketing, Stacey McCormick, told Fashionista.com. "We really have to amplify the voices that are within our ambassador program, that are within our newly formed Changemaker program."
3. #TweetFromTheSeat
Many of us browse social media when we're, uh, doing our business. And toilet paper company Charmin decided to have a little fun with that. They created a hashtag #TweetFromTheSeat so their audience could tweet while they were sitting upon the porcelain throne. This unusual hashtag did what Charmin wanted it to do — got people talking about their brand. It was memorable, too.
Toilet paper isn't usually exciting (unless you found some at the store during the infamous COVID-19 toilet paper shortage, that is). But Charmin found a way to make its brand relevant and increase its reach.
4. #PutACanOnIt
Energy drink Red Bull gave its social media marketing wings when it started the hashtag #PutACanOnIt. They asked people to put Red Bull cans in creative and unique situations, and their followers came through with pictures of Red Bull cans on college campuses, at a DJ show, and more.
The brand collected thousands of pieces of UGC that they could use and gave their audience a chance to have some fun with their products, too.
5. #TogetherWeGoFar
We all know it was tough to connect during the pandemic, but Peloton found a way to help people do just that through social media while we stayed isolated. With the hashtag #TogetherWeGoFar, Peloton encouraged people to share highlights from their fitness journey and keep each other motivated.
Peloton got a lot of great UGC content from this campaign, and its brand ambassadors helped expand its reach by sharing the hashtag with their followers.
The right tools for measuring your hashtag analytics
We already mentioned you can use our Social Commerce tool to get the information you need on your hashtags analytics.
But you can also take the posts you'll get from your campaigns and share them on your social media, product pages, and more to extend your hashtags campaign's reach and drive sales everywhere shoppers are. Get in touch below to learn more.
Request a demo