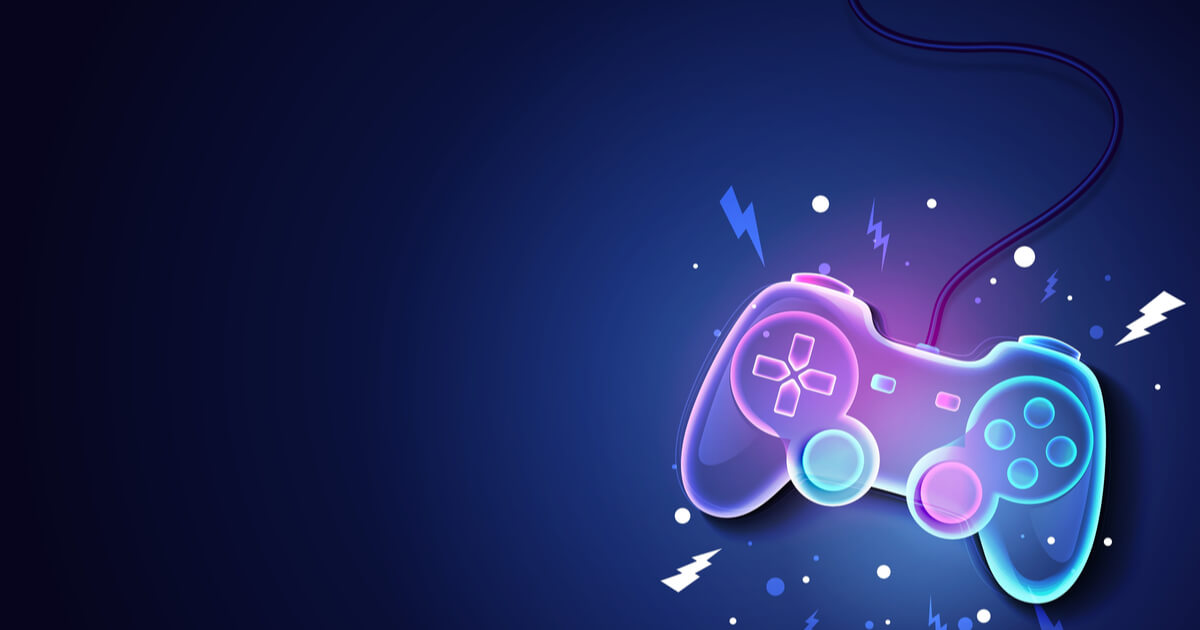 If you've landed on this page it's likely because you've Googled "gamification marketing" and want to know what it is. Or how to incorporate it into your marketing strategy. Or both. First of all — hello and welcome. Secondly, you've come to the right place.
You'll leave this guide not only an expert on gamification, but knowing whether or not it's right for you. Here's all you need to know.
Chapters:
FYI there's going to be a short pop quiz at the end. So make sure you read carefully!
---
---
Oh, look, it's another social media post or marketing asset shouting, "It's your LAST CHANCE!" Delete. Unfollow. Ignore. If that sounds like you, you're not alone. Your customers are thinking the same thing. But give them five minutes with Candy Crush or Wordle? Nothing else will exist outside of the game they're playing.
Now imagine you could harness that kind of power to engage customer attention. That's the power of gamification.
Gamification marketing can help you attract and maintain loyal customers by creating a fun experience they'll actually want to engage with. Here's how you can gamify your marketing and join the ranks of brands like McDonald's, Starbucks, and Under Armour, to name a few.
What is gamification marketing?
Gamification marketing is an enhanced marketing technique that borrows design elements from games to attract and retain customers. In gamified marketing, consumers are driven to perform an action because it offers elements of competition or reward. These elements can run the gamut from "spin to win" pop-ups all the way to actual video games.
Gamification marketing campaigns can take the form of gamified loyalty programs, interactive quizzes, etc. Simple game elements can include:
Points. Users can collect points by winning a game or each time they purchase something. The points can be exchanged for a discount or free stuff. (Travel credit cards excel at this.)
Badges. Award customers badges for accomplishing something. For example, Grammarly sends writers badges like "Goal Crusher" for using their service a LOT.
Levels. Appeal to customers' sense of achievement by offering bigger rewards for saving more points. Think: 200 Starbucks Stars could get you a free sandwich…just saying.
Virtual currency. Invent your own money to be used only at your store, then use it to reward frequent shoppers, like Kohl's has done with Kohl's Cash.
Leaderboards. Post players' names and scores on your website or social media to encourage competition.
Countdowns. Challenge players to complete a task within a certain timeframe.
Progress bars. Show customer's progress toward reaching the next level.
Gamification marketing is great for getting consumer attention, but it also delivers valuable data. You can offer an exciting reward in exchange for a customer's name and contact info. Or simply request their name so you can put it on a leaderboard. After collecting customer data, you can add them to your marketing emails list so you can send them badges, newsletters, or discounts.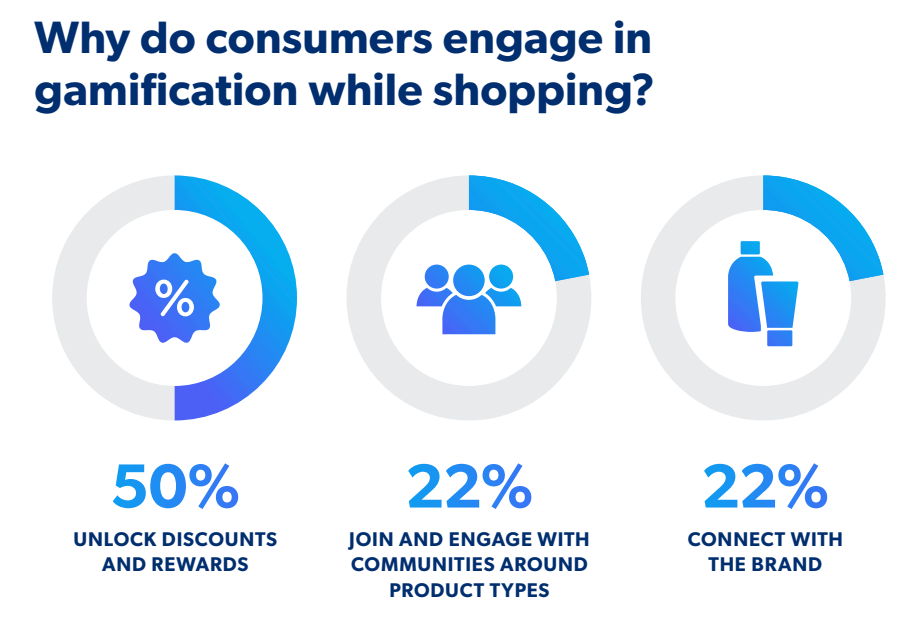 Finally, gamification is popular with marketers because it can inspire users to create and share user-generated content (UGC). People taking to social media to share their best times on your branded racing game, or using a branded hashtag to enter a contest, represent priceless, organic, word-of-mouth marketing.
Why you should gamify your marketing efforts
People love video games. I know I'll be playing FIFA as soon as I finish writing this. Video games have mass, worldwide appeal. That's why gamified content works — it's fun, interactive, challenging, and even relaxing. Also, according to 10,000 global shoppers, 70% of people enjoy gaming elements while shopping online. Another 42% enjoy gaming in-store.
When KFC Japan wanted to build excitement, drive product awareness, and generate sales by incentivizing customers to try a new product (Ebi shrimp), they partnered with Gamify to create a Shrimp Attack video game. It was so successful that KFC had to cut the campaign in half because the product sold out. Store sales went up 106%, and the game garnered 854,454 total plays (4.4 average plays per person) and a 91% completion rate.
Games are a way to capture your audience's attention at a time when most consumers are exhausted by a constant onslaught of virtual engagement efforts. Average consumers (esp. younger consumers) are inundated with 6,000-10,000 marketing messages per day, which makes it difficult to reach them through traditional means.
Now consider the fact that online gaming is on fire right now. There's 1 billion online gamers worldwide now, projected to be 1.3 billion by 2025. According to a Deloitte survey, 26% of Gen Z respondents say video games are their favorite entertainment activity. Worldwide, video games capture 52.9% of the digital media market, and its segment is growing 11.9% per year on average (driven largely by mobile games).
Challenges with gamification marketing
Let's get this out the way first. Despite its multiple benefits, designing gamification is difficult. If it were easy, everyone would do it, right? It's challenging because it involves an understanding of motivational psychology with the added goal of affecting user behavior. In other words, you have to not only design a game that people want to play but also that achieves your business goals.
In addition, gamification takes time and money to conceptualize and create.
"Every step of the design process, from explaining the concept to project stakeholders, designing and developing, to finally testing the game," says Jenny Stanley, Managing Director at Appetite Creative, "requires several hours from highly-skilled developers, graphics, and web designers."
Benefits of digital marketing gamification
Gamification marketing is powerful, especially in the world of e-commerce. It'll help you:
Collect customer data in a way that complies with GDPR, CCPA, and the end of 3rd party cookies. Customers may opt to share data with you in exchange for playing your game.
Leverage UGC to grow brand awareness. Encourage customers to share their winning scores or photos on social media.
Educate your audience. An interactive quiz or trivia game can be a fun way to inform people about your areas of expertise.
Increase engagement and reduce bounce rate. Entice people in with the promise of coupon vouchers, free merch, bragging rights, or simply a cure for doom scrolling.
Drive conversion. If you reward people with coupon vouchers or points, they'll likely come back to spend it.
Gamification marketing campaign examples
There's an infinite number of games you can try in your marketing strategy, from simple quizzes and loyalty programs to downloadable mobile games and live stream events. Here's some of the best from the best. Enjoy!
Ally Racer game
Ally Financial created a NASCAR-esque game called Ally Racer that can be played on the web or ios. The nostalgic 1980s-style game engages fans and generates excitement for their sponsored NASCAR driver, Alex Bowman.
The game also aligns with the Ally brand. Players earn bonus points by literally hitting financial targets like coins and dollar bills. Top finishers are tracked on a leaderboard, and players are encouraged to brag about their high scores on social media.
HelloFresh Reveal Your Deal
You don't have to go full force into video game creation to launch a gamified marketing campaign. It could be as simple as offering rewards in a way that feels like a game, like a spin-to-win campaign that prompts visitors to share their contact information in exchange for a chance to win a prize.
HelloFresh uses this simple game simulation to offer a reward to new website visitors. It feels a little like Wheel of Fortune — you click on the box to find out your reward. This approach encourages conversions and creates a positive brand experience.
Under Armour Steph IQ trivia game
Games can also engage people by tapping into fan knowledge with a trivia game, like Under Armour did during the NBA playoffs in 2018 with Steph IQ. Players downloaded the trivia app and earned prizes if they correctly answered all eight multiple-choice questions within the timeframe.
"This campaign was a win for all involved," says Neil Burmester, General Manager at Gamify. "NBA's viewership increased, as well as Under Armour's sales, and fans had a chance to be rewarded for their knowledge."
DSW VIP Club
Loyalty programs are inherently gamified — customers can collect points or badges to earn perks or discounts. You can gamify it even more by designing different levels or tiers that customers can earn through purchases. This approach encourages repeat purchases and brand loyalty.
For example, DSW uses progress bars to show VIP club members how many rewards points they have. A dashboard shows additional rewards and perks frequent shoppers can take advantage of, including free stuff and rewards for donations.
DSW encourages customers to keep earning more points by including their VIP status in the footer of every marketing email. (Don't miss the way they also plug UGC with the #MYDSW hashtag.)
Starbucks for Life game
You don't have to reinvent the wheel for every gamification marketing campaign. Bringing out a familiar one each year is also a great tactic. If you run the campaign regularly, customers start to look forward to it, and that excitement can drive even more engagement.
For example, every year for the past seven years, Starbucks has run a holiday campaign called "Starbucks for Life." It's a game offered only to Starbucks rewards members. Players earn the right to play the game by buying drinks and completing challenges. By playing the game, you have the chance to win prizes like bonus stars, merch, and free drinks (even free drinks for LIFE).
Starbucks Cup Flip game
Starbucks is obviously fully tapped into gamifying stuff. Their cup flip game encouraged users to share their results on social media (hello bragging rights!), and winners received vouchers to use in-store. The game resulted in 30-second dwell time, 90% engagement, 60-second engagement time per user, and surpassed voucher download targets by over 110%.
Wendy's Feast of Legends
Okay, let's just state the obvious that Wendy's is great at engaging fans with witty banter on social media. In 2019, the fast-food chain leveraged its already engaged audience to amplify a new tabletop role-playing game called Feast of Legends.
The game is styled like Dungeons & Dragons and inspired by Wendy's menu with destinations like French Fry Forest and skills like Applewood Smoke Bomb. The game received a lot of attention at New York Comic Con, as well as in the media (PCGamer, USA Today).
The brand engagement on social media was priceless. Fans even designed their own Queen Wendy armor and posted on social media using the hashtag #feastoflegends.
Banana Boat & Hawaiian Tropic Sun Fun Done Sweepstakes
Banana Boat offers a lot of sweepstakes, and its Instagram page is full of fun activities like Wheel of Fun, Bingo, and word search games. One of their most creative sweepstakes was a collaboration with Hawaiian Tropic and Gamify to create a game called "Sun. Fun. Done." The game encouraged players to share their contact information in exchange for playing the game.
The point of the game is simple: shake the coconut tree, and the number of fallen coconuts is the number of entries you get to win a paid trip to Universal Orlando Resort. Beautiful visuals engaged users and provided an enjoyable brand experience. The game garnered 147,623 plays, 19,416 social shares, a 98.7% engagement rate, and 130,783 unique players.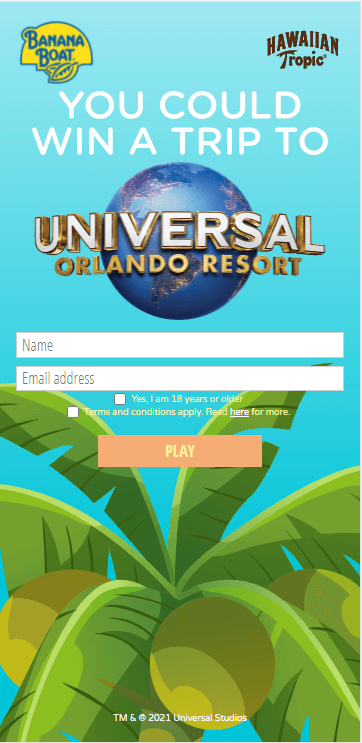 KFC Gaming
KFC has its own gaming Twitter profile called KFC Gaming where they engage over 269,000 followers with gaming-related tweets. They partner with influencers who play a racing game online during a live stream event, then give away prizes to people who win a bet during the game.
They were also bold enough to create an anime-style dating simulation game called "I Love You, Colonel Sanders! A Finger Lickin' Good Dating Simulator" where players can (gulp/gag) seduce Colonel Sanders. It's weird enough to get a LOT of attention on social media, and rumor has it, the original version of this game inspired Wendy's to come up with their own Feast of Legends game. 🤷‍♂️
Donut Papi Match Game
Gamification isn't only for huge multinational corporations. Donut Papi, a local donut shop in Sydney, Australia, partnered with Gamify to increase their website traffic, customer engagement, and the number of contacts in their internal database. During their 6-week competition, players entered their contact info in exchange for playing the match game.
Donut Papi posted a physical leaderboard in the store to encourage competition among players, and they gave away a free box of donuts each week to the person who submitted the highest score. The game earned them 312 organic social shares and was played 41,659 times with an 89.4% completion rate.
#TimeToMint Mint App challenges
Mint's budgeting app is already a gamified user experience with a progress bar indicating each user's net worth. In their marketing, they also created a social media challenge that engages users by inviting them to share their goals via social media for a chance to win a $2,500 prize.
Doritos Roulette
Doritos has been upping their game lately — literally. Their Doritos Roulette is a product as well as a gamified marketing campaign. Originally launched in 2015 and re-launched in 2021, Doritos Roulette (the product) is a bag of mostly Nacho Cheese flavored chips and one spicy chip. It's exciting to customers because they don't know what's in their next bite — a normal chip or a super spicy one.
Doritos and Walmart promoted the product using the hashtag #doritosduetroulette and #doritosroulettechallenge on social media.
The social posts encouraged customers to challenge their friends to see who got to the hot chip first. The resulting posts from users were funny and shared widely.
Pop quiz time
We couldn't have a guide to gamification marketing without a little game of our own. So it's time to test what you've learned. Answers can be found below — and no cheating!
Take user engagement to the next level with gamification marketing
Now that you know how to engage your customers with gamified marketing strategies, you can move your efforts forward by leveraging the UGC those games produce. Share, like, and retweet your customers' brag posts on social media. Create a branded hashtag players can use on social media so your campaign gets maximum engagement. You can even post a leaderboard of winners on your website. Ready player one?
---
---
Pop quiz answers:
B)
C)
B)
D)
---