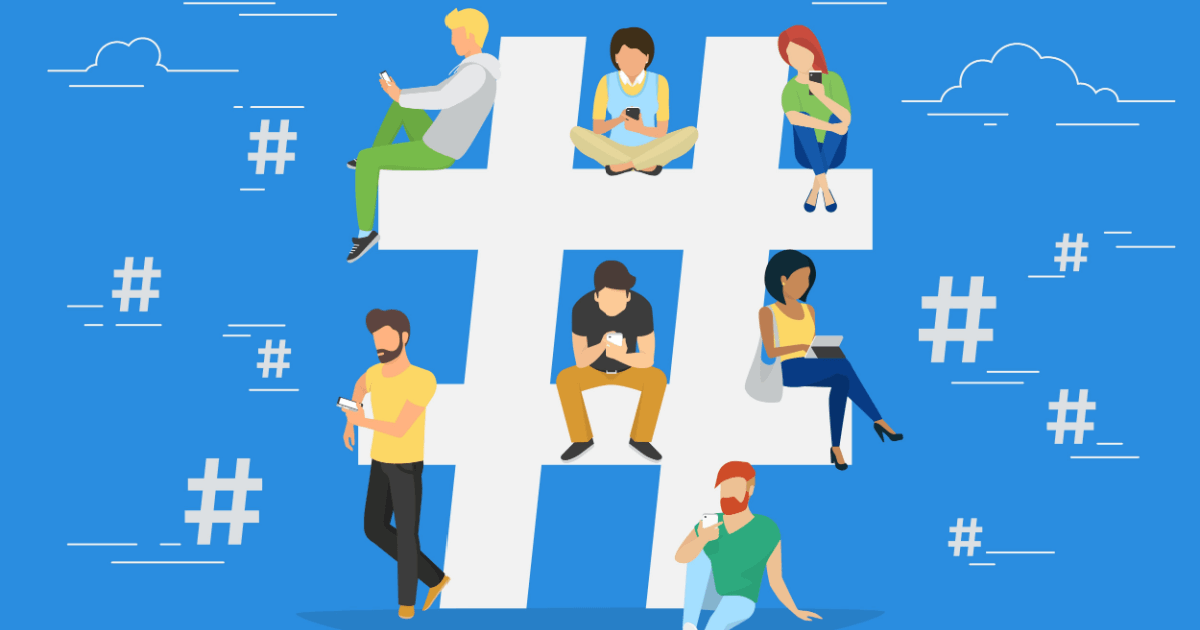 The average lifespan of a social post is anywhere between two minutes for TikTok to 48 hours for Instagram. Social media's hyperspeed cycle often makes it difficult to jump on trends before they're gone, but capitalizing on popular content at the right time (read trendjacking) can instantly catapult a brand into the spotlight. 
When you're posting your own take on the newest TikTok trend or tweeting about a relevant hashtag, you're using the concept of trendjacking to join the current cultural conversation and connect with users (and potential customers). 
Trendjacking should be a key component of every brand's social media strategy because it creates the perfect conditions for high engagement, deep connections, and follower growth.
What is trendjacking?
Trendjacking is a marketing strategy where brands create content based on popular topics, sounds, hashtags, or events using the relevance of these social media trends to promote their products or services. Simply put, it's jumping onto a hot topic to capitalize on its momentum and gain more exposure for your brand.
Trendjacking closely follows the patterns of newsjacking — a common journalistic practice of acquiring the details of a breaking news story before another publication in order to maintain authority and relevancy. While newsjacking is a staple of the news media, trendjacking is a relatively new strategy that emerged in the late 2000s after Twitter introduced hashtags, which helped users find trending topics in real time.
Now, every social media platform utilizes some form of trend tracking, from hashtags to algorithm-compiled "for you" pages.
The benefits of trendjacking
Staying relevant on all social media platforms among the millions of branded accounts often requires a deep understanding of cultural trends and shifts in user content preferences. Trendjacking demonstrates that a brand understands their customer base, making it a key strategy for creating consistent and impactful connections with customers.
Start conversations to boost engagement
As a trend gains traction, social media platforms tend to push related content to keep the conversation going. And if everyone on social media is talking about a particular topic or event, there's no better way to engage with users than to contribute to the conversation.
When Netflix announced changes to their user rules, social media was flooded with backlash and commentary, making this a controversial hot topic. Language learning app Duolingo (in true Duolingo fashion) jumped on the trend and turned it back toward their own brand.
Twitter users joined the conversation, playing off Duolingo's tweets and praising their marketing team. Their original tweet amassed thousands of views, retweets, and likes, as well as hundreds of comments.
Increase brand awareness
Trendjacking helps brands stay current and relevant. Using trending elements like popular audio, imagery, or hashtags ensures your post gets picked up by the platform's algorithm. For example, a popular TikTok audio is likely to be highly searched, so using the audio to create content can push your post to more viewers.
U.K.-based M&S Food often uses trending audio to create funny TikToks featuring their mascots. Their use of a currently popular sound to build a rivalry between their original and new mascots is a great example of how a brand can stay relevant.
Trending audio-based posts like this mean more eyes on M&S Food's content and higher brand awareness.
Build deeper connections with humor and authenticity
According to the Happiness Report, 90% of people are more likely to remember ads that are funny and 72% of people would choose a humorous brand over the competition. Trendjacking is the perfect opportunity to showcase authenticity and infuse your social media feed with humor. Although trends can elicit any emotion, they're often humor-based reactions to absurd events or content.
When a pair of comically oversized red rubber boots made an appearance at New York Fashion Week, social media went wild, speculating on what they represented and where they came from. Fast-fashion brand Hollister Co. saw this as a prime opportunity to jump on the bandwagon by making an outfit inspo post featuring the red boots.
Followers found the post hilarious because it showed a different side of Hollister — one that embraces the most absurd social media trends.
How to leverage trendjacking for your brand
The perfect trendjack is relevant, timely, and distributed through the most effective channel. Brands that don't quite hit the mark might find their trendy content flopping or, even worse — becoming a PR scandal.
Before jumping into the world of social media trends, brands need a solid grasp of how to best leverage trendjacking to achieve their unique goals.
1. Understand the trend unconditionally
When brands or creators embrace trends without understanding their full meaning, problems are bound to arise. When DiGiorno Pizza jumped on a trending hashtag, #WhyIStayed, they received major backlash (deservedly) from Twitter users.
While the hashtag made sense in their tweet, DiGiorno didn't take the time to understand the greater context. Twitter users had been sharing their survivor stories under the hashtag to build awareness of domestic violence. DiGiorno immediately removed the tweet, but the damage was already done.
Before trendjacking a hashtag, audio, or image, take a look at what other creators and brands are putting out to ensure there are no negative connotations surrounding it. Analyze how people are reacting to this content as well to confirm that the content will be well received.
2. Ensure relevancy through personalization
Not every trend will be relevant to your brand, but there's no reason you can't personalize it to work for you. Theoretically, cosmetics and the Super Bowl have zero connection, right? But the Super Bowl is a hot topic every year, making it an enticing trend for brands to jump on. Beauty brand Drunk Elephant got creative and found a way to connect to 2023's Super Bowl by focusing on the half-time performer Rhianna. 
Drunk Elephant posted a how-to video on TikTok recreating Rhianna's glam look and used relevant hashtags like #superbowllvi and #rhiannahalftimeshow to ensure their video would get views. While the video has nothing to do with football, the brand personalized a trending topic to connect with TikTok users and stay relevant.
3. Infuse authenticity into every trend
Creativity can only go so far, and if a trendjacking post doesn't fit your brand's online image, your followers will immediately see through it. If your Instagram feed consists of beautifully framed and impeccably shot branded images, throwing a meme into the mix will seem strange and leave fans confused. The key is to ensure every post, trendjacked or not, is authentic and true to your brand voice.
When Sam Smith's Brit Awards outfit became a sensation online, fashion-focused social media accounts were either praising his bold choices or ridiculing the design. Ryanair jumped on the trend but delivered it dripping with their usual sense of humor and sass.
This post stays authentic to Ryanair's brand storytelling, which is why fans of the brand were quick to like the post and respond with their own jokes. 
4. Create impact with trendy content
Gaining followers and opening up conversations is a big win, but the end goal of any marketing campaign is to sell your products. It's very rare that a trend will perfectly tie with your brand, product, or service, so creating impactful content takes a bit of creativity. One of the easiest ways to do this is through trending audio because it can be used in a variety of ways.
Despite being a popular beauty brand, Glossier is notoriously known for having very few in-person locations. To promote the opening of their first New York City location, Glossier used the trending audio "Originalton – CENKGO."
Although this audio is used to create videos showing glow-ups or beauty transformations, Glossier didn't blindly follow the trend. Instead, they used the audio to get more views in order to drive customers to their new location while still capitalizing on its popularity.
5. Maximize visibility with timing
Sometimes, trends take over social media for weeks (Louis Theroux's Jiggle Jiggle, anyone?), while others disappear in a matter of days. Timing your trendjacking content is an art that needs to be perfected — too fast, and no one will understand it. Too slow, and it's old news hon. Using the timeline of the newsjacking cycle, brands can plan out the most ideal time to hop on a trend. 
David Meerman Scott, author of Newsjacking, explains that the best time to newsjack is right after the story breaks, while public excitement is still growing. Applying that to social media trends is less straightforward because there's more variation in the shelf-life of trends, but dedicating time to browse up-and-coming audio, videos, and hashtags is a good starting point.
For example, TikTok's Creative Center is a treasure trove of the latest trends. You can search trending keywords, breakout songs, and inspiration from popular creators. 
6. Choose the right distribution channel
It's all about the distribution. Some trends lend themselves better to certain types of social media. Anything audio-driven will work better on TikTok, while images and videos will do well on both Instagram and TikTok. News-related and conversation-driven trends lend themselves well to Twitter.
That's not to say you can't mix it up and explore posting different types of content on different platforms, but when timing and delivery are crucial, it's best to stick to the most ideal distribution channel.
Fast-food chain Wendy's uses sharp humor on Twitter to engage with customers, while their TikToks tend to feature trending audio and user-generated content. After Elon Musk tweeted a poll about stepping down as the head of Twitter, Wendy's followed up with their own poll about stepping up as head of Twitter.
The poll was a massive success in terms of engagement, with over 60,000 votes and hundreds of comments sharing the absurdity and humor of the situation. This type of humor is what Wendy's Twitter is known for, but it wouldn't have performed as well if it was a TikTok because that's not what the target audience expects. Choosing the right channel for specific trendjacked content is a key factor in how well your post will perform.
Get trendjacking right with Bazaarvoice Social Publishing
Trendjacking is a valuable addition to your overall social media strategy. It can bring brand awareness and drive engagement and leads.
Learn how Bazaarvoice's Social Media Management helps brands simplify their entire social strategy with relevant insights, schedulers, and analytics in one user-friendly dashboard.  
Request a demo