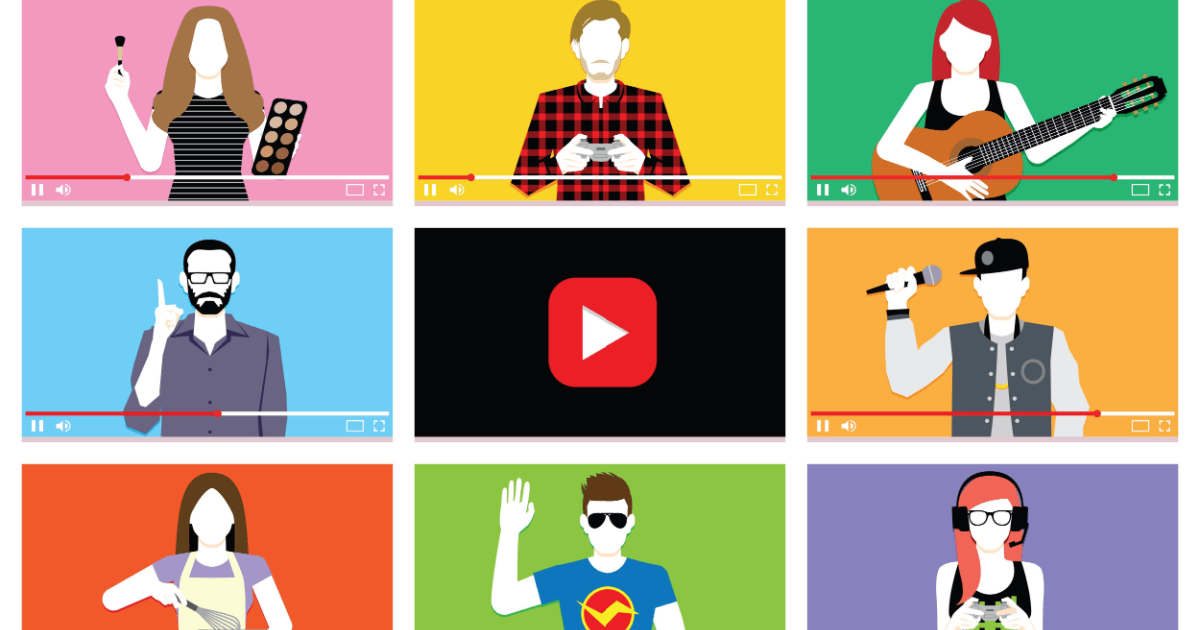 We're facing economic uncertainty, and our marketing budgets are reflecting it. But there's a relatively simple solution to this growing problem: video UGC.
This guide demonstrates how to source quality video content from social media, brand communities and employees with campaigns, incentives, contests, and other effective methods.
Chapters
---
---
It isn't always easy when you're a baller on a budget. According to a 2023 TINT study, over 35% of marketing budgets didn't increase last year. And 36% actually decreased.
Even though budgets are lower, you're still expected to produce the same results — or better. It's similar to how we all still to have eat the same amount of food, but groceries have skyrocketed. We have to get creative, think differently, and shop around to maximize our resources. (Oatmeal all day).
For a lower-budget marketing strategy, you need to plan more efficiently. Say your ad spend in paid search last year didn't yield great results, but you did get a good number of leads through social media. A good strategy would be to allocate fewer resources toward paid ads and put that toward social instead.
In essence, you need to find what's most effective for you and look at current trends to see what's working for others, too.
In that same study, TINT found that user-generated content (UGC) — social imagery, product reviews, and videos created by an individual rather than a brand — is the most trustworthy form of content. 80% of consumers prefer seeing real customer photos vs. stock photos. Along with that, 66% of customers think brands that use video or audio are more memorable. Combine both: winning formula.
No matter what your marketing budget is, you can make video user-generated content work for you and bring in the leads your company needs to grow in 2023 and beyond.
What is UGC video?
UGC video is video content created by everyday users of your products or services, usually posted online. This authentic content can be shared on social media, websites, and other online platforms.
UGC videos often provide a unique perspective on a topic and can help to engage viewers in a more personal way through social proof, which leverages the opinions of other people to convince potential customers to make a purchase. Common types of UGC video include:
Vlogs: A content creator might share a day in their life, and during that video, they may visit your brick-and-mortar store or make a purchase on your website
Tutorials: A brand ambassador might give a tutorial on how to do a certain look with your beauty products or how to use a feature of your software
Live Streaming: A customer could do a live stream on Instagram or Facebook to their followers where they discuss your store and products
Reaction Videos: Reaction videos involve someone watching and responding to another piece of media — maybe one of your advertisements or marketing videos
Unboxing Videos: Your UGC creators could make unboxing videos whenever they receive new products from you. If you have unique packaging, this is a great opportunity to showcase your box or unwrapping experience
How to find quality UGC video
Not sure where to find your UGC video? You've got a few options, even if you're constrained by budget restrictions. Source content from your employees, customers, brand ambassadors, and influencers. Your employees can provide unique behind-the-scenes videos, while existing customers can expand your organic reach on social media posts.
Give them incentives that don't take away from your allocated funds. If you've got more in your budget, form brand ambassador and influencer relationships to reach even more new potential customers.
Once you have your sources in mind, you'll have to build programs and strategies to bring UGC in on a constant basis. You'll need enough to share on your website, product pages, social media, emails, and other marketing channels. A steady stream of new content also keeps you from sharing the same things over and over.
Note: make sure you get usage rights from anyone before sharing their content on your social media platforms — Bazaarvoice can help with that.
Create a campaign asking for UGC
Build campaigns on social media that specifically target your customers and ask them to provide you with videos featuring your products. If your ad budget is low and you can't go the paid route, host contests on your social media channels to get customers to create content, or search hashtags associated with your brand to find people who are already making videos about your products. Reach out to those people and ask them if they're willing to make more video UGC for you.
Say your cosmetics brand wants to hold a contest on your social media page. You can post on your Instagram stories and on your feed to advertise. Tell your followers what requirements they'll need to meet with their videos, and let them know what they could win. It might be free products, or access to a new lip color you're launching soon.
Along with social, consider emailing customers for review videos. Use your post-purchase follow-up emails to ask for UGC, and make it clear that they'll receive some kind of incentive if they do provide quality videos.
Incentives for UGC could include discounts on a purchase, free products, or exclusive access to new items you're about to sell.
Leverage the power of influencers and ambassadors
If there's more wiggle room in your marketing budget, then create programs that reward influencers and ambassadors to keep you supplied with video UGC. Keep in mind that they're two different groups, so their programs may need to be different as well.
Influencers are usually celebrities or famous social media personalities with a wide following. They typically do paid advertisements, so asking for a lot of videos from them may not work if you're on a limited budget. But, you might be able to use an influencer or a celebrity to start buzz for a UGC campaign and increase your brand awareness.
An example from Advertising Week illustrates how famed sportscaster Joe Buck started a UGC campaign for Michelob Ultra. During the COVID-19 pandemic when fans were stuck at home, Buck called for them to make videos of their at-home moments.
It helped increase Michelob's online presence and also fostered a sense of community during a time when we were all feeling detached.
But if you can't afford the fees that go along with celebrities and influencers, but still want some star power in your UGC campaign, then look for brand ambassadors. These are people in your target audience who have a smaller following, but are more relatable to the people you're trying to reach.
Post about your search on social media pages, like Shop Forever James Boutique, and list the requirements you're looking for, like minimum follower count. Brand ambassadors are usually rewarded with discounts or free merchandise for their efforts.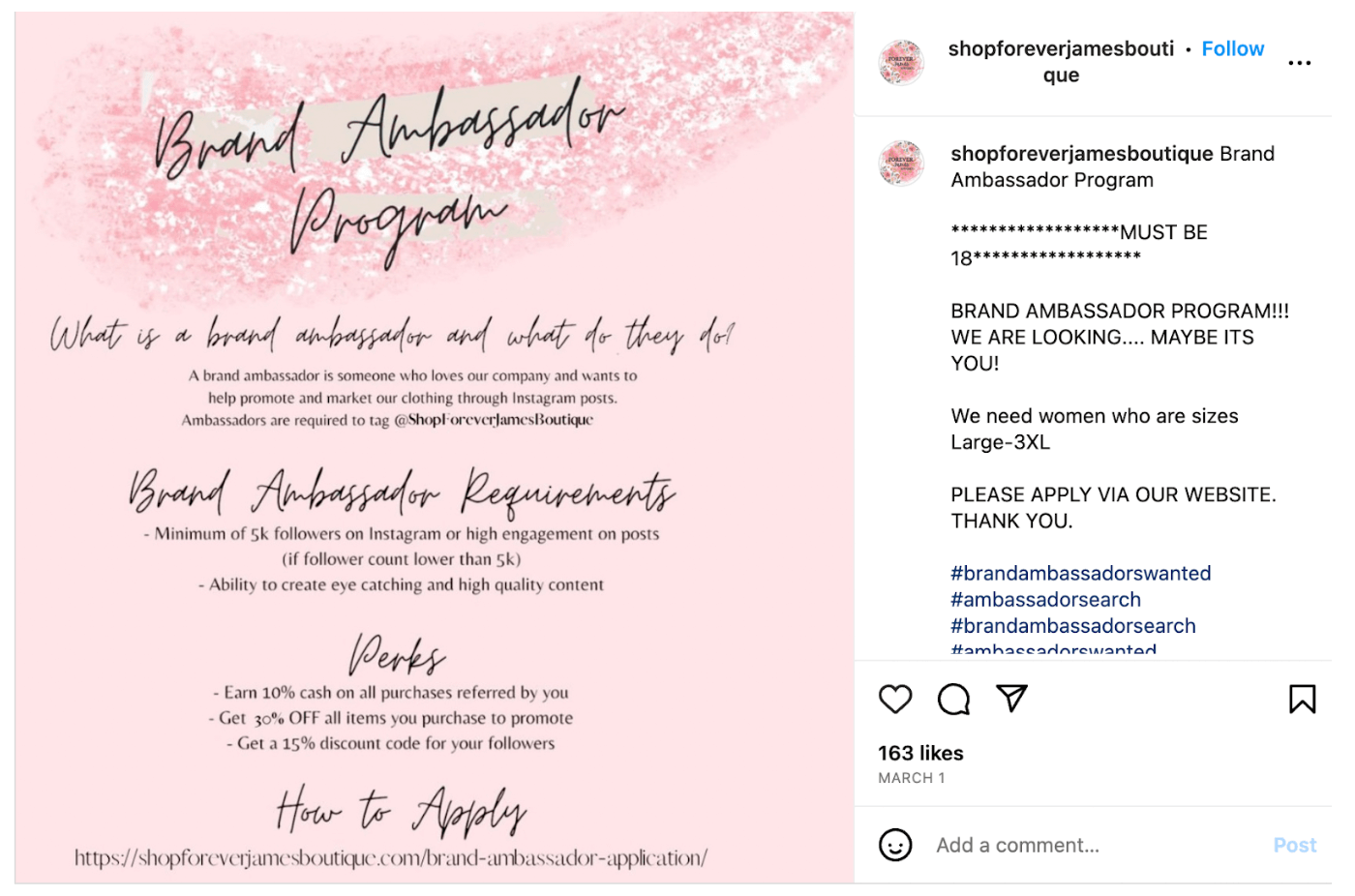 Note: you can learn more about collaborating with influencers here.
Provide incentives for employees who share about your brand
You do have other brand advocates within reach, and you don't have to advertise to get them to submit videos. Ask your employees to play an active role in your marketing strategy. For example, they can post a behind-the-scenes video on TikTok or an Instagram Reel about products that are about to launch.
Starbucks does this with its employees, referred to as partners. They post employee-created content on Instagram to hype up their company culture and to promote their merchandise, like their highly-coveted cups and tumblers. Partners are rewarded with professional development opportunities, and the company also gives awards like Customer Connector and Coffee Champion.
If you reward your employees for creating user-generated video content, then they're probably more likely to do it. Determine a few budget-friendly ways that you can reward them for their video UGC efforts — maybe with extra PTO days, or free products.
What to do with your UGC video once you have it
Collecting UGC is just one part of the process. For UGC video content to be successful and give you the best ROI possible, you'll need to determine the best ways to share it with your audience, whether that's on social media, your website, or emails.
Show customer reviews and tutorials on your website
Display the review videos and tutorials you collected throughout your website, especially product pages, to build authenticity and credibility with potential customers. With UGC video content available directly on the page, you provide more information to anyone who's browsing your website and considering buying your products.
New customers who may not know about all of your product features can get useful tips from current customers. They can also easily see review videos and get a sense of how actual users feel about your products or services, which helps to inspire trust in their purchasing decisions.
These videos can be helpful for your customer service team, too. If someone calls in with a question, your team can point them toward the how-to videos and customer tutorials that are on your site and product pages.
Use UGC video to create buzz around new product launches
If you're releasing new products, get your brand ambassadors or employees to create videos that highlight key features and get people excited about what's to come. Send them your new products early, so they have time to make review videos, unboxing videos, or tutorials.
Once they've published the content on their accounts, repost it on your platforms as well as your website and email blasts to give the UGC video as much visibility as possible. This helps you generate buzz about your new products and shows them off in a way that's affordable for most marketing budgets.
You can also use this opportunity to encourage customers to pre-order. Doing this will help to increase sales once your products go live and boost your overall revenue.
Add UGC video to your emails and newsletters
Social media isn't the only place you should share your video UGC. When you send emails and newsletters, look for places you can incorporate this exciting content. Maybe a video about new products can go in your monthly newsletter, or a how-to video shows up in a post-purchase thank you email.
Using video in an email also helps increase your engagement, which is always important, but especially when you're on a budget and have limited resources to produce results. To increase the chances that customers will open your email, tease the video in the subject line or preview text.
Make sure you also add links to your website or the pages of the products featured in the video to nudge email subscribers toward purchasing.
Use UGC for webinars and product demos
User testimonials and how-to videos are also valuable resources for webinars and product demonstrations. Conducting a webinar and telling potential users about your product is one thing, but if they see a customer actively using the product while they're watching the webinar, it might help convince them to buy.
Your sales team can also share these videos during product demonstrations. If you're marketing to other businesses, it might help the decision-makers if they see and hear from other business owners about how your product has helped them.
Organize your UGC in a library
Once you have videos from your employees, customers, brand ambassadors, and other sources, you'll need a way to keep it all organized and quickly find what you need when launching campaigns for social media, emails, or revamping your website.
Store your videos in a content management system and sort them into collections with tags so they're easy to find. For example, if you get a review video about a specific product, tag what product it's for and tag it as "review." That way, you can easily find it later when you're looking for videos to include on a specific product page.
When you're operating on a budget, you need to be as efficient as possible. Spending hours searching for a video that you just know you saw somewhere is an unnecessary waste of time.
Successful video UGC examples
If you're new to the UGC video world, here's four examples from brands that are acing the game to inspire your own process.
Fenty Beauty
Fenty, a makeup line from superstar Rihanna, relies heavily on customer-generated videos. The company shares UGC from its customers to build trust, and has gained a large Instagram and TikTok following as a result.
Go to Fenty's TikTok (@fentybeauty), and you'll quickly see that its feed is full of user-generated content. Customers give tutorials on makeup trends and model new products, giving life to Fenty's brand and building up that social proof.
Think of those early makeup YouTube tutorials and how successful the videos were. Shorter-form video content is a natural progression of that trend. It certainly makes sense for Fenty to use video UGC, especially with their target audience using TikTok and Instagram to discover new products.
GoPro
GoPro + video UGC? Seems like a winning combination, considering GoPro cameras are used to create some of the most unique, compelling videos out there. The company has more than 20 million followers on Instagram and heavily features submissions from its customers. GoPro recently launched its GoPro Hero 11 and created a hashtag to go along with it, #GoProHERO11.
An April 2023 contest on GoPro's Instagram asked for people to submit their best shots of Mother Nature in honor of Earth Day, and they're also giving away five of their new cameras to people who do submit.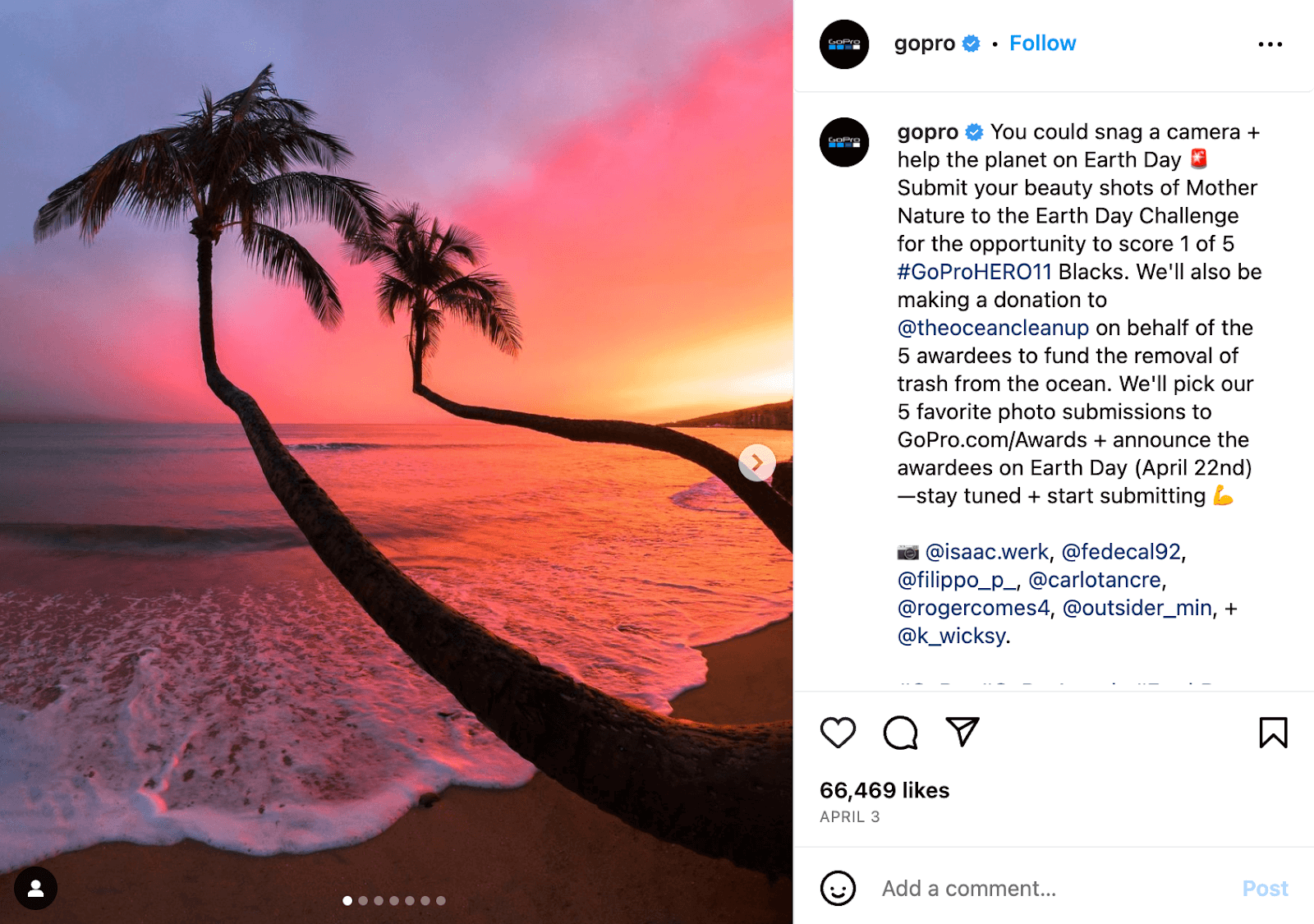 Most people on social media have heard some variation of "doin' it for the gram," and GoPro certainly offers a high-quality way to capture those moments. By featuring UGC on social media, they're also capitalizing on the effectiveness of social proof.
And holding a contest like this likely means they'll get a lot of submissions that they can use for a while, guaranteeing they won't have an issue with stale content.
Urban Barn
Urban Barn, a furniture company in Canada, decided to revamp its website in 2019 and put more of an emphasis on user-generated content. It's a move that only seems logical, as people who buy furniture likely want to see a couch or a table in different lights and locations before deciding to make a big purchase.
The brand uses UGC video in digital ads and on social media, too. Urban Barn asks customers to share their photo and video content using the hashtag #Rightathome, then picks the best ones to show in its marketing campaigns.
Since putting more emphasis on using UGC, the store has seen a 29% increase in average order value and 250% more time spent on site.
"User-generated content is key to our success. We aim to inspire our clients and use UGC to do that," said Ainslie Fincham, Director of Marketing at Urban Barn.
Turtle Wax
For those of us who own cars: we have to clean them at some point and we need products to do it if we're washing them at home. Turtle Wax is a common product found in many homes across America, but the brand felt it was losing relevance with its less-than-exciting product pages that were static and stale.
They decided it was time to include more user-generated content on the website, and added customer ratings and reviews to their product pages to breathe new life into their online presence.
Using photo and video UGC has helped TurtleWax increase page views. The company also pushed those reviews out to major retailer pages to increase visibility, and shared UGC across their social media platforms, at trade shows, and in email newsletters.
Collect and distribute your UGC video in one place
All UGC is a valuable tool to supercharge your marketing efforts and video UGC only accents that further. Minimize your overall spending by getting submissions from your customers, employees, and other sources.
And easily collect and share your video UGC with Bazaarvoice. Use Ratings and Reviews to gather customer content and leverage Social Commerce to display the visual assets your customers share across your digital channels.