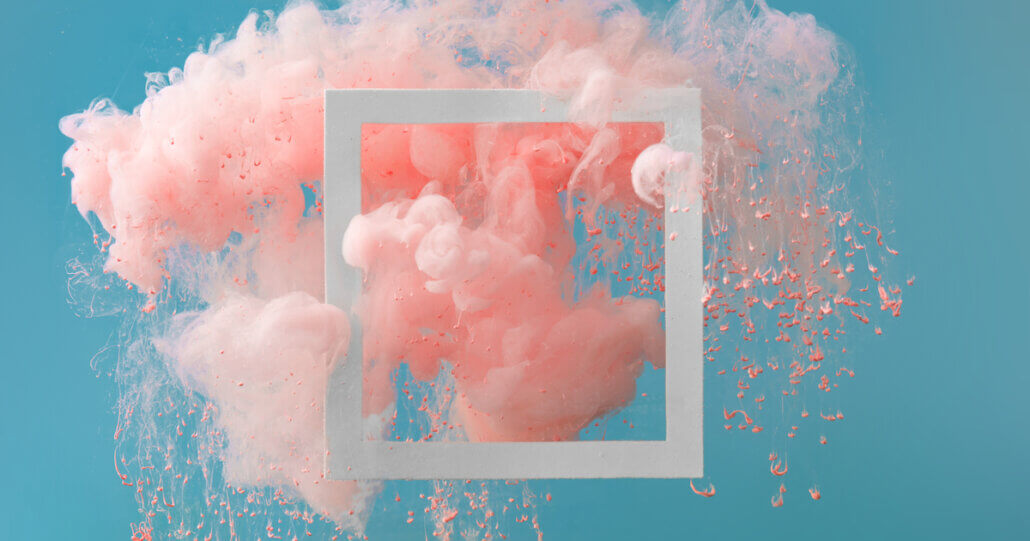 There's millions of online stores just like yours fighting for your audience's attention. (Not to mention a certain 800-pound gorilla named "Amazon.") So if you want your online store to get noticed, you'll need a few creative marketing ideas up your sleeve to set your brand apart from the rest.
In 2021, the number of online shoppers reached 2.14 billion people. And that's great if you own an e-commerce store, right? After all, you'd only need to convert 0.04% of online shoppers to reach your first million customers. You just need them to find you.
Digital marketing for e-commerce is an art and a science, and user expectations for online shopping have dramatically increased over the past few years. So we're sharing these creative marketing ideas, each with examples, that you can borrow and make your own.
Chapters:
---
---
Creative content marketing ideas
1. Go beyond the SEO basics with schema markup
You might not consider our first marketing idea particularly creative, but it's foundational for your long-term success. It's always good to be reminded about the importance of search engine optimization (SEO) in getting new customers to find your business. But if you think SEO just means creating a blog and targeting a few keywords, you're missing a big part of the equation.
To bring more organic traffic to your website, you need to take a holistic approach, which includes:
Reducing page speeds
Submitting organized XML sitemaps
Targeting keywords for product pages and blog posts
Writing alt-texts and captions for your images
But for e-commerce, you should also use schema markup on all your product pages. In simple terms, schema markup is metadata that you add to your site to help search engines like Google understand and categorize your product pages. As a result, you're more likely to be featured in Google's rich snippets.
Schema markup gives you more opportunities to showcase your products on search results, drive more organic traffic, and make more direct sales.
2. Create content that's relevant but not self-promotional
Content marketing can feel like walking a tightrope. On the one hand, you don't want to appear too "sales-y." On the other, you actually need to make sales, especially if you're a new business.
One way to thread that needle is to create content that indirectly promotes your products while still providing value to the reader. It's finding the sweet spot between what you want to say, and what your consumers care about. Our Place, which sells cookware, is great at doing this through publishing blog posts with helpful recipes, like this one for Braised Pork Belly with Taro:
The blog post doesn't talk directly about Our Place's products. Instead, they use a call to action (CTA) at the end, inviting users to shop for the products to make the recipe from the post:
3. Syndicate content across a global network of retailers
You've probably heard the saying, "It takes a village to raise a child." Well, you could also say it takes a tribe to grow a brand. This is where a concept like retail syndication can be a game-changer for your online store.
Retail syndication is a way for you to build relationships and display user-generated content (UGC) — customer reviews, testimonials, questions, and photos — across a network of retail websites and social platforms.
For example when Primal Kitchen adopted retail syndication across the Bazaarvoice Network of over 1,750 retailers, the brand saw a 64x increase in reviews on retailer sites. This led to a 131% conversion rate increase for its own products on Target.com.
4. Showcase your products through videos
If you've ever shopped online, you're probably familiar with the formula for product pages:
High-quality images
Product descriptions
Authentic user reviews
Add to cart button
That's all pretty standard. But you can go above and beyond by making creative videos for your product pages. Here's a great example from GoPro:
While it makes sense for GoPro to create video-based content (the product is a video camera, after all), any brand can boost conversions with the same strategy.
5. Grow your email list with creative lead magnets
Getting contact info for your site visitors is almost as important as making a sale, and lead magnets are the best way to do it. Lead magnets can come in many forms, but they need to provide concrete value to your target audience. A few common examples of lead magnets include:
Discounts and coupons
Product samples
Free shipping
You should select a lead magnet that your audience will love and that hooks them on your brand. For example, the home cleaning company Grab Green Home used the following offer to get more leads:
Creative marketing ideas for social media
6. Leverage user-generated content
The world of social media marketing moves FAST. To keep an active social media presence, you need to post consistently across a variety of platforms. Plus, it's important for new brands to use social proof that boosts confidence among online shoppers. This is especially true, seeing as how one of the biggest factors for consumers to trust a brand is whether or not the organization has positive customer reviews.
This causes problems for small business owners who don't have the time to create 100+ pieces of fresh content for social posts each month or for small startups struggling to establish trust with their audience.
This is where user-generated content (UGC) saves the day.
UGC allows you to quickly create social media posts that grow your presence online, build credibility for your brand, and drive more sales. More often than not, you won't need to sit around thinking up creative marketing ideas — your customer are doing it for you. You just need to tap into it. Check out this example of how Chillhouse turns customer reviews into Instagram posts:
UGC is especially effective during an economic downturn, like the one we're facing, because it saves a fortune of paid media dollars.
7. Engage your audience across a variety of platforms
In the last tip, we talked about leveraging UGC across your social channels. But now for the big question: Which social platforms should you adopt?
The key is to diversify your social presence by working across multiple established channels. That said, you don't need to start a social media account on every platform. Instead, figure out where your target audience spends their time online and start there.
Lastly, remember to keep the platform in mind while crafting the type and tone of your content. LinkedIn, for example, tends to have posts that are informative, longer in text, and professional. Instagram, though, is better suited for video/image-based content that looks great and entertains your audience.
8. Try an up-and-coming platform
If you already have a strategy in place for a few popular social platforms, it might be time to consider branching out into new platforms to find new audiences that haven't been saturated by brands yet.
TikTok, for example, blew up overnight, and early adopters were well-rewarded with instant exposure to millions of new users.
The trick is to find new platforms that you can easily post to, with either UGC or repurposing existing content.
9. Transform your Instagram account into a storefront
Using social media to direct traffic to your e-commerce site is a solid idea. But why not take things a step further by transforming your Instagram account into a storefront? You can do this by creating shoppable images for your products and posting them to your feed.
Feelunique uses UGC to create shareable and shoppable images for its Instagram account, like this one:
As a result of this social commerce strategy, Feelunique saw a:
140% increase in conversion rates
32% lift in average order value
375% higher time on site
10. Host an online contest
Hosting a social media contest to promote your brand is a powerful marketing idea for e-commerce brands on a budget. You don't have to buy expensive tools or build a complex setup — all you need is a marketing idea that sparks creativity.
Take inspiration from this simple but effective campaign launched by Super Moose Toys: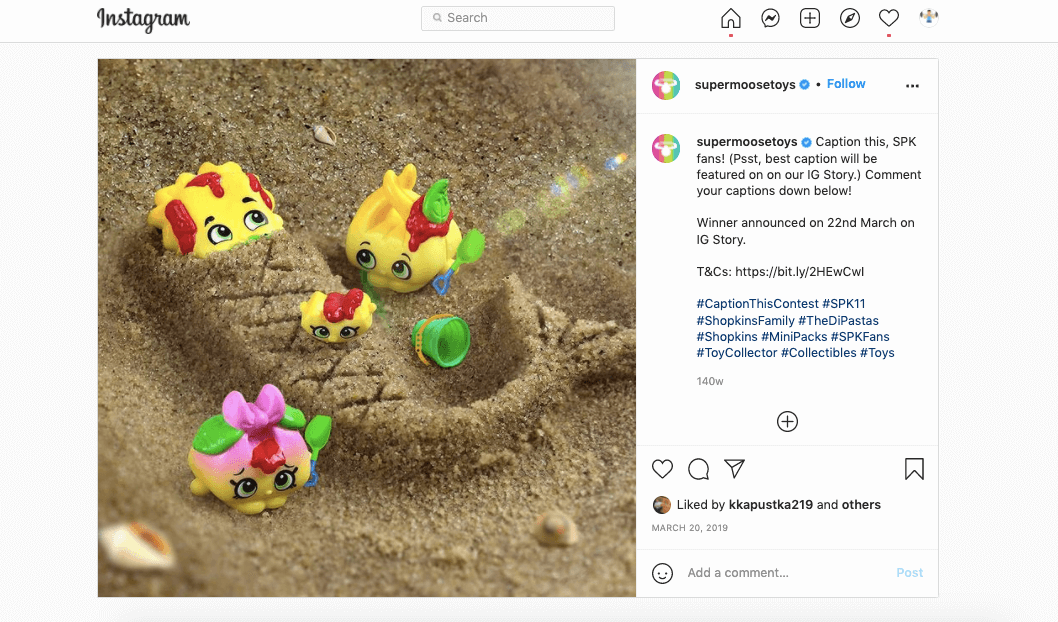 To enter the contest, people only had to submit a photo caption, and the brand used hashtags to help spread the word.
Pro tip: Remember to choose a prize that your target audience will find valuable and still relates to your brand. If your prize is too generic (like a Macbook Pro), you'll attract more people but fewer quality leads. If your prize is too niche, you'll discourage people from entering who are still at the top or middle of your funnel.
Creative email marketing ideas
11. Incorporate user-generated content
If you thought UGC was only for web pages and social media, think again. You can get great results by adding UGC to your email copy. Here's an example from Brooklinen that adds funny reviews to make the email more engaging:
Another great example comes from the fashion retailer Monsoon. The company saw click-through rates increase by 14% and total revenue increase by 3%. And since they aren't the ones creating the images, they're also saving loads of time in the process.
12. Welcome new customers immediately
Welcome emails are one of the largest missed opportunities for e-commerce stores. Marketers worry they'll overwhelm new customers by reaching out too soon, but you need to strike while the iron is hot and you're fresh in their minds. Think about it: Someone has either just made a purchase or given you a piece of contact information (like an email address or phone number).
So this is a great moment to let your creativity shine and give new customers a warm welcome. One brand that nails this is Huckberry. Here's their welcome email:
It's minimalistic in design, has a small note with reassuring social proof (1 million+ members), and a single CTA button: Explore. Everything about this email encourages the recipient to stay engaged with the Huckberry brand.
13. Send a weekly newsletter with your best products
Some of the most creative marketing ideas are also the simplest. After you've welcomed new customers or newsletter subscribers, it's time to keep them up to speed with current offers on your new products. For example, Appliances Online used Bazaarvoice to gather reviews from customers. Then it created a "What's Trending" section in its email.
Since then, the chief marketing officer at Appliances Online said he has, "definitely noticed an increase in conversions and sales" from email marketing campaigns.
14. Build excitement around holiday sales (even the small ones!)
Holiday-themed promotions are always a great way for brands to increase their online presence, engage more shoppers, and improve sales. But you don't need to wait around for the big ones like Black Friday, Christmas, and New Year's Day. There's tons of micro holidays to celebrate all throughout the year!
For example, did you know that August 12 is officially Middle Child Day?
These minor holidays may seem "silly," but you can guarantee you'll stand out from the competition. And as a middle child, there's nothing "silly" about National Middle Child Day!
Pro tip: Send promotional emails at least a week before the holiday to build excitement. Ideally, you'll send two to three emails before the event and a few "last chance" emails on the actual holiday.
15. Start a loyalty and rewards program
Who doesn't love a little appreciation from time to time? You should reward your existing customers with discounts and special offers. Not only will these little acts of gratitude reduce churn rate, but they'll also turn your customers into evangelists who promote your brand through word-of-mouth marketing.
And just like with holidays, you don't need to wait for an official reason to reward your customers. Check out this example of an email campaign by One Love Organics giving a customer 50 points "just because":
16. Build a custom cart recovery email series
A lot of email service providers (ESPs) now come with built-in cart recovery emails. These are automated messages that you can sync with your online store to alert customers when they still have items waiting in their cart. The only problem? Most shoppers are bored by generic messaging that comes from these built-in tools.
That's why it's important that create a truly unique message for your target audience. Have a look at this example from the mattress company Casper:
The bold heading, "Come back to bed," grabs your attention, and it's complemented by a funny user review just below.
17. Break convention with your email campaigns
When it comes to thinking up creative email marketing ideas, it can be hard to stand out from the crowd. Most online shoppers are used to promotional emails, which could partly explain why email conversion rates have dropped over 3% since 2018. The more e-commerce brands rely on newsletter templates and generic copy, the less effective the funnel becomes. But you can use this to your advantage by creating bold email campaigns.
The popular board game Cards Against Humanity pulled this off in their Black Friday email a few years back. It ran a special "sale" that went like this:
You give them $5
In return, you get nothing
Apart from going viral and building more brand recognition, this email brought in over $71,000.
18. Test HTML vs. plain text emails
When it comes to formatting email campaigns, most marketers think they have to choose between HTML or plain text. But there's advantages to both.
HTML-based emails are more visually creative and exciting. They allow you to use stylish designs for your email, add interactive features like CTA buttons, and much more. Here's a great example by the clothing company Taylor Stitch: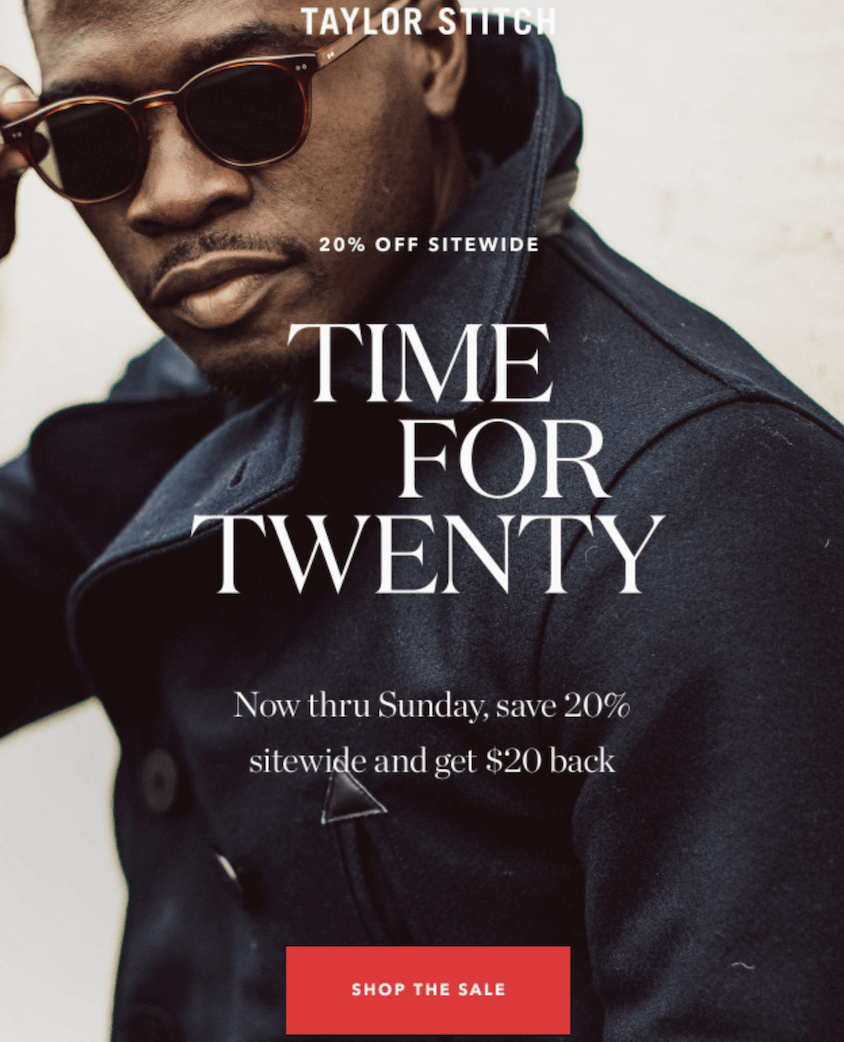 This comes in handy when adding UGC to your emails. The downside is that some email providers categorize HTML-based emails as either promotional or spam, which can have a negative impact on your deliverability rates.
Plain text emails, on the other hand, are usually more informative and focus on a single CTA.
This leads to better deliverability rates, but the emails are admittedly less engaging.
So which one should you choose? Sometimes when given a choice, the best option is both. Test both formats with your audience and remember: You're not committed to "either/or." You can be creative and use both types of emails in your marketing strategies.
19. Try new subject lines for people who didn't open your email
One of the easiest ways to boost engagement with emails is by resending the same email campaign to people who didn't open it the first time. But when you resend the email, you can test a different subject line to get the most out of each of your emails.
20. Add a postscript at the end of your emails
Did you know that only 16% of people read your emails word for word? Instead, most people skim through your email copy, looking for any information they might find valuable at a glance. That's why it's so important to end your emails with a CTA in the "PS" section.
As readers quickly browse your email, they'll be drawn to the "bonus" message after your signature.
Creative marketing ideas for paid advertising
21. Invest in your video content
Back in 2015, a company called the Squatty Potty made a video that went insanely viral. The video was watched over 50 million times on Facebook and YouTube. But what you might not know is that the Squatty Potty team didn't create the video themselves.
Instead, they paid the Harmon Brothers $250,000 to create it for them. You definitely don't need to fork over a quarter-million dollars to create a video, but you should absolutely invest in the right equipment, writers, and actors for anything you'll use in paid ads.
The higher the quality you put into your video ads, the higher ROI you'll see from them. Squatty Potty had $15 million in sales the year that video was released — that's just video marketing 101.
22. Leverage geolocation to encourage more physical foot traffic
One of the biggest advantages of paid ads is that they allow you to target users so accurately. And one of the best features is the ability to target leads by location. This gives you several advantages, such as:
Targeting users for your online store differently than for your shop's physical location (if applicable)
Budgeting your ad spend to focus on the most lucrative locations
Expanding into new delivery/sales territories as you scale
This personalizes the customer experience and provides more brand awareness for local businesses throughout their community.
23. Be bold with your ad copy
Paid ads are effective, but sometimes the copywriting can get repetitive. Create ads with copy that sends a strong message, starting with the keywords you're targeting. For example, Shortcut, a product management tool, decided to bid on the keyword "Monday.com," the name of one of its primary competitors.
Whenever anybody types in that phrase into Google, Shortcut's ad copy really stands out from the other messaging:
The bottom line? Don't be afraid to play around with your copywriting and test fresh, bold messaging.
24. Check (and boost) your ad quality score
Most pay-per-click (PPC) platforms will give your landing page a quality score. This is a scale of 1–10 that tells you how your landing page stacks up to other advertisers for the keyword you're targeting.
Google, for example, uses the following parameters for their landing page scoring:
Expected click-through rate
Ad relevance
Landing page experience
This can be a sobering indicator to check up with if your creative landing pages aren't leading to as many sales as you'd hoped. Alternatively, this score can also give you more confidence in campaigns you've worked hard to build.
Get creative ideas from user-generated content marketing
Making your brand stand out from the crowd can be a challenge. You're often dealing with limited time, small budgets, and resources. And consumers want to know what other consumers think about products. That means finding ways to constantly produce and publish quality content.
If you find yourself struggling to come up with creative marketing ideas, consider working with more UGC. With the right visual and social content tools, you can automatically use content from Instagram, Facebook, Twitter, Pinterest, TikTok, and more to create shoppable galleries for your website. This same content can then be reused for your blog posts, email campaigns, paid ads, and more.
At the end of the day, creating content for all your marketing campaigns can be incredibly time-consuming. And that's why we firmly believe that UGC is the key to long-term success.