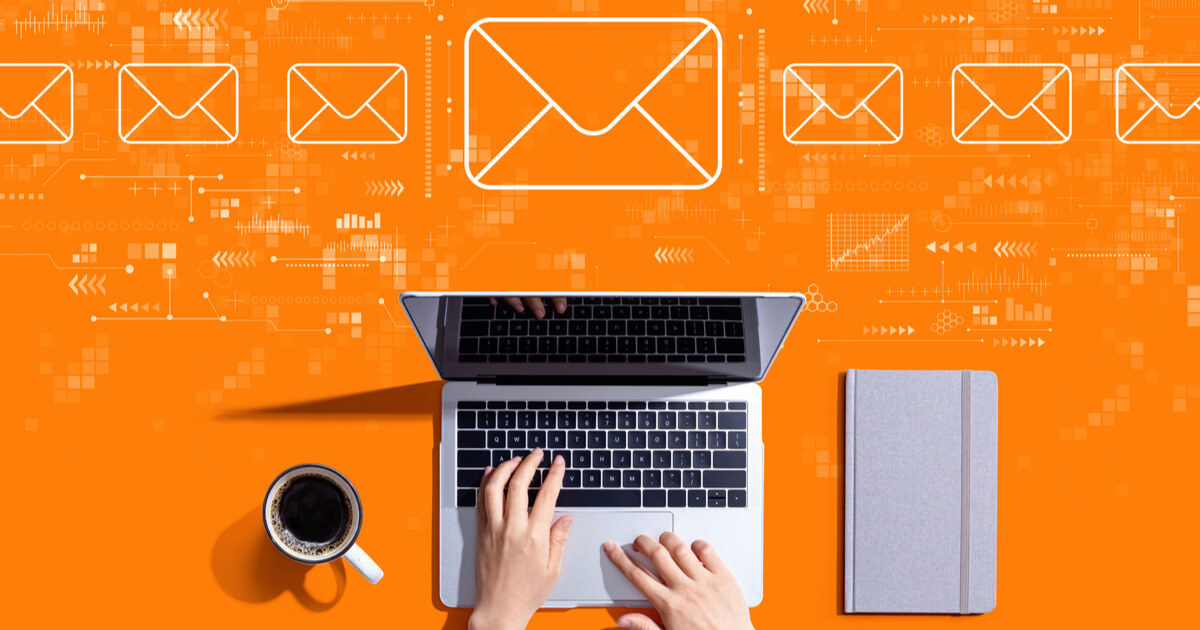 Follow these top email marketing tips, or at least some of them, and you'll soon notice much higher engagement which, leading to higher conversion and sales — all with relative ease.
---
---
The email marketing (re)evolution
Don't you just love watching digital marketing trends evolve over time? One of the best examples is how marketers have viewed email over the last decade:
2010: "Email marketing is dying. PPC ads make you rich."
2015: "Email is dead. Long live the Queen, SEO."
2018: "PPC platforms ate all my money. Google changed its algorithm, and half my traffic is gone… Where was that old email list again? "
2022: "Email wasn't dead…my bad… It's actually the least risky marketing channel on the planet."
Here's the bottom line: unlike any other platform, email marketing gives you a reliable list of leads that you own. Pay-per-click channels constantly see rising ad costs as more businesses enter the bidding for ad space. And SEO is really great but leaves you vulnerable to the whims of the Google gods.
But when all other marketing channels (social, search engine, or PPC) let you down, email marketing will still leave you with a list of contacts in your digital Rolodex.
The problem is that many people find email marketing overwhelming, especially when they're just starting out. The good news is it doesn't have to be complicated. Just follow these 19 simple email marketing tips to see your opens, clicks, and conversions get a well-deserved boost.
Email marketing tips for higher conversions
1. Scrub your list
First things first: you need to clean your email list. This means removing inactive or unsubscribed users from your email service provider (ESP). In the world of email marketing, opens and click-through rates are your staple metrics for engagement, and they have a major effect on your email deliverability rates. That's because by removing inactive subscribers, you'll ensure you're only sending emails to people who are engaging with them.
Plus, most ESPs still charge you for unsubscribed users because you technically have access to that user's data. If you aren't leveraging that data to improve your email marketing strategy, delete users who unsubscribe to lower your monthly costs.
But now the big question… how? While the exact steps for scrubbing your email list will be different for each ESP, here's a helpful guide to get started. The point is to not focus on your total number of subscribers (which is a vanity metric) but to focus instead on keeping your list full of people who are interacting with your emails.
2. Segment your email list for personalized messaging
When we say "segment your audience," we simply mean to create sub-groups from your master email list. These sub-groups should be categorized by similarities, such as demographics, device used, age group, purchase history, and more. This leads to personalized email campaigns, which, in turn, lead to higher conversions.
Just like scrubbing your email list, the exact steps for segmenting your audience will depend on your ESP. In many cases, you can simply use tags to group your audience. Tags are small identifiers you can attach to a person's profile in your ESP. Then, simply create rules within your ESP to apply tags to email subscribers as they enter or exit your email campaigns.
Imagine, for example, that you run an e-commerce store that sells clothing and accessories for women, men, and children. You could create a tag based on previous buying patterns for people who have purchased women's jeans from your store. When a new line of women's jeans comes out, you would be able to send an offer specifically to the portion of your audience with the tag "bought women's jeans." Now you're sending offers to people who are more likely to be attracted to it, and you're not annoying subscribers who are less likely to be interested in that particular offer.
This is just one example of how you could create segments within your email list. Other popular segmenting options include:
Geolocation
Gender
Age group
Income
Stage in your funnel
For a fuller breakdown of segmenting your audience, we recommend this resource: The essential guide to email segmentation.
3. Spend as much time on your subject lines as you do on the body
Your subject line is one of the most important aspects of your email marketing strategy. It determines if people even see the offer you have in the body of your email. Need some proof? Invesp found that 47% of people open emails based on the subject lines, and 69% of people report an email as spam based on subject lines, too.
In other words, your subject lines will make or break your email campaign's initial success. And that means they shouldn't be an afterthought. Here's a few quick tips for email subject lines:
a) Keep the messaging compelling and unique to YOUR audience
In this example, the subject line offers a solution to a common problem for affiliate marketers who reach their audience via social media.
b) Lead with special offers or discounts, if you have them
BlueCotton does a great job of showing the discount and building urgency with the phrase "ending soon."
c) Ask a question that leaves your reader wanting more
Professional copywriting expert Joanna Weibe does this well with a simple subject line that grabs your attention, "you there?"
For more help writing subject lines, you can try 12 tips for creating the best email subject lines. Or, even better, you can use just one easy and proven strategy outlined in the next tip…
4. Boost email open rates by adding reviews to your subject lines
In the last tip, we talked about the importance of your subject lines to increase open rates. Plus, we provided a few tips to help you turn that insight into action. But one thing you definitely need to test is letting your audience write your subject lines for you.
By that, we simply mean incorporating user reviews into those subject headings.
We like to highlight this technique because we've seen first-hand how effective it is time and time again. User reviews add instant social proof to your messages and free up your copywriting skills for other tasks. That means you can create more effective email subject lines in a fraction of the time when compared to writing them yourself. This is the exact strategy the international cosmetic brand, L'Oreal, used to boost open rates by 6%.
5. Leverage the 'preheader text' for higher conversions
Your preheader text is an extension of the subject line. It's sometimes confused with a "preview text" because the two are so similar in nature. A preview text is just the start of your email body copy that appears before your user opens the email, like this:
A preheader text is a strategic addition to your subject that has a powerful impact on open rates. For example, here's what a preheader text looks like:
Now, we know what you're thinking: these can't possibly make any significant impact on open rates, right? Wrong.
Retainful did an in-house experiment and found emails with preheader text had open rates 109% higher than the ones that didn't. And WeddingWire saw a 30% increase in click-through rates by adding customized preheaders.
Results may vary, sure. But a clear trend is that merely writing captivating subject lines isn't enough. You should also add a powerful preheader into the mix. For a little more instruction on how to do this the right way, check out this guide: How to write better preheader text in your next email marketing campaign.
6. Test the best times to send to YOUR audience
One of the most common questions in email marketing is, "When's the best time to send my emails?" While there's a few general guidelines for this, the truth is you'll never know until you test it with your audience.
If you have a larger email list with more than 1,000 subscribers, A/B test your sending times. That means you'll send an email to half of your list on one day and time. Then, you'll send that same email to the other half of your list on the same day at a different time or at the same time on a different day (whew… that was mouthful).
Track the results to see which campaign had the highest open and click-through rates over the course of a month.
If you have a larger email list with more than 1,000 subscribers, A/B test your sending times. That means you'll send an email to half of your list on one day and time. Then, you'll send that same email to the other half of your list on the same day at a different time or at the same time on a different day (whew… that was mouthful). Track the results to see which campaign had the highest open and click-through rates over the course of a month.
This will give you enough data to determine which sending time was most effective. You can use this as your new baseline and repeat your A/B testing until you discover the best email send times for your target audience.
We obviously couldn't write a list of email marketing tips without mentioning A/B testing. But if you're just getting started and don't have a robust email list, A/B split testing might not give you enough data to reliably work with. If you have a small email list with less than 1,000 subscribers, you'll need to run an A/A test. Send your emails on the same day and time for a month. Track the results for your open and click-through rates. After the month is up, switch things up and decide on either a new day or a new time to send your next email campaign.
Continue to track the results month after month until you land on the best sending times for your emails. If it sounds more complicated than it's worth, don't worry. Most ESPs make A/B testing incredibly simple, and the campaigns don't require any technical experience to manage. Plus, if you're going to be sending email campaigns anyways, you might as well spend an extra few minutes each week testing ways to get the highest ROI for your time.
7. Experiment with your calls to action (CTAs)
While most email marketers will tell you one email should have one CTA, this isn't always the case. The fact is that general advice doesn't always work well with email marketing because "general" means it's not tailored to YOUR audience. With that in mind, try experimenting with CTAs in your email campaigns.
A welcome email series, for example, is a good place to figure out the types of interests your new subscriber has. Try giving lots of options for blog/product content, different offers, in-depth guides, and more. The point is these new subscribers at the top of your funnel would be more likely to want a variety of CTAs that explore your brand or products.
For people who are lower in your funnel, though, work on the placement of a single CTA to see where it gets the most traction. You can do this by A/B testing the location of your CTA to understand what works best over time. They're closer in the funnel to buying your product, so you want as few distractions as possible as you steer them toward your offers.
8. Resend emails to users who didn't open the first time
Boost your open rates by creating a new subject line for an old email, and send it out to anyone who didn't open the first time around. ActiveCampaign did a test on this with fascinating results. Here's what they had to say:
"Between both emails, nearly 54% more people were reached [by sending a follow-up email], and they got almost 52% more clicks on the follow-up than the original."
This is one of the lower-hanging fruit victories you can use to quickly improve your open rates. And again, most ESPs make this process insanely simple, though the exact steps will vary depending on the platform you use.
9. Try a combination of plain text vs. HTML emails
There's been an ongoing debate for the past decade about the use of plain text vs. HTML-based emails. Not the most thrilling debate, I'll admit, but a debate nonetheless. Frankly, you could make a strong argument for both, but none of that will matter until you test what your audience loves. Let's break this down a bit further…
Plain text emails are the ones that you get that look as if they're written by a friend:
They're more visually boring but can get higher deliverability rates. That's because most email providers read HTML code as a promotional email (when's the last time you sent an HTML-based email to a friend or colleague?) As such, platforms like Gmail are more likely to deliver plain-text emails to your customer's inbox than emails that are HTML-based.
HTML emails are more common, though, particularly in the world of e-commerce. They look something like this:
These emails are more visually stunning and can get higher clicks, but only if they get seen. Since these types of emails rely on code to deliver engaging fonts, professional images/videos, and other compelling or dynamic features, they're more likely to get flagged as spam.
So…which is best? There's no way of knowing which type of email will work for you until you test it with your audience. Litmus, for example, ran a test of plain-text vs. HTML-based campaigns with a segment of their audience. As it turned out, 63% of users converted from the plain-text email over the HTML campaigns they had been running. From that test, the team at Litmus learned that plain-text emails do have an impactful role in their marketing efforts.
10. Allow your 5-stars to shine (visually)
This is one of our favourite email marketing tips. They say a picture is worth 1,000 words. But even 1,000 words aren't as powerful as 5 shining stars. A bit cheesy, but you get the point: when you're getting 5-star reviews, add them to your emails!
If you're using HTML-based emails, make it a stylish image that matches your email design. Like this example by Banana Republic: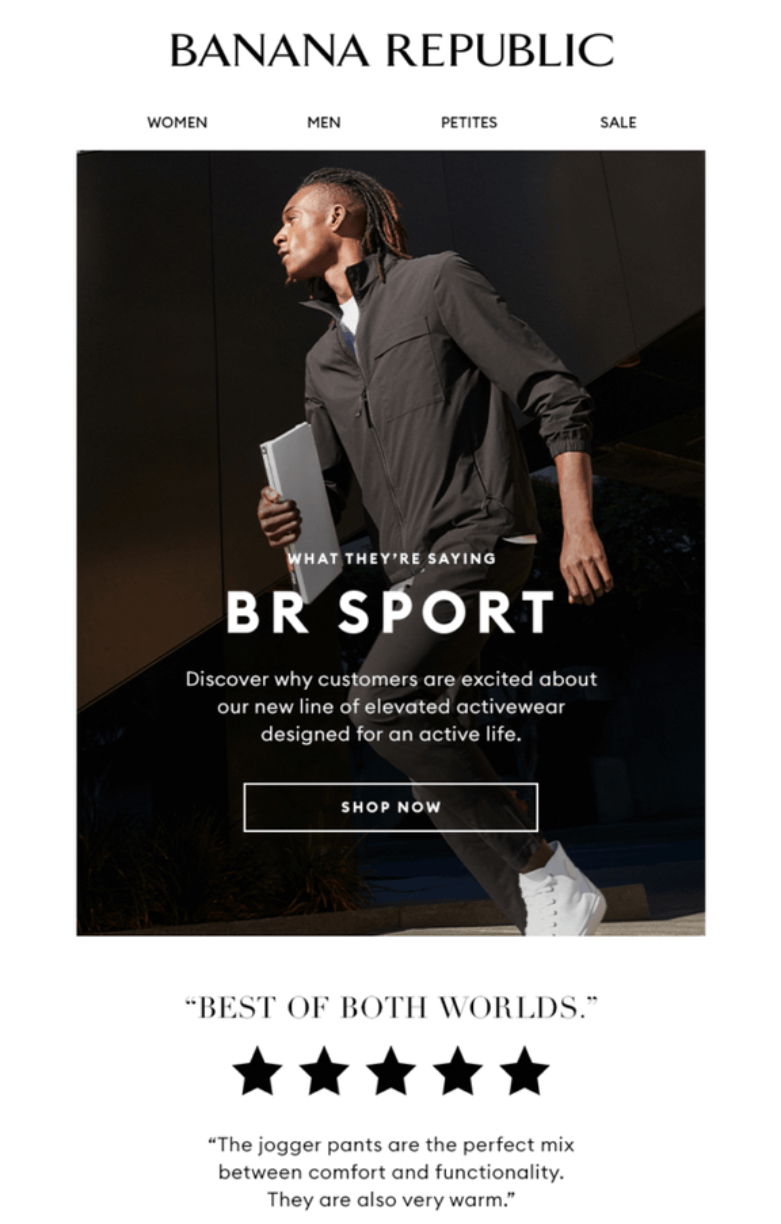 And plain-text emails can use emoji's (particularly in the subject line) to increase engagement:
Adding a visual of your 5-star review ensures that your reader quickly sees how well-loved your products really are.
11. Load testimonials around your email CTA
Testimonials are one of your best assets. Words coming from your customers will always be more impactful than anything your marketing team can cook up. So don't hide your testimonials and quotes at the footer of your emails. Instead, make them a prominent piece of your email campaign to build more trust with your audience. Brooklinen does this really well:
Note how effectively they load the campaign with testimonial blocks and a big CTA always nearby, "Get sheets to review:"
12. Transform your email into a personalized experience with dynamic text
Most ESPs give you the option of adding "smart tags" to your email content. This inserts a bit of information about your audience that's personalized based on the data you have on them. The most common example is adding a user's first name to the greeting by using one of these tags. Here's an example from EmailWritr, a software that helps busy business owners get started creating campaigns with email templates. They address the user by their first name in both the subject line and the email body:
Adding this level of personalization to your emails can pay off in a big way. In fact, CampaignMonitor found that, "emails with personalized subject lines are 26% more likely to be opened and marketers have found a 760% increase in email revenue from segmented campaigns." Explore your ESP to see which smart tags you can use to start personalizing your emails for a higher conversion rate.
13. Recover abandoned carts automagically
An easy email automation to add to your current strategy is a cart abandonment sequence. These messages will notify people on your email list when they've left something behind in their shopping cart without completing checkout. Here's an example of the fashion brand SKIMS cart abandonment email:
Note that in this example, SKIMS has included other tips from our list, such as:
Adding their average star rating (including how many reviews they've had)
A visual of the 4.6 stars
A testimonial from a real customer
And all of this information sandwiches their CTA, enticing the user all the more toward checkout. Boom.
14. Recycle your highest converting emails into an automated welcome series
One of the biggest advantages email marketing has over content marketing — or at least blogging — is you can freely reuse content in different places. If you were to copy and paste a blog post to target different keywords, for example, you'd get penalized by Google. But when you find great email copy that resonates with your audience, you can recycle that message to new leads or customers.
Using your ESP dashboard (or Google Analytics), identify which emails have performed best in terms of opens, click-through rates, and conversions. Then take these emails and add them into an automated welcome series for your newest subscribers. Over time, you can continuously optimize the order you present these emails to get the best results.
15. Start a hashtag contest via email
One way to get your users engaged is to create a unique hashtag for your brand on social media and encourage your email list to show themselves off. The online fashion brand ASOS does this often in their email campaigns with the hashtag #asseenonme: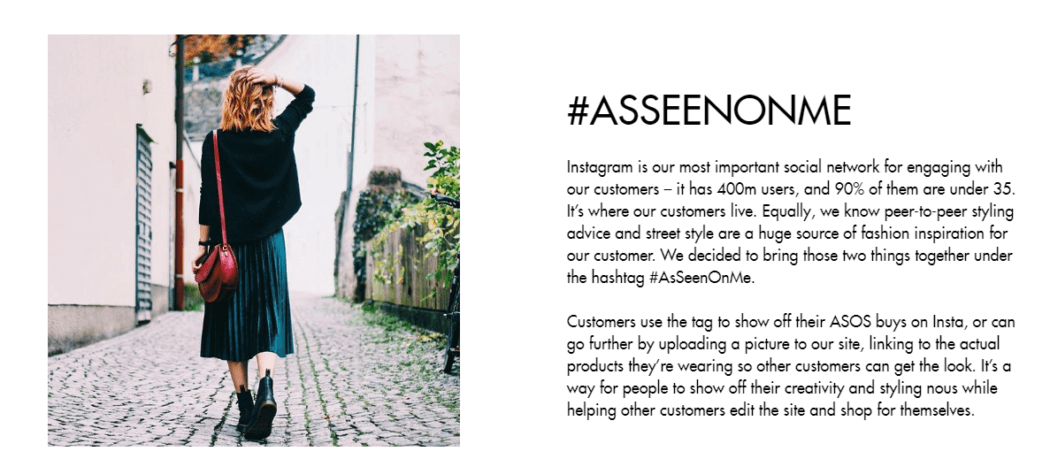 The email from above lets their subscribers know how to use the hashtag and also explains how doing so will make this person part of a larger community. This has been such a successful campaign that it's still running four years later.
16. Optimize transactional emails
Transactional emails are the automated emails you send when a user takes a specific action. So, for example, when someone buys a product from your store, they likely get an email saying, "Thanks for your purchase; we're currently getting your order ready for shipment." This is a critical moment in the user journey, and you shouldn't rely on the templated messages that come with most web-building or email marketing platforms. Instead, customize your transactional emails to keep your customers moving through your funnel.
Amazon has mastered this by adding upselling suggestions with all of their order confirmations. Next time you purchase something on Amazon, check for a section called "Customers Who Bought Items in Your Order Also Bought:"
Their goal is to keep you engaged at the moment when you're most excited about the product you just purchased. And if a company like Amazon is using a technique in their emails, chances are it's paying off.
18. Showcase your product in the wild
Start collecting photos of your products posted by real customers from platforms like Instagram. Then you can share these photos in your campaigns as social proof. Urban Outfitters does this well:
We've found this tactic to be particularly effective with product launches. It's why we've made one of our core products focused on helping you launch your product using product reviews full of authentic customer photos from day one. You can learn more about that process here.
19. Test, track, and optimize your email campaigns
This last email marketing tip is something you should be doing regularly with every aspect of your email campaigns. And to be honest, all marketing campaigns. Remember, email marketing is dependent on many factors, including your product, your brand's voice, and (of course) your unique audience. The goal is to:
Test your campaigns (experiment with segmentation, videos vs. images, customer reviews vs. testimonials in your campaigns, etc.)
Track your results to see which (and when) campaigns are performing best
Optimize future campaigns with the information you learn
The most efficient way to test, track, and optimize results is through A/B testing for your email campaigns. Be sure to test ONE aspect of your email content at a time so you can clearly identify which factors affect conversions.
For example, you might have an email where version A has 3 testimonials next to the CTA, and version B places a visual 5-star review by the CTA. And both emails have the same subject lines, preheader texts, and body content. Then you'd know if testimonials or 5-star reviews lead to higher click-through rates.
Once you've set a baseline for what's working and what's not, you can begin individually testing other aspects of your campaign to see what brings you the best results.
Gathering more content for your email marketing campaigns
With the many email marketing tips covered in this post, you might be wondering which ones should you start with. If you're like most e-commerce managers or business owners, you're already swamped with a million daily to-dos. The easiest place to begin is with anything that's written for you. In other words, start with the tips that incorporate more user-generated content (UGC) into your email campaigns. That would be things like:
Reviews
Testimonials
Image/video content from customers
These types of UGC give you instant content for your emails and have also been proven to increase conversions. And when you're working with Bazaarvoice, you have a one-stop solution not just for gathering UGC but for implementing it, too.
For example, Feelunique saw their review submission increase by 288% using Bazaarvoice's in-mail submission and multi-product submission. This feature lets you use email to gather UGC, which you can then recycle in your other email campaigns for higher opens, clicks, and conversions.
For more help, check out BV's Ratings and Reviews. This solution will streamline how you collect UGC to give your email campaigns the extra boost they need (and deserve!)
Request a demo