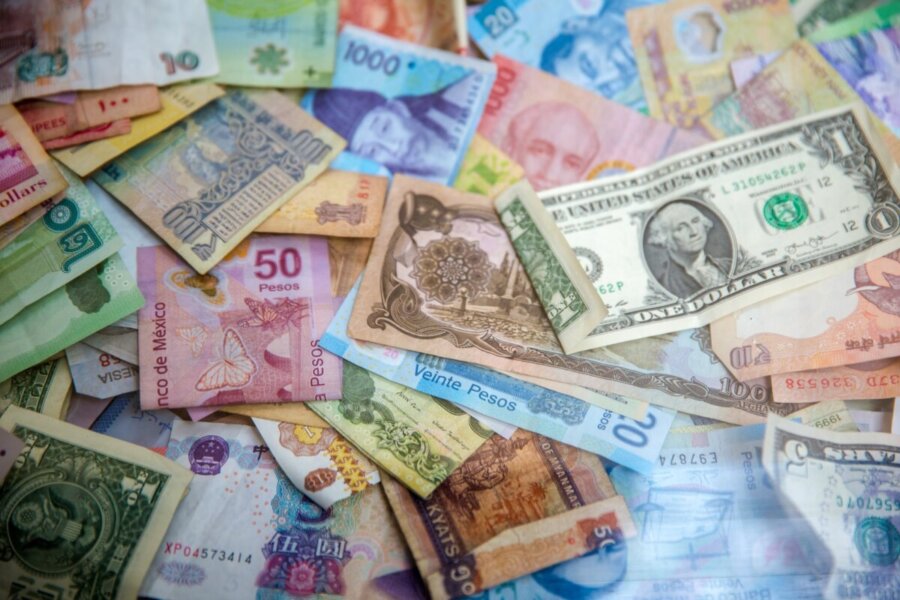 Welcome to digital marketing for small businesses 101. As a small to medium (SMB) business owner, you know a common pain point is trying to find the budget to execute marketing campaigns.
Here we'll explain how boutique brands can get the most out of their marketing dollars by leveraging visual user-generated content (UGC) and reviews on their social media channels, website, and in emails.
In addition to community growth, we'll demonstrate how focusing on reviews can fuel SEO and CRO — thereby building an evergreen base of qualified, converting traffic (that you don't have to pay to acquire!)
Chapters:
---
---
Digital marketing for small businesses
What if you had an all-volunteer marketing team that created high-quality, engaging content that actually converts? Spoiler alert: You do. Your customers.
Digital marketing is a big investment for small businesses and lean marketing teams. But it's a necessary one to grow and compete in a crowded market. As a small to medium business (SMB) owner, you likely don't have the extra time, funds, or expertise to execute a comprehensive digital marketing strategy.
The solution to this? User-generated content (UGC). Aka, the reviews, testimonials, and visual media that comes from your customers. You don't have to let that valuable content go to waste, you can repackage it on all your marketing channels. It's free, effective, and the customers who also follow your brand online are the ones crafting the content. They're representing themselves in the best light possible online, and when they look good — you look good.
Approaching your SMB marketing with a UGC-focused strategy will not only allow you to realistically accomplish it, but our research shows that UGC significantly increases conversions and revenue per visitor.
Whether you outsource digital SMB marketing or manage it in-house, these tactics will elevate your strategy no matter your budget.
Why do small businesses need digital marketing?
First thing's first. Why should small businesses focus their resources on digital marketing? Digital marketing is any way of promoting your business online — whether that be with your website, social media, or email campaigns — and one in five small businesses don't utilize it.
This gives the SMBs and lean marketing teams that do so a competitive edge. Because, in case you haven't heard, we live in an internet-dependent society — 81% of shoppers research brands and products online before making a purchase.
For boutique retail brands, e-commerce is essential — and timely. The Bazaarvoice Network saw a 35% increase in page views and a 39% increase in order count in 2020 compared to the previous year. Furthermore, global online sales forecasts predict a 17% increase year-over-year.
And SMBs are catching on — according to a study by TDA, 70% plan to increase how much they spend on digital marketing. That doesn't change the fact that 71% of SMBs do their own digital marketing, and every dollar counts. It just means with UGC, it doesn't have to be expensive.
Customers are looking to two primary sources for their shopping research and inspiration: online reviews and company websites. Reviews are relevant and important for both online and in-store shopping, with 48% of online shoppers consulting reviews. Another 53% of shoppers seek out reviews before going into a brick-and-mortar store.
We know why small businesses need to make digital marketing a priority. Now, how can UGC support digital marketing goals, and how can you apply it to your strategy?
Online customer reviews
Reviews provide shoppers with the social proof and assurance they need to hit that "buy now" button. 81% of shoppers are more likely to buy products if they have written reviews. According to our own research, product views are by far the number one factor consumers take into account: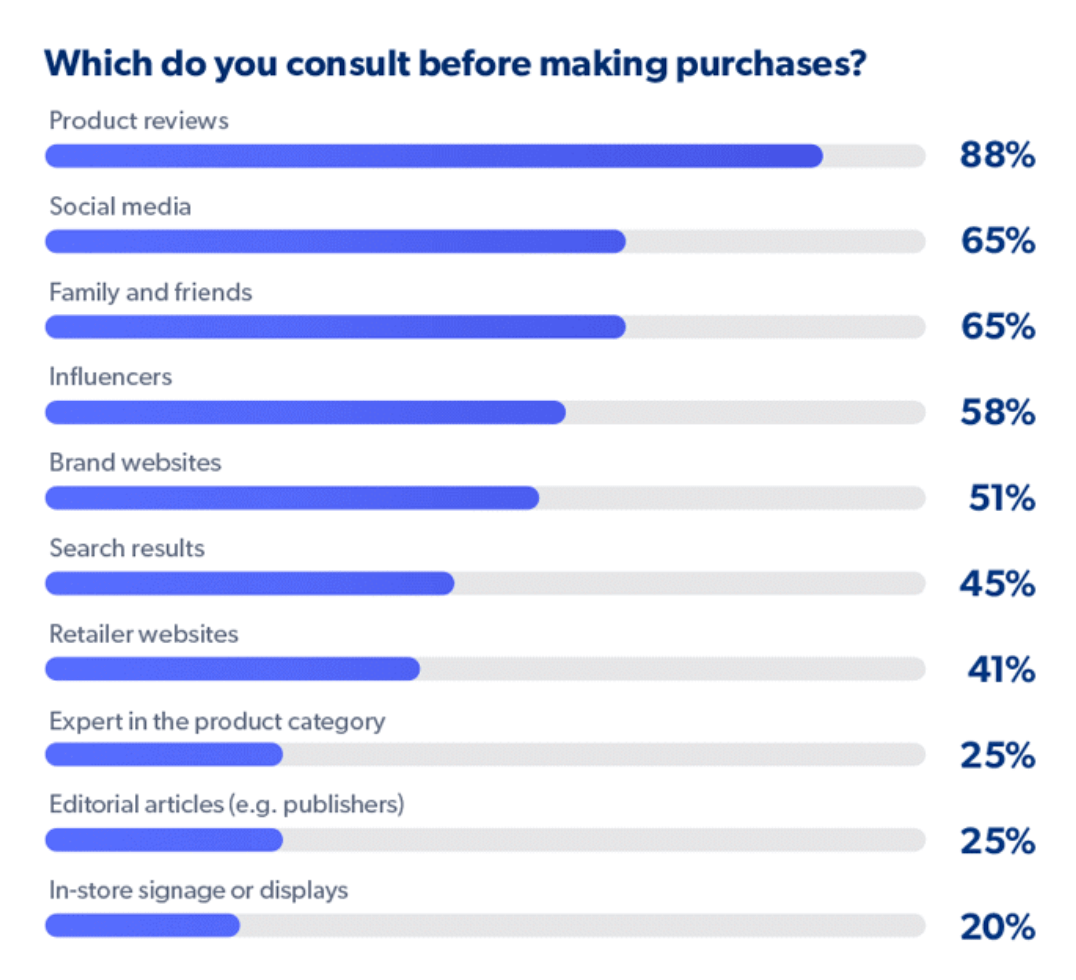 It's also a quick and easy action that customers are often happy to take. 72% of U.S. consumers have left a review for a local business, and according to a study by Fundera, 92% of the reviews consumers left for SMBs were positive. Sharing reviews earns credibility through transparency. Plus, it costs businesses nothing. And I know you like the sound of that.
How to earn reviews
Customers can, and do, offer unsolicited reviews, but it requires some work to build up a healthy arsenal. There's several efficient review-collection tactics small businesses can take that produce results.
Add a call to action (CTA) in which you request reviews from any customer who has made a purchase. For brands with an e-commerce store, this can be on website order confirmation pages and confirmation emails. Other businesses can include a review CTA in any marketing email
Source and aggregate customer feedback from brand mentions, tags, and hashtags on social media. Ask the user if you can share their comments about your brand or product. Or ask them to submit it as a review on your website
Incentivize reviews. There's several ways to offer an appealing exchange for a customer review. This could be done with a targeted sampling campaign, a percentage off a future purchase, or an "expert reviewer" badge to support aspiring influencers
Ask customers and clients you have a good relationship with to leave reviews
The very act of engaging with your customers to generate reviews can strengthen your relationships with your customers. As we note in Bazaarvoice's The Future of Generated Content e-book, "cultivating power reviewers generates a new community that straddles both brand advocacy and consumer champions."
How to promote reviews
Once you have a substantial reserve of reviews and a system to keep them coming, distribute them as widely as possible for maximum ROI.
Some of the most efficient, easy, and effective channels for reviews are the product display pages (PDPs) on your website. Displaying customer reviews of the product right at the point of purchase is a natural fit and often seals the deal. In fact, according to the Bazaarvoice 2021 Shopper Experience Index, 40% of shoppers won't make a purchase if there isn't a review on the PDP. Home pages and category pages are also great website real estate for reviews.
Reviews are excellent material for social media posts, including static photos, videos, and stories on any social platform. Using reviews for social media content is a great time-saving, multi-tasking tactic that, again, is free. Photo editing and graphic design tools like Canva are great for dressing up text posts for social media. You can also just directly repost reviews that customers post on their accounts without editing them at all.
Brand example
This example from boutique skincare and wellness retailer Chillhouse shows how they cleverly use Instagram stories to showcase their in-store reviews, pinned to the top of their profile page as a sticker.
Other great places to promote reviews are in marketing emails and blog posts. Reviews make for compelling content, and you can link them to their corresponding products. Smaller business-to-business (B2B) companies can even turn customer reviews into persuasive case studies to add to their websites. These can then be promoted on various other channels for lead generation.
Reviews drive website traffic and increase search rankings
Reviews don't just help you come up with content for your emails and social channels. They also do a lot of heavy lifting for your brand's search engine optimization (SEO). SEO is a goldmine if you're just starting your digital marketing for small businesses strategy. Reviews build your brand's authority like money in the bank builds interest. You can simply sit back and watch your site visits multiply and your Google position rise.
For local businesses, this is huge because review ratings drive the most clicks for websites in local searches. According to BrightLocal's Local Search Ranking Factors Survey, review signals make up 16% of local pack ranking factors. Metrics such as the number, velocity, and diversity of reviews a business has are among the algorithm criteria.
When you gain reviews regularly, they provide a steady flow of fresh content for the search engine crawlers. Reviews on trusted secondary platforms like Yelp, Google My Business, and TrustPilot help support overall SEO performance.
Google also factors in review sentiments in the Knowledge Panel display for businesses. The star ratings are a kind of average taken from all the ratings Google analyzes for a business. Users can click on the rating part of the panel to see a full list of reviews on a separate page.
Reviews not only increase search engine visibility but also add SEO value on social networks as well. When users search for a keyword within a social platform, mentions or reviews with that keyword will come up.
How to handle negative reviews
Some negative reviews are inevitable. But, customers are twice as likely to purchase a product when a brand responds to a negative review. Up to 70% of customers will do business again with a company that solves their complaint. The big takeaway here is don't ignore tough reviews and handle them responsibly — and quickly. Negative reviews offer a chance to show exceptional customer service by empathizing and offering a solution.
In practice, this means acknowledging the problem, apologizing for it, and offering to fix it. For example, health and beauty brand Boots responded to a negative review about a product that caused an allergic reaction by sending the customer an alternative better suited to their skin type.
By using these best practices, you'll show other customers your company is trustworthy and resolution-oriented. Businesses should also use negative reviews as a learning experience to course correct and prevent similar issues in the future.
Visual UGC
No digital marketing for small businesses guide would be complete with mentioning visual UGC. They say a picture is worth 1,000 words (or 1000 pictures), but for retail brands, it could be $1,000. Visual UGC photo galleries increase conversions by 54% and revenue per visitor by 80%. Photos and videos created by your customers provide social proof of your brand and products for browsing shoppers.
These candid shots can be much more effective than a professional brand photo, since 70% of shoppers trust the opinions of other consumers over what the brand presents. When considering two brands, visual UGC is the deciding factor for 85% of shoppers.
How to source visual ugc
There's lots of UGC out there — you just have to find it. If it's sparse for your business, there's plenty of ways to foster it.
Hashtag campaigns are one of the most convenient ways to acquire visual UGC. Create a branded hashtag specifically for followers to use when posting content featuring your products. Clearly state posts that include the hashtag may be shared on your brand's channels and website. This way followers will be encouraged to use it for a chance to be featured. Plus, they can also consent to the reproduction of their content
Search the web. Outside of hashtags, there's other ways to find UGC with your brand. Search the social channels your customers are active on, like Facebook, Instagram, Pinterest, TikTok, and Reddit, to find media tagged with or mentioning your brand. Look back at your customer reviews to see if they include images or videos. After you've scanned these channels and found UGC you'd like to promote, ask the users if you can share it. Always tag them when sharing content to give them credit and extend the reach of the posts
Host a contest. Everyone loves a chance to win a prize, especially if the process is fun. Social media contests are a great method to get your online community excited about your brand. They cause followers to willingly — enthusiastically, even — contribute content for you to republish. Execute this with "show us what you've got!" energy, encouraging followers to post their best UGC with their purchases using a contest-specific hashtag and tagging your brand. The prize could include a chance to be featured, a free product or service, or an experience. Or anything else would be appropriate!
Sampling campaigns. Activate the 6 million members of the Influenster community to provide you with a continuous stream of authentic content
How to promote visual UGC
Once you've procured quality UGC, it's time to share it and distribute it on your SMB marketing channels.
Repost UGC on social media. If the UGC is organic and not submitted as part of a contest or hashtag campaign that gives permission rights, ask the user if you can share it. Once they grant permission, repost the content on the best platforms for visual UGC: Instagram, Facebook, Pinterest, and TikTok. Instagram stories that mention your brand are easy and fair game to repost — just share the stories you're tagged in.
When sharing visual UGC to social media, tag the user who created it and give details about the products that are featured. Direct users to click the "link in bio" to go to your brand website or corresponding PDP. Bazaarvoice's Like2Buy tool makes this a seamless process, linking every post directly to the appropriate web page, by the way.
Syndicate visual UGC on your website. Your company website is a prime location to showcase visual UGC. On your home page, a dedicated gallery page, and especially PDPs so you can capture the 47% of shoppers who look for photos and videos on them. To do this, manually add photos and videos using your content management system (CMS), enable an uploading functionality for users to add media themselves for you to vet and publish, or majorly streamline the process with Bazaarvoice Galleries.
Bazaarvoice Galleries takes care of time-consuming permissions requests with a bulk rights feature that sends a request to the users of selected UGC. Once they approve, their photo or video is automatically uploaded to your media gallery. Brands that use Bazaarvoice Galleries see conversion rates go up to 150% when shoppers interact with gallery images and videos.
Brand example
Apparel brand Tuckernuck feeds UGC with the #tuckernucking hashtag to their gallery and invites customers to upload their images directly on the website. By showcasing this visual UGC on their website, conversion rates increase by 140%, and time on site increases by 160% for shoppers who interact with Tuckernuck's galleries.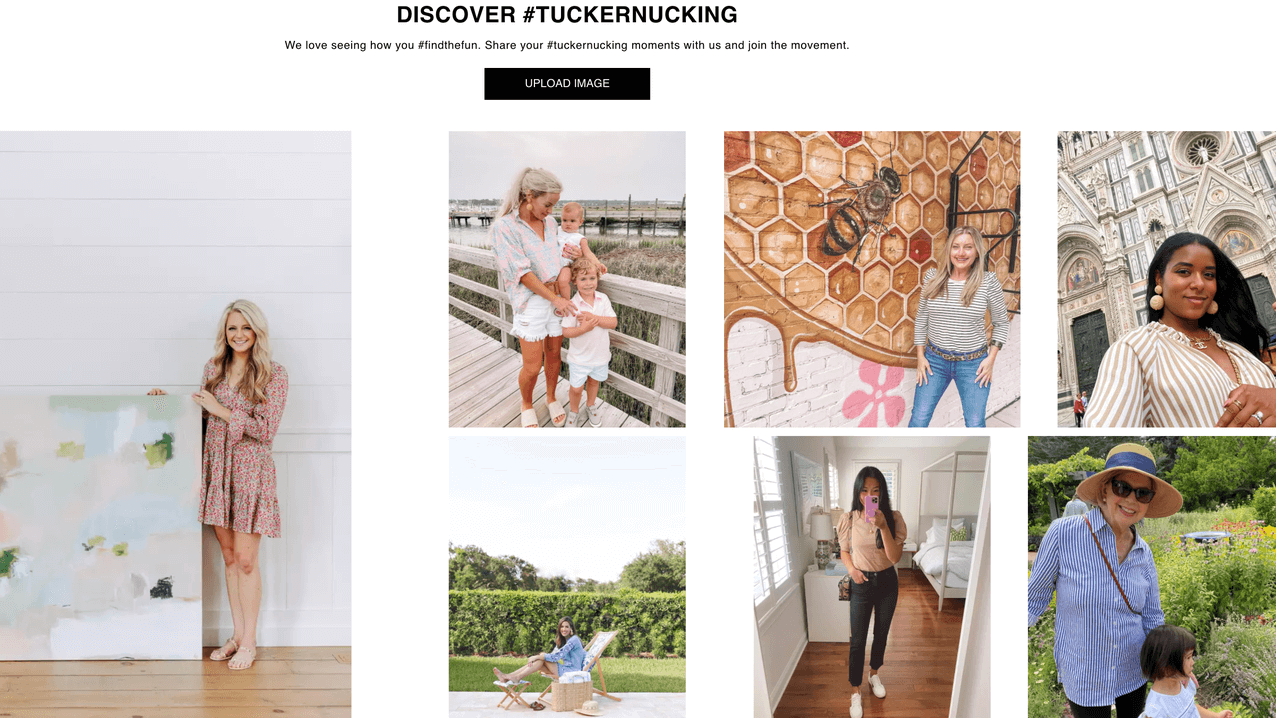 Social Commerce
Social commerce means making your content on social media shoppable. It's a must-use case for any small business digital marketing strategy. With social commerce, you can turn any business account into a virtual storefront, giving you more opportunities for sales and conversions. Instead of paying for advertising creative, curate UGC for visual media and messaging.
Social media is a popular source for shopping inspiration, research, and discovery. So much so that 90% of shoppers purchase from brands they follow on social media. The amount they're spending is on the rise, increasing by 12% in 2020 compared to 2019.
Once again, not only does UGC save time and money, it's a powerful tactic for social commerce implementation. Based on Bazaarvoice surveys, 45% of shoppers say UGC in social advertising impacts intent to buy, and 64% of shoppers want to see visual and social UGC shared on social media.
How to activate social commerce
Once you've gathered a collection of visual UGC and reviews, the hard part is over. You can turn the UGC into shoppable media in a few easy steps.
First, identify the top social platforms your business is active on to use for social commerce. According to Bazaarvoice surveys, the most influential platforms for visual UGC in order of highest to lowest are:
Facebook
Instagram
YouTube
Pinterest
TikTok
Influence of UGC by platform:
Upload your product catalog to activate shoppable posts on each platform. This way, you can assign cart items to any post that features a product so users can click through to the checkout page.
Bazaarvoice tools like Like2Buy and Showroom can make all your UGC content shoppable, giving your social audience easy access to purchase products instantly.
Brand example
Small home goods brand Material shows how to do social commerce with UGC right. This example features a photo sourced from a customer featuring products with links to shop:
Email marketing
Email marketing yields big results for small businesses: The average ROI of email marketing is 122%. Also, it's a prominent customer retention and marketing driver for SMBs. According to an Emarsys report, 81% of small businesses use email as their primary customer acquisition platform, and 80% for retention.
One of the appealing qualities of email is its versatility. It's an open space for whatever kind of content you want to use — like all the influential UGC you've built up. Visual UGC, video testimonials, and customer reviews are all great content for emails.
Content marketing
Content marketing is any content, such as blog posts, videos, infographics, and e-books, used to promote your SMB. It's also the most cost-effective small businesses digital marketing strategy, making it a particularly attractive strategy for small businesses and lean marketing teams. Content marketing gives brands an opportunity to communicate their value, vision, and message to their customers. You're reading (and hopefully enjoying) an example of it in action right now. Three clear benefits of content marketing:
Customers receive more insight and details about your products, services, and industry from an authoritative standpoint
It improves SEO by driving web traffic and boosting search rankings, increases website visitors' time on site, and grows brand authority and awareness
As well as promoting your brand, it positions you as a knowledge expert and thought leader
A great story-telling device is UGC because it shows your products out in the real world. So enlisting the voice of the customer to illustrate how they use your products or services and why they love your brand can guide a lot of your content.
Measure performance with analytics
There's many ways to assess the results of your SMB marketing campaign. Google Analytics can give you elaborate information about your website performance, including traffic, number of visitors, and most-viewed pages. Many of your digital SMB marketing platforms, like individual social channels and your email provider, have their own consumer insights.
Looking into the results of each channel will show which ones are generating customers and revenue. But also what you should be focusing on, and where you can improve.
The Bazaarvoice Insights and Reports tool tracks the performance of UGC on your social networks and wherever your reviews are with a very user-friendly and manageable interface.
Calculate your digital marketing for small businesses ROI
Does your lean team still need more convincing about the power of UGC for SMB marketing? Use the free Bazaarvoice ROI calculator to show you just how much you could boost your bottom line.