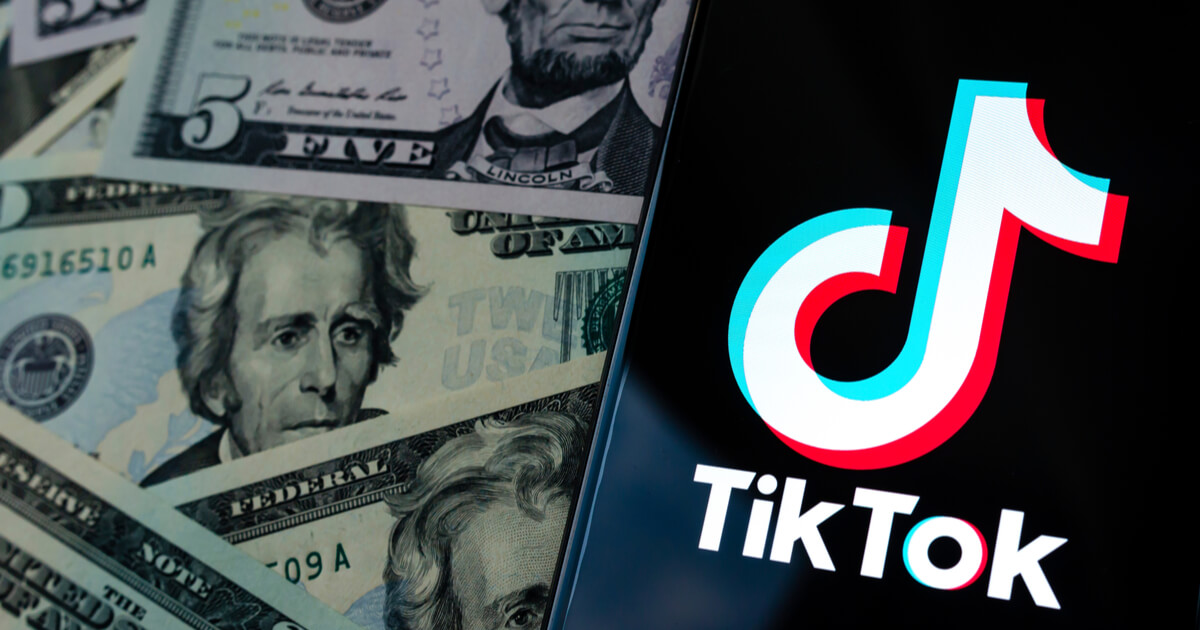 If you've arrived on this page, it's because you're looking for how to execute a successful TikTok marketing strategy. Smart decision! Users spend 197.8 million hours per day on TikTok, so it's time for you to adjust your marketing tactics to meet people right at their fingertips.
This guide covers everything you need to know about TikTok marketing — not just how to do it, but how to do it well. For ease, we've broken the piece into five specific areas.
Chapters:
---
---
TikTok provides brands with the invaluable opportunity of reaching a new cohort of customers. A favorite app of Gen Z, nearly half of US TikTok users are between the ages of 10-29.
They come to the app not just to laugh at viral videos or learn a new recipe, but also to discover new trends, brands, and products. In fact, 60% of international TikTok users follow brands on the app.
The platform has also been revolutionary when it comes to the social commerce industry, with their Chinese parent company allowing insight into what's working and what's not. More specifically, their suite of TikTok tools for e-commerce complement their advertising capabilities, making it easy — and fun — for brands to engage customers and drive sales on the app.
Here's everything you need to know about TikTok marketing for your e-commerce brand.
Find your TikTok brand voice
TikTok has proven that it's unlike any other social media app, and therefore you can't use the same messaging on it as you would for other platforms.
Authenticity plays a major role in TikTok's appeal. While platforms like Instagram are often associated with polished images that aren't reflective of reality, TikTok users aren't afraid to come off as vulnerable, goofy, or self-effacing. And they expect the same of brands.
64% of users say they can be authentic on TikTok, with 56% saying they share content on the app that they wouldn't share on other platforms. As a result, over half of TikTok's users believe that other users are also being their authentic selves in videos.
Naturally, brands that are already geared toward a youthful audience will have an easier transition to TikTok. But as you'll see from the examples below, any company can create a unique TikTok brand voice.
Quirky and educational content is at the forefront of TikTok marketing
At this point, social media and memes are inseparable — and humor is what TikTok users have come to expect of business accounts. 74% of Gen Z and 72% of users over the age of 26 prefer to see funny content from brands on TikTok, according to a recent Attest survey. And TikTok users are 1.4x as likely to credit humor as motivation for purchasing intent. Some of the most successful brands on TikTok have a humorous brand voice, and it's showing in their video views.
Popular airline Delta has amassed over 520,000 followers with their relatable and humorous videos promoting the many great aspects of flying with them. For Father's Day this year, the airline posted a video following a Delta "airport dad," a catchall term for anyone (in family travel, usually the father) who takes charge while traveling.
The video has over 1 million views and 130,000 likes and is captioned with, "delta dad activated."
Delta's tongue-in-cheek, self-referential humor is consistent across all social media platforms. But this isn't the case for all brands. For example, The Washington Post's TikTok account transforms news into funny videos aimed at engaging a younger audience — like this recent post covering the SAG-AFTRA strike:
Its Instagram account, however, has a more serious and straightforward tone, with images recapping current events dominating their feed.
But you don't need to be a comedian or hire a 19-year-old social media manager to build a large following for your e-commerce brand. Educational content also performs very well on the platform.
Tutorials are the second most popular type of brand content on TikTok, and companies like Huda Beauty have built a following of engaged audiences based off of owner Huda Kattan regularly sharing helpful hacks and beauty how-to's.
What's more, educational content has the power to build trust with your customers and cultivate community. It effectively illustrates you're not on TikTok just to promote your product, but also to provide value — and guess what? Your community will grow organically when people consistently see content that resonates with them in multiple ways.
Make sure your brand voice is appropriate for your target audience
While creating engaging content is crucial for TikTok success, none of it matters if you're not targeting the right audience and adjusting your voice to their preferences.
Take a luxury clothing brand like Louis Vuitton and compare it to a fast-fashion retailer such as H&M. Louis Vuitton's TikTok targets older, affluent users and features artistic campaign videos and behind-the-scenes looks at their fashion shows.
On the other hand, H&M is an affordable brand, and their profile consists of playful videos and helpful hacks that appeal to young consumers:
While it's true that Gen Z dominates the app, it's not all teenagers on TikTok. In the US, 45% of adults aged 40-49 are on TikTok, and one quarter of adults aged 50-59 (my mom included!).
As the app matures, so will the audience — and their purchasing power. Gen Z is expected to earn more money than millennials by 2031, according to Bank of America research, with their global income reaching $33 trillion.
Keeping this in mind, you should carefully consider how TikTok can benefit your e-commerce brand in the long term. Even if zoomers aren't at the heart of your target audience.
Pro tip: Bazaarvoice Insights & Reports can help you understand exactly who your target customer is, allowing you to curate a TikTok marketing profile that's in alignment with their preferences. It offers insights into the behavior of over 6 million shoppers, so you can customize your research and remove the guesswork out of understanding your audience.
Make the most of TikTok Shopping tools
TikTok provides three native ways to shop within the platform. TikTok commerce solutions are a set of e-commerce tools to help you bring your products closer to your existing customers and reach new ones.
Exposing users to new content, brands, and products is a key part of TikTok's magic. These solutions aim to bring the shopping experience into the app, creating a smooth journey from discovery to purchase.
TikTok Shop
A full-service commerce platform, the TikTok Shop allows brands to manage all stages of online shopping, from product upload to order fulfillment.
Merchants who sign up in the Seller Center, can use it to manage their orders, promote products, collaborate with creators, provide customer service, and track performance. A true, one-stop TikTok shop.
Third-party e-commerce connections
If you're using an e-commerce provider like Shopify, you can sync your product catalog with your page using a TikTok for Business account. (The exact setup will vary depending on your provider).
After the sync is complete, a shopping tab will appear on your profile, leading users to an in-app storefront they can browse.
One of the first businesses to install a shopping tab was Kylie Cosmetics, alongside other cosmetics brands such as Glow Recipe and Item Beauty. The co-CEOs of Glow Recipe, Christine Chang and Sarah Lee, have already stated that a growing number of customers use the new shopping tab.
Shoppable videos and showcasing products
Product links are undoubtedly one of the most useful e-commerce features TikTok has released. The concept is straightforward: Once you integrate your product catalog with TikTok, you can display links to products in videos where they're featured or allow customers to shop products directly within the app with a separate shopping tab, as seen here on Peloton: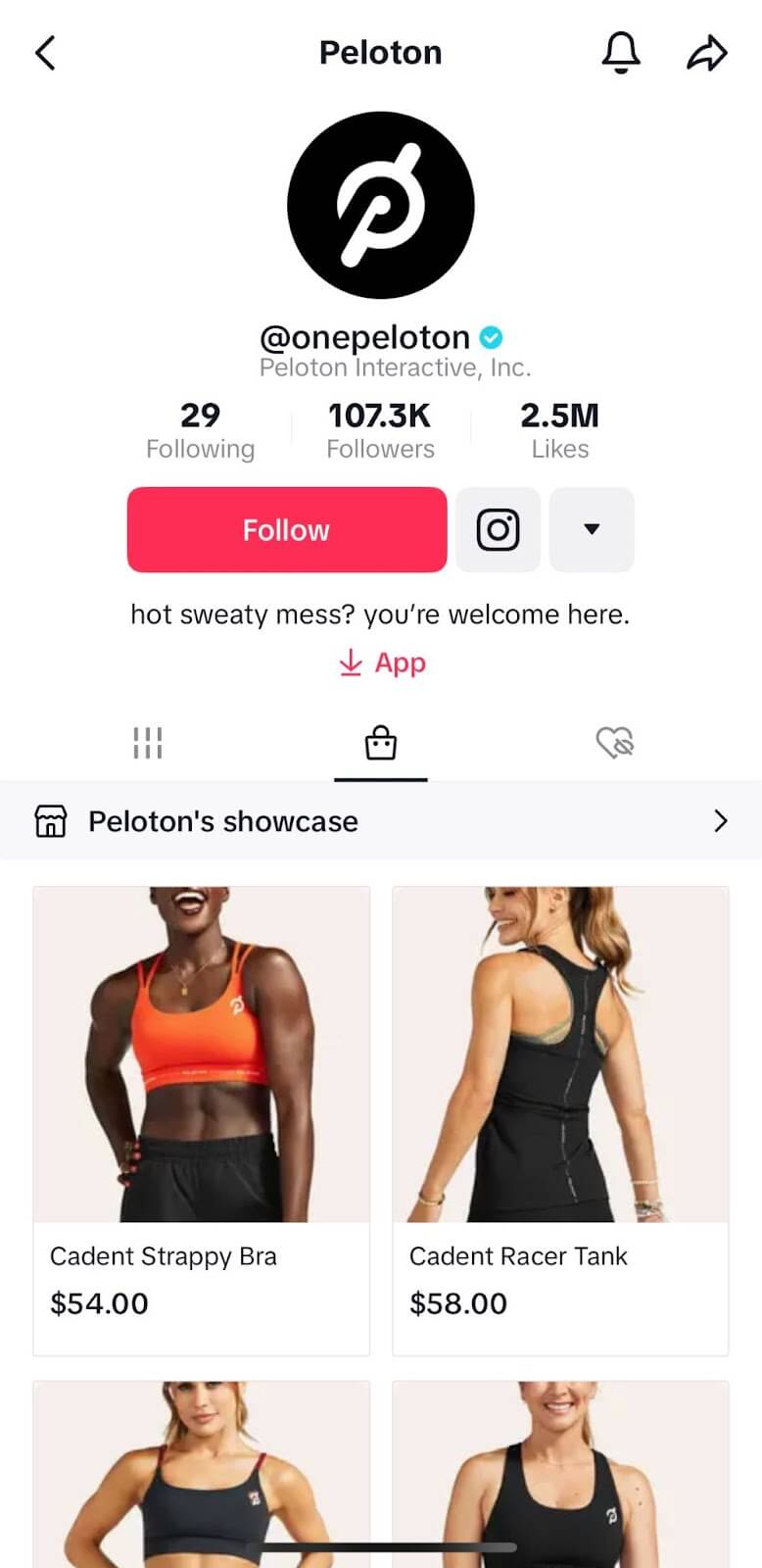 Glow Recipe, for instance, was able to increase both discovery and sales of their products through organic content by using product links.
LIVE Shopping
LIVE Shopping is a solution that enables you to host a livestream and sell products, all while engaging with your customers — like QVC but for TikTok.
Walmart saw huge success with their first LIVE Shopping event, which grew their following by 25% and had an audience that was 7x bigger than expected. A few months later, Walmart organized a second livestream event, partnering with TikTok influencer Gabby Morrison.
TikTok Shopping API
Finally, the TikTok Shopping API is a solution that lets you directly connect and display your product offerings right on your TikTok page.
Use TikTok for Business to widen your reach
TikTok for Business is the app's marketing solution that allows you to design and launch ads, as well as analyze the success of your campaigns.
If you're an e-commerce brand trying to go viral, it's worth investing in ads to complement your organic content.
While marketers perceive advertising on TikTok as less trustworthy than on established platforms like YouTube and Instagram, it's also the platform with the most entertaining ads — at least according to this Kantar report.
If you're on the fence about investing in ads as part of your TikTok marketing strategy, you should know that the report also named TikTok the number one brand for global ad equity for the second year in a row. This means that TikTok users have a more favorable opinion of the ads they see on the app.
In addition, one in two users say that ads on TikTok "just don't feel like ads." And 68% say that TikTok ads are unique compared to other social media platforms, according to a Nielsen study.
Advertising on TikTok
With an audience that's very receptive to ads and open to discovering new products, TikTok has the power to turn users who've never even heard of your brand before into customers.
To do this, TikTok Ads Manager has a number of features at your disposal:
In-Feed Ads
With In-Feed Ads, your content will appear on the For You page as the user scrolls through their feed.
In-Feed Ads give you free rein over how you choose to present your brand. Some businesses, such as men's skincare brand Bulldog, partner with influencers to create funny ads that seamlessly fit into the TikTok landscape. In Bulldog's case, the ads resulted in a 5-10% sales boost and 29.8 million impressions.
You can use Collection Ads to show product cards alongside ads, allowing users to immediately click on the product and learn more about the item without ever leaving the app:
TopView Ads
As the name implies, a TopView Ad appears after a user opens TikTok, at the top of the feed. In this setup, your video ad can be up to a minute long, and it plays automatically with the sound on. According to TikTok, this is the ad format their users prefer the most when compared to ads on other social media apps. 72% of users favor TopView.
TopView Ads are especially suited for the consumer packaged goods industry. TikTok claims that in this case, these ads are 67% more effective for sales.
One of the brands that turned to TopView Ads was Vichy, who wanted to drive mass awareness during their skincare's high product season. Their full funnel saw a 17% conversion rate and 6.7% lift in awareness.
Branded effects
By inviting users to have fun with promotional filters in their videos, branded effects raise awareness of your business.
From creating stickers to filters, numerous brands have opted to go down the special effect route for their TikTok marketing (often combining it with In-Feed and TopView Ads as part of a larger campaign).
Take M.A.C. Cosmetics, for example. To promote the launch of a new lipstick line, the company created a branded effect displaying the new colors alongside positive affirmations:
Branded hashtags
Hashtags are equally as important on TikTok as special effects and music.
Users explore trending hashtags on the Discover page to get up to speed on what's popular in the community. Branded hashtags allow you to capitalize on that interest and inspire TikTok users to create videos related to the product or service you're offering.
German luxury fashion brand Hugo Boss launched a campaign with the hashtag #MerryBOSSmas that also included a branded effect and In-Feed and TopView Ads to boost the hashtag's popularity.
As part of the #MerryBOSSmas challenge, creators were encouraged to strike a pose while wearing their favorite Christmas Hugo Boss looks:
Brand takeover
Want to make a bigger splash? A Brand takeover ad option allows businesses to be at the front and center of TikTok for one day. This is perfect for brands that are launching new products or services with a major campaign effort.
As part of the #InMyDenim campaign, clothing brand Guess launched a brand takeover that displayed an ad on the app's splash screen:
The accompanying hashtag challenge inspired users to show off their denim looks to the tune of "I'm a Mess" by Bebe Rexha. Guess also made sure to partner with influencers to get the ball rolling. By the end of the campaign, over 5,000 creators participated in the challenge.
Spark Ads
Finally, with Spark Ads, you can boost existing posts to reach a bigger audience, just like you're able to do on Instagram or Facebook. The cool thing about this is that you get the native feel and functionality of an organic video, making it feel more authentic.
Connect with customers using Lead Generation
TikTok's Lead Generation feature simplifies the process of capturing leads and allows users to fill out sign-up forms within the app. When luxury brand Nina Ricci launched a new perfume in Spain, they promoted it using Lead Generation:
To get a free sample of the fragrance, users filled out an in-app form by following the blue button at the bottom of the screen. The campaign resulted in a 41.9% conversion rate and reduced the cost per lead by 83% when compared to past campaigns.
Boost your user-generated content
Authenticity is the name of the game, and with the power to go viral and increase awareness of your product, user-generated content (UGC) can be immensely beneficial to your brand.
For proof, look no further than #TikTokMadeMeBuyIt, a trend with over 58 billion views on TikTok that's causing stores to put up signs that indicate a product is popular on the app.
Just like on Instagram and other social media platforms, Bazaarvoice makes it easy to schedule this type of content directly through our platform. And to make sure you're catching your audience at the right time, we'll even give you recommended times to post, when you can expect the highest engagement. There's really no excuse not to start posting UGC on TikTok!
Here's how you can boost UGC and get the most out of it.
Host contests and challenges
A contest or giveaway is an easy way to draw attention to your brand. Especially if you have a limited marketing budget.
For example, cosmetics brand E.l.f. Beauty launched an #elfgameup challenge to promote their Twitch channel and new makeup set. It encourages followers to share videos of their makeup looks using the hashtag for a chance to win prizes.
TikTok influencer and creator marketing
Unsurprisingly, influencers play a major role in TikTok marketing.
Brands hire influencers not only for marketing new products and to reach new customers but also to get the ball rolling on TikTok hashtag challenges. Users are more likely to partake if they see their favorite creator participating in a challenge first.
TikTok influencer marketing has boomed in recent years. Now, 56% of brands use TikTok for influencer marketing, officially making the platform the most popular influencer marketing channel according to Influencer Marketing Hub.
Brands report that influencer content consistently performs well, with nearly 75% tracking sales from influencer campaigns. Most (82%) also report that the quality of customers from influencer marketing campaigns is better than from other marketing efforts.
While finding the right TikTok influencer can be a long process, there's tools like Upfluence or Bazaarvoice Creators to help you narrow down the search. And be careful not to dismiss an influencer due to a low follower count! Niche creators have a very engaged, specific following that can help you reach your niche audience (if you have one).
Producing the best content and audience connections are top priorities for creators, making it the second most important type of content for brands today and should certainly be something you're considering, if you haven't already.
Influencer content can come off as more genuine and authentic than that of brands and many creators on TikTok have built communities based on specific interests. This can help brands tap into new groups and market to new demographics or help build loyalty among an existing base.
And remember earlier when we were talking about tutorials? A number of beauty brands, like Rose Inc. partner with creators to try products and provide educational tutorials. It made me want to run out and purchase!
Leverage TikTok videos on other channels
A recent study found that 85% of marketers plan on reusing influencer content in other channels, such as email newsletters or the company website — and you should too.
The reason? Shoppers like to see real people interacting with a product they're interested in because it builds trust. According to our research, 45% of shoppers are now more likely to make a purchase based on recommendations from everyday social media users.
Plus, placing UGC on your website can help customers discover new products and spend more time on your site. Since e-commerce sites are designed with conversions in mind, they make it difficult for shoppers to enjoy browsing around like they would in a physical store.
By adding UGC, you can mimic the brick-and-mortar shopping experience, allowing site visitors to see videos of your products in a format they're accustomed to.
Pro tip: With our social commerce solution Showroom, you can repurpose influencer videos and images, turn them into storefronts, and allow shoppers to discover products on your website effortlessly. This results in a 53% lower bounce rate, while site visitors discover 60x more products than usual.
Harness the potential of TikTok marketing with analytics
TikTok has a distinct advantage when it comes to its audience. TikTok users log in to the app to discover. Whether it's a new skincare hack or a must-have pair of leggings, they're open to trying new things just because they saw it on their For You page.
This level of receptivity has opened doors to brands that are willing to take a chance on the platform.
By curating your brand voice, leveraging advertising and UGC, and taking advantage of all the e-commerce solutions TikTok offers, you can follow in the footsteps of brands like E.l.f. Beauty and Delta that are certified TikTok famous. Next, it could be you.
But how can you effectively measure the success of your TikTok marketing strategy? With the right TikTok analytics strategy.
---