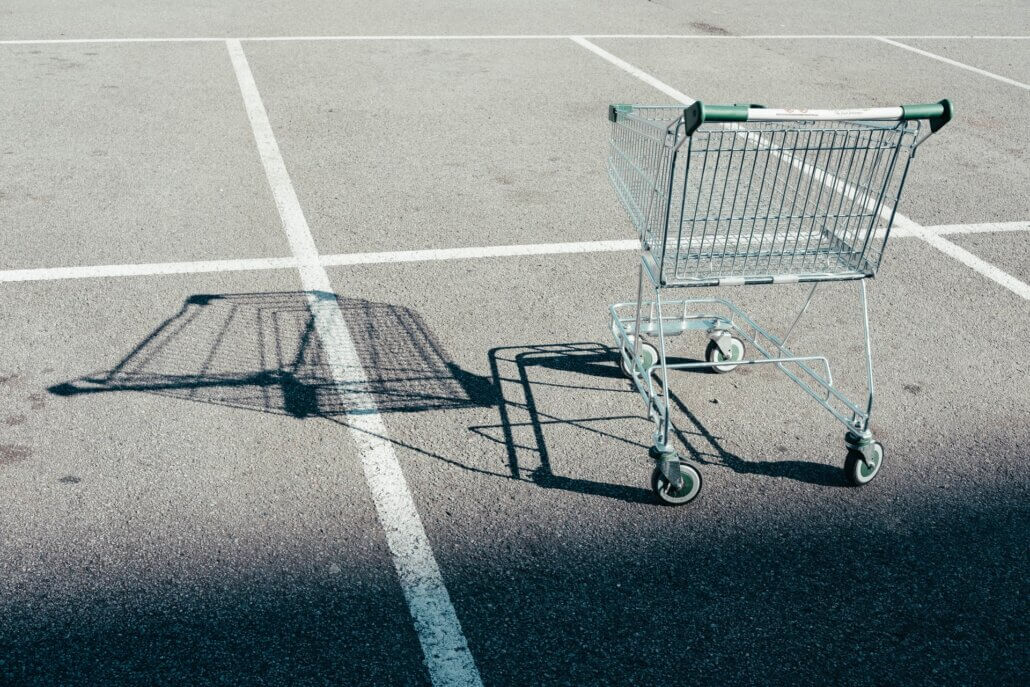 Shopping carts have abandonment issues. Every day, they remain parked in cyberspace all alone and filled with unpurchased merchandise. 70% of online shopping carts are abandoned. That's a lot of missed opportunities for your e-commerce business. Whether it's due to poor user experience or a lack of trust in the product, shopping cart abandonment is an all-too-common complaint in the world of e-commerce.
The good news: Data on digital shopping cart abandonment is vast and can help you determine ways to reduce abandonment and increase your sales.
Below you'll find reasons why your customers may be abandoning ship on your shopping carts and what you should be doing to bring them back on board.
Problem: People don't trust your product or brand
If you aren't sharing information about your brand and your product transparently, you won't be able to gain consumer trust. Accenture Strategy's Global Consumer Pulse Research revealed that in the last few years, regardless of age, customers care a lot more about the ethics behind a company. For example, they found that those aged 55-74 years old were attracted to companies that reduced the use of plastic. And millennials and Gen Z-ers care more about social mobility, immigration, and poverty.
Use this consumer insight to find opportunities where your company values or your product offerings align with these beliefs.
Once you've figured out your message, focus on a target market so you can create a shopping experience that builds and increases trust in your customer/business relationship. Create brand messaging that resonates, product descriptions that address pain points, and a customer service team that is easily accessible.
Improve confidence in your brand by making information readily available
Before making an online purchase, 81% of customers conduct online research. If your customers are searching for product solutions, your online presence and the team behind it should be easy to find and understand. This means your product pages should have ample convincing (and transparent) information. From the descriptions to the product images and specs, customers shouldn't be left with any lingering questions. However, if they are, your customer service team should be ready to answer them.
One online retailer known for its excellent customer service and customer-centric attributes is Zappos. Zappos makes it very easy to find its contact information. Once you get in touch with someone, you speak with a real human who doesn't follow a script. Zappos is also very active on social media, where it answers customer questions and engages with its audience in a conversational and relatable tone.
Lastly, Zappos displays product videos in which its products are reviewed and modeled by real people. Videos can dramatically help businesses increase their sales. About 73% of U.S. adults are more likely to purchase an item after having watched a video. Zappos' videos give the customer a clearer idea of the product they're considering purchasing, and clarity is key for conversions.
All these factors contribute to the higher levels of trust customers feel toward Zappos. Plus, the incredible net revenues of the company. In 2020 alone, Zappos global net sales reached $629 million. Woof. But that's what happens when shopping carts aren't being abandoned.
Embrace user-generated content to fuel faith in your brand
User-generated content (UGC) will help you harness the power of social proof, a key ingredient to increasing confidence in your brand. With the ability to aggregate reviews and ratings, online shopping is a wellspring for social proof. 35% of people shop online just to read other customers' reviews. Moreover, social media and influencer marketing also play a big role in consumer behavior. When it comes to getting advice, 81% of consumers trust their friends and family over businesses.
UGC should be incorporated into your marketing strategy in order to build trust with your customers. UGC can appear in the form of social media content, reviews, and testimonials. For example, when the fashion brand GANT was experiencing a critical return rate, it teamed up with us here at Bazaarvoice. We implemented the technical tools necessary to increase their product and customer reviews and allow future customers to ask questions.
As a result, GANT's return rate was reduced by 5%, which led to an increase in revenue. Because customers trust the reviews and opinions of other customers, especially when they have the option to ask each other questions.
Test and analyze conversion stats to meet your customers' needs
Your customer's behavior gives you insight into where in the shopping process your customer loses faith in your products or brand. By following and tracking customer data, you can spot patterns in what makes them convert and then implement a strategy to increase trust and maintain loyal customers.
A/B testing is a great way to determine what works best for your target consumer. According to Business Insider, 45% of U.S. e-commerce sales are done on mobile devices. If these mobile users have a negative experience, they are 62% less likely to be a repeat customer. Other examples of A/B testing include multi-page testing, photo and text swapping, search bar size and location, and using a chatbot.
By regularly testing and adjusting your store's online presence and features, you ensure your customer will view you as a reliable place to purchase from.
Netflix and Amazon are excellent examples of companies that use A/B testing to ensure their audience never gets bored. Amazon uses creative and updated product descriptions to entice shoppers. They also include related items their customers may be interested in purchasing. Netflix will frequently A/B test the images used for each title to determine which images generate more views.
Problem: Consumers' online shopping experience is less convenient than in stores
People shop online for various reasons, the top one being convenience. If your customer's online shopping experience is less convenient than shopping in a store, consider making changes to the user's experience.
Emphasize free, quick delivery and an easy return policy
If you're an e-commerce store, free and quick delivery is key in reducing shopping cart abandonment rates. According to research from Oberlo, the number one reason people choose to do their shopping online is free delivery. Unsurprisingly, the number one reason people choose to abandon their shopping carts is due to high extra fees. Almost half of online shoppers abandon their carts due to high shipping rates, taxes, or other fees. Long delivery times and return policies can also affect customer decisions. And 33% of consumers turn to online shopping for a convenient return policy.
Promote online-only discount codes
The second most popular reason to shop online is the opportunity to use a coupon or discount code. 41% of online shoppers look for deals online. Incorporating special promotions into your marketing can capture the customers who are "just browsing."
Ensure customers have a smooth checkout process
Nobody likes waiting in line for anything, let alone to check out. That's why 30% of people who shop online do so because of the convenient checkout process. However, 18% of people abandon the checkout process when it is too complicated. To optimize your conversions, it's important to offer common and popular payment methods and options. This includes the option to check out as a guest rather than being forced to create an account with your e-commerce store.
Problem: Customers aren't being reminded of abandoned shopping carts
Treat shopping cart abandonment as you would a flaky friend. Everyone has that friend who needs consistent reminders (and sometimes incentives) to join the party. When it comes to shopping cart abandonment, customers are just like your flaky friend. Through frequent reminders and an automated omnichannel sequence, you'll be able to reel your customers back in.
Send automated emails and push notifications
It may seem like you're a nuisance to your customers, but reminders about abandoned carts with creative calls to action actually works. The average open rate for abandoned shopping cart follow-up emails is 42%. This is much higher than the average email open rate of standard marketing emails, which stands at 18%.
It's pretty likely your customer is regularly inundated with marketing emails, so it's important to get inventive with your abandoned cart emails. Whether you use humor, urgency, a discount incentive, or offer more information, try to pique your customer's interest creatively.
Use text messaging
Another channel you can use to reel those customers back to their shopping carts is text messaging. This is another marketing tactic that may seem intrusive. However, according to Omnisend research, SMS campaigns are 48% more likely to result in conversions.
For example, the wig retailer Divatress decided to start using SMS in their marketing campaigns, which greatly helped increase their revenue. SMS campaigns alone contributed to $123,000 in sales. Divatress reported that SMS subscribers had a higher click-through rate (8%) to their website than email subscribers (3%).
Social commerce is changing the way customers shop
Can't have shopping cart abandonment if there's no shopping cart. Clever eh? Consumers are turning to social media more and more to do their shopping. According to Hootsuite, each month 130 million Instagram users tap on a shopping post. Instagram has made it incredibly easy to purchase a product straight from the accounts users trust the most. According to Instagram, "87% of users say influencers have inspired them to make a purchase, and 70% of avid shoppers turn to the platform to discover new products."
To make social shopping even more convenient for your customers, your brand can set up your Instagram account so users can shop directly in-app. Shoppers want to find what they're looking for in three clicks or less. Rather than using Instagram as a way to get leads to your site, why not reduce the number of clicks it takes for a purchase to occur? That's just one more opportunity to prevent another shopping cart from total abandonment.