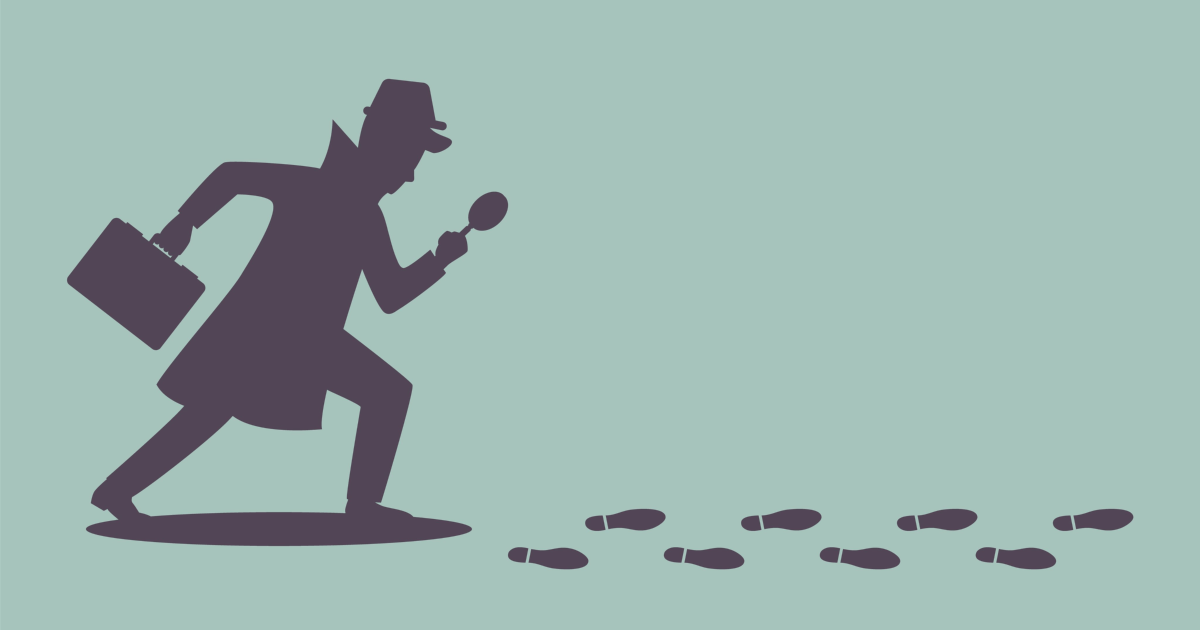 Peer pressure is real. You know it and I know it. It doesn't have to be verbal either — maybe it's the societal pressure you feel in Starbucks that makes you order an espresso instead of a Grande Vanilla Caramel Iced Frappé with extra cream. Well, social proof is peer pressure for the marketing world.
It's a powerful tool that, when used correctly, can be the difference between making one sale versus making 80 sales. Using social proof examples from global brands, let us show you how it's done.
Chapters:
---
---
Imagine you're out shopping with your friends. You're on a budget, and you have to choose between two popular items. If all your friends recommend item #2, you'll probably end up buying it instead of item #1. Psychologically, we're wired to mirror our peers.
Your friends' recommendations? That's a form of social proof, and it works because it's in our DNA. The value of social proof is supported both by science and measurable social data. It's particularly valuable because it helps brands grow by marketing their products to a broader and more trusting audience.
What is social proof?
Social proof is a marketing tool that relies on the psychological phenomenon of persuasion. Social scientist Robert Cialdini wrote a book on this phenomenon called Influence: The Psychology of Persuasion.
In said book, he states: "We view a behavior as more correct in a given situation to the degree that we see others performing it."
In other words, people imitate the actions of others in order to be accepted in different social situations. Let's say you're at a nightclub for the first time and didn't know how to act, you probably looked around and did what everyone else was doing to avoid embarrassing yourself. For me that was drinking too much and throwing up in the corner. Social proof works like that.
Different types of social proof
Social proof marketing comes in many forms. Some rely on experts, data, or fame (e.g., celebrity or influencer endorsements). Often, it relies on the wisdom of the crowd — the word of mouth and user-generated content (UGC) of everyday customers.
Here's a comprehensive list of the different types of social proof you can incorporate into your marketing campaigns.
Experts. Endorsement from an industry expert or respected professional.
Trust icons. Stamp of approval, typically in the form of a logo, from another company.
Credentials or certifications. Proof of professional expertise, completion of a degree, or membership in a respected organization.
Data. Using statistics, facts, and numbers to gain trust.
Case studies. A long-form piece of content (usually a blog or white paper) that shares a customer success story in a detailed and replicable way.
Celebrity endorsement. A famous person or public figure uses their social influence to share your brand with a larger audience.
Influencer marketing. Approval from someone who has a large following on social media platforms like Instagram and Twitter.
Affiliate partnerships. Content creators, bloggers, and influencers link to your product in a neutral or positive way and receive a commission every time that link generates a sale.
Earned media. PR, backlinks, "as seen in" mentions, etc.
Testimonials. Customers, employees, and partners share how and why the product worked for them. Most commonly, this is customer reviews.
User ratings. Shows how much a customer liked or disliked a product, usually on a 1-5 star scale.
Referrals. A customer directly recommends a product or brand to someone they know, usually in the form of a custom link.
Social shares. Customers post reviews and photos, engage with your brand's social media profiles, or share your social posts with potential customers on their social networks.
The power of social proof
Today, social proof is one of the most valuable tools in an online marketing strategy. The digital marketing space is oversaturated, and distrust in marketing and media is on the rise — especially among Gen Z. Social proof helps to mitigate this climb by improving a brand's trustworthiness and authority while also boosting its conversion rates.
Social proof also helps brands scale their marketing. According to Nielsen, the effectiveness of traditional digital advertising is waning, especially in North America and Europe:
66% of North Americans take no action based on mobile ads
55% take no action based on banner ads
But social proof gives brands the ability to market with authenticity and trust, which will reach more people and motivate more actions than digital ads
It also helps you learn more about what your customers want and how to improve your product accordingly. For example, when KidKraft leveraged reviews and other UGC, it was able to observe an important trend. Customers were DIYing a playhouse with a white, more modern look.
Recognizing the opportunity, KidKraft released its own modern white playhouse that customers loved.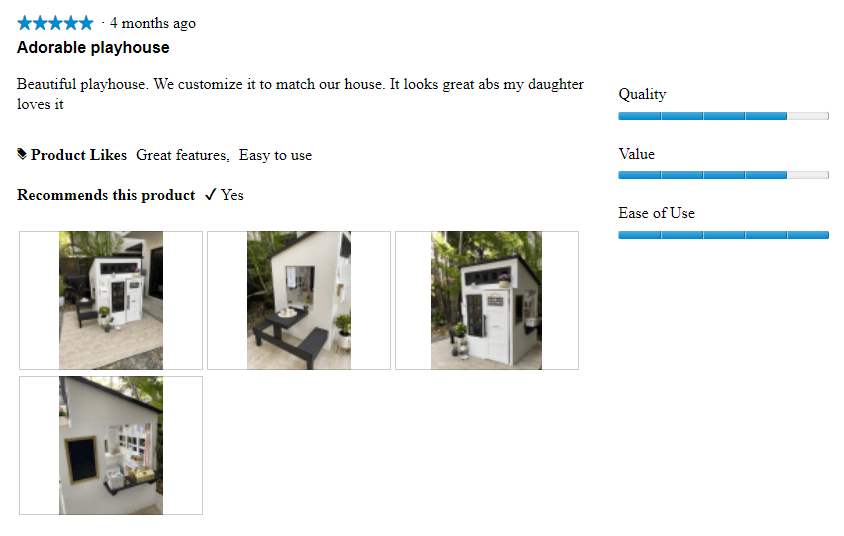 Read our case study to learn more about KidKraft's successful partnership with Bazaarvoice.
Social proof has a very important side benefit: search engine optimization (SEO). Once you build trust, gain authority, add backlinks from experts, and integrate descriptive product reviews from happy customers — all these things will help your site rank better in organic search, which will naturally attract new customers and influence their purchasing decisions.
Social proof examples to get you started
Social proof can be a powerful tool. Below are examples of how 11 different brands use it to gain trust with their audience.
Feature trust icons
Make trust icons the first thing a prospective customer sees. Branch Furniture posts trust icons directly below the hero image on the home page.
Branch also posts trust icons on the About Us page.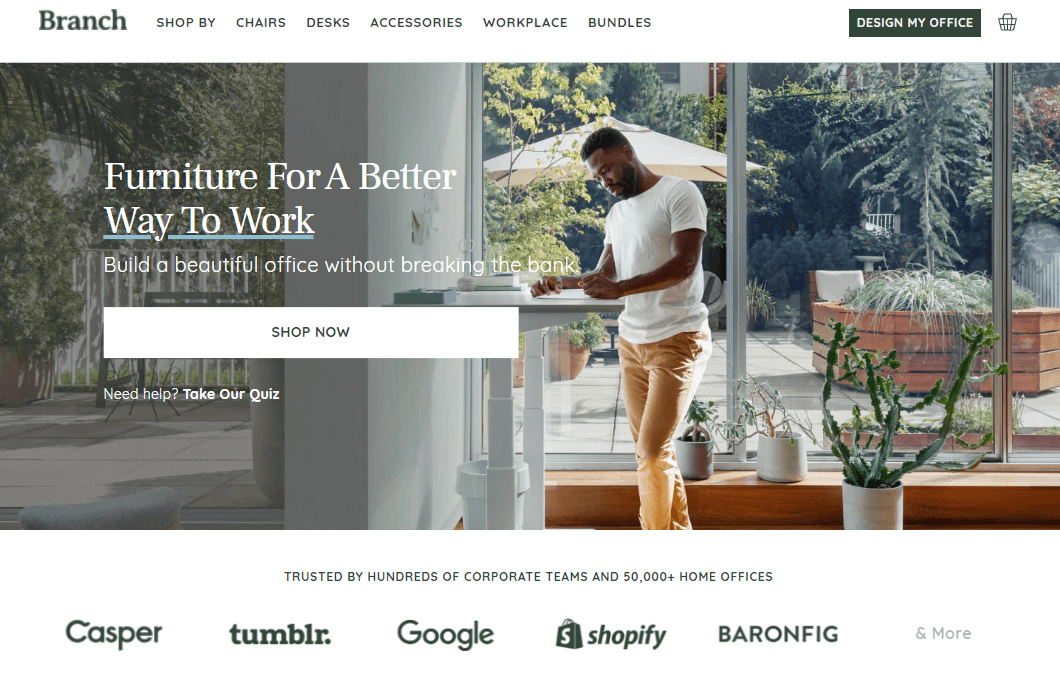 In combination, trust icons and curated quotes from testimonials can also help tell your brand's story. For example, Nothing New placed both in a carousel on their homepage.

Take advantage of earned media mentions
Always add quotes and icons from earned media mentions to the home page and link to them on your own press page for added SEO benefits.
You should also display "as seen in" earned media in mentions. If your business was featured in the local newspaper or the New York Times, advertise that!
Being mentioned like Soulvation was by Forbes also gets your brand's name in front of larger audiences. Show your logo, like Soulvation does, and, if possible, what was said about you, like Beyond Yoga.

Beyond Yoga includes quotes as well as logos from media reviews that resonate with their target audience.
Publish testimonials on your website
Publish reviews on your home page, about us page, and product pages. For example, Branch Furniture added customer testimonials to their home page and on a separate reviews page to diversify their brand's content and create a sense of FOMO.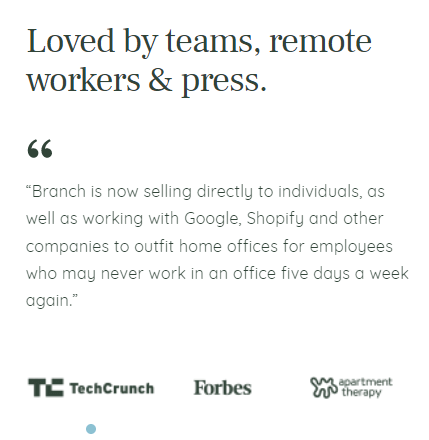 Beyond Yoga also includes quotes and star ratings from actual customers on its home page.

To find testimonials, check online review sites like Trustpilot, Google, Amazon, or Yelp. Send out follow-up surveys to customers who just completed a purchase, asking them about their experience with your company.
You can also send these surveys weekly or monthly — just be sure to include an option to keep responses anonymous. Remember to ask permission before using, and only use first names and initials to maintain your customers' privacy.
Amplify UGC
Monitor social channels for organic UGC that you can repurpose and amplify on landing pages, in emails, or share on your other social profiles, like Beyond Yoga does.
These customers posted photos of themselves on Instagram wearing Beyond Yoga apparel and tagged the brand in their posts. Beyond Yoga commented with hearts on the posts and shared them as a compilation on their Twitter page, giving credit to the original creators (remember to ask permission before replicating this strategy).
Share reviews on social media
You can also include testimonials in boosted Facebook posts, as Branch does.
While most people don't trust social ads, they can reach a lot of people quickly. Capitalize on this tendency by displaying reviews in boosted social posts. For example, Silk + Sonder combined its ad strategy with social proof for greater impact.
This combo creates more credibility for the ad and faster reach for the social impact.
Include photos of reviewers
Including testimonials and reviews with real photos brings a human face to your brand while supporting the product's effectiveness.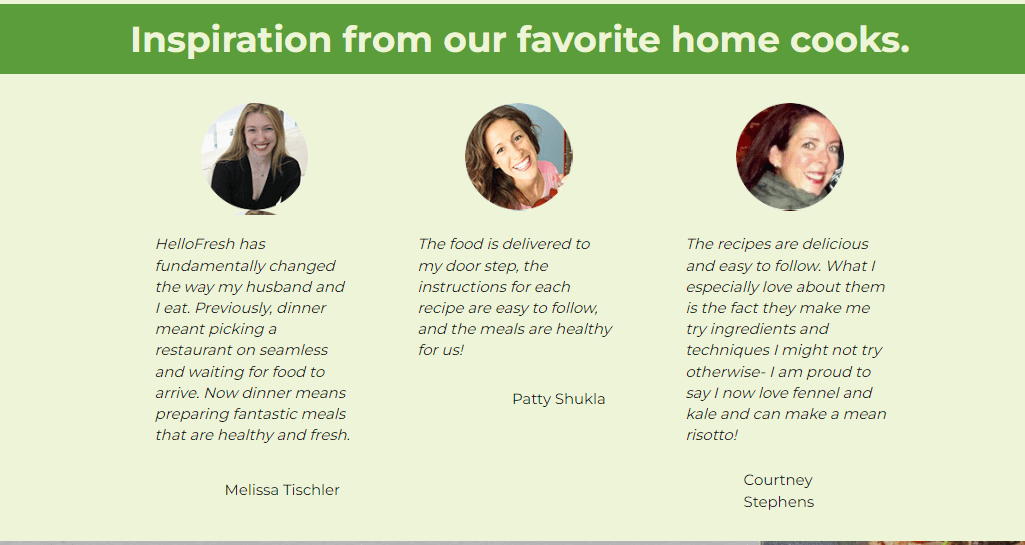 Fender also publishes quotes from user reviews, along with real photos.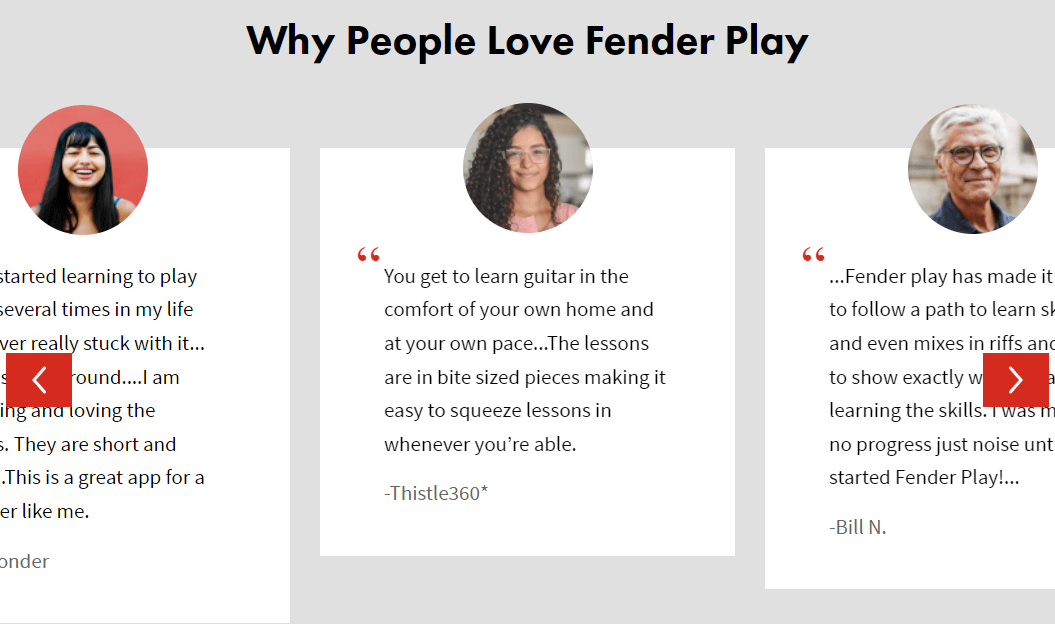 Brands can reach out to reviewers and request their photos in exchange for an incentive like swag, social shares, or discounts. Photos of real people above their quotes further demonstrate the legitimacy of the reviews.
Partner up and publish case studies
Ask collaborators and partners to post a case study as a sponsored Facebook ad and ask them to tag you, like Lucy & Co. did with Branch.
This type of partnership is common in the SaaS industry (our own case studies page is an obvious example), and it works well in e-commerce, too.
Show your brand's impact with data
Additionally, you should collect and publish compelling company data that tells a story about your brand. Sprinkle data and facts throughout the content on your About Us page to help tell your brand's story and show its impact, like Nothing New does.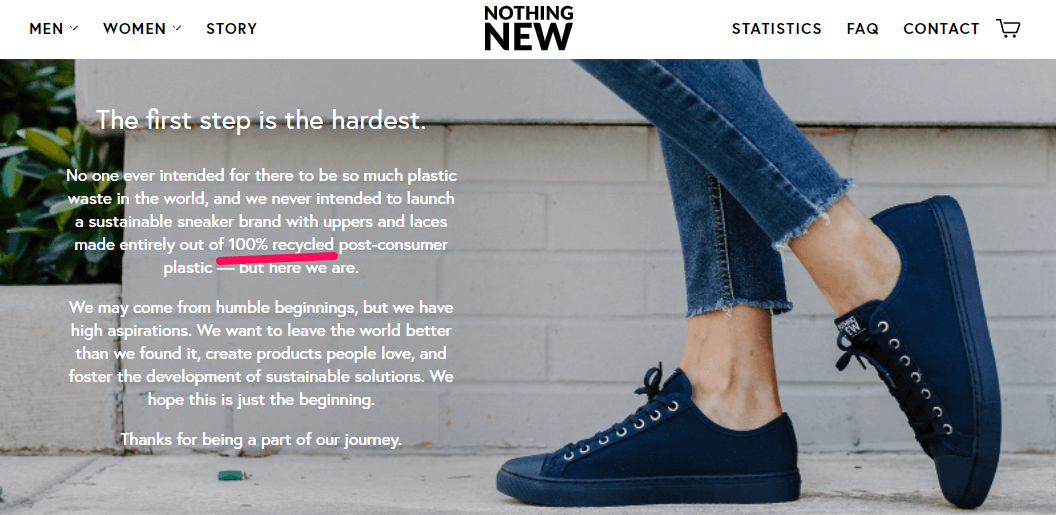 Use numbers like you would icons to catch the reader's eye and help them move through the page.
Looking at the posted data in the above example, it's obvious that Nothing New values the environment, which could be enough incentive for new customers who align with those values to make a purchase.
Another example is using data to show your company values diversity, the way Beyond Yoga does on its home page.

Showing that 85% of employees are women helps to establish trust with their target audience — women.
Brands can also use data to frame (or reframe) themselves in a positive light. HelloFresh does this on its impact page as a way to show an altruistic purpose.

Getting specific about the amount of food they donated makes trusting — and buying from — the brand easier.
Show why your brand is superior using data
You can also incorporate data on your home page to explain why your brand is better than competitors. Take Branch as an example.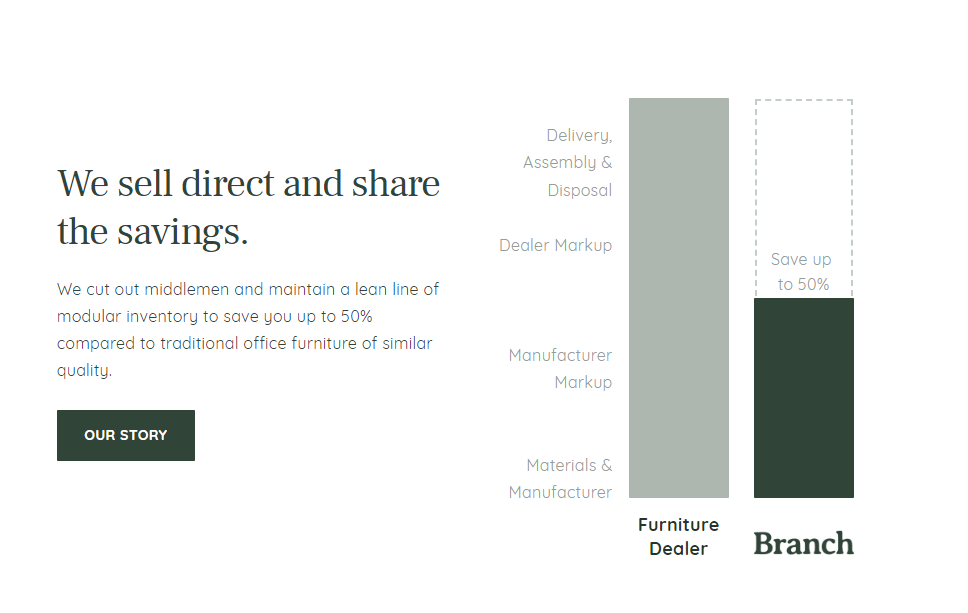 From this data, they link to the "About Us" page to explain in more detail.
For early-stage brands, data is especially helpful to form a foundation of trust that will increase customer confidence to buy.
Create FOMO with impressive numbers
Data isn't just about telling your brand story. It's also an effective way to generate a little FOMO. For example, Fender displays social proof numbers on its Play app page.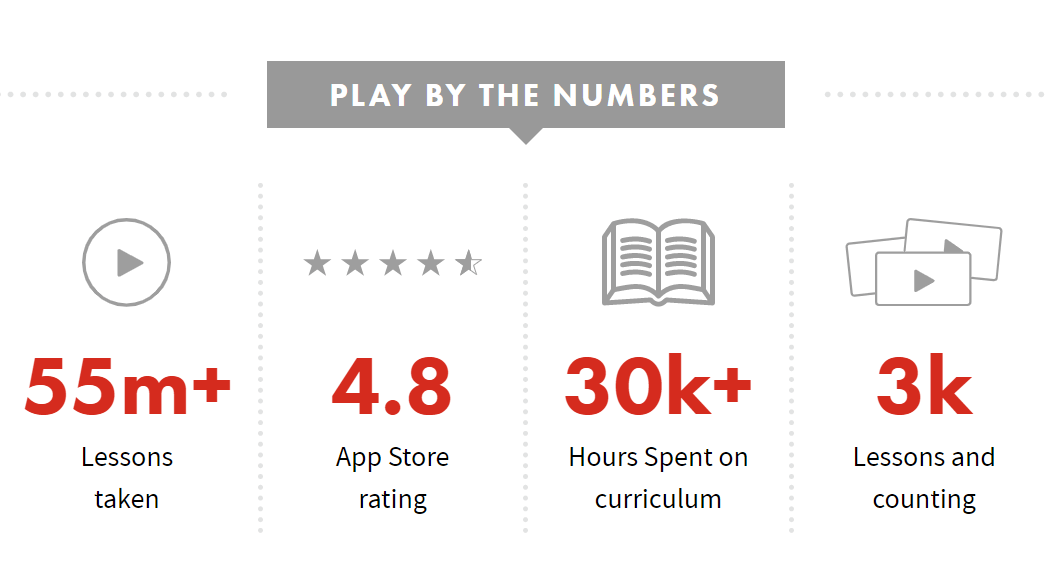 Stating that it's given over 55 million lessons with a 4.8 app store rating suggests to readers that if they haven't heard of Fender Play, they're missing out.
Share your awards on social
Add awards and credentials along with earned media mentions to sponsored Facebook ads, like Uplift Desk has done.
You can also tag or bold the awarder, as Full Focus did with Forbes, to draw the audience's eyes toward that social proof.
Sharing awards and credentials on social media increase your brand's visibility, which compounds the positive effect of social proof.
Celebrate your awards on your website
You can also publish your awards on your landing pages, as Soulvation did with their 2021 award as one of Colorado's companies to watch.
Papa John's takes full advantage of its awards like "Best Pizza." In fact, it's dedicated an entire section of its About Us page to awards and recognition.
Publish certificates and credentials on your website
Awards aren't the only thing you should brag about. Bring forward any certifications that may impress or reassure potential customers. For example, on its About Us page, Beyond Yoga publishes its Bluesign certification along with the specific number of plastic bottles used to produce each legging.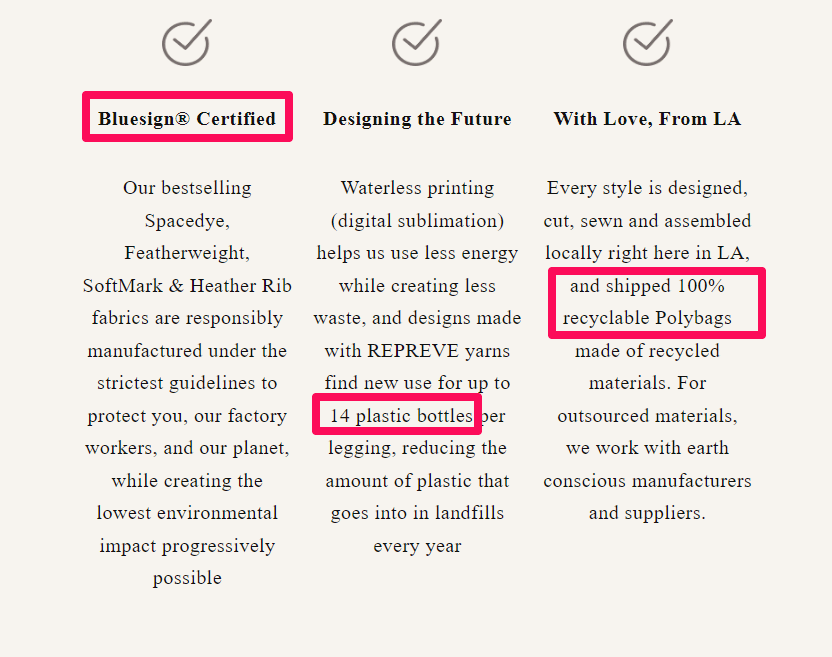 In a different vein, Soulvation displays its SSL security verification on each product page to encourage purchases.
Even if you haven't won any awards, it's easy to display a security certificate to show customers that shopping on your site is safe.
Use influencer content
Feature influencer content on your homepage, especially if your customers already love them. For example, Nothing New repurposes influencer content on their homepage, with the influencers' handles and links to shop on the product pages.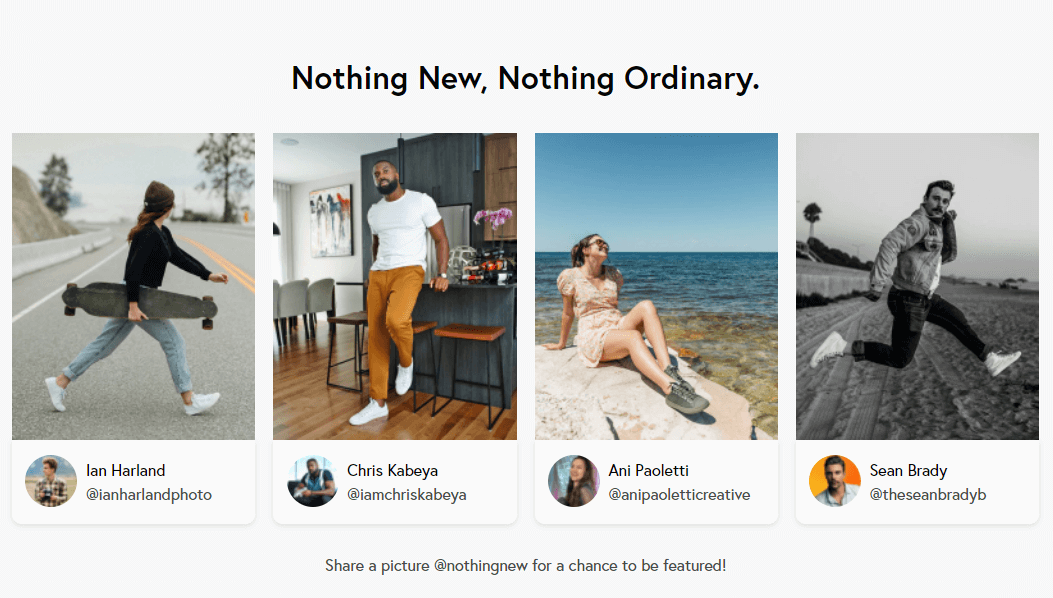 By featuring influencers on the homepage, influencers gain greater reach and the potential to grow their audience. It also helps your brand. Through branded hashtags, people won't just be flocking to the influencer. They'll be flocking to you, too.
Encourage influencers to share discounts on social
You should encourage influencers to create engaging content about your product or brand and share it on their Instagram profiles — along with a special promo code or discount. For example, HelloFresh partners with influencers like @walkinginmemphisinhighheels, who offered a special promotion of 16 free HelloFresh meals if they shop using her link.
Beyond Yoga is another great example. It partners with influencers and bloggers like Melissa Sonico, who offered 15% off to her followers who became Beyond Yoga customers.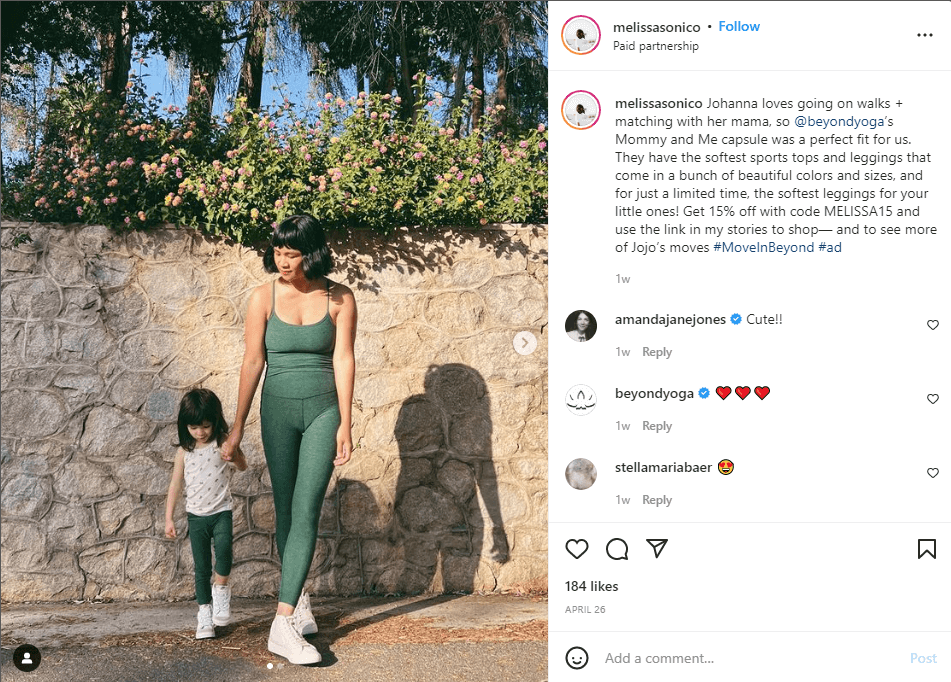 Because @melissasonico has an online shop (along with 77.9k Instagram followers), she was able to spread the word about Beyond Yoga's Mommy and Me capsule to a motivated and niche audience.
Share influencer-created content on your brand's social profile
Partner with more than one influencer to create consistent content and share it on your brand's social profiles. Fender partners with artists like Charlie Bereal to share videos of guitar-playing tips on Instagram.
These partnerships help to solidify a trusting relationship with the influencer and their audience, which has a cascading effect on all social platforms. Bereal's social media accounts are full of photos and videos tagged with #fender.
Leverage celebrity approval on social media
Advertising your partnership with celebrities can bring your brand in front of their massive audiences. For example, Beyond Yoga received great visibility from celebrities like Kendall Jenner who wear the clothing brand. And Papa John's published a video on Twitter with pro ball players Joc Pederson and Dansby Swanson.
Due to this partnership, fans and followers of Pederson and Swanson will be more interested in eating Papa John's pizza because doing so will make them feel a stronger connection to these celebrities.
Respond to reviews
Most brands don't have a problem displaying star reviews. But don't forget to respond to both negative and positive reviews, like Soulvation.
In many ways, reviews speak for themselves. To show the most authenticity and transparency to your audience, your brand needs to jump into the conversation, too. This gives you the opportunity to address a given issue and show you care about your customers enough to improve your product or customer service.
Papa John's social media game is strong, too. Its post about early access to Pepperoni-Stuffed Crust pizza created an opportunity for fans to share the news 33 times.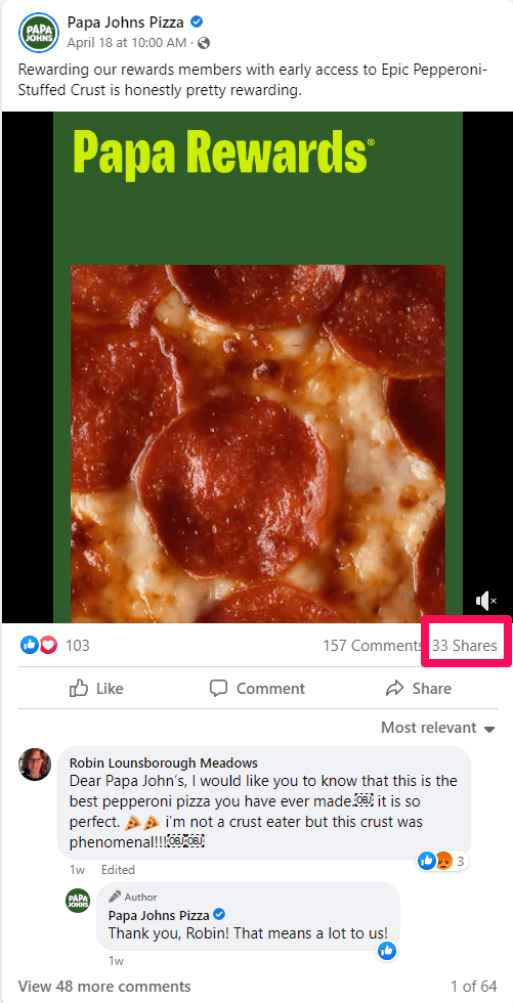 This post earned 157 comments, which the Papa John's team responded to, showing their commitment to a great customer experience.
If someone is gushing about your brand or their latest purchase, send them a reply and join in with their celebration. This will facilitate a greater connection between you and that customer, not to mention anyone reading your reply.
Include a "trending" section
By leveraging user ratings and customer referrals, you can create a specific section on your product page for trending or popular items, like streaming giant Netflix does.

Netflix utilizes this technique by displaying both its "Trending Now" feature and its "New & Popular" ranking list. This strategy creates an aura of curiosity for the viewers, who'll want to be "in the know" and find out why everyone else is watching a certain show or movie.
E-commerce brands can imitate this strategy by featuring products that have a high user rating, motivating people to buy something others are raving about.
Create a co-branded product
Another effective way to show your social proof is to partner with a complementary brand to launch a co-branded product, like the Wrangler x Fender accessory line, and feature that brand's logo on your site as a signal of trust.

The partnership between Fender and Wrangler works because both brands appeal to a similar audience and share a "history of authentic connections with award-winning players." In other words, each brand is recognizable to the other's audience, and their partnership equates to a co-endorsement.
Now, you prove it
Now that you know what social proof is, why it's important, and how best to implement it, you're ready to start leveraging it yourself! Bazaarvoice can help by providing all the data you'll need with our 2022 Shopper Experience Index.
It includes valuable shopping behavioral statistics, tips on how to promote authenticity, the problems that come with friction, and how the shopping landscape has changed in this post-pandemic world. Start learning what you can do to keep up with the times.