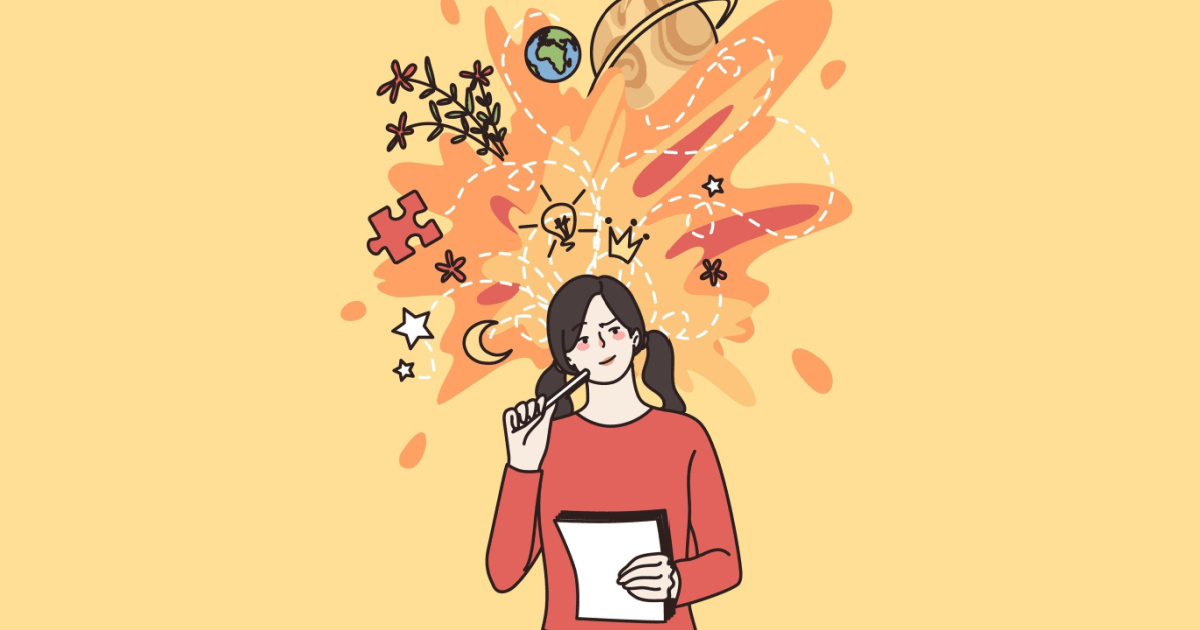 It used to be brands and retailers who held all the power. It was they who would dictate ads, marketing strategies, and industry trends. But that's changing, and that power has started to shift. Now, creators have increasing influence over other consumers' purchase decisions, and brands are at their mercy. Welcome to the creator economy.
In recent years we've been moving into a consumer-to-consumer based economy. Bazaarvoice's very own CEO Keith Nealon, in his presentation on the subject, went as far to state, "Your brand is no longer yours." And the creator economy is the next step in this migration.
Today, the creator economy market size is a ridiculous $104.2 billion, according to Influencer Marketing Hub's Creator Earnings Benchmark Report. So it's not something brands, or even individual creators, can avoid any longer.
What is the creator economy?
The creator economy, in its simplest definition, is just the (highly valued) market of creators — those who make content on platforms like TikTok, Instagram, Twitch, etc. Really it's any monetized form of content creation.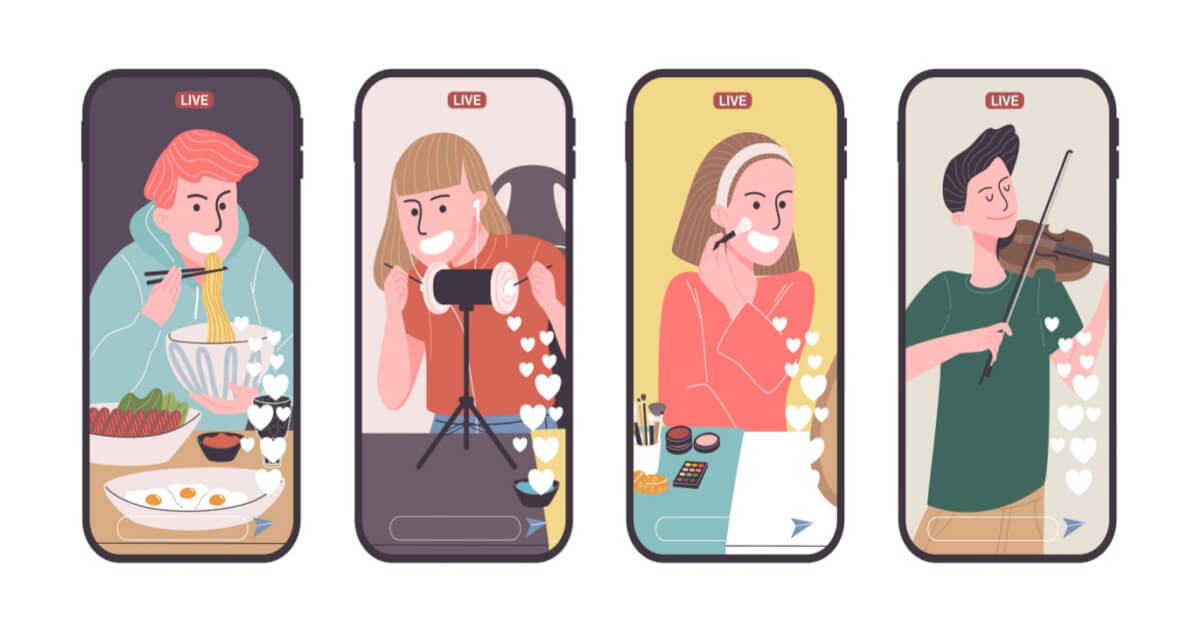 And while it hasn't quite taken off yet, the metaverse will be instrumental in expanding the creator economy. "Creators are going to be the ones leading people into the metaverse" claimed Nada Stirratt, VP at Meta. Most conversations happening right now about the creator economy are around two kinds of specific tactical perspectives:
1. How can brands can leverage the creator economy:
Finding creators
Letting creators create in their own style
Getting extra creative with campaigns
Working with creators in the metaverse
2. How can creators take advantage of the booming economy — Aka, how to:
Finding brands to work with
Developing and stick to your own style
Elongating your career
We recently touched on this subject in our influence economy article. While that piece takes the creator economy concept and looks at the bigger picture of how user-generated content (UGC) works for brands across the customer journey, this article will narrow that down and focus on the creator.
1. How brands can succeed in the creator economy
Do you want to work with creators but you're not sure where to start? Or maybe you're experienced with influencer outreach and need a refresher? Bazaarvoice recently attended Social Media Week, where the creator economy was a hot topic. Here's the best practices we discovered.
Work with the right creator
When you're choosing creators to work with, influence (reach, engagement, brand values, and audience relationships) is more important than just their number of followers.
There's a lot of creators out there who may have smaller follower counts, but who will align more closely with your brand, and would make more impact.
Courageous and creative may be buzzwords. But actually, being courageous and creative with campaigns is in. With so much creative talent and potential for reach at your fingertips, this isn't the time to play it safe. Here's a short TikTok we made, explaining this concept:
Basically, that just means letting creators make content in the style they want to do. As Erin Wayne, Global Head of Player Community at Riot Games, says, "Stand by your consumers, be interactive, keep an open mind."
Let go of the reins, be bold with what you/they say, jump onto some trends, and don't be afraid to do it.
Pick the right platform
TikTok is an entertainment platform first and a social platform second. So be entertaining. Brands can reach new audiences by engaging with this form of entertainment. A good example is Prose. The hair care brand went outside of their traditional creator demographic and partnered with a comedic TikTok influencer to endorse them, and they reached a whole new audience through this.
Thinking of foraying into the metaverse or another web3 creator economy platform? During the Social Media Week, Steve Aoki (who has the "Aok1verse" tag), explained that in the metaverse, collaborating with creators or just everyday people is more about collaboration and connection than traditional celebrity interactions have been.
Now, celebrities or influencers can't just hold up a bottle of branded shampoo, endorse it, get their check, and call it a day anymore. In the metaverse, creators need to actually engage with their audience about the shampoo, ask for feedback, have fun, give rewards, etc.
It doesn't have to be in the metaverse, either. There's other ways for brands and retailers to create a digital version of their brick-and-mortar stores, without needing to worry about the metaverse or the web3 creator economy. Gaming communities already exist, and provide a platform for digital expansion.
For example, clothing giant Gucci teamed up with Rook Vanguard, a creator for online game platform Roblox. Together, they built the Gucci Garden Experience which allowed users to explore various boutiques of virtual items.
There's a number of web3 creator platforms out there. And given that the metaverse is still quite far away from reality, gaming platforms are an established alternative for now, and the future.
Everyday people are your always-on source
Regular people are creating every day. If you have a phone and an Instagram account, you're a part of the creator economy. Which is why at Bazaarvoice, we always advise that the most effective change you can make is using this content from everyday people. Also known as user-generated content (UGC).
Not only is UGC considered more trustworthy and influential, it also supports stronger storytelling. Something a lot of brands struggle with on social media.
Storytelling with UGC naturally leads to the community because you're highlighting end users, and oftentimes those who were not paid, but just simply love your products.

Kristen Brooks, Manager of Social Commerce, Bazaarvoice
UGC doesn't just tell a story, it drives sales too. 54% of shoppers say they'd be more likely to buy a product on social media if they could click the post and get product info right on the platform. Before, if you scrolled past a t-shirt you liked on Instagram, you'd then have to Google the brand and try and find the t-shirt manually. Now though, with an effective social commerce solution, shoppers can go directly from app to checkout. No fuss.
Or you can take this UGC and feature it on your product display pages, and give shoppers the influence they need to make a purchase. Now, anywhere can become your storefront. You'll want to do this, because our own research tells us that featuring social content on-site leads to an average:
+169% conversion lift
+275% time on site
+14% average order value
Sharing community content helps grow your social media presence and builds positive relationships with your customers. Leading to better advocacy, repeat customers, and increased sales. Creator-generated content is out there, you just need to go out and find it.
2. How creators can leverage the creator economy
Do you join in with the latest TikTok trends? Do you write blogs on Medium? Live stream your gaming on Twitch? Sell items on Etsy? Then you're a creator. If you can monetize a hobby, you're part of the creator economy (rhyme intentional).
On paper, it sounds like a dream. Which is why it's sometimes referred to as the passion economy. You create content you love, around a topic you love. And you get paid for it! But in reality, the creator economy is still one-sided in favor of brands, and platforms that creators use. But there's ways to change that.
Leverage platforms
It goes without saying, but to create content you need the right platform to do it on. Luckily, there's 100's out there, from social media giants to startups disrupting the status quo. All, when used correctly, can be goldmines for creators. Here's five of our favourite.
You only need 1,000
In his essay "1,000 True Fans", Kevin Kelly claims, "To be a successful creator you don't need millions. You don't need millions of dollars or millions of customers, millions of clients or millions of fans. To make a living as a craftsperson, photographer, musician, designer, author, animator, app maker, entrepreneur, or inventor you need only thousands of true fans."
While the specific number 1,000 is neither here nor there, the overall argument works. If you can create niche content that only gets 1,000 subscribers/orders, but each of those spend just $100 a year, you're making a decent living.
After all, these days there's a market for almost everything. Cat calendars, vegetables that look like celebrities, lip syncing to country music, you name it. The odds are, someone is going to search for what you're creating.
Live shopping
Another potentially lucrative angle for the creator economy is live shopping. Still in its infancy, live shopping was one of the closely followed industry trends last year. And Shirley Johnson, Commerce Capability Lead, Publicis Commerce, called it, "the commerce trend to watch for."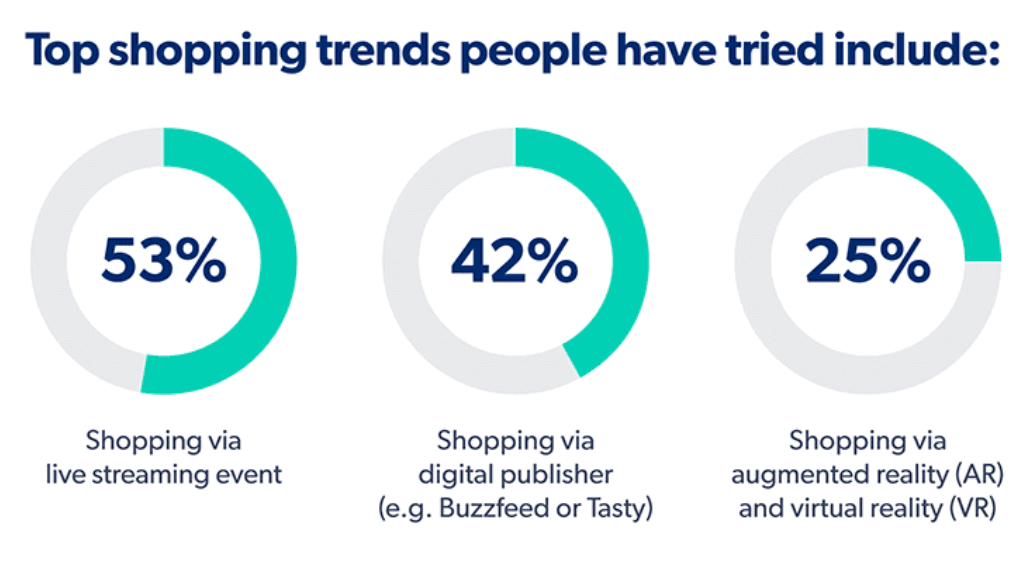 Why the sudden rise in popularity? While online shopping is great for buying, it's not necessarily exciting. People like to shop for entertainment. It's a leisure activity as much as anything else. Live streaming captures the joy of shopping, particularly for scarcity moments like new drops.
During Social Media Week, we attended a talk from Nilla Ali, EVP of Commerce at Buzzfeed. Buzzfeed spent a year doing live shopping, and Nilla provided insights into what they discovered. Here's six best-practices we took away.
60 – 90 minute livestreams are the recommended time because you can't gather enough people together in a 15 minute window
You'll need to frequently repeat your main points for any newly arriving viewers
Think carefully about the categories of products you're selling. For example, furniture takes more time to consider purchasing than a t-shirt does
Take advantage of exclusivity and scarcity to inspire impulse buying — partnerships are great for this because you can offer steep discounts and exclusive ranges
Sales aren't the most important metrics — Buzzfeed measures its success by Engagement Rate, CTR, and awareness
Create a "test and learn" framework. Nobody really knows the most efficient way to livestream or how it's going to change over the next decade, you've got to test and learn as you go
Creators are your new salesmen
In the consumer-to-consumer era we're living in, it's creators who are your new storefront. They're not only creating original content, but they're influencing other shoppers. Consumers no longer rely on content or marketing from brands, they rely on authentic, UGC created by their fellow shoppers. That's what's going to influence them to make a purchase, not you.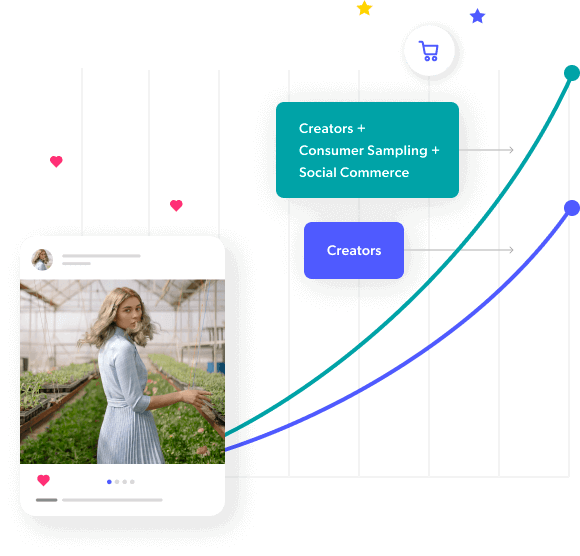 And with a market size of $104.2 billion, the creator economy is no longer a nice-to-have. It's essential for the success of your business.
The first step to getting started with the creator economy is to leverage UGC, and those who are creating it. But not all content is created equally. You'll want to make sure you find with the right creator(s) for your brand and team up with a platform that can combine the power of creators with social commerce solutions.