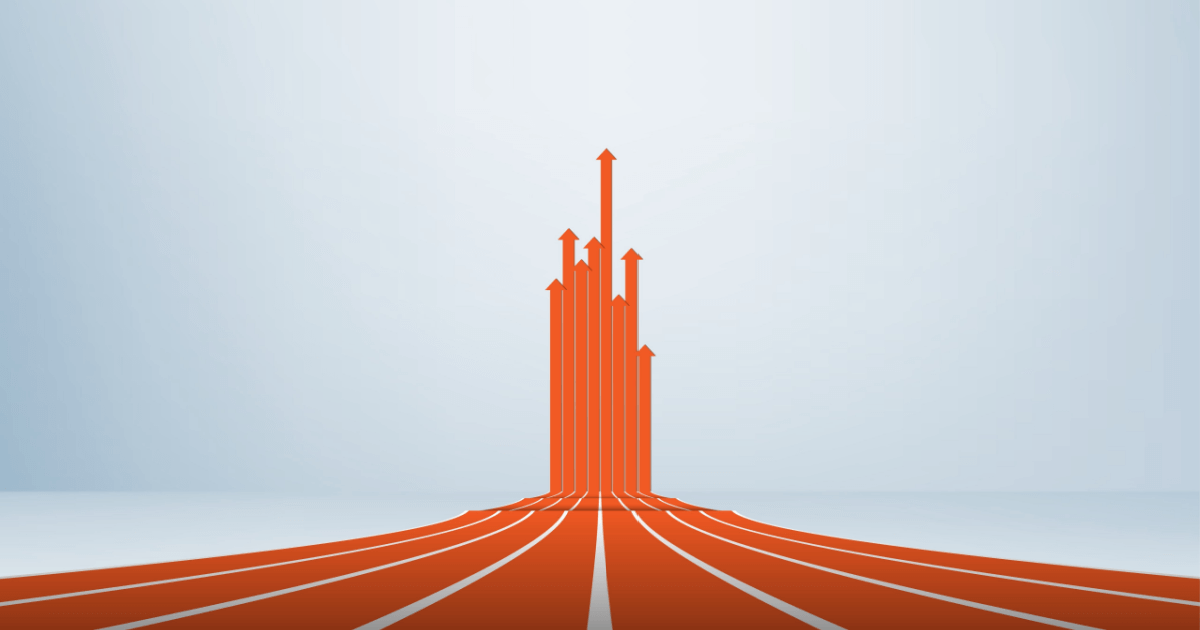 UGC (user-generated content) is any content, like images, reviews, audio, created by an unpaid individual rather than a brand. And it's much cheaper and more effective than traditional advertising. But collecting and displaying this content can be tedious, costly, and extremely time consuming. That's where a good UGC platform comes in.
An end-to-end UGC platform does all the heavily lifting for you. But more than that, the right platform is the difference between barely surviving an economic downturn, and being profitable in a downturn.
Chapters:
---
---
Just about everything is more expensive these days — whether it's clothing, household items, makeup, or anything else people buy. So, you have to work a little harder than usual to attract customers and get them to spend their increasingly limited budgets on your products and services.
Business growth depends on building brand awareness, generating leads, and creating a following of loyal shoppers — all things that are more challenging than ever. Brands today continue dealing with a litany of issues, from supply chain problems to inflation to high costs and labor shortages to increased competition for shoppers' attention and a share of their shopping budgets.
What is a UGC platform?
In such periods of downturn, growth can be difficult to come by. Traditional marketing is one way to leave an impression on consumers, but it can be incredibly expensive. An end-to-end user-generated content (UGC) platform is more cost-effective and can be just what your business needs to grow during tough times.
UGC refers to content about your brand that's created by real people — your shoppers, employees, followers, or anyone else. It can include written ratings and reviews, videos, photos, and audio. The content depicts your products in real-life, everyday situations, and it's usually shared across social media and other digital platforms.
Because UGC doesn't feel like an ad, it's a lot more powerful than traditional marketing. And, it's just as, if not more, influential than word-of-mouth marketing.
We have found that customers trust the opinions of other customers more than advertising claims

Head of E-Commerce, GANT
It's also what shoppers want to see. Consumers don't want branded content, they want to see authentic UGC from their fellow consumers and across every channel — we're living in an influence economy and a UGC platform lets your shoppers do the selling for you.
How a UGC platform grows your business
UGC generates a high ROI. To find out how high, we recently commissioned Forrester Consulting to conduct an independent Total Economic Impact ™ (TEI) Study to demonstrate how it all works in practice. We were especially in the impact it has in tough economic times we're facing.
Here's the 10 takeaways from the study that demonstrate how a UGC platform can support your business growth in a downturn.
1. Boost sales and accelerate conversion rates
UGC inspires people to buy things. Just think about it — when you see a photo of a real person wearing a dress you've had your eye on or read a review about how much someone's dog loved his new fluffy bed, don't you feel more confident that the product will meet your needs? Of course you do. There's multiple types of UGC, each boosting conversion rates in their own right.
Possibly the most popular type of UGC is ratings and reviews, which inspire shoppers across all channels.
Incorporating visual UGC increases these benefits. When shoppers engage with on-site photo galleries, conversion rates rise 145%, and average order values increase 22%. Most shoppers say that photos from fellow consumers increase the likelihood that they'll buy a product. Featuring questions and answers, where you engage directly with shoppers, can also increase conversion rates by 127% and bring order values up by 10%
In reality, some brands see much higher conversion rates too. Apparel brand Tuckernuck, for instance, saw conversions soar by 190% after it added a UGC gallery on its product pages and wider website.
2. Grow advocates and conversion rates with sampling
People love to try new things. So, when you give consumers free products, they'll appreciate the opportunity to tell you what they think. A product sampling campaign managed by your UGC platform effortlessly trades free product samples in exchange for authentic feedback in the form of customer reviews and imagery.
Whether you're trying to generate buzz ahead of a product launch or source fresh content for core SKUs, you can see a 300% boost in conversion rates when shoppers engage with sampling campaign content. Just make sure your sampling partner can cover everything you need.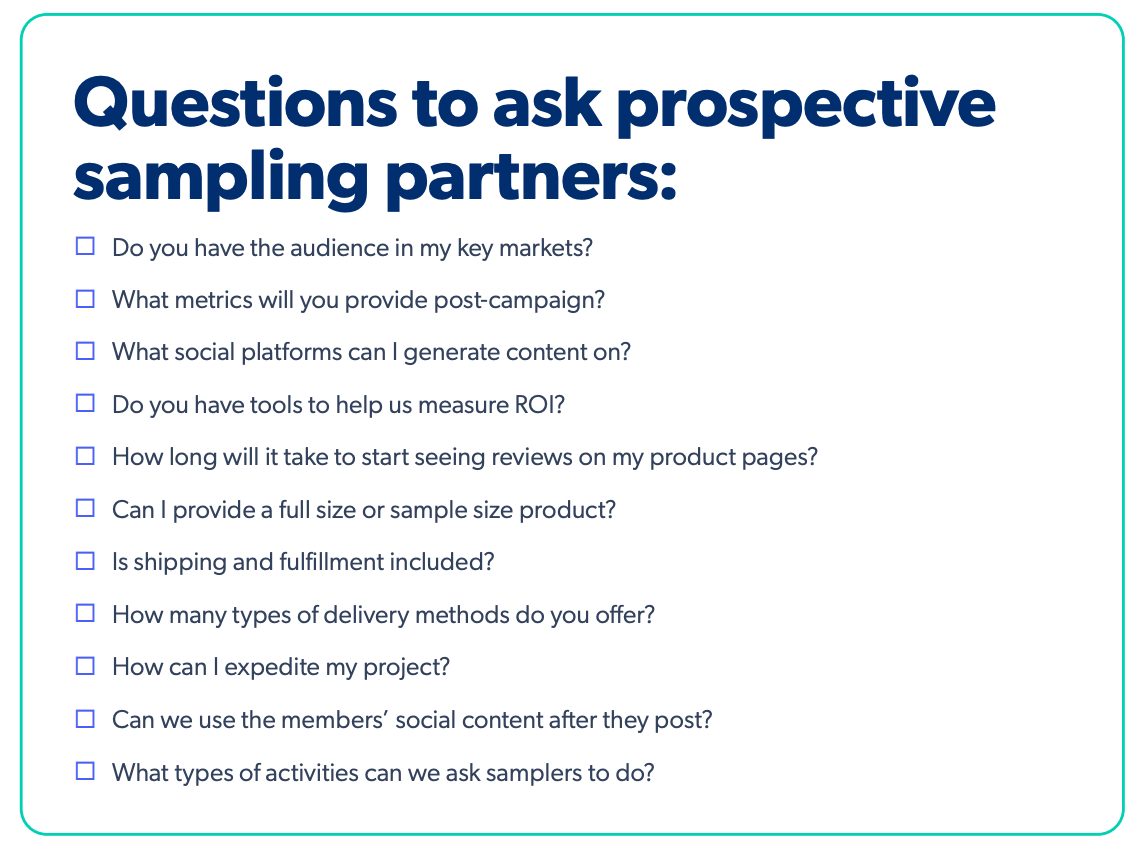 To test the effectiveness of sampling, we recently surveyed 6,000 Influenster members who had recently taken part in a sampling campaign. Most people (63%) bought the products that they sampled — and 97% even bought more products from the brand. Another 87% recommended the product to friends and family. Sampling doesn't just drive sales, it turns community members into customers, brand loyalists, and even advocates.
Global retailer Kraft Heinz for example activated the Influenster community ahead of new product launches by sending product samples in exchange for reviews. The campaign was an overwhelming success, leading to:
369,000 new posts, shares, likes, comments, and follows
20,000 new reviews
$1.9million earned media value
3. Streamline content collection and governance
From creating new products, maintaining quality and consistency, and generally running your business, handling UGC collection and analyzing the data that comes along with it can be a slog. Working with the right UGC platform streamlines content collection and uses it in meaningful and informed ways that drive growth.
Streamlining content collection across every channel — social media, product pages, and other websites where you sell your products — also helps you reach shoppers at every stage of their journey, from product research and browsing to checkout.
A UGC platform also enables you to increase sales of your core products and beat your competitors to remain top of the market. You can also support new product launches with shopper content, which increases the likelihood of the launch's success.
The content that you collect and the metrics that you glean from it can help you better understand your customers and what they want. This can help drive product innovations and help you successfully enter new markets.
4. Display content across the shopper journey
We've mentioned UGC in all stages of the buying process, and for good reason. Since customers who interact with UGC are 2x more likely to convert, it's crucial to display this content across all stages of the shopper journey. This will instill confidence in consumers at every touchpoint where they may find inspiration and click to buy something. Nearly 70% of consumers say social media has inspired them to make a purchase.
We find that user-generated content outperforms any other content that we put out there. On Instagram, Facebook, and email channels, we see engagement, click-through rates, and open rates are higher

Anna Simon, Senior Digital Marketing Manager, Primal Kitchen
Your digital marketing teams are busy! Studies show working with an end-to-end UGC platform can improve content operations productivity by 30%. This relieves some of the stress from your shoulders. After all, time is money.
Also, you can experience a 3x boost in content coverage of products syndicated across retail and social channels. For instance, review request emails, which are sent after someone makes a purchase, combined with content syndication offers numerous benefits, like higher content volumes, better quality product ratings and reviews, and increased conversion rates and order values.
5. Easily report on the ROI of your UGC platform
Return on investment (ROI) is everything, especially to marketing managers. It's how you justify every $1 spent. User-generated content can teach you a lot. Insights from shopper content give you a chance to learn about your customers and drive growth for your brand. This content featured on brand websites can increase visitors' time on the site by up to 90% and return visitors by 20%, according to Trustpilot.
The ROI of a UGC platform centers on strengthening your brand awareness and building connections with consumers, which translates to loyalty and customer retention.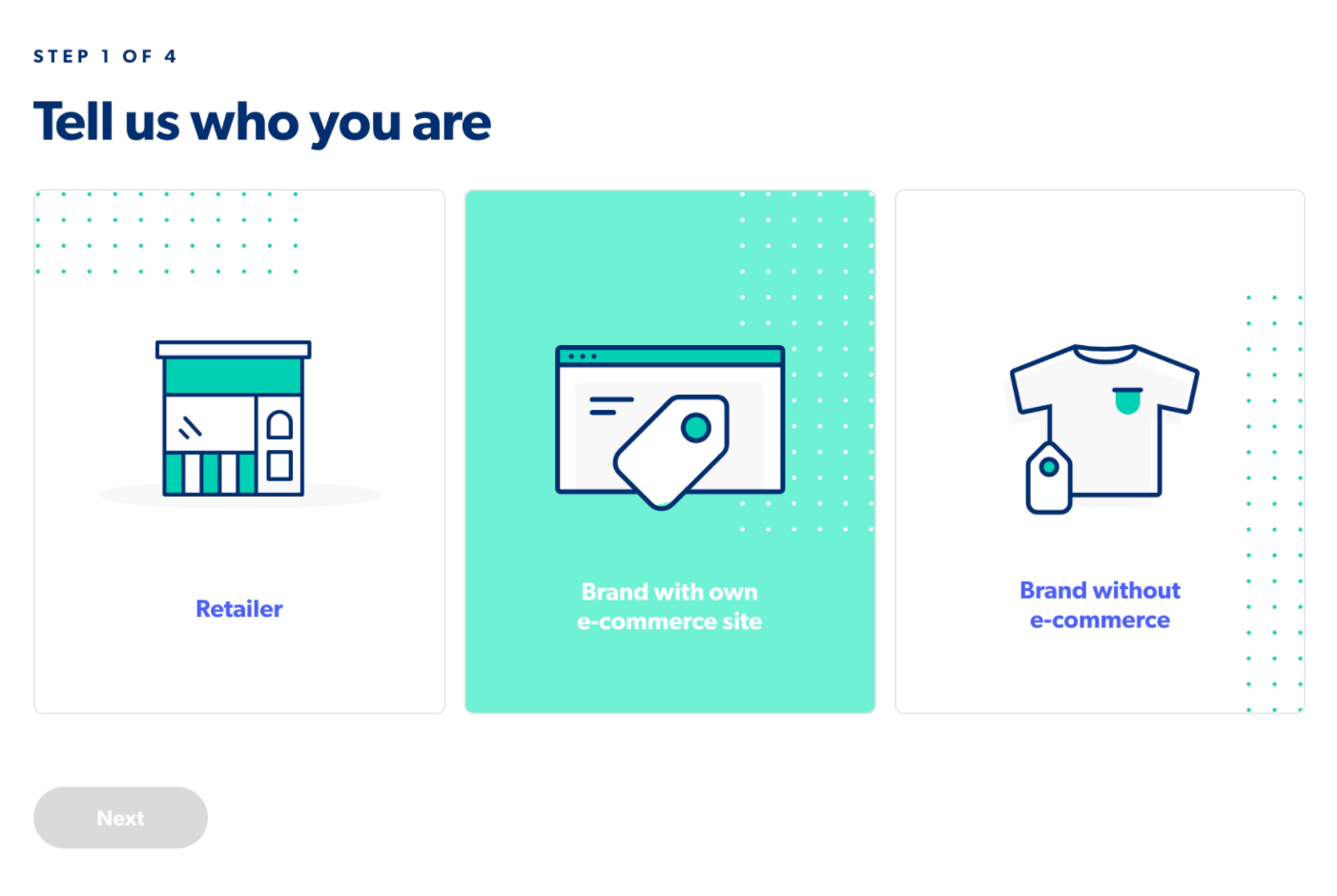 And the right insights and analytics tools will help you identify where your biggest opportunities are and optimize and measure content for discovery, conversion, and revenue across channels, including social media, search, websites, and retail.
You can also easily collect content from review request emails, sampling, and more. All of this will improve user experience and drive conversions — and, revenue.
6. Boost in-store sales
The pandemic changed the way we shop. People still shop online, but also enjoy browsing in person in stores, too. These days, 64% of consumers say a hybrid approach — combining online and in-store shopping — is their preference.
Wherever they end up actually purchasing products, most consumers start their shopping journey online. Shoppers use content, including reviews, photos, and videos, to research items and find inspiration. When they find something they love or need, it's likely they'll head to the store to buy it. According to data from our clients:
For every $1 of revenue influenced online, UGC influences nearly $4 in-store
Of the revenue brands generate with Bazaarvoice, 21% is in-store sales. You can survey customers after they buy something in-store to track the performance of content syndication. For example, an electronics brand's in-store spending jumped almost 4x after shoppers interacted with content, including reviews, questions and answers, and customer photos.
7. Drive traffic to product pages
As we said before, shopping sessions start online, and UGC is a great way to bring shoppers to your website. 69% of consumers research products online before purchasing, and 64% use a web browser to do this research.
One of the biggest business benefits of user-generated content is that it improves search engine optimization (SEO) rankings. A consistent flow of fresh content — which reviews provide — is a huge factor in Google's search ranking criteria. 63% of companies rely on ratings and reviews to achieve their SEO goals.
Ratings and reviews creates a great avenue for us to get current content on our site and bring attention to our product. That helps us to rank higher in search results and get found better

UX Analyst, a consumer packaged goods brand
The more reviews you have, the higher you'll rank — a UGC platform can increase website traffic 3x and drive a 100% conversion lift rate.
Shopper content also contains specific keywords, which means your website will rank higher, given that organic search is the main driver of e-commerce traffic.
Visual UGC, like photos and videos, can improve SEO rankings, too. Website visitors also spend 90% more time on product pages with visual UGC. From Google's standpoint, websites that users spend significant time on are considered high quality and high value, which boosts their SEO ranking. Visual and social content improves conversion rates by 200%, which increases profits by 8%.
8. Reduce return rates 
The dreaded product return. Chances are, customers will return items from time to time. Returns are costly to deal with, which can affect your bottom line. While you'll probably always have some returns, UGC can lower return rates which translates to better profit margins.
Growing your volume of UGC and ensuring the content is high-quality help consumers shop with confidence. They appreciate having the perspectives of real people at their fingertips and seeing photos of the product being used in real settings. The more information shoppers have before purchasing, the less likely they'll return something.
Fashion icon GANT for example worked on a content program to encourage customers to leave more feedback, which reduced return rates by 5%.
Products with low star ratings and potentially high return rates, we look at what key problems are coming up with the product so we can work on fixing the products or messaging

A global lead social and consumer content engagement expert, electronics brand
Reviews and other UGC can also identify issues with products, so that you can correct them quickly and encourage accurate purchases first time. 4% of reviews discuss product flaws, 2% mention product improvements, and 1% state improvements that should be made to product descriptions, according to our data.

Clothing retailer Vertbaudet did this when they fixed the cut of a maternity line after noticing repeat feedback in product reviews that it was too small, leading to an increase in customer loyalty and sales.
9. Secure your reputation with authentic content 
Keeping it real appeals to shoppers. They appreciate the authenticity of UGC, and expect brands to ensure that the content is honest, relevant, and high-quality. Shopper content is considered quality when it's created by real, unpaid users and meets your brand and community's guidelines and audience expectations.
40% of consumers will stop engaging with a brand after viewing one piece of fake content. And once they lose trust, 81% of consumers will avoid using that brand ever again. Fake reviews might feature grainy photos, misspelled words, references to competitors, and wording that's not in line with your brand.

Content moderation tools ensure that your content remains top quality by removing instances of vulgar language, overreaching claims, and pricing. This keeps content in check with your brand guidelines and empowers shoppers to make informed decisions. A UGC platform with fraud detection technology not only ensures the authenticity of content, but also safeguards your reputation.
Another way to up the authenticity factor is to feature and respond to negative reviews. Shoppers expect to see some negative reviews, and when they do, they perceive you as more trustworthy and authentic. 60% of shoppers view negative reviews as just as valuable as positive ones in helping them decide what to purchase.
Consumers also like to see you respond to negative reviews, as it signals to them that you care about quality and customer service.
10. Reap the rewards in a more cost-effective way 
Traditional marketing campaigns can be pricey, to say the least. A UGC platform alleviates this spend. It's much more cost-effective and still achieves amazing results. That's more important than ever, as you're striving for growth while still dealing with issues like inflation and supply chain snags.
Because UGC is considered less ad-like, in the traditional sense of the word, consumers respond well. They're more likely to engage with the content and feel confident shopping with you. It's also what shoppers want — 53% say UGC makes them more confident in their purchase decisions. More confidence, more purchases, more revenue.
To put that into numerical value, the Forrester Study found that brands that work with Bazaarvoice see an average 400% return on investment. Put another way, you can earn $4 for every $1 spent — and within just three months.
Work with the best UGC platform
Shoppers have almost unlimited choices, and their budgets are shrinking as prices go up. They're more cautious than ever when it comes to purchasing decisions, and in the consumer-to-consumer economy we live in they're relying on authentic UGC to convince them to buy.
A UGC platform will help you stand out from competitors and make consumers feel confident buying from you at every step of the buying process. Bazaarvoice can be a supportive partner in helping you build your content strategy.
But whether you choose to go with Bazaarvoice or another provider, a UGC platform is how you'll survive (and thrive) in these economic times. And if you are going to choose a UGC platform to work with, why not choose the platform that's been voted the #1 in UGC by G2 for six consecutive quarters.

---
Read the full Forrester Report to learn more about the ROI of working with Bazaarvoice. Or feel free to get in touch below and get started.
Request a demo