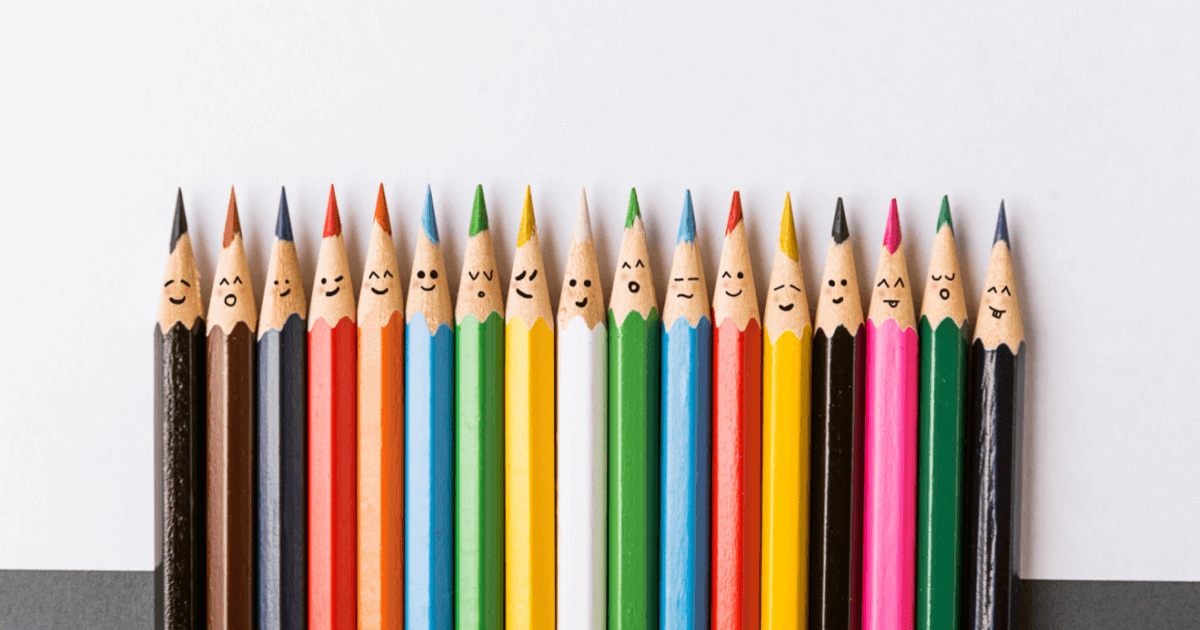 Inclusivity is cool. It's in. It's all the rage — as it should be. Inclusive marketing is something you've probably thought about but it can be tricky knowing where to start. So let us show you, using examples of inclusive campaigns from the world's leading brands.
Chapters:
---
---
Every one of us wants to be seen. If you're shopping for a swimsuit IRL or online (or both), you probably enjoy the experience much more if the models in advertisements represent several body types. If you can relate to the models, you can imagine buying the swimsuit. The models could be YOU.
That's why inclusive marketing is so important. If companies and brands don't engage with people from all walks of life, their brand will be seen as irrelevant. Inclusive campaigns help brands appeal to a broader audience.
Being inclusive in marketing isn't just the right thing to do — it's also good business.
What are inclusive campaigns?
An inclusive campaign is a marketing strategy that appeals to diverse audiences. Inclusive campaigns seek to bypass societal preconceptions about any demographic: gender, sexuality, race, ethnicity, disability, different background, and so forth. Instead, inclusive marketing campaigns showcase our many similarities, which requires a global perspective.
Bottom line: When it comes to inclusive marketing, there's no shortcuts. It has to be authentic. It has to feel real and avoid portraying customers as "one-size-fits-all." Inclusive campaigns require compassion, understanding, and a real desire to teach and/or educate your audience on inclusivity.
Why brands should practice inclusive marketing
Inclusive marketing is an important strategy for brands to implement for both business and ethical reasons. Leveraging inclusive marketing campaigns will help you:
Achieve global reach and impact by becoming relatable to a broader audience. Sonia Thompson, CEO of Thompson Media Group, discusses this further on the

Growth Marketing Today podcast

. According to Thompson, brands should be concerned with catering not only to diverse audiences but the inner circle of those audiences as well (called the "spill-over effect")
Become more competitive by addressing previously untapped markets and pain points. No one brand exemplifies this better than Fenty Beauty, a brand that didn't just beat its competition with its inclusive makeup line — it

launched a movement

that reshaped the entire beauty industry
Build long-lasting customer relationships by forging stronger emotional connections. On the

Elevate Your Brand podcast

, Damian Pelliccione, CEO and co-founder of

Revry

, advises marketers to build relationships, not just business transactions. Because it's not just about who you know but how they know you — how you treat others — that really matters
Save lives by normalizing differences and instigating a cultural change of acceptance. Pelliccione relayed the impact of LGBTQ representation, especially in less accepting communities, like in India. According to Pelliccione, "Representation does matter in media, and representation can save lives"
Brands doing inclusive marketing right
Inclusive marketing can be intimidating to start and difficult to land. You don't want to come across as insensitive or ignore people's real needs just for the sake of publicity. That's why we're studying how top brands like Dove and Coca-Cola do it. Here's our favorite examples.
Dove nails body-positive messaging
When Dove realized only 4% of women considered themselves beautiful, it created The Ad Makeover, a Facebook app that lets people replace those "feel-bad ads" with messages designed to make women feel good. People can select a positive message and send it to whoever they want. The message they choose would take the place of messages designed to make women feel bad and help them feel beautiful instead.
Dove's larger Self-Esteem Project frames body positivity as an integral part of its mission, complete with free educational resources for parents, teachers, and youth leaders. The resources can be filtered by topic (e.g., female stereotypes or psychology) and by age.
As part of this project, they partner with influencers who post emotional stories on Instagram. These posts draw attention to the negative mental health impact of toxic beauty standards seen on social media, like this post about digital distortion.
As part of this campaign, Dove uses several branded hashtags like #LetsChangeBeauty and #DoveSelfEsteemProject that help to increase visibility for these posts and reframe the conversation in an impactful way. These posts give their audience a boost of empowerment by spotlighting authentic beauty found in real life, and they encourage other users to post their own UGC (user-generated content) using those same hashtags.
Always encourages girls to stay sporty
In 2014, Always interviewed a mixture of men and women of varying ages, asking them what it meant to run like a girl, throw like a girl, and so on. The commercial examined why doing something "Like a girl" was used as an insult and reframed the phrase into something empowering and positive.
This campaign reclaimed a traditionally degrading phrase. It was designed to bring awareness to young girls that being female is great. Doing things "Like a girl" is great. And the ad encouraged viewers to share their own stories using the hashtag #LikeAGirl.
Always has also partnered with the YMCA to launch its #KeepHerPlaying campaign.
The campaign aims to encourage girls to continue playing sports during puberty. Instagram posts like the one above explicitly create a discussion around inclusion and encourage women and girls to tell their own stories to inspire others.
Coca-Cola unifies people of all races and ethnicities
Coca-Cola, all the way back in 1971, launched the "Hilltop" commercial with the "I'd Like to Buy the World a Coke" jingle. It gathered young people from underrepresented groups to share a message of the world coming together in peace and harmony.
The brand is famous for this ad — it took a brave stance during a tumultuous time around the globe. It aired when intergenerational conflict, the Civil Rights Movement, and the Vietnam War were still in full force. Yet, people felt inspired by the simplicity and optimism of the ad, and it received over 100,000 letters of praise.
More recent campaigns continue this legacy of inclusivity by shining a light on the stories and voices of people with disabilities as well as people of color.
This IG reel showcased a black Paralympian medalist talking about living in the moment. Social media posts like this reflect real people from diverse backgrounds without making that background the post's focus.
Gillette takes a stance on transgender inclusion
The best inclusive marketing initiatives empower diverse groups and advocate for them through storytelling. For example, Gillette showed the experience of shaving for the first time from the perspective of a trans male teen and his father.
Gillette highlighted a part of its audience that many other brands might not have considered and showed solidarity with the trans community.
The brand also utilizes Instagram to share stories of men who are leaders in their communities, like people who have struggled with addiction and homelessness and later supported others with their recovery.
Gillette's posts use the #TheBestMenCanBe hashtag, which is an evolution of their original "The Best a Man Can Get" tagline. The posts invite people to rethink what it means for men to be "the best." They also share these stories and images as a gallery on their dedicated landing page.
This campaign shows Gillette knows what matters and when. The first ad above aired just a few months after the Trump-era Transgender Military Ban was allowed to go into effect by the U.S. Supreme Court.
Microsoft products prioritize accessibility
It's no secret that Microsoft aims to produce products that equalize opportunities for people with different impairments. As a result, the company is also able to produce inspiring, inclusive marketing materials, like this "We All Win" Super Bowl ad that showcased its Xbox Adaptive Controller for children with physical disabilities.
This ad is designed to empower young people with disabilities with inspiring videos of kids using the controller. The controller and the McCann New York agency won multiple Clio awards in 2019 for Design, Innovation, and Branded Entertainment. The depth of emotion in the video is what makes it so effective. It's not fake. It's told from the point of view of real people who appreciate the product's value.
Of course, this tactic only works if you're actually selling products that are inclusive by design. You can emulate this marketing strategy by partnering with someone with a disability and then showcasing them using your product on a YouTube video or IG reel. Like the Microsoft ad, use music and audio from customer testimonials to make your campaign more impactful. (Bonus points if you include a hashtag so people can tag you with their own videos.)
Nike showcases the strength of women
Women are often subjected to stereotypes that they are weaker than men, especially female athletes. This has been echoed by the lack of sportswear available for pregnant and breastfeeding women. To counter this narrative that mothers are too "soft" or "delicate" to be taken seriously as athletes, Nike launched its first maternity collection. Then it followed it up with an ad campaign.
The videos in the campaign showed women and mothers of varying ages and races exercising in Nike apparel. The overarching message was clear: mothers are strong athletes, too. Now the Nike Women IG account has dedicated highlights for mothers.
The highlights feature users who are mothers, along with their images and quotes about motherhood.
Nike also told inspiring stories about female athletes on its Instagram page, tagging famous athletes and sharing videos of them exercising while wearing Nike apparel. The posts are meant to inspire other female athletes and appeal to their sense of equality and empowerment.
You can emulate this strategy by encouraging female customers to share their own videos and stories and then showing solidarity with them on your social media profiles.
Pixel amplifies diverse voices
"The Picture-Perfect Life" is an ad campaign that introduced real Google Pixel 2 users from different backgrounds via a photo montage. The campaign did this while tackling the tough topic of mental illness. It was narrated by Logic, the artist behind the song "1-800-273-8255."
This ad focuses on mental health awareness and includes people of color without making color diversity the ad's focus. It showed awareness and cultural sensitivity about mental health issues through a storytelling lens.
This isn't a solo event for the brand — Google Pixel has continued to amplify diverse voices. It featured a quote from (and tagged) a Black trans woman on its Instagram page in recognition of Pride month.
Amplifying diverse voices with a quote and a tag is a great way to support them while also reflecting the real world of your customers. By including your own branded hashtag in the post, you signal that other diverse people could get the same exposure if they use your hashtag. This broadens your reach and encourages even more UGC.
Maybelline celebrates Pride month
Makeup brands have had to play catch up in recent years with the global recognition of diverse skin tones. In an effort to be more inclusive, Maybelline launched 16 additional shades of its Fit Me foundation, making the line more accessible to people with different skin tones. It didn't stop with skin tones, though. Maybelline uses its social media profiles to celebrate diverse occasions. For example, it celebrated Pride month by showcasing NYC icons from the LGBTQ+ community on Instagram.
Tagging diverse influencers and ambassadors on social media during Pride month, Black History Month, etc., shines a light on those creators without appropriating their voices.
Brands can also gain a little extra product exposure by including a tag for a makeup product that is designed for darker skin tones or one that celebrates the Black community, like Maybelline's post about their #superstaymatteink liquid lipstick.
Both the creators and the brand benefit from the extra visibility, and the posts inspire other customers to try the product and post on social media using those hashtags.
Veet France encourages discussion about body hair
Inclusive marketing campaigns should also seek to include people of all shapes and beauty preferences. For example, Veet France's "Your hair, your choice, our products" campaign encourages its audiences to have their own opinions about their bodies and their body hair…even if that means keeping it as is.
The English translation of this post reads: "When I'm determined not to miss a hair. With Veet, they will no longer escape you! What is your favorite method? #epilation #Veet #hairs #mychoice #mybody #hair #hair removal #wax #wax #memes 😂 #summer"
The post shows a range of body colors, shapes, and body hair. It all tells a story of the many different ways women can choose to be beautiful. This approach builds an emotional connection with customers by reminding them (with the #mychoice hashtag) that body hair removal is a personal choice.
The question in the post ("What is your favorite method?") encourages discussion by asking followers to answer the personal question and post their own UGC on the topic.
It's your turn to be inclusive
No matter the focus of your current marketing campaigns, it's never too late to start incorporating multicultural images, diverse voices, and emotional storytelling that encourages diversity and inclusion. Once your marketing materials better reflect the real world, you're ready to take the next step in educating your audience on inclusion.
Doing so will position your brand to positively impact your community and reach new audiences.
And did you notice a common thread throughout these examples? Brands doing inclusivity right harness the power of user-generated content (UGC) and let real people authentically do the talking for them.