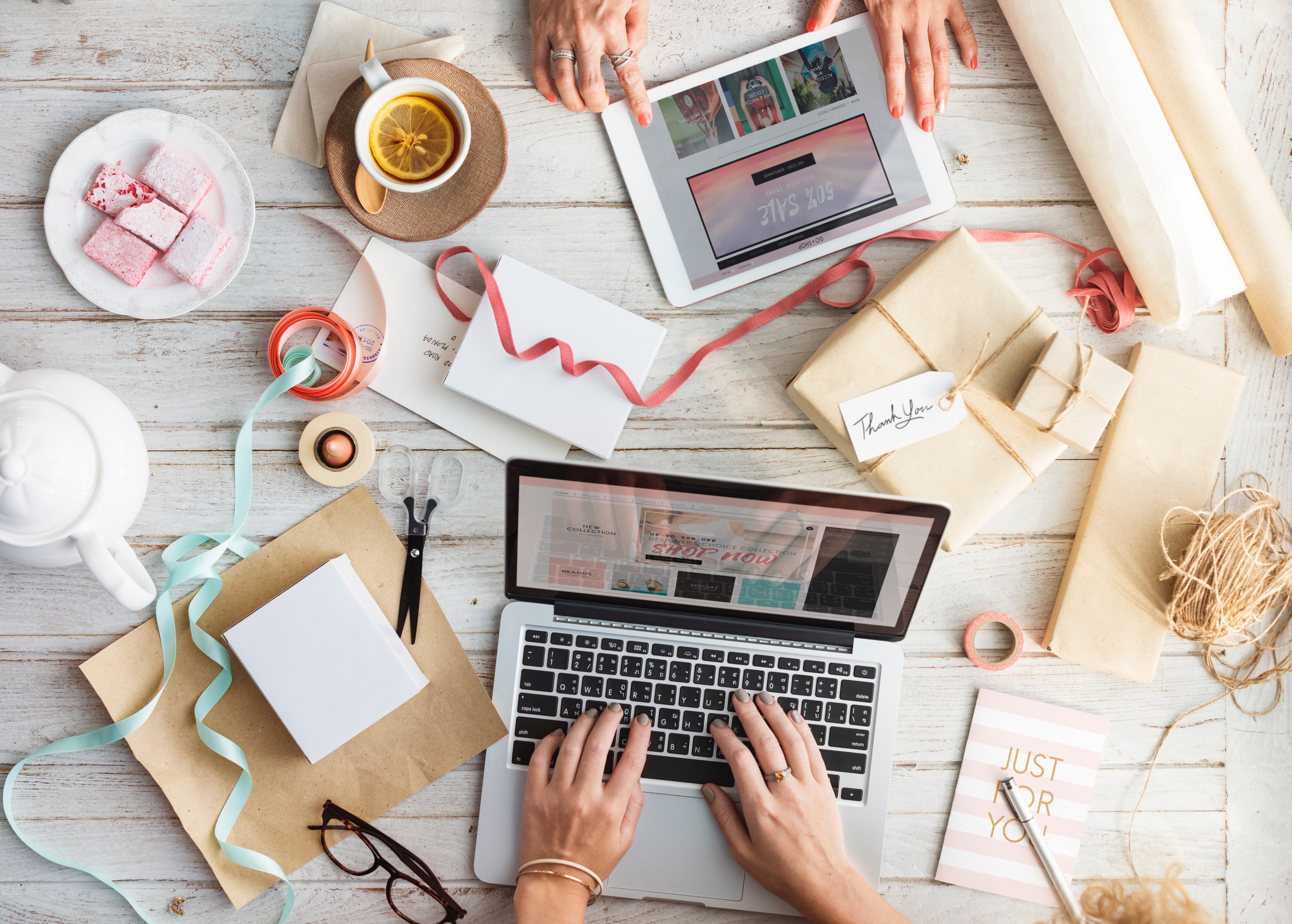 Our Network is made up of 5,700+ brand and retailer websites and sees over 800 million monthly shoppers. The online traffic we see on Black Friday and Cyber Monday alone makes us one of the highest-trafficked networks on the web. Given this, it should be obvious that we can see a lot of shopping data and behavior from the Thanksgiving shopping holiday.
Contrary to the apocalyptic tone of this year's retail news, this past weekend was the biggest shopping weekend yet, with many reporting record breaking traffic and sales. Based on these results, Adobe is now predicting that this holiday season will be the first to break $100 billion in online sales. On our Network alone, we saw almost $4.6 billion in revenue from Thanksgiving to Cyber Monday, up $125 million from last year. Clearly, the Thanksgiving weekend and the rest of the holiday shopping season will be a welcomed boost to the retail industry (and a welcome respite from the doomsday news).
Just how much of an impact did this weekend have? Based on our data, here are the top three shopping trends (and a data-filled infographic!) from the Thanksgiving shopping week.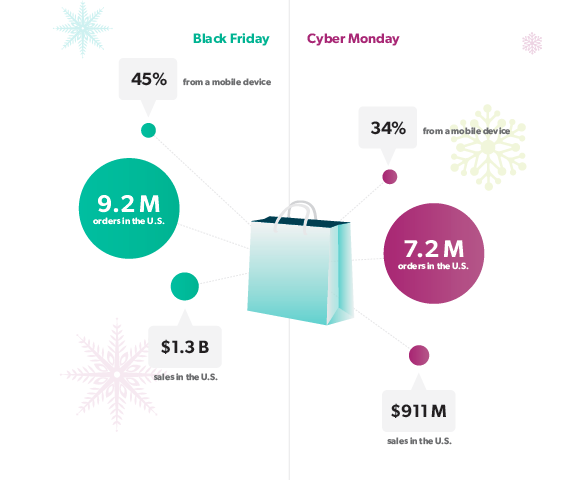 1. Mobile shopping rises, accounting for just under half of all sales from Thanksgiving Day to Cyber Monday.
This time last year, we asked whether it was the year of mobile. This year, mobile continued to encroach on desktop's territory, averaging 55% of all page views and 44% of all revenue across the five-day shopping spree.
As smartphones and tablets become commonplace in consumers' homes, shoppers have come to expect a seamless experience across all channels — in-store, on a computer, or on the phone. While brands still struggle with providing that ideal experience, this year's data shows that perhaps some have successfully invested in mobile commerce over the last year.
Always a consideration for mobile shopping is the convenience factor; shoppers full from their Thanksgiving meal don't have to move from the couch to shop early sales. With text and social media, friends and family can easily and instantly share deals with each other. With innovations in visual commerce, shoppers can go from Instagram to purchase in two clicks. All of these things considered, it's easy to understand why shoppers are making the switch to mobile.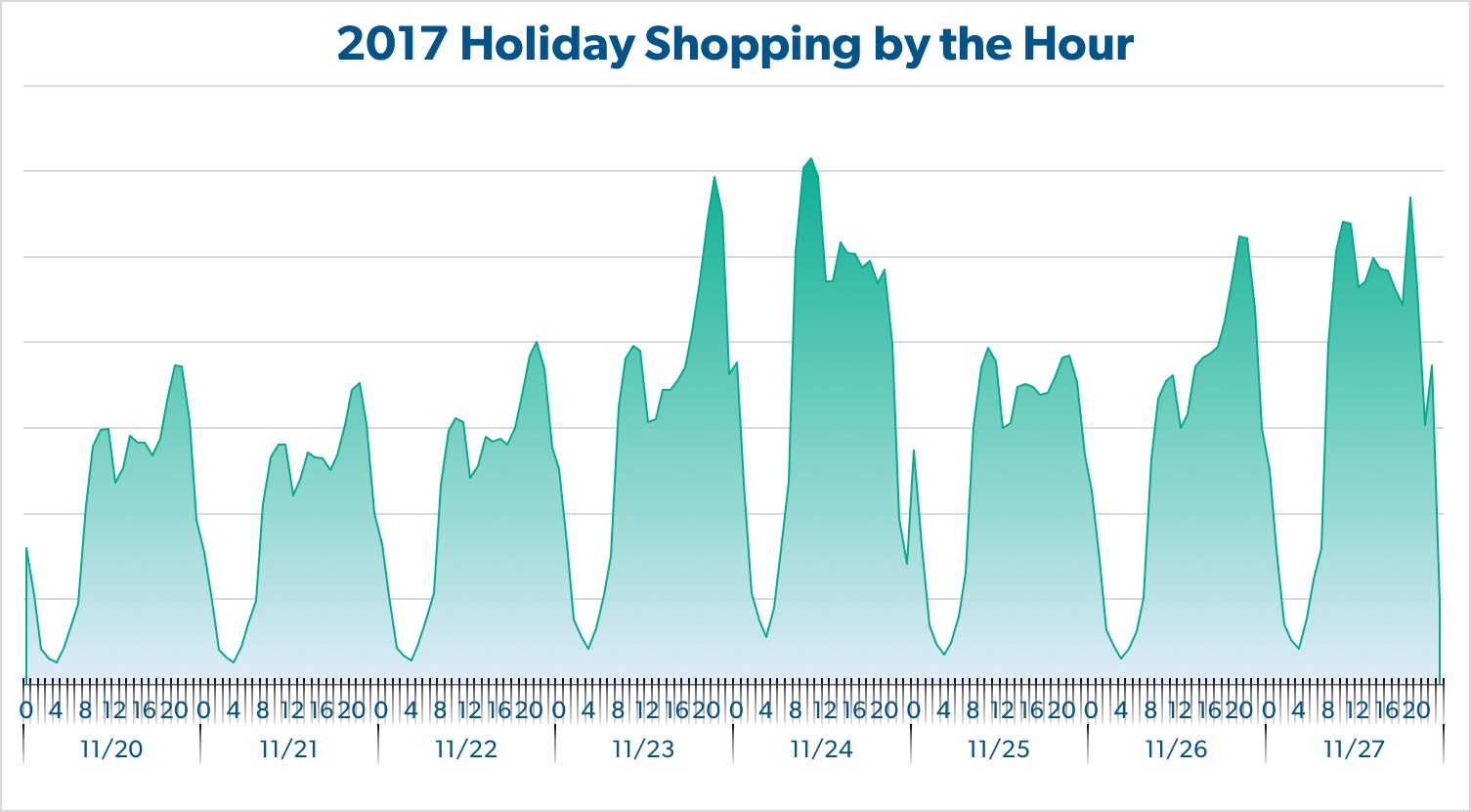 2. Thanksgiving Day could be the new Cyber Monday.
For the first time in recent memory, our Network saw higher purchases and revenue on Thanksgiving Day than on Cyber Monday. Last Thursday brought in $1.2 billion in sales, while Cyber Monday accounted for $912 million, down noticeably from $1.3B in 2016. Furthermore, Thanksgiving was the highest day for mobile sales at $624 million and had the highest average order value, even beating out Black Friday with these numbers.
While different industry leaders have varying claims about Cyber Monday sales, what we all agree on is that Thanksgiving Day emerged to play a much bigger role in the holiday shopping week. Of the full week, Adobe reported that Thanksgiving Day saw the biggest year-over-year growth in sales at 18.3%, compared to 16.8% percent for Black Friday and 16.9% for Cyber Monday. In an effort to compete for researching shoppers, brands started to roll out sales as early as the beginning of November, extending the holiday shopping season. Because of this, consumers may have suffered from sales and shopping fatigue by the time Monday rolled around, resulting in the lower than expected traffic and revenue on Cyber Monday. It also could have been an effort to avoid the Black Friday craziness — traffic on Thanksgiving Day peaked at 4pm CT, the second highest peak of the week and likely at the time when many families were finishing their meals and retreating to the couch.
Black Friday has already grown to include Cyber Monday and Small Business Saturday — now Thanksgiving Thursday is trying to join the mix.  

3. Toys and electronics continue to dominate Thanksgiving shopping purchases.
As expected, the most viewed items over the course of the five days were almost exclusively toys and consumer electronics. Because they are often at the top of gift wish lists, they are also the most in-demand (and most discounted) products during the holiday shopping season. According to our data, conversion for toys and games is 4.7x higher during the holidays and up to 1.6x higher for consumer electronics.
However, the top most viewed item was neither toy nor electronic — Nike Air Force 1 men's sneakers beat out Google Home, Apple iPad, Playstation, and Nintendo for the top spot. A little outside research revealed that football player Odell Beckham Jr. released his own edition of the Nike Air Force 1, dropping it on Black Friday. While it wasn't his special collaboration sneaker that was the most viewed, the buzz around it could have increased demand for the already popular shoe line.
Not included on this list because it's not a product: Nestle's Libby's Famous Pumpkin Pie, which came in as the 16th most trafficked page. Clearly, people have two priorities over Thanksgiving: getting the best deals and making the best dessert.
---
The five days of the Thanksgiving shopping weekend provide many of the brands and retailers in our Network with the highest sales and online traffic they'll see all year. What do the trends from this five-day slice of time predict for the rest of the holiday season? For the retail ecosystem as a whole? All I can do is follow the data.
For more shopping data and insight from the holiday shopping season, see the full Thanksgiving shopping infographic below and visit our Holiday Headquarters.