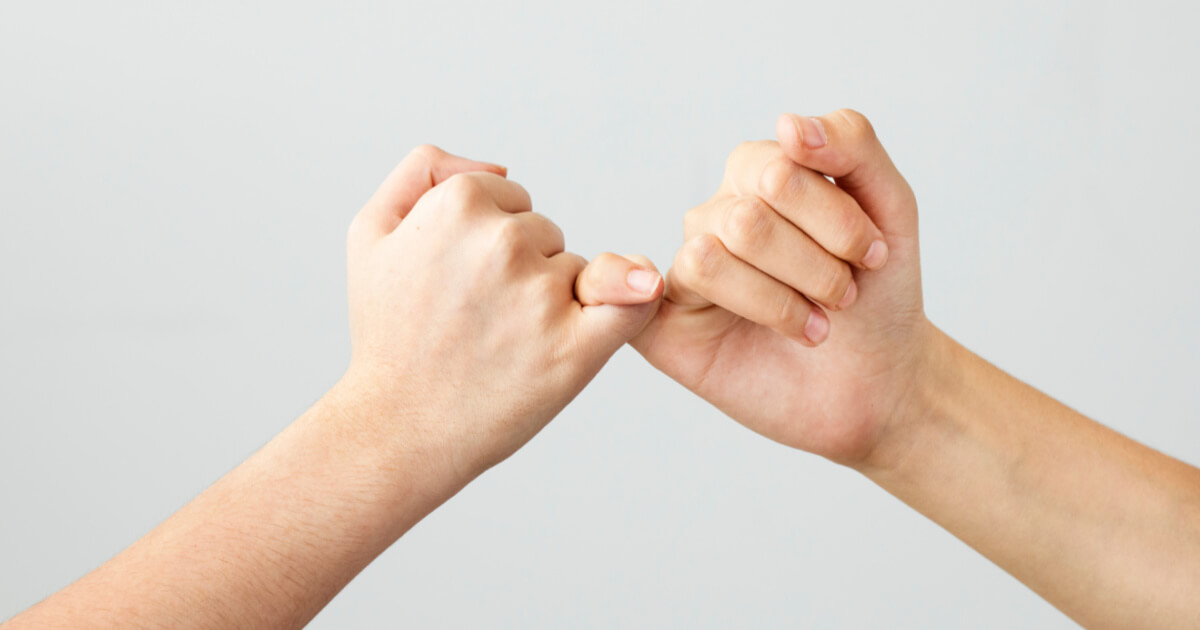 The Bazaarvoice brand promise is to "inspire authentic voices of the marketplace" because authenticity is at our core. It means we're well placed to provide an education on authenticity and brand loyalty, two hubs we constantly strive to be best-in-class in.
This piece delves into both, and explains why in 2022 every brand out there, regardless of size, needs an effective brand promise they deliver on. Here's how.
Chapters:
---
---
Jeff Bezos has been quoted as saying, "Your brand is what other people say about you when you're not in the room." So, the question for brands is how to influence that conversation. What's the one takeaway you want to be known for — the one quality you want people to associate with your company? That distilled idea is your brand promise.
Your brand promise is critical to establishing brand recognition and impacts how your audience perceives you. Once you've made a brand promise that reflects your core mission and company values, it's crucial you keep it in order to build and secure trust with your customers.
Here's your complete guide on how to create and maintain an effective brand promise.
What is a brand promise?
A brand promise is a declaration that defines the value of your products or services to your audience, showcasing what makes your offerings compelling or desirable. Tied to your brand identity, it enhances your brand's positioning and reflects your core values, philosophies, and ethos.
It must be authentic to your brand identity and also be unique to your brand to help you differentiate yourself from your competitors.
Like your other forms of branding, your organization's marketing department will create your brand promise. While some brand promises also serve as a company's motto, they're not necessarily intended for public exposure. A brand promise is more of an internal north star to keep your teams aligned, not unlike brand pillars. It ensures that all branding, marketing materials, communications, customer interactions, and business operations are delivering on its message.
Typically around one to two sentences in length, a brand promise is concise and focused. By contrast, a mission statement tends to be more complex, involved, and expansive. While your brand promise can be a tagline or a slogan — think of Allstate's well-known motto, "You're in good hands," — it often goes beyond that, pointing to the main value or benefit the company offers. For comparison, Nike's motto is "Just do it," but it is not its brand promise.
While they can be catchy and memorable lines, it must exemplify the direction of the brand experience you'll offer your customers.
What are the business benefits of brand promises?
Consistently delivering on your brand promise will help expand brand recognition and equity, and drive higher trust and customer loyalty to bring more to your bottom line.
Keeps your teams aligned and motivated
With a brand promise, your teams and organization at large will have a deeper understanding of how their roles fit into your company's overarching goals. It acts as a beacon to guide your company in one focused direction, and encourages your team to align their efforts to create consistent brand experiences that reflect your central mission.
For example, let's say your brand promise involves creating "skincare that's good for the planet." If a team member suggested using palm oil as an ingredient, going in that direction could potentially threaten your core values. Palm oil contributes to deforestation and is harmful to the environment. Your brand promise therefore, is crucial in keeping your teams aligned on choices that support your core values.
Helps build trust with your customers to drive stronger brand advocacy
Consistently delivering on your promise is key to showing your customers that you don't just talk the talk. You must live up to your promise and channel it through everything you do and every interaction with your customers. Like any promise, if you break it, you destroy the trust between you and your customers. But if you maintain your commitments, you'll cultivate a satisfied and loyal customer base. Stronger customer brand loyalty will lead to customers who not only believe in your brand but also advocate on your behalf, enthusiastically recommending your products to their friends and families.
Fosters stronger brand recognition and greater brand equity
Your brand promise shapes your audience's perception of your company and solidifies your brand image in the minds of your customers. In this way, it's a great tool to build stronger brand recognition and equity, while fostering a credible reputation for your company. The same goes for the opposite. Not living up to your brand promise will hurt the value of your brand image. Think of how a brand's image becomes tainted when it falls short and must undergo a product recall or receives negative press in the media.
Brand promise examples to learn from
Here's some of our favorite brand promises to inspire your creative vision. They run the gamut from aspirational statements to memorable slogans. All may help you find an approach that will speak best to your brand.
Nike: "To bring inspiration and innovation to every athlete* in the world."
Why is this a good brand promise?
Although maybe a tad highfalutin, Nike's brand promise delivers on its aspirational qualities. While it doesn't point to its actual products or offerings, it communicates its core values of inclusivity and forward thinking through its motivational mindset. Look closely, and you'll see an asterisk next to the word "athlete" in its promise. According to Nike, this asterisk represents the idea that if you have a body, you are an athlete. This statement strikes a chord with Nike's customers, with its universal message to inspire anyone with the confidence that they can be an athlete, even if they aren't one in a conventional or professional sense.
Nike's brand promise reflects its greater mission, which is focused on "[expanding] human potential." According to its mission statement, it strives to deliver on its brand promise by offering sports innovations, keeping up sustainable practices, emphasizing diversity, and creating a positive influence on the world.
Through its Social and Community Impact Team and the Nike Foundation, Nike expands upon its promise to drive real impact. These grants support organizations that empower kids to explore their athleticism through physical activity. Nike's Made to Play program invests in programs designed to get kids moving.
Allstate: "You're in good hands with Allstate."
Why is this a good brand promise?
Insurance company Allstate's brand promise leads with its values of safety and security, communicating to its customers that they'll be safe as long as they choose Allstate as their insurance company. The brand's super popular mantra has been broadcast in commercials for years. You can almost hear Dennis Haysbert's deep voice echoing through the tv screen as you read the words of the promise. Allstate's promise of assurance to its customers is reflected in all of its branding and in everything they say and do.
Simple, catchy, and memorable, Allstate's brand promise is its slogan. We know this is their brand promise and not solely a snappy catchphrase because it conveys what the brand stands for and the values it stands behind. Nike's brand promise, in contrast, is a grandiose and lofty statement, which is separate from its powerful and unforgettable slogan, "Just do it."
We can also compare Allstate's brand promise to another popular insurance company, Geico, whose mascot is a humorous gecko with a Cockney accent. Geico's slogan, "Fifteen minutes could save you 15% or more on car insurance" is also the brand's promise, putting an emphasis on the savings it offers its customers rather than safety. As opposed to Allstate's more abstract and sentimental statement, Geico's takes a more simple and straightforward approach, concretely defining the benefits it offers. Both brand promises ultimately work, as they convey the core value they bring to their brand experience.
Coors Light: "The World's Most Refreshing Beer"
Why is this a good brand promise?
Using another explicit and specific approach, the popular alcoholic beverage brand focuses its brand promise on its core product offering: delicious-tasting beer. On its website, it includes a breakdown of its beer's nutritional information, explaining exactly what goes into creating a premium quality beer.
To deliver on its brand promise and ensure it connected with its customers, Coors Light went through a brand refresh to update its brand image. It launched campaigns focused on conveying the experience of "refreshment" to its audience. TV ads played upon this idea by demonstrating how its beer cans are cold-activated and turn blue when they've reached the right temperature to drink.
Gavin Hattersley, MillerCoors CEO, explains why the brand went with this more straightforward, bold, and confident statement and how it was integral to reaching new heights of success. He explained how the brand "is at its best when it lays claim to ultimate refreshment…and we believe the best way to break through…is to simplify and focus our message, so we're delivering with consistency the story of what makes us special."
Hattersley explains that to reach your target customers, they need to know, "what's your core differentiator that makes you better than everyone else vying for my attention?" This is especially crucial in a saturated landscape in which, according to Hattersley, consumers consider light beers to be interchangeable. "It's our job to prove to them that they're not. So to reach them, we need to simplify our approach and hit them with a focused message: We are the World's Most Refreshing Beer."
Oak Furnitureland: "Real furniture for real homes."
Why is this a good brand promise?
Taking another concise and straightforward approach, furniture retail company Oak Furnitureland's brand promise works because it's specific and focused. It communicates its value of offering its customers quality furniture that can live up to the demands of real life.
Like any other brand promise, this mantra will only serve the furniture company if they can demonstrate it to their customers and maintain a consistent brand experience around it. Conveying its brand promise to its retail customers isn't a complicated task, as its customers can engage with the furniture in person to see up close that it's top quality, durable, and comfortable. Proving this digitally is a different story.
Oak Furnitureland partnered with Bazaarvoice to demonstrate to its larger community of online customers how its furniture is made for everyday living through user-generated content (UGC). According to Lara Quigley, head of PR at the company, UGC was invaluable as it enabled the brand to, "provide inspirational content that [its customers] can see and they can engage with."
Laura continues by explaining how "real pictures in real settings" of the brand's customers using the furniture in their homes gave the brand social proof while helping it live up to its brand promise.
Rael: "Complete support for all the phases of you."
Why is this a good brand promise?
Rael is a brand that specializes in feminine skincare products catered to different stages of women's cycles. Its brand promise conveys that its products are designed to support women's cycles and expands on its larger mission to offer products that are non-toxic (free of harmful chemicals), high performing, and made using eco-friendly, and sustainable practices.
As a small e-commerce startup, it wanted to expand brand awareness and build credibility with its audience to demonstrate that it could deliver on its brand promise. So the brand teamed up with Bazaarvoice to use a sampling solution to encourage its customers to create UGC. Through the sampling campaign, it brought its products to its audience through an Influenster community of 6 million customers and encouraged consumers to share their opinions about the products on their social networks.
According to CMO Sorah Park, UGC was vital to "[build] trust with consumers." It was essential to convey to its customers that it was committed to its promise. Since "…people can't touch and feel a product online…the third-party validation from UGC is so important."
The campaign resulted in 9.8 million impressions from thousands of social shares and posts. Women worldwide shared their real experiences with the brand, and Rael had social proof that its products live up to its promise.
Bazaarvoice "Inspire authentic voices of the marketplace."
Why is this a good brand promise?
Absolutely shamelessly throwing ourselves in at the end here. But for good reason. If you didn't already know, UGC (user-generated content) is fundamental to what we do here at BV. Most of our prominent products — Ratings & Reviews, Questions & Answers, Social Commerce, etc — all fall under the UGC banner. It's an effective tool that provides social proof to other shoppers that influences them to make purchases.
But UGC is only as effective as it is authentic. There's a lot of fake and toxic UGC out there, which isn't good for consumers, ourselves, or anyone. Which is why the BV moderation team constantly monitors, reviews, and rejects fraudulent UGC if needed.
Using human moderation and machine learning built from our client's content, we ensure consumers are only interacting with authentic, safe, product-related reviews. We then use tags to help clients gleam further insights from their own customer's reviews, and they use this data to help respond to consumers, improve service, and products.
Our goal is to make sure our customers feel confident that the UGC they're sharing or syndicating is authentic.
In this rapidly-changing landscape, we maintain good relationships with legislators and constantly survey our customers and incorporate these both into our roadmaps. That way, we're always one step ahead. And we can ensure we continue to inspire authentic voices of the marketplace.
How to deliver on your brand promise
To consistently deliver on your brand promise, you need to align your whole organization around it as well as channel it into your marketing, messaging, customer interactions, and business operations.
Create an effective brand promise you know you can deliver on
Before you can deliver on your brand promise, you have to create one you know will be effective for your company.
1) Assess your customers' current perception of your brand
To ensure that your brand promise will resonate with your customers, you need to have deep insight into your audience and how they see your brand. One of the best ways to do this is to reach out directly to your customers with surveys and feedback forms. Ask questions like "Why would you choose our brand over other options?" and "We'd love to get an understanding of your perspective of our brand."
Once you know how your audience currently perceives you, you can then work to shape their views.
2) Consider how your customer experience will expand on your brand promise
Your brand promise exists through the lens of the brand experience you offer your customers. This means its message needs to be channeled through every interaction and touchpoint with your customers. Think about what kind of impression you want to have on your customers and what kind of feelings you want them to take away from your brand experience.
3) Ensure that it's unique, clear, and compelling
Your brand promise should be unique to your brand, reflecting the notable USPs that are core to your company and your greater mission. Conduct competitive research to ensure that you differentiate from your competitors, while staying authentic to your brand.
Align your whole organization around your brand promise
Before the public can get on board, your whole organization must first believe in it. Sell your internal teams and stakeholders on the ideals. As it will shape the overall perception of your brand, it must tie into your company's greater business objectives.
Ensure that your organization lives up to the brand promise by channeling it into your company culture. Define employee expectations around meeting that promise.
Create consistent customer experiences to execute your brand promise
Customer service and experience should be aligned to ensure that you can deliver upon your brand promise in each and every interaction.
Create messaging and marketing communications aligned to your brand promise. What you stand for should be evident in all your content and communications. Weave goals of your brand promise into frameworks and guidelines to ensure all marketing content and communications are delivering on it. Train employees on how to interact with customers to exemplify the ideals of your brand promise.
Monitor the execution of your brand promise
Track the performance of your brand promise to assess if you're consistently delivering upon it. Conduct customer satisfaction surveys to gauge how well you're meeting the expectations of your promise. Do customers find your brand promise credible and believable?
You should also conduct employee surveys to assess how your organization is resonating with your brand promise. Do your employees understand the meaning behind your brand promise? How do your employees feel about their ability to execute on the promise? Do they believe that senior leadership is also devoted to maintaining it? Take your insights and translate them into actionable strategies to improve upon the delivery of your brand promise.
Monitor how well your brand experience reflects upon the brand promise and create standards within your operations to ensure employees are living up to its mission. For example, Starbucks' brand promise is to "inspire and nurture the human spirit — one person, one cup, and one neighborhood at a time."
To maintain a culture that conveys this, Starbucks has created a standard in which its baristas meet each patron with a smile as they take their order. To assess how well it's delivering upon its brand promise, it can look into the customer experience its employees are delivering in its cafes as well as to measure customer satisfaction levels.
Communicate with your customers to deliver your brand promise
Consistently delivering upon your brand promise is key to cultivating a community of happy customers and expanding brand loyalty. It's crucial to continuously communicate with your customers to show you're committed to your mission.
Now learn how UGC is one of the most straightforward ways you can foster social proof and increase engagement with your customer community.
---
You can check out more of our Long Read content here for more marketing strategies, tips, and insights.