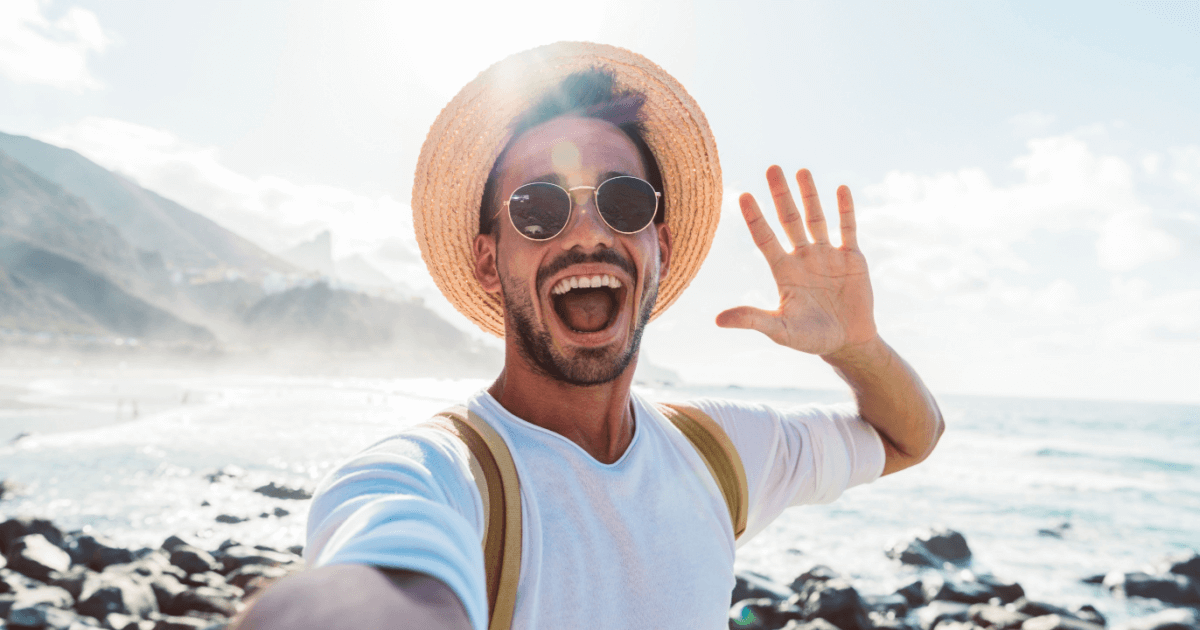 As the leaders in user-generated content (UGC), we frequently get to see some of the finest examples from the top-in-class brands around. So if you're looking to get started with UGC, or want to take your UGC strategy to another level, we've compiled a selection of the best UGC examples we've seen, and why they work so well.
Chapters:
---
---
A brand is essentially faceless. It shows no emotions, has no lived experiences, and lacks facial expressions. Every element that makes humans connect isn't there — and if there's no connection, there's no trust. So it's not surprising that 88% of shoppers trust recommendations from people they know more than any brand-owned channel.
But brands can't just go out and tap every member of their potential customers' network to get the word-of-mouth wheels spinning. What they can do is lean into user-generated content (UGC) to infuse their marketing with the kind of authenticity and trust that word-of-mouth inspires.
UGC refers to content — photos, video, text, etc. — that's created and published by unpaid contributors. And it's a big win for brands. When consumers post about a brand on social media, they influence their followers' buying decisions. According to our Shopper Experience Index, 69% of shoppers have been inspired by social media to make a purchase.
Types of user-generated content
There's multiple different examples of user-generated content, as you're about to see, coming in different styles, types, and formats. The most common types of UGC are:
Product ratings and reviews
Images
Social media content
Customer testimonials
Blog posts
Live streams
Best user-generated content examples
Let's take a look at our favorite user-generated content examples and explore why UGC marketing is so effective in each scenario, and which approach is best for your brand.
1. IconicLondon: Make UGC shoppable
Makeup brand Iconic London has relied on UGC to build consumer trust since it first arrived on the scene. The brand's website and Instagram account are populated with visual content from real users who love Iconic London's products.
"As a niche brand, we exist because when people experience our formulas, they love them and want to talk about them," explains Eleanor Assa, CMO at Iconic London.
The brand doesn't just sit on the wealth of UGC their customers provide. Iconic London knows that their audience enjoys shopping in a social environment, so they upped the ante with social commerce tools: Bazaarvoice's Galleries and Like2Buy. Shoppers can see Iconic London's products in action via UGC and buy those that snag their attention without experiencing friction in their journey.
Iconic London's bet on UGC is paying off. Within 12 months of implementing social tools across their website and Instagram, they saw a 126% lift in conversion rate, and an 11% lift in average order value.
Why it works
This kind of imagery enables shoppers to more easily picture how the products look and perform because they can see real people — not just models — wearing and enjoying Iconic London's makeup.
Instead of just inspiring potential customers, Iconic London goes the extra mile and empowers them to take action. With social commerce tools such as Like2Buy, shoppers can purchase directly from the makeup looks they want to recreate in just a few clicks.
2. Doritos: Provide content creation tools
To keep users engaged with its brand, Doritos launched Doritos Legion of Creators, a site where users can create branded images and videos that Doritos shares on its social media accounts.
Fans have created everything from snack-centric weather forecasts to pictures of themselves lounging in piles of nacho chips. Doritos keeps users engaged on the site with public challenges, such as its "oddly satisfying challenge," which invites creators to make "hypnotizing" videos for a chance to be featured in its Instagram Stories.
And the fan-made content, such as above, receives thousands of likes and comments.
Why it works
The content from this campaign is outrageous and funny, so it's no surprise that it drives a lot of engagement.
But Doritos isn't just sharing photos of people enjoying its product with its Legions of the Bold campaign. It's actually driving users to its website and providing them with tools to create one-of-a-kind content. And giving fans the opportunity to create their own works of art makes consumers feel connected to the brand.
In other words, it's nacho average UGC campaign. (Sorry!)
3. GoPro: Generate a steady source of UGC
GoPro has long been synonymous with adventure and sky-high doses of adrenaline. The brand's social media content is almost entirely made up of visuals captured by real users that represent GoPro's essence down to a T. So much UGC is produced that you might wonder how the brand is able to get their hands on all of it.
How did GoPro crack the UGC code? They generated a steady source of it with GoPro Awards — challenges that incentivize users to get their GoPros out, snap some cools visuals, and be rewarded in return.
The trick here is to keep things fresh. Some challenges are as easy as becoming picture of the day, while others encourage users to capture their best moments in the snow or showcase how they're changing the world for the better.
GoPro's crown jewel is their Million Dollar Challenge. Since 2018, the company has encouraged customers to purchase the newest GoPro model (hello, revenue!) and use it to capture "life's epic moments." The latest edition awarded 55 creators a share of the $1 million — that's $18,181.81 for the lucky winners and a thousands of examples of UGC for GoPro to spread across social media.
Why it works
Getting customers to actually produce UGC is one of the biggest barriers for brands who want to implement this strategy. GoPro found a perfect way around it with their daily and seasonal Awards, incentivizing users to get their cameras out for the chance to be seen by millions of people (20+ million on Instagram alone) and even get money rewards in return.
4. Parachute: Think outside social media
Direct to consumer bedding and bath brand Parachute encourages their audience to use the hashtag #MyParachuteHome in content featuring the company's products. Parachute then repurposes customers' photos in promotional content, not just social media posts.
For example, the brand uses UGC in retargeting ads, illustrating how real consumers use Parachute products. These ads, such as the right-hand one below, generated a 35% higher click-through rate and a 60% lower cost-per-click than ads that don't feature UGC like the left-hand one below.
But Parachute doesn't limit itself to implementing UGC in digital campaigns. The company also features UGC content on an insert card, enclosed in order boxes, that showcases how other buyers have made Parachute products a part of their home — and no doubt inspires consumers to snap some pics of their own and make another purchase.
Why it works
Many brands overlook opportunities to use UGC outside of organic social posts. Parachute, however, shows the value in repurposing this content and featuring it in ads, inserts, email campaigns, and more. This strategy is in line with current shopping habits, as 40% of shoppers say UGC makes them more likely to buy a product from an ad.
5. LEGO: Turn users into product development mavens
What if we told you that UGC is not only a powerful vehicle to build consumer trust but also a potential goldmine for product development? That's what LEGO, an iconic childhood (and adulthood, to be honest!) staple, has figured out.
The brand has a solid brand community in LEGO Ideas, where customers can participate in activities and challenges ranging from "celebrate Japanese culture" to "100 years of fairy tales" (using legos, of course).
But LEGO's most impressive launch yet is Product Ideas. The campaign empowers users to design a completely new LEGO set with their existing pieces for the chance of seeing it become an actual, official product.
It's an opportunity for many to turn childhood dreams into a reality, work with LEGO designers, and share their creative verve with fellow LEGO enthusiasts on social media.
Why it works
LEGO is offering the ultimate reward to contestants who are fans of the brand. There's an extraordinary incentive for people to share their creations and generate a ton of buzz around them that leads to invaluable UGC for the brand. And LEGO also gets new product ideas, voted for by users that want to buy them, out of the deal. It's a win-win-win situation.
6. Glossier: Foster a community that wants to share
Here we have a great example of how user-generated content makes your brand authentic and relatable. Beauty brand Glossier drives engagement with its social content by encouraging customers to get vulnerable and share their selfies. It does this by posting customer stories that are often heartwarming, as well as numerous photos of people using Glossier products.
The beauty brand relies more on customer-submitted imagery than it does on models and product shots. Users eagerly take to social media to post photos of themselves using and wearing Glossier products.
For example, when the brand launched its Mega Greens Galaxy Mask, thousands of users shared selfies of themselves in the mask with the hashtag #maskforce, which Glossier reposted on its own social accounts like above.
Why it works
Getting recognition is one of the key reasons we post on social media, so UGC gives followers the chance to step into the spotlight. And Glossier does this with compassion and flair.
The #maskforce selfies are unique, feminine, often humorous, and 100% real, making them right on-brand for Glossier. The company aims to make, "every single woman an influencer," according to founder Emily Weiss. And Glossier's example of sharing user-generated content does exactly that, giving every user a chance to be the face of the brand.
7. LeCol: Combine authentic visual content with reviews
The concept of user-generated content is closely associated with visuals. And visuals are important when the goal is to showcase products being used by real people. But there's another dimension to UGC that matters just as much for brands that want to inspire that sweet, profitable trust: ratings and reviews.
What happens when brands combine visual and written UGC? They get themselves a winning combo. Case in point: Le Col, a high-end sporting gear brand whose number one challenge is convincing first-time customers that the premium prices are worth it. To drive this point home, Le Col integrated product galleries with customer reviews.
According to Andrew Longley, Head of Digital at Le Col, "customers who engage with our gallery are five times more likely to convert." Le Col's average order value for products with reviews increased by 13%.
Why it works
LeCol recognizes the importance of every type of UGC. By combining the power of visuals, where their products are the star, and written reviews, with detailed accounts of first-hand experiences, they double their chances of gaining first-time buyers' trust.
8. La Croix: Curate a branded look
The social media accounts of sparkling water La Croix are filled with user-generated content. From fan art to photos of young adults — its target demographic — posing with their favorite flavors, La Croix populates its feeds with content created by people who clearly love its product.
And although the content comes from a variety of creators, La Croix manages to maintain a consistently branded look. Scroll through its Instagram page and you'll see bright colors, sunny landscapes, and smiling faces again and again.
La Croix accomplishes this in part by hosting giveaways of branded merchandise, such as the shirt featured above, and by providing interactive displays that its fans want to engage with.
Why it works
Consistent branding is important, even where UGC is concerned. Imagine your best friend of 20 years shows up at your door and suddenly switches their demeanor, style, and even their accent. It'd be jarring, and the same goes for branding.
By maintaining consistency, La Croix ensures that its personality and voice remain recognizable and trustworthy to the audience. The brand integrates UGC in a way that complements the existing narrative, ensuring that the core message and essence remain unaltered and authentic.
9. Aerie: Be inclusive
This lingerie and swim brand invites customers of all ages and sizes to wear its designs. Back in 2014, Aerie even famously pledged to stop retouching photos and encouraged its audience to do the same.
To promote this message, generate UGC, and bolster its social responsibility efforts, the brand partnered with the National Eating Disorders Association for several years in a row. Aerie donated $1 to the NEDA for every unedited swimsuit photo an Instagram user posted with the hashtag #AerieReal.
Why it works
This inclusive campaign allows consumers to see real, unedited images of people wearing the products. It encourages body positivity among participants and has a charitable angle that modern consumers expect of brands. Consumers are more likely to share UGC when they feel accepted and celebrated by an inclusive brand, like Aerie, so the campaign fosters a positive loop of engagement.
10. Sephora: Create a unique space for users to share their experiences
A powerhouse in the beauty industry, Sephora has embraced UGC by establishing their Beauty Insider Community, a digital platform where makeup enthusiasts, skincare lovers, and beauty aficionados come together to discuss, review, and showcase their favorite products.
Instead of relying solely on influencer posts or ads, Sephora has given voice to its community members, allowing them to upload pictures, share experiences, and engage in discussions. The platform not only showcases how products look on a diverse range of skin tones and types but also offers tutorials, Q&A sessions, and personal stories, providing potential buyers with genuine feedback and inspiration.
Why it works
Beauty is deeply personal. So what better way to showcase products than through the diverse experiences and looks of real users? The Beauty Insider Community offers a sense of authenticity and inclusivity that standard ads often miss.
It's about connection, community, and shared passion. With this dedicated space, Sephora empowers its customers to share their UGC and also inspire and be inspired, turning each interaction into potential sales for the brand.
Turn customers into brand ambassadors with user-generated content
These examples of user-generated content illustrate how you can empower customers to do word-of-mouth marketing on your brand's behalf. But in order to take advantage of UGC marketing, brands must provide consumers with opportunities to share their creations.
Invite customers to post content with a specific hashtag, share user photos on social accounts, or add an on-site shoppable gallery. Brands can also create opportunities for fans to interact with branded merchandise, or direct users on site to make original content.
By making user-generated content an integral part of your marketing efforts, you're giving potential buyers an authentic look at what your customers think of you rather than simply providing them with your brand's perspective.
Watch our on-demand masterclass below as we talk through more user-generated content examples and how to use them to build your own UGC strategy.