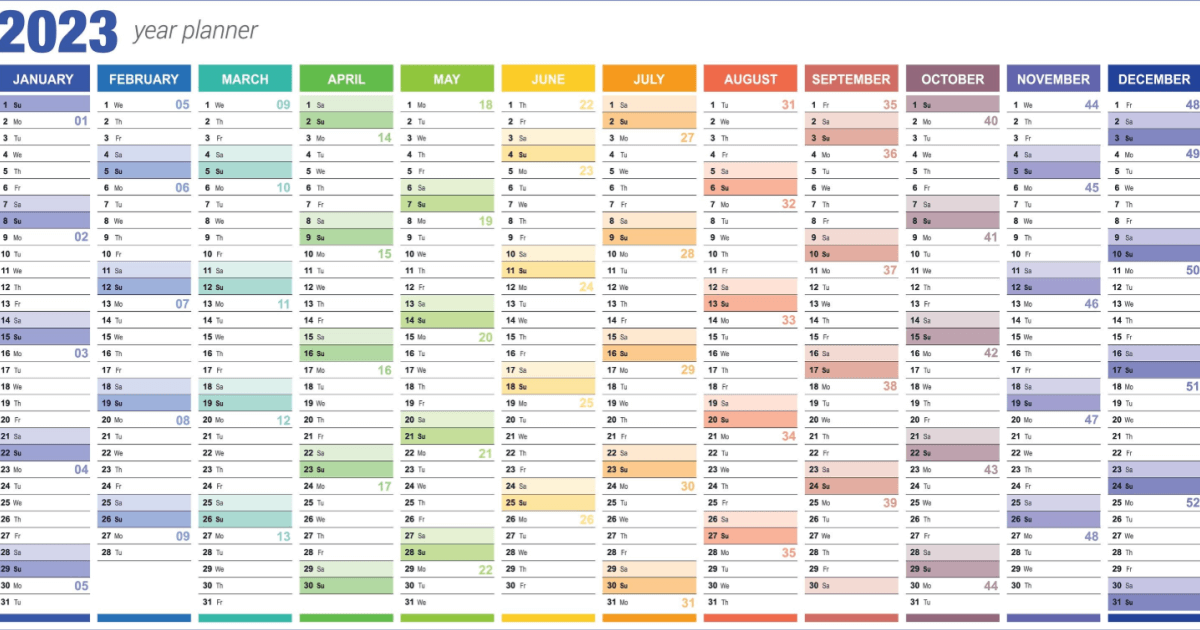 A marketing timeline is a schedule of all your marketing strategies's campaigns, projects, and activities for the year (and beyond). They can be tricky to create, especially when each season requires a different level of planning.
Get ahead on planning your perfect timeline with this guide to every season. Looking to nail your holiday shopping season? Jump to our winter campaign timeline. Not sure how to plan for Halloween? Skip to our fall campign timeline. Or for the perfect marketing timeline for every season, just dive right in.
Chapters:
---
---
Shopping never stops. Consumers are always browsing for something they need or just want, whether it's a new outfit, fresh home decor, holiday merchandise, or gifts for loved ones.
24% of consumers say they shop weekly, and 9% shop every day. Most consumers shop both online and in stores.
While shopping is always-on and available everywhere at the tip of your finger, consumer behavior shifts from season to season. So, what does that mean for you? Being tasked with juggling marketing campaign timelines year-round to attract shoppers with the right content at the right time.
What they're looking for is your branded content mixed with user-generated content (UGC), which includes ratings, reviews, photos, and videos. It's considered more authentic and trustworthy because it comes directly from real people.
One of the best ways to collect UGC quickly is via product sampling, where you send consumers samples of products to try in exchange for honest reviews.
To develop successful sampling campaigns, you'll need to change things up every season. Use these guiding timelines to rock your seasonal marketing campaigns.
Winter campaigns: How to plan a marketing timeline
Shoppers are making their naughty-and-nice lists and stashing away gifts earlier and earlier, especially as budgets are being tightened.
So, you need to be ready. For the best results, you absolutely can't wait until November 1st to kick off your holiday campaigns. Start months ahead to lure shoppers during this time of hustle and bustle.
Early planning and preparation also ensure you'll be ready for anything unexpected like supply chain issues, pressures from inflation, or delayed product launches. We've created a helpful marketing timeline to set yourself up for a joyous holiday season.
March/April
Right after the previous holiday season is the best time to solidify your budget and map out an internal timeline for getting ahead of next year's holidays. And that should include a budget for UGC.
Collecting UGC and adding ratings, reviews, and customer photos and videos as early as possible means the difference between a successful sales season and a lump of coal in your stocking.
Best-in-class sites containing UGC see up to a 190% revenue lift per visitor and up to a 145% increase in conversion rate. A few other things to do during this time include:
Contact other brands to initiate partnerships for must-have winter holiday products
Secure places on in-person and digital retailers' shelves
Decide which ad campaigns to run
May/June
With the holidays about six months away, lock in your advertising and sampling campaigns. Product sampling is an excellent way to pack your product pages with fresh UGC.
Just look at Kraft Heinz. They use sampling to drive awareness for new products and have seen massive success. Campaigns for Kraft Dressings Vinaigrettes, Twisted Ranch, and Bitten brought in 20,000 reviews and 39 million impressions.
"The campaigns over-delivered on our targets for the program, delivering 2x the product reviews we expected, and the earned media was over 5x our program investment," Kraft Heinz Associate Brand Manager Elizabeth Northrup said.
That's because new UGC is crucial. 80% of shoppers say review recency factors into their purchasing decisions, with most shoppers saying they'd rather buy something with fewer reviews if they're recent.
July
Known as "Black Friday in July" thanks to Amazon Prime Day, this has become the unofficial holiday shopping season kickoff.
Prime Day is an amazing opportunity to organically collect UGC, even if you don't sell on Amazon. Use email and text messages to encourage consumers to leave reviews with these best practices:
Use a simple, catchy subject line
Keep your ask short and focused on the review request
Give shoppers time to receive and experience the product
MeUndies for example grew review volume 218% simply by asking shoppers to leave a review. After optimizing review request emails, submission rates and page views jumped drastically.
"Customers trust the volume of reviews that they see," said Ross Houslander, senior retention lead at MeUndies. "Bazaarvoice allows us to collect reviews and create consumer trust. It also allows us to do things like offering consumers a quick way to write reviews themselves."
Long story short, UGC drives sales on Prime Day. 88% of shoppers said they relied on ratings and reviews to complete a purchase during the event. More shoppers are relying on visual UGC, too. Our surveys show that 74% base Prime Day purchase decisions on photos and videos from other customers — just 18% look at written reviews alone.
August/September
If you haven't started your sampling campaigns by August, now's crunch time. But don't worry — there's still enough time to collect UGC before Cyber Week in November. Sampling also isn't the only way to go:
Identify gaps in your UGC coverage
Run a social media campaign or retarget customers for feedback on their purchases to boost on-site and syndicated UGC
Take note of reviews and questions without responses — 69% of shoppers who write a negative review expect a response, and responses to positive reviews go a long way in building trust with shoppers
October
It's almost showtime. October is when most people start holiday shopping. So, it's a great time to make sure your team and systems are ready to handle shopping spikes. Here's how:
Firm up any planned code freezes, increase staffing, and have a plan in case a system breaks or goes down when people are browsing and buying
Add social content that you've collected from sampling campaigns before your code freeze. This will inspire shopping decisions and increase sales, as 75% of shoppers want to see visual and social UGC on product pages when they shop
Keep responding to reviews and questions. It'll build relationships and help shoppers buy with confidence
November
The holiday season is officially here! Go ahead and put up your twinkle lights and Christmas tree, and get your holiday playlist on repeat.
Once Halloween is over, consumers really start thinking about holiday gift shopping (if they haven't already). If you started prepping in March, you'll have a solid UGC strategy in place to be ready for Thanksgiving week, including Black Friday, Small Business Saturday, and Cyber Monday. You'll see shoppers flocking to your website and filling their shopping carts.
December
Holiday shopping is still going on, and there are plenty of last-minute shoppers hitting the stores digitally and in person.
Learn from your Cyber Week successes and failures, and finish the holiday shopping season strong. Think about ways you can tweak product descriptions or bring fresh content to your social content galleries.
And keep engaging with shoppers — it's a crucial time to continue responding to UGC.
3 examples of winter seasonal marketing campaigns
Here's some of our favorite examples of brands that perfected their marketing timelines, jumped into the holiday spirit, won over shoppers, and boosted sales.
1. Fresh
The all-natural beauty brand used Bazaarvoice Review Syndication to launch limited-edition products, including holiday gift sets. By the time the sets launched, Fresh had a trove of reviews and visual UGC on its product pages.
The brand consistently drives a 10.7% conversion rate when shoppers engage with UGC.
2. Albertsons Retail Media Collective & PepsiCo 
PepsiCo debuted a social-focused cashback campaign, rewarding shoppers when they posted photos and comments about Tostitos chips and salsa on TikTok and Instagram.
The campaign generated 7.3 million social media impressions, and about 90% of consumers said they'd recommend PepsiCo/Tostitos to their family and friends.
3. Patchology 
To boost awareness for its All Eyes on You kit ahead of the holidays, Skincare brand Patchology created a custom Influenster VoxBox and sent it to 1,000 millennial skincare enthusiasts.
The campaign resulted in over 1,700 reviews and 6.3 million impressions.
Sampling gives your winter campaigns a boost
Is your brand ready for the holiday shopping season? Read our full winter marketing timeline guide to help you get ahead and set yourself up for a joyous holiday season.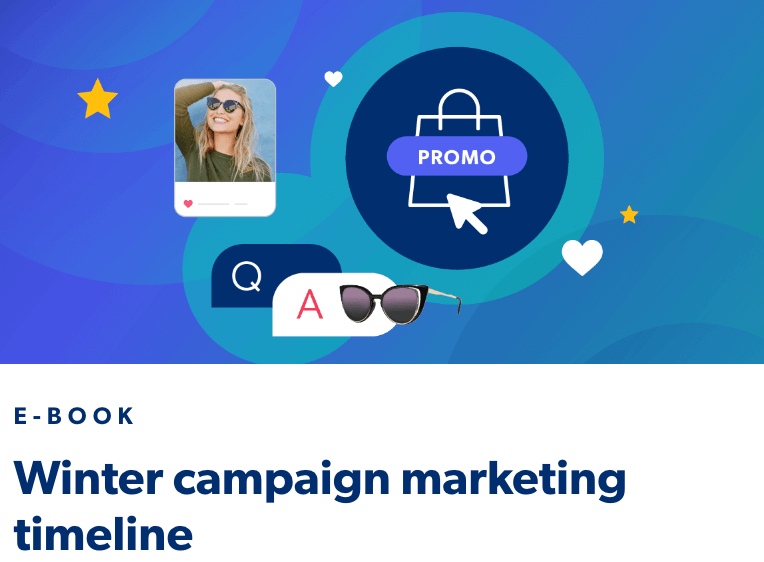 ---
Spring campaigns: How to plan a marketing timeline
Flowers are blooming, birds are chirping, and the chill in the air is starting to fade. Springtime brings so much newness, and it will inspire consumers to shop.
The season also encompasses many events and holidays — think: Easter, Passover, Mother's Day, spring cleaning, and the first barbecue of the year. Shoppers will be looking for new outfits, gifts, and items to spruce up their homes and outdoor spaces.
If you're thinking about hopping into spring with a vibrant sampling campaign, late summer is the best time to start. This marketing timeline will help you get ahead and set yourself up for a beautiful spring campaign.
August/September
As summer winds down, start thinking about springtime. It's a good time to finalize your budget and think about what resources you need well in advance.
Establish a UGC budget. Collecting ratings, reviews, and shopper photos and videos and adding them to your product pages will give them a refresh for spring. Remember, 89% of consumers always or mostly check reviews before purchasing something.
If you have ideas for springtime partnerships with other retailers and brands, get in contact now. This will give you plenty of time to develop something exciting for your customers. And, don't forget to secure your spot on store and digital shelves and start thinking about your spring marketing strategy.
October/November
Spend time in the fall, before the holiday hecticness, to settle on your advertising strategies and activate your sampling campaign.
You'll have plenty of time to send out samples and bring in a fresh crop of review content before March. New, relevant content inspires shoppers. They care more about how recent a product's reviews are than how many reviews an item actually has.
Retailers should invite brands into their UGC programs by encouraging review collection and syndication — McPherson's is a great example. The consumer products brand uses sampling campaigns to boost reviews on its e-commerce platform and syndicates them to partners to drive excitement for new product launches. About 20% of its new reviews come from sampling.
December
With consumers busy holiday gift shopping, it's time for you to focus on spring. The influx of holiday sales makes it an optimal time to collect organic reviews.
Send an email or text message to consumers after their purchases to ask them to share feedback — just give them enough time to try out their items first. And keep the messages short and sweet!
December is a great time to launch your sampling campaign (if you haven't already). Identify products that need more or fresh reviews. Then, ask consumers to try out those items and leave a review or post photos of themselves using the product on social.
Take time to respond to existing UGC and answer any questions that shoppers left. They expect brands and retailers to respond to positive and negative feedback, and doing so builds trust.
January/February
It's a brand new year! Consumers are celebrating Valentine's Day and shopping for cards, candy, jewelry, and flowers.
But, spring is just around the corner. Now is a terrific time to spring clean your website. Revisit old content, revamp product descriptions, evaluate core pages, clean up your shop's data, and respond to new reviews and questions.
And incorporate social content and other UGC you collect from your sampling campaigns. It'll instill trust and build authentic connections with consumers. Shoppers want to see how products look and work in real-life settings — 62% of shoppers are more likely to buy a product if they can view customer photos and videos
March
You made it to spring, and all your hard work is paying off. Consumers are researching and getting ready to shop for the season's most-wanted items. They're looking for green ahead of St. Patrick's Day, plus grills and outdoor accessories as the weather starts to warm up.
Start running promotions ahead of Easter, and you'll see shoppers buying their chocolate bunnies, baskets, and pastel dresses early.
April
What worked well and not so well in March? This month, take stock of your early spring strategies. Look for product pages that need a few tweaks or fresh social content that you can add to a gallery. After all, shoppers are more likely to buy products when visual UGC is featured on product pages.
It's crucial to continue engaging with shoppers as your spring campaigns wind down. Responding to UGC, including reviews on your website or social media posts featuring your products, lets shoppers know how much you value their feedback.
3 examples of spring seasonal marketing campaigns
Below are a few brands that launched stand-out spring campaigns thanks to a stellar marketing timeline.
1. Kärcher 
Cleaning equipment company Kärcher uses Bazaarvoice Sampling to target customers with new product launches and generate high-quality reviews quickly. Ahead of one of their first product launches with sampling, 98% of consumers who received samples left a review.
Kärcher also features UGC on its product pages, which increases conversions and deepens its relationships with retailers.
2. Clarins
Sampling helps Clarins collect fresh UGC for existing products and leading up to new product launches. One campaign brought in 138 reviews in 36 days, and the luxury beauty brand sees a whopping 111% increase in conversions when shoppers read reviews on its website.
3. LG UK 
For new product launches, LG UK uses sampling to pre-populate product pages with reviews before the items are released. Every consumer who receives a sample usually leaves a review, and the company averages a 4.9 rating.
LG UK also uses review syndication to ensure reviews pop up wherever consumers shop.
Spruce up your spring campaigns with sampling
Are you thinking about hopping into spring with a vibrant sampling campaign? Our sampling community is your content engine. Read our full strategic marketing timeline to help you get ahead and set yourself up for a blissful spring shopping season.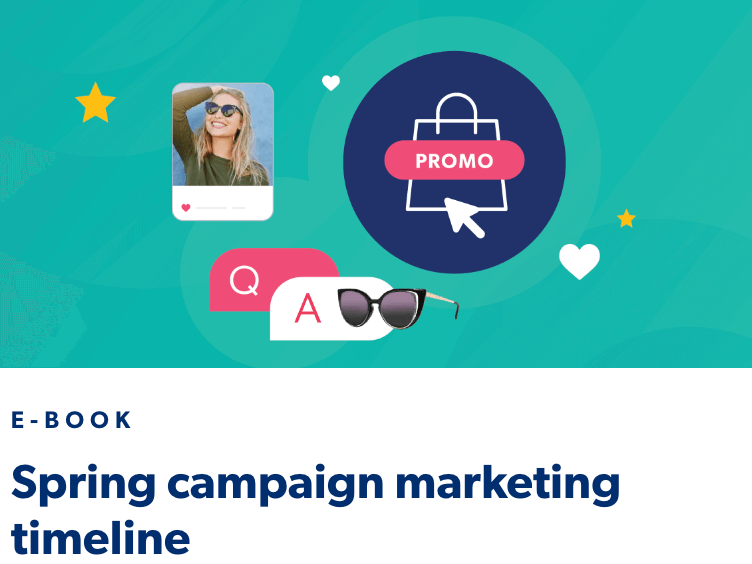 ---
Summer campaigns: How to plan a marketing timeline
The summer retail season is one of the busiest: School's out, vacations are booked, pool days are the norm, and consumers have a lot to shop for. Father's Day and Prime Day also drive summer purchases.
To ensure your summer campaigns are sizzling hot, start planning while your holiday campaigns are in full swing. This will set your summer retail season up for success. Use this proven marketing timeline to help.
December
Kicking off a UGC campaign now is the best way to get ready for summer. Decide which products need more reviews and more recent reviews. Starting to collect UGC now means you can help shoppers make the most informed decisions by the time summer rolls around.
Consumers trust UGC just as much (if not more) than recommendations from friends and family. They especially appreciate seeing fellow shoppers wearing and using items in real life. It's no wonder that 62% of shoppers are more likely to buy something if they can see customer photos and videos.
Also, don't forget to reach out to brands that you want to partner with on summer products or campaigns. Talk to retailers about securing shelf space for your products.
January
Launch your sampling campaigns now! This will get new and relevant reviews flowing in, which shoppers rely on as they're browsing for things to buy.
Consumers love freebies and appreciate opportunities to try something and provide feedback. Sampling inspires loyalty, as many consumers start buying the items they've tried out. Plus, you reap the benefits of word-of-mouth marketing, as 87% also recommend the product and brand to friends and family.
Sampling also provides a wealth of UGC that you can display on your product pages to instill confidence in consumers as they shop. This UGC can also be syndicated on retailer websites to reach even more shoppers.
February
Valentine's Day means love is in the air, and consumers are shopping for their significant others, friends, family, and pets. Use these holiday purchases to drive your UGC collection efforts.
Sending an email or text after Valentine's purchases will spur organic review collection. Just keep your message short and focused on the review request. Don't forget to give consumers enough time to receive and try out the product before asking for a review.
As an example, Petmate increased review volume by an impressive 380% after activating In-Mail, which enables shoppers to rate and review products directly in their email, and Multi-Product Submission, where they can review all recent purchases in one submission form.
"The moment we enabled these two features, our review volume skyrocketed," said Chad Siegert, Director of Consumer Marketing, Petmate.
March
March is the last call for sampling campaigns to collect new UGC before summertime and back-to-school season kick off. But, there are other ways to boost review coverage, too.
Identify your top-selling summer products and see which product pages need a refresh. Run a social media campaign or target customers who've purchased those items to ramp up UGC collection, especially visuals. Shoppers are more likely to buy products with consumer photos and visuals.
While you're reviewing your product pages, pay attention to reviews and questions that haven't been addressed and respond to them. Shoppers expect retailers and brands to respond to both negative and positive reviews — it shows that their feedback is valued.
April
This month, finalize your summer plans. This will free up your marketing teams so that they can relax over the summer.
It's a good time to make sure your website is mobile-friendly. With so many people traveling in the summer, you want to make it easy for them to browse, shop, and buy from your store on their mobile devices, wherever they are.
More and more, consumers take an omnichannel approach to shopping. According to our research, 63% of consumers use their phones while browsing in stores to compare prices and look up product reviews, and 36% have purchased something via mobile shopping while in a brick-and-mortar store.
Here's some other things to add to your April to-do list:
Add social content from past sampling campaigns to your website
Keep responding to existing reviews
Answer questions that your customers have posted
May
Memorial Day, the unofficial beginning of summer, is just ahead. Consumers are getting ready for the season by shopping for swimsuits, sunscreen, patio furniture, and pool floaties. Start running promotions on these items to get shoppers in a summer state of mind.
Leverage social media by featuring some of the visual UGC you collected from the sampling campaigns over the past couple of months. Social commerce inspires purchases. Just make your posts shoppable — 54% of consumers are more likely to buy a product on social media when they can click on the post and get info right then and there.
June
It's officially summer! Your summertime campaigns are making a splash, but the work doesn't stop there. Engaging consumers is a year-round business.
Keep an eye on your product description pages. Add UGC to your galleries and respond to reviews that flow in. These minor tweaks will help you stand out and let customers know that their feedback is your number one priority.
3 examples of summer seasonal marketing campaigns
These brands hit it out of the park with their summer campaign marketing timelines.
1. Samsonite
Last summer, the iconic travel brand Samsonite encouraged consumers to "Take What's Yours" and use up their paid time off. The campaign incorporated social media posts and hashtags.
The brand also uses Bazaarvoice Galleries, which has helped them increase conversions 4x, time spent on product pages by 5x, and average order values by 254%.
2. The Athlete's Foot
The Athlete's Foot created a hub to help parents shop for their kids' back-to-school shoes. To encourage sales, the brand leverages Bazaarvoice Ratings and Reviews and Review Syndication.
The combo of the two helped the brand collect thousands of reviews and more importantly, boost conversions by 26%.
3. Fresh
Beauty brand Fresh used sweepstakes to increase engagement during the summer. They asked consumers to leave reviews for their favorite products from their Rose collection and enter to win a $100 gift card.
The fun campaign brought in 145% more reviews than normal and a fresh set of review content for evergreen products.
Heat up your summer campaigns with sampling
Do you know what you should be thinking about in the midst of winter? Your summer shopping season plans. Put some sizzle into your summer campaigns with our full summer marketing timeline below and set yourself up for a successful summer season.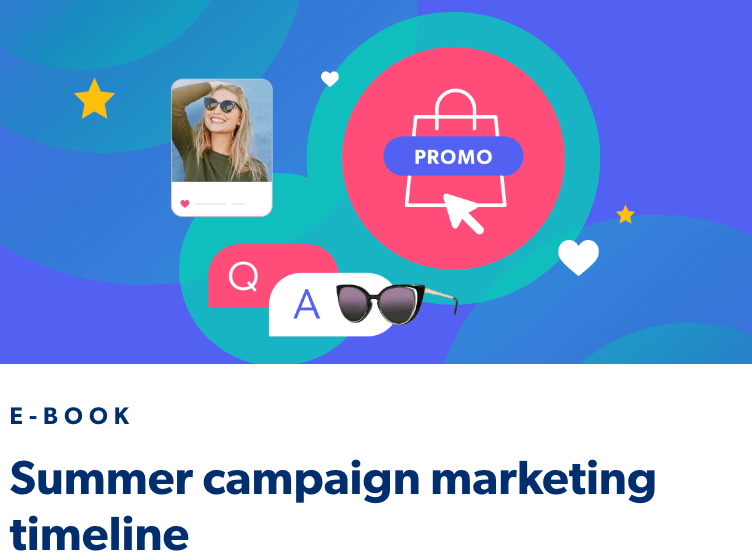 ---
Fall campaigns: How to plan a marketing timeline
Pumpkin spice lattes, jack-o-lanterns, crisp air, and colorful foliage — fall is hands-down the coziest season. There's a lot of shopping going on, too. Consumers are looking for Halloween costumes, Thanksgiving cookware, festive decor, and trendy new clothes. They're also starting to think about holiday gifting.
To capitalize on the increase in consumer spending, you'll need to start planning in February. Here's a specific marketing timeline to help prepare for a bountiful fall season.
February/March
The early part of the year is the optimal time to gear up for fall. Get a timeline and budget in place for UGC.
Ratings, reviews, and customer photos and videos can zhuzh up your product pages — which can mean the difference between a successful fall and a flop. Best-in-class websites with UGC see up to a 190% boost in revenue per visitor and up to 145% higher conversion rates.
Set up partnerships with other brands for must-have autumn products. Discuss your fall plans with retailers to ensure you have a place on their shelves and identify which campaigns to run.
April/May
Spring is the best time to start a sampling campaign to increase UGC volume for fall. Sampling campaigns are a surefire way to impress your retail partners.
Sampling drives product discovery and spurs UGC collection. It also encourages customer loyalty. Shoppers that try samples often buy the product again and again, buy more things from the brand, and recommend it to friends and family.
Consumers love sharing their thoughts with you. So, sampling brings in an influx of reviews and freshens up UGC content. Seven in 10 shoppers would rather buy a more expensive product with higher ratings and reviews than a less expensive product with fewer reviews.
June
Pride Month is celebrated globally in June. Diversity and inclusivity are a core part of many retail campaigns during the month.
It's a good time to capitalize on any summer or Pride-related purchases by sending texts or emails to customers asking them for a review. When you seek out reviews in this way, keep the messaging short and to the point, and make it easy for consumers to leave a review.
There's also still time to launch a sampling campaign before the fall. Identify your hero items for autumn and get them into consumers' hands. This strategy will bring in fresh UGC that you can feature on product pages to lure shoppers.
If you've identified gaps in your UGC coverage, another way to boost collection is via social media campaigns. Make a note of reviews and questions without responses, and be sure to respond. Shoppers have grown to expect brands to respond to all feedback, negative and positive.
July/August
It's almost fall! Make a plan for your team and your systems so that they're equipped to handle anything unforeseen, especially big spikes in shopping around back-to-school.
Setting a code freeze, increasing staffing, and having a backup plan are essential steps to be ready in case a system breaks or goes down while shoppers are on your site.
But, before you set a code freeze, add the social content you've collected from your sampling campaigns. 75% of shoppers say they want to see UGC on product pages while they shop — and they're looking at reviews, too. 78% of online shoppers trust online reviews the most, so keep responding to positive and negative reviews and questions.
September
This time of year includes Halloween, Black Friday, and the start of holiday gift buying — consumers are researching products, looking for fall inspiration, and gearing up to shop.
If you run promotions early and have a solid UGC strategy in place before September hits, shoppers will start buying as soon as autumn rolls around.
October
Take stock of what worked well and not so well in September. What tweaks can you make to product descriptions that'll inspire shoppers to click buy? Is there any fresh social content that you can upload into a gallery?
These minor adjustments will draw consumers. Shoppers crave UGC in order to make informed purchasing decisions faster. So don't forget to respond to UGC during this time — it's crucial for increasing conversions.
3 examples of autumn seasonal marketing campaigns
These brands launched exciting campaigns that made a mark on fall shoppers.
1. Petco 
To help pet parents learn about new products for their fur babies, Petco launched the Spotted Sampling Program, including themed boxes for Halloween. The program has led to a 405% increase in review volume and a 48% jump in revenue per visitor for sampled products.
2. Land O'Lakes 
Consumers celebrate fall by gathering with friends and family, so grocery shopping is essential. To inspire shoppers, Land O'Lakes used Bazaarvoice Sampling to send butters and spreads to select customers and collected more than 1,000 reviews.
The brand has also syndicated over 30,000 reviews to retail sites across the Bazaarvoice Network.
3. Home Depot Canada
To get high-priority products into loyal shoppers' hands, Home Depot Canada launched a Seed Sampling program. Targeted audiences receive products in exchange for leaving honest reviews.
As a result of the campaign, the program has helped the retail giant double its conversions.
Supercharge your fall campaigns with sampling
It's never too early to start thinking about the fall holiday shopping season. To get it right, you need to begin prepping as early as May. Our full fall marketing timeline below will set you up for a successful fall season.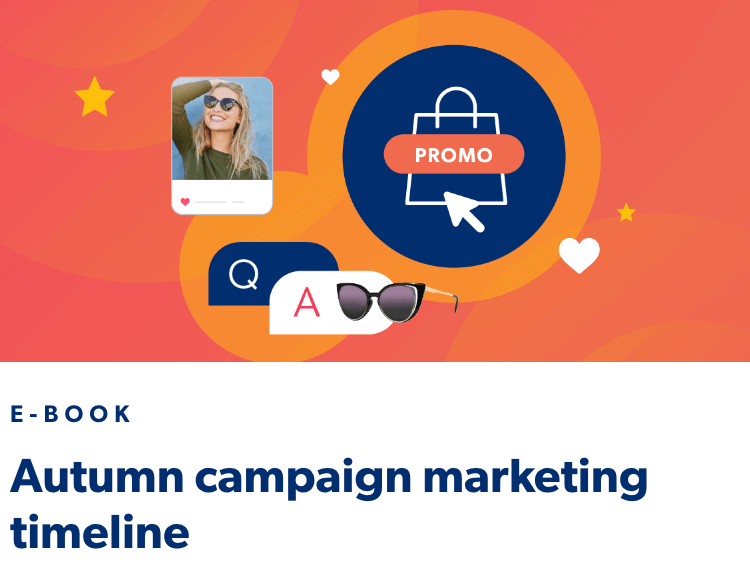 ---
Nail your marketing timeline strategy with Bazaarvoice Sampling
Bazaarvoice Content Activation Solutions (CAS) can fuel your UGC program. You can easily tap into our sampling community of over 7.5 million shoppers and collect high-quality UGC that will inspire shoppers and boost sales.
Our solutions help drive 3x more reviews with photos, 2x longer reviews than native benchmarks, and 5% average social engagement from sampling participants.
We can help you target your ideal customer profile and ensure that the right shoppers and creators engage with your products and generate relevant UGC for your brand. Learn more about Bazaarvoice Sampling here. Or get in touch below to learn more.
Request a demo