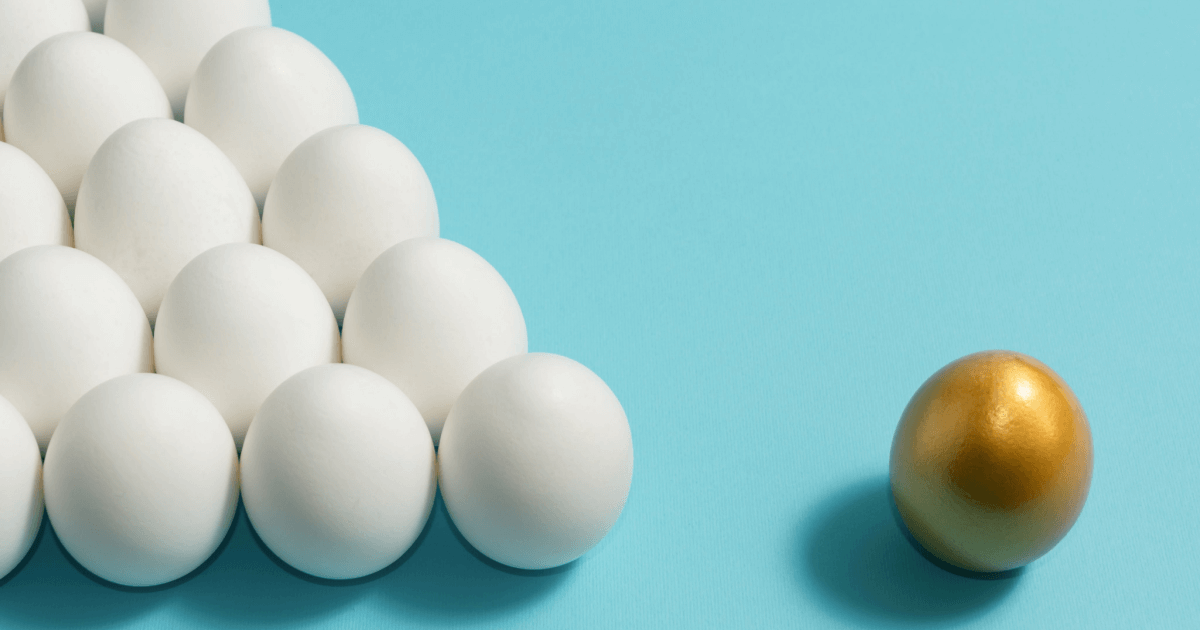 Convenience, innovation, personalization, and customer connection — some of the traits needed to deliver an exceptional e-commerce experience for your shoppers. Here we'll talk through each point in detail, using some of the best brand examples we've seen.
Chapters:
---
---
Why do some people go to the theater to watch movies when they can stream them from their couch? It's the big screen, the sound, the lighting, the audience, the popcorn — the experience.
Just like moviegoers, shoppers also want an elevated experience, whether that's in a physical store or an e-commerce store. In fact, over half of consumers would be less loyal to a business if the e-commerce experience isn't as enjoyable as in-person. Furthermore, 55% of customers claim they'd stop purchasing from a brand altogether after several bad experiences. Another 8% would end their relationship after just one bad experience.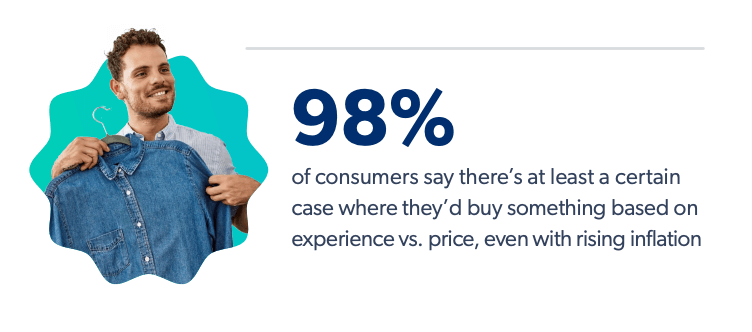 An exceptional e-commerce experience is no longer just a surprise-and-delight bonus for customers. They've come to expect it and their standards are higher than ever. Especially since the pandemic, more people are shopping online and technology keeps evolving. So, for brands to remain competitive and attract and retain customers, they must emphasize the overall experience as they do the transaction.
Learn the criteria for an outstanding e-commerce experience and how top brands deliver it for their customers so you can emulate their success.
Benefits of a strong e-commerce experience
The individual components of a successful e-commerce strategy all have their own benefits — together they create an overall winning customer experience. When you design your e-commerce strategy to exceed your customers' expectations, they'll show their appreciation. Customer experience is an important purchasing decision factor for 73% of consumers.
Just like going to the movies, people are willing to spend money for a better e-commerce experience. According to McKinsey, a positive customer experience results in a 10-15% increase in sales-conversion rates. In particular, 43% of consumers would pay more for greater convenience.
Customers are willing to volunteer their own data in exchange for a better experience. That data, including their email address, birthday, gender, location, preferences, and other information, fuels the very personalization that improves the experience.
The traits of a superior e-commerce shopping experience
The key to creating an amazing e-commerce experience is supplying what your customers want and need. Focus on what will be most convenient, appealing, and user-friendly for them to guide your action plan.
Accessibility
Making your website accessible is fundamental to a high-quality e-commerce experience. Having an accessible website means that anyone can easily understand and navigate it, regardless of skill level, age, or physical capability.
While this seems like common sense, a staggering 94% of the highest grossing e-commerce sites don't meet accessibility requirements. Considering this reality, if your site is fully accessible, you'll be an outlier among your competitors. You also won't risk losing customers and sales because of a poor or difficult website experience — inclusive marketing should be the bare minimum. So ensure your e-commerce site is accessible for your customers by following these standards:
Optimize images with alt text and descriptions for visually impaired users
Label hyperlinked images for visually impaired users
Use adequate color contrasting on linked text for colorblind users
Form fields should be sufficiently marked up with descriptive labels and prompts
Videos should have captions for deaf and hearing-impaired users
Your website should be operable using just keyboard navigation and be mobile optimized
Personalization
Personalization is another critical part of the customer experience. Personalized marketing is the practice of using customer data to deliver relevant offers and recommendations based on customer preferences and activity.
Personalization enhances and improves the customer experience because it delivers what shoppers are looking for: convenience, product discovery, or content that appeals to their curiosities and interests. It's a growing priority for consumers, and has a significant business impact for e-commerce companies.
Twilio Segment's State of Personalization 2022 report found that almost half of the 3,000+ consumers surveyed would likely become repeat customers after a personalized shopping experience. Conversely, 62% of consumers claimed that they'd stop being loyal to a business after an un-personalized experience. Out of the business leaders surveyed, 80% say that customers spend an average of 34% more when their e-commerce experience is personalized.
Augmented reality (AR) is growing as an immersive personalization trend — 74% of consumers are excited that brands are enhancing shopping experiences with AR. AR is a type of technology used in marketing that allows shoppers to virtually try on and experience products. Snapchat and TikTok filters are examples of popular AR features from the past several years. Major beauty, apparel, and home decor brands leverage AR to let customers interact with and visualize products before making purchases.
Customer support
E-commerce sales, including mobile purchases, are increasing at a higher rate than brick-and-mortar sales for U.S. consumers in 2022. More consumers are drawn to online shopping each year because of the convenience and ability to browse, discover, and compare brands and products easily. This shift towards online shopping also comes with high expectations for online customer support. Customers want their questions answered and problems solved on the same platform where they shop.
Successful customer support empowers customers to solve problems themselves without escalation, and when issues require intervention, it entails fast and effective service. The result is happy customers and better performance for brands. Customer support that mitigates problems leads to increased customer acquisition and loyalty.
"Value enhancement" customer support increases repurchase likelihood by 82%, wallet share by 86%, and sharing positive experiences by word of mouth by 97%. This approach focuses on predicting customer behavior to tailor interactions and allocating experienced customer reps for high-priority issues.
Effective online support methods include:
Omnichannel marketing
These days, shoppers use a variety of digital touchpoints to search and purchase products. Building an omnichannel strategy enables you to reach all of your customers on each platform where they're active. That means expanding your presence beyond your e-commerce site to social media channels, text messages, emails, and mobile apps, depending on your customer demographics.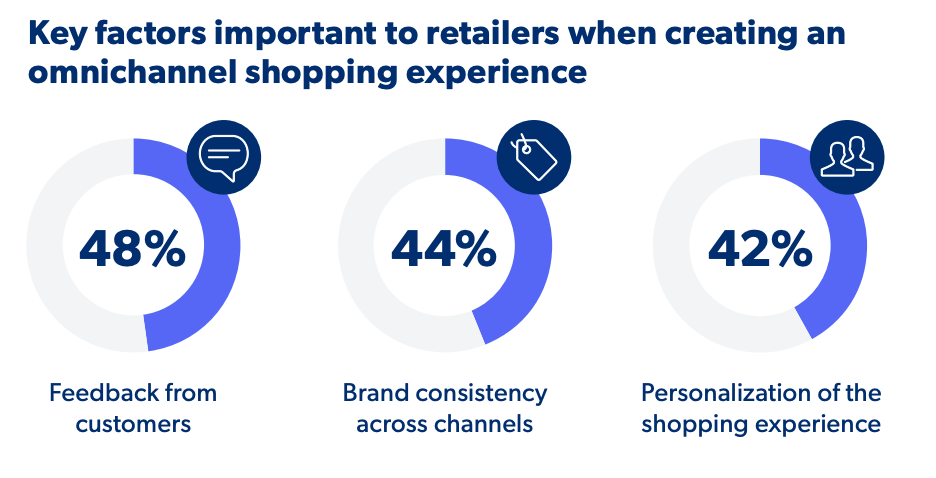 An important part of omnichannel marketing is meeting customers at every stage of the buyer journey. For e-commerce brands, that often means:
On social media at the discovery stage
On product pages at the consideration stage
In emails at the loyalty stage
Practicing an omnichannel strategy is also a valuable tool for gathering and evaluating customer data. By collecting data on every touchpoint, you can build a more detailed and accurate profile for each of your customers. This ensures that you serve them pertinent messaging at the right time. For example, if a customer leaves a poor review on a product, they shouldn't be seeing Facebook ads about that product. Likewise, if they already purchased a particular product, they shouldn't see ads for that product.
The final step to completing a high-performing omnichannel strategy is linking your various channels for a seamless customer experience. If someone sees an ad on Instagram and starts a purchase on their phone, they should be able to finish it on their laptop at a later time if they choose.
By taking an omnichannel approach, you'll have more opportunities to capture customers and sales. Plus, you'll provide a cohesive customer experience across the multiple channels they use to browse and shop. An omnichannel presence gives customers greater access to your brand and keeps it top of mind.
Social commerce
Social commerce is an extension of e-commerce but on social media channels. People are already on social media all the time, so it makes sense for them to be able to do their shopping there, too. It eliminates friction along the buyer journey.
Consumers have fully embraced social media as a marketplace. According to DataPortal's Digital Statshot Report, 75% of global internet users use social media to research brands and products. And just in the U.S., social buyers are projected to grow to 114.3 million by 2025, an 18% increase from 2021.
Gen Z is the biggest audience for social commerce, with 57% discovering new products on social channels in recent months. Almost half prefer Instagram Stories as a source of inspiration, followed by 41% who look to short-form videos on Instagram Reels and TikTok. Facebook and YouTube are more popular with older audiences. Twitter is anyone's guess with Elon Musk in charge.
To provide the best experience for your customers on social media, tailor your content to match the most popular types on those channels. For consumers, the most memorable content from brands includes funny content, relatable content, and product tutorials and demos. Consumers also want the brands they follow to earn their trust by raising awareness and speaking up about important social issues. Brand building is equally as important as selling when it comes to the social commerce experience.
6 brands that ace the e-commerce experience
There's a lot to consider when crafting an A-list e-commerce experience. It requires smoothly integrating all the ingredients of a successful shopping spree for customers at every turn, on every channel. One good thing about a saturated market is there's plenty of brands doing a stellar job to draw inspiration from.
These examples show how different brands in various industries make online shopping seamless, educational, and fun at different points along the customer journey. Take notes to level up your own production value.
Plenty optimizes product pages with ratings and reviews
The volume and recency of product reviews are two of the biggest factors that influence purchase decisions. That's why Plenty prioritizes their customer review strategy to optimize their e-commerce site for ready-to-purchase customers. Leveraging this powerful form of user-generated content (UGC) showcases their own customers' feedback, providing social proof for other shoppers.
Plenty encourages reviews with a CTA for visitors to leave a review for a chance to win £100 every month. Their review collection efforts result in hundreds and thousands of reviews per product. They put those reviews to good use, analyzing the insights found in them to develop new products and marketing content.
For example, when pet adoptions surged in the U.K. during the pandemic, so did reviews about how Plenty products help with pet clean-up. As a result, Plenty developed helpful blog and social media content for pet parents.
Samsonite inspires shoppers with customer photos
The luxury luggage brand Samsonite strengthened their omnichannel experience by funneling their social media content to their e-commerce site. Using Bazaarvoice Galleries, Samsonite displays visual UGC of customers and influencers with their products throughout their site. The images are linked with the featured products so customers can purchase directly from the gallery.
Using a social media hashtag campaign, Samsonite was able to generate 27,000 pieces of UGC to promote their products on social media and their product pages. This strategy resulted in a significantly higher dwell time on pages with galleries and a 245% increase in conversion rate. This boost in visual content supports consistent branding across channels and entices shoppers with relatable marketing.
Bemz personalizes social commerce
The Bemz business model relies on personalization, and so does its e-commerce experience for customers. Bemz makes customized, made-to-order covers for IKEA furniture. With so many product options, the brand realized it needed UGC to give shoppers an accurate representation of how their products look in real life settings.
Bemz leans on social media to collect and promote both branded and UGC media. They make their social content shoppable by enabling social commerce. By turning their social feed into a digital storefront, they increased their click-through rates on social channels by 41%.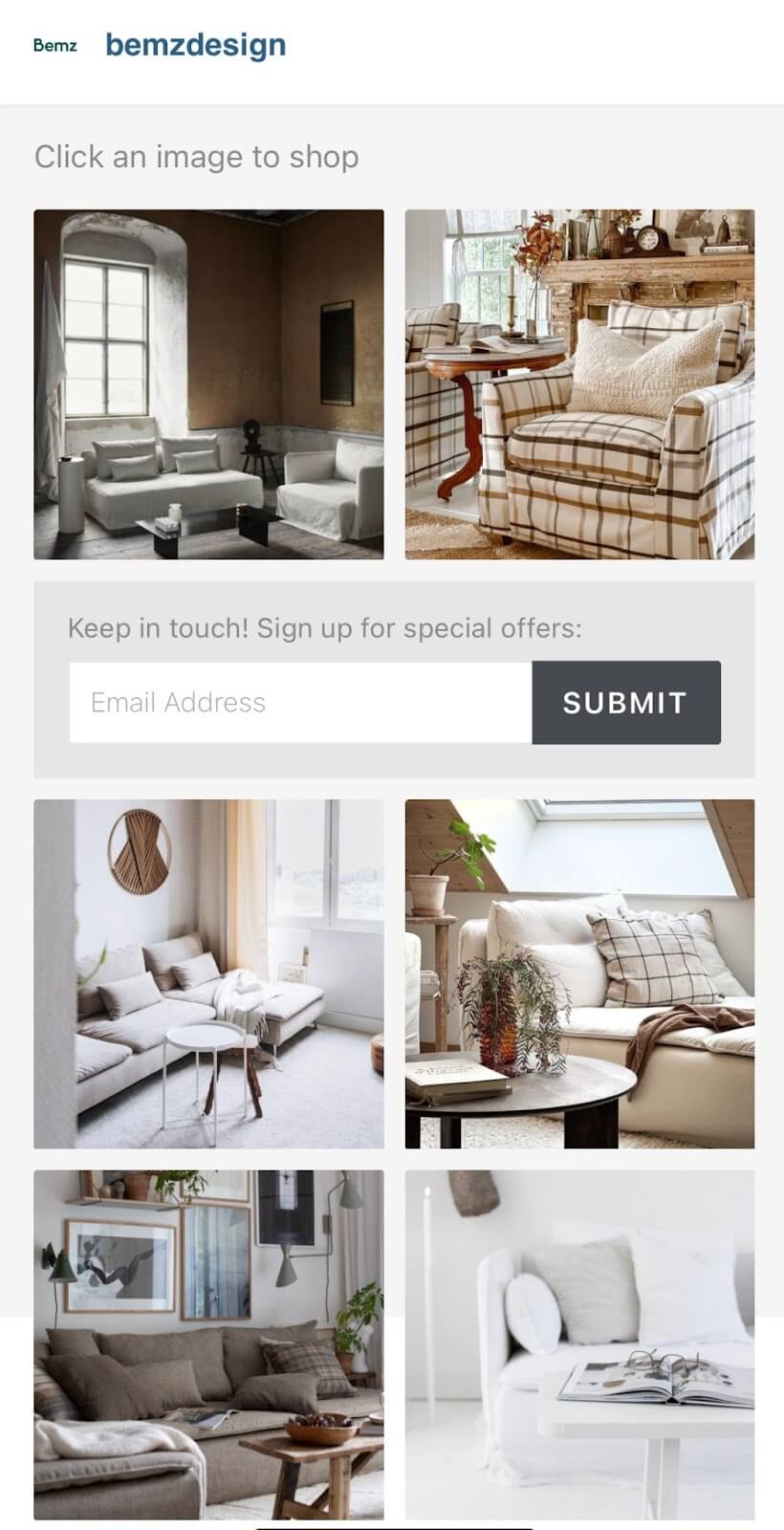 Kohl's innovates with augmented reality
Speaking of amazing movie experiences, remember that scene in Clueless when Cher picks out her outfit every morning with a computer program? That movie was really ahead of its time, because that's exactly what Kohl's AR feature does, except on Snapchat.
Kohl's Virtual Closet gives shoppers the opportunity to mix and match different outfits from select Kohl's products. This takes the concept of cross selling to a whole new level. With Snapchat's selfie feature, users can also virtually try on products in the virtual closet. When shoppers find items they want to purchase, they can do so right on the app without ever leaving.
This campaign combines augmented reality with social commerce for the ultimate e-commerce experience.
Snug brings the in-person experience online with live shopping
Snug thinks outside the delivery box regarding their e-commerce customer service. The sofa company solves the common customer dilemma of making a big furniture purchase online with their live shopping service. Their entire Live Shop program is a study in customer-centric e-commerce excellence.
Snug's Live Shop invites shoppers to book an appointment with a showroom consultant to get a better look at their sofas and ask any questions they have in real-time. As they outline on the Live Shop page of their e-commerce site, this feature fits into every stage of the customer journey:
Because you've just started looking
When you've seen a few different sofas
When you're almost ready to buy
The landing page itself is a great customer service tool, complete with its own FAQ section, customer reviews specifically about the Live Shopping experience, and overall Snug reviews about their glowing customer service.
Fresh stimulates visitors with an immersive experience
Over the past 30 years since its inception, Fresh has become a global natural beauty brand with an e-commerce experience to match the detail and care that goes into their products. One of the challenges with having a mostly online business for beauty brands is the inability for customers to try different products. There is no way to smell fragrances or feel textures.
Instead, Fresh designs their website with interactive content and visuals for an intricate digital experience. The home page greets you with a fun and enticing "spin to win" mystery offer game. When you've won your prize, you can then explore product categories, curated gift sets, their sustainability practices, details on their ingredients, and much more.
Their product pages are just as rich and robust, giving a deep dive into individual product ingredients and clinical test results. Their collection of customer reviews features photo-first displays so you can see products on real people in addition to reading about them.
Measure the success of your customer e-commerce experience
After you've laid the foundation for a sparkling e-commerce experience, you need to track its performance. Determine if it resonates with customers and produces results by analyzing key performance indicators. There's many different metrics you can look at to reach these conclusions, but here's some important ones you can start with:
Customer retention rate: The percentage of customers who make repeat purchases from your e-commerce shop. This is a great indicator of the quality of your e-commerce strategy, because if it satisfies customers, they'll keep coming back
Conversion rates: The percentage of website visits that result in a desired conversion, such as product clicks and orders. If your website is accessible and conveys the value of your products, your conversion rate will prove it
Average order value: The average purchase amount per order on your e-commerce and social commerce channels. When customers spend more money, that's a good sign that they connect with your products, brand, and overall e-commerce presence
Customer sentiment: Your customers' feelings and opinions about your brand. You can measure customer sentiment by analyzing the insights from customer reviews and customer satisfaction surveys. This information provides you with specific feedback on your brand's e-commerce experience
To get started, learn below how retail giant Walmart has evolved its e-commerce experience, and plans to do so in the future, as explained by Alyssa Thomas, Director of Product, Content as Commerce, at Walmart.com.