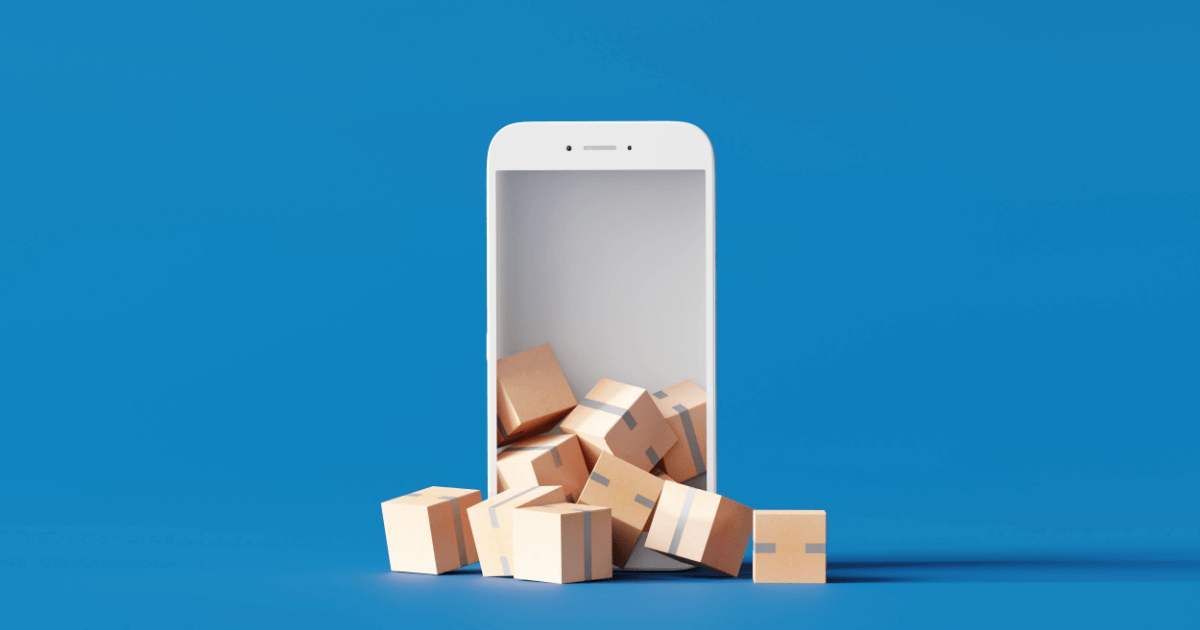 E-commerce shopping is always changing. The way consumers purchase products online today looks completely different from 10, five, or even two years ago. According to eMarketer, e-commerce sales grew to $845 billion in 2022, and mobile commerce accounts for almost 50% of that.
Finding ways to stand-out and make the e-commerce shopping experience faster and more convenient for customers should be a key priority for brands and retailers in years to come. Because if you aren't focusing on this, your competitors are. 
4 ways to make your e-commerce shopping more convenient
It can be tricky to get your e-commerce shopping strategy right with so many factors at play. Price, experience, convenience — there's multiple factors shoppers need. Here's the best ways to meet those consumer demands.
1. Make e-commerce shopping convenient
With an abundance of e-commerce options available today, shoppers have distinct preferences that impact what makes it into their shopping cart.
According to our Shopper Experience Index, price and convenience continue to be the two most significant factors when deciding between products or trying out new shopping habits. There's a variety of convenient order fulfilment options for brands and retailers today.
a) Buy online, pick up in store (BOPIS)
E-commerce meets brick-and-mortar. Our Shopper Experience Index found that shoppers' biggest pain points when online and offline shopping are long checkout lines in-store and slow online order fulfilment. BOPIS is the solution to those issues. 50% of consumers base their shopping decisions on whether they can buy online and pick up in store or not.
During the pandemic, BOPIS became essential to businesses. It helped keep shoppers and retail employees safe by reducing in-person interactions, it allows businesses to continue selling despite store closures, and it enables people to conveniently secure groceries, toiletries, and essential must-haves.
And since the pandemic subsided, consumers realized all of the above should be the benchmark for shopping going forward.
That's why BOPIS has now been embraced by major retailers like Target, Walmart, Home Depot, and Tesco. 90% of retailers are expected to offer BOPIS, according to Digital Commerce 360. 
b) Delivery
Delivery is another fulfillment option that has seen a sharp rise in popularity, when customers sought safe, low-contact ways to get their purchases. OptimoRoute, a route planner for delivery and field service, found that their monthly retail delivery orders grewg by as much as 65% during April 2020 and haven't slowed down. 
According to a Good Eggs Inc. survey, 68% of consumers ordered groceries online for home delivery between March and late August 2020. Of those shopping online for groceries, 81% plan to continue doing it once the pandemic is over.
E-commerce shopping and product deliveries offer consumers the convenient way to purchase goods that they want. 
c) Carside delivery
Carside delivery or curbside pickup has also seen a recent surge in popularity. This option feeds consumers' need to research and purchase products online but still pick them up without paying shipping fees, which they're slowly cracking down on.
About 59% of customers say they're more likely to continue curbside pickup and that number is only expected to rise. Case in point: the rise of Deliveroo and GrubHub users selecting "pickup" orders only to avoid extortionate delivery fees.
2. Shopping on social media
Social media is no longer a place for pretty pictures. Shopping on social media is now the raison d'etre. Our Shopper Experience Index found that 52% of shoppers have made a purchase on social media, and 69% have been inspired by social media to make a purchase on another channel. The reason being the ease for the consumer, so the fewer steps the customer has to take from discovery to purchase, the better.
By making social media channels shoppable, brands can provide consumers with another faster, more convenient way to buy products. In the same study, 1 in 5 consumers said it's important or very important to be able to discover and purchase products directly from social media platforms like Instagram, Facebook, and Pinterest.  
Even TikTok is jumping on the in-app shopping trend. Recently, TikTok began testing a feature that allowed select users to put links to e-commerce sites in their profile bios and also let some users send followers directly to shopping sites.
If you aren't already, make sure your brand uses "item tagging" when posting content. You'll be able to tag the products in your posts, and customers can easily click tags for the items they like and get linked straight to your website to purchase them in mere seconds.
The other benefit of social media shopping is that it provides brands and retailers with copious amounts of customer data, to better target shoppers in the future and personalize the overall shopping experience. (Which is something Bazaarvoice would be happy to help you with.)
Social media will continue to grow as a channel for online shopping and the popular apps will keep testing more and more new social commerce features. If your brand can offer a seamless, immediate shopping experience on the platforms your customers are using, you'll continue to see more conversions and repeat customers.
3. Offer easy product comparisons
One Bazaarvoice study found that almost half (48%) of brick-and-mortar sales start with online research. This particular consumer behavior is often called Research Online, Buy Offline (ROBO).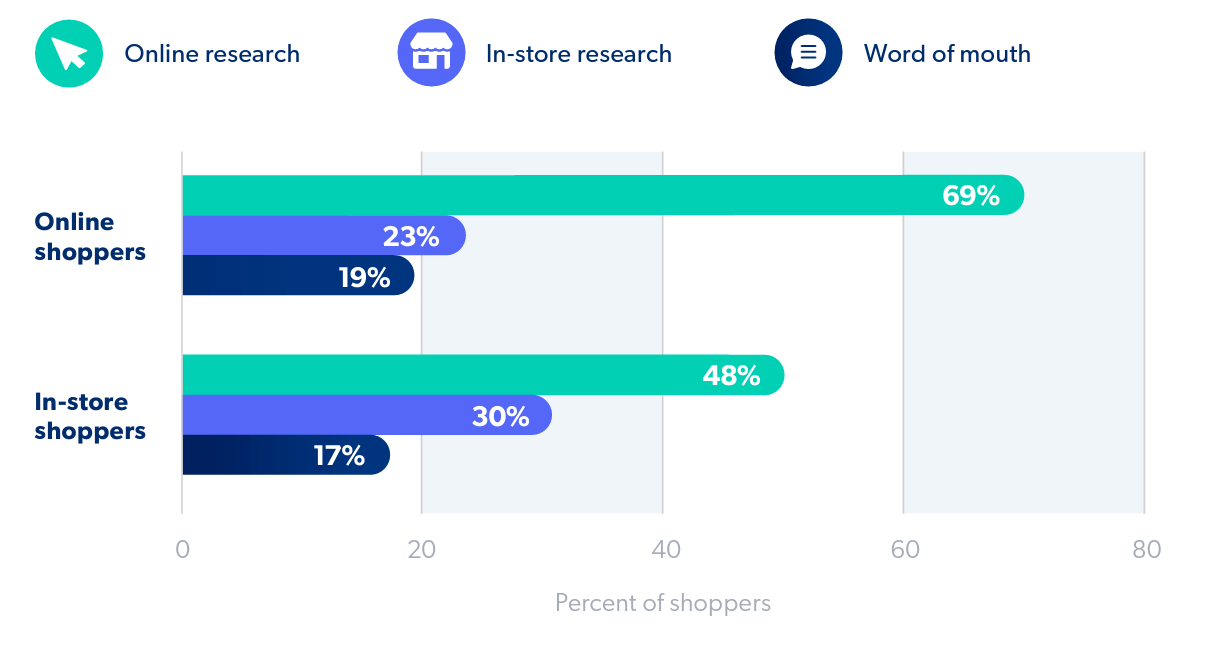 According to more research by Deloitte and Touche LLP, commissioned by Bazaarvoice , 88% of shoppers use reviews to discover and evaluate products.. 
By filling your product pages with user-generated content (UGC), you'll help consumers make more confident purchase decisions in-store and online. But it's not enough to have some reviews here and there. Consumers want to see authentic reviews (they know when a review is fake) and they want to see more visual and social content to help them understand how products will fit into their lives. 
Nearly 25% of shoppers say they won't purchase products without looking at customer videos or photos, according to our research. Visual content, paired with reviews influences purchases, increases product discoverability and offers a more engaging shopping experience.
4. E-commerce shopping as entertainment
One of the newer trends that's permeating through e-commerce is gamification marketing. Gamification takes traditional loyalty and reward programs one step further and helps brands and retailers get more customer attention and engagement. 
According to Reflectdigital, 91% of UK consumers aged 16-24 said they would be open to playing games with brands, 84% said they would buy from a brand they enjoyed playing a game with, and 61% said they would keep buying from that brand.
One of the most popular forms of gamification today is "prize wheels." This is when a brand or retailer sends a consumer an email or shows them a pop-up with a wheel on it. The customer then spins the on-screen wheel to reveal their discount code or a free item with purchase.
Another popular type of gamification is "points programs." Points programs, are similar to traditional loyalty programs but offer customers various activities that allow them to get more points for certain behaviors, like purchasing a specific product, leaving a review, or buying something on a particular day. 
One of the most famous examples of this type of program is Starbucks Rewards. They encourage coffee drinkers to return to the store over and over again by offering extra stars for a certain number of purchases in a week. (How many times have you been tempted to buy three lattes in one week for 45 extra stars?)
Give consumers convenient e-commerce shopping they crave
Brands and retailers today must evolve their shopping experience or risk getting left behind. Pay attention to how your consumers want to shop with you and offer them more ways to make the e-commerce buyers' journey convenient and easy.
Finding the technologies and platforms they're using and understanding their social and shopping behaviors is the key to producing convenient customer experiences that revolve around them.