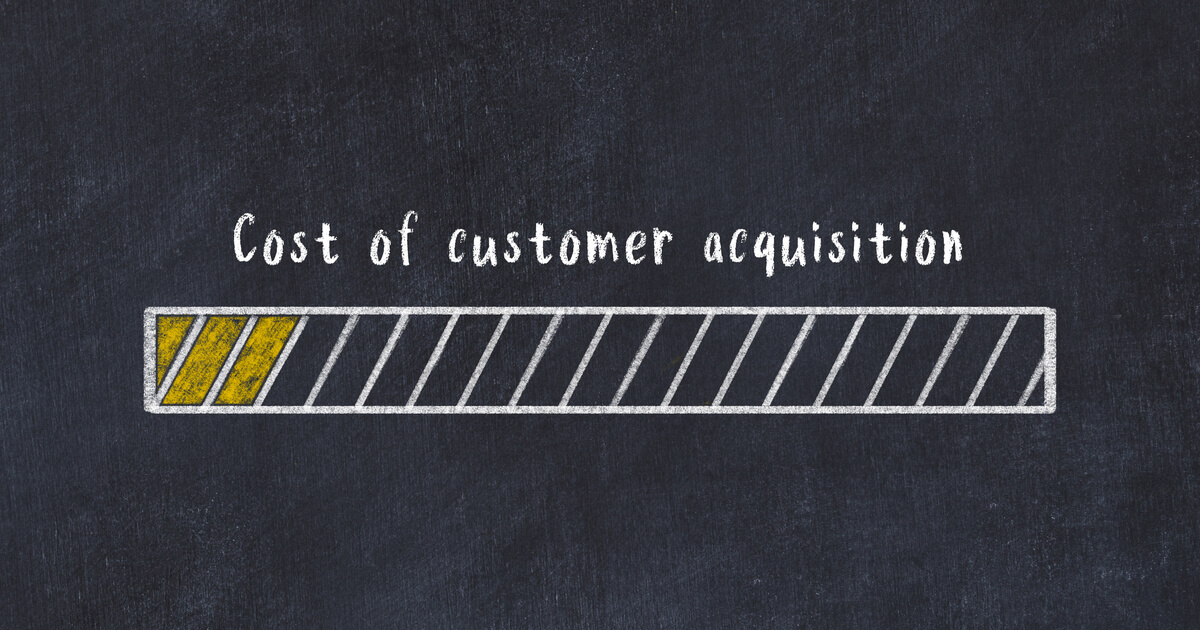 Brand growth results from more customers buying your products. Unfortunately, customers don't magically buy your goods. Brands must pay a price to convert customers, also known as customer acquisition cost. In other words, customer acquisition cost is the total amount brands pay to obtain new customers and attract a larger audience.
But the cost isn't just about direct conversion. It encompasses the total cost to ensure that each stop along the customer's purchasing journey produces the highest conversion rate possible.
While every brand has varying customer purchasing paths and uses different acquisition strategies, expenses generally include advertising, salaries for marketers, commissions, sales overhead costs, and more.
For example, art and entertainment e-commerce brands with less than four employees have an average customer acquisition cost of $21, while electronic e-commerce brands have an average of $377, according to Shopify. As a result, acquiring new customers is an inevitable and often painful expense for e-commerce brands.
Looking for more efficient marketing strategies is the one of best ways to get the biggest band for your buck.
The key to lowering customer acquisition costs
To make every dollar count, you must identify solutions for lowering your customer acquisition costs.
Want the key to doing so? User-generated content (UGC).
UGC is content such as videos, photos, and reviews created by unpaid contributors rather than a brand. If implemented correctly, your brand will see a significant return on investment. In other words, by using UGC, you'll let your brand enthusiasts do the heavy lifting for you.
You trust the opinions of your friends and family members. So, if you're like most consumers, your network influences your purchasing decisions more than an ad you see on social media. In fact, 85% of consumers say UGC more influences them than brand content itself.
Brands that implement a UGC strategy see a 29% increase in conversion. Take Tuckernuck, for example. The US clothing giant saw conversions skyrocket 190% after implementing a gallery of UGC on its website and displaying influencer photos on its product pages.
UGC is undeniably powerful. But, to make it worthwhile for your brand, you must efficiently find and source content to use for your acquisition efforts.
Ways to source UGC
Sourcing UGC doesn't have to cost you a single penny. So where do you source UGC? Here's some initiatives you can use to start driving more purchasing decisions with UGC.
Offer Incentives
Consumers love to share their opinion. While giving your customers a platform to share their opinions might be incentive enough, adding a contest, free product trial, or other prize will put fuel on your "submission fire." Cruelty-free skincare brand Versed hosted a giveaway requesting that their customers and followers post no-makeup selfies using one of the Versed products. It received almost 50 submissions just one week after launching the giveaway.
But your contests don't always need to offer a material prize tied to it. 60% of consumers prefer to share UGC simply to have their content shared by a large brand. And, hopefully gain more likes. For example, Canon, the photo brand, hosts regular campaigns asking its users to submit their best photos using campaign-specific hashtags. Canon takes the winner's photos and reposts them on the brand's Instagram feed.
Ask for it
Spoiler alert: You can literally just ask your customers for UGC. Try a simple customer satisfaction survey, which will not only provide you with valuable UGC but also aid you in improving products going forward.
Or for the easiest way to ask for UGC, especially written reviews, use a post-interaction email. These automated emails enable you to easily solicit feedback from consumers, and be displayed across your channels. Our own research shows that they can lead to a 4-9x increase in review content.
Using customer reviews can be extremely useful for increasing conversion lift. 40% of consumers won't make a product purchase unless there is a review on a product display page, according to the Bazaarvoice 2021 Shopper Experience Index.
Engage with your audience
Building solid relationships with your audience doesn't just happen out of thin air. It takes some effort to engage with your audience. To do so, reply to comments with personalized notes or create some fun banter, so they gain a sense of authenticity and connection.
Engaging with your audience is purely to build relationships. This way, your followers will be more likely to offer up UGC in the future.
Pinpoint your ask
Have you ever heard the saying, "ask for what you want"? Well, this also rings true with your potential customers. 53% of customers want brands to provide clear and concise guidelines for the type of content they desire, yet only 16% of brands do so.
Nike, for example, recently launched the #PlayNew campaign, requesting its followers try something new, capture it, and share it on TikTok. Led by the brand's sphere of influence, the campaign gathered over 80 million views.
So, make sure to identify hashtags and guidelines to avoid confusion. Specify the type of content your brand wants to see so you can help you build UGC that aligns with your brand's messaging.
Identify other ways to gather UGC
Hashtags and brand-associated tags are great ways to quickly identify and source UGC. However, they're not only solutions for sourcing UGC. Luckily there's plenty of other ways to do so, like:
Reading product reviews
Editing event photos
Discovering YouTube mentions
Looking at tagged locations if you have a brick-and-mortar
Browsing Pinterest, Twitter, Tik Tok and other social sites
Using Google Analytics
How to distribute UGC
Distributing UGC on social media platforms may seem like the most obvious choice, but there's countless cost-effective ways to implement your UGC. Plus, repurposing UGC will help you lower your customer acquisition cost.
Take a moment to identify all of the channels you can use UGC on. Then, pepper a little UGC everywhere you can think of. Here's a few examples to get you started.
Carousels and galleries
Highlighting customizable UGC photo carousels and galleries inspire shoppers to discover products and shop simultaneously. Brands using this type of imagery see a 141% conversion lift and 15% value increase on purchases when shoppers engage with this type of content on their website, according to Curalate.
Your brand can quickly build customizable carousels and galleries from user-generated content.
Product pages
Your product pages are the last thing your customers see before making their purchasing decision. Using UGC on your product pages enhances the buyer's experience and assists them in making more product discoveries.
Say your site has a Q&A feature. Pinpoint the most frequently asked questions. This way, you can create a Q&A section on each product page that answers consumers' most plaguing questions, essentially reading your consumer's minds and aiding them in the purchasing journey. As the questions change, you can alter this section of the product page to ensure it's updated to your customers' liking and provides more relevant content.
To take your Q&A to the next level, Bazaarvoice's Insights product can aid you in identifying common themes without all of the manual labor required for these efforts.
Ads
Adding UGC to your ad campaigns keeps your brand relevant, relatable, and current. When we spend months and months developing ad campaigns, they could quickly expire and not ensure the happenings within the market. After all, trends change course fast, so UGC can help you keep a pulse on the industry landscape and not waste precious ad spend on outdated content.
But, always make sure to ask permission before using any UGC in an ad campaign.
Email
Consumers crave visual content at every turn. Displaying UGC on email campaigns helps engage subscribers and showcase your products as authentic and unique. After all, shoppers would rather see real people using your products than a model that they can relate to.
For example, fashion retailer Monsoon started displaying UGC in its email campaigns, which resulted in a 4% increase in revenue and a 14% increase in click-through rate.
For folks just getting started curating UGC, it's also wise to learn the best practices for creating and curating your UGC campaigns. This way, you can avoid the mistakes of brands who paved the way for you.
Putting customer acquisition cost on the chopping block
Your fans are already creating and sharing content on social media. They are expressing their thoughts and opinions about your products within their network. So why not use this content to your advantage to not only create stronger relationships with your customers and audience but to lower your customer acquisition cost. After all, 75% of shoppers are already making purchasing decisions from products they've seen on social media. Your products should be some of them.