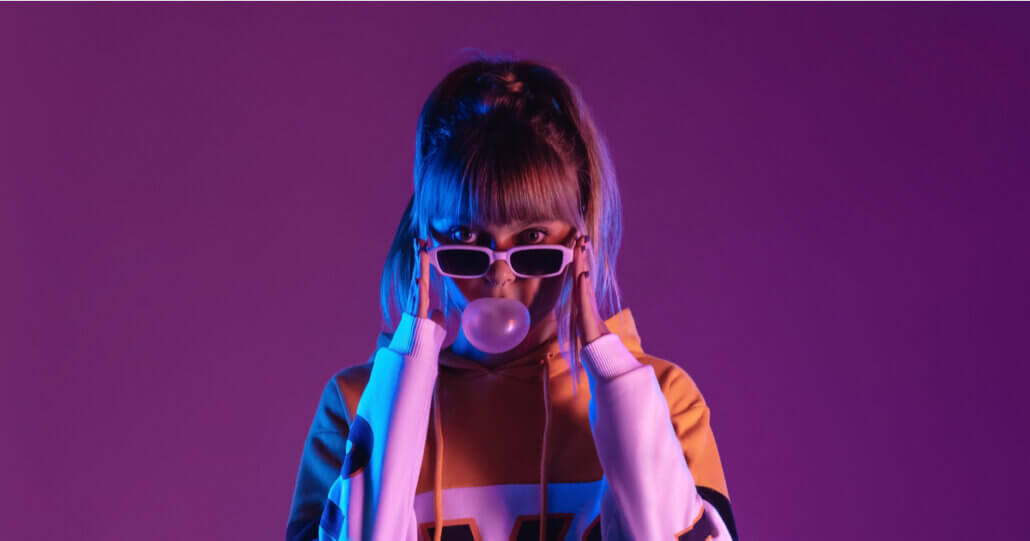 Our recent guide on marketing to millennials was a huge hit. So we're back with another best practice guide for you — this time aimed at the next generation: marketing to Gen Z. This socially-conscious generation wields $360 million in disposable income, and is prepared to spend it.
Arguably the trickiest segment to successfully market to, we've broken this guide down into the separate tactics required to win over Gen Z's repeat business.
Chapters:
---
---
Marketing to Gen Z best practices
Generation Z is the first generation to be a complete stranger to life without the internet. And their digital upbringing has turned them into tech-savvy consumers who take their sweet time researching products and brands.
Considering they're such discerning consumers, marketing to Gen Z requires you to be authentic and trustworthy — young shoppers won't settle for anything less. And like the Millennial generation before them, Gen Zers expect you to show social responsibility by being inclusive and supporting important causes.
But embodying these values without coming off as phony is easier said than done. And no brand wants to be meme'd.
Because they were raised online, this generation has a short attention span and the ability to quickly sniff out a marketing gimmick — posing a big challenge for every marketer.
Here's how you can adapt your marketing strategy to your Zoomer consumer.
1. Seek out and promote user-generated content
Gen Z prefers seeing actual customers in promotional materials: as many as 82% trust a brand more if they use real customers in advertising, while only 26% of respondents trust a company more if they feature paid spokespeople.
Considering 70% of Gen Z say product videos and photos are particularly helpful when making purchasing decisions, marketing to Gen Z should include a user-generated content (UGC) strategy that goes beyond written reviews. And thanks to social media, it's easy to encourage your customers to share their experiences with your product.
"We reached out to influencers and customers and began asking them to create hauls and unboxing videos that included our iconic pink packages. After a few weeks, it became a viral trend that was all over TikTok," says CMO of clothing company Edikted, Dana Israeli, in an interview with Glossy. "The customer wanted to be part of the movement and the community, and without even having to ask them, they all joined in."
You can boost UGC on social networks by creating challenges, contests, or even coming up with your own micro-holidays. Ahead of the 2021 holiday season, Target launched the #TargetHoliday hashtag with a cheerful Reel to celebrate festive Target runs.
These micro-holidays don't need to be super unique — it's more important to keep them simple so your Gen Z audience finds it easy to participate. But you shouldn't stop at highlighting UGC only on social media.
For example, through Retail Syndication, rug company Nourison was able to share visual UGC from social media to different retailer sites such as Target. Coupled with ratings and reviews, its UGC strategy resulted in a 4x increase in conversions and a 3x increase in revenue.
And fitness brand Takeya has also had impressive results with displaying UGC on its website, leading to a 58% conversion boost and a 40% increase in revenue per visitor.
2. Partner with nano and micro-influencers
Although Gen Z favors real customers in advertising, this doesn't mean you should give up on influencer marketing. Influencers still have influence — especially where smaller influencers are concerned.
Nano (~1K-5K followers) and micro-influencers (~5K-20K followers) usually interact more with their audience, which leads to an engaged following. This creates trust and a personal relationship bigger influencers often lack with their followers.
In fact, nano and micro-influencers have the highest engagement rates — 5% and 1.7%, respectively. What's more, a Hypeauditor study found that influencers with small followings (1K-5K) have the lowest incidence of fraud at just 18.8%. And it doesn't hurt that they charge brands less than their more famous counterparts.
As for influencers' relationship with Zoomers, they wield considerable power. Gen Z is more likely than previous generations to make a purchase based on an influencer's recommendation: 14% in the 18-24 age group and 13% in the 13-17 age group have bought a product as a result of influencer marketing. And 1 out of 4 Gen Zs says micro-influencers with "loyal and highly engaged audiences" are key for developing new trends.
Companies that have teamed up with smaller influencers include major brands like Dunkin' and Ford.
Ford Canada reached out to travel blogger Cailin ONeil (8.4K Instagram followers) to promote the 2020 Ford Escape Titanium. The promotional post has a 2.6% engagement rate.
Dunkin' (formerly known as Dunkin' Donuts) specifically sought out nano and micro-influencers on Instagram for their espresso campaign. All influencers featured had audiences under 50,000, with nano-influencers showing more engagement on their posts.
Influencer Vanessa Lace, for instance, who at the time of the campaign had 3,000 followers, had a 26.1% engagement rate on her Dunkin' post.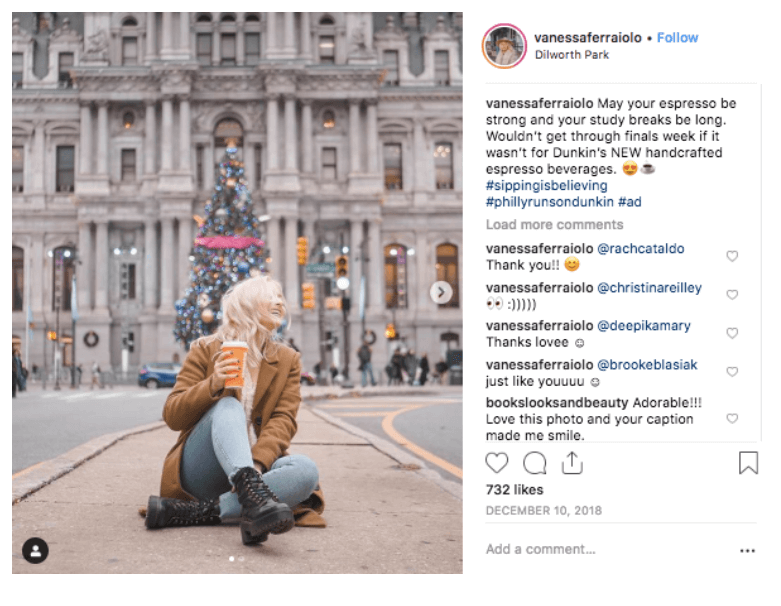 Since the trend of marketing with smaller influencers is expected to grow in 2022, you shouldn't underestimate the importance of finding the right influencer for your brand. And you shouldn't be afraid to turn your own employees into influencers either. Once you finally discover the influencer who ticks all the boxes, don't take full creative control over the promotional posts. Zoomers dislike being sold to, and creators should retain their unique voice in sponsored content to avoid sounding salesy.
"[Microinfluencers] have an intimate community where they're likely connected personally to many of their followers. When designing a campaign with them, don't be generic. Add depth, personality, and individualization, and offer some creative control to them to be certain that their voice is protected in the process and message," says Megan Rokosh, Global CMO at Havas Health & You, in an interview with Forbes.
3. Take a stance on social issues
Long gone are the days when brands could avoid addressing pressing social issues such as systemic racism or climate change.
To the new generation, no stance is also a stance — and it can severely damage your reputation. 31% of Gen Z reports that they stopped buying from a brand that's part of a social cause they don't align with, and another 76% of Gen Z and millennials find it important to buy from brands that celebrate diversity.
A 2021 YPulse survey showed the top issues for Gen Z are the pandemic, the Black Lives Matter movement, and racism – and they'd like to see brands involved in tackling these issues.
But there's a fine line between showing social responsibility and empty "wokevertising." Young people are experts at sniffing out the latter and don't respond well to brands using social justice for pure self-promotion.
Brands that learned this the hard way include Listerine, who came under fire for launching a rainbow-colored mouthwash bottle to celebrate Pride month. Critics claimed the marketing campaign made light of an important celebration just to sell product, using the LGBT community to put on an inclusive image.
Pepsi's now-infamous Kendall Jenner ad is another textbook example of brands being too eager to latch onto social justice for promotional purposes without actually walking the talk. So how can you take a stance on social issues without veering off into wokevertising territory?
For one, you can share how your brand embraces social responsibility in every aspect of your business. Take plant-based food company Impossible Foods' yearly Impact Reports. Their 2020 report provides a detailed overview of all the ways in which the company supports their employees and community, from how they promote diversity and inclusion to their support of food banks during the pandemic.
Gen Z also wants the brands they support to stand up and show solidarity in times of crisis. In 2020, Fenty Beauty announced they would shut down their business for a day to support the Black Lives Matter movement and mark Blackout Tuesday.
The company went one step further by donating to organizations fighting racism and encouraging their followers to also take a stand against racism and discrimination.
One big retail name promoting body positivity, diversity, and supporting young activists is American Eagle's Aerie brand. Through their #AerieREAL changemakers project, the company gives a group of 20 activists a $20,000 grant each to power change in their communities.
Dick's Sporting Goods put Gen Z girls at the front and center of their Girls' Power Panel – an initiative to put together a team of girls in the 13-17 demographic that would help the company understand the issues faced by women in sports. The young girls on the panel would also share their thoughts on the brand's products.
The key to avoiding performative activism is to give careful thought and consideration to the causes you support and make sure their values are also reflected in the way you do business. You don't have to support all the causes, but make sure to go all in on the ones you do.
4. Display integrity and authenticity
A 2021 Ernst & Young survey about Gen Z found young people value "trust, transparency and authenticity" and will turn away from anything or anyone that appears inauthentic. Another reason why UGC works so well.
"'Authenticity' has been shown in Gen-Z research as a critical element in how they evaluate products and services. Gen-Z consumers want to be able to trust the brand, understand what it stands for and be confident they aren't being sold a bag of goods," says OptiMine CEO Matt Voda about marketing to Gen Z in a recent Forbes interview.
Admittedly, "integrity" and "authenticity" can quickly turn into buzzwords without meaning. In a practical sense, embodying these values means treating your customers as more than just a source of profit and not sacrificing long-term trust for a short-term gimmick.
Skincare brand Paula's Choice is a textbook example of doing authenticity right on their digital marketing channels. A recent TikTok video captioned with "Pores are normal & real skin has texture!" promotes body positivity and rejects the idea that flawless skin is a realistic beauty standard.
In recent years, numerous brands have also ditched using Photoshop in their marketing campaigns in a bid to appear more genuine.
To make sure its back-to-school campaign was authentic enough, Dick's Sporting Goods once again went above and beyond in engaging Gen Z. Not only did they feature Zoomer influencers in the ad campaign, but they also had young creators advise the company on the campaign itself. From the music to the outfits, the influencers offered their expert opinions on how the brand can best adapt its messaging to appeal to a young audience without appearing inauthentic.
While brand integrity is important to people from all generations, members of Gen Z are digital natives who don't hesitate to share their thoughts on the internet when a brand disappoints them. And with recent research indicating 57% of Gen Z have less brand loyalty compared to the pre-pandemic era, there's little room for error.
5. Create short and snappy video content
Gen Z is known for having a penchant for video in their favorite social media apps. According to eMarketer, the most popular social networks among Gen Z are Snapchat, TikTok, and Instagram — all apps that rely heavily (if not exclusively) on short-form video content.
Snapchat has a 60-second video limit, and so do Instagram Reels. TikTok only recently expanded the limit from 60 seconds to 3 minutes, but the platform is still renowned for its bite-sized videos.
The short video format of Reels, Snapchat, and TikTok means their userbase has grown accustomed to content that caters to their short attention spans and doesn't beat around the bush with long introductions. It also needs to be engaging, and feature music, special effects, or fun challenges users can copy.
Industry giants Procter & Gamble did just that as they expanded their social media marketing on TikTok with a music challenge.
"On TikTok, we've actually recently launched an exciting campaign partnering with Jason Derulo, the very famous rapper. He wrote a rap that featured Bounty in it. So we invited consumers and other rappers and influencers to play back this rap which was featuring Bounty and got us lots of great Bounty mentions. But it was also a really great way to engage on the platform with our consumers," says Janette Yauch, brand vice president of Bounty and Puffs at Procter & Gamble.
In addition to creating challenges, you can take an educational or funny angle when building your video content calendar.
In a promotional video on Sephora's Instagram account, skincare brand Glow Recipe offered a quick tutorial that clocks in at just 25 seconds.
When Domino's launched their "New Bigger Better" pizzas in Norway, they ran a tongue-in-cheek Snapchat campaign about the size of their new pizzas. One of the videos, for example, shows a man struggling to drive with the pizza boxes in his car.
As you explore different apps for marketing to Gen Z, remember it's best to create videos from scratch for each platform rather than recycling them. Instagram, for example, announced in 2021 it would suppress Reels featuring watermarks from other apps such as TikTok.
6. Produce marketing on up-and-coming platforms
Outside of social media, Gen Z is gathering on digital communication platforms like Discord and Twitch, whose popularity exploded with the outbreak of the pandemic. Unable to see their friends in person, Gen Z turned to online spaces where they could connect with others over shared interests, and companies are coming up with innovative ways of reaching their young audience on these platforms.
Often referred to as "Slack for Gen Z," Discord is a chat platform where users hang out in servers related to different topics like Minecraft or movies. While Discord has a reputation for being a gaming platform, 80% of current users use the platform to take part in both gaming and non-gaming servers. Part of Discord's appeal is an ad-free experience, but brands have nevertheless found ways of connecting with their customers on the platform.
Clothing retailer Hot Topic entered the Discord space by creating a server focused on anime, relying on a shared interest users are already likely to talk about. Fast food company Jack in the Box took the digital event route, creating a virtual concert and chat rooms targeting the visitors of the San Diego Comic-Con.
Brands that market to Gen Z are also flocking to the live streaming platform Twitch. Almost half of their user base is between the ages of 18 to 34, who tune in to virtual events an average of three times a day. According to Twitch, 64% of their users also buy products based on influencer recommendations.
Like Discord, Twitch's platform was once most popular among gamers but now also hosts DJ sets, cooking shows, and more. Twitch does allow advertising, and businesses can partner with creators through affiliate programs or run display and video ads.
Beauty brand E.l.f. has been advertising heavily on Twitch, first through an influencer partnership and then by launching their own streaming channel. E.l.f.'s collaboration with Loserfruit, a gaming streamer, featured beauty tutorials with one of the brand's makeup artists, Anna Bynum. When the company finally launched its own profile in 2021, they announced that Bynum (a gamer herself) would also be featured prominently in their channel.
E.l.f.'s focus on involving genuine gamers on their channel shows they understand the platform's young audience wants authenticity. Branded content needs to seamlessly fit into what the rest of the streamers are doing, otherwise it could cause more harm than good. Although the same rings true for mainstream social media, it's much easier to get the knack of TikTok or Instagram than a live streaming platform where creators are the main draw.
Compared to E.l.f, some brands' marketing efforts were considerably less successful. Fast food chain Burger King left many Twitch users fuming when they used a donation system to run ads. The donation feature allows viewers to donate a small amount of money to creators during a stream, and in return, a bot reads out their question live. But instead of submitting questions, Burger King promoted their deals for donations as low as $5. Since influencer partnerships cost a lot more, the company was accused of abusing a feature meant for fan interactions while refusing to pay creators fair wages.
The entire Burger King fiasco illustrated one important point — Gen Z does not take kindly to marketing trickery, especially when it comes at the expense of beloved content creators.
Marketing to Gen Z demands careful experimentation
As you're adapting your business to the younger generation, consider which aspects of your marketing strategy are fit for a Gen Z revamp. Could you be more open about how your brand gives back and supports important causes? Do you need to rethink your approach to video content? Are there any micro-influencers with strong ties to Gen Z you could team up with?
More importantly, experimenting with new strategies and channels like Discord is going to benefit you the most if you're driven by building a genuine long-term connection with Gen Zers and not just increasing conversions ASAP.
It's no surprise that companies like E.l.f. and Fenty Beauty have so much clout with Gen Z — they visibly share their customers' passions. That goes a long way in a world oversaturated with new products and brands all wanting the Gen Z seal of approval.
Now that you've mastered Gen Z, get ready for Gen Alpha.