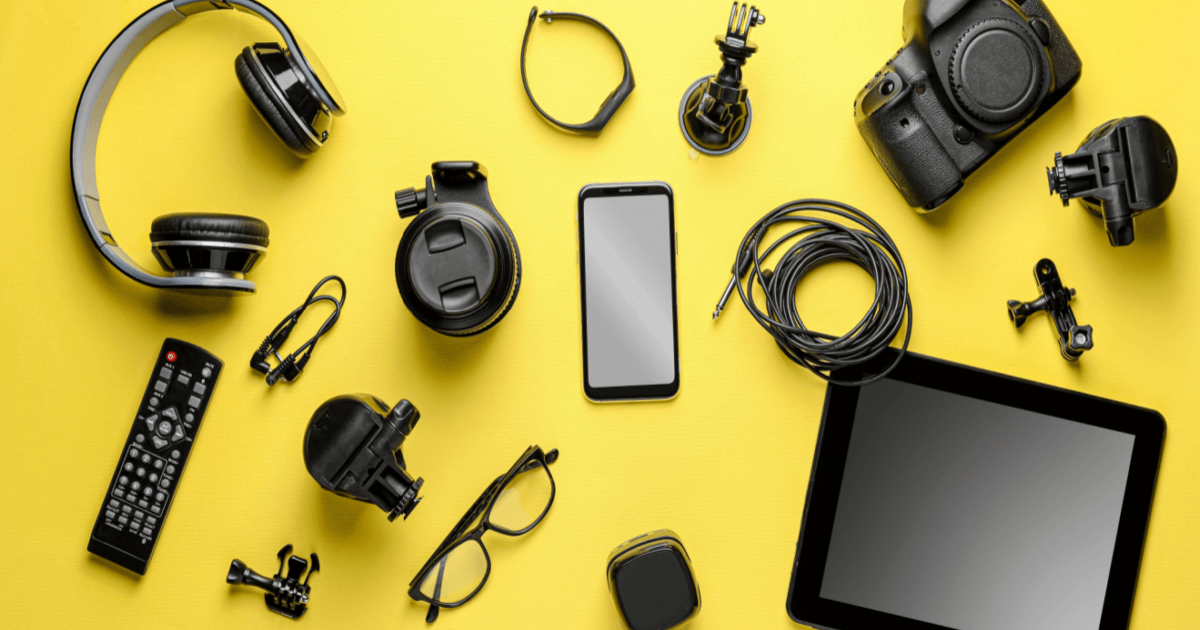 A recent Instagram metrics study revealed that consumer electronics brands have some of the lowest engagement of any industry. So to succeed on social, therefore succeed as a business, you'll need an effective consumer electronics marketing strategy to boost engagement.
Using examples from industry giants, and our own network data, we lay out expert tactics and tips for doing just that, including the best products (some of which might be Bazaarvoice's 😌) to help you achieve your lofty goals.
---
---
If you're a consumer electronics brand, you know that a growing part of your consumer base is Gen Z and millennials. And as technology advances, consumers are largely moving toward online shopping when it comes to making purchase decisions. Statista predicts that 43.6% of this year's total revenue alone for consumer electronics will be generated through online sales.
Consumer behavior has also turned toward product research online, with many shoppers searching through social media for peer opinions. According to Marketing Charts, 24% of social media users are doing their research on social media prior to purchasing electronics products. Considering that 82% of the United States population older than 12 uses social media, that's a large chunk of the market.
How to boost your consumer electronics marketing strategy
Boosting engagement on social media is crucial to a successful marketing strategy for consumer electronics. And even though it's hard to think of fresh approaches, social media is where many consumers (especially Gen Z and millenials) look for buying advice.
Here's our top consumer electronics marketing tactics to increase your social media engagement.
1. Encourage user-generated content
First and foremost, your efforts to increase engagement need to start with the way you interact with your community. While posting about your current products and exciting new deals may bring in some interaction, you need to actively encourage engagement. That might look different depending on your brand — but it's good to note what other brands are doing.
Apple's smartphones are known for their high-quality built-in cameras. And there's a reason for that reputation. Apple encourages their iPhone users to submit their photos to be shared publicly through their #ShotoniPhone campaign.
This photo shared by Apple was taken by Mathilde Z. in French Polynesia. Apple added information to the post like the location of the image, what tools the photographer used, and a quote from the photographer about their artistic style. They also tagged the photographer, allowing Mathilde Z. and their followers the opportunity to interact with the post.
This kind of user-generated content (UGC) instills buyer confidence, fosters audience trust, and increases revenue up to 62% more per visit. Influencer marketing and UGC platforms like Aspire, Mavrck, and Upfluence can help you find and manage influencers as well as the UGC they produce. And of course, Bazaarvoice's own platform offers many tools to help with management, plus we've just been named industry leader for the sixth consecutive quarter so y'know.
Use easy tools like a UGC ROI calculator to help you determine the impact that UGC can have on your business.
2. Face the competition
One way to garner more attention on social media is by posting content that encourages your followers to compare your product to your competitors'. Take this post by Samsung, for example. Samsung has been running their app, Smart Switch, on several generations of their smartphones. With each new advancement, they ensure their users are aware of the app and how easy it is to switch to Samsung from another popular phone (like iPhone).
This post shows the ease with which a user could switch to their new Galaxy S22 Ultra. While the old phone in question was not specified to be an iPhone, Samsung's commenters still compared Samsung's product to Apple's.
This comparison is in part due to the battle between Samsung and Apple for the largest market share of smartphone sales — with Samsung currently winning with 19% of the market compared to Apple's 16.7%.
In any case, this post earned over 63k likes and over 1,900 comments on TikTok. Consumers are aware of the competition, and it shows. The comments section of this post is mostly rooting for Samsung.
Before comparing yourself so obviously to a competitor in a social post, you should research whether you're really in the same ballpark as them. You can access some basic competitor reviews via a Google search or Trustpilot. You can also track your competitors' organic traffic and social engagement metrics through tools like Semrush, find employee reviews on Glassdoor, and discover revenue and customer info on Owler.
Alternatively, a single tool like Bazaarvoice Insights and Reports will help you see how you stack up against trends and individual competitors. Our tool provides information on industry benchmarks and competitor ratings, reviews per product, and reviews with more than four stars, so you can make informed decisions about your posting strategy.
3. Take an interest in what makes your community click
If you have demographic data on your consumer base, you're probably already aware of what media most excites them. It's even better if that media is produced by you. Sony, for instance, has been involved in the making of the Spider-Man franchise since 1999.
The most recent Spider-Man movie, Spider-Man: No Way Home, grossed $1.89 billion USD worldwide at the box office. Sony is obviously proud of that achievement — and they capitalize on that box office win on social media.
This post by Sony appeals to members of their audience who are Spidey fans and gives them an opportunity to interact with the brand. The simple invitation for fans to identify with a character other than Spidey earned over 500 comments and 8.5k likes.
Before choosing your post topic, look into how consumers have been using your product. What are they thinking? What do the online fandoms post about most often? Leverage trending data and customer sentiment, so you can use popular media to your advantage.
4. Showcase your employee base
Younger shoppers today want to support brands that resonate with their values. According to Newsweek, consumers not only care if brands are supporting the environment but also about how they treat their workers. Brands with poor reputations are more likely to lose customers in the coming future, as a little over half of Gen Z shoppers make purchases based on reputation.
While Amazon's treatment of their workers has been (rightfully) called into question lately, the brand has been working to salvage its reputation with digital marketing. One of the ways Amazon has succeeded at this is by sharing content created by employees. While TikTok's known for short-form videos, this form of media also gains good traction on other platforms, like Instagram.
This short video shares the morning journey of a delivery worker delivering small parcels with his bike. This story works to humanize the brand by showcasing life at Amazon through the eyes of an employee.
Any time you share UGC, make sure to get the creator's permission, including from your employees. You can do this painstakingly through individual emails or DMs. You can also make the process easier by asking for permission in bulk via a platform like Bazaarvoice.
5. Amplify the environmental impact
When it comes to sustainability, marketing a consumer electronics brand is no different to marketing any other industry. Consumers want you to be green. If your brand invests in making the world a better place, don't be afraid to shout about it. A 2021 Deloitte survey shows that a brand's environmental impact sways the buying choices of many Gen Z and millennial consumers today. Showcasing your efforts provides an opportunity for your followers to comment and share, as well as show their support for you or the cause you support.
Panasonic posts a lot about the environment. They even created a branded hashtag — #PanasonicGreenImpact — which they use to amplify their current sustainability activities on social media.
The above tweet includes a link to learn more about Panasonic's work in creating the world's first manufacturing facility powered entirely by renewable energy. This type of marketing tactic can help raise consumer awareness of your electronics brand's values and achievements.
Making your content shareable can often start with a simple hashtag. Even better if that hashtag represents both your brand and efforts to make a better world. HP created the #HPRadicalReuse challenge, which has 13.3 billion views on TikTok.
For example, this TikTok video by @rachelmishaelstudio shows how artists can reuse plastics (and unexpected materials originally designed for consumer electronics) to make sustainable art.
This strategy works to engage Gen Z, an audience particularly focused on positive environmental impact efforts, according to Newsweek.
But you don't need to do third-party research to figure that out. Do your own research on your audience's interests with Bazaarvoice's Social Analytics.
6. Emphasize your brand's longevity
While new products may excite consumers, longstanding brands tend to be associated more with quality service. If your brand has stood the test of time, your customer base will be happy to hear about it. And your most loyal customers will be happy to talk about their experiences. Take Roku, for example.
This post by Roku not only makes great use of a meme format, but it also provides an opportunity for their long-term users to sing their praises.
The simple question, "When did you get your first Roku device?" invites comments about how long their brand lasts as well as a discussion about why users are loyal to Roku. The 54 comments (at the time of writing) on this post all talk about how long users have had their Roku devices, suggesting the longevity of their products and the quality of their customer service.
Before imitating this, ensure that customers are satisfied with your product using a tool like Connections. This tool helps you stay in touch with consumer reviews, answer questions, make product recommendations, and collect important feedback across channels. This information gathering is crucial to predicting what kind of UGC you might gain from posts like Roku's.
7. Cast a vision for the future
With many people around the world grappling with an uncertain future, it can be a good idea to show your audience your vision for the future. GE is most commonly known for their home appliances and refrigerators, but they're also a leader in aviation. As such, they can paint a bright picture for the future of more sustainable aviation products.
This video by GE is short, fast-paced, and inspirational. Their copy is bold and forward-thinking, explaining that the brand is, "engineering next-gen jet engines that use sustainable aviation fuel blend today for a better tomorrow."
Not only did they portray a future that is bright, but GE also spent time responding to commenters with a tag and a heart. Keeping the positive momentum going in your comments section encourages other commenters to interact and hope to receive a reply as well.
Should you follow the bright future route like GE or stick to a more laid-back, reflective approach? Bazaarvoice's Premium Network Insights provides detailed insights into your UGC and sentiment analysis that can help you make important decisions about how to portray your brand.
8. Lean on beautiful visuals
Consumer electronics is a visual industry, so bring those visuals into your consumer electronics marketing strategy. Consumers have become used to seeing captivating content on social media, especially during the pandemic. If your social posts don't seem interesting from the get-go, chances are you'll be passed by. A way to fix this and attract more engagement is to make your posts visually appealing, as Google does.
Similar to Apple, Google Pixel posts a customer's photo, tags them, and uses the hashtag #SeenOnPixel. But the photos the brand posts are always visually striking, like this photo by Isaiah Winters using two mirrors. This single post gained almost 6k likes in just four days.
Like Apple and Google, if your social followers are generating great visual UGC, it's a good idea to reuse it on your own social profiles (with consent, of course). You can also repurpose UGC in a gallery on your website. Google does this on their store page for the Pixel phone.
Tools like Bazaarvoice Galleries can help you repurpose visual UGC from social media on your site as a gallery of images and videos. Adding this feature to your site is a great way to boost interaction — conversion rates tend to skyrocket after adding interactive galleries.
9. Incentivize UGC with contests and prizes
One way to encourage engagement is by actively rewarding UGC. You can do this with gamification marketing — running contests and offering prizes to users who create and share content about your product (and tag you in the posts). One brand that does this regularly is GoPro. Their contest asks users to post amazing videos and photos with the hashtag #GoProSummer, which encourages plenty of engagement.
This first post explained the rules of the contest and generated future UGC in the form of interesting videos and images that GoPro could share to showcase the quality of their product. It also gained the brand more exposure with new audiences through the users who were featured on the brand's IG profile, like @gotzonmantuliz, who has 667k followers of his own and was tagged in this post with 123k likes.
If you do create contests encouraging visual UGC, you can easily curate and showcase that content on your site with Bazaarvoice Galleries.
10. Have fun with national holidays
One of the main advantages of consumer electronics marketing is the chance to be creative. Making posts for Christmas and Thanksgiving is pretty obvious, but what about the smaller holidays in between? While not a lot of people celebrate micro holidays like National Donut Day, these smaller days can offer a good excuse to encourage UGC and showcase your brand's personality.
For instance, Dell posted an upbeat, animated reel showcasing their laptops that celebrated national donut day, with the hashtags #donut, #nationaldoughnutday, and #donutlove.
This post brought in 602 likes and mostly positive comments (who doesn't love donuts?!). Dell also posts geeky jokes as reels (even though they don't have sound) like this one and this one that also serve up the brand's personality as funny and personable to everyday computer users.
If you try this type of social media campaign as part of your wider consumer electronics marketing strategy, just make sure you're celebrating what your audience wants to celebrate.
A great way to identify this is through our consumer insights tool, a customizable tool for determining your audience's interests.
11. Post a shoppable image on social
One way to encourage consumers to share your posts is by adding shoppable images to your social media profiles. Not only does this make sharing more likely, but you might also get a purchase out of the post. Consider posting a shoppable image on Pinterest as Fitbit does. This post links to the Fitbit blog, tags brand ambassador Ryan Hall, and includes links to shop for similar wearables in the image.
Shoppable content is a great strategy for Fitbit since their Pinterest page earns over 565k monthly views. Even if only a small percentage of their user base interacted with each post or purchased an item, that would amount to a decent chunk of engagement and sales.
Social commerce is a big deal, especially on social media. Our social commerce report outlines some important information about this type of commerce, why it matters, and how you can use it to your brand's advantage. For instance, we know that 70% of those who use social commerce — and are most likely to respond to shoppable photos — are millennials.
If you're interested in trying your hand at social commerce, you can use Bazaarvoice's Like2Buy feature to turn Instagram images into shoppable posts. That way, those who are engaged with you on Instagram can shop directly from your Instagram profile.
12. Commit to diversity
A genuine commitment to diversity can communicate to your customers that you care about them. Consumers who know you see them and their struggles are more likely to view your brand in a positive light (and engage with your posts in a positive way). Inclusive marketing can also build up your reputation as an ethical brand.
One such example is Fitbit. The brand shared athletic influencer @tishaalyn's video in support of the LGBT+ community for Pride month.
The brand has made several posts on Instagram in honor of Pride month, as well as previous posts honoring AAPI Heritage month and more, garnering a large number of positive interactions from users who felt seen by the brand.
We suggest using a tool like Bazaarvoice's Social Analytics Highlights to gain insight into your IG performance. This can be helpful in filtering out the noise from online trolls, so you can focus on what your loyal fans are truly excited about.
13. Make your posts accessible
While your posts can be consumed by most social media users, it's important to consider who might not find your posts accessible. There's many disabilities and impairments that might make certain users unable to interact with your brand online. If you want to make your brand more widely accessible, you can start with how you design your posts.
For instance, Xbox celebrated Women's History Month through this post sharing the favorite games of their female staff.
Accessibility was built right into this post. The copy found in the images was also pasted directly into the text of the post, so any users with visual impairments could still use a screen reader for this and have a positive experience.
Intel takes a more product-centric approach to accessibility. Instead of simply posting in an accessible way, Intel uses the social post to show how their product is accessible. They do this via short videos and captivating copy. Intel's posting strategy is more immersive and has earned better engagement than the post above.
This Reel by Intel explains their current efforts to make tech more accessible for people with disabilities as part of celebrating Global Accessibility Awareness Day. The video not only shares an exciting concept but also demonstrates how the technology works. This video earned over 13k views and mostly positive comments in support of the brand.
It may take some extra time to ensure all your posts are accessible, but that effort won't go to waste. About 7.3 million Americans use a screen reader, so making your social media presence more accessible can increase your reach and broaden your audience, not to mention provide a superior user experience that consumers have come to expect from the consumer electronics industry.
You can save time creating this type of post with an easy social publishing platform. These platforms can help make designing accessible posts a breeze by allowing you to determine what your audience needs and schedule posts well in advance.
14. Gamify your reels
One of the best ways to encourage engagement is to make your audience's social media experience interactive like Xbox does. The brand turns their Instagram reels into a game dubbed Xbox Mini Games.
Gamification marketing is all the rage. And Xbox's audience is already invested in gameplay, so it's a good approach for their demographics. The gamification makes a fun brand experience for their followers, and the gameplay produces some decent UGC in their favor. Even if your brand isn't in the gaming industry, it's a good idea to gamify your reels.
Still unsure about gamified reels? Using AI to discover which social content your audience is more engaged with can help you make decisions about what content to create. Bazaarvoice's social publishing tool can help with that, including detailed conversion and revenue analytics.
15. Show behind-the-scenes content
The advantage to marketing consumer electronics products is that your most enthusiastic fans are deeply interested in how the gadgets work. That means your social content is perfectly positioned to start increasing demand by posting behind-the-scenes content like Nikon has done with this inspiring before and after reel.
Nikon uses the branded hashtags #NikonCreators and #NikonNoFilter to share UGC like this on their IG profile. With this particular post, they added the hashtag #Goldenhour, referencing a lighting term used in photography. This meant Nikon brought in more photographers from across Instagram to view their post and be inspired to buy one of their digital cameras.
If you're worried about casting too broad a net with a UGC campaign like this one, you can easily verify and authenticate this type of content with a content moderation tool like ours. This allows you to code content for easier and more accurate authentication and publishing.
Start with social media analytics
To truly connect with your audience in the modern age, your brand should establish an active social media presence and engage authentically with your followers/commenters. An effective consumer electronics marketing strategy is an easy way to do so.
This doesn't mean you need to break your back or your budget to connect with your audience. It does mean that you should be paying attention to how your audience interacts with you and how well they respond to your current social posts. And you should be going the extra mile to ensure your brand earns the authentic UGC that you envision.
Our Instagram metrics 2022 report is a great resource for your brand to determine how best to leverage and measure your Instagram engagement. (I know this because I wrote it myself). Our market research provides important information about reach and engagement rates for your industry.
In tandem with our other tools, these metrics can speed you on the way toward greater engagement on your social media platforms. And ultimately boost your bottom line.