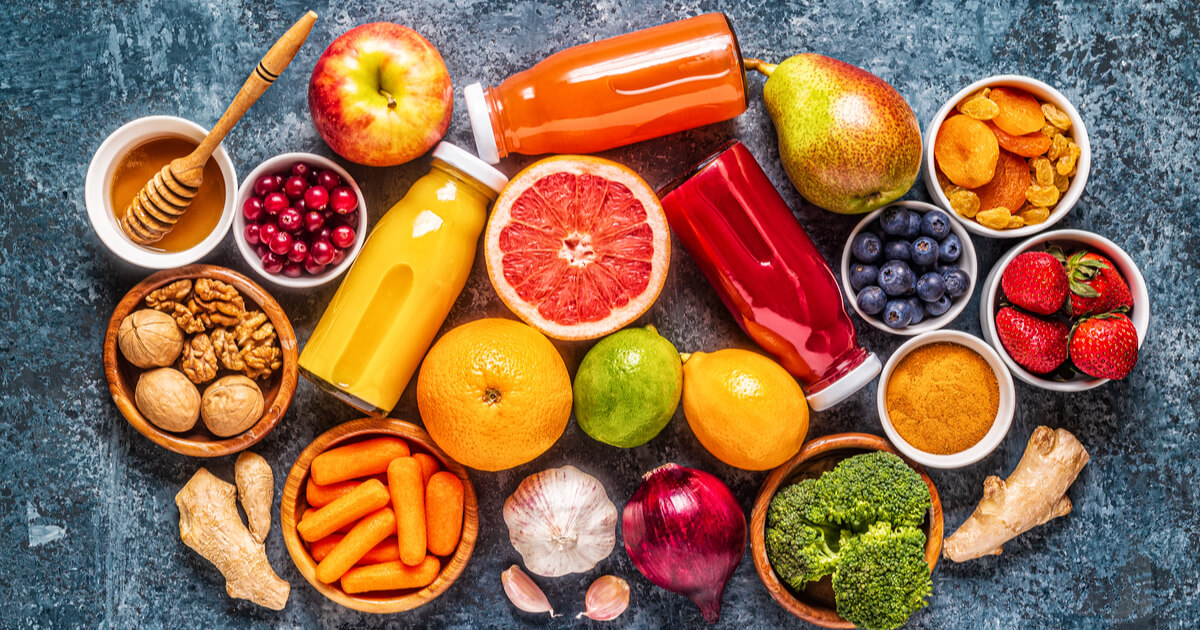 Theoretically, food and beverage marketing on Instagram should be easy. But in our 2021 Instagram benchmarks report, we found that food and beverage brands have the lowest Instagram Engagement Rate out of 19 different industries.
And while there was some improvement in this year's benchmark report, engagement is still far lower than it really should be. Which is surprising, because most of my Instagram posts are various meals I've eaten. The same goes for millions of others.
So why is engagement so low? And how can you turn that around? Here's how.
---
---
Instagram has always been THE place to post and consume food and beverage content. #food and #foodporn are among the top 30 Instagram hashtags in the world. Instagram has changed the way people dine, turning everyone with an iPhone into an amateur food and drinks photographer. This presents a huge opportunity for food and beverage brands to leverage their inherently popular content to increase Instagram engagement.
There's many ways you can step up your food and beverage marketing to attract the hungry Instagram audience. Use these tactics and examples to build your Instagram engagement and gain a competitive edge in the industry's ever-expanding market.
Why should food and beverage brands increase their Instagram Engagement Rate?
We measure Engagement Rate by how many people interacted with your content — including likes, comments, saves, views, clicks, reactions, mentions, and DMs — versus how many people saw it. To calculate your engagement rate, just divide that number of engagements by how many followers you have:
Engagement Rate = Engagements / Followers
User engagement with a brand — a.k.a. their relationship with that account — is among the Instagram algorithm's top ranking factors. So, Engagement Rate is very important for brands to make sure their content shows up in users' feeds and the Explore tab.
Engagement is also tied to reach because the higher your content's initial engagement is, the more likely Instagram will escalate it to the top of feeds. Higher reach means more people see your content, creating more growth opportunities. According to our Instagram benchmark report, brands with higher reach also had higher numbers of website visits and conversions.
Your Instagram engagement tells you how well your content is performing and resonating with your audience. A high follower count is great, but that number doesn't mean anything if your audience isn't interacting with your content.
And when it comes to this crucial metric, food and beverage brands have a lot of room for improvement. Our 2022 benchmark report found that brands with fewer than 50K followers have an 11.5% average Engagement Rate, and brands with over 100K followers have a lower average Engagement Rate of 9%.
Meanwhile, the food and beverage brands in the study only had an Instagram Engagement Rate of 8.7% for photo content and 6.2% for video content.
Here's 8 ways you can increase that.
1. Create content designed for engagement
Successful brands on social media build a community around their niche and what makes their products special. Highlight those attributes by showing how your brand solves your customers' pain points, wants, and needs. For example, Yoplait's Go-GURT brand makes convenient kids' snacks that parents can easily pack for hunger tantrums. Content that is tailored for your unique audience will capture their attention.
Use your captions and Instagram's stickers to encourage conversation and engagement around your content. This could be including a CTA in a Feed post for followers to respond to in the comments or a Poll or Question box added to a Story.
The "Add Yours" sticker is another great interactive feature to get followers to engage with your Stories. So, you could post a Story with your favorite cocktail or food along with an "add yours" sticker for your followers to share theirs, for example.
In the example below, Crystal Hot Sauce demonstrates how to create niche content that engages its community. As a New Orleans company that celebrates the Cajun and Creole food (yum) of the region, Crystal posts a signature New Orleans dish to observe the National Red Beans and Rice micro holiday.
The caption asks followers to share their secret ingredient in the post comments to encourage engagement.
2. Post a variety of interactive Feed content
Photos, videos, carousel posts, and Reels posted to your main grid have the highest reach because they have a permanent spot on your page. The top 20% of performers in our benchmark report get seven times more reach on Feed posts than they do on Stories. A different study analyzing 962,402 Instagram Stories shows that Stories reach only half the amount of people that Feed posts do in most cases.
Keep your audience interested with a variety of fresh Feed content, starting with photos. Photos get the highest engagement out of all content types, according to our benchmark report. Out of the top-performing brands in the report, the average Engagement Rate for photos is 9.9% and 7.4% for videos.
That doesn't mean you shouldn't produce video content because, while photos receive the highest engagement, people still love video content. Especially when it's about food and beverages.
Food and cooking videos are among the top 10 mobile video genres for Gen Zers and millennials. Food and beverage marketing content has exploded in recent years, including viral recipe videos from brands like Tasty and Yummly, Bon Appetit, New York Times Cooking, and Alison Roman, to name a few.
Saves is another important engagement metric because it signals what content followers want to keep and revisit. Recipes are a top saved content type, and some people even create digital in-app cookbooks by organizing their saved recipes into collections. Creating and promoting recipes should be an essential component of your food and beverage marketing strategy. It's a versatile content category that can work for any type of Feed or Story post.
Carousel posts should be a recurring guest in your rotation, as this post type has the highest engagement rate per impression. Carousel posts are a visual storytelling tool that you can use to show the development of a dish or product, a step-by-step cooking guide, a combination of images and videos, a collection of customer reviews, different flavors or versions of a product, and any other content groups you can think of.
This example from Minimalist Baker on Instagram shows a carousel post of spring recipes in bright colors and CTAs to comment on the post and visit the link in its bio.
Instagram is a visual platform, so for all your content, put thought, effort, and investment into high-quality photos and videos. Food and drinks are meant to both nourish and delight, so food and beverage marketing should be exuberant and enticing.
You can enhance your visual content with playful and artistic graphics like Recess does and bold color stories and motifs like the kind found in Oreo's Instagram content.
3. Invite followers to engage with your Instagram Stories
Instagram Stories give your audience fleeting but lasting snapshots of your brand. As Instagram puts it, "They're designed to be fast, memorable and fun." They draw users' attention by taking up the entire mobile screen with the option for users to tap the screen to view it longer. Stories have huge engagement potential, so food and beverage brands should utilize their unique features.
Stickers further set Stories apart from other Instagram content types, offering a variety of ways to inspire audience participation and interaction. In addition to the Questions, Add Yours, Poll, Quiz, and Emoji Slider Stickers, Instagram recently expanded Story links to all users, which is great news for food and beverage marketing. With Story links, brands can add links to their menus, recipes, product pages, events, blog posts, and any other pages they want to.
One key metric to measure the performance of your Instagram Stories is the Tap Forward Rate. Forward taps mean users want to see the next slide in your Story instead of swiping to the next one in line. Our benchmark report found that brands that post multiple Stories on a consistent basis achieve higher Tap Forward Rates, and ultimately higher Completion Rates, meaning users watch all Stories from a brand.
The VanLeeuwen Ice Cream example below shows a series of year-in-review Stories that asks customers what their favorite flavors are and to guess the most popular flavors. The main focus is on the audience, while the brand naturally promotes its products.
Since Stories have a time limit, you have to keep up a high cadence of content to ensure your brand has a consistent presence. Up to five Stories a day is the magic number to secure a retention rate of 70% or higher. That's enough to keep followers engaged but not bored or overwhelmed.
Stories containing images have a higher reach rate than videos, so it's important to have a variety of image and video content.
4. Partner with influencers and brand collaborators
Influencers have a lot of sway on Instagram, and it's not just celebrities. Now any trusted creator with a loyal, engaged following can be an effective influencer. In fact, in a Bazaarvoice survey of over 9,000 global consumers, the majority of respondents (56%) said everyday social media users were the type of "influencer" they followed the most.
The 2022 Instagram Trend Report claims that, "Today young people are impacted by a wide spectrum of creators and their relationship is more tightly aligned around shared interests and less so on how popular they've gotten."
So now there's more influencers than ever on Instagram, high profile or not. When influencers share content about your brand and products, that exposes it to an expanded, receptive audience outside of your own. The Instagram Collabs feature is an exciting development that allows you to invite someone to share a Feed post or Reel to their followers as a co-author.
Brand partnerships are another mutually beneficial relationship that can attract a broader audience. This example from Food52 shows an Instagram Collabs post with its cookware brand, Five Two, so it instantly reaches both audiences. This post encourages engagement by tagging the product in the photo to make it shoppable content.
Learn more about influencer outreach here.
5. Leverage user-generated content
Influencers who regularly promote brands and products aren't the only people creating content about your brand. The photos, videos, Stories, and Reels that your customers create — known as user-generated content (UGC) — are gold for food and beverage marketing.
We know that loads of people are sharing their dining, cooking, lounging, and entertaining content starring food and drink. So, whether those people are tagging your brand specifically or using a relevant hashtag, there's tons of content out there for you to share and repurpose.
Customer UGC provides a genuine and organic — not to mention free — representation of your brand, increasing your engagement and expanding your reach in the process.
Part of getting engagement is giving it, so it's also your job to like and comment on posts from your audience, as well as share them if your brand is tagged. If your brand isn't tagged, but the UGC is relevant to your brand or industry, you can ask the user for permission to share it.
Bazaarvoice beverage client T2 has over 55,000 Instagram posts from customers and influencers tagged with its branded hashtag #t2tea, and over 5,000 tagged with #t2moments. This is a regularly replenished reserve of content that T2 can engage with, repost to its Feed and Stories, and tag its products in with shoppable links.
The example below shows two UGC posts saved to T2's #t2moments Story Highlight on Instagram.
Beyond asking customers to tag your brand and use your hashtag in content, you can encourage more UGC and engagement with a crowdsourced campaign or contest. Burger King Spain orchestrated the ultimate piece of UGC with its brilliant Stories Ordering campaign that produced a signature menu item, the "InstaWhopper." Burger King asked its followers to create its custom burger using Polls in its Stories to receive a coupon for their order.
The completely organic, crowdsourced campaign resulted in 270,000 interactions. The company took the most popular ingredients from the campaign to release a limited edition "InstaWhopper" based on its followers' engagement.
6. Adapt and evolve with consumer culture to stay relevant
Shoppers and followers need to feel connected to your brand in order to engage with you. They need to relate to your brand in a way that's deeper than a simple transaction, and to build that kind of relationship, brands need to demonstrate transparency and build trust with their audience.
Also, consumers want brands to stand for something bigger than themselves, be that an environmental, social, health, or other cause that's important to them.
Food and beverage marketing strategies need to be aligned with consumer interests and values. To do this, you have to pay attention to what matters to your audience and what they're sharing on Instagram. This means looking through your followers' content and searching for relevant topics on the Discovery page. Watching these trends can help brands identify untapped opportunities in the market or a need to shift their brand to changing tastes.
For instance, in the past decade, there's been a major shift toward wellness, health consciousness, and locally sourced and organic foods. It's even promoted governments to introduce junk food ads bans. This prompted food and beverage brands to emphasize these qualities in their products or adapt by modifying or adding products to satisfy this demand.
Kodiak Cakes is an excellent example of a food brand that altered its business model without decimating it to embrace lifestyle changes. The company changed its flapjack and waffle mix packaging to a microwavable cup, which enabled them to release healthier options, like oatmeal and granola.
Now, Kodiak Cake's Instagram bio touts "100% Whole Grains," and its Feed includes UGC and influencer content from athletes and its customers who are both health-conscious and enjoy delicious breakfast and snack items.
7. Flex your video creativity with Instagram Reels
Reels are the latest Instagram feature to take off: a short-form video format designed to compete with TikTok. Reels give your brand a chance to put its director's hat on. It's a space you can use to create mini short films and commercials right on your Instagram Feed.
Hootsuite ran an experiment to test the engagement of Instagram Reels, posting six Reels over a 40-day period and sharing them to its Feed, Reels tab, and Stories. They found that views, likes, and comments on its Reels were higher than on its other video content. Since Reels debuted, Instagram redesigned its home page to position the Reels icon as the central focus, and Reels are a mainstay of the Discovery page.
Reels are a fun and fitting tool for food and beverage marketing. Food and drinks brands can use Instagram Reels for recipe tutorials, behind-the-scenes videos, lifestyle videos of how products are used in daily life, dancing and singing videos, and time-lapse or stop-motion videos composing a dish or drink. Enhance your Reels with features like audio and transitions too.
Spindrift shows off its Reels skills in this conceptual video as a way to generate buzz for a new flavor. It's fun, creative, gives its audience a behind-the-scenes look, and sparks interest and curiosity.
8. Showcase long-form content with Instagram Live
Instagram Live is like having a TV channel just for your brand. An Instagram Live stream can be up to four hours, so this is the space to take liberties with content that can't fit into 15-second Stories or 10-minute video posts.
With Instagram Live, you can essentially have your own cooking show or talk show. For food and beverage brands, it's the perfect format for content like cooking demos and classes, product launch events, "ask me anything" style question and answer sessions, and interviews with guests, including chefs, mixologists, and food and beverage influencers.
The Feedfeed has a series of Instagram Lives where it invites chefs, writers, and community members to make a dish and talk about their backgrounds.
There's a lot of value in creating Instagram Lives. The format has a higher engagement rate than Facebook Live, and followers get a notification when a brand they follow starts an Instagram Live. It also shows up in front of their Instagram Stories.
You can also include ads in Instagram Live videos and tag products so your audience can actually shop while watching.
Use insights to plan popular content and posting times
A big part of food and beverage marketing (and all marketing) is analyzing the results of your content to find out what's working. And what's not. There's many ways food and beverage brands can increase their Instagram engagement, but you need to find the tactics that work for your brand and your audience. That's why you need to look at your Instagram analytics to see what content types are driving interactions.
Tools like Bazaarvoice's Insights and Reports can give you more valuable and detailed information, like the best days and times to post content to get the highest engagement. By looking at Insights, you can prove the success of your messaging and content experiments.
Then, you can use Bazaarvoice's Social Publishing tools to easily schedule, publish, and manage your entire Instagram content suite. Feed, Stories, and Reels. We got the entire Instagram ecosystem covered.
Check out our other Instagram best-practices here for more tips, tricks, and insights.