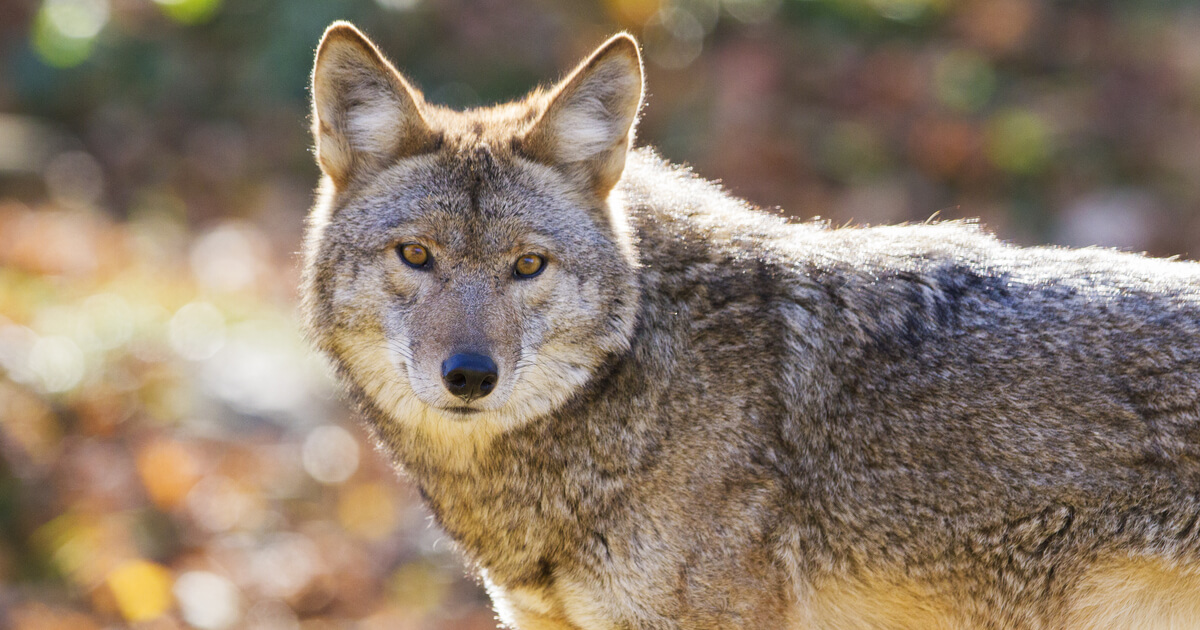 Researching a recent marketing hot topic, brand building vs. performance marketing, led to the discovery of a new concept that's pushing the industry forward: performance branding. This combines the historically siloed marketing departments and efforts into one collaborative strategy.
In this piece, we explain the new concept and why it's important. We also provide tactics and examples for brands to successfully adopt and implement performance branding.
Chapters:
---
---
If I asked you, "What can coyotes and badgers teach chief marketing officers?" You would probably answer "not much" or simply walk away from the conversation. Understandable. Well, the answer is "a lot", as it turns out.
Carnivores are usually quite protective of the prey they've caught. And, presumably, coyotes could do some serious damage to badgers. And yet, the two different species actually have a close partnership. In a viral video, below, captured by Peninsula Open Space Trust, they even appear to be friendly with each other. 🤯
This is the best thing you'll see all day! 🐾
Our wildlife cameras spotted a #coyote and #badger together — the first time this type of behavior has been captured in the San Francisco #BayArea.https://t.co/YDcnhyiWL1 pic.twitter.com/qZQgcbwtTk

— Peninsula Open Space Trust (POST) (@POSTLandTrust) February 4, 2020
Coyotes and badgers have a mutually beneficial relationship. They team up for a common goal: successfully hunting ground-dwelling creatures. Coyotes' speed allows them to easily catch animals like squirrels and groundhogs. What badgers lack in speed, they make up for in their superior digging skills, so they can capture these same critters when they try to escape underground.
According to National Geographic, they both "save energy and likely time" by working together to find their next meals. The same argument I use to convince myself to order from UberEats.
So, what do the hunting behaviors of this wildlife odd couple have to do with marketing? Well it's the same premise as performance branding, a concept that's rapidly pushing the retail and e-commerce industries forward.
Performance marketing + brand marketing = performance branding
Performance branding unites two traditionally siloed departments: performance marketing and brand marketing. By joining forces, performance and brand can reach their goals more effectively and efficiently by aligning on a shared mission and strategy. They're stronger together, like badgers and coyotes. And me and UberEats.
As a CMO for a large retail bank told McKinsey, "The new model has put an end to the bickering. For the first time, people are actually looking at the same data basis to figure out what is best for our brand, and we all get to go home earlier."
By implementing a performance branding strategy, you can save time, energy, and money, and improve the customer experience while growing your brand.
What is performance branding?
Performance branding is a collaborative effort driven by strong brand identity and messaging at the center of measurable, results-oriented campaigns.
To understand performance branding, you first need to understand the two main pieces that make it up. And also how they harmoniously fit together. Like Yin and Yang. ☯️
1)
Brand marketing
One the Yin side, brand marketing focuses on long-term, qualitative growth, like brand awareness, recall, sentiment, and engagement. Brand marketers build their brand by communicating its mission, values, voice, personality, and aesthetics to their audience. They promote this kind of top-of-funnel content to attract customers in the discovery phase and retain existing customers.
A large part of brand marketing is creating a dialogue and inspiring interaction with your audience to boost engagement. These efforts aim to form connections with customers and strengthen loyalty.
2)
Performance marketing
Performance marketing, on the Yang side, targets quick, short-term, quantitative results, like clicks, leads, and conversions. These are bottom-of-funnel metrics that capture shoppers who are in the consideration and ready-to-buy stages. Performance marketers work on performance-based campaigns like websites, social media and paid search ads, and sponsored content.
How performance branding combines the two strategies
Well if you take the "brand" from brand marketing and the "performance" from performance marketing, you get performance branding. Duh.
But really, performance branding combines each strategy and, consequently, each marketing team of a company, creating one cohesive department. The merged departments execute one multilayered strategy based on common goals to both connect and convert customers.
Performance branding has a brand-building mindset, while targeting quantifiable results. It instills the brand identity and fosters engagement while prompting sales and leads.
Why is performance branding important?
If a brand relies too much on branding alone, it may suffer in its ability to scale. If it only focuses on short-term conversions, it will lack the reach and long-term impact of brand marketing.
The solution: a combined investment that is more cost effective and supported than two separate initiatives.
Performance branding also benefits the consumers of your content. It communicates a cohesive voice and intention, offering a consistent and reliable customer experience. This approach supports the shift in consumer behavior, which is more dependent on discovery and research.
Shoppers aren't ready to make a purchase as quickly as they once were.
The vast majority of shoppers research brands and products online before converting to customers. According to our 2022 Shopper Experience Index, consulting customer reviews is the number three deciding factor for making a purchase. Shoppers are vetting brands and products before spending their money.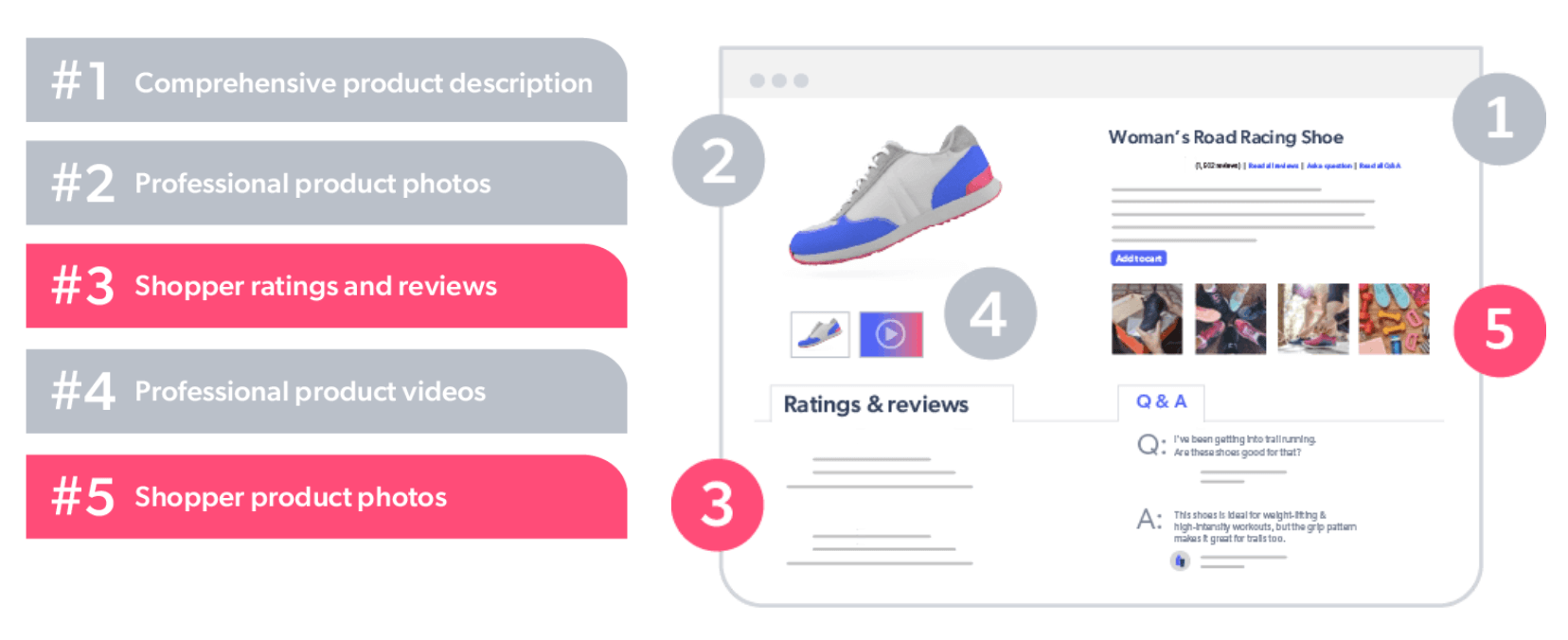 One perceived benefit of performance marketing vs. brand marketing is its ability to accurately measure results, whereas brand marketing efforts are harder to track. But with the evolution of digital marketing, that's no longer the case. Brand strength can be measured by a variety of metrics, including website traffic, search volume for branded keywords, backlinks, and social media growth and engagement.
Now, let's look at how to successfully put a performance branding strategy into action.
Use consumer data to build a results-driven strategy
We're officially in the age of data, especially when it comes to digital marketing. Data dictates the most effective channels we use to reach various audiences and the content we create for each channel. If you're not using data to inform your marketing strategy, you're essentially blindly throwing objects against a wall to see what sticks.
Data is crucial to successful performance branding.
Customer behavior, including demographics, perception, interests, needs, interactions, and spending habits, will guide a smart strategy. It will strengthen your brand and encourage conversions by enabling customized content that will appeal to and benefit your different audience segments.
Data fuels brand campaigns with the proprietary knowledge of customer behavior and characteristics, enabling more precise targeting and effective messaging that together lead to greater results.
Now with privacy regulations, including third-party tracking restrictions, you have to be more thoughtful and strategic with how you collect customer data. You must rely on first-party data, like analytics from your owned channels and data your customers voluntarily submit via surveys and other methods.
B2C marketers claim that data-based marketing personalized for the individual is their top priority, and investments in data tools likely increased by as much as threefold from 2018 to 2022. With this growing need for first-party data comes more sophisticated means for acquiring it, resulting in improved ROI measurement, better targeting, and greater impact of awareness-powered content.
Data-based strategy
An example of a data-based strategy that combines performance and brand marketing is applying demographic insights to identify an untapped market. DirectTV did this by discovering consumer data that revealed the majority of people who recently moved to a new home switch service providers and like to try new products.
Armed with this new knowledge, DirectTV designed a custom homepage for people who recently changed their address, which outperformed its standard homepage. The campaign featured distinct branding with the goal of generating new customer leads by using personalized content.
This is a classic example of performance marketing, but the branding element comes in with the top-of-funnel distribution. Website visitors who fit this target demographic are greeted with this branded messaging and imagery that distinctly meets their needs early on in their search.
Connect with your audience at every phase of the buyer journey
Combining the principles of performance and brand marketing means reaching both your problem-aware and solution-aware customers. You can't just focus on those who are ready to make a purchase. You need to hook customers in every stage of the buyer journey. The way to do this is to produce a variety of top-, middle-, and bottom-of-funnel content.
Many brands' marketing budgets rely heavily on performance-based campaigns to drive conversions and purchases. And while brand marketing efforts to drive awareness and affinity often take up over half of marketing operations, they're managed much less diligently than paid advertising. This can lead to a skewed understanding and expectations of brand marketing performance compared to the bottom-funnel campaigns.
That's why it's important to take a performance-minded approach when targeting top-of-funnel consumers. According to the McKinsey report, "With a clearer understanding of consumer preferences and behavior at the early stages of their buying journey, companies report marketing efficiency gains of up to 30 percent and incremental top-line growth of up to 10 percent without increasing the marketing budget."
Full-funnel approach
Facebook demonstrates the effectiveness of a holistic, full-funnel marketing strategy in a report analyzing over 500 brand and direct response (DR) campaigns from 21 businesses over a three-year timeframe. The results show that both brand and short-term growth campaigns are both, "consistently effective in driving sales."
While DR campaigns tend to produce more incremental sales, upper-funnel brand campaigns are less expensive and reach a broader audience.
Anthony Miyake from GroupM, Facebook's research partner for the report, said, "GroupM benchmarks indicate that brands leveraging both upper-and lower funnel media have two to three times the marketing efficiency of lower-funnel media compared with brands focused on just the lower funnel."
The chart below shows the incremental sales resulting from lower-funnel vs. upper-funnel campaigns across five consumer industries included in the study.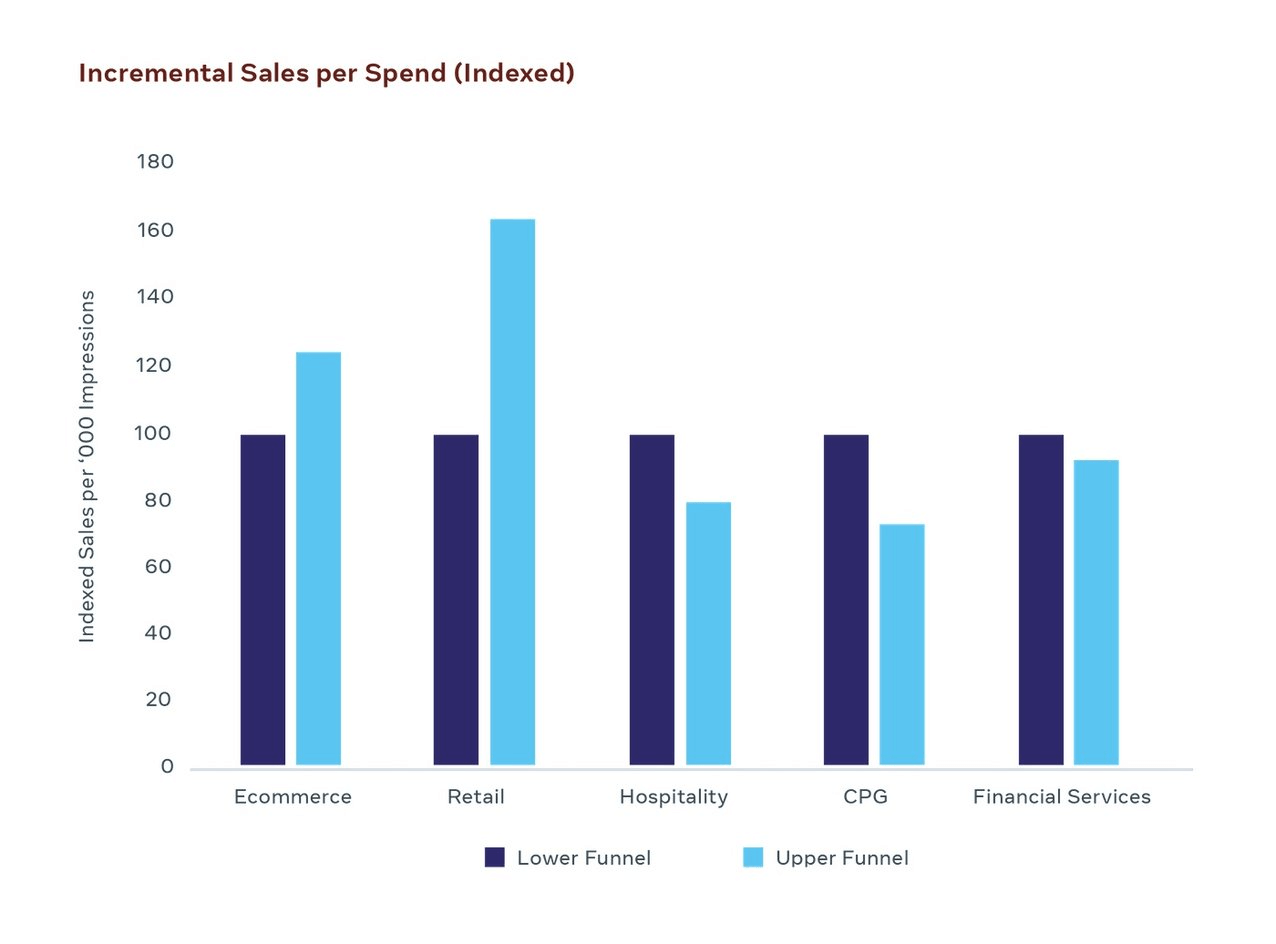 Brand quizzes
Brand quizzes, otherwise known as quiz funnels, are one example of how to target prospects in multiple stages of the buyer journey. These fun quizzes typically found on brands' e-commerce sites combine top- and bottom-of-funnel methods. It pulls in people researching a topic, question, or issue in the discovery phase and invites them to answer questions to find out personalized results. Capturing those in the purchasing phase in the process.
This approach achieves various outcomes from just one piece of content. It collects customer data, generates leads, and encourages conversions with product recommendations based on quiz results.
The quiz funnels that have the greatest impact for each marketing stage are the ones that are creative, entertaining, and informative, like Beardbrand does with its "What type of Beardsman are you?" quiz. The quiz asks its audience 10 questions about their style and grooming habits. Then it prompts them to enter their email address to get their results. These results include personalized product recommendations with corresponding links to purchase.
Leverage conversion-oriented content with strong branding
Using consumer data and a combination of upper- and lower-funnel tactics, you can create smart content that will reinforce your brand while simultaneously winning conversions.
Shoppable content
Shoppable content is the epitome of performance branding. It takes a piece of content that represents a brand's voice, style, and message and enables it for purchasing. It's conducive for audiences in every stage of the marketing funnel. It nurtures customers at the very beginning of their journeys, as well as driving conversions for customers ready to make a purchase.
Social media platforms are an ideal space for shoppable content — a.k.a. social commerce. Top platforms for social commerce include Instagram, TikTok, Facebook, Pinterest, and Snapchat. Livestream shopping is another rapidly growing shoppable content category akin to infomercials for the modern age. Livestream shopping is already huge on Facebook, Instagram, and TikTok. Now, brands are transferring it beyond social to their own websites, as well.
Like social media channels, brand websites are another prime destination for shoppable images and videos. With shoppable media galleries, brands can showcase their products modeled by their actual customers via user-generated content (UGC). Visual UGC provides other shoppers with a realistic representation of products they're considering. And backed up by social proof, the endorsement of real customers. When they see an image that speaks to them, they can simply click it to make a purchase.
Instagram shoppable content
Oak Furnitureland uses shoppable Instagram posts that boost its brand awareness, showcase its style and attributes, encourage audience engagement, and drive higher conversions. The company also feeds this social content to its website with shoppable galleries to extend its impact. As a result, it saw a 248% on-site conversion increase and a 21% average order value increase.
In the Instagram post below, Oak Furnitureland features a photo sourced from one of its real customers. The photo is tagged with its products and provides value to its audience interested in home décor.
For the brand marketing elements, the company selects a high-quality photo that attractively showcases its products, presents tips for tablescape styling, and invites its followers to contribute their own ideas.
The company infuses the content with performance marketing by including links to the specific products shown in the photo, as well as its entire Instagram shop for further browsing.
Customer reviews
Customer reviews are another powerful and influential type of UGC that brands can leverage to help convey their value and inspire conversions. Customers put their trust in brands and products that have helpful, positive reviews. Shoppers are twice as likely to make a purchase after reading reviews on product pages, which have a significantly higher conversion rate compared to those without reviews.
Reviews provide brands with free marketing content that spotlights how customers feel about purchases and shopping experiences in their own words. In addition to having a significant impact on product pages, you can promote customer reviews across your other marketing outlets, including social media, email, and physical packaging.
Customer reviews are effective performance branding tools because they are an authentic brand storytelling device that inherently drives conversions. Beyond organic reviews, you can include reviews in paid ads to increase clicks.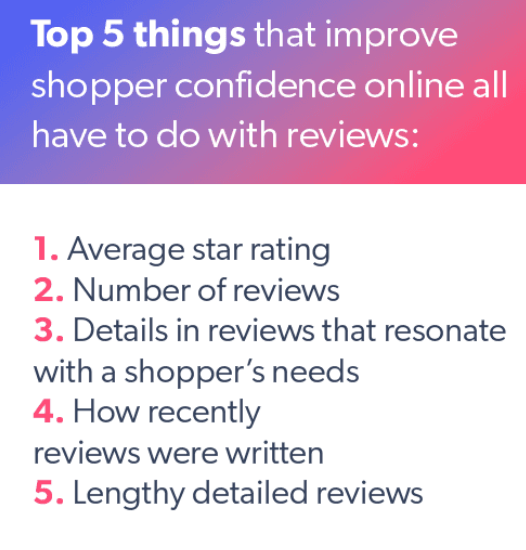 Ads containing customer reviews are what makes 22% of shoppers "most likely to buy a product from an ad." Brands and retailers also credit reviews and customer photo and video content as the most influential contributors to their sales and advertising campaigns.
Branded mobile direct response campaigns
According to Facebook's research on performance branding, when consumers see content from brands on their mobile devices, they don't register the difference between direct response ads that solicit an immediate action — like a download, sign up, click, or purchase — and general, evergreen content meant to reinforce the brand and engage the audience. "Everything is a brand experience, and everything is about performance."
The mobile marketing market is projected to steadily increase over the current decade, and revenue is anticipated to jump from $15.33 billion in 2022 to $57.85 billion in 2030. Consumers use mobile apps to shop and socialize, so brands need to make sure their content is carefully designed for the mobile audience. Brands that optimize their creative for mobile double their brand awareness compared to non-optimized content, according to Facebook's study.
Consumers notice video ads more than any other digital advertising content type, so video content is a big area of opportunity. Focus on short, engaging videos that feature prominent branding in the first few seconds. Ensure that the visuals are compelling enough to stand on their own without sound, but include audio that will entertain, entice, and inform when the sound is on.
The growth of short-form video platforms like TikTok, Snapchat, and Instagram has carved out a large space for fun, interactive videos that lead to website visits and purchases, especially when they're tagged with products.
Personalized content
Personalized content based on consumer data builds your brand and strengthens your bottom line with marketing tailored to your unique audience. Customers feel connected to personalized marketing because it's a direct response to their interests and behaviors. Personalized marketing produces significant results, like higher revenues and lower acquisition costs.
Types of personalized content can include:
These are largely performance marketing tactics that target quick results, which you can enhance to promote brand awareness and customer sentiment. For each personalization campaign, you should fortify it with strong branding and creativity.
That can mean accompanying it with relevant UGC, providing quick and helpful customer service, and ensuring your brand voice and messaging comes through to reinforce your brand's impression on your audience.
Unite and conquer
The marketing and consumer tides are changing, so the brands that move with them will experience greater overall growth and lower costs with a performance branding strategy. Be like the coyote and badger alliance, and no one will go hungry. Bring performance and brand together for the greater good.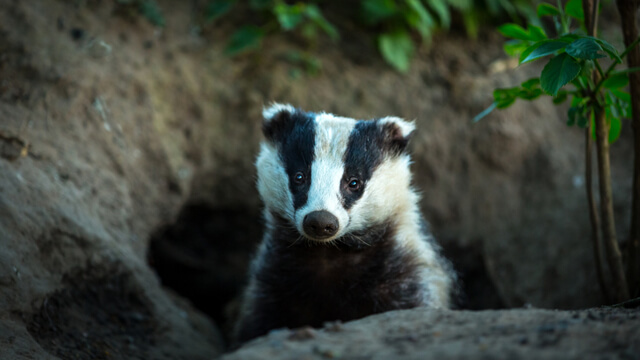 Discover how Bazaarvoice can help you streamline your performance branding strategy. Reimagine and elevate your comprehensive marketing approach to meet all of your potential customers at every interaction point with your brand.
---
You can check out the rest of our Long Read content here for more marketing strategies, tips, and insights.