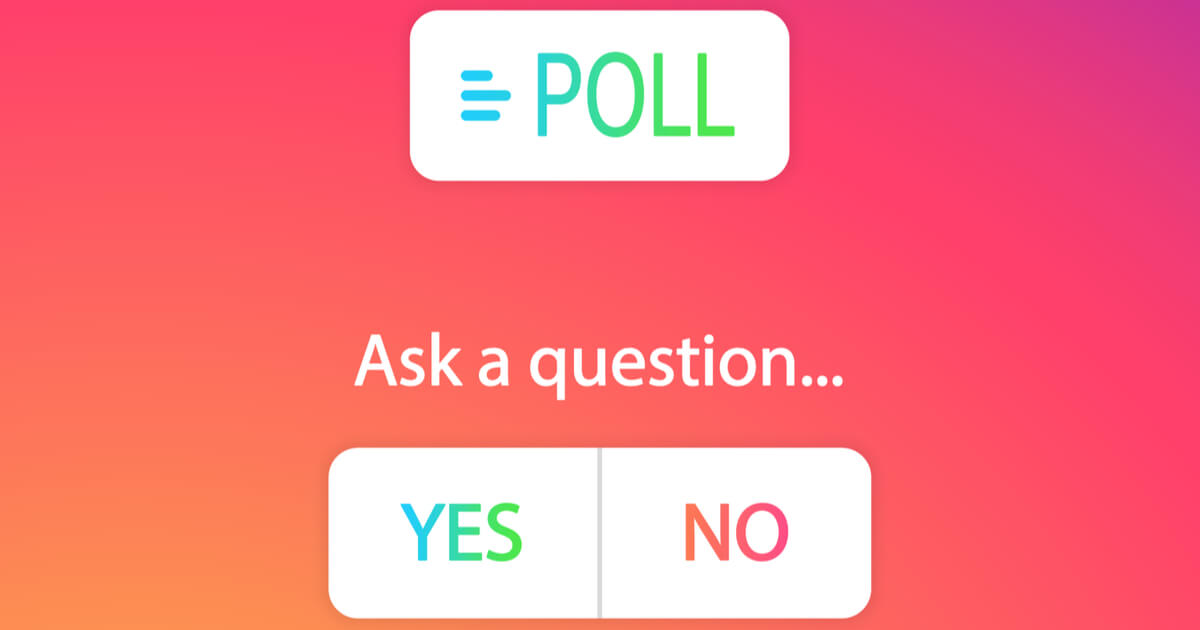 An Instagram Story can be a pretty powerful thing. It's a simple way to engage followers and it gives you the opportunity to get up close and personal with your loyal customers. Stories are a win-win: the more followers engage with your brand on Instagram, the more widely your content is distributed. And a surefire way to increase engagement is to post Instagram polls in your Stories.
Instagram Stories boasts 500 million daily users, and one-third of the most viewed Stories come from businesses. This means brands have a great opportunity to get in front consumers as they flip through social media. Instagram polls are a fun way to increase clicks, grow overall engagement, and gather feedback from your following.
Here's seven ways your brand can capitalize on Instagram polls and make them a regular part of your social strategy.
1. Tee up your next marketing campaign
Don't take the risk of relying on your followers to passively hear about your next promotion — get them engaged right away by asking for a small investment: Their opinion! Pique your followers' interests, show them why your next campaign is awesome, and redirect them to your sales page.
Check out what Airbnb did to promote their latest listings in Taiwan. They enticed followers by presenting them with a beautiful photo then asked them to guess where the photo was taken. Add a link to listing in Hualien County, and boom – anyone who was drawn in by the photo knows where to book a stay.
2. Use results in real time
As a participant, half the fun in an Instagram poll is seeing how others vote. Know what's even more fun? Seeing votes affect events in real life.
During your next live event — a photoshoot, behind-the-scenes tour, or live Q &A — publish stories asking followers to vote on what should happen next. For example, you might ask followers to vote on which outfit your model should wear for next or which pattern they want to see in your upcoming launch.
As votes roll in, add clips to your Stories showing how votes changed the event. You'll keep your customers on the edge of their seats, wondering what's coming next.
Plus, posting about events in real time creates FOMO, a major motivator since we instinctively avoid situations of scarcity. This fear of missing out affects more than half of social media users, especially millennials. In fact 69% of millennials say they experience FOMO, which drives them to engage on social media.
3. Get audience insights
Don't know what your followers want to see next? All you gotta do is ask. Polls are a great way to survey your audience and get quick, clear feedback.
Polls can also be a source of market research. Understanding your customers' needs is key to developing an effective marketing strategy, and a quick poll provides instant insight into what your followers are looking for, what type of content resonates with them, and — most importantly — what they want to see happen next.
Add a note encouraging your audience to follow up with other ideas, too. This might generate a flood of direct messages, which will give you deeper insights into your customers' thoughts.
When it comes to the kinds of questions you can get answers to, the options are limitless. Here's a few ideas:
What kind of giveaways and prizes would you like to see us offer?
Which product should we launch next?
What solution are you looking for with your skincare/activewear/beauty products?
What kind of content do you want to see from us?
If you're on the brink of a decision and looking for a nudge — and want to engage your followers along the way — an Instagram poll is the way to go.
4. Drive traffic to your website
Brands with a business account or at least 10,000 followers can use Instagram's Swipe Up feature to send followers to a specific URL, so take advantage of this and invite people to learn more about your brand, its content, and its products like Who What Wear.
In a genius effort to drive traffic to their blog, Who What Wear used an Instagram poll to have followers answer the question, "How much does Meghan Markle's entire tour wardrobe cost? $54,000 or $73,000?" After users took their best guess, they were directed to swipe up to read the blog post where they discovered the correct answer.
Adventure Cats also uses polls to tease content. In the Instagram Story above, the brand invited followers to vote on where the featured cat tree came from before directing them to an article about how a cat owner constructed it himself.
5. Sell sell sell
One of the best ways to sell is to solve customers' problems. With a brief sticker poll, you can get to the heart of what your customers need. You can then recommend the perfect product and help them create Instagram stories that convert.
Check out what cosmetics retailer Nykaa did below, for example. The brand asked whether followers wanted glow or hydration for their skin and added a link to the appropriate product detail page.
But Instagram polls don't have to just offer consumers a choice between two products. You can simply ask a question that gets to the heart of your brand, like Calm does below.
In addition to getting a glimpse at their followers' mindset through poll results, Calm also subtly promotes its product with the implication that if you're feeling anxious, you can simply swipe up and find a way to alleviate your stress.
6. Promote your other social profiles
If your followers enjoy your Instagram content, odds are they're interested in seeing what else you're creating. Instagram polls are also a great way to let followers know where else they can find you on social media, like Mercedes-Benz does in the example below.
If your Toks are the Tickiest, simply ask your audience to follow you on TikTok and provide a link to your profile.
7. Have fun!
It's easy to get caught up in marketing your products and tracking analytics, but keep in mind that the reason your audience is on Instagram is because they enjoy social media. So take opportunities to have a little fun.
Instagram polls can also be used to engage your followers and bring some joy to their day like Milk Bar recently did when it asked its audience to vote for either Taco Tuesday or Truffle Tuesday.
Using Instagram's polling feature in this way humanizes your brand and shows followers that there's a real person behind the account.
8. Give the people what they want
As noted above, the more followers who interact with your Instagram account, the more the platform's algorithm will distribute your content. But how can you entice your audience to cast votes in your Instagram polls? By rewarding them!
Tell your followers to look out for special giveaways that they can enter by voting. Encourage fans to keep an eye out for your content by announcing winners in an upcoming newsletter or Instagram story.
This is a similar concept to the 60 Second Club, created by business wiz and social media influencer Gary Vaynerchuk. If a follower likes and comments on Gary's Instagram post within 60 seconds after it's published, they get a chance to win awesome swag.
Take to the Instagram polls!
In short, engagement rules — and Instagram polls can help you get that engagement. So start polling your audience on a regular basis.
Now more than ever, customers want to be heard. Whether that's voting for their favorite shade of lipstick or letting you know they prefer oat milk over almond, it's important to gain insight.
Check out the rest of our Instagram content here for more tips and tricks!