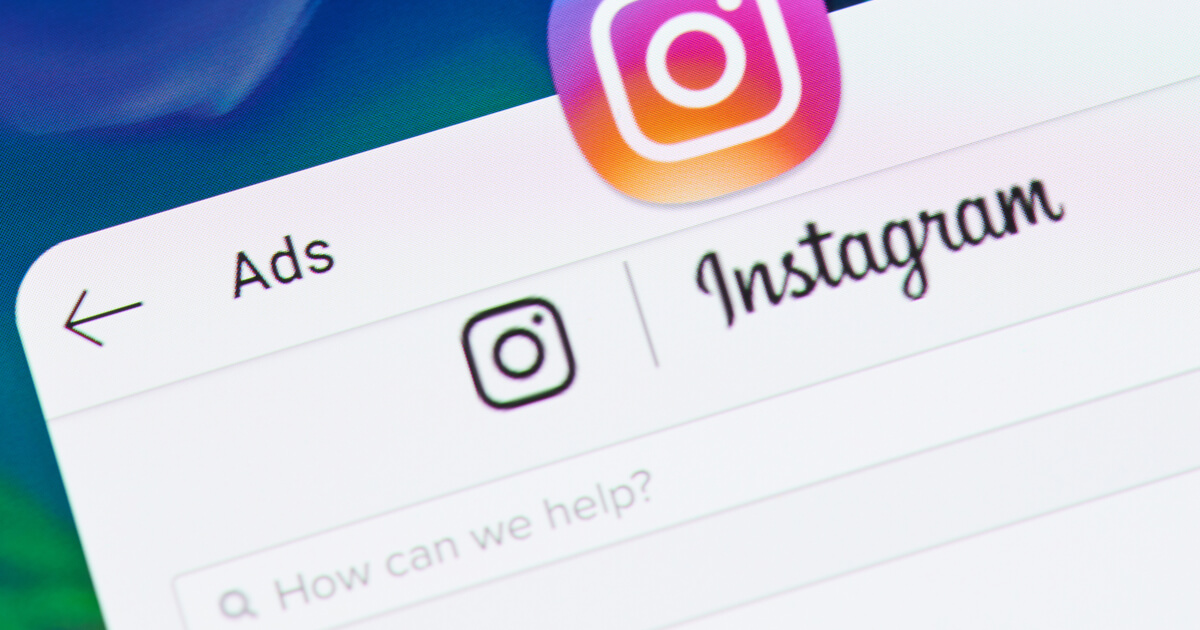 Instagram has come a long way since its debut as a photo-sharing app in 2010. These days, brands aren't just using Instagram as a place to showcase their newest styles and to inspire their fans, but also as a place to drive e-commerce sales.
From snapping striking product photos and short how-to videos, to offering behind-the-scenes glimpses and in-post shopping experiences, there's many ways for brands to monetize Instagram.
Investing in Instagram is working for brands. More than 70% of consumers view brands that use Instagram as popular, creative, entertaining, and relevant, and Instagram ads and brand posts regularly help shoppers find new products and inspire them to purchase on the spot, a 2019 study commissioned by Facebook IQ revealed.
During the COVID-19 pandemic, screen time has increased, and Instagram has become a favorite destination for many people. According to an Influenster survey from mid-2020, 69% of respondents in North America and 67% in the UK said they're using Instagram more than pre-pandemic.
Instagram offers several ad products, including photo ads, video ads, stories ads, carousel ads, shopping ads, and more. Even though ads must be labeled "sponsored" since the brand paid to promote these posts, they usually look just like normal brand posts and blend right into a user's feed.
Here's a look at some of the ways that brands are using Instagram to tell their stories and get their products noticed.
Athleta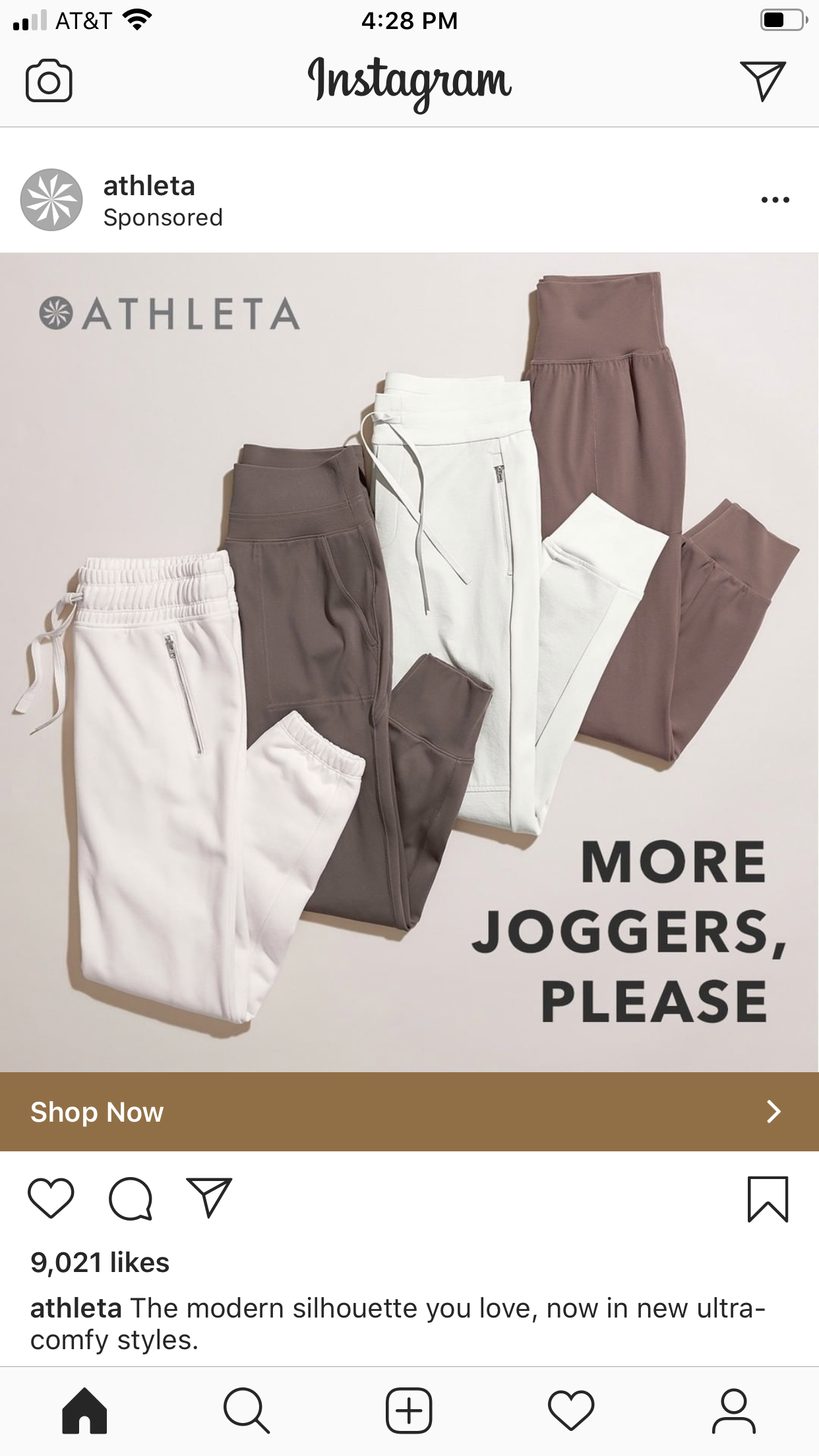 Athleisure brand Athleta highlights its products on Instagram through fitness videos, inspirational stories, and photos of customers wearing Athleta workout and loungewear. The brand regularly creates photo ads featuring simple but stylish photography with catchy messages that resonate with their fans. To make it even easier to go from getting inspired to purchasing, their recent campaign for joggers also features a "Shop Now" button to easily check out.
Athleta often meets many of the hallmarks of successful Instagram photo ads. To keep consumers engaged in your photo ads, be sure to use a consistent color scheme and similarly styled photos so that your brand aesthetic comes through each time. This will make you instantly recognizable!
COS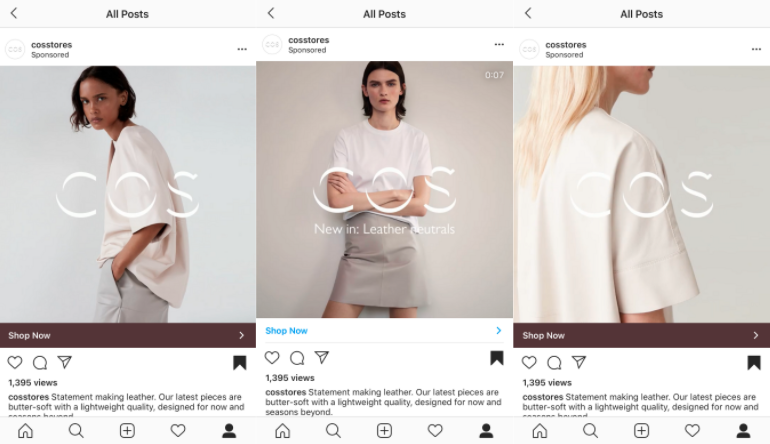 British fashion brand COS is known for its classic styles, an aesthetic that the brand showcases throughout its Instagram page. COS uses several ad formats on the platform, including stories, photos, videos, and carousels posts that feature multiple images. Attached to these posts, you'll also find a "Shop Now" button, giving users the ability to purchase straight from the ad.
Carousel ads let brands feature multiple images featuring multiple products in a single ad. It's always a good idea to include a call to action, like "Shop Now" or "Learn More," to encourage users to engage with your brand—and, it can increase conversions.
Glossier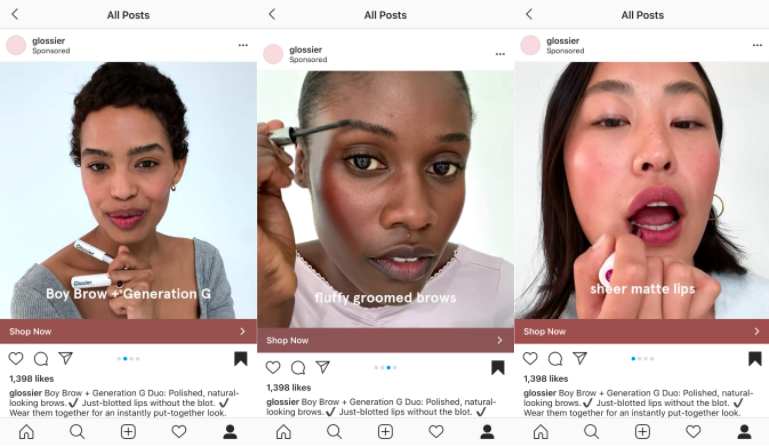 Glossier has amassed nearly 3 million Instagram followers by showcasing its skincare and makeup products in action with before-and-after looks and tutorial videos. The brand mixes professional product images, which show off their minimalist package designs, with user-generated photos.
Glossier invests in video ads to introduce new products with models demonstrating how to use them. In all of its imagery, the brand sticks to a consistent look, as a way to engage its community of fans. Like photo ads, Instagram video ads depend on compelling visuals, but offer the added bonus of sound and motion. Instagram video content receives nearly 50% more interactions than photos, and how-to videos are one of the most popular formats.
Liberty London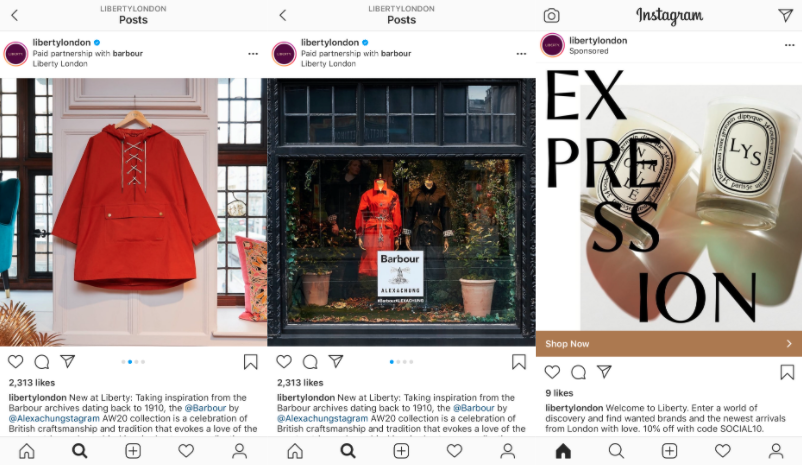 This iconic British department store connects with its nearly 900,000 Instagram followers by featuring its historic space and unique products in their social content. Liberty London embraces Instagram ads in several ways, including photo ads and Stories, to highlight promotions and new product lines in fashion, beauty, fragrance, and housewares.
Liberty London also works with influencers on Instagram via paid partnerships and branded content, such as a recent campaign with Barbour. These partnerships let brands tap into an influencer's network and reach a wider audience. Many shoppers view influencers as highly trustworthy, and about half of shoppers admit to purchasing a product that was recommended by an influencer.
Marriott Bonvoy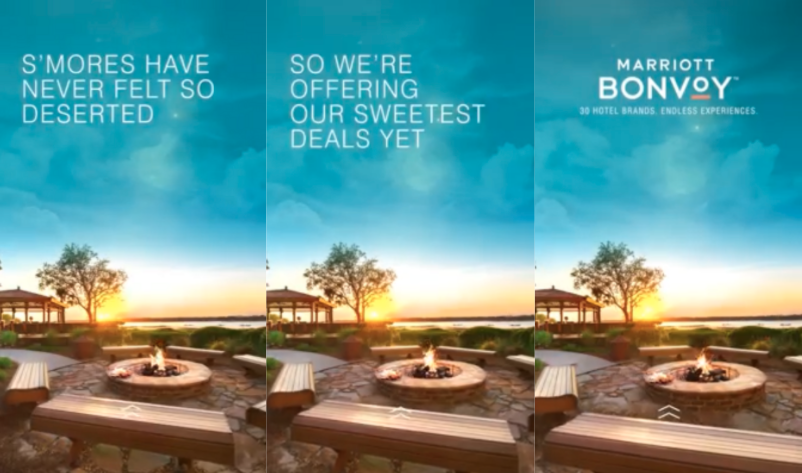 Travel has mostly been paused during the pandemic, but Marriott Bonvoy, the hotel chain's rewards program, has focused its Instagram posts on showcasing road trips, nature-focused destinations and outdoor adventures. In August, the brand ran an ad campaign on Instagram Stories to promote its end-of-summer sales. The ads included striking imagery of blue skies overlaid with simple text.
According to Instagram, one-third of the most-viewed Stories on the platform are from businesses, and more than 500 Instagram users view Stories each day. Stories can incorporate shopping features, sound, stickers and other elements. Plus, they take up the full screen on a mobile device, so the ads get a viewer's undivided attention.
HBO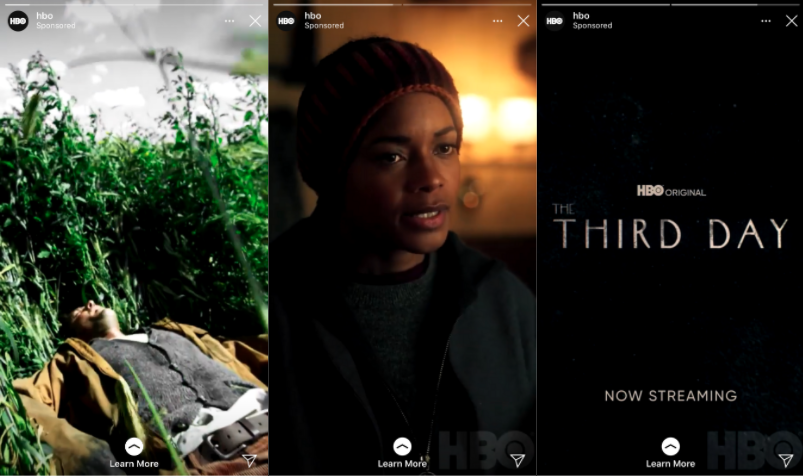 Stories and video ads have been a central part of HBO's strategy on Instagram. The TV network shares energetic, cinematic clips of its original programs to announce premieres and attract viewers to its new streaming service HBO Max. A recent example is a Stories campaign for the show "The Third Day," which included scenes from the show overlaid with praise from critics.
Drive engagement with Instagram ads
Previews and behind-the-scenes content—really, any glimpse inside your brand's inner workings or something coming soon—tends to resonate with consumers and drums up excitement for new launches. Your Instagram followers feel like they're part of an exclusive group, and that leads to higher engagement and long-term loyalty.
Instagram gives brands many paid advertising opportunities and formats to promote products and services that reach targeted users in ways that seem more organic than traditional advertisements. But, to truly connect with users, your imagery must be compelling and your messages simple and catchy. It'll get your customer's attention and compel them to click on the ad, rather than scroll on by.
Want help catching shoppers' attention as they're scrolling? Let's chat.
---
Check out the rest of our Instagram content for more best-practices.