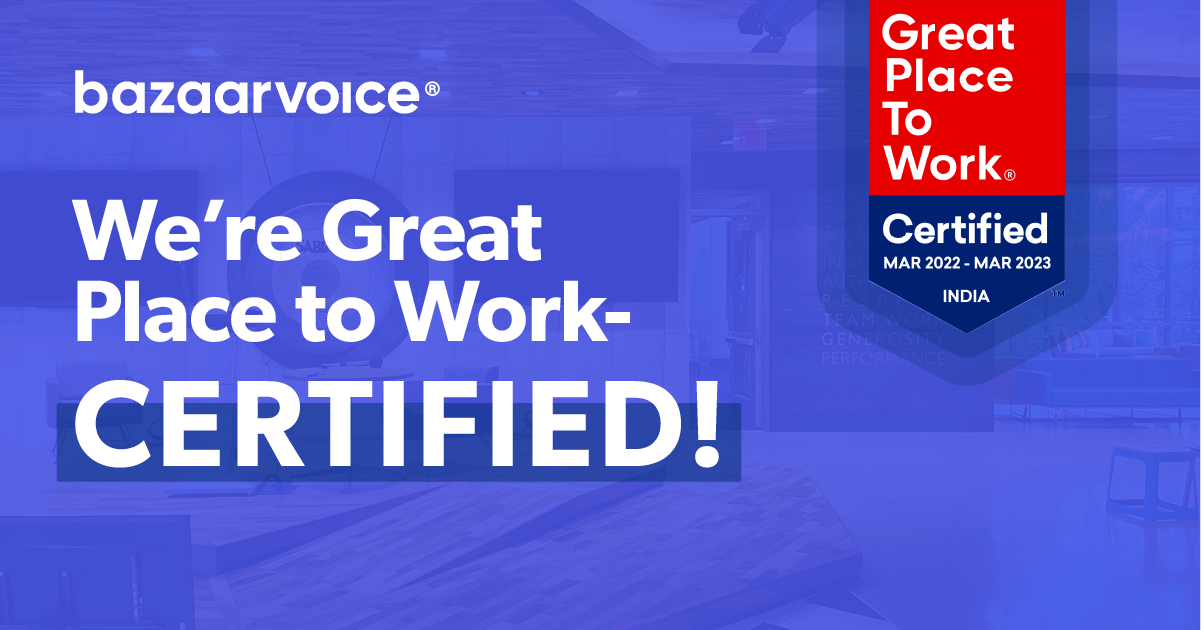 I'm so excited to announce that Bazaarvoice India has been certified as a Great Place To Work! I could not be more proud of this milestone.
As a young center, we've been able to grow from 0 to 100+ team members in just over two years, and have been delivering incredible outcomes for our customers along the way. This recognition is a testament to the fact that we have been able to create those results the right way. By ensuring Bazaarvoice India is a psychologically safe, inclusive, respectful, fair, and fun workplace, where each team member is allowed to learn and develop professionally.
What our team members say about their experience at Bazaarvoice
"Bazaarvoice India is a great place to work. The culture is transparent, every employee, irrespective of their position, is given a chance to be heard, and there are ample opportunities available to those who want to build a career here. Great opportunity to work with colleagues across the globe. Flexible working hours have given me time to focus on work as well as family."
"BV India promotes client focus by taking care of the employees! Happy employees, happy clients"
"BV is a great place to work because of the decisions made around employees. During the pandemic, they have supported many employees with their best capability. Even when we were returning back to the offices and the third wave started, they took back that decision and allowed the wave to settle down. Now even with the hybrid model they are flexible on time hours and focused on the work you do rather than the number of times you are coming back to the office. Management is quite understanding in nature and always helps in keeping our private life in balance with work."
More to come
While this is a massive accomplishment, it's just the beginning. We are continuing to grow and want to make Bazaarvoice India the best place it can be. Want to join our team? Check out our job openings here.