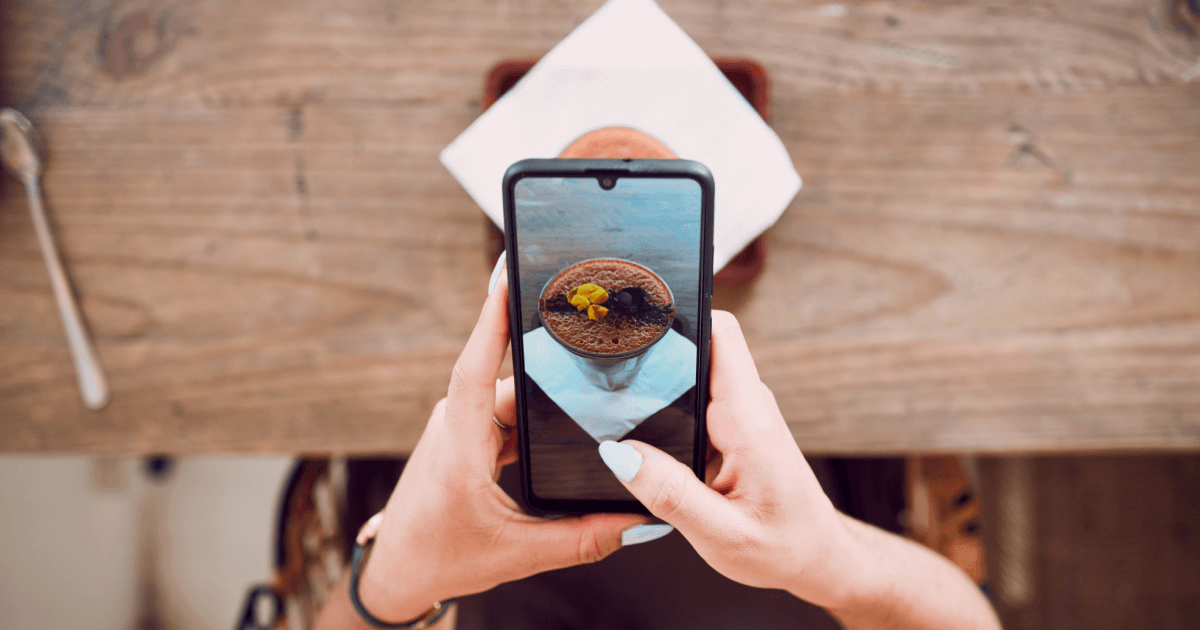 Social media trends come and go, but there's something all social media users can agree on – people love posting content of their food or drinks. Whether it be a photo of a special steak dinner or just your average cup of morning joe, we're all food content creators. We're all constantly bombarding our feeds with (or are bombarded by) food-related posts like we're influencers.
Over the past five to 10 years, it's almost become an innate behavior to announce "phone eats first!" before anyone can even touch their meal. I do it, and I'm sure you do too.
But we've since evolved from basic, static images of meals. Now, we're in a world of lengthy wine review videos, fully dedicated food blogs on Instagram, and even "day in the life" TikToks from private chefs. Creators have found a way to carve their own niche and develop strong communities who genuinely care about their food content.
However, how do brands and businesses fit into this world? How do they best leverage these food content creators and influencers to get their products out there to the masses? There's arguably no industry more than food and beverage that needs such high brand loyalty and community. For example, it's easy to replace a cereal brand when there's 50 to choose from.
By partnering with content creators, food and beverage brands can differentiate themselves from their competitors in an authentic, engaging way.
Our top 5 favorite food content creators
Check out these top food and beverage influencers crushing it in the social sphere.
1. Condimentclaire
Claire, otherwise known as @condimentclaire on TikTok, has made a name for herself for loving none other than – you guessed it – condiments! Her passion for all sorts of sauces, mixed with her deep knowledge of various cuisines and cultures, makes her content constantly fresh and exciting. Oftentimes, you'll find food history lessons, day-in-the-life videos at her father's Mill in France, and taste-test's of niche foods and drinks.
Her TikTok stands out amongst the rest because no two videos are the same. Her long- and short-form videos really dive into all aspects of food and drink, unafraid to give her opinion or suggest a weird food combination.
And what's her strategy? No strategy at all. She just posts what she likes, and that's why her followers love her! You can always expect authenticity from @condimentclaire – she seems like the girl next door, and a rather cultured, interesting, well-traveled one at that.
Also, her community trusts her knowledge and expertise because she has proven, time and time again, she knows what she's talking about.
2. Wishbone Kitchen
Meredith Hayden (@wishbonekitchen) is the private chef of all private chefs. Diving into a world never really explored before on social media, she opened her audience's eyes to what it means to be a 21st century private chef. Mixing her high-brow job with her likable, relatable demeanour, she finds a way to meld these two worlds together and produce TikToks that any and all can enjoy.
One video, she might be cooking a giant surf-and-turf dinner for her millionaire clients, and the next, she's enjoying a chicken sandwich and talking to her followers like they're on Facetime.
Yes, her job might signify something fancy and exclusive, but the girl works hard. Just take her day-in-the-life videos – it's not all super glamorous and ritzy, especially when you're lugging a cart of groceries on the subway in NYC.
That's why her community enjoys her videos so much; she keeps it real, showing the high high's and the low low's of her profession. Not only is it fun to see what she's cooking up, it's also just rewarding to follow alongside someone's passion.
3. Drinks By Evie
Not a food content creator as such, but still an influencer in the food and beverage realm, is mixologist @drinksbyevie. Mixology isn't something many people master, but you could definitely say Evie is a seasoned professional. Posting regular how-to videos and featuring multiple different alcohols/beverages on her page, she's created a niche for herself on alcohol-Tok.
Evie's video production value is high because she knows that the drink can taste good, but if it doesn't look gorgeous, it's not going to get those clicks Especially when your followers can't actually try the drink.
@drinksbyevie

This clarified tomato cocktail will go down in history as one of my favorite drinks to date!! The flavor is so savory and unique and delicious especially if you're a tomato lovaaaa • 1 oz cherry tomato juice • ¼ oz simple syrup • ½ oz lemon juice • 4 drops white balsamic vinegar • 2 cracks black pepper + pinch of salt • 2½ oz parmesan rind infused vodka • 1 oz whole milk • garnish: olive oil + cherry tomato Muddle a handful of cherry tomatoes and strain it through a fine mesh strainer to extract 1 ounce of tomato juice. Add the juice, simple syrup, lemon juice, white balsamic vinegar, salt, pepper, and vodka, to a jar and give it a quick stir. Slowly add the ounce of whole milk and let the mixture sit for about an hour or two in the refrigerator. Line a fine mesh strainer with a damp coffee filter and strain the entire mixture into another jar. Be mindful not to mix or force the liquid to drain, let gravity do its work!! Give it a quick stir with ice to chill it down, and then strain it into a chilled stemmed glass (or drink it over ice!). Garnish with a few drops of olive oil and a cherry tomato.

♬ Samurai Champloo – FaRe 'N' HiTe
She'll make the classics – margaritas, hot toddies, low ABV drinks – but she's also willing to spice it up and throw unexpected ingredients into her beverages. Ever tried a matcha martini before? Well, if you haven't and want to, Evie will teach you how. (Editor's note: they're delicious).
Also, who doesn't love some good alcohol education? Learn about glassware and when to use certain glasses, and even dive into her various TikTok playlists according to what your alcohol of choice is.
4. Alex Delany
A previous Bon Appetit employee, Alex Delany is quite the renaissance man. Known for his "Trying everything on the menu" video series with Bon Appetit, he's made a name for himself in the NYC food and beverage content creator scene.
Since leaving the magazine, he's been developing his own personal brand on Instagram and frequently posting about his assorted interests – music, podcasting, wine, and most importantly, eating. He also now consults for food and beverage businesses.
Although he stays quite niche (considering most of his content revolves around the NYC restaurant scene), he makes sure to give different foods and drinks a fair shake. You can always find a wine review or his new favorite coffee brand on his Instagram stories, which helps satiate his non-NYC followers.
His large following began at Bon Appetit, but it didn't end after his departure. People have stuck around because this man is truly dedicated to his craft. There really isn't a day that goes by where he hasn't eaten out at least once. That's truly impressive (and FOMO-inducing) and is a testament to his love for all things food and drink.
5. Molly Baz
Another ex-Bon Appetit-turned-food content creator, Molly Baz is a fun-loving chef and has taken Youtube by storm. Although food content creators and influencers have primarily found great success with short-form TikToks and Reels, YouTube has also been great for those looking to really dive deeper into cooking.
As a trained, professional chef, it makes sense why Molly would take to YouTube so well. With multiple cookbooks under her belt, she needed a platform where she could walk step-by-step through her delicious creations (her chocolate chip cookie recipe is worth a try).
Scrolling through all her delicious recipes provides instant inspiration for breakfast, lunch, and dinner. Molly's known for her "just have fun in the kitchen" vibe and is never taking herself too seriously, which shows up on camera in a natural, welcoming way. Although seasoned chefs could be enjoying any of her recipes, that's not really the audience she is trying to target. Instead, Molly's focused on regular people who are just trying to elevate their basic daily meals.
Her content could really thrive on any destination of social media, but YouTube really suits her go-with-the-flow nature and cooking style. Followers can return to these videos, time and time again, and feel like they are chef'ing up a meal alongside a legit chef. Who wouldn't want to do that!?
How brands can partner with food and beverage content creators
Now comes the fun part – building a strategy around leveraging these industry-leading food influencers to promote your brand.
Influencers and creators are changing the way people interact with and perceive brands on social media. On top of that, they have a growing amount of power and influence over their following, which means they can, for instance, send more than 10k people to buy a product they recommend.
For food and beverage brands specifically, customers want to know that trusted influencers like the food, restaurant, or drink beforehand. Nowadays, more than ever before, those trusted individuals are content creators.
Luckily, too, these types of creators are growing on all platforms, which means they are getting more and more specific with the content they post. There aren't just professional chefs anymore. Now, if your business sells wine, there's everyday creators who solely post about and review wine. That way, you can identify a partner that aligns with your brand, your brand message, and your audience. But how do you find them?
How to find food and beverage content creators to work with
If you've been inspired by the above creators but you're struggling to find food (or any industry) influencers on your own, look into search engines that cook up suggested creators using your pre-existing following and content theme. It takes the work off your plate and allows you to manage them directly in one place.
Or better yet, level up your creator strategy by tapping into an existing creator community like the Influenster App. Influenster is an end-to-end marketing platform powered by a community of over 7.5 million everyday content creators, where you can take advantage of authentic product content and connect with your own brand advocates in one fell swoop.
People are already creating content about your industry — photos, TikToks, or even just product reviews — you just need to tap into it. For example, when global beauty brand Rimmel wanted to raise sales of a certain eyeliner, they took content created by Influenster members and displayed it across their site and social channels, leading to a 44% sales lift.
The Influenster community represents trusted voices within their industry and can amplify your brand message to their highly-engaged, niche audiences. What more could you ask for? Learn more about it here or get in touch below.
Request a demo