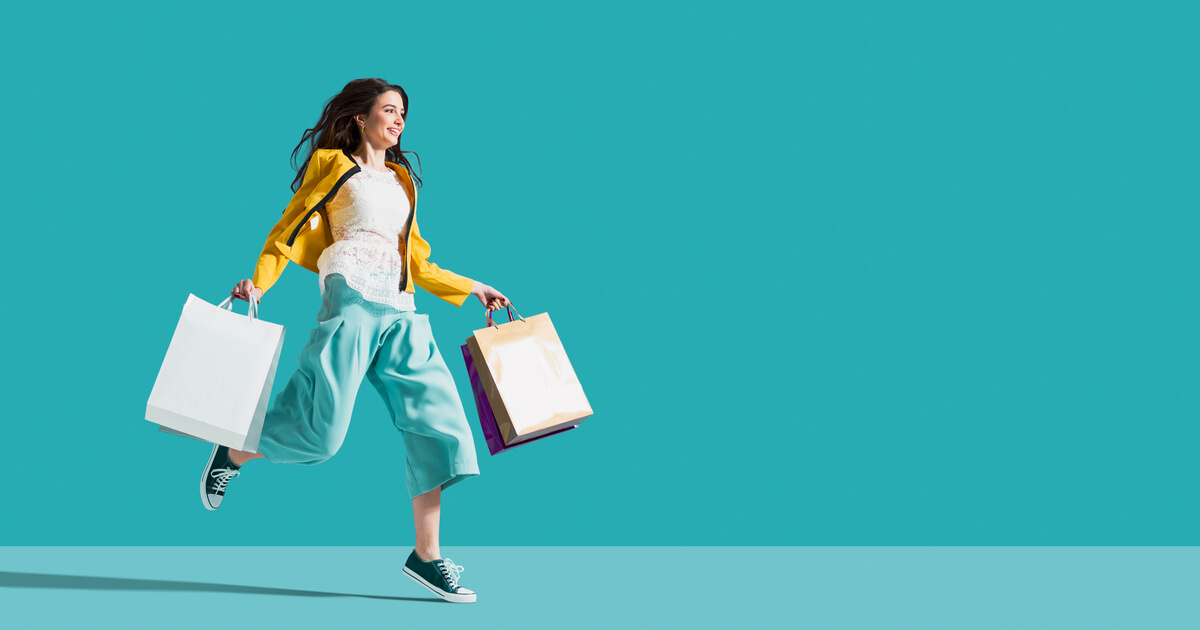 This article will demonstrate why all e-commerce brands, no matter their size, should have a direct to consumer marketing (DTC marketing) strategy.
By focusing on direct to consumer marketing, brands can collect customer data, engage directly with customers, offer personalized marketing, launch and test new products easily, provide an omnichannel experience, and stay nimble in the e-commerce environment. Aaaaaand breathe.
Chapters:
---
---
What is direct to consumer marketing?
About a decade ago, the line between direct to consumer (DTC) and retail brands was clearly drawn. Brands either had retail partners that sold their products, like Pringles. Or they exclusively sold, fulfilled, and shipped their own products directly to customers, like Blue Apron.
The divide was likely because DTC was a new business model with a totally different approach to traditional retail. The emergence of DTC shifted the focus away from brick and mortar, bringing it to e-commerce and cutting out any middlemen. After DTC trailblazers like Bonobos and Warby Parker arrived on the scene, hundreds of others followed. And more seem to be popping up daily.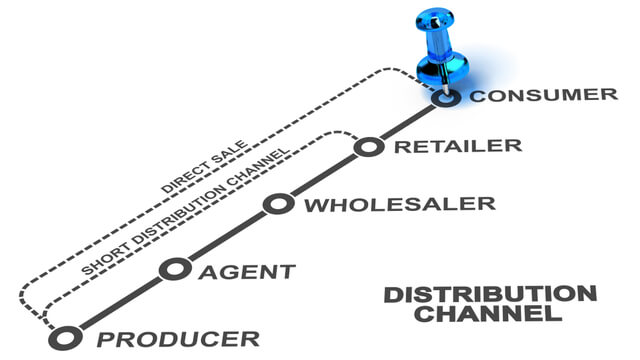 The high-profit potential explains a lot about the wave of new DTC brands. The growth rate of DTC revenues measured over five years is four times higher than retail brands.
In today's digital marketplace, brands don't have to choose one or the other. By investing in a direct to consumer marketing strategy, all retail companies can have more control over their brand, be more flexible, and build stronger relationships with their customers.
Discover the top five advantages of a DTC marketing approach and how any type of brand can thrive in today's saturated market.
Why all brands should have a direct to consumer marketing strategy
Whether your brand is one of the many DTCs to pop up recently or it has yet to make the shift from traditional retail, it's helpful to know how the strategy can benefit you. These are the top objectives of direct to consumer marketing that any type of company can aspire to.
1. Stronger connection with customers
DTC marketing allows you to interact directly with your customers at every stage of the relationship. Brands that only use other retailers to sell and market their products surrender that relationship to their partners. To grow your business, it's no longer enough just to have a quality product. You need to also build a community around your brand.
In a study of more than 1,000 consumers, 64% expressed they wanted a brand to connect with them by sharing values that align with their own and understanding their interests and needs. The majority of respondents also reported this connection leads to improved brand loyalty. Brands can only achieve this connection if they have access to their audience through their own channels, particularly on social media.
Brands with their own DTC platforms can guide the customer experience from start to finish. In the discovery phase, they can drive awareness with their own social media and search engine optimization (SEO) strategy. In the consideration phase, they can engage with customers on social media and with email. And in the decision phase, they can provide their own customer service and e-commerce experience.
When your brand can craft its own narrative and engage directly with customers, you have more opportunities to instill your story, values, voice, and personality. Being open and transparent with your audience fosters connection and conveys authenticity.
Authenticity is another route to brand trust and loyalty. As Juan Woodbury, EVP, branded content and entertainment at FCB, explained to Adweek, "We need to be able to communicate with our consumers in an authentic way to where they can have brand loyalty. Consumers nowadays want to have more of that personal and intimate connection with the brand that they're consuming."
Customers need to trust the authenticity of your products in addition to your brand. According to a Forrester European study, consumer trust in the authenticity of products is one of the top reasons for purchasing from DTC beauty and home goods brands. This is especially true for more exclusive, high-end products.
An important part of building connections with customers is providing your own customer service instead of relying on partners or third parties. When you offer customer support, customers can ask you questions through direct messages, emails, chatbots, or questions and answers features. This way, you can answer them quickly, resolve issues, and put your own personal touch on the conversations with your customers.
Customer feedback guides brands to do more of what works or fix what doesn't — from how they market their products to the products themselves.
The direct to consumer fitness apparel company Outdoor Voices has cultivated a loyal fanbase through their marketing. They encourage their customers to share content about their fitness and OV products using the #DoingThings hashtag. They actively engage with their community on social media and in real life with OV-sponsored events.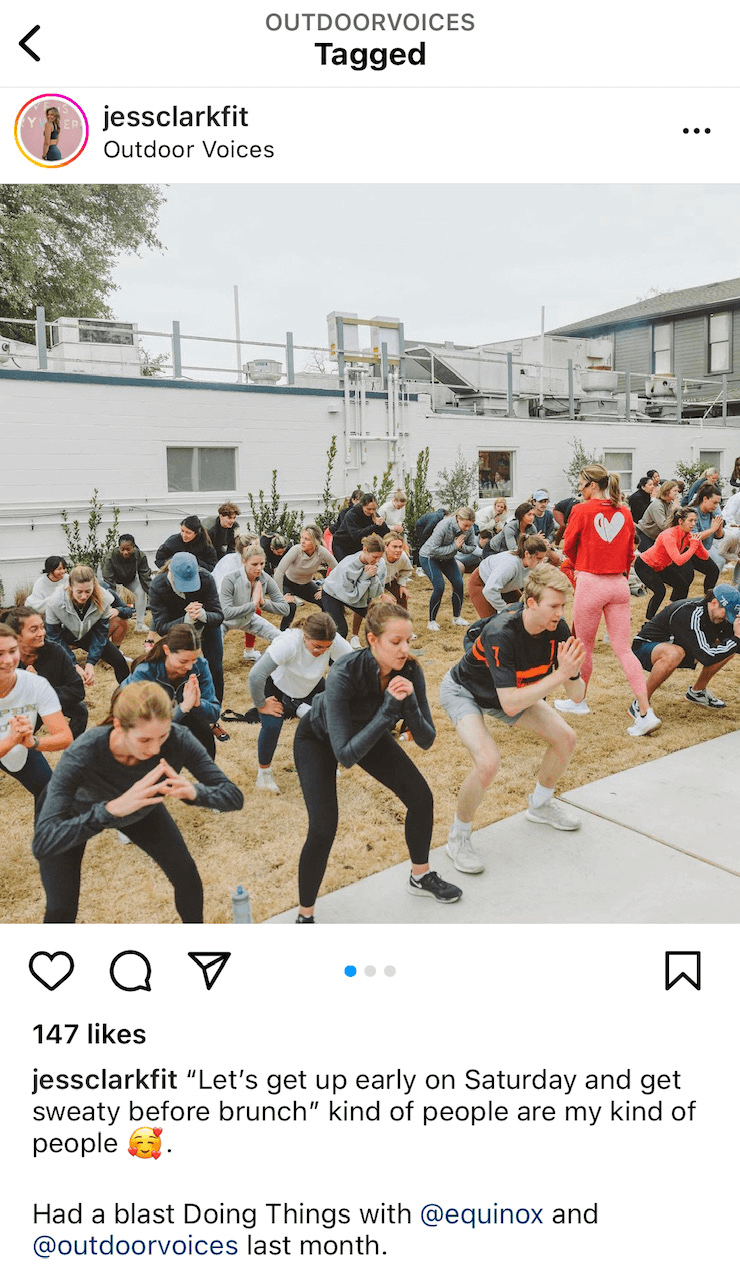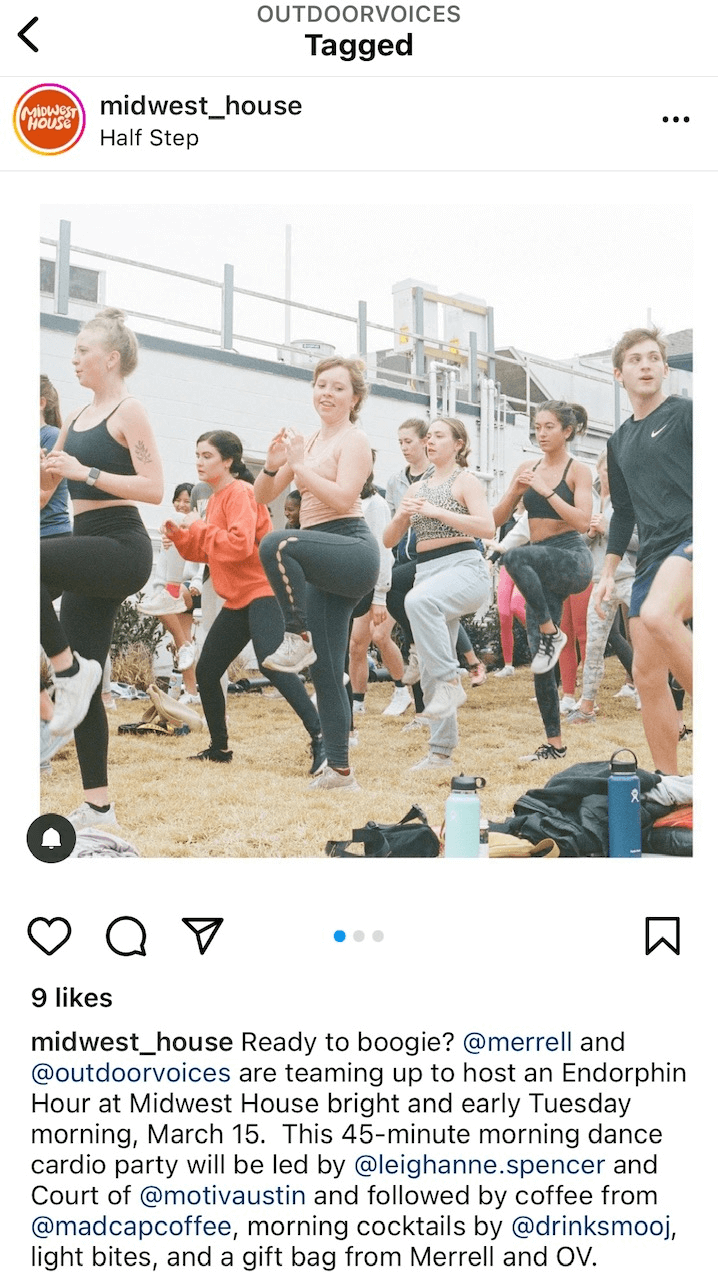 2. More flexibility and commerce touchpoints
With a direct to consumer marketing model, you're free to experiment and pivot whenever and however you choose. Many DTC brands are digitally native, meaning they operate exclusively online. Some choose to expand beyond their own e-commerce channels to retail partner sites or open physical retail stores. Or all of the above.
Casper is an example of a digitally native DTC brand that had massive success and went on to develop partnerships with major retailers like Target and Nordstrom. Later, Casper signed on with one of the traditional retailers that they disrupted: Mattress Warehouse. If you can't beat 'em, join 'em.
Your own e-commerce site is essential for brand awareness and product discovery whether or not your brand sells through retail partners. Browsing search engines is the top source of inspiration for online shopping, followed by social media, so you need to have a site with rich, optimized content about your brand and products so shoppers can find you.
According to Forrester, "A brand's own DTC presence will very likely be a research source even when consumers end up purchasing from a brand's retail partners."
That DTC presence can also extend to your social media beyond just community building. With social commerce, you can sell products right on the platforms where you're interacting with customers and creating fun, experiential content.
In Shopify's Future of Ecommerce report, Étienne Mérineau, Heyday by Hootsuite's Senior Director of Marketing, emphasizes the important role of social commerce in direct to consumer marketing. "It's key for brands to develop their own DTC strategy and model to be able to build a strong, independent brand. Social commerce is definitely an opportunity for brands to reclaim their destiny by owning the customer experience and the relationship with customers, versus selling on Amazon, where price is king and your brand is an afterthought."
Allbirds is a DTC shoe brand with a strong omnichannel strategy. They sell their shoes and clothing on their e-commerce store, at their own retail shops, and on social media with shoppable content. Allbirds also uses each of their marketing channels to promote their commitment to sustainability, which is largely what the brand has become synonymous with.
3. Acquire and market user-generated content
Your e-commerce site and social media are major platforms where you can leverage the power of user-generated content (UGC). Social media is where people share images, videos, and testimonials about their experiences, including the products and brands they love. UGC provides great content to use for marketing — not to mention free and sincere promotion.
On social media, you can repost UGC on your own accounts and make it shoppable by tagging products from your catalog. On your e-commerce site, you can feed that UGC from social media to your product pages and other places throughout your site with visual galleries.
Your e-commerce site can house customer reviews on your product pages, category pages, home page, and anywhere else. These reviews give other shoppers the confidence and convincing they need to purchase. Based on research from the Bazaarvoice Network of retailers and consumers, the majority of shoppers trust reviews even more than personal recommendations, and reviews increase conversions significantly.
Isabella Oliver is a DTC ethical maternity wear brand that primarily sells their products online. They added UGC galleries to their e-commerce site to show what their clothing looks like on real customers, not just in professional photos. Their product pages show all the UGC images and customer reviews associated with the corresponding product. When customers interact with their galleries, Isabella Oliver's conversion rates increase by 120%, average order values increase by 10%, and time on site is 3x higher.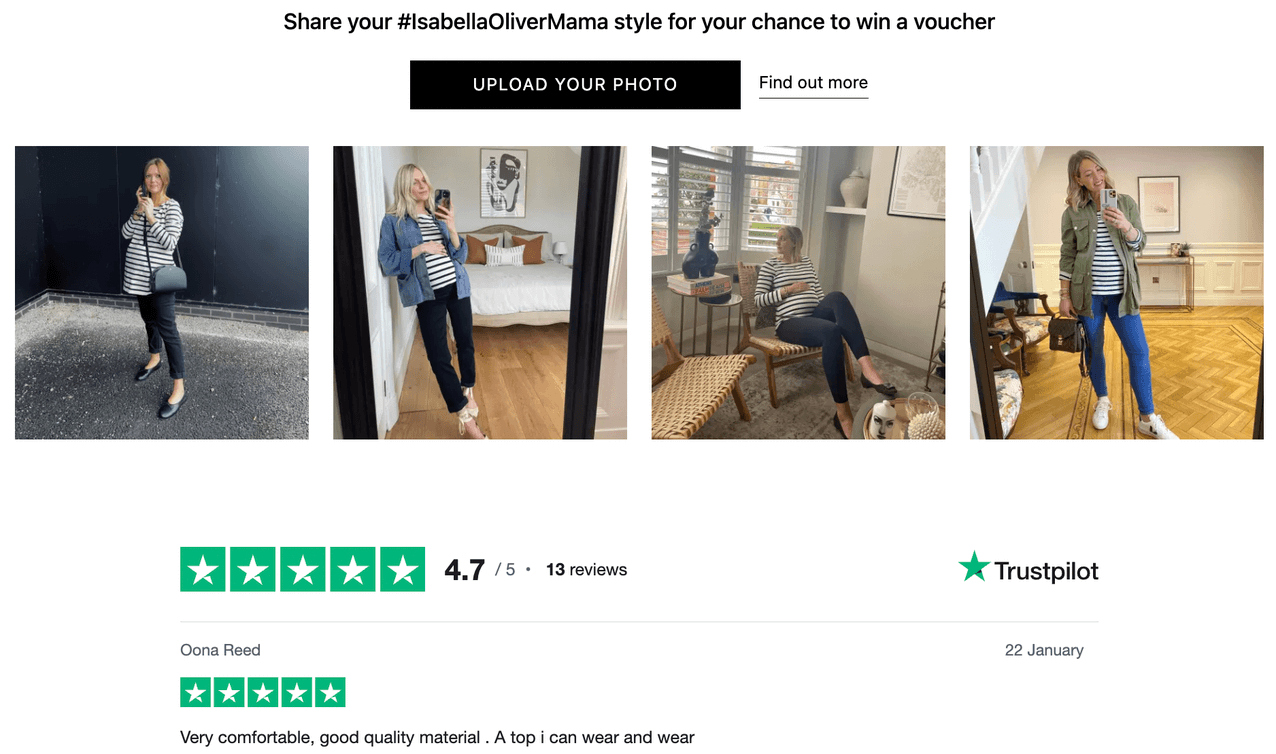 One type of UGC that many brands use to their advantage is influencer marketing. Influencers can make all the difference when generating buzz for your products and services, especially for new brands. Take the popular DTC bed sheet company Brooklinen. Part of their early success was due to partnering with prominent home and lifestyle influencers to showcase Brooklinen products in their homes.
4. Ability to collect customer data
DTC brands and those with DTC channels have a distinct advantage over traditional retail brands: internal data about their customers' shopping behaviors. There's a lot of valuable and informative first-party data you can collect with a direct to consumer marketing strategy. That data includes what your audience reports through surveys and contact forms, website behavior, purchase history, and social media activity.
Quantitative data is mostly found using website and social media analytics, first-party cookie trackers, and e-commerce platform insights.
Qualitative data to assess customer sentiment can be sourced from customer reviews, customer satisfaction surveys, and feedback from loyalty programs and subscription members.
Advanced tools like customer data platforms and Bazaarvoice's Insights and Reports can gather comprehensive data from multiple customer touchpoints.
This goldmine of data can help you attract and retain customers, develop or improve products, and modify your marketing strategy. As Harvard Business Review puts it, "Brands should actively use the resulting insights to spur innovation, strengthen the value chain beyond the initial transaction, and deliver satisfaction at every possible touchpoint."
Data is the foundation of personalized marketing, which is one of the best ways brands can innovate and provide value to customers. In practice, this looks like creating customized emails according to customer segments and offering promo codes and product recommendations on your e-commerce site.
The DTC outdoor stove company Solo Stove demonstrates how to collect data and offer personalized recommendations on their e-commerce site. In the first example, they offer a discount in exchange for the visitor's email address. In the second example, they give shoppers a quiz on how they would use the stove and recommend products based on their answers — a tactic for collecting data and personalization.
5. Easily launch and test new products
Managing your own DTC presence allows you to stay nimble and respond quickly to ever-changing and growing consumer interests. If you want to quickly launch a new product or test out a beta product or service, you can easily do that through your own DTC channels. You don't have to guarantee a product-market fit or get buy-in from retail partners.
You can choose to launch or test products on a smaller scale, only releasing a limited amount of inventory initially to better gauge its reception. New and test products will also have a faster time to market, and you can analyze customer feedback and adjust marketing and product features accordingly.
A product sampling program, right, is a hyper-focused way for DTC brands to release products to a select group of shoppers. With product sampling, you can target sampling recipients by demographics and VIP customers.
In exchange, you can ask recipients for detailed feedback to help modify or improve the product. You can also ask them to share their opinions and experience via reviews and visual UGC, like photos, videos, and live demos.
Rael is a small, independent DTC women's health and skincare company that used targeted product sampling to launch a new line of products. Partnering with Bazaarvoice, Rael sent samples to consumers whose interests, demographics, and shopping behavior match that of their target customer. In return, they received thousands of customer reviews to populate product pages with, a ton of UGC from social media, and unexpected insights to inform their strategy.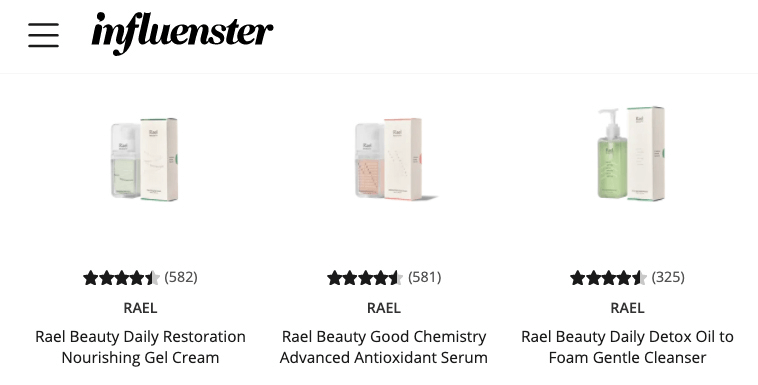 Without any intermediaries in the way, you can also offer customized product packages as a type of new product or service whenever you want. Subscriptions, in particular, are a popular — and effective — choice among DTC brands. Subscription-based DTC companies like Stitch Fix, IPSY, HelloFresh, BarkBox, and The Farmer's Dog have solved the customer retention puzzle. If done successfully, the subscription model can lead to lower customer acquisition costs and higher customer lifetime value.
Subscriptions provide an outlet for brands to release exclusive, limited, or new products to a controlled group of subscribers. Part of the subscription appeal is the expert curation. Some subscription programs give customers the option to pick what's included. Others can be totally up to what the brand decides to include, which can not only be a fun surprise but also a way for brands to experiment.
How DTC brands can compete in a saturated market
In the early days of the DTC model, just being one of those brands that offered something new and improved was enough to succeed. But as more DTC brands jump in the ring, it's becoming harder to win market share and attention. For continued growth and advancement, DTCs need to reconnect with the same challenging spirit that propelled their early success and build on it.
DTC brands need to focus on how they can form connections on the social platforms where their shoppers are. They need to embrace the power of short-form video on Instagram, TikTok, and Snapchat. They need to bring their e-commerce strategy to social media by making shoppable content that seamlessly fits into the feeds users scroll through to explore products.
On top of this, DTC brands also need to reexamine their strengths over traditional retail brands and, conversely, the reasons why a customer might choose a big, third-party retailer over them. Then, they should double down on their strengths and find creative solutions for their perceived weaknesses. For example, brick-and-mortar stores charge large markups for in-person shopping perks, like being able to physically test or try on a product. But there's many different ways DTC brands can counter that value-add with their own policies.
Just take cues from some of the most successful DTC brands in the game:
How traditional brands are adopting a direct to consumer marketing strategy
If your brand has primarily sold and marketed products on retail-partner or third-party sites thus far, that doesn't mean they can't expand to their own channels. Many traditional brands are adopting DTC strategies to help them compete and grow in today's market.
For example, Frito-Lay launched their own e-commerce site, snacks.com, to sell and deliver their brands, like Tostitos and Ruffles, directly to customers. This ensures shoppers can always find their products, especially when retail stock can be unpredictable, like at the beginning of the pandemic.
Nike is an example of a brand with a very strong identity and customer community that also maintains partnerships with retailers like Foot Locker and Dick's Sporting Goods. However, in the past year, Nike cut ties with many of their retail partners. Instead, they focused more on their DTC business, directing more customers to their Nike stores and online shop.
Ben & Jerry's, true to their unconventional ways, takes a different approach to DTC marketing. Although the ice cream brand is a subsidiary of their parent company, Unilever, they have their own website and board of directors to promote their products and progressive brand values. In addition to their many retail partnerships through Unilever, they also have their own Ben & Jerry's Scoop Shops. Their social media acts as their DTC hub, connecting their audience to their brand and driving business to their own DTC scoop shops.
All of these retail brands show how they diversify their portfolios to gather customer data, build their own brand presence, and develop their own DTC channels and initiatives.
Take ownership of your brand with DTC marketing
While the DTC model certainly is profitable, you're missing the larger point if that's your only thought. A DTC marketing strategy allows you to completely own how you present your brand, how you connect with customers, and how you operate.
So whether your brand is large, boutique, digitally native, or exclusively sold in stores, there's plenty of opportunities to implement DTC tactics and enjoy all the benefits.
Not sure where to start? That's where our Expert Services team of Client Success Directors comes in. We can create you a custom direct to consumer marketing strategy to fill in the gaps of your current marketing plan and find opportunities for impactful growth.