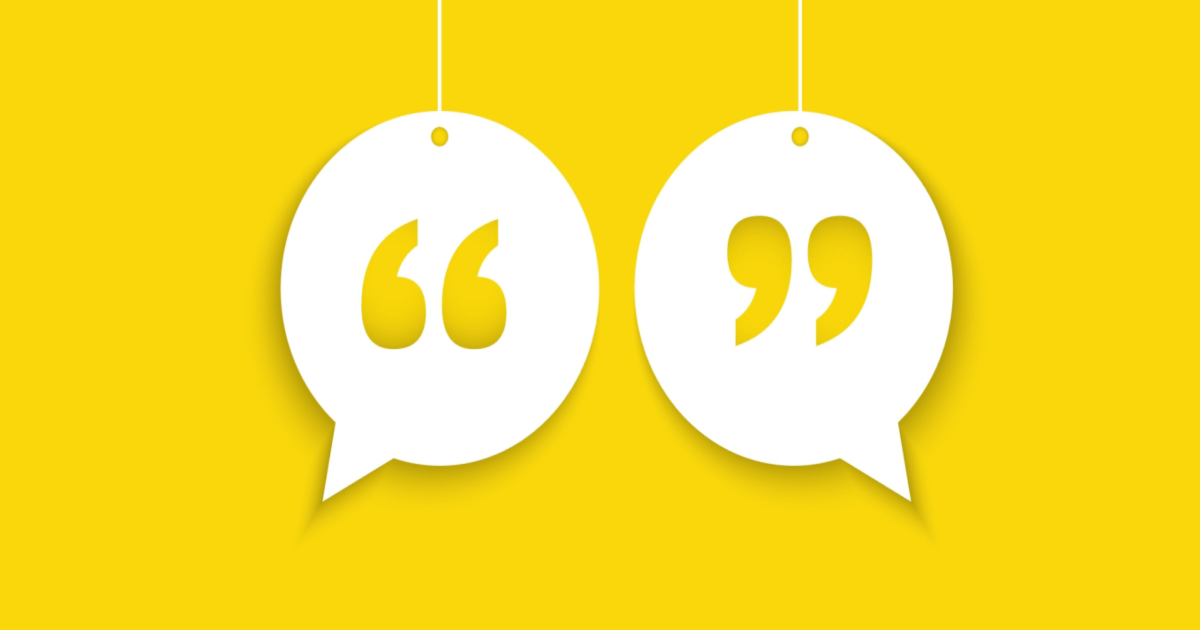 Do you want to see a diverse variety of testimonial marketing examples? And see customer testimonials used in different ways and on different platforms? Or maybe you want to learn about the benefits and ROI of promoting customer testimonials? Perhaps you want to know which Bazaarvoice tools can help identify testimonials for you to use in marketing.
If you answered yes to one or all of the above, you're in the right place. (If you answered yes to none of them, it's too late now you're already here).
Chapters:
---
---
If you've ever seen an ad for a new thyroid medication, then you know what faux user-generated content (UGC) looks like. Often, those ads include what's portrayed as a consumer having a good experience with the company's product — even though there's a disclaimer at the bottom of the screen denoting them as a paid actor.
This type of testimonial marketing may work for selling medication, but many consumers today trust marketing efforts less than the real opinions of other consumers.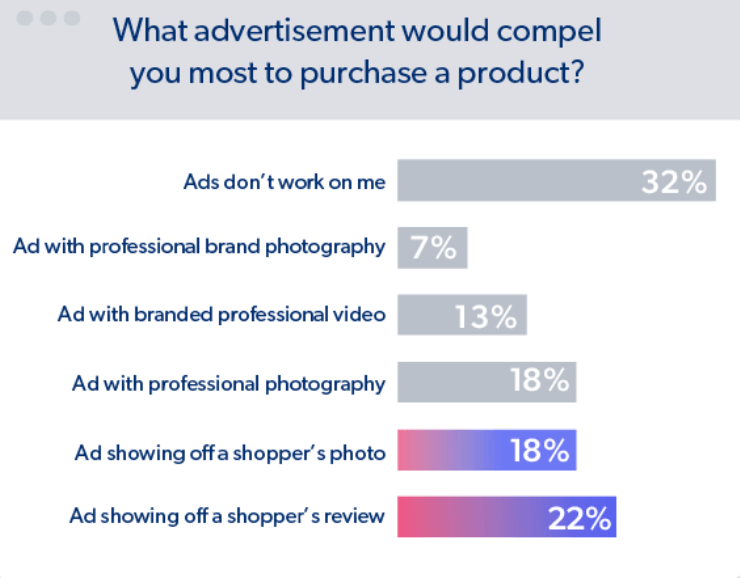 Testimonials show your audience the social proof they need to trust your brand. Even though most people don't trust ads in general, 22% of shoppers are more likely to buy a product if they see an ad that includes a customer testimonial. That's why testimonial marketing is so vital to e-commerce — it helps brands build a trusting audience.
What is testimonial marketing?
Testimonial marketing is a form of social proof that helps brands build trust, authenticity, and brand awareness. Consider this Yelp review for Da Andrea in New York, NY.

The review includes a 5-star rating and concrete details about the customer's experience. Compared to this Super Bowl ad for Squarespace, however, it's pretty dull looking.
Sure, the Squarespace ad includes a celebrity (Zendaya), great cinematography, abundant alliteration, and an interesting plot. But potential customers are more likely to be influenced by authentic testimonials given by actual customers. Consumers know you think you have a great product, but in their minds, there's no proof of that until people like them also think you have a great product.
The good news is that testimonials aren't just for review sites anymore — they're used in basically all marketing materials.
Different forms of testimonial marketing
There's many different mediums that can be used for collecting and displaying testimonials. You can claim your business on Yelp and take advantage of those written testimonials, for example. Here's some suggestions for incorporating testimonials into your next marketing strategy:
Written

testimonials (i.e., customer quotes) can be included on your website in places like your homepage, product pages, success stories, or a dedicated testimonial page. You can also add these to social media posts. These can be easily paired with other mediums.

Ratings

usually occur on a 5-star scale and provide potential customers with a quick snapshot of what they should expect. Google and Trustpilot both allow customers to provide feedback through ratings, allowing many businesses ready access to this medium.

Audio and video clips

are versatile and provide concrete evidence of what other consumers enjoy about your product. They can be used on social media, YouTube, podcasts, your homepage, and your testimonial page.

Images

prove that your product is what you say it is, with or without staging Encourage your customers to provide images along with their reviews to further support the authenticity of their testimonials.
As a general rule, you should add online reviews wherever possible — landing pages, content marketing, email marketing, etc. Positive reviews placed in close proximity to a CTA can help drive conversions. But some testimonial formats work best with certain channels.
For example, audio or video testimonials are essential if you're planning to use them to promote your product on a podcast. And case studies are best suited for testimonials in written or image form (rather than video clips).
Who can give testimonials?
It's important to note which people are best equipped to provide social proof with their testimonials. This may change depending on your audience or what kind of message you want your customers to receive.
Current and past customer

testimonials are most effective at providing social proof. Real customers have personal experience with your product and can give honest feedback on that. Using testimonials from this group helps your audience better gauge if your product is right for them.

Employees

(or even the CEO) can provide testimonials to future employees. Testimonials about how you treat your workers can also enhance your company image since many consumers today care about supporting ethical business.

Influencers and celebrities

can endorse your brand on social media or through other mediums. While they may be less convincing than actual customers, they reach a wider audience. Just be sure to select someone whose brand aligns with your values.

Regular people

because most often, these testimonials come from campaigns allowing regular people to test your product. For instance, you might set up a blindfolded test in a grocery store or send out samples to consumers in exchange for their feedback.
Benefits of testimonial marketing
Testimonials benefit marketing campaigns in several ways: by increasing brand awareness, trust, referrals, and conversions.
Build brand awareness through positive word of mouth
Most consumers today care more about what their friends and family think of a brand than what the latest ad says. So, while you may spend a lot of time and money on advertising, the best advertising you can get is actually positive word of mouth.
According to Nielsen, "88% of global respondents trust recommendations from people they know more than any other channel." Nielsen also found that people tend to trust recommendations, in general, more than ads — meaning that testimonials from previous customers can garner trust in your business without overspending on marketing campaigns.
Increase trust through connection and transparency
Testimonials allow your customers to share their feedback and opinions of both your customer service and product. This provides you the opportunity to reach out and connect with your consumer base. Making your customers feel heard is a powerful way to build connections and humanize your brand, as Gabi Contreras, Customer Marketing Manager at Observe.AI, explains.
Another helpful tip from Contreras is to review your customer demographics and format your testimonial marketing accordingly so you can further connect with each customer segment. For instance, you might display a combination of video clips and star ratings primarily on social media platforms to connect with younger audiences.
Testimonials also build trust because they're transparent. They show prospective customers what to expect from you regarding quality, shipping times, customer service, and more. This information is more trustworthy than polished copywriting because it's provided by other customers.
Drive referrals through psychological persuasion
Dave Albano, the CEO of Joza Marketing, describes six principles of psychological persuasion that he follows from Dr. Robert Cialdini's book, "Influence: The Psychology of Persuasion."
These six principles — Reciprocity, Scarcity, Authority, Commitment, Consistency, and Consensus — provide a basis for persuading consumers to not only engage with your product but also promote it.
As an example, Albano describes Reciprocity as that feeling when someone does something nice for you, and you feel obligated to return the favor. You might do something nice for your customers, like adding a friendly note to their package, providing dependable customer service, or including free shipping. This, in turn, increases both your customer's positive view of you and their likelihood of recommending you to a friend.
Albano also describes how using these principles along with his TRS ask system (Timing, Request, Specificity) encourages the receipt of testimonials and promotes the "customer value journey." As consumers become loyal customers, they become what Albano calls "advocates and promoters" — they'll encourage new customers to try out your products because they know your brand well.
In other words, great testimonials help encourage the purchasing decisions of others.
Increase conversion on product pages
As we mentioned, testimonials can be placed in a multitude of places (more of that to follow later on). Homepages, emails, social channels, etc, are all highly effective in supporting the above benefits. And really, anywhere an actionionable item, like near a CTA or "swipe up" button, is going to reinforce a customer's purchase decision.
But if you want to optimize your product pages for conversion, don't be afraid to add testimonials directly onto your product detail page. Or any kind of services page. Placing testimonials on these pages increases conversion by 34%. That's a hefty increase for very little legwork.
How to make testimonial marketing effective
The whole point of testimonial marketing is trust. Here's how to use testimonials to your biggest advantage.
Results-based and specific
Your testimonials will have a greater impact if customers include concrete details about the product and their experience. Albano recommends using numbers and statistics whenever possible, especially your own data gathered from Net Promoter Surveys and Customer Satisfaction Score surveys.
Remember: Before sharing customer experiences, you should always ask them for permission to share information such as their name or company.
Easy to get to and easy to deliver
No one wants to spend 10 minutes searching your site for a way to read or leave a review (unless they're really motivated by an undying hatred for your brand, in which case — watch out!)
That's why you should make the testimonial process as smooth as possible for everyone. Offer to pre-draft something for them to approve via email or, if they say no, ask them to complete a smaller task like a one-click rating.
Good timing and follow-up
You should try to get customer feedback when they're most excited. For example, ask customers to rate you in the order confirmation email or directly on the page where they made the purchase. Also, follow up with past customers via email or SMS. Ask them about their experience and if they're willing to share their thoughts.
In exchange, you could offer a discount on their next purchase, or give happy customers a chance to be featured on your brand's social profile or blog.
Conversational tone
Try to collect testimonials that are conversational, not robotic or overexcited. Your customers want to hear from a real person, not a cheerbot. Also, I know we've used the word a lot, but don't scare them off with the word "testimonial." Ask open-ended questions about their experience.
Mention you're looking for stories, numbers, moments, and emotions. You can even ask your clients for video testimonials.
Examples of effective testimonial marketing tactics
Here's some examples of how different e-commerce brands have used testimonial marketing effectively in different ways, and on different platforms.
Repurpose customer testimonials on your home page
Prospective customers will expect to see testimonials on your home page, so don't forget to add your best customer quotes here, like Portland Leather Goods does.
The company also included a product image and a link to shop for the product to help customers take action after reading the reviews.
Add testimonials to social media ads
Taking your testimonials to social media helps make your high ratings that much more accessible to your audience. Using Portland Leather Goods as an example again, the brand noted its number of 5-star reviews in a paid Facebook ad.
The company's ad prompted fans to organically praise the brand in the comments — which is a great way to build your brand image.
Include employee testimonials in your emails
While employee testimonials don't speak to customers' interest in your product, they can influence your brand image. Consider honoring employees in your emails like DSW.
DSW included an employee testimonial in a marketing email celebrating Asian American and Pacific Islander Heritage Month.
Retweet your customers' reviews
Social media can also be a great source for finding organic written and picture testimonials. Wherever you can find them, be sure to like and share customer testimonials, like nail polish brand Orly did.
Orly regularly retweets customer photos of their manicures with ORLY nail polish.
Highlight your charity efforts with customer testimonials
Many consumers today want to know that your business is beneficial not only to them but also to the world in general. While you might say you're an ethical business, the proof is in your customers' view of you. You could follow Lush's example.
The company placed a customer review for the Charity Pot mentioning its charity efforts on its Charitable Giving page.
Post celebrity endorsements on TikTok
If you have the connections, see if you can post a celebrity endorsement on social media. TikTok is a popular social media platform right now, and short videos with catchy or compelling content can easily go viral. For instance, Mountain Dew posted a video of celebrity Charlie Day singing a song about Mountain Dew.
They also tagged Day in the post with the hashtag #charlieday. The post earned 103K likes.
Make photo sharing easy and accessible
According to Bright Local, only about 2% of consumers never read reviews. And an important piece of any review is physical evidence of the product — a photo. Allowing your customers to post reviews with photos alongside the product listing as Amazon does lends credibility to the reviews that appear on your site.
It also helps other customers see what the product looks like under ordinary circumstances, without professional lighting or backgrounds.
Incentivize reviews through discounts
One way to encourage reviews is to incentivize reviewers by offering free samples or discounts in exchange for honest feedback. SHEIN, for instance, provides discount codes for YouTubers to share with viewers looking to make a purchase.
YouTubers with large followings show off their SHEIN items with the hashtag #SHEIN.
Develop your community
Creating a community space for fans to interact, share experiences, and be involved with your product creation not only grows your customer loyalty and brand awareness but also generates honest, positive testimonials that can be used to help promote those products across all platforms.
LEGO is a master at this. Its community page allows fans to create a profile, compete in contests, submit ideas, comment, and link to their own social profiles to create more sharing opportunities. Fans can also create new kits and submit them for consideration as an official LEGO set. If they get enough supporting votes from other fans, LEGO will create the kit and sell it in their online shop, like this Earth Globe.
The initial traction gained from the fan community (basically less public testimonials) helps LEGO learn which kits will be popular with the public. Then the company promotes it using a testimonial from the original creator, in this case, Guillaume Roussel.

Roussel spread the word about his creation across multiple platforms, including Facebook, where he shared more ideas on how to customize the kit.
Share good ratings on Instagram
When ratings are good, share them on Instagram. Instagram posts including ratings from your website can boost those testimonials and reach a broader audience, especially if you use hashtags. Parker Printables posted screenshots of customer testimonials and ratings on Instagram.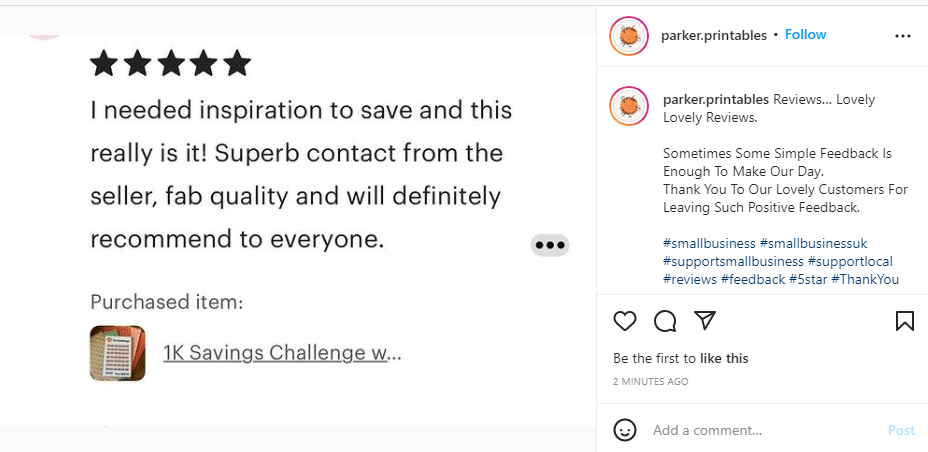 These testimonials highlight its great customer service.
Repurpose testimonials across all social channels
Not every customer is going to be on Instagram or TikTok or Facebook. But you can expand your reach to different audiences by being present on all of them as a business. Royalty Glow, for instance, repurposes testimonials from TikTok to Instagram.
This helps its IG followers discover the company on another platform. It also helps alleviate another perpetual problem: filling a social media schedule with good content.
Maximize your marketing with testimonials
Including consumer testimonials to your marketing efforts will help humanize your brand and engage your audience as people, not numbers. Letting your customers, fans, and even employees speak for you can also exponentially increase your brand awareness and social standing as a business. Let testimonials be your proof.
So, how do you encourage customers to generate that proof through testimonials? One good way is to incentivize reviews. Ask what prevents you from leaving reviews. Then solve those same issues in your business.
Learn below how you can collect those all-important testimonial reviews. Then check out the rest of our Long Reads content for more strategies and insights.