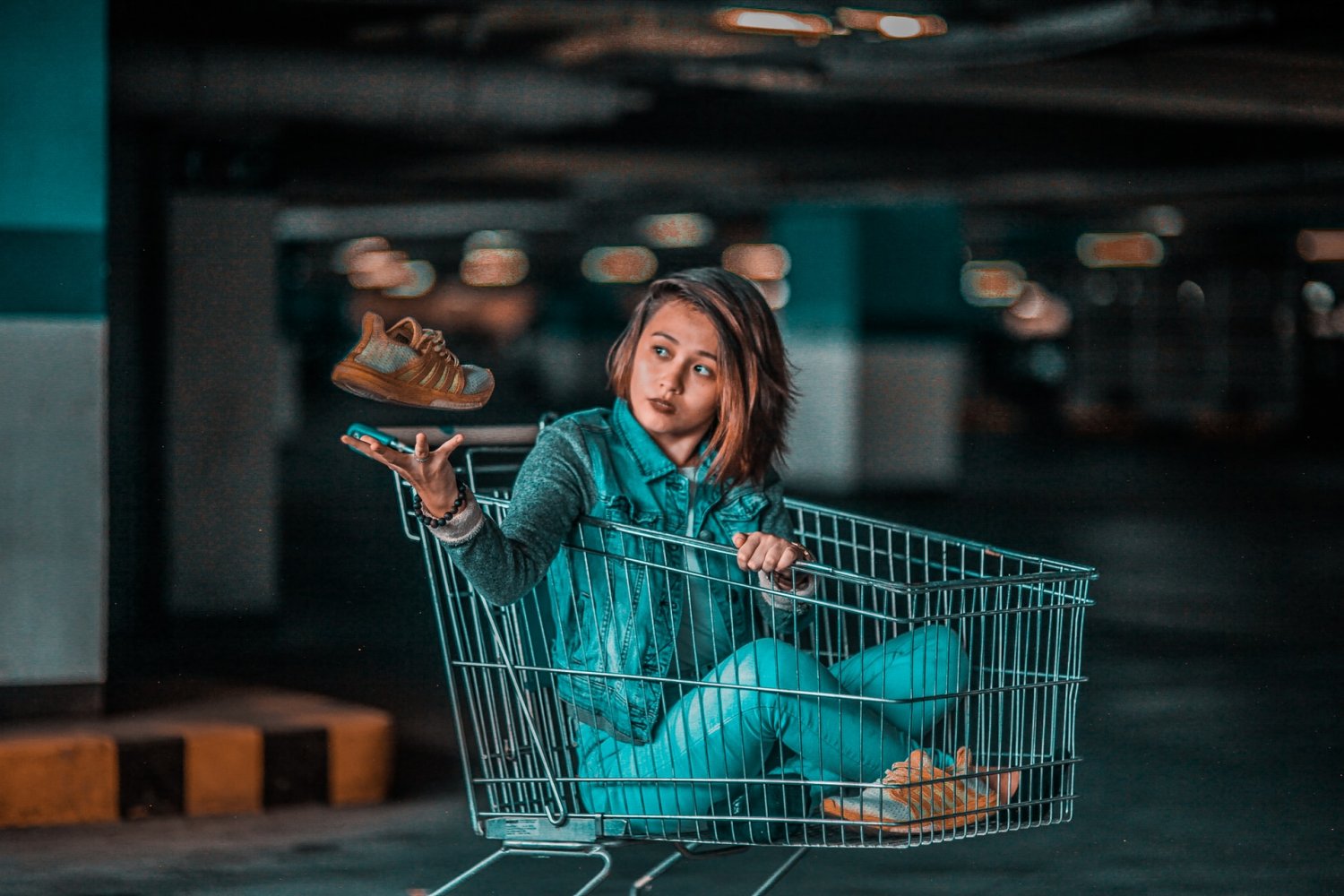 We get it. You want more purchases coming from your e-commerce store. But that's a daunting task, so take it one step at a time to reach that destination — starting with increasing your add-to-cart rate.
What is add-to-cart rate?
Add-to-cart rate measures the percentage of website visitors who add at least one item to their cart per session. A higher add-to-cart rate leads to more purchases, and more purchases mean more revenue.
There's a number of factors that might convince shoppers to add a product to their cart. But, in our experience, one tactic is especially impactful: user-generated content (UGC). UGC includes ratings and reviews, and any visual content like photos and videos posted online or submitted to your company website by customers, fans, and visitors.
Don't just take it from us though. In a study of five major e-commerce industries, conversion rates increased by an average of 161% when shoppers saw or interacted with UGC on their path to purchase.
5 ways to increase add-to-cart rate
Here's how to harness UGC's powerful influence on product pages and social media to get shoppers to smash that 'add-to-cart' button
1. Drive traffic to product pages with UGC
The beauty of UGC is its versatility. Brands can share glowing reviews and flattering photos across a variety of platforms and meet customers where they are. But the ultimate goal is to lure customers to your product pages, and increase your add-to-cart rate.
Company blogs (much like this one you're reading) are prime real estate for images and videos from social media, showing how followers use your products. Highlighting relevant customer ratings and reviews is a great way to complement any products mentioned in the content with pull quotes or screenshot images.
Email campaigns are largely a visual medium supported by carefully crafted messaging that serves a specific business goal. Visual UGC and reviews presented in an aesthetically striking way have a strong click-through influence. Enhance emails with UGC to elevate abandoned cart reminders, product launches, email-exclusive sales, event announcements, blog distribution, and more.
Whichever outlet you choose, make sure product page calls to action (CTAs) are prominent. These examples from Glossier and Brooklinen show how it's done with cleverly and intentionally leveraged UGC, coupled with clear CTAs:
2. Showcase visual UGC on product pages
Visual UGC on product pages shows that other shoppers are so happy with your product that they like to show it off. Also known as social proof. It may just be what gets hesitant shoppers off the fence when they're hovering over that 'buy now' button, and bump up your add-to-cart rate. After all, displaying visual UGC on product pages increases conversion rates by up to 150%.
There's plenty of resources to procure and generate UGC for your product pages. Asking fans to tag their photos and videos with a branded hashtag is an easy way to collect UGC on social channels. Hosting contests will take this method to the next level by incentivizing UGC posts with prizes like free products, a trip, or a website feature.
Another low-maintenance, direct way to collect UGC is by asking customers to upload pictures or videos of their purchases. You can then vet these images and add them to a gallery right on the product page. This also incentivizes them to share their UGC for a chance to be featured on your website.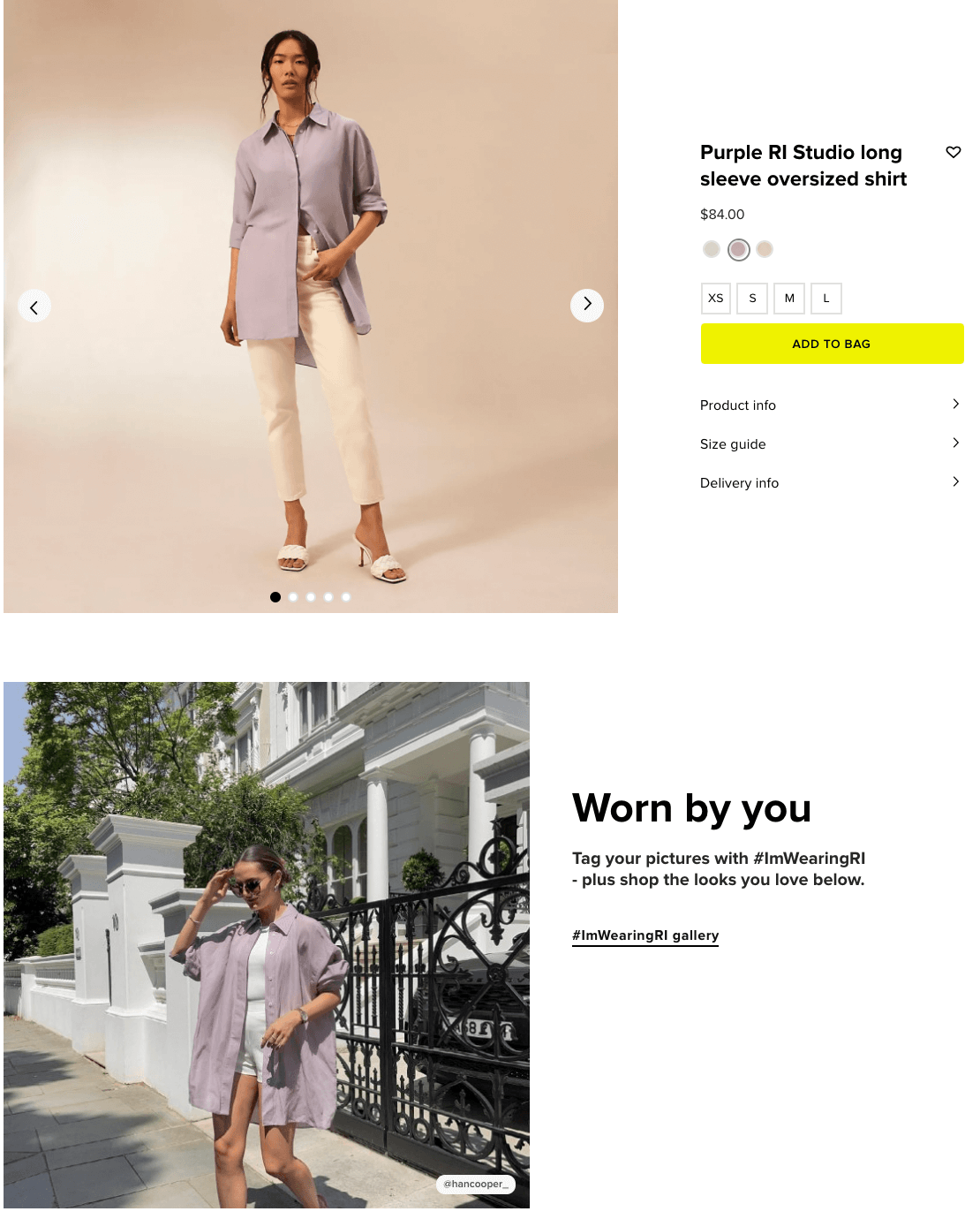 Bazaarvoice customer River Island places UGC with a branded hashtag from social media right below the main product image so shoppers can easily visualize themselves wearing their items.
3. Spotlight customer reviews on product pages
Another highly influential type of UGC is customer ratings and reviews. Reviews are a major deciding factor for shoppers when considering a purchase. Product pages with at least one review garnered a 354% conversion rate increase and a 446% increase in revenue per visitor compared to product pages without reviews, according to Bazaarvoice's Shopper Experience Index. There's few better ways to increase your add-to-cart rate.
If you don't have many, or any, reviews to work with, this presents a challenge — one that the Bazaarvoice Network was built to conquer. With 1,750+ retail partners and six million shoppers on Influenster, Bazaarvoice can grow your brand's customer reviews significantly. For example, Under Armour was able to collect and distribute over 300,000 reviews and increased their conversions considerably.
And don't let your reviews go unnoticed. Collecting reviews is only half the battle. It's equally important to feature them prominently so site visitors don't miss them. One method is to include the star rating directly next to the product image, which users can click to see the full reviews of that product.
Five-star ratings and glowing reviews are great, but promptly addressing negative reviews and inquiries is crucial. That's not only because of quality customer service expectations — responding to reviews and questions can result in a 98% average conversion lift for brands and retailers.
Brands can take their customer feedback a step further by compiling common issues or questions to create a comprehensive FAQ page on their website. Companies who receive a large number of reviews and questions can manage them with a dedicated customer service team or tools like a Questions & Answers platform. These portals allow brands of all sizes to effectively and efficiently respond to customer questions.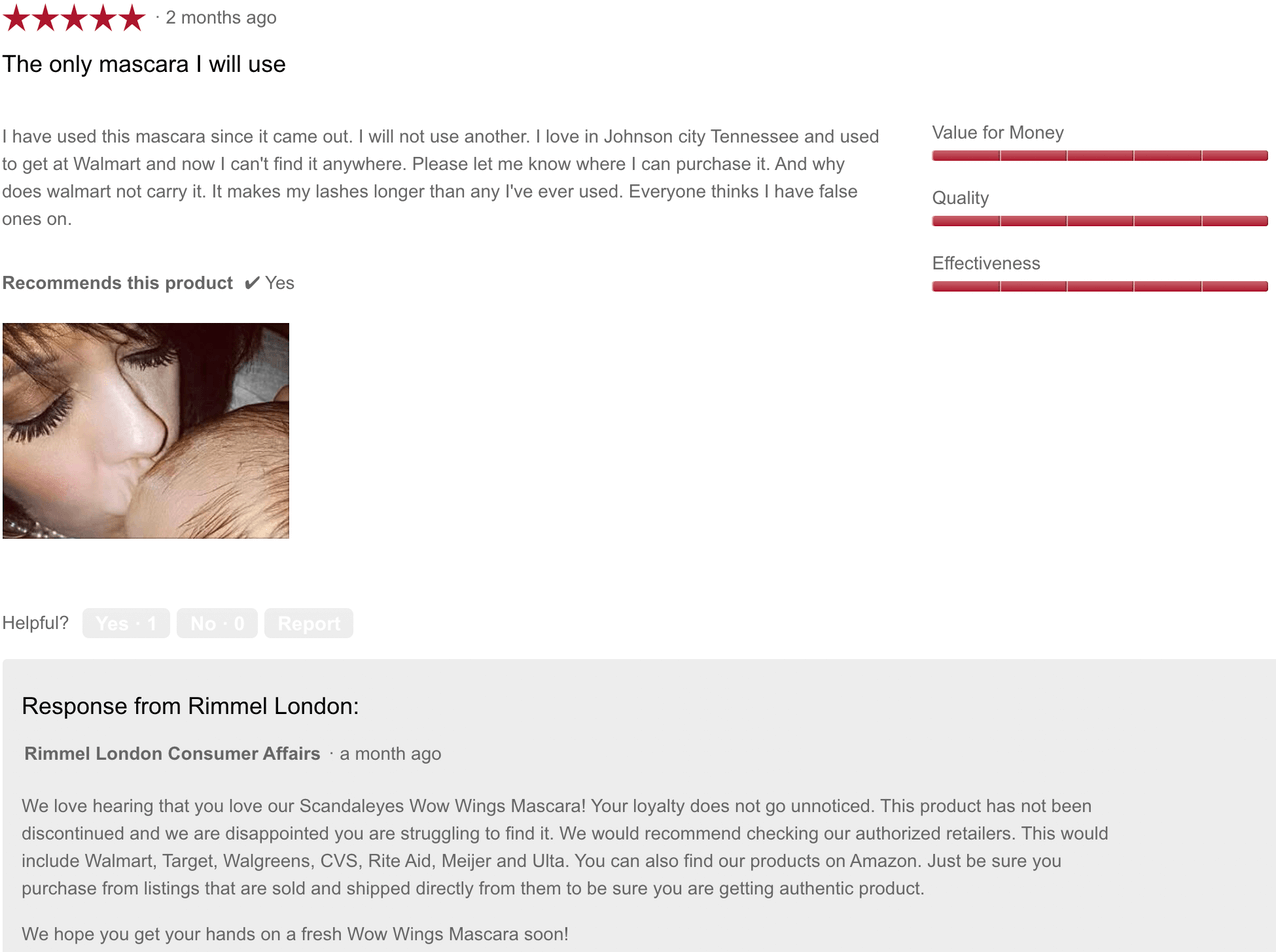 Bazaarvoice customer Rimmel London shows all product reviews right below the product description and 'add to cart' button on product pages. This example shows a customer review with visual UGC and Rimmel's helpful response to the review.
4. Create shoppable social media posts featuring UGC
UGC on social media promotes brands in a genuine and authentic way that users trust, making it highly effective for e-commerce. Using your social media followers' UGC to create shoppable images does double duty: It entices fans with realistic, relatable content that's linked directly to product pages.
Shoppable social media posts — also known as social commerce — include clickable products that link out to product pages where users can instantly make purchases, instantly increasing add-to-cart rate. There's different ways to make social media posts shoppable:
On Pinterest, business accounts can set up the catalog feature that adds everything from their online store as Product Pins. Product Pins include the name of the product and a link to the product page where shoppers can add to their cart and purchase.
Brands can sell products easily on Instagram in the Shop section of the app, as well as in Stories, Reels, Live, and IGTV. Any Instagram content with a shopping bag icon is shoppable. Some products can be purchased directly on Instagram without leaving the app, and some link to the brand website's product page.
This example above from apparel brand Rachel Antonoff shows a shoppable Instagram post featuring UGC.
5. Reciprocate the UGC love
The unofficial brand ambassadors who create UGC make your job a lot easier, so don't take them for granted.
Show your appreciation by complimenting, thanking, and tagging them on social media — in Instagram posts and Stories, on Pinterest boards, in TikTok trends, in emails, and on your website. This strengthens the connection between you and your audience. By rewarding engagement, you'll encourage more users to join the conversation so you don't just have customers — you have a community.
---
And there you have it. Simple, effective methods for increasing your add-to-cart rate. All thanks to that UGC. Now see UGC in action below.