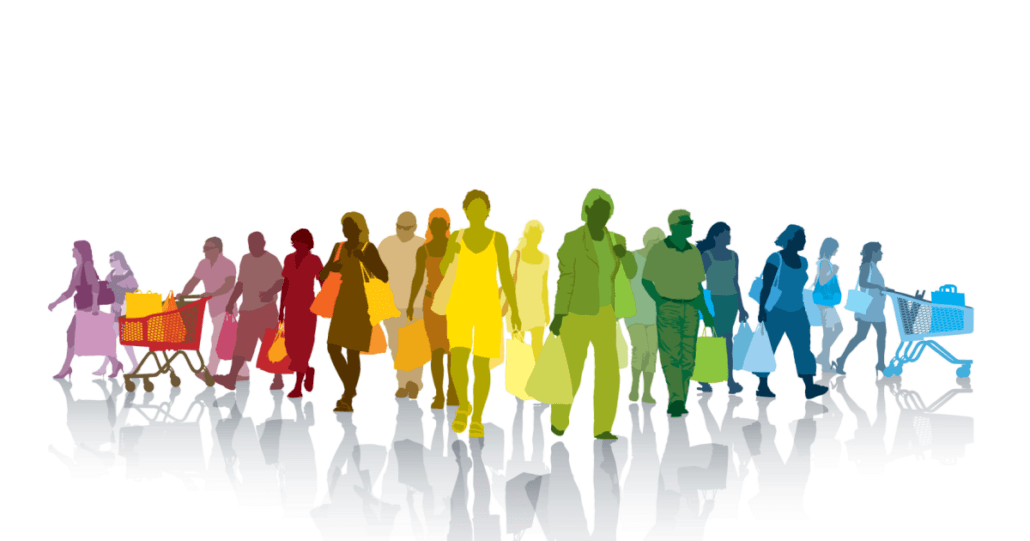 A customer acquisition channel is any platform or method where customer meet your brand for the first time, encompassing social media, paid ads, content marketing, and traditional advertising — whether on the physical or digital shelf. Your customer acquisition channels are how you bring in new customers for your business.
Lately there's been increased importance to get customer acquisition right because recent shifts in the global economy have put marketers under increased pressure to prove the impact of their efforts.
Although most understand the need for building an omnichannel experience, focusing on the customer acquisition channels that work best for your brand has never been more important. While some marketers continue to experiment with different tactics, 69% of them say they're focusing on channels that deliver positive ROI.
The 7 most effective customer acquisition channels
Identifying and prioritizing your most effective customer acquisition channels is essential to attract more customers and maximize revenue.
1. Website and blog
Optimizing your website and e-commerce content marketing, and investing in search engine optimized (SEO) content on your blog helps your brand rank higher in search results pages, bringing more traffic (and potential customers) to your website.
Organic search
Search engines are the top source for brand discovery, which makes your website and blog a key customer acquisition channel. Organic search results are ranked and compiled by search engines based on factors like relevance and authority. While brands can buy their way onto the first page of Google's search results (more on that later), landing on page one organically can also be accomplished by implementing best SEO practices on your website.
A solid SEO strategy for organic search is crucial to appeal to every customer segment, especially for e-commerce brands where the website acts as the storefront. In order for customers to move through the acquisition lifecycle into the conversion phase, they need to be able to locate, access, and navigate your website.
If your website isn't optimized, it might rank on page two or three, which makes it difficult for potential customers to find you.
Your blog is another pathway to acquiring customers if it provides valuable content like tips and tricks, how-tos, and product or comparison guides. It can lead potential customers who are researching products or services in your niche straight to your website. If you don't have an in-house marketing department, you can work with a content marketing agency to ensure your blog is search engine optimized.
Paid search
Customer acquisition through search also includes pay-per-click advertising (PPC) via search engines like Google or Bing. These ads will place your brand at the top of the search results page, marked as an advertisement. PPC advertising, like Google Ads, is advantageous because it's targeted, measurable, and customizable.
It's also a faster way to get eyes on your website than investing in SEO, but it only covers half of the journey. Once potential customers land on your website via a paid ad, they need a reason to stay there, which PPC advertising cannot accomplish alone.
To do that, you'll need to employ elements that build authenticity and trust, like user-generated content, and deliver convenience with an optimized website and smooth checkout process. Paid search is an effective customer acquisition channel for specific scenarios like new product launches, inbound lead generation, or limited offers like free trials and discounts.
2. Social media
According to Dentsu's 2023 Global Ad Spend Forecasts, social media ad spend increased by 18.8% in 2022, putting digital advertising ahead of traditional channels. There's multiple pathways to acquiring customers through social media, ranging in budget and effectiveness.
Affiliate and influencer marketing
Affiliates and influencers are core aspects of a typical social media marketing strategy because they can introduce your brand to a large following. Research shows that social media users prefer smaller influencers for product recommendations and advice over prominent celebrities and social media stars.
42% of shoppers would likely purchase a product recommended by a smaller influencer or everyday social media user compared to 7% who would do the same from a celebrity.
Working with influencers and affiliates can help generate brand awareness while building consumer trust. Use cases for influencer and affiliate marketing include product reviews, new product launches, and educational content like how-to videos. These content types typically fit the creator's format and the audience's expectations.
For example, users who follow beauty influencers expect to see recommendations and product tests, making them a natural fit for this audience and content type.
User-generated content
User-generated content (UGC) consists of images, reviews, and video content created by real customers for your brand. Not only is it considered the most trustworthy source of content by shoppers, but it's also immensely cost-effective because it's typically done for free. The exception to this is UGC creators who often create authentic-looking content for a small fee or free products.
Social media posts featuring visual UGC can range from testimonials to product reviews to unboxing videos that show real consumers opening and testing your products. But UGC can also become a prominent feature of your landing pages and product description pages, providing potential customers with added valuable information and building trust.
Sporting gear brand Le Col, for example, saw a 125% increase in conversion rates after implementing UGC, like reviews and imagery on its website.
"Our reviews provide social proof to new customers who are discovering the brand for the first time," said Andrew Longley, Head of Digital at Le Col. "It gives them confidence that the products are the highest quality and we believe reviews are as important to new customers as our own product claims."
Organic posts
Organic posts on social media, whether in feeds, Stories, or Reels, reach potential customers naturally through the platform's algorithm. If users follow topics, creators, or businesses related to your brand, there's a good chance that they'll come in contact with your posts at some point. Brands can employ certain tactics to speed up the process, like:
Researching their target audience's social media behaviors via Bazaarvoice Insights
Experimenting with hashtags and consistently using relevant hashtags
Posting fresh content on a regular basis (ideally, one to two posts per day)
Varying content types to include branded posts, UGC, and influencer partnerships
Of course, social media strategy varies across platforms. For example, posting multiple videos per day is the norm on TikTok, while LinkedIn posts should be kept to a maximum of two to five per week to remain effective and relevant.
It all comes down to your target audience and marketing goals, so brands with products aimed at a younger audience might get the most value out of platforms like TikTok and Instagram, while B2B companies should focus on LinkedIn.
Paid ads
Paid ads purchased through social media platforms like Instagram and TikTok boost your posts so your target audience is more likely to see them. Brands can set specific demographics based on age, gender, location, and more or keep it open to reach a wide variety of users, depending on their goals.
The best use cases for this customer acquisition channel are targeted ads for a specific audience. For example, a home improvement brand decides to launch a new model of cordless drills. It can boost a product launch ad and set the parameters to include users interested in home improvement, people who work in construction, or audiences who follow other home improvement brands on the platform.
This helps your paid ad reach the right audience, and your efforts (and budget) aren't wasted on users with no interest in your product.
3. Mobile marketing
According to Statcounter, mobile browsing contributes to over 57% of all web traffic, signaling a major shift in user behavior. With so many users relying on mobile phones, mobile marketing is critical to the customer acquisition strategy.
Chatbots
Chatbots are an effective way to ensure customer satisfaction, preventing shopping cart abandonment and keeping customers coming back. According to Freshworks, 47% of online shoppers are likely to abandon their purchase if they can't find quick answers to their questions or concerns.
Chatbots can also provide personalized product recommendations to help funnel customers into the conversion stage. Segment's State of Personalization Report shows that 49% of consumers believe they'll return to a brand that offers a personalized experience.
Imagine a shopper is comparing your brand to a competitor with a similar product, but you provide personalized recommendations and immediate answers via a chatbot while your competitor doesn't. The customer will likely choose the brand that shows a commitment to customer care and provides a user-friendly experience.
SMS and messengers
Short message services (SMS) and messengers are an effective way to start conversations with customers because they fit seamlessly into people's natural tendency to check and respond to new messages. Some reports show that SMS open rates are over 90%.
SMS marketing and quick messages on other platforms like WhatsApp can be used to share promotions, upcoming special events, and discount codes. They can also replace shopping cart abandonment emails, especially if they provide a direct link to your storefront or app to streamline the transaction process.
Mobile apps
60% of shoppers believe that the ability to shop on a mobile device influences their preferences when it comes to brand selection. While e-commerce brands will likely have digital storefronts, mobile apps can enhance online shopping by providing a customized, highly targeted, personalized experience.
Even brick-and-mortar retailers who lack a web presence can benefit from a mobile app connected to in-store products, which creates a more omnichannel shopping experience.
Mobile apps can send push notifications about new product launches, inventory updates, and price reductions. They can also act as mobile wallets for loyalty programs. Brands that leverage the best practices to increase in-app conversions can increase the benefits of building and maintaining a branded app.
4. Email 
According to Segment's 2022 Growth Report, 83% of marketers agree that email is their primary channel for customer acquisition. Email marketing provides a range of opportunities to reach customers in the acquisition phase of the customer lifecycle.
Since customers in this phase are aware of your brand, targeted emails can push them into the conversion stage by offering valuable information, discounts, or other incentives.
Newsletters
Email newsletters work well for company announcements, product teases, brand stories, and re-purposed blog content. Focus on content that builds interest and excitement, pushing customers to learn more through your website, a webinar, or any other format that drives them deeper into your products or services.
Newsletters also open up the opportunity to use diverse content, like images, infographics, and videos, to engage and entertain your customers while providing value and establishing positive sentiments about your brand.
Cart abandonment emails
Around two-thirds of digital carts end up abandoned by shoppers, making it a prevalent issue for e-commerce brands. Shopping cart abandonment leads to missed revenue, but it also signals a larger problem. Why are shoppers abandoning their items? There's a number of potential reasons, like lack of trust or inefficient checkout processes, but cart abandonment emails that address these issues are an effective way to draw customers back to your storefront.
Open rates for cart abandonment emails were 49% in 2022, compared to 21.5% for general emails across different industries. Cart abandonment emails that pique your customers' attention and target why they abandoned in the first place can encourage them to complete their purchase. Say your product pages lack ratings and reviews, leading shoppers to doubt your trustworthiness.
Send out cart abandonment emails showcasing UGC, like reviews and photos, to build that trust and provide added value for your potential customer.
Special occasion emails
There's a reason the global greeting card industry was valued at over $18 billion in 2020 — people love celebrating special occasions! Sending out personalized, heartfelt, and celebratory emails around special times like holidays, birthdays, and other milestones allows brands to connect with customers on their email list in a way that isn't highly promotional, which can build positive sentiment around your brand.
Special occasion emails are the perfect opportunity to offer incentives like a special single-use discount count on a customer's birthday or a 10%-off email the week before Mother's Day. Sending out these emails a few days to a week prior to the occasion is key because it gives customers time to browse the storefront and make a purchase in time for the occasion.
Drip campaigns
Drip campaigns — automated emails pre-scheduled to be delivered at specific points of engagement — are powerful tools in your customer acquisition strategy. They can be triggered when customers:
Abandon their digital carts
Download content from your website
Place an order on your storefront
Communicate with customer service
Register for an event or sign up for a free trial of a product
Drip campaigns aren't a singular point of contact but rather a series of emails that engage your potential customers without overwhelming them with information. Let's say a new lead provides their email in order to download an e-book you offer.
You now have the perfect lead-in to introduce your brand and educate them about your company by sending out a series of short emails that offer a quick look at additional on-site content.
5. Loyalty and referral programs 
Loyalty programs are traditionally used as customer retention tactics, but they can also help brands acquire new customers if they provide enough value.
Imagine Brand A and Brand B offer similar products at similar prices, but Brand A has a points-based loyalty program that allows customers to get free products as they shop. Brand A provides added value while Brand B doesn't, making it a more attractive option to consumers.
Referral programs put your existing customers to work by transforming them into spokespeople for your brand via word-of-mouth marketing. Provide an incentive, like a discount or free products, to current customers for sharing your brand with friends and family through a referral code. The code ensures that referrals are easy to track and analyze while the incentives keep existing customers happy and loyal to your brand.
6. Events
Customer acquisition isn't just for digital channels — it benefits the physical shelf too. Whether virtual or in-person, events and webinars are valuable tools for connecting with potential customers directly while providing added value via knowledge sharing.
Virtual events
Virtual events like webinars, conferences, and digital fairs can reach a wide audience at a fraction of the cost of in-person events. They're also easy and convenient for potential customers to attend from the comfort of their homes, increasing the chances of drawing a large crowd. 
Virtual events are best used to showcase products or demonstrate services, share knowledge or research, and facilitate networking. They're also a prime opportunity to launch a digital conversation with potential customers since most attendees provide an email to register for virtual events.
In-person events
In-person events, like tradeshows, networking events, and conferences, can be more costly when factoring in travel, space rentals, and staffing, but they can also facilitate deeper conversations, engagement, and trust-building. Meeting potential customers face to face builds rapport and gives your brand a human touch.
In-person events also give potential customers the opportunity to interact with and explore products and services in real life, which can move them toward a purchasing decision faster.
7. Traditional advertising
Despite the growth of digital advertising, customers still place trust in traditional channels, making them a strong addition to your marketing channel mix. Traditional methods range from big-budget endeavors like TV commercials and magazine advertisements to smaller-scale efforts like flyers and radio promotions.
The right channels for your brand depend on your target audience, business goals, and marketing budget.
For example, independent retailers might have more luck with local methods like flyers and radio advertisements to build up a customer base within their neighborhood. Large e-commerce brands with high-priced products might be more successful with national TV advertisements that target a larger population.
How to lower customer acquisition costs
While acquiring new customers is essential for growth, the costs associated with your customer acquisition channels can be 5x higher than the cost of customer retention. Brands can lower customer acquisition costs (CAC) by utilizing existing customers, optimizing digital channels, defining their audience, and tracking.
Utilize existing customers
UGC is one of the most impactful ways a brand can lower its CAC. Using the words, images, and videos of existing customers to build trust with potential customers is free but, more importantly, effective. 85% of shoppers rely on UGC rather than branded content when making purchasing decisions because it comes from real people who have real experiences with the product — not a marketing team.
If a low financial investment with a high ROI impact sounds too good to be true, try the UGC Value Calculator to see how employing UGC will affect your marketing efforts and budget.
Optimize digital channels
Employing SEO best practices on your website and blog and A/B testing to pinpoint the best user experience can reduce CAC in the long run. An optimized website is more likely to rank higher in search results, leading more potential customers to your products or services. Brands that find success with organic search may find that they're able to reduce their budget dedicated to paid search.
A/B testing involves showing different versions of variables, like a landing page or a specific page element, to different audience segments in a randomized fashion. The goal is to determine which version of a variable results in the most positive impact, which can vary depending on your goals.
Say a SaaS company wants to increase sign-ups for its free trial. It might use A/B testing to place the sign-up button in various locations on the website to find the ideal spot.
According to a study by Forrester, A/B testing that results in an improved user interface can raise conversion rates by up to 200%.
Define your audience
Targeting the right audience with the right channels can significantly lower your CAC because you're strategically allocating your marketing budget. An in-depth analysis of your target audience will reveal which platforms they engage with most, where they are in their buyer journey, and which tactics they're most likely to respond to.
For example, advertising products aimed at busy parents on LinkedIn might not deliver the same positive results as investing in SEO and paid search targeting keywords they're likely to search, like "backpacks for kids" or "best kid's backpacks."
Track results
One of the easiest ways to overspend on customer acquisition is by failing to track your customer acquisition channels and how they're performing. Investing a sizable portion of your marketing budget in TV ads may not be effective if your target audience is younger and doesn't typically engage with traditional media.
Tracking the results of your marketing campaigns might show you that your Gen Z audience is much more receptive and engaged on TikTok and Instagram, preferring UGC and small-influencer content instead.
Transform your customer acquisition strategy with Bazaarvoice
The Bazaarvoice platform works behind the scenes to power your customer acquisition strategy. Tackle SEO by implementing review syndication to boost search engine rankings or gain consumer trust with cost-effective, UGC-powered social posts.
Discover more about your target audience and track the effectiveness of your social channels with Bazaarvoice Insights. Bazaarvoice's solutions help shoppers discover your brand and transform your customer acquisition channels.