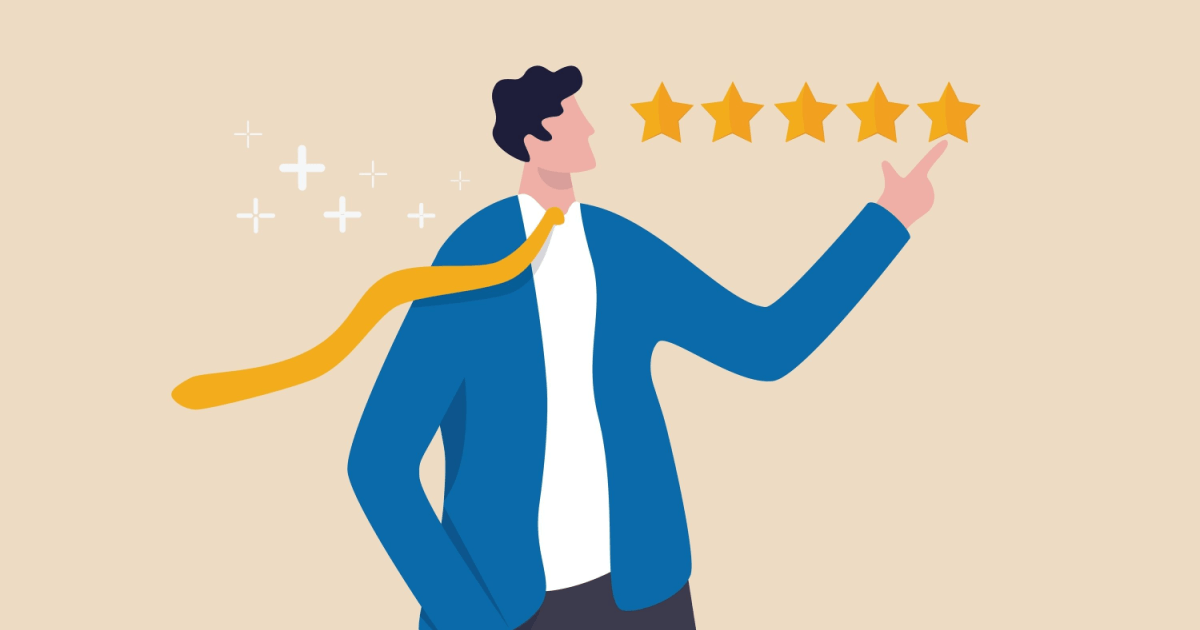 23 hours. That's how much time the average consumer spends online in a given week — emailing, browsing e-commerce sites, scrolling through social media, and talking about your brand. With people spending nearly a full day a week online, having a stellar brand reputation management strategy is more important than ever.
What is brand reputation management?
Brand reputation management refers to keeping tabs on how consumers perceive your brand and reacting in a strategic way to maintain, improve, and protect that image. Much of your brand reputation hinges on what consumers say about you on social media and in reviews, and how you communicate with these shoppers.
Focusing on your brand reputation management is crucial for growth. A positive reputation fosters brand loyalty, inspires shopper confidence, boosts sales, and puts you above your competition. Whereas negative sentiments may cause sales to drop and scare off customers. But hey, it's not all bad.
Paying close attention to the chatter about your brand — both positive and negative — presents an opportunity to learn about your customers to help you better meet their needs in the future.
Brand reputation management strategies
Brand reputation management isn't a one-time deal. It's a continuous process of keeping up with consumer perception and taking time to resolve any issues that arise.
Here's the 10 most effective brand management reputation strategies to guide your brand.
1. Encourage ratings and reviews
Shoppers love sharing their opinions of brands, and review spaces give them a forum to offer that feedback. Reviews are a valuable part of the shopping experience. According to our research, 88% of consumers always or mostly read reviews before buying anything and 78% say reviews have the biggest influence on their purchases.
Keeping a fresh crop of reviews flowing in is vital. Consumers tend to spend more on products and services when they encounter positive reviews, and 25% of shoppers think reviews remain relevant after 12 months but most prefer reviews written in in the past three months. After turning to ratings and reviews for their site, retail brand Brother, for example, saw customers spend 3x longer on its website, and they were 2x more likely to click a call-to-action when they engaged with reviews.
The tools can help brands collect reviews and other user-generated content (UGC) like photos and videos.
If you don't have many reviews for a certain product, first focus your attention on increasing your review volume. Just a handful of reviews can noticeably increase sales and customer sentiment. There's several methods for getting more reviews, including sending review request emails and product sampling.
2. Respond to all reviews (even the negative ones)
When customers trust a brand, they'll return time after time, Cydni Lauper style. Engaging directly with shoppers helps build trust, and one of the best ways to do that is to respond to their feedback — both negative and positive.
Respond to positive reviews with a thank you and comment on a specific element from their review to personalize the response. Or take the opportunity to emphasize your brand pillars, like your brand's commitment to customer service. Positive reviews are excellent content, too, so promote them on your product pages and social media channels.
Over 60% of shoppers say negative reviews are just as important as positive ones. (Many people get suspicious when there's too many positive reviews.) So, you need to respond to this negative feedback as well.
Be understanding and authentic in your reply, and offer a solution, such as sending a product replacement or a genuine apology. This signals to customers that you're listening and care about making them happy.
Among unhappy shoppers, 70% will do business with a brand again if their complaint is resolved and 34% will delete a negative review if they're satisfied with a brand's response.
3. Answer customer questions
If an in-store shopper asked you a question about a product or your customer service, would you answer them? Of course, you would. So you need to answer online questions, too. Answering customer questions is a critical part of brand reputation management — it builds loyalty and helps shoppers make confident, informed purchasing decisions.
Enabling a questions and answers platform on your product page(s) can also slash your return rates and the number of customer complaints you'll receive, and boost conversion rate.
For example, brands that use Bazaarvoice's Questions & Answers platform to respond to shopper queries can see a 98% jump in conversions. You can also garner valuable insights from the customer questions to help improve your products or business.
Nestlé Canada enabled Bazaarvoice Q&A on its site and within three months had already responded to 700 questions. Noting consistent negative questions and comments about a particular product, the brand reacted by changing the recipe and the product's average star rating jumped from 1.7 to 4 stars.
4. Share your mission
Consumers increasingly want to shop with ethical brands that have a mission that aligns with their own values. Especially millennials and Gen Z. 71% of consumers think brands and retailers have the potential to positively impact society, and about 60% believe brands have a social responsibility to speak out and take action on important issues.
Sharing your mission — whether it's sustainability-focused, supporting specific social causes, or being a top-notch place to work — across social media sites and on your e-commerce site helps build trust and emotional connections with shoppers.
When you share your mission and commitment to important causes, it makes your brand more relatable to the public. This will do wonders for your brand reputation. According to a Sprout Social report, 64% of consumers want to connect with brands, and 53% feel connected when a brand's values align with their own.
Communicating your mission also helps you control the narrative that surrounds your brand and lets you present your values in an authoritative and accurate way.
5. Embrace visual and social content
Authentic experiences are important to today's shoppers. They like to see products in real-world settings — clothing modeled by real people and consumers demonstrating how something works. Actually, 40% of shoppers won't purchase if a product page lacks UGC. Consumers seek out customer photos on product pages, search engines, social media, and other websites that sell the items.
Deploying the right visual and social content across every channel where your brand can be found engages shoppers and promotes a positive brand reputation.
Displaying authentic imagery from real shoppers on your e-commerce site does more than just improve your brand reputation. When consumers interact with visual content on-site, shoppers spend more time on the website, buy more, and conversion rates soar.
For example, Le Col has seen average order value increase by 13%, revenue per visitor by 155%, and conversion rate by 125% when shoppers engage with UGC.
6. Optimize creative product pages
Shoppers want to feel confident that anything they buy will meet their needs, and they rely on product descriptions to provide all the information they need. When product detail pages lack details, it's so frustrating for consumers that they abandon their shopping cart.
A whopping 98% of shoppers say they've been dissuaded from purchasing something because a product page didn't have enough information. Not including detailed descriptions or including incorrect information can weaken your reputation and drive up your return rates.
Highlight a product's key features and use sensory wording that's relatable to consumers. Include details about how an item works, how it'll help in consumers' daily lives, and the results that it will provide. Featuring visual UGC, reviews, and questions and answers helps shoppers make quick (but well-informed) decisions and inspires loyalty.
7. Step up your SEO tactics
A significant amount of shopping journeys start on search engines, like Google. So, it's crucial to optimize your SEO strategy to ensure your brand gets noticed at this critical stage. Producing high-quality, SEO-centric content on your website will help you stand out. So, your brand reputation management process should factor in SEO, including how you'll monitor negative online search results and what action you'll take.
You can gather insights into the wording that shoppers use to search for your products and describe how they meet their needs from syndicating reviews and other UGC. This information can then be used to create your SEO strategy around user sentiment and keep up with Google's algorithm changes.
8. Monitor your reviews on other websites
The more ratings and reviews that your products have, the more likely shoppers will be inspired to purchase. But, your website isn't the only place where people can leave reviews. A key part of your brand reputation management strategy should be to keep an eye on what consumers are saying about you everywhere reviews can be posted. Channels like social media, Yelp, or your Google seller rating.
With thousands of reviews likely to pop up on multiple platforms, overseeing it all can be overwhelming. If you need help, a ratings and reviews platform can streamline everything. The right tools feature built-in insights and analytics to help you quickly identify themes and problems that could affect your brand reputation. As well as ways to take action to improve the sentiment around your brand.
9. Focus on top-notch customer service
Happy customers keep coming back. The best way to keep your most loyal shoppers happy is with proactive customer service and unique, personalized customer experiences. Customers are actually starting to expect these experiences from brands, with 25% of consumers saying they're interested in personalization in shopping.
Getting it right — which involves actively listening to consumers and quickly resolving any problems that come up — offers endless benefits, including higher customer satisfaction and conversion rates, which translates to a stellar brand reputation.
The most loyal customers tend to use words like "happy," "love," and "adore" when discussing their favorite brands. This kind of customer sentiment resonates with other shoppers and helps attract new ones. When happy customers share something positive about your brand on social media, for example, reward them with a special discount or other perk or highlight their stories on your website.
Showing appreciation for your best customers will amplify your brand and reinforce your reputation.
10. Crack down on fake reviews
Nearly all shoppers (97%) say fake reviews make them lose trust in a brand, according to our research of 10,000 global consumers. That's significant because 81% of shoppers also say they'd never use a brand again after losing trust in it. And they're getting better at spotting fake reviews:
Cracking down on fake reviews associated with your brand is an essential part of your reputation management. Effective tactics include:
Don't allow fake reviews. Sounds obvious, but don't be tempted to allow fake reviews just because they may be positive. Use an in-house our third-party content moderation service to screen them out
Keep on top of legislation. Fake reviews are becoming so prevalent that new regulations are constantly being drawn up. For example, the Federal Trade Commission (FTC) has recently proposed new regulations to crack down on fake reviews
Never incentivize positive reviews. You can ask customers for reviews (and you should!) but never offer financial reward for a positive review. If you do incentivize a review, through a coupon for example, then make sure to add a disclaimer to the review
Brand reputation management case studies
Retail giant River Island keeps on top of its brand reputation management through authentic visual content. The brand wanted to provide an authentic shopping experience for customers so they incorporated visual UGC onto their homepage, landing pages, and product pages. Visitors that engaged with this visual UGC on the brand's site drove a 184% increase conversion rates
Hairhouse wanted to build a web presence that today's shoppers expect by providing social proof through honest reviews. Not only did implementing reviews provide this, but the brand ensured only authentic, genuine reviews were featured. This real life social proof from shoppers inspired other shoppers to make purchases and led to a 35% increase in conversion rate.
Get a head start on your brand reputation management
These days, with consumers always-on, you can't ignore your brand reputation. Taking the opportunity to listen and respond to customers, in both positive and negative situations, is crucial for growth. Follow these steps, repeat them and repeat them again and again — brand reputation management is an ongoing process. But a worthy one.