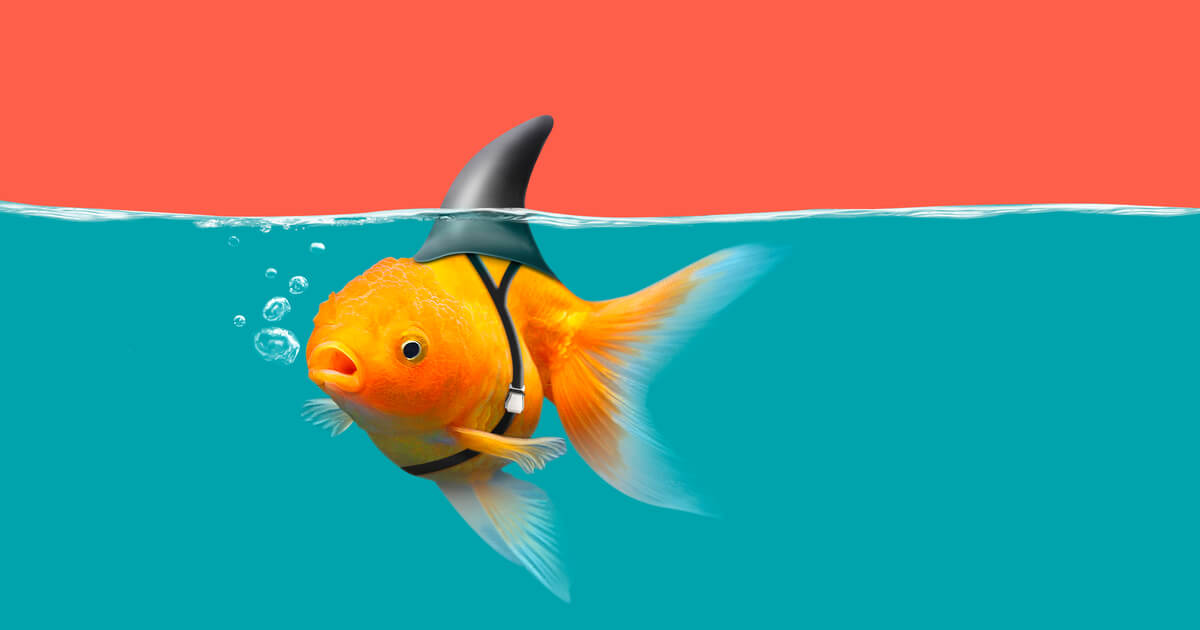 There's lots of fake, fraudulent, and low quality UGC (user-generated content) on the internet, which is why content moderation is something we take very seriously at Bazaarvoice. It's a big part of what we do, if a little behind the scenes.
Using our expertise as a content moderation leader, we've compiled this guide because we know first-hand that you need to maintain quality standards to be trustworthy and effective. This will give you a competitive edge, elevate your brand reputation, and position you as an industry leader.
Chapters:
---
---
Imagine you're shopping online. You choose a t-shirt you like and see it has tons of glowing reviews. But then you notice something suspicious: There isn't a single negative review. And when you take a closer look, you can't tell if the positive reviews were written by real customers.
Time to find a new brand.
If that sounds familiar, you're among the 40% of consumers that will stop engaging with a brand after seeing just one piece of fake UGC (user-generated content).
One of a brand's core responsibilities is to provide a positive and authentic online experience for its audience. And that requires constant content moderation. Toxic and fake UGC has been on the rise since March 2020, and the need for moderating online is increasing along with it.
Because even though UGC is created by customers (or at least should be), it's still a brand's responsibility to ensure that it's appropriate and trustworthy.
What types of UGC do brands moderate?
UGC refers to images, videos, audio, or text created and published by a brand's customers, contributors, fans, ambassadors, or even employees. It can be found in many different types of content, including product reviews, community forums, social media posts, blogs, or event photos.
UGC is considered quality if it's created by real, non-paid users and conforms to your brand and community guidelines, industry, and audience expectations.
Low-quality UGC
There's some forms of UGC that meet quality standards in one context but not in others. For example, it doesn't matter much if an image is unattractive in a user review — that might even make it more authentic. But it probably isn't a piece of content you'd want to repurpose for landing page content or promo emails.
Here's some hallmarks of low-quality UGC:
Blurry images
Language or images not in line with your brand
Mentioning competitors
Misspellings or grammatical mistakes
Prohibited UGC
Besides fake or dishonest UGC (like paid content), brands should always prohibit toxic UGC, regardless of the platform. Abi Schuman, Senior Director of Content Management Services at Bazaarvoice, notes that while it's easy to want a high volume of UGC, that volume isn't worth it if the UGC is toxic or fake. "Lawsuits and marketing to rebuild a bad public image are expensive," warns Schuman.
Toxic content includes:
Child Sexual Abuse Material (CSAM)
Graphic violence, drugs, or weapons
Hate speech, insults, abuse, bullying, or harassment
Misogyny
Nudity
Scams or fraud
Self-harm
Sex solicitation
Terrorism or radicalization
Underage users
Why is content moderation important for user-generated campaigns?
For e-commerce retailers, a content moderator is responsible for moderating content on your own website, your social media platforms, and any other channel you own where users can submit content (like a user forum you host).
Moderation can be the responsibility of human beings, automated software, or a combination of the two.
Content moderation is important for user-generated campaigns because it protects your brand, your customers, and your communities. It can also help to better serve customers or find brand ambassadors. In the course of moderating content, you could find really good UGC that you can repurpose on other channels.
This might include customers you want to give extra attention to because they're a great advocate. Or customers that had a bad experience and need some white-glove treatment.
Approaches to content moderation
Honestly, content moderation can build or destroy your brand. Authentic customer photos that display your product in an appealing way encourage others to buy, giving your brand a competitive edge. But toxic UGC that's published prior to moderation can cause a PR nightmare that quickly spirals out of control.
You should implement a content moderation process and use technology to support your efforts, and make your content moderation scalable. We've adapted some basic categories from Spectrum Labs to outline how the process might look, depending on when you moderate the content.
Proactive moderation: Also known as pre-moderation, a person or tool publishes, rejects, or edits UGC before it is published.
Post moderation: In this approach, a person or tool reviews UGC after publication. This means that UGC goes live prior to moderation.
Reactive moderation: In the reactive moderation approach, other users can flag inappropriate content for the moderator(s) to delete.
Real-time automated moderation: Automated moderation means that all UGC submitted to an online platform is automatically accepted, rejected, or sent to human moderation, according to the platform's specific guidelines and rules. This depends on artificial intelligence and machine learning.
While automation is fallible and prone to misjudgments, just like people, it also reduces the need for manual reviews, which minimizes the negative mental health impact of severe, toxic, or disturbing content. That's because that content is blocked before human moderators are exposed to it.
UGC content moderation tactics
Content moderation policies and tools vary depending on the brand and the channel on which the content appears. But the goal of content moderation teams is to keep truth and transparency as a first priority — identify false or prohibited content and encourage and amplify authentic content.
Here's some best practices as you navigate the rocky landscape of online content moderation.
Embrace the negative UGC
You shouldn't hide information to get more people to buy.
"UGC is threatened when businesses are not actually interested in the truth," says Schuman. "Reviews help people make purchasing decisions but they also help businesses know how consumers feel about their products."
According to Schuman, if customer feedback isn't positive, brands should face that head-on and make product improvements. Hiding low-star content or soliciting reviews in a way that drives high star ratings may result in a temporary spike in purchases. But will also lead to more returns.
And more than likely, customers will see right through those tactics anyway and will take their business to a brand that shows both positives and negatives.
In fact, some negative reviews are actually beneficial to maintaining transparency and fostering trust. "When I am [shopping] on a site and see no low-star content, that raises red flags for me," says Schuman. "It also personally makes the content less useful to me. I want to know the good and the bad."
With this knowledge, customers will be able to weigh the pros and cons to see if your product is a good fit for them, like the example below from Amazon.
In the above example, there's a variety of reviews, mostly positive, along with a few negative ones. In reading these reviews, customers can identify why the product isn't a fit for some people and if any of those reasons apply to them.
Many customers may even look for the lowest-star reviews first. A low-star review helps establish realistic expectations and informed purchasing and lowers the risk of misinformation. Consumers are aware that nothing is perfect, and there will always be cons. So, if a company tries to pretend otherwise, it's a major red flag.
However, it's worth noting that if you think a bad review isn't authentic — for example, you suspect it's trolling from a rival brand — take steps to verify the reviewer's purchase.
Identify the reviewer
Another useful content moderation tactic you can do to ensure quality UGC is to identify the reviewer. What's their name? Where are they from? Are they an employee? Offering this level of detail boosts the credibility of the review and helps to assure prospective customers that your brand isn't keeping secrets or spreading disinformation.
Ask for a customer's first name and location when they leave a review. Then when you repurpose testimonial content on a landing page, include that information when possible. If you don't have reviewer information, but your brand solicited the testimonial, you can look up the reviewer's email address in your CMS and ask their permission to use their name and location.
If you find UGC on a social platform and want to use it for marketing purposes, be sure to ask permission from the original creator. Then, give them credit if they grant permission, as @claireseurope does below.
Disclose payments and biases
Sponsored content is common, especially on social media platforms like YouTube and Instagram. But creators have to make it clear when they're being paid for a promotion. They can be penalized if they don't label that content as an ad.
So be clear about what sponsorships the creators receive and make your audience completely aware if the creator is being paid to review the product. Of course, this has the potential to color the audience's opinion of the product, but prospective customers will appreciate your brand's transparency and be more likely to trust other reviews.
Disclosing bias can be as simple as adding some text in front of the review, like in the example below from Home Depot Canada.

"When in doubt, disclose," advises Schuman. "Put yourself in your consumers' shoes. When you're shopping online and reading a review to decide to buy something, would you approach the review differently if you knew they got it for free, if it was written by an employee, was a verified purchase, or written by an expert of some sort? If you think it would, even ever so slightly, color your perception, you should badge and disclose."
Add a tag on reviews from verified buyers
If a product page is full of glowing reviews, but there's no proof that they came from real customers, your audience won't trust the reviews and may lose trust in your brand altogether. At Amazon, you'll often see reviews with a "Verified Purchase" badge.
A "verified purchase" badge is a good indication that the review is of high quality since the reviewer did purchase the item. If you (or a third-party provider) collect UGC from post-interaction emails, sweepstakes, or social media companies, you can use a review syndicator (like, ahem, Bazaarvoice) to authenticate and match that content to the products on retailer websites.
Verified purchase badges are then easily incorporated into your marketing efforts and distributed to thousands of retailers.
Share attribute information
Sharing attribute information about the product (like fit, quality, and comfort) is also a good way to ensure quality UGC. For example, one Etsy reviewer detailed a specific challenge they faced during the time of purchase. Another shared an image of her red phone, so other customers with that same color phone could better visualize the case.

Attribute information can also be about the purchaser. For example, Le Col, a premium cycling gear company, tags the reviewer as a verified purchaser and shares their location, gender, and age range.
With this information, customers are able to discern if the product fits into their lifestyle and expectations.
"I also love to see attribute information," says Schuman. "So if I'm buying skincare, I love knowing a bit about the reviewer's skin type so I can look for reviews of folks with skin similar to mine."
This kind of attribute information can go a long way toward humanizing your reviewers, which lends to their trustworthiness.
Employee advocacy
Brands should be upfront about content that comes from employees. But that doesn't mean employee advocacy doesn't have a place, especially in hype-building situations like a launch or a social initiative. Enabling your employees to participate and create their own UGC will boost trust as well as brand awareness. Especially on LinkedIn, Facebook, or Twitter.
Beauty brand Aura relied heavily on its employee advocacy program as part of its initial launch, and throughout the month of March to celebrate Women's History Month.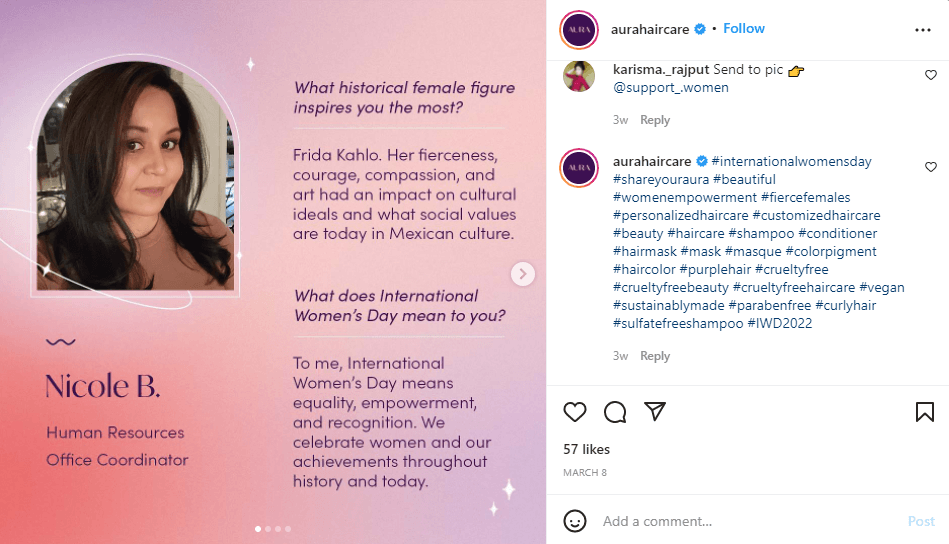 "User-generated content helps us to be relatable as a brand," said Vera Koch, Aura VP of Global Marketing. "It helps boost credibility that this is not polished on Photoshop."
Ask for what you want
Content moderation can be really simple. You don't have to sit around hoping that a customer will create UGC that aligns with your brand's style and tone. You can just ask for it. Tell users what sort of UGC you'd like to see from them by specifying any rules, regulations, or visual standards you want. No one wants to see a blurry photo on the landing page for your brand, so selecting and moderating UGC that looks great as well as provides value is essential.
Brands should also announce the branded hashtags that fans should use to tag their UGC, as global fashion brand Quiz did.
To increase its social media reach, Quiz asks followers and fans to share images of themselves in Quiz clothing using #QUIZQUEEN and #SEENINQUIZ. They also ask permission before using UGC, which is usually granted.
Make an event
Making events through a variety of social media platforms like Facebook, Twitter, and Instagram is yet another way to drive quality engagement. Contests and events incentivize higher-quality content, like gorgeous, inspiring photos. They also provide opportunities for both employees and customers to create quality UGC before, during, and after the event.
For example, your brand might run an awards show like GoPro does. The brand promotes daily photo challenges and inspires customers' creativity.
Apologize when things go wrong
Obviously, the internet moves fast, and it's not always possible for brands to filter out toxic content before it's exposed to their community members. But when things go wrong — whether it's your own branding error or trolling Tweets — definitely apologize. Publicly!
Burger King U.K. went through this in March 2021 with their "Women belong in the kitchen" tweet. Following 12 hours of backlash, the brand issued a public apology.
Burger King's gaffe also created the need to moderate toxic content. Abusive replies were made against Burger King critics in the Twitter thread, which the CMO for Burger King's parent company, Restaurant Brands International, acknowledged and promised to remove.
Make UGC content moderation easier
So, we've explored what quality UGC is and why UGC moderation is so important. We've also explored various tactics brands can take to get the most out of UGC. Now all that's left is to actually start doing it!
Read our how-to audit your UGC article to learn more. Or catch our on-demand webinar version below, if that's more your thing.
---
Check out the rest of our Long Read content here for more UGC best-practices.