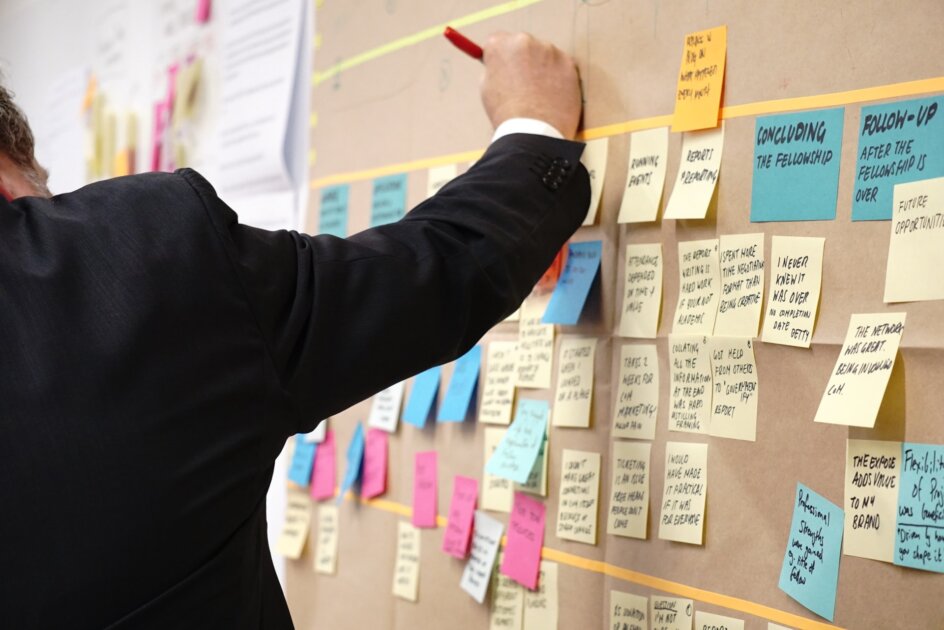 We won't judge you if your recent Google searches include "brand stewardship meaning" or "what is stewardship?" On the contrary, we'd congratulate you. Because it means you recognise the importance of brand stewardship, and that as a brand manager you understand it's a must-know for your brand to succeed.
In this article, we'll explain what brand stewardship is and why brand managers should also be brand stewards. We'll show how as a brand manager, you can use reviews and questions and answers to leverage customer input into your brand strategy. After all, customer voices can contribute to a brand's evolution, one of the primary elements of brand stewardship.
Chapters:
---
---
Be honest, do you celebrate when your brand gets a bad review? How about when an influencer critiques your product, or when someone tweets, "I hate your brand!" to you? If you answered "no, not at all" then you're not seeing this feedback for what it is: Brand marketing gold!
Brand is everything today. The biggest, most influential brands in the world are increasingly turning to stewardship as a means to solidify their brand and drive revenue.
What is brand stewardship?
Brand stewardship is managing brand alignment within an organization. So if you want to step it up as a brand manager, you need to embrace one of the primary elements of brand stewardship — the customer's voice. As a brand manager, your job is to listen to customer input and meet people where they are. When incorporated into your strategy correctly, the customer's voice can contribute to your brand's evolution.
Use customer feedback to improve your brand
Something that often gets overlooked: You can turn reviews and customer feedback into the fertilizer you need to grow and nourish your brand. This should be the minimum for every brand manager. Customers provide you with pain points to address the features of your product or brand that should be highlighted. Actively encourage your customers to leave reviews and direct them to ask questions on your website and social media.
"I'm a very big supporter of ratings and reviews because it's a great way to display superior product quality while helping to influence buying habits,"

Leanne Mcleod, Brand Manager, Plenty
Customers that see positive reviews are willing to spend 31% more on products and services. Only 25% of shoppers feel that a review is still relevant after 12 months, but nearly half would find value in a review that's 3 months old. Plenty, for example, used the reviews and ratings on its site to attract customers to their new, high-quality products. It teamed up with Bazaarvoice to display fresh, authentic user-generated content (UGC) on its product pages. Plenty's consistent effort to collect fresh reviews has been key to growing awareness of its products and increasing sales.
Modify product and design based on negative feedback
On the flip side, negative reviews cause about 94% of consumers to avoid a business. But these negative reviews have a very positive side to them. Constructive customer feedback gives you ideas on how to improve your product and services. After receiving countless negative feedback, Domino's Pizza decided to completely revamp its pizza. Domino's then shared this process in its famous "We're sorry for sucking" campaign that drew even more attention to its "best pizza ever."
In some cases, customers will even explicitly ask for a new or modified feature. Back in 2017, one Tesla customer took to Twitter to request a steering wheel feature on their cars. Then the man himself, Elon Musk, responded to the tweet acknowledging it was a good idea. Not too long after, a software update with the new feature was rolled out.
Fine-tune your brand messaging and product descriptions
Customers ask a lot of questions. Use your product description to make sure those questions are addressed ahead of time. According to OneSpace, lack of product information has dissuaded 98% of consumers from making a purchase. Moreover, poorly written product pages will lead to weakened confidence in a brand and an increase in returns.
Effective product descriptions use language that triggers the subconscious, the place where human decisions are made. Substitute jargon and buzzwords with sensory words and relatable customer experiences. Glossier does this when describing its exfoliating bar. It describes the outcome you can expect (and are probably looking for) with: "You're going to be so smooth."
This is followed by a string of features and highlights its consumers are looking for, including: "no-mess," "vegan," and "smells great." Incidentally, what I look for in every meal.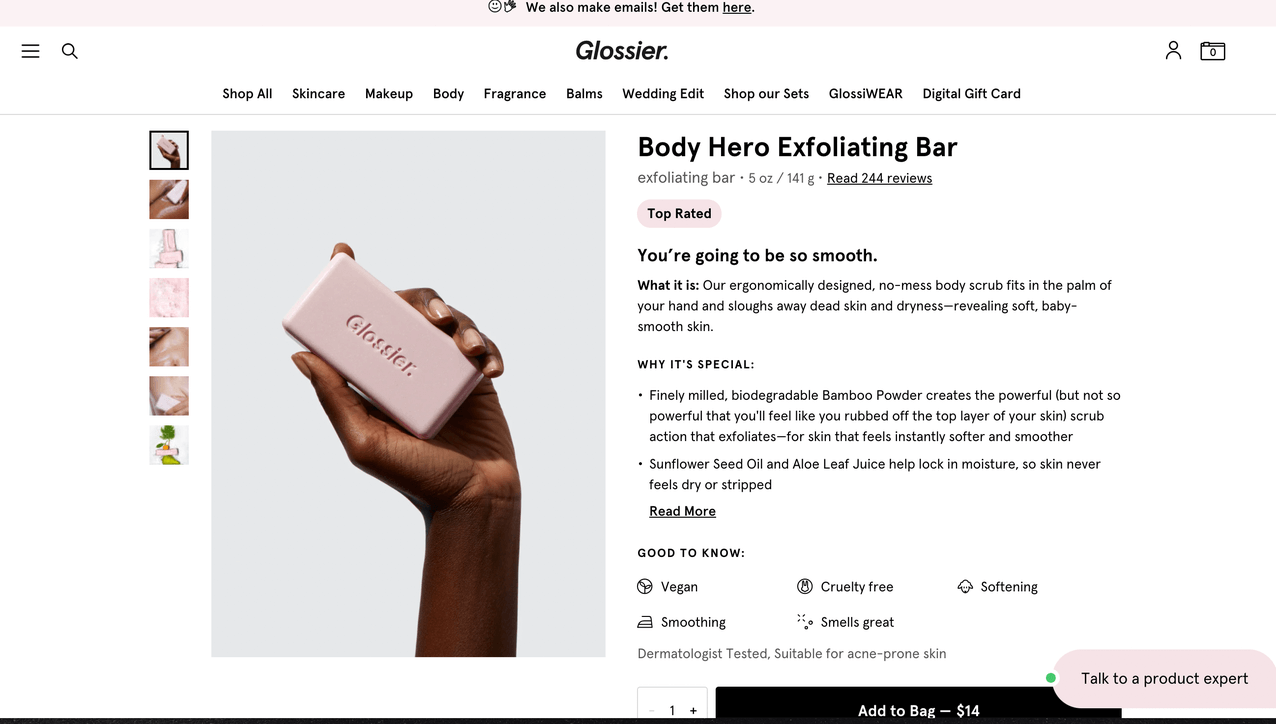 Enhance your customer service game
Using personalized, multi-channel support will help increase customer satisfaction and will give you the direct customer feedback your brand needs. When brands use personalization, they see an increase in impulse purchases, revenue, and customer loyalty. Examples of personalization include:
Using your customer's name
Sending personalized real-time replies (rather than generic auto-replies)
Suggesting product or service recommendations based on the individual customer's data
Asking for personal customer feedback
A Wunderman study revealed that, "79% of consumers only buy from brands that prove they care about earning their business." Sephora does an excellent job of showing its customers how much it cares through their Beauty Insider program. In this program, Sephora's customers receive gifts based on a points system.
They also get to join an online community of beauty and makeup enthusiasts. In said community, Sephora customers ask each other questions and share advice, which adds an emotional component to the customer experience.
When embracing brand stewardship, keeping tabs on the conversations that unfold in this type of community is invaluable. Plus, the customer's relationship with the brand only gets stronger as they become more embedded in this beauty community.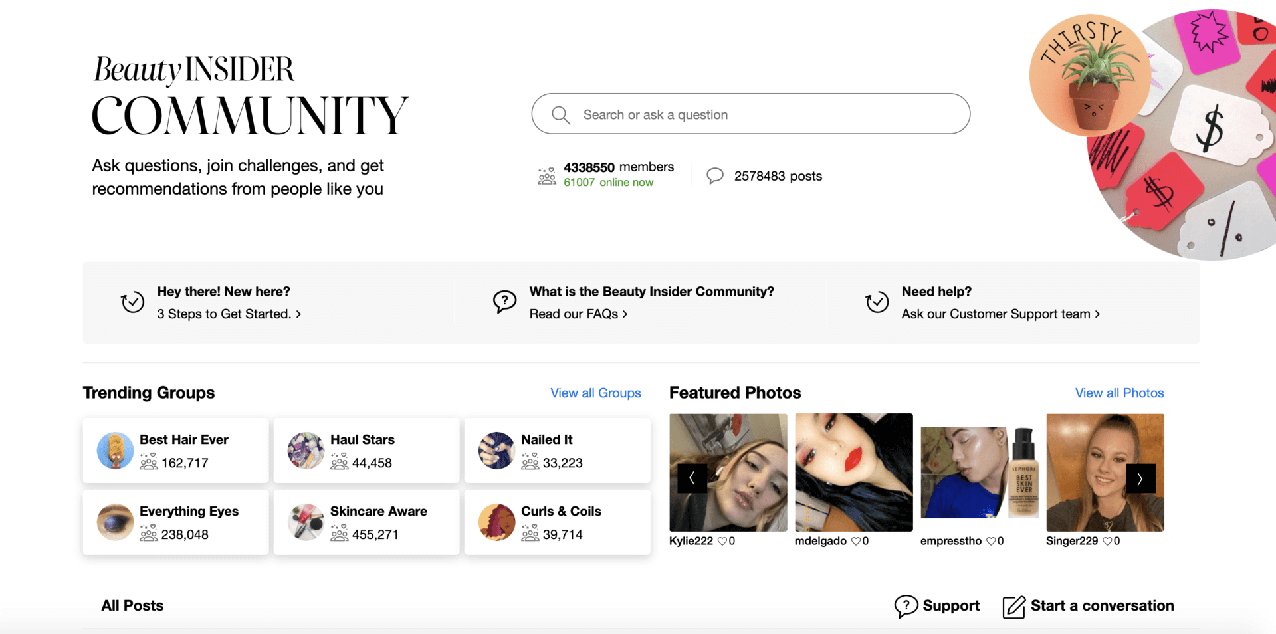 Transform visual branding efforts
Customers take 50 milliseconds to decide whether or not your website intrigues them. Find out what captures your audience's attention and use customer feedback to determine the most appealing visual strategy.
DSW recently worked with Bazaarvoice to improve its visual content based on customer feedback. DSW's customers were asking for more on-the-foot photography, style guidance, and "how to wear" type of content. Using Bazaarvoice's visual content solution, DSW was able to showcase how its products look in the real world. It collected UGC with the hashtag "#MyDSW" across multiple channels. As a result, shoppers who engaged with the visual UGC on DSW's site were twice as likely to buy its products.
Adjust your approach for a global audience
If your brand serves a global audience, you'll need an international e-commerce strategy. Customers in different parts of the world may follow different weekly work and holiday schedules. Some consumers may be driven by celebrity endorsements, while others are rooted in family and faith. You may need to adjust your branding strategy in order to meet the expectations of those differences.
Canva is an excellent example of a brand that has perfected the art of localization. With users in 190 countries, Canva took it upon itself to offer more than 100 languages, "including five right-to-left scripts such as Hebrew and Arabic." By using the native language of its consumer within the product itself as well as in its marketing efforts, Canva is able to share the right message and provide a better product for its customers.
Sunil Subhedar, global head of performance marketing at Canva, stated, "When we were promoting our logo maker, for instance, we created ads in multiple languages, including French, Spanish, and Japanese. Each of these ads led people to a landing page in their own language, making design even easier." Canva also fostered a global YouTube community that creates Canva tutorials for different audiences all over the world.
Make brand stewardship a collaborative effort
Enlist the help of your community to boost your brand's reputation through social media, in-person events, and around the office. Consumers view employees as the most trustworthy source of information in the company. Research shows that employee content actually sees 8x more engagement than content shared on a brand's own channel. If more employees knew the impact they had on consumer behavior, they'd be more likely to get involved with brand stewardship efforts.
Take Starbucks for instance, who knew early on the impact amplifying employee voices could have. Employees are called "partners" and are encouraged to share content about their love for all things coffee, which increases brand awareness and authenticity.
Foster ways for your team to grow as brand stewards
From outings and events to in-office norms, there's many ways to inspire your team and increase brand stewardship. Involving all employees in the same activities can increase team spirit and a sense of purpose. A more engaged employee will naturally be a better brand steward, furthering morale and productivity.
Olivia Giletti, VP of Global Marketing at Thom Browne and a longtime brand manager, believes that it's a team effort to build and maintain the brand stewardship spirit. She spoke with us about how she takes her team to art shows that can inspire and instill pride in their work. She also highlighted the importance of clothes within the office of a luxury fashion brand like theirs.
Everyone has access to the Thom Browne line, and therefore they all wear the same caliber of clothing. This creates a more equal environment in which the hierarchy of roles can take a backseat and allow employees to feel comfortable sharing ideas and be proud to be part of the brand.
Speak to sustainability
Today's consumers care. They care a lot. This point is so important it could have its own blog post. In fact, it already does (shameless plug). It's not enough today to just have a good product or nice visual branding. Consumers today are looking beyond logos and slogans and are actively searching your brand's sustainability information: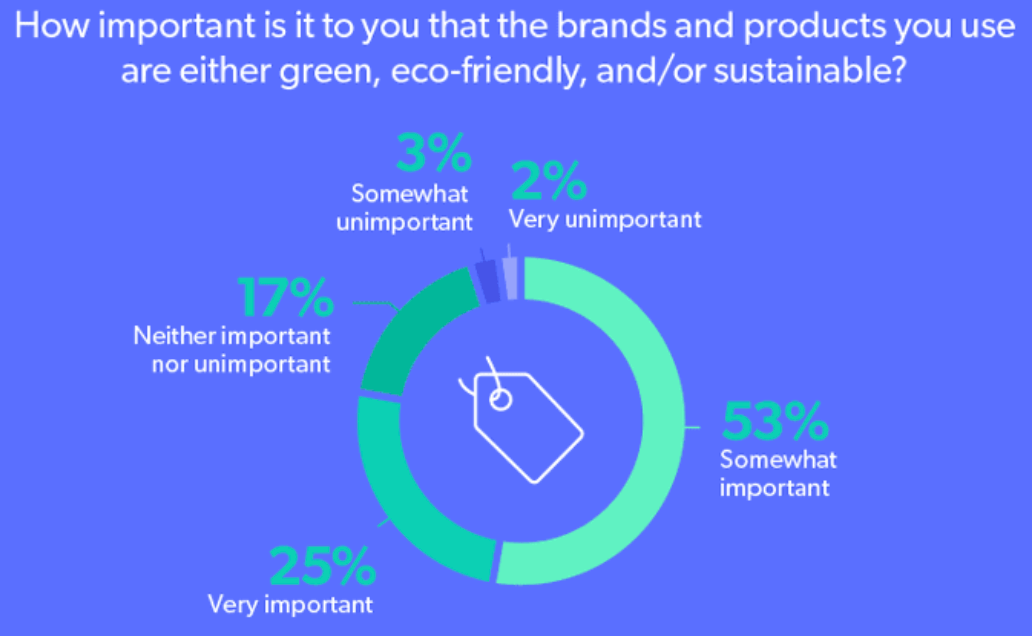 You might be thinking, "so what? That sounds like a job for P&T." Not true. Brand stewardship no longer applies to a small team within the company. It applies to every single employee, from the CEO to office managers to factory staff. In essence, it's the soul of your business.
As a brand steward, it's your job to ensure you practice what you preach. It's not enough to say, "we care about the environment" if you're chopping down the rainforest for palm oil. Today's consumers will see right through you.
Especially millennials, the 1.8 billion of them, of which 74% are more likely to shop at brands that support social issues they care about.
Team up and get creative with influencers
Influencers and brand ambassadors can have a tremendous effect on your brand stewardship efforts. With 11x the ROI of traditional advertising, influencer marketing has proven to be an effective marketing strategy for 94% of marketers who use this strategy. However, it's important to make sure you're teaming up with the right influencer. On Instagram, there's about 500,000 active influencers, but not everyone is going to be a good fit for your brand.
Luckily, we recently undertook research to discover what influence influencers actually have. Using responses from 9,000 global consumers, we were able to understand consumer attitude and trust towards today's influencers. Referencing this research will help inform you on the right type of influencer needed for your brand.
The influencers and ambassadors you team up with should already have credibility in your industry as well as a relevant audience that trusts them. Their content should align with your values and be captivating enough to lead to high engagement rates. If possible, look for influencers who excel at video content, as global video consumption has increased 60% over the last year.
Rihanna's Fenty Beauty Ambassador program includes both micro and macro influencers in the beauty industry. To capitalize on video popularity, Fenty Beauty created a TikTok program and "creator hub," a house where five TikTok influencers could live and create content together. TikTok houses are very successful in increasing engagement and brand support. For example, within the first month of starting Hype House, the house account gained seven million followers on TikTok.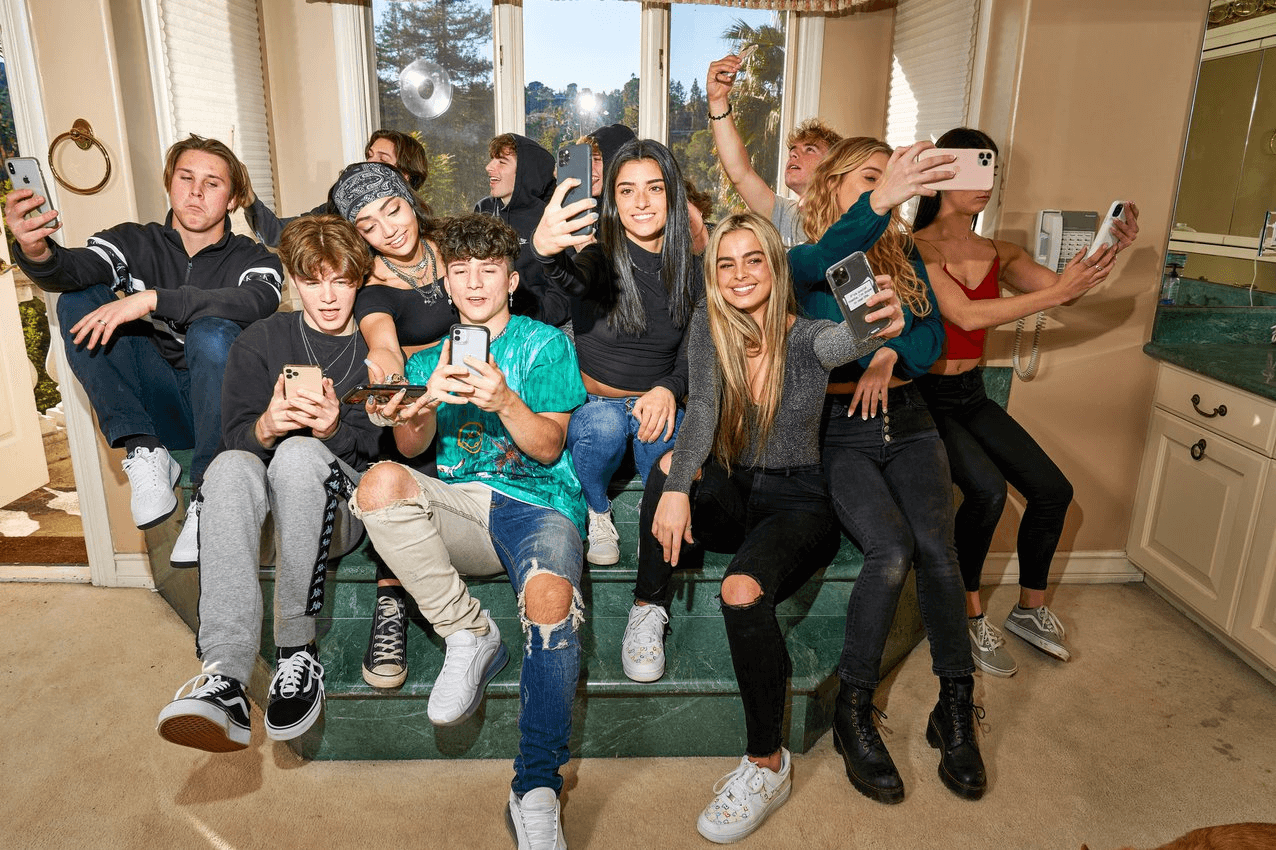 Celebrate happy customers, AKA your best brand stewards
According to a report from Deloitte Digital, 60% of loyal customers use words like "happy," "love," and "adore" to describe their favorite brands. Emotional words like these act as powerful brand stewardship fuel, as they will resonate with new and old customers. Reward your happy customers for being your best brand stewards by spotlighting them or offering special perks.
Fujifilm rewards its customers by sharing the commentary and photos they create using Fujifilm cameras and the hashtag #MyFujifilmLegacy. By tagging these photographers on the Fujifilm social media accounts, Fujifilm supports their customers' work by providing them with exposure to a larger audience.
This type of positive reinforcement has a cyclical effect. A brand shares love for the customer, the customer shares love from the brand, positive exposure is gained, and the cycle continues. As a brand manager, the decision to be a brand steward is one you make alone, but the day in and day out of following that path should not be a singular feat.
Brand is too important to ignore, so listen actively, transform the negatives into positives, gather friends, and voila. You've embraced brand stewardship like a pro.