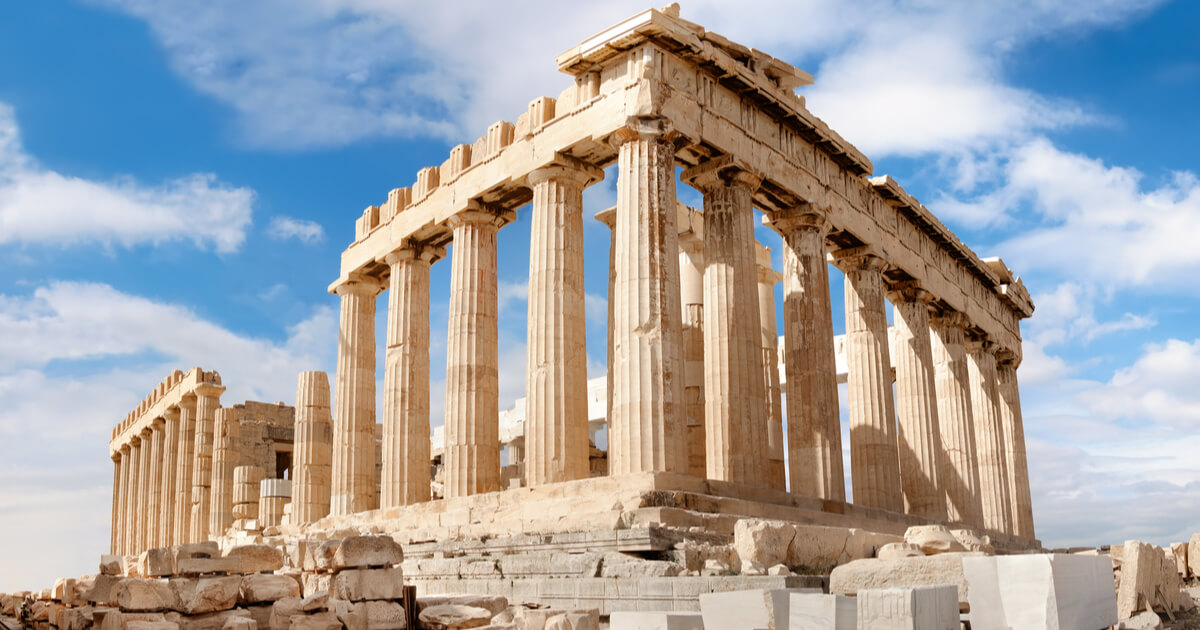 This guide will provide the info needed to develop brand pillars for an e-commerce company — unique, resonant messages that set you apart from other players in your space — and implement them strategically across channels to build advocacy and fuel growth.
Follow along and you'll be able to create a sustainable path to long-term loyalty and e-commerce growth.
Chapters:
---
---
Brand pillars are like first impressions — good ones are memorable and make you want to know more. Lackluster ones are forgettable. Bad ones are a red flag. Like when you're on a first date and he tells you he's a magician.
They give meaning to brands and convey their identity. That's why it's crucial for brands to have strong pillars in place so they will click — and stick — with customers.
Take TOMS, for example. The apparel and accessory brand known for its comfortable slip-on shoes is synonymous with social impact. Their mission to support grassroots efforts is embedded in their business model and pervasive throughout their marketing. They're a company with rock-solid brand pillars that literally hold up their business.
Brands pillars that resonate strongly with customers fuel brand loyalty and help build your community — if they're executed effectively. Discover how to wield the power of brand pillars to attract, retain, and increase your customer base.
What are brand pillars?
Brand pillars are the key traits you want people to remember about your brand. They are, as the term implies, what your brand stands on and what your brand stands for.
They communicate what's most important to know about your brand. Some examples include:
What pain point your brand solves: convenience, efficiency, affordability, special expertise, etc.
Values: empathy, inclusion, accessibility, sustainability, etc.
Mission: the actionable and tangible goals your brand seeks to accomplish
Though related, brand pillars are a separate entity from core values and mission statements. Brand pillars can incorporate aspects of both, but are more expansive and elaborate. They're the connective thread woven throughout your team's communications, strategy, and actions.
For example at Bazaarvoice, ours are as follows:
Customer. We see our own success through our customers' outcomes. We approach every situation with a customer-first mindset.
Passion. Our energy is contagious, because we hire for passion, drive, and curiosity. We love what we do, which makes us laser-focused on our mission.
Transparency. We believe in the power of authentic feedback. It's in our DNA. We do the right thing when faced with hard choices. Transparency and trust accelerate our collective performance.
Innovation. We seek to innovate as we are not content with the status quo. We embrace agility and experimentation as an advantage.
Strength. We bring our whole selves to the mission and find value in diverse perspectives. We champion what's best for Bazaarvoice before individuals or teams. As a stronger company, we build a stronger community.
These pillars act as the Bazaarvoice moral compass. They guide how we interact with each other, our customers, our partners, and the world.
Why should you establish brand pillars?
Brand pillars distinguish your brand from competitors. But more than that, they're also a tool for catching and keeping the attention of your customers.
Increase brand loyalty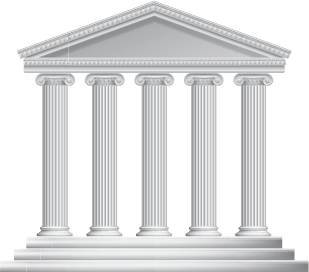 Influential brand pillars frame customers' perceptions of your brand in a positive way. Brand pillars register with customers because they speak to them on some level. Emotionally, intellectually, financially, motivationally, etc. This draws customers to the brand, and the delivery of those promises is what keeps them. And there, you have brand loyalty.
Brand loyalty has a wide range of benefits, including lowering customer acquisition cost (CAC) and creating customers that spend more and make up the majority of your overall customers.
Provide long-term success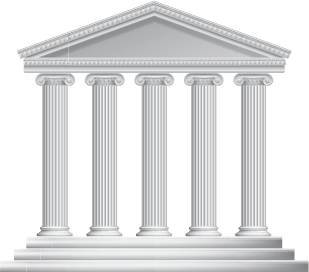 Brand pillars that outline the brand's impact on customers, community, and society are what support long-term value. According to Harvard Business Review, focusing more on stakeholder interests rather than shareholders alone will secure longevity for brands. "Accordingly, companies are rethinking how to grow their businesses while communicating both purpose and strategy."
This approach aligns with consumer expectations. After all, the majority want to know how the brands they support are focusing and taking action on social and environmental issues.
Make your brand relatable to customers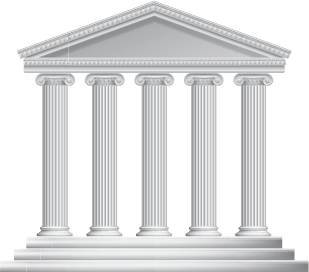 Strong brand pillars allow potential customers to get a sense of your brand at a glance and find something that they relate to. This could be one or multiple components, like your brand's values or solutions that appeal to them. A Sprout Social study found that 64% of consumers want brands to connect with them. Another 53% reported feeling connected when a brand's values match their own.
Brand relatability is especially important to millennials and Generation Z. They want to see what issues brands support and what their behaviors are before they make a financial decision. The brands that conflict with consumer values tend to suffer for. Look at Chick-fil-A and CrossFit, for example. Both companies faced boycotts as a result of their individual CEO's social stance and controversial comments, respectively.
Control your narrative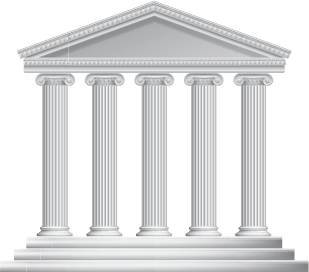 Determining and communicating brand pillars allows brands to present themselves to the public authoritatively and accurately. Achieve this by documenting what your brand does, what impact it has, and the beliefs and point of view it abides by. It also creates a guideline for brands to hold themselves accountable in their daily and overall operations. Aka, practicing what they preach. An essential way to win over today's consumers.
If brand pillars are successfully developed and followed, they serve as a reference point to anyone who might misunderstand or question your brand's intentions.
Align team members on shared vision and goals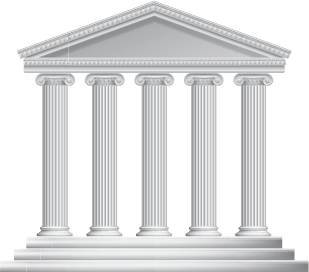 Brand pillars not only represent your brand to your external audience but to your internal team as well. This way, staff can be on the same page and integrate the brand pillars in their own work and professional communications. A little company-wide education can go a long way. The peace of mind from not having to worry about the content your staff post is invaluable.
Pro tip: Brand pillars can also be a handy tool for attracting prospective talent. How? By appealing to their own values and goals. Fill your careers page(s) with values-led content so prospects understand what kind of company they'd be signing up for.
How to define your brand pillars
To develop and determine your brand pillars, answer these questions with the key decision-makers in your company. For example, let's say Company X is an apparel company. Here's an example of how they might answer these questions to decide what their brand pillars should be:
What's your brand's vision? To offer sustainable clothing that is stylish and affordable
What do you want your customers to know? How do you want your customers to remember your brand? What will resonate with your customers? Company X is a family-owned business. It was started by two sisters with a clothing design background and a passion for supporting under-served communities
What matters to your brand? Supporting and featuring independent designers. Reducing our carbon footprint. Inclusivity. Making high-quality, fashionable clothing available to a wide consumer base
What problems do you solve? Selling clothing for all body types, attentive and helpful customer service, fast delivery, affordability
What makes you better or different from your direct competitors? We source all our products and materials from independent artisans and designers in low-income locations. We also offer free shipping on all orders, and invest profits on select items into at-risk communities
Based on this assessment, Company X might define their brand pillars as: inclusivity, affordability, sustainability, community, and convenience. Company X would then expand on what each pillar means to them and how they operate accordingly.
How to optimize your brand pillars for maximum impact
Defining your brand pillars is just the first step. To see results, you have to implement them into your:
Business strategy
Team management
Coaching
Marketing team
Sales team
Branding
Make brand pillars part of your company language
This is brand stewardship in action. Don't just let your brand pillars sit on an "About Us" page on your website to be forgotten. Regularly including them as part of your company culture will help your team get familiar with them, understand them, and feel comfortable speaking to them.
When developing a brand strategy, use your brand pillars to help inform and describe the main points, tactics, and goals. Using the previous Company X example, what would they ask themselves? Probably, "How does this strategy convey and accomplish inclusivity, affordability, sustainability, community, and convenience?"
Likewise, when evaluating your own performance or a coworker's, use the pillars to help describe achievements. As well as that, look for areas of opportunity and space for improvement. For example, a team member might excel in one pillar, like supporting diversity and inclusion efforts. However, they may need to grow in another, like their customer service skills. Expose new hires to brand pillars early, explaining and using them in training documents and presentations.
Instill them in your team
Foster an environment that inspires your team to embrace and project your brand pillars. On a systematic level, build a staff team that reflects your brand pillars:
| | |
| --- | --- |
| Pillar | How to implement |
| Diversity & inclusion | Hire diverse and inclusive staff |
| Purpose-driven | Ensure you have a research team/department to drive philanthropic initiatives |
| Knowledge | Provide consistent training to team managers |
Thinking strategically about your team structure and roles can be the catalyst for change. This will pivot how your company operates in accordance with your brand pillars. Be transparent in sharing your thought process and planning with the company to encourage brand pillar stewards and enthusiastic supporters on your team. If you're in the brand pillar development stage, loop in the rest of the team to get their input.
That way it's a collaborative process that will boost sentiment and support of your brand pillars.
Increase online visibility and awareness
Make your brand pillars easily accessible and prominent. Consider a hashtag campaign to encourage social sharing to spread them wider in online communities. Some primary platforms to share your brand pillars include:
Your website: Post brand pillars on your About Us page or a dedicated brand pillars page
Social media: Create social media posts on your main channels with links to where your brand pillars are on your website. Indicate relevant brand pillars in messaging and captions. 91% of survey respondents believe in social media as a connection tool for brands, so social platforms are the perfect space to reach customers
Email campaigns: Include emails specifically about your brand pillars or that include a section detailing your brand pillars in your brand's email newsletter
Leverage user-generated content
Brand ambassadors that represent your brand pillars through their own content can be a great source to extend reach and impact. Start by organically acquiring brand ambassadors through online engagement:
Like, share, and comment on posts from your followers mentioning or tagging your brand
Respond to followers' comments and DMs
Include content and tags from followers in Story highlights
When customers ask questions or leave reviews online, respond to them — whether they're positive or negative
Once you have followers-turned-brand ambassadors and glowing reviews from happy customers, promote their pictures, videos, and testimonials — a.k.a. user-generated content (UGC). Sharing visual UGC of your brand represented by other customers shows your audience your brand in a relatable and appealing way.
Seek out UGC that's specifically relevant to you. There should be a large selection if you've successfully promoted and disseminated them. For example, Bazaarvoice's Social Media Management tools offer a storage hub of permissions-granted UGC to use for sharing on social, or posting to website galleries.
While visual UGC promotes your brand pillars, it can also increase conversions by 150%, average order value by 15%, and time on site by 150%.
Reviews are an extra effective form of UGC. In fact, reviews influence purchasing decisions for 97% of shoppers, and the chance of conversion doubles for those who interact with reviews. Brand websites, social media, and emails are great places to highlight helpful reviews. Show social proof of your brand pillars and bolster their influence with reviews that mention or reflect them.
Brand pillars examples
Brand pillars are applicable to all companies and brands, regardless of size or industry. Use these examples that go above and beyond to inspire your own brand pillar strategy.
Home improvement
The home improvement retailer's corporate responsibility page clearly lays out their brand pillars, which it names as their environmental, social, and governance (ESG) strategy. It's defined as, "Values-based and centered on three key pillars: focusing on people, operating sustainably, and strengthening our communities." To encourage sharing among their online community, they include a corresponding #doingourpart hashtag.
Each pillar has its own supporting content and metrics of how Home Depot reflects them. Their brand pillars are the launching pad for community programs, like the Homer Fund grants and scholarships and the Home Depot Foundation for skilled trade training and education.
Home Depot even created a highlight video to show the impact of its ESG brand pillars, which is an example of supporting content to extend their reach.
Consumer electronics
The foundation for Samsung's branding philosophy includes five main pillars: "Innovation, cutting-edge technology, world-class designs, recruiting the world's best talents, and internal branding."
As a way to distinguish them from their commercial rivals, Samsung went all-in on their brand pillars. This included investing in an R&D department committed to identifying areas for innovation and new technologies, and differentiating from giants like Apple with intentional mobile design.
Samsung leaned heavily on pushing their brand pillars in advertising and marketing campaigns, and ensuring separate departments within the company collaborated with each other to help support brand pillar implementation.
Food & beverage
With a new strategic approach, dubbed Performance with Purpose (PwP) by CEO Indra Nooyi, the established global company focused on a long-term strategy with an emphasis on societal contribution and impact. This new direction was based on four sustainability pillars: financial sustainability, human sustainability, environmental sustainability, and talent sustainability.
These pillars led to significant progress. The brand saw a healthier product portfolio, water conservation, a 39% increase in women working in senior management roles, and an 80% growth in net revenue. PepsiCo's PwP model laid the framework for other large-scale global companies to reform their brand strategy.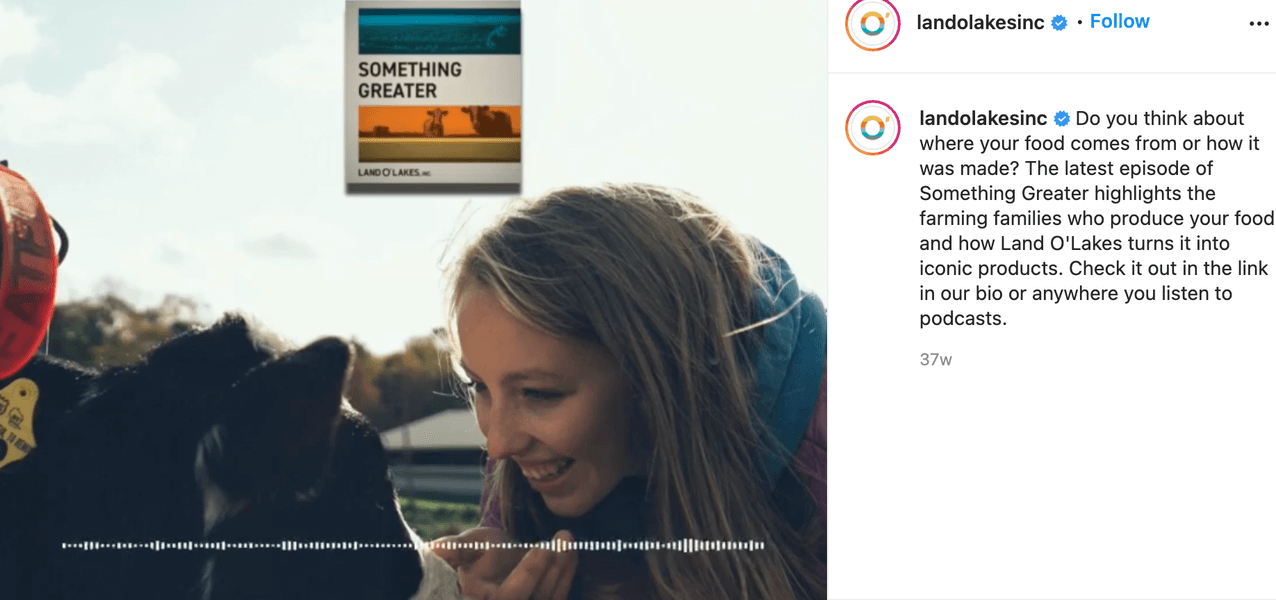 Land O'Lakes, a Bazaarvoice customer, also has distinct brand pillars that are authentic and specific to their brand and background. Its website outlines their pillars, including tech innovation, sustainability, and prioritizing its farmers and community. The brand's social media and blog posts support and express the motivations and main ideas behind their brand pillars.
Beauty
Feelunique, a European beauty retailer and also a Bazaarvoice customer, outlines their brand pillars on their About Us page. The company specifically references their inclusive philosophy that, "beauty is more than skin deep," its charitable partnerships, its focus on excellent customer service, and its commitment to natural and vegan ingredients.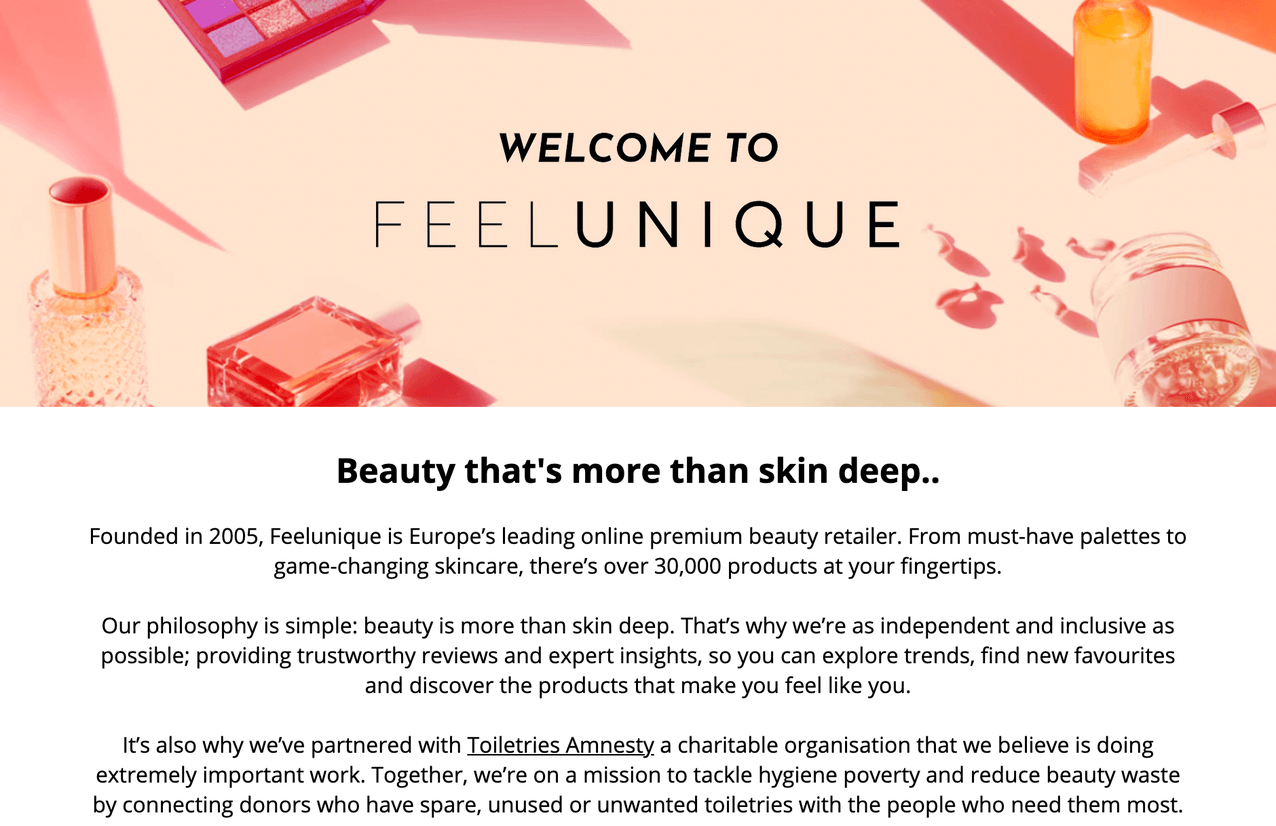 Environmental sustainability is becoming increasingly more important to consumers. It's a top brand pillar that many major beauty brands have in common. A Bazaarvoice study of over 8,000 consumers revealed that the majority seek out green or sustainable labels when shopping, and are willing to pay more for eco-friendly products.
LUSH Cosmetics has a dedicated page for their brand pillars in the form of declarative statements. For example, "we believe in making effective products from fresh, organic fruit and vegetables, the finest essential oils, and safe synthetics," and "we invent our own products and fragrances."
LUSH implements its brand pillars consistently and cohesively across its marketing channels. Their Instagram Story highlights pinned to the top of their profile represent their brand pillars organized by category. Including Community, Values, Take Action, and their range of clean products.
Technology
Our brand pillars are the soul of what we do here at Bazaarvoice. They're highlighted on our About us page and clearly outline our mission and values for everyone to see. After all, transparency — our third pillar — is key.
Heeding our own advice, though, we don't just let our pillars sit idly on our website. They're an integral part of our DNA. Taking innovation for example, our fourth pillar. We actively encourage experimentation and embrace change to stand out from the rest. And our passionate pursuit of performance — through hiring teams who match our pillars — makes every employee hyper-focused on our brand mission. Everyone from the CEO right down to yours truly.
Brand pillars require big picture thinking
Developing and practicing brand pillars is part of the long game, which means creating a sustainable path to long-term brand loyalty and growth.
To achieve this, think about what you want to evolve over the next five, 10, or 20 years. What will still be important and valuable to your customers? What sparks meaning and pride when communicating with your internal team and your external audience?
Big picture planning means long-term security for your brand. It means thinking beyond short-term profits to how your brand will make a difference for your customers and communities.