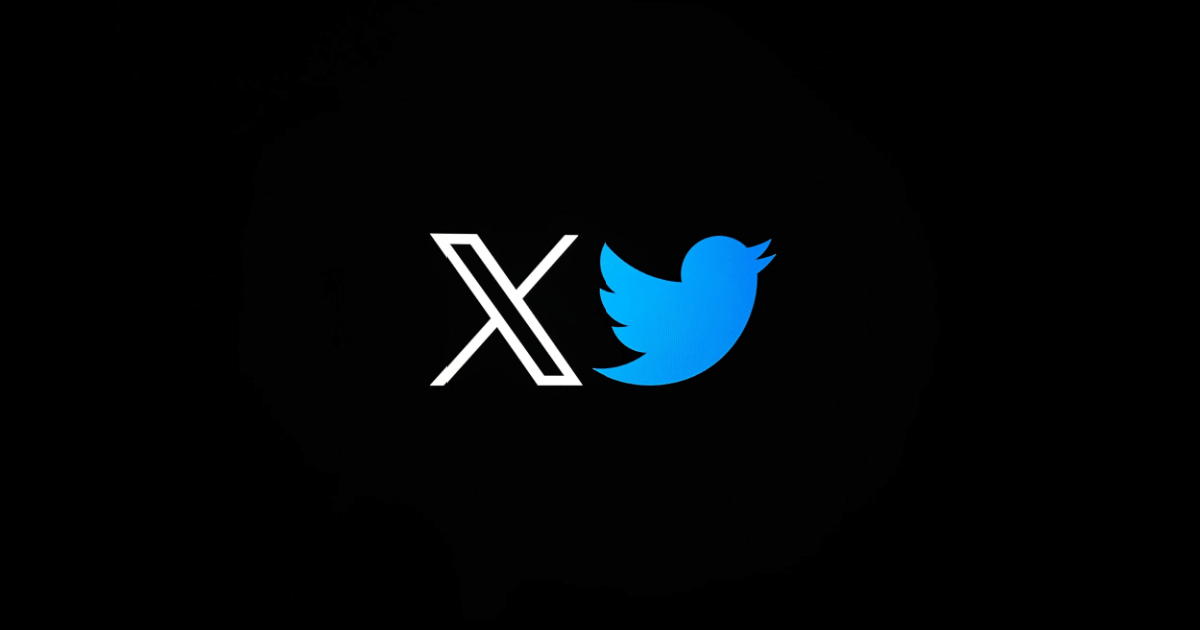 Twitter (X?) has changed its course a lot over the past few months, faster than you could say "Elon Musk!" It seems even the CEO of Twitter isn't sure on the right strategy to take.
As Twitter keeps evolving, with little to no warning, questions have been raised around its future and how that might change. But no matter the name, the popularity and population of this app — with over 237 million daily users — will never falter.
This means that now more than ever, brands should be building out and perfecting their Twitter X marketing strategy, especially since 79% of Twitter users follow brands.
Is Twitter now called X?
With this rebrand, people are unsure if it's really X now or if it's still just Twitter. To cover all angles, we're going to be calling it Twitter X, so that way everyone wins.
Twitter X revolves around real-time conversations, which are mostly word-based, whereas other platforms rely on pictures, videos, and more to carry their message. Just the sheer fact alone that 55% of people on Twitter X get their news from Twitter X illustrates how much this platform is a hub for commentary and discussion.
But as the discourse around Twitter changes day by day, it can be difficult for brands to stand out amongst all the noise and find their place.
Most importantly, it comes down to understanding your audience on Twitter X and knowing why they may be engaging with you on the platform over others. For example, what do they want out of you that's different? How are their scrolling and shopping habits different on Twitter X?
5 ways to build your Twitter X marketing strategy
Before putting pen to paper on your Twitter X marketing strategy, you'll need to consider these questions above. Once you've given that some thought, use the following 5 tips for building out your brand's Twitter X strategy. 
1. Stay true to your brand and brand message
This one should be a no-brainer across the board. Customers want to see brands show up authentically as themselves. Because we live in a world of technology, humans lie-detecting abilities have arguably improved, especially when engaging with social media. It becomes increasingly obvious when a brand tries to stick out for all the wrong reasons.
Returning to your business' purpose statement when strategizing for X will be like following your North Star – it will never lead you astray. Take General Electric for example.
GE doesn't necessarily use Twitter X to promote their latest product or sell you something. Instead, they're focused on sharing their expertise and exciting people about their newest innovations, especially since they are an organization focused on the future of energy.
By posting this content to Twitter X, they're enabling their followers to join in on the conversation — something they otherwise may not be able to do on Instagram or TikTok.
Conversely, Ryanair, a low-cost airline, is known for its self-deprecating humor across all social channels. Consistency is key on social media, and they don't shy away from the jokes on Twitter X.
Whether your content revolves around humor, education, products, or more, people appreciate when a brand knows their niche and sticks by it.
2. Lean on brand safety versus just following trends
When a trend arrives, it can be easy to jump on immediately without second thoughts. That's how you go viral and alter your business forever, right? Well, yes and no.
Trending content can be fun, playful, and help get your brand out there. However, what about the dark side of trends? Can just posting trending content actually hinder your engagement, community, and revenue? Without a careful Twitter X strategy, it can.
Tampax, a feminine care brand, tweeted a very inappropriate joke last November. Hoping to jump on a trend, they took little care in wondering what they were actually saying and how people would react. In return, they were destroyed by users, and people even started using #BoycottTampax in response. Although Tampax removed the Tweet and apologized for the mistake, they haven't used the platform since.
This is just one example of many where posting a trend has backfired horribly, and it can change a business and its status for a long while.
If businesses lean into being funny and playful too much on Twitter X, they run the risk of getting into trouble, getting into conversations they don't want to be publicly involved in, and causing more damage than good.
This isn't to say Twitter X can't be enjoyable and lighthearted. Instead, it's just about understanding how this text-heavy platform relies on open conversations and unfiltered dialogue. So, if you aren't willing to take both positive and negative responses, you should stray away from being too flashy and trendy.
3. Consider using Twitter as a Q&A platform with your customers
Oftentimes, shoppers and consumers are searching for places to find answers about certain products. They may turn to customer support via email, phone, and more, but the wait time can be excruciating and frustrating. This is where Twitter X can come in handy.
Brands that lean heavily on their customer support team can repurpose X, Twitter's rebrand, as a new customer support channel. Since 64% of customers on Twitter say they'd rather message a dedicated support handle than call a business, there's no reason not to leverage the app as yet another customer care channel.
For example, Jetblue, the airplane company, and LinkedIn, the employment-focused social platform, have taken to Twitter X to get questions answered in an efficient way.
If you're a brand or business looking to expand your customer support and want an easy place for people to find you, consider leveraging X as a Q&A platform. It helps build social proof, especially if customers see the business actively engaging with difficult questions and following up with quick response times. It can make all the difference.
Similar to how 74% of brands say having Q&A on their e-commerce site significantly impacts business, Twitter claims the same thing. 60% of purchasers who engaged with a brand via tweet said that it had some influence on their activity.
Get on Twitter X and discover the power of interacting with your audience to help build trust and community.
4. Use videos and images in your Tweets
Although Twitter X is predominantly driven by text conversation, users still want interactive features, like gifs, images, or videos mixed into their feed. We're now in the age of short-form video content (think TikTok, Instagram Reels, and Youtube Shorts), which means users are craving that imagery across all social platforms and it should be incorporated into your Twitter X strategy.
It's what consumers are accustomed to and that's now extending to Twitter X. There's two billion video views each day on the platform and Tweets with video receive 10x more engagement than Tweets without video. That's an incredible boost of interaction and something brands should take advantage of when building their Twitter X voice.
Airbnb mixes up their Twitter X content with images to attract customers to rent through them.
Whether their audience is just browsing the rentals or seriously considering a vacation, Airbnb utilizes the power of imagery to engage with their audience and get them excited about the various places they could stay. These cool camping options make users want to go check out the website and explore where else they could travel to.
Bose, on the other hand, utilizes an ad they made with Coco Gauff to promote their headphones on Twitter X.
Users can interact with the video and also have the option to go shop the product directly via the link. Even if they stay on Twitter X, they still get to see the product in action and see a seasoned athlete using it. Social proof anyone?
Video and images on Twitter X help amplify your words, making them stand out within a person's feed. Whether you're creating organic Twitter content or repurposing short-form videos from Instagram or TikTok, there's no reason not to begin playing around with more image-based Tweets and seeing how your audience reacts.
5. Get to know your audience with polls
Everyone loves sharing their opinions and seeing what others think, especially on Twitter X where these types of discussions are happening on the daily. One easy way for your brand to curate a conversation, understand fan favorites, and gather feedback is through Twitter X polls. Simply asking unique and creative questions will have your followers talking and encourage others to join in on the fun.
Better yet, you can use polls to help guide your Twitter strategy. Music production company Honest productions uses polls to ask their followers the kind of content they want to see.
What type of content are you most interested in? Vote below!!! #honestproductions

— Honest Productions (@HonestPro_) September 12, 2018
Once a poll closes, everyone who voted will get notified about the result (plus you can leave results public anyway) which can really increase engagement and conversation.
Twitter X or Threads strategy?
It wouldn't be a conversation about Twitter X if Threads wasn't brought up. Threads is far newer to the scene so there's really no telling the direction it may go or the audience that may decide to use the app.
However, it has its advantages, and if a new app is receiving attention, why not join in on the fun and see what it's about? Our advice is this: they're not mutually exclusive. Build your brand on both and watch engagement soar.
Check out this guide to learn more about Threads and how to use it to its full potential.
Boost your Twitter X marketing strategy
In recent times, Twitter X has been full of surprises and changes. The rebrand has definitely shaken up the social media world but that doesn't mean users or brands are leaving. If anything, it's only increased conversations around the platform and why it's so important to so many people.
We know one thing is for certain — this platform is going nowhere. With nearly 400 million users worldwide, it's still a goldmine for your brand to engage with. Consumers will always appreciate brands building community and consistently sharing authentic content across their social platforms, and Twitter X is an incredible platform to do so.
And if you're interested in streamlining your marketing strategy on Twitter X, we're here to help. Our platform can schedule Tweets (X's?) for you to maximize engagement. Learn more about it here. Or get in touch with us directly below.
Request a demo