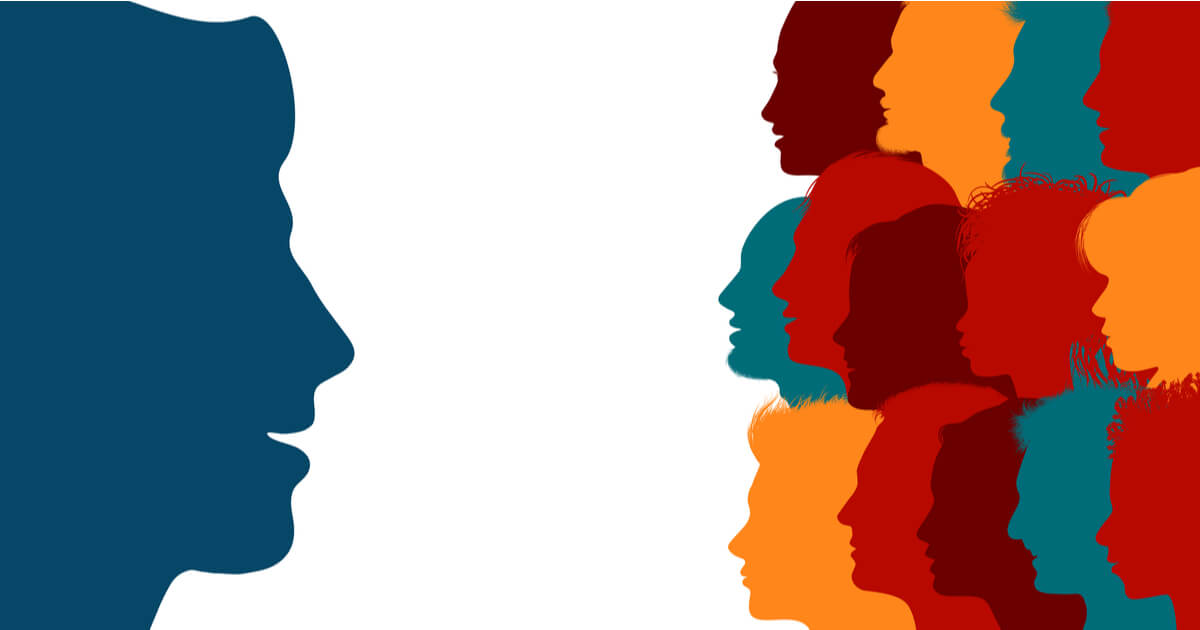 The influence economy, sometimes known as the creator economy, has arrived. What does that mean? And what does it mean for your brand? Let's find out.
Chapters:
---
---
It's hard to remember when organic food wasn't pervasive and, for many, preferable to processed or conventionally grown food. But that wasn't always the case before the organic food surge in the early 2000s, stemming from health and environmental concerns. Before then, most didn't inspect food labels or bat an eyelid at genetically modified foods.
Now, there's exclusively organic markets, organic baby food, organic produce, organic dog food, etc. You can find an organic version of pretty much everything. Even commercial food giants like Unilever and General Mills offer organic products. Why? Because of the influence consumers have on the brand and other consumers.
Much like Eddie Brock and Venom, discovery and influence in e-commerce are symbiotic. It's at the digital shopping stage when consumers discover products and brands, and something about it influences them to dig deeper. That's where content created by consumers, and for consumers, needs to play a starring role.
Optimizing for the buying stage of the customer journey is nothing new for e-commerce and retail companies. But inspiring potential customers in the shopping phase is. It's where most are falling short.
To inspire shoppers, you need to adopt an influence mindset. Brands that focus on content for the influence economy will hook customers at every level of the marketing funnel and gain competitive advantages.
The evolution of e-commerce
Brands no longer dictate what's popular and relevant. Consumers do. As Bazaarvoice CEO Keith Nealon points out in his Winning in the influence economy presentation, content that drives awareness is increasingly created by the consumer, not marketing teams. That's why brands need to evolve with the consumer if they want to grow and succeed.
With so many different shopping channels, consumers have their pick of platforms to find inspiration. According to the Future Shopper Report 2021, a study of 17 international markets and 28,000+ consumers revealed those platforms are search engines like Google (39%), social media (33%), other marketplaces like retailer and brand sites (32%), and Amazon (29%). That means your e-commerce site and social media channels must be sources of inspiration to attract and influence shoppers in the discovery phase.
It's vital to listen to consumers' opinions, which carry a lot of weight in the online shopping landscape. Pay attention to what they're saying about your brand, your products, your industry, social issues, and anything else relevant to your brand values. Understand the impact of these conversations and pivot or adapt accordingly.
For example, for those yet to watch it, the Winning in the Influence Economy webinar cites three major brands that had to completely rethink their image and reinvent themselves in response to consumer scrutiny and backlash.
Until recently, Victoria's Secret's entire marketing campaign and products revolved around outdated and discriminatory body image. Because of the body positivity movement, it rebranded to be inclusive of different body types.
In the wake of racial tension and injustice, Aunt Jemima and Uncle Ben's rectified their racially stereotypical branding.
After employees accused BrewDog of toxic workplace conditions, it publicly apologized and restructured company operations.
Whether it's making high-level, systemic changes or more granular adjustments, the voice of the consumer is the catalyst in the influence economy.
What is the influence economy?
So, what does the influence economy mean, exactly? It's not to be confused with influencers in the high-profile or celebrity sense. (Although their sponsorship certainly doesn't hurt). It consists of two main concepts:
1) A continuous feedback loop
2) Content-powered commerce
Let's break that down.
1) A continuous feedback loop
The influence economy creates a continuous feedback loop between brands, retailers, and consumers to discover how they influence each other. Analyzing this feedback supplies companies with the knowledge to create a better customer experience. It's a full-funnel feedback loop at every stage of the customer journey, from brand awareness to loyalty.
Here's an example, using independent lifestyle brand Oliver Bonas.
Awareness stage: A customer posts a photo of an Oliver Bonas ceramic mug to Instagram.
Engagement stage: One of that customer's followers taps the @oliverbonas tag on the post, follows Oliver Bonas on Instagram, and likes and comments within the brand's feed.
Conversion stage: Oliver Bonas reposts the customer's original post and makes the image shoppable, so people scrolling Instagram stop when they see it and are inspired to purchase it right through the app.
Loyalty stage: One of the shoppers who purchased that mug leaves a glowing review and becomes a repeat customer.
From this example, you can see a product that a customer loved, how and where they influenced other shoppers, and what about the mug other shoppers enjoy based on their reviews.
To collect comprehensive insights from feedback at every stage, use a data-led approach.
At the awareness stage, this data includes traffic and click-through rate for every channel, new customer acquisition, SEO rankings, and customer sentiment and language. At the engagement level, data to analyze include number and types of engagements by audience type, time on site, add to cart rates, and inquiries related to products and customer service. The conversion stage includes conversion rate, cart abandonment rate, revenue, and average order value. The loyalty stage includes data in the form of referrals, user-generated content (UGC) like reviews and social content, repeat purchases, and greater lifetime value.
2) Content-powered commerce
Content-powered commerce is influential content created by consumers, including photos and videos on social media, comments and questions on social media or e-commerce sites, and customer reviews. Which is why the influence economy is sometimes referred to as the creator economy. This consumer content influences other shoppers, leading them to learn more and giving them the confidence to make purchases.
Consumer content doesn't eliminate the need for internal content created by marketing and social media departments or creative agencies. Your brand should have a mix of internal and external content for a well-rounded, diverse, and robust marketing strategy.
How brands can succeed in the influence economy
Knowing that the current state of e-commerce is driven by consumer influence, what's next? Here's the steps you'll need to take to beat out the competition and appeal to today's consumers.
Capture customers in the discovery stage with inspirational content
To influence consumers, and for them in turn to influence others like them, you have to stop them in their scrolling tracks. There's an overwhelming number of brands pushing content, so your content has to be fun, entertaining, and relatable. Your digital content should replicate the best parts of a physical shopping experience.
Furthermore, it should respect your audience by conveying authentic brand stories that give shoppers a glimpse behind the scenes. They should know what matters to you and how you operate. And while your own content may seem like the obvious method, it should be secondary to UGC, which is why it's crucial to inspire consumers to help tell your story. Those customers will then inspire other customers. Hence, the influence economy. The two locations to focus on based on where shoppers look for inspiration are your e-commerce site and social media channels.
Your product pages are where shoppers check out, consider, and ultimately add items to their cart. Fill your product pages with UGC, including media they've uploaded or posted on social, product reviews, and FAQs featuring customers' questions and your answers.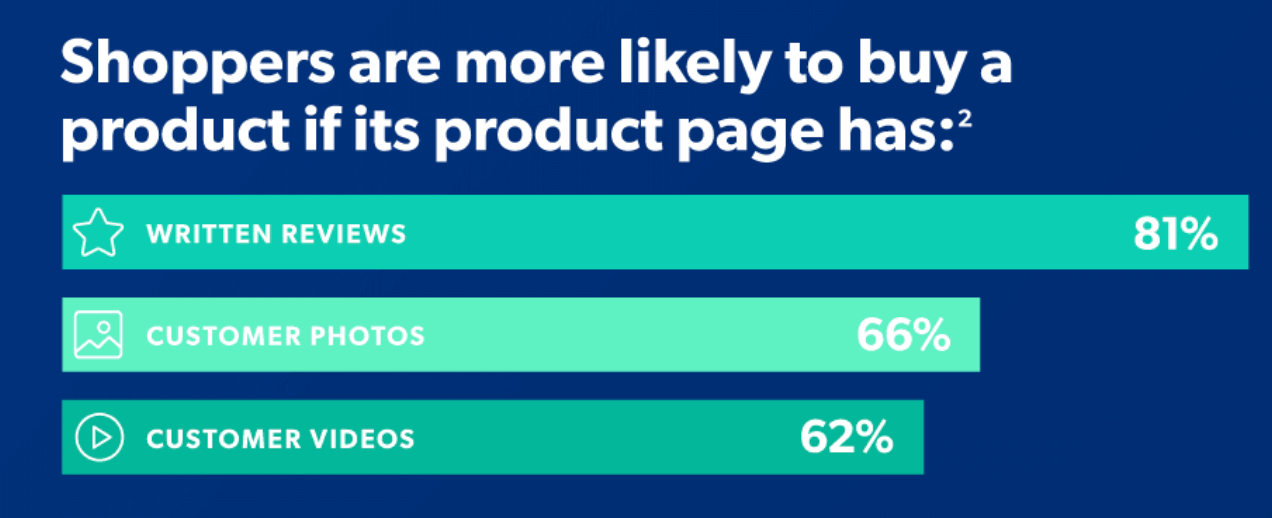 According to our 2021 Shopper Experience Index, nearly 40% of shoppers won't purchase from product pages without UGC, and product pages are the source for about half of shoppers when searching for customer photos. Reviews literally represent the voice of the consumer with their own words and are highly influential. So much so that 97% of shoppers claim reviews influence their buying decisions and those who engage with reviews are over twice as likely to convert as those who don't.
Leverage that power of influence throughout your e-commerce site by shortening the buyer journey with shoppable UGC. By making consumer photos and videos shoppable, with one click, your site visitors can go from browsing to buying.
Speaking of shoppable UGC, social media platforms, as it turns out, are made for it. According to the Future Shopper Report, social platforms are among the top locations where shoppers go to search online, and Facebook, Instagram, TikTok, messaging apps like WhatsApp, and Pinterest are the platforms where they would most likely shop. Social commerce is a perfect fit for the modern shopper, as 80% of global shoppers report they want to move as quickly as possible from product inspiration to purchase.
Cultivate brand advocates
You can't have an influence economy without influential UGC. To get this UGC, you have to give consumers a reason to want to share content about your brand, whether that's posting a photo, leaving a review, making an Instagram story, creating a TikTok video, writing a blog post like this one, or something else.
In addition to offering products consumers want and posting authentic and transparent brand content, you can encourage UGC simply by asking for it. Let consumers know how you'd like them to engage: posting visual UGC with hashtags, leaving comments, responding to Instagram polls and questions, leaving reviews, etc. As an incentive, you can share that UGC on your brand site and social channels, thus boosting the poster's image.
If you respond to individual reviews — and you should — it shows your company cares enough to follow up, and that builds brand loyalty. Potential rewards for providing feedback will help entice customers to share their thoughts. These rewards can be in the form of discounts, credits, or even a referral program. Customers are now being asked to review or fill out a survey for many other products and services. Your brand can stand out by addressing feedback and providing rewards for engagement.
Another way to inspire brand advocates. You can do this by joining a growing number of brands that are turning their own employees into influencers. Or you can build an interactive community. For example, Peloton turns exercise into a social media gathering. Peloton may just be a workout bike, but where the brand shines is by having instructors who encourage users to post about their fitness progress, tagging Peloton and using hashtags.
Weight Watchers (WW) has an entire membership community called Digital 360, where members motivate each other. It also provides consistent feedback for the brand to analyze and respond to. The membership includes a podcast, interactive events, an app to track your WW program, and more.
Listen to feedback and act on insights
Customer reviews, social media platforms, website analytics, e-commerce reports, and other digital touchpoints give you access to valuable consumer insights. That combined goldmine of data and feedback can shape and grow your marketing and customer experience strategies. Make sure you have a plan for how your business will respond to all the feedback found in all your insights sources.
Consumers expect responses to reviews, and you can bet that those responses have a lot of influence. Seeing that brands respond to reviews increases the likelihood of making a purchase for 48% of shoppers.
The ability for shoppers to ask questions to brands directly can eliminate potential uncertainty about a product and lead to confident purchases. That could be the initial contact a potential customer has with a business, so it's imperative that the impression be positive, lasting, and influential. Bazaarvoice Connections and Questions & Answers tools allow brands to address questions and comments from customers at a mass scale.
Customer sentiment and natural language processing (NLP) give brands access to what consumers like or don't like about your products or what you're doing as a business. Bazaarvoice's Insights and Reports was built to monitor all of your various campaigns in one location. Actions you can take based on this intel can be improving or optimizing marketing materials, updating your customer service program, improving products, or even developing new products.
For example, the baby and maternity brand Vertbaudet adjusted the features and fit of one of their items based on insights from a customer review.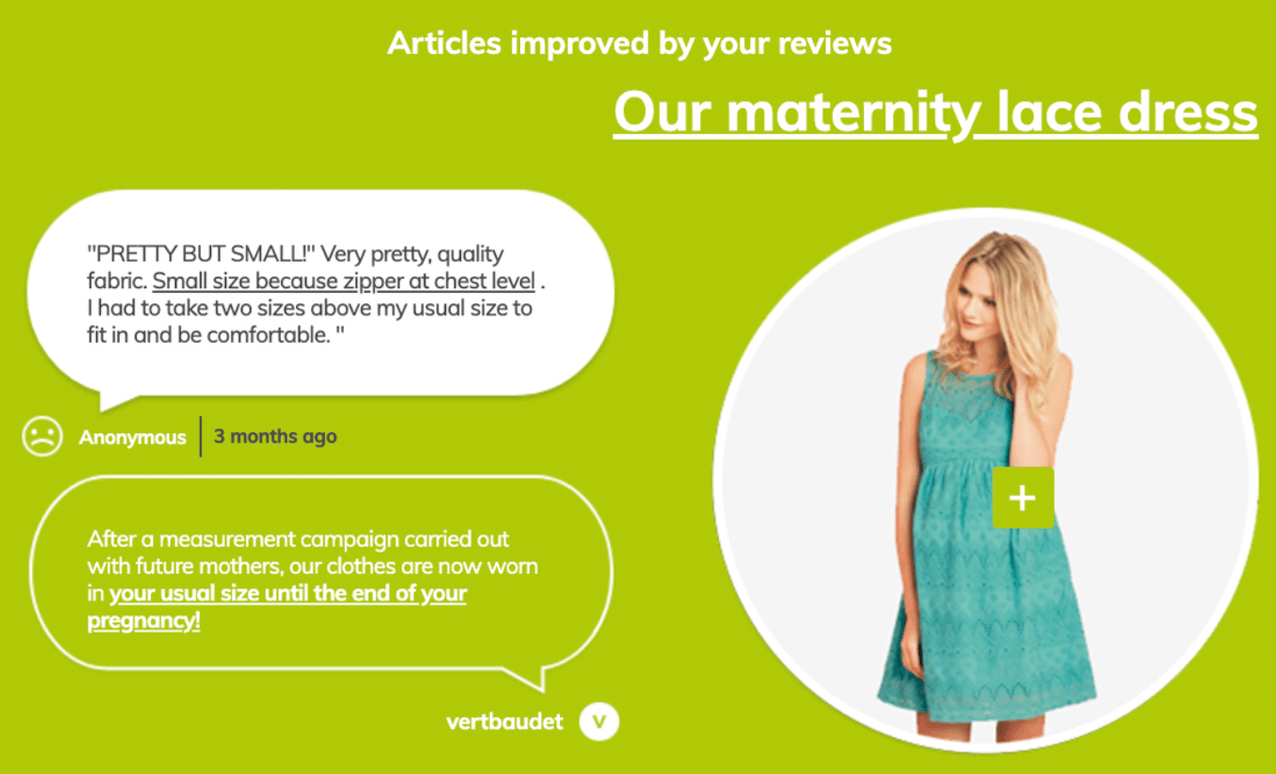 Invest in technology
Maximize your impact and streamline your efforts with technology designed to amplify your brand's influence and distribute it across channels.
Bazaarvoice has an extensive toolkit for leveraging UGC on your e-commerce site and social media. The Bazaarvoice Galleries tool displays UGC from social media anywhere on your brand's website, from your home page to product pages and dedicated gallery page. The Reveal tool can make any image on your brand site, blog, retail partner site, or anywhere else online shoppable.
Need a boost to build up your UGC collection? Jumpstart or revive your UGC program with Bazaarvoice's product sampling program and Always-On tool for a continuous incoming flow of quality reviews from our Influenster community of over six million active members.
Benefits for brands who embrace that influence economy
Brands who get on board with the influence economy will not just be relevant but receive unique benefits from doing so.
First, they'll create a customer-obsessed culture. By acting on and encouraging feedback that influences your business and the consumer, you'll have enthusiastic, engaged fans. The apparel delivery service Stitch Fix takes this approach, and as a result, saw its women's activewear revenue grow by 350% in a year. Its model relies on data and insights to make recommendations and curate clothing for its members. In turn, the company produces happy, satisfied customers who share their fashions online, influencing other consumers.
Second, they'll receive higher conversion rates, like Home Depot Canada did. Home Depot Canada used Bazaarvoice's Managed Sampling solution to add more UGC to its product pages, which ultimately doubled its conversions. This is how you inspire and influence consumers in the discovery stage.
Finally, joining the influence economy will give brands a major competitive edge. Brands that don't build a community with UGC, optimize for the shopping stage, and receive all of the rich feedback from those efforts will be at a serious disadvantage.
Welcome to the influence economy
The influence economy has a full-funnel effect. And the marketing team is set to own influence at your company. Bazaarvoice's comprehensive suite of solutions will prepare you for the influence economy and make real change to your business as we run full-tilt into a brand new marketing game. Get in touch to see how. Or watch Keith's full presentation below to learn more.
Request a demo