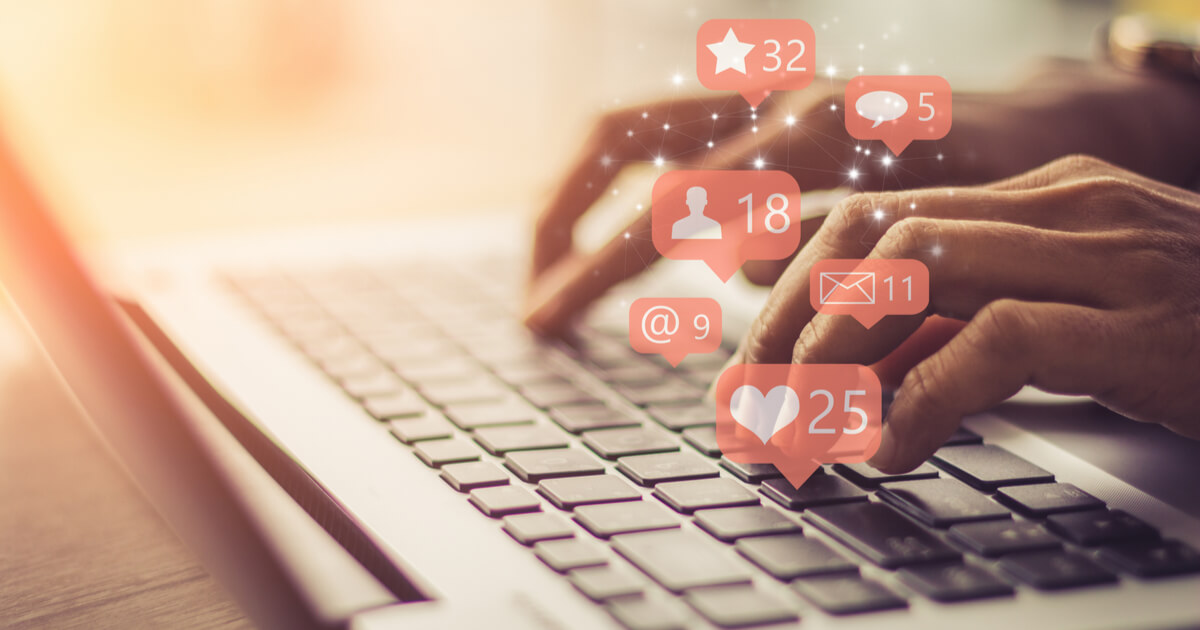 Write "e-commerce social media marketing" at the very top of your marketing strategy to-do list. Because remember when the growth of e-commerce was all the buzz? People started shopping online in droves (accelerated by the pandemic), and brick-and-mortar basically faced an existential crisis.
Seems a bit old hat now, right?
Consumer shopping habits have continued to evolve, and the latest trend to watch is social commerce. It's a new blend of e-commerce and social, and it solves some big challenges for consumers and brands alike.
Here's what you need to know, plus a few social media e-commerce plays you should copy, stat.
What is e-commerce social media marketing?
Traditionally, e-commerce social media marketing has been defined as the practice of using social channels to market an online store. Catch their attention with a flashy post, then get them to click through to your website and buy something.
But if this is the only way your ecomm brand is using social, you're missing out.
Social media for e-commerce has evolved into a more blended, buyer-centric strategy that allows consumers to buy products directly in social channels.
This marketing strategy has come to be known as social commerce.
But it's important to note that social commerce is more than just buying something from Instagram. Yes, social media platforms can be a source of transactions for your e-commerce business. But social content itself—especially if it's user-generated content (UGC)—is what presents a significant opportunity to drive more revenue not just on social media but across all your brand's channels (e.g. website, emails…even retailer websites).
What's driving the trend to social commerce?
There's a lot of money to be made by combining e-commerce and social media.
As of 2020, U.S. social commerce sales reached nearly $27 billion and are projected to increase up to $79.6 billion in 2025, accounting for 5.2% of overall retail e-commerce sales, up from 3.4%.
Considering how valuable these revenue opportunities are, everyone wants a piece.
Every digital destination wants to keep shoppers on their site longer, encourage them through their buyer's journey, and own that transaction. So, while social channels and e-commerce sites used to own disparate pieces of the journey, it's all converging.
Social platforms like Facebook, Instagram, Pinterest, TikTok, etc. want to be more than the places people go to discover—they also want to be the point of purchase. These platforms are pulling content collected from e-commerce sites, like ratings and reviews, to help customers considering a purchase.
And conversely, e-commerce sites are looking to bring the inspiration of visual and social content to their pages to inspire customers and keep them engaged.
The lines between these two types of destinations are blurring—and they will continue to evolve to look more and more similar.
Why is social media—and social content—so important for e-commerce?
While e-commerce sites have gotten ridiculously good at helping people to buy, they
have largely failed at allowing them to shop. E-commerce today is great at selling you things you already know you want. There is lots of technology to help you find, evaluate, and purchase products.
But what if you're not ready to buy?
Many people find joy in the act of browsing, discovering new products, and envisioning them in their lives. We love shopping so much, we plan weekends, vacations, and holidays around it. Physical stores cater to this desire for exploration, but e-commerce has largely failed at creating an experience that facilitates shopping.
That's where highly visual and engaging social content comes in.
Social content goes beyond the typical product images and customer reviews we're used to seeing on ecomm websites to fill consumers' desire for inspiration. Social UGC from brands, influencers, and peers alike helps shoppers:
Imagine themselves adopting new lifestyles
Visualize their body types in apparel items
Learn new ways to use products
Even uncover wants they didn't know they had
In other words, social content fills the shopping gap.
As Apu Gupta, VP of Revenue at Curalate, says, "Shopping is the new battleground for hearts and minds of consumers, and social content satisfies consumer hunger for discovery."
4 social media marketing examples for ecomm brands to copy
Social content is unlocking serious sales, and it's showing up in the data:
70% of shoppers discover products on Instagram and Facebook.
50% of shoppers agree or strongly agree social media plays an active role in influencing the products they choose to buy.
1 in 3 shoppers bought via social media in the past year.
Global social commerce is expected to grow 34% year over year.[NB1]
So, how can you get in on this social media e-commerce action? It's going to take more than your old social media strategy.
Thankfully, there's a handful of social plays that are proven to boost your e-commerce marketing.
1. Forever 21 optimizes their link in bio strategy
Instagram offers painfully few options for driving traffic to your website, so it's important to make the most out of them—including the link in bio.
Forever 21 uses their link in bio to direct consumers to a gallery of shoppable products. From there, the shopper just has to click the image they're interested in shopping from, and they'll be taken to a page on the brand's website containing those products.
For example, let's say an Instagram user comes across the Forever 21 post below and wants to shop the outfit.
The user can navigate to Forever 21's bio and click the link:
Which brings them to a gallery of all Forever 21's shoppable images. The user clicks the image they want to shop from and is directed to the brand's website.
It may seem like a roundabout way to get consumers on site, but it works.
After two weeks of using Like2Buy — our link in bio solution — Forever 21 saw over 38,000 outbound clicks to its website and a 80% click-through rate to their website.
2. Vera Bradley and Williams Sonoma nail native shop tags
Instagram launched a check-out feature in 2019 that allows users to buy items they see in a brand's post without leaving the app. Then they built on this experience with Instagram Shops, allowing brands to create storefronts, shopping tags, product detail pages, and more.
Now, Instagram is one of the most popular social channels for shopping. The platform says about 70% of shopping enthusiasts turn to Instagram for product discovery.
Vera Bradley is taking advantage of the shoppable Instagram feed with native shop tags.
The iconic luggage and handbag brand has turned their fun and colorful feed into a revenue driver with shoppable content. Viewers can tap each photo to see which products are featured and which influencers are sporting them (hello, social proof!). Then they can make a purchase, right in the app.
Williams Sonoma is taking a similar approach, allowing their audience of home and cooking enthusiasts to buy in the app.
Want to learn how to make Turkey Roulade? They've got a video that shows the process, and viewers can easily click to buy all of the associated kitchenware.
3. Peloton and Amazon sell with social ads
Social proof is the idea that when we're trying to make a decision, we look at the decisions our peers have made before to help. And boy, does social proof sell. In one survey, 76% of consumers said they trust online reviews as much as a recommendation from friends and family.
Most brands have lots of social proof in the form of user-generated testimonials, so, why not include it in advertisements?
Fitness brand Peloton does just that by integrating UGC into its social media campaigns. In this Instagram example, they share both a user-generated image, as well as a testimonial quote from the user about how the brand has helped her in her fitness journey.
Amazon takes social testimonial ads a big step further by curating products that receive at least 4-star reviews in their brick-and-mortar stores—which go by the name "Amazon 4-Star." Plus, the 4-Star stores include displays with quotes from customer reviews.
To learn how you can get more UGC to level up your ad strategy, check out the social media managers guide to UGC best practices.
4. River Island uses UGC to bring inspiration to e-commerce
Fashion brand River Island has a community of customers eager to share their photos wearing River Island's clothing. The brand integrates this use-generated content from social platforms into their own website in the form of visual galleries. These galleries allow other shoppers to discover new items and take inspiration from their styling.
River Island also features this UGC prominently—including on the homepage, category pages, and product detail pages. This is a great approach to build trust in a way that bolsters your own branded content and can increase conversion rates.
In fact, River Island sees a 184% lift in the conversion rate and a 45% increase in average order value among site visitors who engage with the UGC.
While River Island integrates mainly Instagram content, you can also create these kinds of UGC galleries with images and videos from Facebook, Pinterest, Twitter and TikTok.
Which social media platforms are best for e-commerce?
The most popular platform for social media shopping is Instagram, followed by Facebook. These platforms offer a range of features, different ways to promote and sell products, and focused targeting. They're a natural place to start.
But don't forget to consider which platforms attract your ideal customers.
Is your target audience made up of teens? TikTok would be a strong bet (and they just announced integrations that allow brands to sell in-app).
Want to find women with a decent amount of disposable income? Have a look at Pinterest.
At the end of the day, the best social media platform for your ecomm business is the one that works for your products and customers.
The future of e-commerce social media marketing
E-commerce social media marketing is at a turning point.
Just like brick-and-mortar brands had to adapt to e-commerce, e-commerce brands now need to adapt to social commerce (or they may end up facing their own existential crisis). It's not just about creating revenue today—the ecomm marketers that thrive in the future will all be driving sales this way.
As Sue Doyle, Executive Partner and Senior Analyst, Customer Experience at Forrester, explained, "Social commerce isn't around the corner, it's right in front of us."
So, which play will you try first?