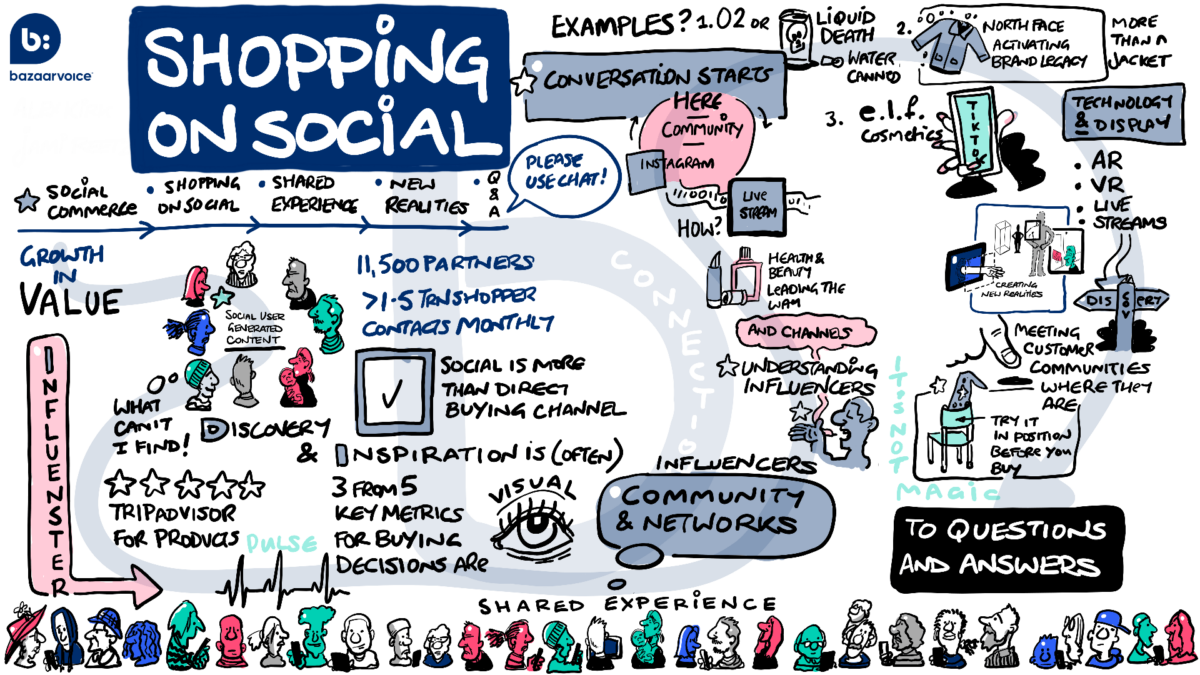 These are live-blogged notes and sketches from a social commerce trends webinar about all things shopping on social, delivered by Alex Kirk, Director, Global Consumer Insights and Jami Reetz, Social Commerce Strategist. You can opt to watch the on-demand webinar right here, otherwise let's get to it.
---
It's no secret that social commerce is big, and only getting bigger. Influencer marketing is growing at a staggering rate. Below, we're going to explore our latest consumer insights research to reveal the changing consumer behaviors and expectations when it comes to shopping on social.
How to define social commerce
Before looking at social commerce trends we must ask. How do we define social commerce here at Bazaarvoice? For many people, when you think of social commerce, you think of shopping on social media. Like buying something on Instagram. Yes, it can be a source of transactions, but frankly it's more powerful to use content from social in your marketing. It's what we call social UGC (user-generated content). By driving purchases on retailer sites, it presents a larger revenue opportunity.
Social media sites are absolutely full of social UGC which, when used properly, can create ample revenue. And it is making consumers shop. They're finding shoppable content wherever they go online. It's highly visual, and created by a mix of brands, creators, influencers, and peers. It satisfies their hunger for discovery, too.
Our research shows:
70% of shoppers discover products on Facebook and Instagram
50% agree or strongly agree that social media plays an active role in influencing the products that they choose to buy. (Only 24% disagree!)
One in two shoppers have bought via social media in the past year.
Oh, and the market size is a projected $1.2 trillion — by 2025. It's unlocking both shopping and serious sales.
Bazaarvoice is fortunate to have a mix of behavioral data, research, and consumer insights. Through the Influenster App, we've built a passionate community of shoppers, who we can survey on a variety of topics. It's a Yelp or a TripAdvisor for products, if you like.
There's over 7.5 million consumers sharing their experiences and feedback through the app. We can ask them directly about their thoughts, sentiments, and perceptions across trends, categories or more.
Basically, it, and its users, keep us on the pulse.
This particular survey was carried out between December 2021 and January 2022, and had over 14,000 respondents across the US, UK, Canada, France, and Germany.
What did we find? Shopping is going from in store to in your feed — and this have to be visual experiences. Seeing is believing, and today's seeing is on social.
Social commerce trends 2023
What are the current social commerce trends we're seeing? Let's take a look.
Visual content is on the rise, and rise
The 2022 Shopper Experience Index revealed the top five must-haves for consumers to make a confident purchase online:
Comprehensive product description
Professional product photos
Shopper ratings and reviews
Professional product videos
Shopper product photos
Three of these — #2, #4 and #5 — contain some visual content too. Video, in particular, is on the rise.
Eight out of 10 respondents have increased their time on social over the last year — not a surprise to any of us, either as marketers or as users. We're always scrolling, liking, reading… and curating.
And yes, that has led to an increase in shopping behavior. Three in four say their shopping behavior has been very influenced by social media. 65% use it for inspiration, 61% shop when they stumble across something mid-feed, and 60% shop directly from recommendation or links from influencers.
Brands directly influence around 60% of the shoppers, while friends and family influence over half: 55%. However, less than half use social for information gathering, and those pesky retargeted ads on social only impact 28% of people.
Knowing that 60% of respondents were shopping from influencer recommendations, we wanted to better understand how often they were doing it, and from which kinds of influencer. Here's what we found:
69% sometimes shopped from influencers
18% shopped from them all the time
Only 13% rarely shopped from them.
What's fascinating is the type of influencer they used:
35% shop from what they consider to be subject-matter experts
25% based on family and friends recommendations
23% shop from social media stars
13% shop from none of them
And only 5% from celebrities.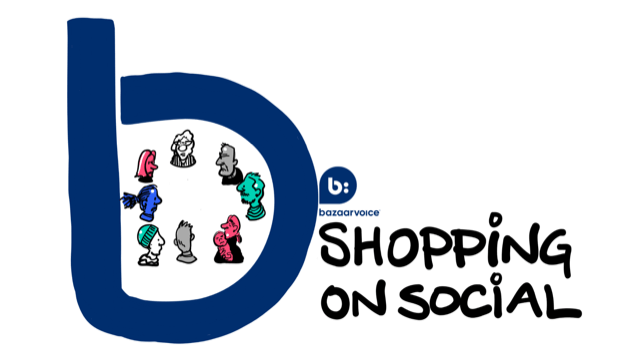 The role of the social platforms
Social commerce doesn't work the same way every time, and trends differ between platforms. Each platform serves a slightly different purpose in a person's life. They used to be there for entertainment, escapism, and connection but have evolved into opportunities to shop impulsively — or in a more intentional way.
Different platform get used in different ways. For example, Facebook is notable as the only major platform NOT used for information gathering, but the only one people use for recommendations from friends and family. YouTube likewise is the only major platform where people don't stumble across something in their feed — but is the only platform where people are aware of paid influencer recommendations.
People use social mainly for discovery — right the way across Instagram, Facebook, Twitter, TikTok, and YouTube — stumbling across things in the feed, and finding inspiration.
But, you may well ask, are they actually shopping on social? We asked for you. And the answer is clear: Beauty and clothing dominate the list, which is a significant change from in-store retail, as you can see from the following chart: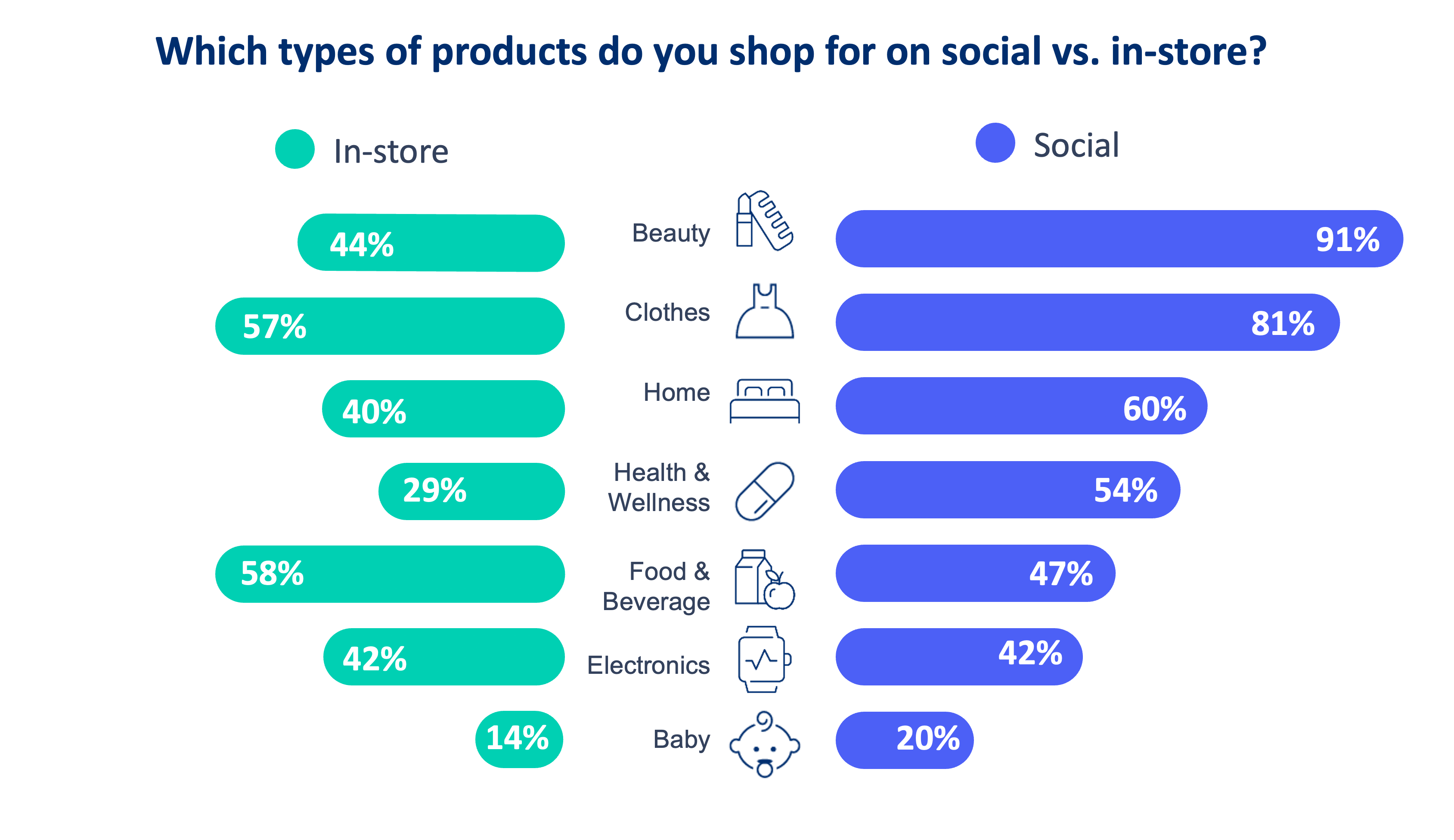 It certainly makes sense, doesn't it? Visual content on social can inspire someone to try a new color in their make-up, a new look, or buy something they can see as part of their home.
So, with people clearly shopping on social, retailers want to meet shoppers where they are. For example, Walmart has teamed up with Talkshoplive to produce shoppable, embeddable videos across its properties. The aim is to make it easier for people to buy the things they're seeing. Amazon's on board with this trend with its Amazon Live product — think QVC, but you get to pick the product and channel that appeal most to you. Dangerous!
Social creates a shared experience
Social commerce is exactly that: social. Shopping on social creates and cultivates a shared experience. Glossier for example, a skincare brand founded in 2014 by Emily Weiss, aims to democratize beauty by changing the dynamic between companies and consumers. She had previously run a blog called Into the Gloss, and saw people talking to each other about the products they love. They were forming a community that gave power to each other, and which went on to create the brand.
Influenster is also an online community, that can bring brands and their target audiences together to try out products via sampling, create conversations, and generate UGC that can be used on social. They can increase favorability and increase sales. But, more than that, they create brand advocates, who can have an impact on future purchasing and business decisions. This is the power of a community of shared experiences.
Can brands look to consumer to drive their story? A recent report from AdWeek suggested that 85% of people think that UGC is more influential than content made by brands directly. Conversations start with customers, not brands, and these discussions can give birth to communities.
Brands can be an active part of those communities. We see that already with brand outreach and review response on social, but what's more exciting is brands are looking to those communities to create the content that others want to see.
After all, in today's e-commerce landscape consumers dictate what's popular, not brands.
Look, for example, at Liquid Death — canned water that looks like canned beers — who have leaned very heavily on their community for content. As their mission statement says, they like to hydrate people, make them laugh, and kill plastic pollution. Goals we can all get behind, right?
Across all their channels you can see chugging challenges, grandma shotgunning the cans — the works! The CEO even got a tattoo of a die-hard customer's face…
Find and cultivate your community
You don't need to go that far, but you can find and cultivate the community that shares your values, and who can tell your story for you. North Face, a brand that's over 50 years old, built their #MoreThanAJacket campaign out of crowdsourced videos of people using their gear. It's telling the brand story through the stories of the users, and built an archive of content they can use in future marketing.
Doritos has its legion of creators, an online community creating fun content to win prizes and attention. No boundaries on where stuff can be posted — and no limit on potential attention and revenue.
e.l.f Cosmetics realized the potential deep in the pandemic of using TikTok as a hub for content based on an original "eye, lips, face" song. It was distinct, and helped engage the right community.
Creating new realities
So, what's next? Which emerging social commerce trends are consumers aware of? Yeah, we asked them that too. And they're really open to new experiences.
Over half of the people surveyed had participated in livestream events. One in four had tried an augmented reality shopping experience, 21% had tried talkshoplive, and 14% Buywith.
We also asked what they'd like to see in the future. Some interesting examples included:
Curated digital markets — a virtual replacement for the experience of exploring flea markets
Digital dressing rooms
Full VR shopping experiences
Richer AR experiences that really allow you to see a product from all sides
Ways of connecting apps and social media platforms together better, so there's a central hub to shop from
That last request was particularly common. A much more specific request was a storefront just like Cher's (epic!) closet from Clueless.
Some of these are already on their way. Snapchat is working on an AR-based catalogue-powered shopping lens, for example, which is already generating big numbers for some brands. Pinterest is experimenting with AR, too, most recently with Try On For Home.
And yes, people are spending billions moulding out the Metaverse. We're not in the Matrix — yet — but social continues to evolve really quickly.
Social commerce trends – key takeaways
1. Shoppers crave visual content
Think about how you can involve visual social content across all your channels, to fulfill people's need for visual content.
2. Social commerce is on the rise
People are increasingly purchasing directly from the platforms, particularly beauty, clothes, and home products. They see the look, they want the look, they buy the look.
3. Meet shoppers where they are
Shoppers are showing increasing interest in AR and VR as shopping experiences. Be open to new channels and technologies to keep in touch with your customers.
4. Cultivate your community
Co-creating experiences and content with your biggest fans brings people together and creates a community you can be a critical part of. You might need to break down some internal silos to do that, by integrating multiple teams — social, eco, brand, etc — into the community.
---
Q&A – Social commerce trends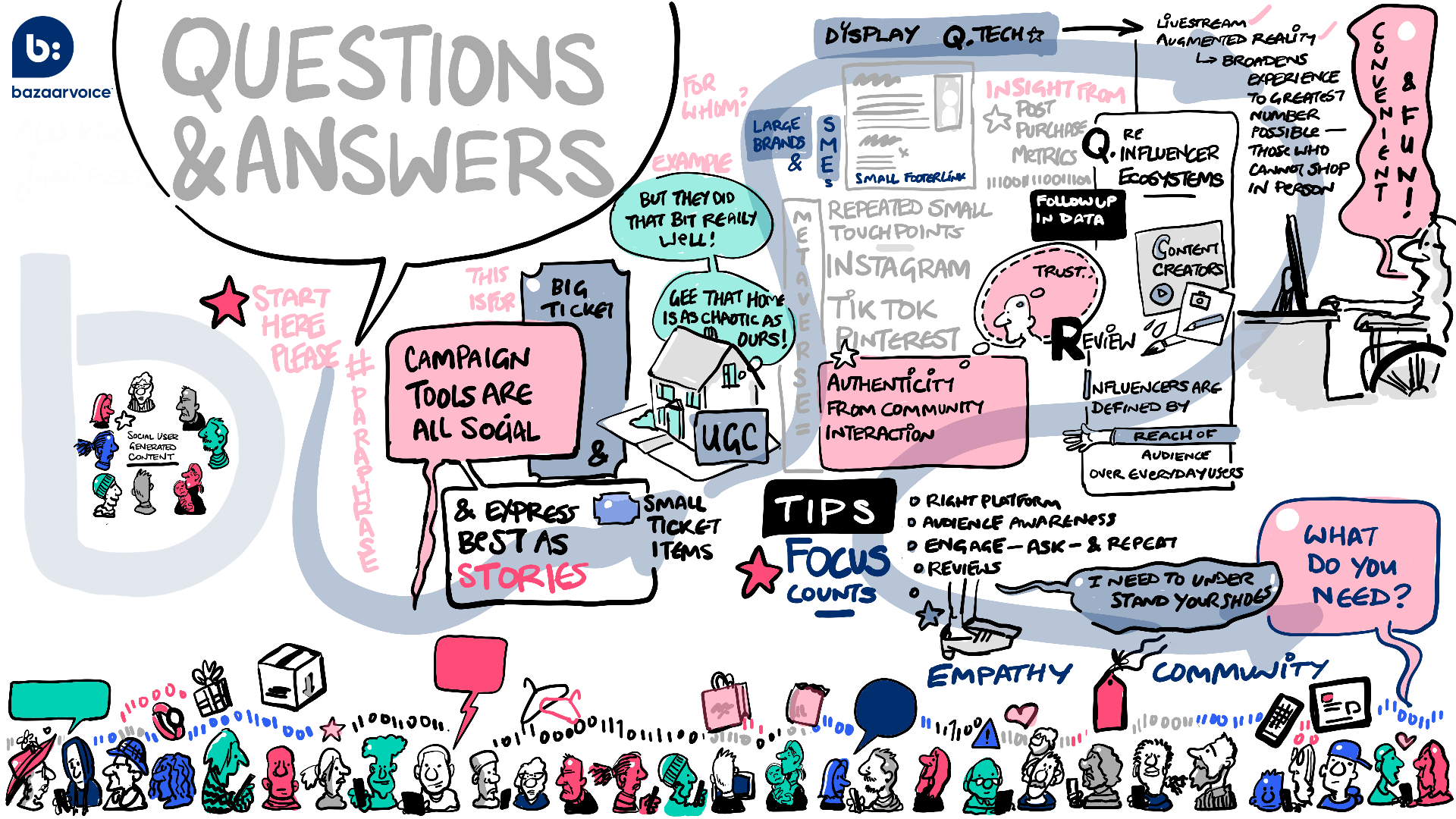 Here we have a selection of answers from the Q&A session at the end of the social commerce trends webinar.
Do you both shop on social, and, if so, which platforms?
Alex is an impulsive shopper and ends up buying a lot of Mum-flunecer recommended products for her toddler on Instagram. Her most recent purchase was a Melissa & Doug caterpillar tunnel. Jami, on the other hand, is a discoverer, using Instagram to find new brands.
How does behavior differ for non-impulse buy products?
This is not something we've looked at directly, but we will. Social isn't just a place for inspiration, but also for information-seeking. If buyers are in the market for something expensive, they'll be looking for a guided recommendation, via their peers and networks. And high-ticket items often benefit from partnerships with platforms like Amazon, to create interest and sales.
How can a brand with a limited budget get going with social commerce?
This is where Bazaarvoice can come in. We have 7.5 million shoppers we encourage to create content — we can hyper-target your audience, and get them involved in a sampling campaign via VoxBox. We then use calls to action to get them to create reviews or videos.
Do you have data on average order via social platforms?
Yes, we can track all of that within the social commerce platform. Reach out to your account team, you can walk you through the insights.
Can social commerce have an impact on repair or remodeling categories?
The coolest thing about UGC is that I can see how other people are decorating their homes, says Jami. She's redecorating right now. It's not some interior designer whose work I can't replicate. It's real people doing real things.
Interiors is one of the top categories for inspiration content. Pinterest is a fabulous platform for this.
Tips for small businesses?
Social content is so fantastic for small businesses. Think about challenger, digital-first brands that have been really successful against established brands using UGC. We have link in bio and gallery tools that can help people with that.
Can you tell us more about VoxBox sampling campaigns?
We can segment our audience based on the brand's targeting requirement and then get products into people's hands. It comes in a beautifully designed box, that's custom to the brand partnering us. Then it almost gamifies the experience within the app, as they earn badges for creating content.
How are companies identifying influencers?
We do have an influencer marketing team that can assist with that. They manage the paid, professional influencers, the ones with the higher reach, the ones we contract with. The Influenster App is for reaching ordinary consumers, like us!
What percentage of sample recipients go on to purchase?
We look at the norms in each category, and for conversion, we can break it down by category. On average, around 44% switch to the sample brands, and a higher number promote it into their staples category. We do have information sheets for each of those categories, we can provide on request.
What should your social commerce priorities be?
Start with what's doable for your company. What are your priories? What demographic are you after? That will allow you to target the right platform, and work out what the most effective campaign will be with the bandwidth you have available. More expert predictions can be found here.
---
And there you have it. Everything you need to know about shopping on social and how to stay ahead of social commerce trends this year and beyond. Next learn more ways to monetize your social content with Bazaarvoice Social Commerce. Or get in touch below to get started.
Request a demo