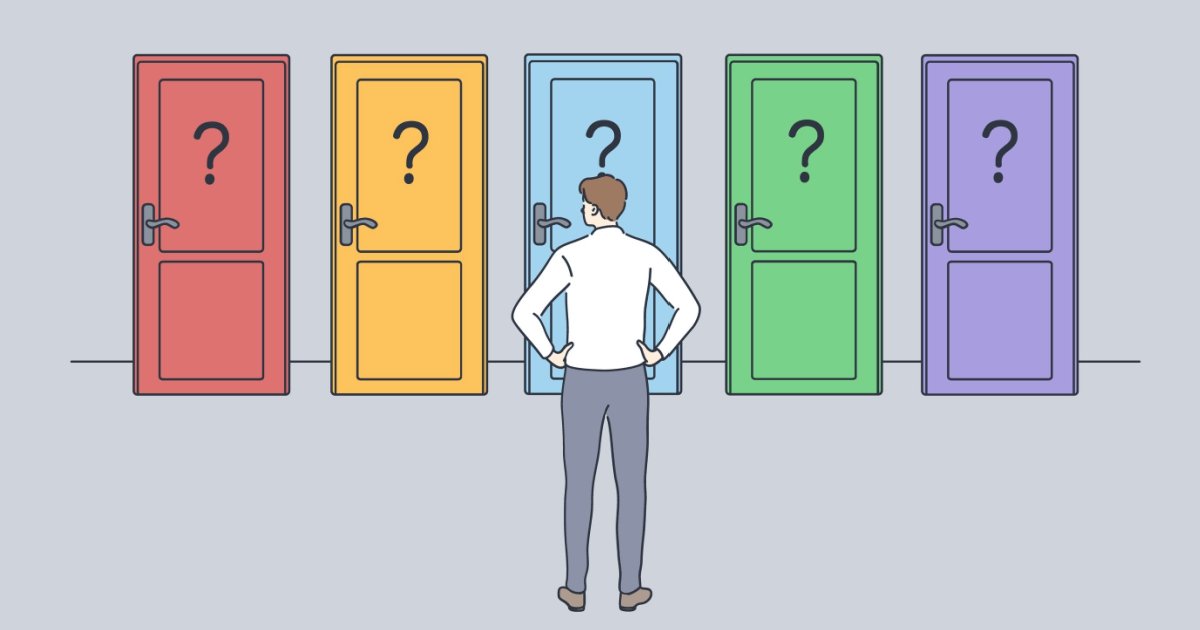 Choice: it's a human right — and a good one at that. For example, if I didn't have a choice, I'd be stuck with my great-grandmother's hand-me-down clown painting from 1970, instead of my mom (who graciously stored it in her attic). Similarly, having options while making a significant purchase, say a social commerce platform, is important and usually exciting.
That is, until we have decision paralysis — which often happens while trying to buy a product via the internet.
You may be in a state of decision paralysis right now while evaluating social commerce software for your business. Lucky for you, we happen to be experts in that exact field! Let us lend a hand and lay out exactly what to consider when selecting a social commerce platform.
What is a social commerce platform?
A social commerce platform is software designed to optimize your business' social media and e-commerce strategies in tandem. As we know, shopping doesn't just happen in one place anymore. Shopping is becoming more experiential from in-store, to social, to e-commerce and retail sites, and beyond.
During that omnichannel buying experience, shoppers expect to be met with social proof in the form of user-generated content (UGC) like ratings, reviews, photos, and videos. It's no wonder that brands and retailers see up to a 145% lift in conversions when shoppers interact with relevant UGC. And social commerce platforms are built to facilitate that.
Typically they're tools that help social media managers efficiently source, create, and publish social content, let e-commerce managers publish social UGC on-site, or allow brand managers to use UGC elsewhere, like retail or print ads.
A good social commerce platform should also include analytics that proves the ROI of these efforts.
Key capabilities for your social commerce platform
So, now you know what social commerce platforms are. How do you decide which platform is best for you when there's so many options out there?
Sourcing and organizing UGC
First things first, in order for you to execute your social commerce strategy with UGC, you'll need a platform that finds UGC for you and helps acquire the rights to use it.
The best software will source inspirational photos and videos from Instagram via tracking specific hashtags, creators, brand @mentions or tags, and direct uploads from your team. When selecting a provider, you'll want all of these methods available.
Additionally, consider whether the platform offers influencer or sampling campaigns to collect even more content. For example, certain social commerce platforms allow influencer communities like Influenster to be integrated directly into their platform, allowing you to ingest resulting social content and monitor its performance.
The platform should also facilitate requesting rights from Instagram users to leverage their content. Look for capabilities like customizable request messaging or automated, hands-off processes, if your team is low on bandwidth. Feel free to ask the platform provider about legal protections for using the content across all your digital properties.
Plus, make sure the platform will help you keep all that content organized. Seek out features like organizational collections or folders, labels, search filters, or even AI suggestions of top-performing content to separate it from the rest. Usability is important here.
Using UGC on social media
Now that your platform has supplied you with all the organized UGC your heart desires, look at what you can actually do with the content. We'll start with its uses on social media.
84% of consumers are more likely to trust a brand's marketing campaign if it features UGC, so your team should be empowered to post UGC directly on your own social channels.
Consider whether the social commerce platform allows easy creation of organic posts and paid ads containing UGC, as well as scheduling content ahead of time to post on Instagram (including carousels, Reels, and Stories), Facebook, TikTok, Twitter, and Pinterest. The platform should save your social media manager serious time in their workflow.
Make sure the platform also provides you with social analytics to understand your social commerce campaign performance. Beyond engagement metrics, look for features like visual theme insights, conversion data, competitor insights, and influencer performance metrics to get the full picture.
To connect your stellar social strategy to a website, ensure that the platform has a link-in-bio feature, like the Like2Buy tool (what we call the key to winning Instagram).
This tool boosts qualified traffic to your site straight from social and should come complete with revenue impact reporting.
Using UGC on e-commerce sites
Now you've got the 411 on what you need from a social strategy perspective. But what about the other half of social commerce — the e-commerce part? (This is where you'll want to make sure you're really paying attention).
You'll find that plenty of social commerce platforms offer a tool to display shoppable content on-site in a format akin to Galleries. What will differ more clearly across providers is customization options for how the displays look and feel on your site or emails, plus insights on how they perform (more on that later).
While some vendors only provide displays in a classic "carousel" format, you may be interested in more aesthetic flexibility. If your brand prefers full control over the look of UGC galleries on site, ask the provider about their API capabilities. Make sure to check about integrations with other products, such as featuring star ratings within galleries, which provides more useful social proof to boost conversion.
Consider what other e-commerce-focused tools the provider may have. One example is Reveal, which produces a line of HTML code to make any static image on your site interactive and shoppable. Showroom is another prime example: it creates a dynamic shoppable storefront link out of any piece of content.
Essentially, the best social commerce platform will go above and beyond to connect your social and e-commerce strategies harmoniously.
Using UGC on retail sites
If your brand sells at retail, select a provider that allows you to publish UGC on your retail product display pages (PDPs). Shoppers at Target, Petco, Argos, and other big-name retailers are more likely to convert when they engage with inspirational visual UGC on-site. It's a no-brainer — select a provider that can get your content everywhere your shoppers are, including retail.
Understanding the impact of your strategy
Perhaps the most important element of a social commerce platform is how it facilitates increased conversion rates on-site. That's why you'll appreciate a platform that houses powerful insights to show how UGC directly contributes to the bottom line.
Look for analytics capabilities that not only cover how many shoppers visited or clicked on or through your UGC, but made purchases — and how much revenue those purchases brought in for your business. Inquire if the provider supplies stats like lifts in conversion rate, average order value, and time-on-site when shoppers interact with your UGC. Make sure these revenue metrics and flexible reporting are available for all the tools in the toolbox, too, not just displays like galleries.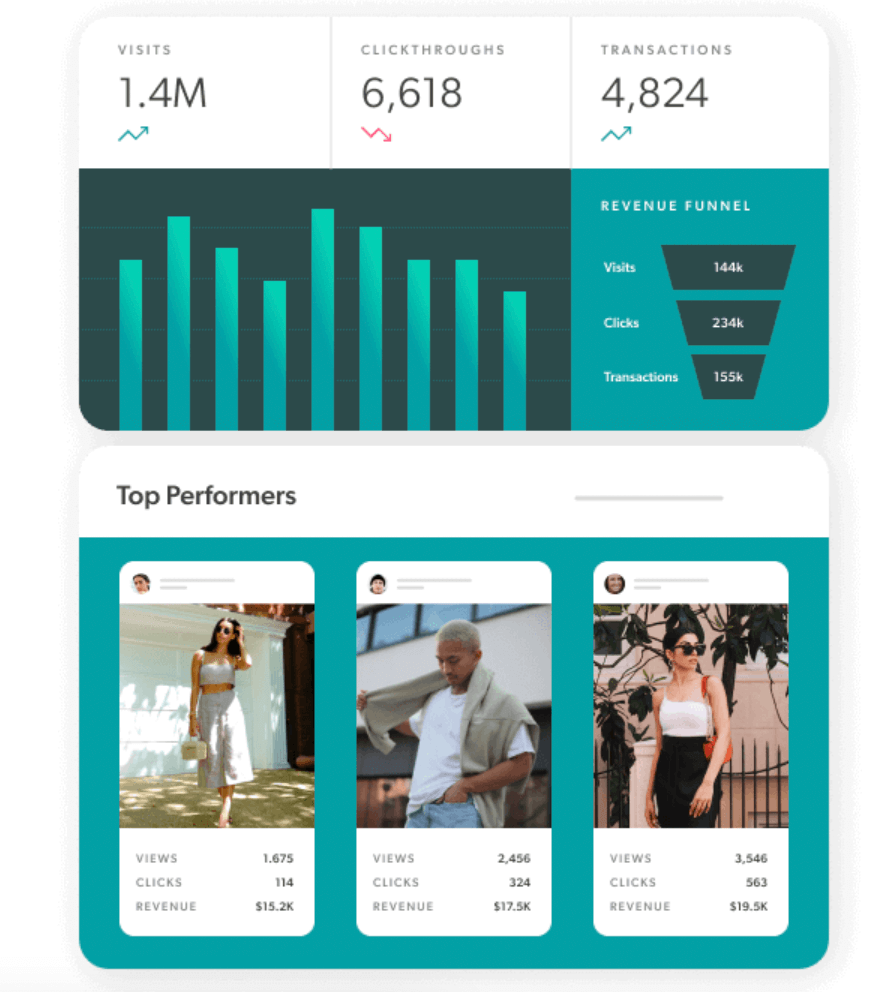 U + I friendly
But we know that using software isn't just about the features and functions — it's about how it feels. For example, is the UI user-friendly, modern, and fun? It should be a synergistic relationship between your day-to-day user and the platform, the platform and the day-to-day user… ♺
Additionally, seek out a provider with a "geek squad" to help you out. Whether your program and team are new and green, or your strategy is complex and best-in-class, select a partner that's there to do just that — partner with you. Weigh whether the provider has dedicated social commerce strategists and client success managers to work alongside your team.
Finally, ask the vendor to give you a sneak peak of their product roadmap. See if their upcoming innovations align with your business goals to determine if it's a match made in heaven. If not, change lanes.
A social commerce platform that provides it all
Selecting a social commerce platform takes careful consideration, and we know it's not always a walk in the digital park while wading through options online.
If you're looking to get going with social commerce, you need to know what to ask. Our checklist for selecting a social commerce platform provides the essential questions to ask when selecting a social commerce provider.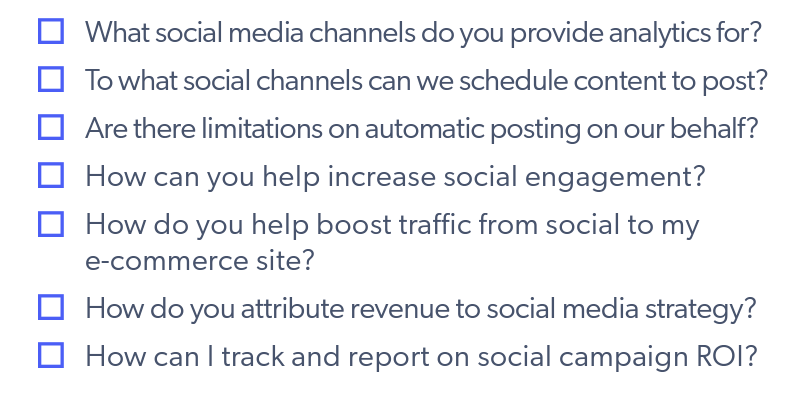 Keeping in mind capabilities that effectively combine social and e-commerce strategies, report on their direct revenue impact, and provide active support will help you navigate your options and select the best platform for your business. That's where the Bazaarvoice platform comes in.
If you're interested in learning more about Bazaarvoice's Social Commerce platform, get in touch below.
Request a demo