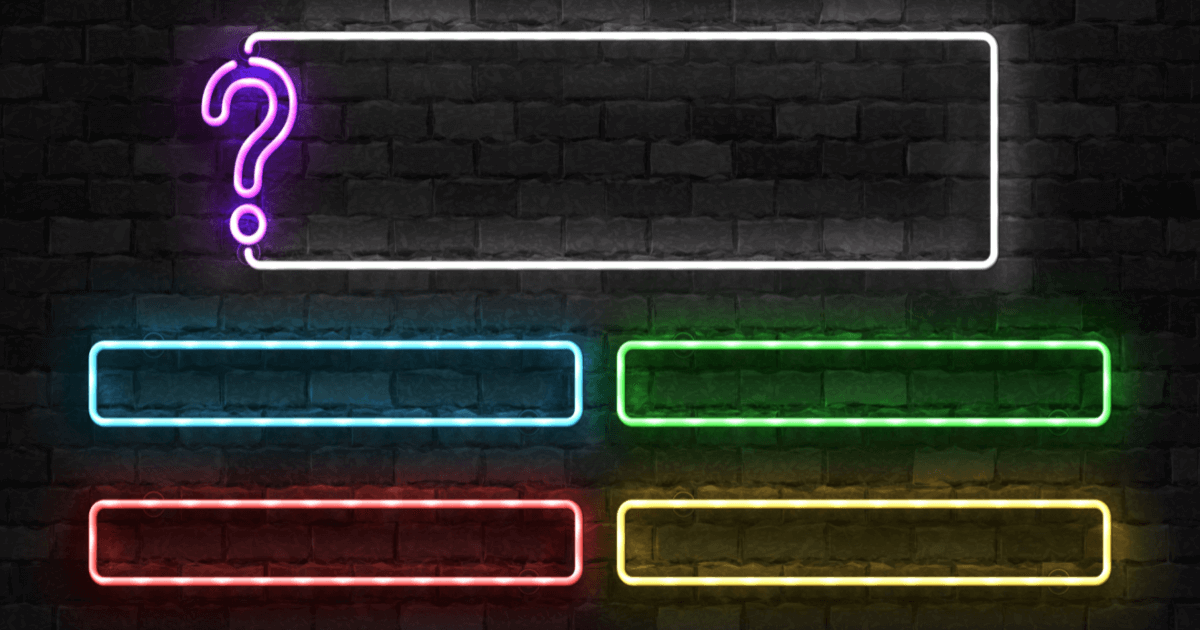 If you're someone who likes pub quizzes and are also a big fan of marketing funnels (niche interests, admittedly) then you're in for a treat. Because a quiz funnel is essentially a combination of the two — hence the slightly unimaginative terminology. But they're also so much more than that.
As digital marketers adapt to increased online privacy measures and data collection regulations, they're faced with a variety of hitches along the way. One of their main challenges is the quality of the data they can access. Nielsen's 2021 Annual Marketing Report reveals that over 40% of marketers at medium and large-sized companies consider data quality, including accuracy, a major obstacle.
Likewise, in a customer experience report conducted by the Harris Poll in partnership with Redpoint Global, surveyed consumers and marketers questioned the accuracy of brands' customer data. Consumers cited outdated and inconsistent data among their top concerns. And if consumers don't get something in return for their data, like a more valuable or personalized shopping experience, 75% claim they'll opt out of data tracking altogether.
Arguably, the best kind of first-party data is the kind that consumers willingly — even enthusiastically — submit themselves. This method ensures the data is authentic, up-to-date, and accurate. Quiz funnels are one of the best ways to achieve this desirable outcome. They offer an interactive and often fun way for customers to volunteer their own information.
Quiz funnels solve more than just the data quality piece of the puzzle. Quiz funnels inherently produce results based on the participants' responses, so they also offer the value exchange that consumers are looking for.
Time to give your potential customers a pop quiz they'll actually want to take, while alleviating your data dilemmas and winning leads in the process. Find out how to successfully integrate quiz funnels into your e-commerce strategy.
What is a quiz funnel?
A quiz funnel prompts website visitors to answer a series of quiz questions relevant to a brand and its products to receive tailored results based on their feedback. Their responses enable brands to collect data, segment customers, and generate leads.
An effective quiz funnel produces a result that inspires further action, moving the customer further down the marketing funnel.
Are quiz funnels effective?
Good question. Quiz funnels accomplish an array of marketing goals, plus they provide entertainment value. Score. Here's some of the primary advantages of quiz funnels for e-commerce brands:
A reliable first-party data collection tactic

. Quiz funnels are a way to collect detailed customer data and contact info that customers provide instead of having their website activity tracked.

Customer segmentation

. This is an extension of the first benefit. Marketers can segment customers into different categories based on their answers to the quiz, which they can use to personalize results and for future marketing outreach.

Affordable data collection

. This is yet another data-related bonus. Quiz funnels offer a low-cost way to collect first-party data compared to more expensive methods and software, like advanced customer relationship management (CRM) and customer data platforms (CDPs).

Enable personalized recommendations and results

. The main objective of a quiz funnel is to deliver a customized result based on consumer input, something craved in online shopping. The majority of consumers will convert to repeat customers after a personalized experience with a brand.

Guide future campaigns

. The insights gained from quiz funnels provide brands with customer preferences, including what they seek in products, services, and experiences. This invaluable information can inform marketing messaging and targeting as well as product development.

Generate leads

. A main quiz funnel component is a contact form to access the results of the quiz, providing brands with qualified leads. You can also grow your marketing email list by including an email sign-up check box.

Increased conversions

. Quiz funnels can produce conversions and sales when they include CTAs like "add to cart" or "view products" with their results. Especially in the case of product recommendations.

Build interest in products and the brand

. They're another way to convey your brand's message, value, and promise, while allowing shoppers to become familiar with what you have to offer.
Elements of an effective quiz funnel
To unleash the maximum potential of a quiz funnel, you need to design it to produce the best results. When creating a quiz funnel for your e-commerce site, make sure it has these core components and functions.
1.

It's relevant to your products and representative of your brand

Your quiz should convey how your products and services fit into your customers' lives. So tie your questions into the different use cases and features of your products and the lifestyles and behaviors they complement.
2.

It appeals to your target audience

Ask questions that resonate with your customers' unique frustrations, desires, confusions, and passions to make them feel connected and to give them tailored results.
3.

It features straightforward question and answer options

Your questions should be clear, easy to understand, and easy to answer. Likewise, your multiple-choice answers should be concise, specific, and in line with the question. This will ensure a quality experience for your audience and help you properly sort your customers into segments.

For example, if one of your questions is budget-related, you could ask your customers what they're willing to spend on a monthly subscription, with different price ranges for the multiple-choice answers. If one of your questions is about what your customers' priorities are, the answers could include qualities like convenience, sustainability, price, and a variety of product options.
4.

The results provide value

The results of your quiz can be in the form of product recommendations, thoughtful feedback, an educational report, or a genre reveal. Either way, they should be accurate, relevant, actionable, and teachable. Craft the tailored result options based on the different possible answer outcomes. Refine, revisit, and update the different result options as your brand, products, and customers evolve.
5.

Points and key takeaways are illustrated with visual elements

Include photos, sketches, charts and graphs, and videos throughout your quiz. Use visuals for multiple-choice answers, especially if your brand is apparel, beauty, home decor, or consumer packaged goods.
6.

It's prominently displayed and easily accessible

Feature the quiz on a dedicated landing page or the homepage of your website. Extend its reach and increase participation by distributing it and sharing it on your blog, social media, email campaigns, podcasts, and any other relevant channels.
7.

It includes a lead generation form and CTAs

Require a lead generation form with primary contact info. Position the form at the beginning of the quiz for participants to access the questions or after the questions for participants to access the results.

If your quiz results include customized product recommendations, add product page links or "add to cart" buttons. Prompt your quiz takers to view any surveys, case studies, videos, or blog posts relevant to their results. Depending on the type and nature of the quiz, make the results shareable and give participants the option to post an image or video of their results online.

Include options to book a call, demo, or appointment. Guide your prospects to the next step that will convert them into customers.
Quiz funnel examples
Many direct-to-consumer companies, traditional retailers, and online marketplaces use quiz funnels in different ways to meet their customers' and business needs. These examples show a range of quiz styles and formats, from short and sweet to extensive and elaborate. This isn't a comprehensive list of all the different types of quiz funnels out there, but these real examples offer inspiration to go forth and create whatever is the best fit for your brand.
Product discovery and customized recommendation quizzes
Product recommendation quizzes are a popular type of quiz funnel, and for good reason. They offer personalized recommendations based on each person's unique feedback, and by taking the quiz, shoppers can become more familiar with your products. For brands that have several different relevant products for each result, these quizzes are a great chance to cross-sell similar products and multi-product kits, which can increase average order value.
For example, Trade, a direct-to-consumer coffee company, prompts website visitors to take a quiz for customized coffee and subscription options. The quiz asks shoppers questions about their coffee-making habits and preferences and then recommends the perfect brew supplies for their tastes.
Personal style quizzes
Another type of quiz that speaks to consumers' curiosities and uncertainties is a personal style quiz. Personal style quizzes are especially fitting for apparel, beauty, and home brands. They provide expert advice for consumers while showing how your brand and products can cultivate your customers' style.
Overstock.com's "What's your interior design style?" quiz is an excellent example. The quiz asks visitors to pick their favorite images from different design categories, culminating in what their definitive style is.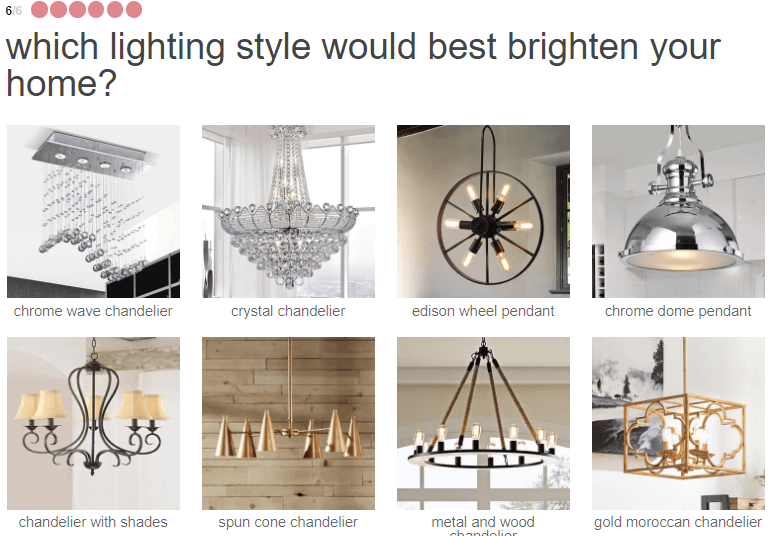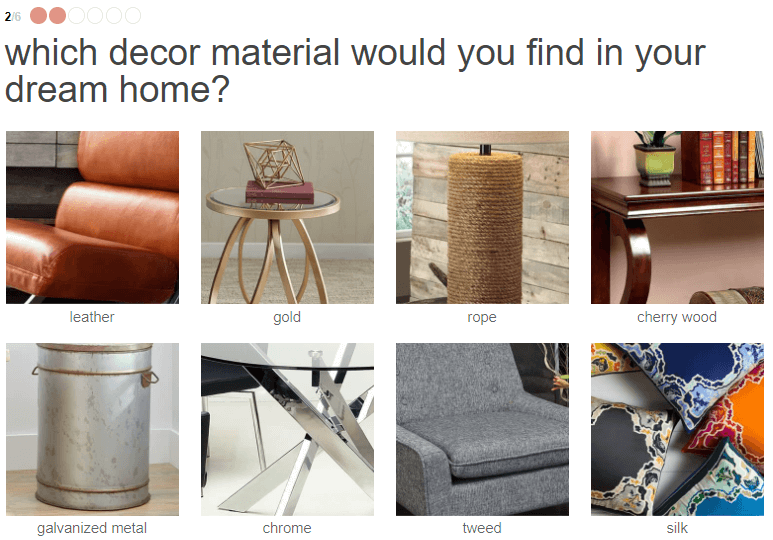 When shoppers receive their results, they're prompted to shop for home decor items and furniture that fit that particular style and aesthetic. Here we have an example of results with product recommendations from Overstock.com's "What's your interior design style?" quiz: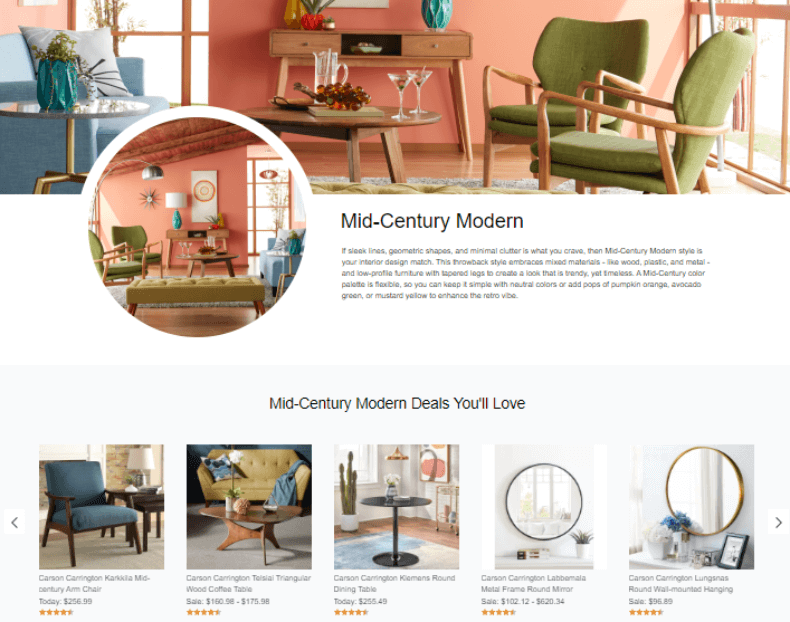 Consultation quizzes
Consultation quizzes demonstrate your expertise and the thoughtfulness of your product development while providing focused value to your customers. Brands that have products formulated to meet nuanced and diverse purposes would benefit from consultation quizzes. Health and beauty brands are a natural fit for these types of quizzes, as are consumer packaged goods like tools and hardware.
The custom hair care brand Prose bases their entire business model on making personalized recommendations according to each customer's unique hair type. Their consultation quiz asks a series of detailed questions, some with corresponding illustrations and images, to determine the best hair care routine for each customer. The results show how each respondent scores on different factors that go into making the tailored product recommendations.

Incentive quizzes for lead generation
Some quizzes can be more condensed and to the point, like the ones designed primarily for obtaining customer contact info. There should be some value exchange, like delivering personalized content based on reported customer details, a discount promo code, or a resource download like a webinar, tutorial, or e-book.
Bazaarvoice customer The Seaweed Bath Co. designed a one-page combination quiz funnel and email sign-up form that offers a 15% discount for subscribing and answering a few skincare-related questions. This clever tactic obtains lead generation material, specific customer data, and email subscribers in one quick and convenient motion.
Supercharge your quiz funnels with social proof
Brands build trust and authority with their audience by creating quiz funnels that enable them to learn more about their customers and provide expert, personalized results. Brands can make their quizzes go the extra mile by showing content from their customers.
Enhance your quiz funnel results with influential user-generated content (UGC), including customer reviews and visual UGC, like photos and videos from social media tagged with your products.
Quiz funnels are just the beginning. Learn more ways you can use interactive gamification with our full guide to gamification marketing.