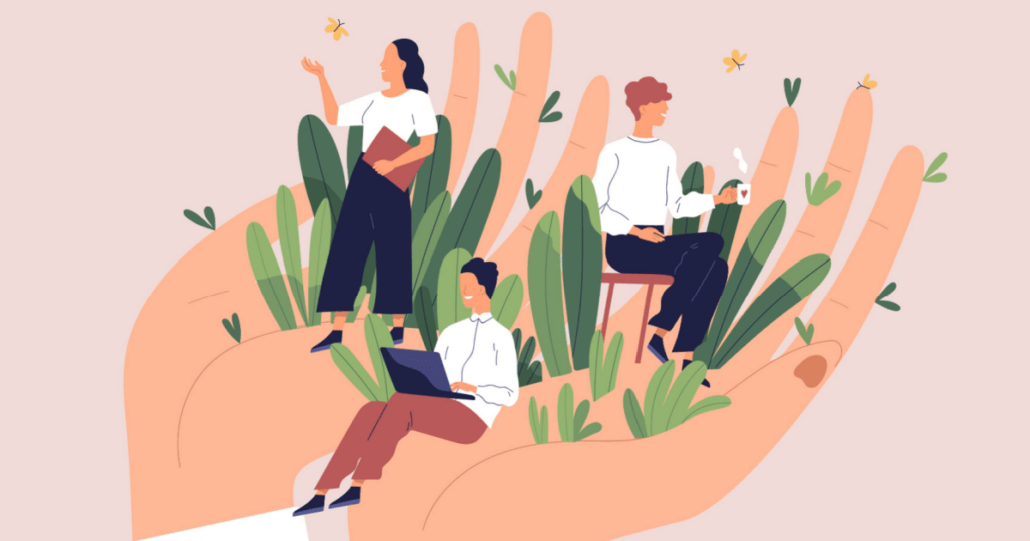 Relying on your marketing materials and customers alone for brand awareness and growth is so five years ago. Advanced brands use their inside people to get the word out — a.k.a. employee advocacy. Here's how you can become one of them.
Chapters:
---
---
Cultivating employee advocacy is a growing trend and priority for brands. According to the 2022 Sprout Social Index, 68% of the marketers surveyed reported having a program for employee advocacy on social media. Additionally, one of Forrester's B2C marketing and innovation predictions for 2022 was that, "over half of CMOs will make employee experience (EX) essential to brand planning."
Employee experience is the essential ingredient to producing authentic and effective employee advocacy. According to LinkedIn research and insights, 70% of professionals aren't willing to work at a company with a bad workplace culture. And with trends like quiet quitting on the rise, expect that number to increase. So what makes a good culture? Answer: a people-first approach that elevates the overall employee experience.
Facilitating an employee-first culture that inspires and supports employee advocacy is a win-win situation for the company and its employees. The absence of either or both puts your business behind the times and in a vulnerable position.
While many brands are supporting employee advocacy to some degree, the ones who create and implement a dedicated program will evolve beyond and outperform the competition. Learn all about how employee advocacy can benefit your brand and the ways you can achieve it.
What is employee advocacy?
Employee advocacy is the promotion of an organization, including its products, services, and brand messaging, by the people who work for it. These employees can be in any position or department in the company. Employee advocacy is another type of user-generated content (UGC) that provides brands with digital marketing materials to extend their reach and impact.
Employee advocacy essentially turns employees into influencers. Employees can share content created by the brand itself or create their own content to promote the company's products, accomplishments, events, milestones, and more. Beyond just brand promotion, it's a chance for employees to express what they personally love about the company they work for. They can share content online to their own personal audiences or on other organizations' platforms and outlets, like a podcast, email newsletter, blog, or magazine.
Major brands have adopted their own employee advocacy programs with great success, including Walmart, Dell, and Starbucks.
Benefits of employee advocacy
Strong employee advocacy produces a range of benefits for both companies and their employees. For companies, it amplifies and reduces the cost of their marketing efforts while strengthening their employer brand and attracting more quality talent. For employees, it creates networking and thought leadership opportunities to advance their career aspirations.
Some specific positive outcomes of employee advocacy include:
According to LinkedIn research, content shared by employees garners twice the amount of engagement
The top result of employee advocacy, according to a Hootsuite survey, is increasing the reach of messaging without the need for social media ads
The same survey revealed a boost in brand health and employee engagement as the subsequent top benefits of employee advocacy programs
The 2022 Sprout Social Index identified increased brand awareness as the most important business outcome according to the marketers they surveyed
Recommendations and UGC from family and friends are a top trusted source of brand promotion and news, so employee promotion earns more trust than when it comes directly from brands
The social content created by employee advocates in which products are featured and tagged can be

repurposed on e-commerce product pages

, leading to an increase in conversion rates
Types of employee advocacy
There's a variety of ways employees can promote and share positive messages about their companies.
Employee advocacy on social media
Social media is the primary channel for employees to share content about their employers and the products they sell. Social media should be the priority for any employee advocacy campaign because it reaches the largest audience and has the biggest impact. For 63% of consumers, social media content from credible influencers like company employees is more trustworthy than the brand's own content.
Employees can use channels like Instagram, Facebook, and TikTok to post fun, visual content. This can include giving a behind-the-scenes glimpse of company culture or sharing products they love from the brand. Twitter and LinkedIn are effective channels for thought leadership and sharing company news. For example, your employees can share successful programs or campaigns they've worked on and the insights they've learned.
For example, #LiveBV is the branded hashtag Bazaarvoice (that's us!) and our employees use to share their social media content about company activities and initiatives.
Representing company merch
Providing merch for employees is a nice perk and a low-lift way they can promote your brand. This can be t-shirts, coffee mugs, water bottles, tote bags, phone wallets, and anything else you can put your company branding on. Or, you can gift employees product samples so they become familiar with your brand's products, recommend them to their network, and post about them on social media. Everyone, literally everyone, loves free stash.
Content marketing
Employee-created content on digital channels outside of social media is another great way to extend your employee advocacy initiatives. You can leverage your blog or a microsite for longer-form editorial content that your employees can contribute to, like the Adobe Life blog or the Bazaarvoice Culture tag within our own blog. This gives them a chance to share their experiences, lessons learned, and expert industry knowledge gained from their professional roles. Contributing blog content also offers employees a chance to get published, adding to their professional development.
Employee bios on your brand website are another form of content marketing that helps humanize your brand. Different team members within your company can share their backgrounds, fun facts about themselves, what they love about the brand, and anything else relevant. Integrating video elevates your content marketing strategy with fresh and diverse content that connects with your audience and keeps them on your website longer. The following example shows video bios of Bazaarvoice employees explaining what's unique about the company and their professional experience.
How to create a successful employee advocacy program
Developing a strong employee advocacy program takes dedicated time, thought, and planning, but it's definitely worth it. As more companies catch on to the importance of employee advocacy for their marketing efforts, the ones who do it right will stand out and enjoy positive results. In addition to establishing a sustainable program, it will drive other benefits, like empowering employees and creating helpful internal resources across departments.
Create and nurture an employee-first culture
Here's a wild idea: happy employees are engaged employees. So, to implement an effective employee advocacy program, you first need to create a positive environment and experience for your team. Doing so will encourage genuine interest in being brand advocates and ambassadors.
To design and maintain a thriving workplace culture for your employees, focus on what matters most to them. According to LinkedIn research, the top factors that keep employees at their companies for more than five years include other team members who they can be their authentic selves with, a sense of belonging, and strong benefits.
To make employees feel like they can be themselves at work, you need to foster a welcoming, honest, transparent, and friendly environment. That also means making diversity and inclusion a priority, so everyone feels comfortable. Create a feeling of belonging by recognizing everyone's accomplishments and progress, giving honest and useful feedback, and inviting employees to express themselves. The most important benefits for employees include health coverage, paid time off, and parental leave.
Results of engaged employees include 50% who post content about their employers on social media and 33% who share praise and positive feedback. Employee advocacy isn't the only important outcome of increased employee engagement, though. Gallup research shows that companies with a high percentage of engaged employees generate a:
23% increase in profitability
18% increase in sales productivity
10% increase in customer loyalty and engagement
Establish and maintain a strong employer brand
According to Forrester, "brand building in 2022 will be as much about employer branding as it is about traditional consumer marketing." Having a strong employer brand contributes to your overall brand identity and reputation. It's also critical to recruiting and retaining employees.
If you want to communicate and present your employer brand effectively, you need to have a compelling mission and values that your company embodies. Then, you can amplify those tenants of your employer brand using your company blog, career and about pages on your company website, social media channels, and through your current team members.
Patagonia is a brand with a bold mission that they live and breathe: "We're in business to save our home planet." It's simple, clear, and to the point. Their core values align with their mission in the way they do business. "Build the best product, cause no unnecessary harm, use business to protect nature, not bound by convention."
The brand's employees can trust in their mission and values because Patagonia lives up to them by making sustainable products, donating to environmental non-profits, and being engaged in activism. Because their mission is central to their entire operation, it's also what attracts employees who want to be involved in the climate movement.
In addition to including your mission and values, your employer brand should include your employee value proposition (EVP). Your EVP should describe your company culture and offer your best pitch to prospective new hires.
Set goals for your employee advocacy program
Once you have a solid workplace culture and employer brand in place, you can start officially developing your employee advocacy program. The first step is to identify your goals, so your actions can align with them, and you can determine the key performance indicators (KPIs) or objectives and key results (OKRs) to measure success.
Think about what you want to accomplish with your program. What would be the most beneficial to your brand? Examples of suitable goals include:
Driving sales leads
Increasing organic traffic to your website
Growing your social media communities
Increasing employee retention
Improving your brand reputation
To set your performance goals, refer to an employee advocacy benchmark report in your industry to establish what success looks like in numbers. Analyze data like the number of posts and shares and social media reach and engagement generated from employee advocacy.
Build and implement a strategy
The next step after defining the goals for your employee advocacy program is to actually build it. This is the meat and potatoes of your program and the ultimate guiding policy for how you'll implement it. Below are the five main elements of a strong strategy you can use to inform your own:
Create a social media guide. Since the main focus of your employee advocacy program should be on social media, you need brand and style guidelines for your employees to follow. While you should encourage your employees to use their own voice and personality, you should also provide the types of content that make the most sense and anything they should avoid.
Nominate employee advocacy leaders. To kickstart and set the tone of your program, make a proposition to more senior employees, who are already active on social media, to lead the charge. This way, they can lead by example, get the program up and running, and generate interest for other employees to get involved.
Define your content distribution plan. A content distribution plan is important to inform team members about what content types they should focus on (primarily social media and blog content), the channels where they should post, the posting cadence, and recommended timing of content, like particular days and times to publish.
Introduce the program during onboarding. Bring new hires into the loop from the beginning so they can start thinking about participating and be aligned with the comprehensive effort.
Include incentives. Motivate employees to become advocates with incentives, like bonuses, perks, or swag. Make sure this is clearly communicated or included in the program details.
Provide resources
Once you've defined and outlined your strategy, create resources that your entire company can use and reference. These will provide all the details, use cases, guides, and parameters that employees need to become active advocates.
One of the main resources will be the social media guide, which includes messaging and content examples that employees can take inspiration from. For branding and tracking purposes, make sure to include hashtags specific to the advocacy program (#bgenerous) and any brand accounts employees should tag in social media posts.
If your program includes content marketing, include example blog posts and the points of contact so employees can send their pitches and submissions. And if you want your team members to add their bios to their LinkedIn profiles or your website, provide examples or even a template they can use.
You should also provide any relevant supplemental materials that will support the program, including your brand mission and values. Since your employee advocates are representing your brand, they need to be familiar with and practitioners of its culture and values.
In addition to written documents, you may want to have lunch-and-learn sessions and create short-form video tutorials to show all the social media features that employees can use for content.
Keep employees engaged
Nominating advocacy leaders and integrating the program in the onboarding process are important for launching advocacy efforts. But, you'll also need to keep employees interested and engaged to maintain ongoing, consistent participation.
Providing shareable content, offering incentives, and recognizing standout advocates in meetings or public company forums are all great ways to support a sustainable program.
Measure performance
The final piece of the puzzle is measuring the program's performance. This will ensure that you're meeting your goals, and if not, it will give you insights to optimize your strategy. Some metrics and data to consider when analyzing your results include:
Overall adoption rate and recent adoption rate: The percentage of employees who have participated overall and within the last 90 days.
Most popular content types: Identify the content with the most engagement and reach, whether it's thought leadership posts, images or videos of products, blog posts, company bio landing pages, or company culture-themed content.
Specific goal performance metrics: Track data specific to your program goals, which we previously mentioned. Those may include sales leads, revenue earned, organic traffic, employee recruitment, or employee retention, for example.
Top contributors: Discover which team members are making the most content and contributing the most impactful content. You can use this data to reward them, acknowledge their efforts, and empower them to stay engaged.
Innovative examples of employee advocacy in action
Brands that have thriving employee advocacy programs make them accessible to their audiences by repurposing content on their social media accounts, on their blogs, and in any other brand-owned digital spaces. The following examples are brands that have built dedicated communities and highly engaging content with innovative approaches.
Electronic Arts
Electronic Arts is a video game developer and merchant with a full-scale employee advocacy program called EA Insiders. EA Insiders is an active community of thousands of engaged employees. True to its consumer brand, EA Insiders is also gamified with challenges and competitions to encourage participation.
EA encourages its employees to use the #WeAreEA hashtag in their posts, so they can be easily featured on the brand's social media accounts and used to track participation. EA Insiders was created to foster connections between employees in different locations and build a more cohesive culture. The program has delivered great results, with over 1,000 participants, reaching over 1 million people in total, and driving over 6,000 monthly engagements.
Dunkin' Donuts
The major food and beverage retailer, Dunkin' Donuts, stays on trend and relevant by focusing its employee advocacy efforts on TikTok. The brand designates "crew ambassadors" to post insider content featuring their favorite Dunkin' products, signature recipes, unboxing videos of Dunkin' merch, and more. TikTok videos tagged with #dunkinemployee have over 58 million views and feature fun, behind-the-scenes content, the majority of which is created by their lead employee influencer, @mollygruber.
MeUndies
MeUndies, the quirky underwear brand, leverages employee advocacy to inspire shopper confidence. Employees are encouraged to leave reviews because they know the products and services best, so they can provide realistic expectations for prospect shoppers which drives purchases.
Most of our customers read reviews before purchasing, and they expect our reviews to be extensive, cover every detail of the product, and to be recent

Ross Houslander, Senior Retention Lead, MeUndies
Their employee review collection strategy is working, because so far 32% of staff reviews already have helpful votes. Helpful votes mean a review is an accurate depiction of a product. In turn, this inspires new customers to make purchases and boost sales for the brand.
Manage your social advocacy program
Once it's time to launch your employee advocacy program, ensure you have an efficient and seamless system to make it run smoothly. Social media management tools will allow you to track the performance of your employees' content on social media and easily share it on your brand channels.
Performance insights will show how successful the program is and identify your top contributors. And sharing that UGC on social media and your e-commerce site will provide more trustworthy content about your brand for your customers. Now you just need to master the UGC best practices needed for success.