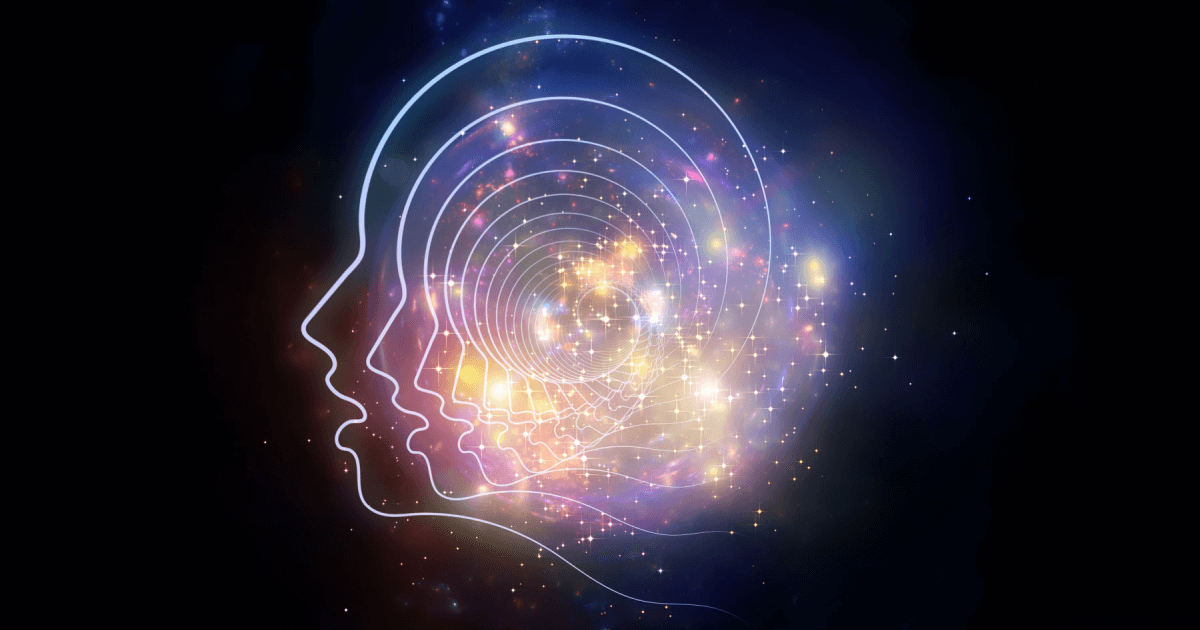 When it comes to user-generated content marketing, we've already covered the "what" in a separate article. And we've extensively covered the "how" as have many others. But no-one ever asks the "why" behind user-generated content marketing.
Why does it perform so much better than other content, and deliver such a high ROI for brands and retailers? Let's find out.
Chapters:
---
---
When it comes to user-generated content marketing, we could spend hours on the "how." Say how 53% of shoppers say it makes them more confident in their purchase decisions than professional photography, and another 40% say it makes them more likely to buy from an ad, according to our global survey.
The majority (86%) of marketing leaders employ user-generated content and use it to engage with potential customers, according to Semrush. That's because it taps into marketing psychology and therefore delivers on what consumers want.
85% of consumers find user-generated content to be more authentic and more influential than content made by brands. And it's five times more likely to convert compared with brand-created content.
But why is this the case? Why does user-generated content marketing work so well for brands?
The psychology behind user-generated content marketing
While we know that user-generated content marketing increases customer loyalty, engagement, and sales, what's less understood is the "why" behind it. Why is UGC so effective? And what motivates consumers to create it and share it?
You probably can't think of Tito's Vodka without also thinking of man's best friend. Because Tito's is the "vodka for dog people."
After the launch of its branded dog bandanas and chew toys, Tito's invited customers to share pics of their doggos and puppers alongside homemade cocktails as part of its user-generated content marketing campaign. And it was a brilliant marketing psychology move.
The canine-centric campaign effectively tapped into people's emotional connection with their pets and exploited psychological principles like shared identity. But the real component behind the brand's success is its expert use of user-generated content.
Understanding the psychology behind UGC will not only help your brand employ this type of content more successfully, just like Tito's. It'll also provide key insights into your audience and help you inspire customers to create UGC and share it more often.
Marketing psychology: Why people share user-generated content
Here's five key reasons why people share content online to help your brand tap into marketing psychology and make the most of its user-generated content.
The takeaway: Create content that'll make your audience's lives — as well as their followers' lives — better in some way, and watch the retweets and shares pile up.
To reflect their identity. We support the brands that reflect who we are or who we want to be, and social media users create user-generated content about brands they identify with, support, or aspire to be like. So, it's no surprise that 68% of people say they share content to build an "idealized online persona.l
To make and maintain a community. If you've texted a product page to a co-worker, shared a recipe with a family member, created a TikTok, forwarded a newsletter, or tagged a friend in an Instagram post, you've made a connection. 78% of people say they share content to stay in touch, and user-generated content marketing is simply another way we get in touch — both with the brands we love and their other supporters
To feel engaged. Sharing with others brings us joy, so we can't help but do it. As the New York Times Customer Insight Group puts it, "Consumers enjoy content more when they share it, and that they enjoy content more when it is shared with them"
To Improve others' lives. UGC works because it's authentic. We genuinely want to tell our communities about a moisturizer that revolutionized our skincare routine or new shoes that make running a breeze. A massive 94% of people share content because they believe it will enhance the lives of their audience
To show support. 84% of people say they share content to support causes they believe in. And today, customers have especially high expectations for brands and show support with their dollars — and their social shares — when a brand does something right
Why user-generated content marketing works
The core of user-generated content marketing's success is the fact that it utilizes elements of marketing psychology and enables brands to build authentic connections with customers, instead of merely sell to them.
Let's take a look at the psychology behind why user-generated content marketing works so well for brands.
It taps into social proof
Social proof is the idea that when we're trying to make a decision, we tend to take into account the decisions that those around us have made.
When we're uncertain, we assume that other people know more than we do. If you're interested in purchasing a mountain bike, but you don't know much about bikes, you may read blogs, comb through user reviews, ask a trusted friend for a recommendation. Or look at which bikes your favorite influencers endorse.
In other words, you rely on the opinions of others to aid in your decision. Specifically, fellow shoppers. 89% of shoppers for example consult ratings and reviews before making a purchase.
That's because UGC is especially effective at influencing purchasing decisions, which is why apparel brand Isabella Oliver and Baukjen features photos of real customers wearing its products both on social media and on an onsite gallery. Here, consumers can find inspiration and easily shop the looks created by others.
And research shows that people view social content with more shares as being more credible and trustworthy, so UGC is even more powerful when a post amasses a lot of engagement.
The power of social proof is also evident when you look at marketing that effectively instills FOMO in its followers. When we see people we relate to or want to emulate enjoying or benefiting from a product (through a photo, video, testimonial, etc.), we want to be part of it.
"People are more likely to change their mind or behaviors when the result will make them feel better about themselves, and oftentimes that means being part of a larger group," says Chris Graves, founder of the Ogilvy Center for Behavioral Science.
And that group may simply be the wealth of happy customers visible on your brand's website and social media.
It fulfills our need for attention
Our desire for attention is actually a basic human need — one that's often ignored, according to clinical psychologist Dr. Robert J. Maurer.
Our desire to flaunt is instinctive, and nothing exemplifies this more than the popularity of the selfie on social media. We've all experienced the need to show our followers that we're experiencing something awesome, which is why people are twice as likely to share something if they want a friend to see it. Gaining recognition is one of the main reasons we use social media.
Take advantage of this by tapping into the consumer need for attention and shining the spotlight on them by sharing user-generated content.
Having our creations shared by a brand we love — such as in the example from Soko Glam above — is also validating. And validation is a powerful motivator.
When a brand shares a customer's content, it increases the customer's affinity for the brand, as well as the likelihood that the customer will create and share more content in the future. In other words, sharing UGC incentivizes consumers to create more UGC.
It's reciprocal
It's human nature to want to return a favor. It's known as reciprocity, and it's a powerful marketing tool.
We can easily see reciprocity in action when we feel inclined to give a present to someone who's gifted something to us. And this happens with brands all the time. For example, a brand may offer consumers a free product or trial before suggesting they make a purchase. And, more often than not, we feel obligated to make one.
This phenomenon is especially common in the travel industry. A survey found that the biggest motivator for a person to write a travel review was a, "need to reciprocate great experiences provided by travel and tourism companies."
We can see this play out on social media as well. For example, it's not uncommon for giveaway winners to share photos of their prizes as a way of saying thanks.
In the post above, the micro-influencer who won Wild Slumber's recent giveaway shared this adorable picture of her child modeling the new pajamas. Now, not only is the brand's product potentially reaching thousands of prospective new customers, but it's also another great photo to use in its user-generated content marketing efforts.
It provides a sense of ownership
It's in our nature to place a greater value on items we own. This is a cognitive bias known as the endowment effect.
Customers already attribute a higher value to a product simply because they own it. So brands that share UGC reinforce this sense of ownership post-purchase, making customers even more satisfied with their buy.
Take a look at this example from Peloton above. Its high-end bikes aren't the most affordable piece of exercise equipment, but the brand helps its customers feel good about their purchases by sharing UGC. So it's only natural that the consumers who see their own content on the brand's social profile will feel more connected to the brand — and even better about their purchase.
It's positive
Brands share user-generated content that evokes positive emotions and makes them look good. This increases the likelihood that users will respond positively to the content and share it — studies show that positive content inherently gets more shares.
What's behind this? Emotional contagion, the marketing psychology phenomenon of having one person's emotions trigger similar emotions in others as a way of building connectedness.
Emotional content, as in the example from Glossier below, activates the automatic nervous system, which increases the likelihood that we'll share the content that's stimulated us.
We can also see this emotional contagion play out with the popularity of emojis. The same parts of the brain that are activated during face-to-face conversations are also activated upon viewing an emoji, according to the Journal of Social Neuroscience.
Emotional contagion also explains why scientists at the University of Cambridge found that, "individuals who use emoticons often (and positive emoticons in particular) tend to be popular or influential."
It's authentic
You'll notice that the above examples all have one thing in common — they're authentic. To today's shoppers, authenticity is everything. The authenticity movement is well underway but still continues to rise for both brands and consumers.
90% of consumers say authenticity is important when deciding which brands they like and support and 61% of marketers said authenticity is what makes content marketing most effective, according to Sackla research.
That's because consumer mindset has shifted. Consumers are now more influenced by other consumers. We're in a consumer-to-consumer marketplace, so shoppers aren't seeking out heavily filtered, orchestrated content. They want real photos of real products from real people — that's where user-generated content marketing comes in.
How brands are using user-generated content in their marketing
One way to create relevant, engaging marketing campaigns is by incorporating user-generated content. Brands and retailers are finally starting to catch up to the content and channel biases that exist in their marketing organizations, by shifting the balance in favour of user-generated content.
We know that consumers perceive branded content to be less genuine and trustworthy. So brands are finally turning the tide.
Ask consumers for photos and videos of themselves using your products in fun, creative ways and incorporate that content into your email, social media, and other campaigns. Not only are you producing an engaging campaign that will help you authentically connect with shoppers, you're also strengthening your relationship with the brand advocates who submit their photos and videos.
Below are a few uplifting examples of campaigns that brands are running right now using customer photos or videos.
David's Bridal — #DBLoveStories
David's Bridal has begun to gather photos from these at-home weddings and post them on their Instagram, using the hashtag #DBLoveStories. They also publish a blog post that goes in depth about each couple and their story.
DSW — #MyDSWAtHome
Shpe brand DSW asks their customers to take a picture in their space with their favorite shoes and post it on Instagram using #MyDSWAtHome for a chance to have their photo featured on DSW's Instagram page and earn a prize.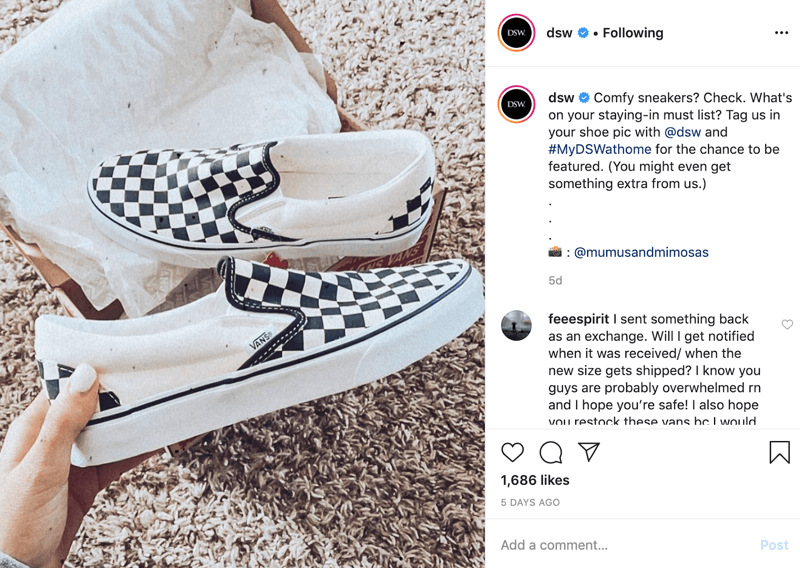 Portland Leather Goods
Written user-generated content is just as effective. Portland Leather Goods takes customer testimonials in the form of ratings and reviews and puts them into social media ads.
The brand allows customers to do the talking for them, which we know is how you increase sales.
In a time when shoppers want to see content from other shoppers, and consumers are especially sensitive to brand missteps, using user-generated content in your marketing campaigns is a smart and authentic way to connect with your audience.
Turn customers into advocates with user-generated content marketing
Let's look back at Tito's one last time. It's now the "vodka for dog people" because the brand was able to successfully form a connection with its customers by tapping into their love for their canine companions and sharing their dog-centric content.
This humanizes the brand, which is important, according to 48% of marketing professionals. And studies show that user-created photos, videos, reviews, and other content are perceived as more trustworthy and relatable by consumers, which is why they drive sales.
So instead of focusing your efforts solely on creating brand content, look to what your customers are posting and empower them to market your brand for you. After all, your brand is what your customers say it is.
Try our free UGC Value Calculator tool to see the impact user-generated content can have on your sales, both online and in-store.